Will you be spending one day in Prague? Are you looking for a Prague itinerary and things to do in Prague while there? Well, you have come to the right place.
Prague is the capital city of Czechia, (formerly the Czech Republic.) Known as "the city of the Hundred Spires" the Vltava River flows through it.
Prague offers quite a bit to those visiting her. While my suggestions may seem a bit ambitious, they are meant to inform you of all that is Prague.
Please feel free to schedule my recommendations in any way that works best for you and those visiting Prague with you. Your personal interests and your finances will determine which locations you will visit and which to skip.
If you are flying into Prague read How To Avoid Getting Sick On A Plane for tips on remaining healthy. Here are some other tips to help you during your Long Haul Flight.
With history, culture, and attractions Prague is full of surprises and just waiting to be explored. Here you will find the ultimate one day in Prague itinerary with lots of suggestions of things for you to do and see.
Experience Prague like a local by staying at an Airbnb. Get a $55 Airbnb coupon by using my code when you book!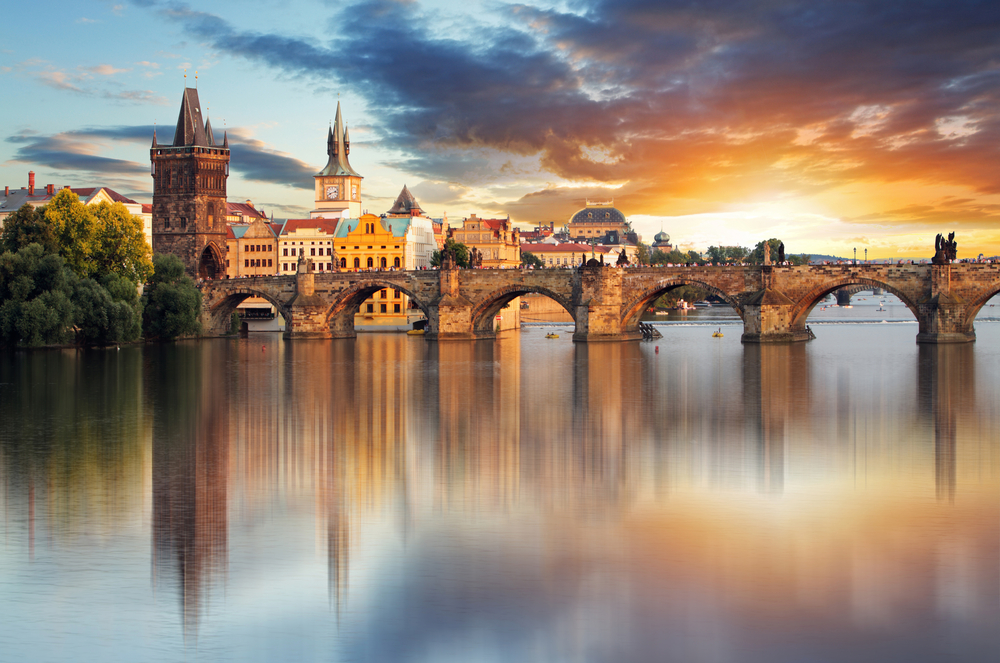 The Ultimate One Day In Prague Itinerary
Stroll The Charles Bridge During Your One Day In Prague
The Vltava River bisects the lovely city of Prague. And it is a wonderful place to begin.
Although 15 bridges span the Vltava River, Charles Bridge is the oldest. Completed in 1402, pedestrian Charles Bridge is lined with statues of Catholic saints.
It is much more than simply a river crossing, as you will find out on your one day in Prague.
Read 17 Things To Know Before Traveling To Prague to help with your planning.
Charles Bridge lures tourists, street performers, and vendors to it. More than just crossing the river, it is an event! The 1,700 ft foot span takes you past 30 bronze sculptures.
The first sculpture added was a bronze crucifix. Charles Bridge has 16 sandstone arches that add to its charm.
At either end of Charles Bridge are the fortified towers that once protected Prague.
If you will be in Prague for a longer amount of time, read my tips in The Ultimate 2 Days in Prague Itinerary.
You can tour either one, the Old Town Bridge Tower, or the Lesser Town Bridge Tower with an admission ticket. I suggest you purchase tickets online to avoid lines.
Musicians and entertainers keep the mood at a festival-like level. Vendors of all kinds sell their wares and food to tempt you. The Vltava River is beautiful to see as well.
Look here: Prague City Card: 2-Day, 3-Day or 4-Day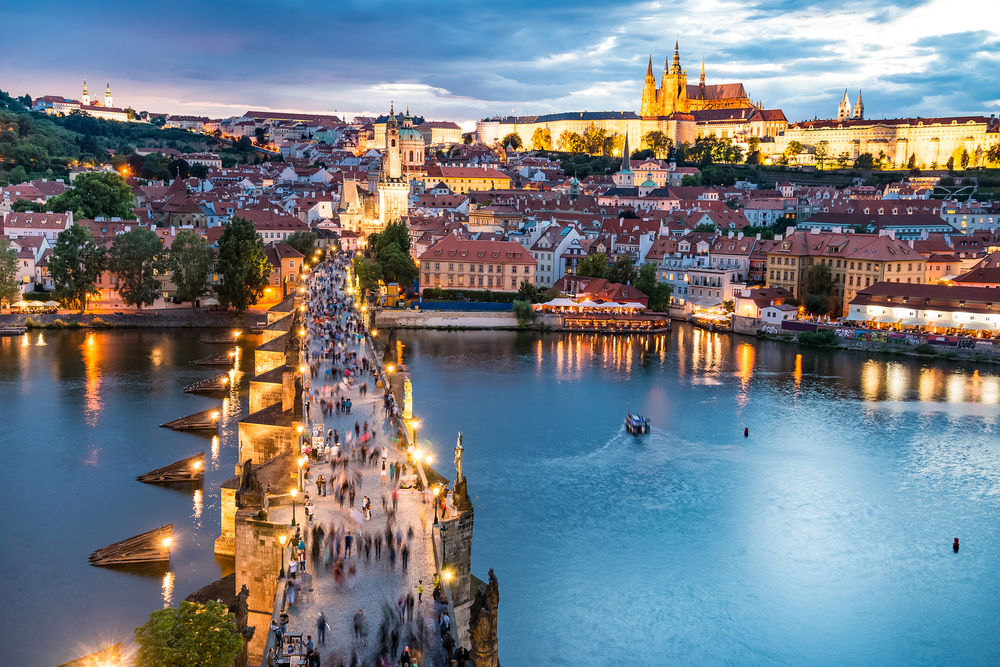 The Prague Castle Complex
High above the city of Prague and the Vltava River, Prague Castle Complex has a long and interesting history. It is a complex of palaces, three courtyards, churches, and pretty streets all spread out high on Hradcany Hill.
Designated as a World UNESCO destination, the Prague Castle Complex is one of the most popular tourist destinations in the world, and of course, in Prague itself.
And interestingly, the Prague Palace is the working office of the President of the Czechia and his living residence as well. This is highly unusual.
If you are starting your one day in Prague by heading straight for the Prague Castle Complex, there are several tram stops and 2 metro stations that will transport you very close.
It is a simple walk from the Charles Bridge, but there's a lot of walking up the hill. That said, it is a very popular way to get to the castle.
Once you approach the complex, you will have to pass through security. I would recommend leaving large backpacks at your hotel or Air B&B.
There is an admission fee to enter all of the buildings once you are inside the complex.
Tickets are sold in several configurations, depending on your budget, interests, and time limit. Options are Saint Vitus Cathedral, Saint George Basilica, and the Picture Gallery Museum.
There is plenty to see within the Prague Castle Complex, even without purchasing tickets. At the top of every hour, you can see the formal and very ceremonial Changing of the Guard.
Be sure to view the colorful Prague rooftops when you are at the Complex. They are picture worthy!
Look here: Prague Castle: Small Group Tour with Local Guide & Admission
Look here: Prague Castle 2.5-Hour Tour Including Admission Ticket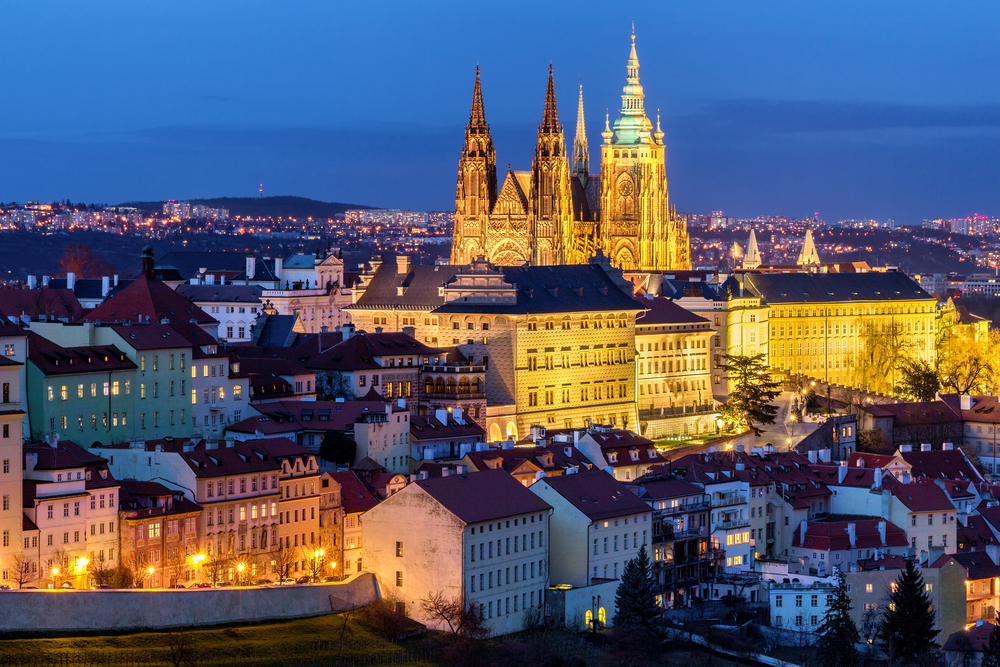 Visit The Golden Lane
When exiting the Prague Castle Complex, take the Golden Lane. It is a cluster of old-world modest dwellings.
Situated adjacent to the complex, it is thought that servants and trade smiths once lived there.
Today, however, local crafters and artisans sell their wares in the cute little houses. The individual homes are all lovely pastel colors set side-by-side one another.
They make the perfect backdrop for that perfect Insta-worthy picture!
Look here: Prague Airport: Private Transfer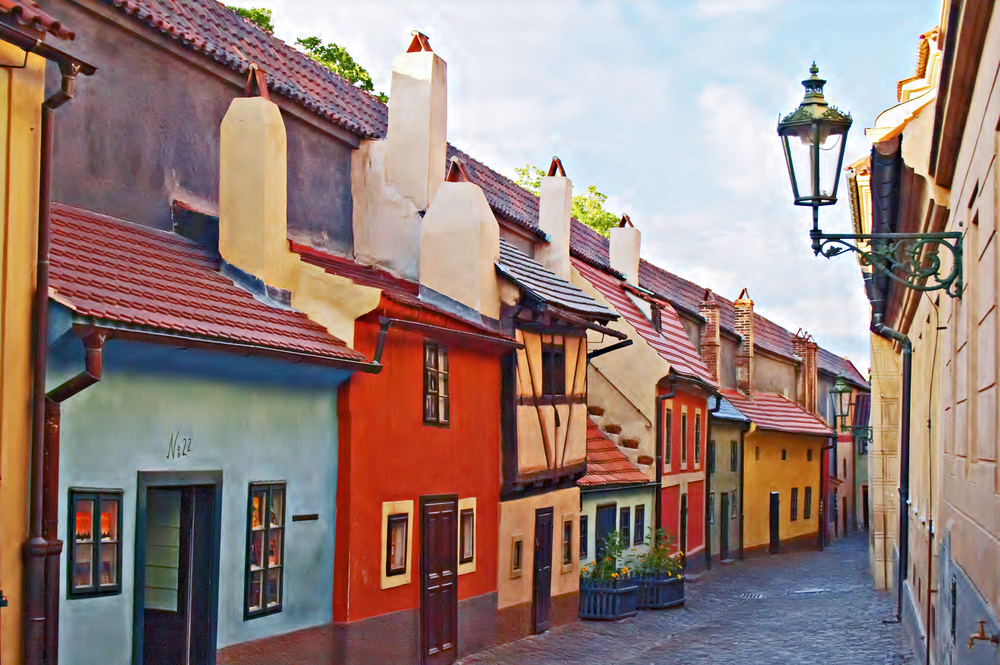 Do Not Miss Old Town Prague During Your One Day In Prague
An absolute must during your one day in Prague is visiting Prague's Old Town Square.
A mecca for locals and tourists alike, here you will find many of Czechia's treasures and history packed tightly together here.
The Church of Our Lady Before Tyn has been the primary church in Prague since the 14th century. Its inspiring Gothic architecture dominates the skyline and it is instantly recognizable by its two massive Gothic spires. Especially when illuminated at night.
Baroque architecture is my personal favorite, so we spent some time in St Nicholas Church. The magnificent interior defies description.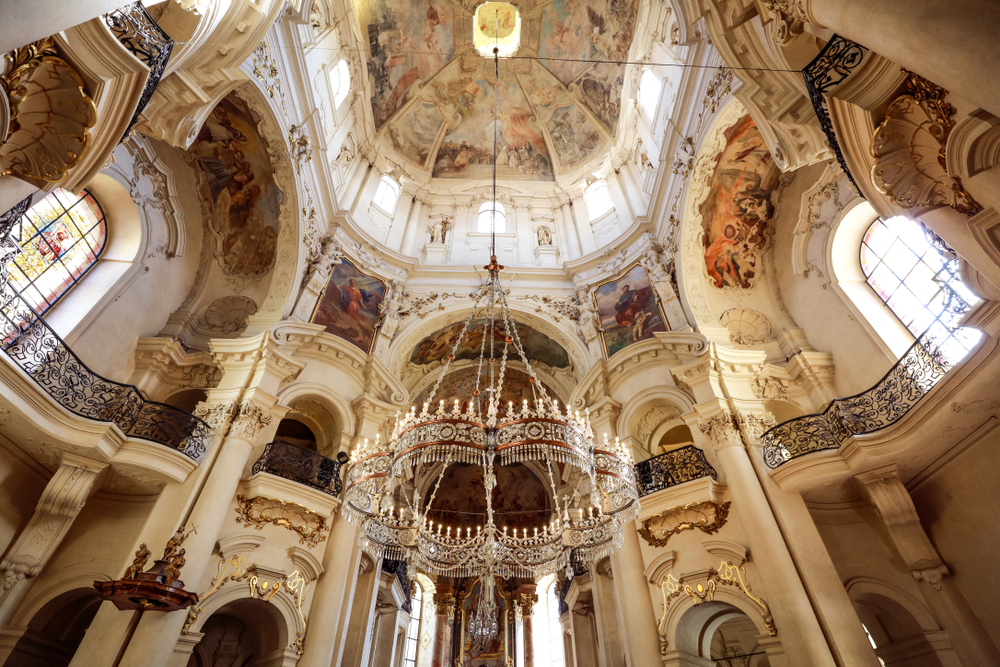 The Prague Astronomical Clock has an almost festival-like atmosphere around it most of the day and evening, that swells to standing room only before the clock chimes at the top of each hour.
The animation and chiming take about thirty seconds heightened by the figures that travel around the top of the clock. The Prague Astronomical Clock is the third oldest in existence and should not be missed.
Look here: Prague: Old Town Hall & Astronomical Clock Entrance Ticket
Look here: Prague 3-Hour Tour with Astronomical Clock Admission
There are plenty of bars, cafes, and restaurants to select from, many that provide outdoor patio seating on the square.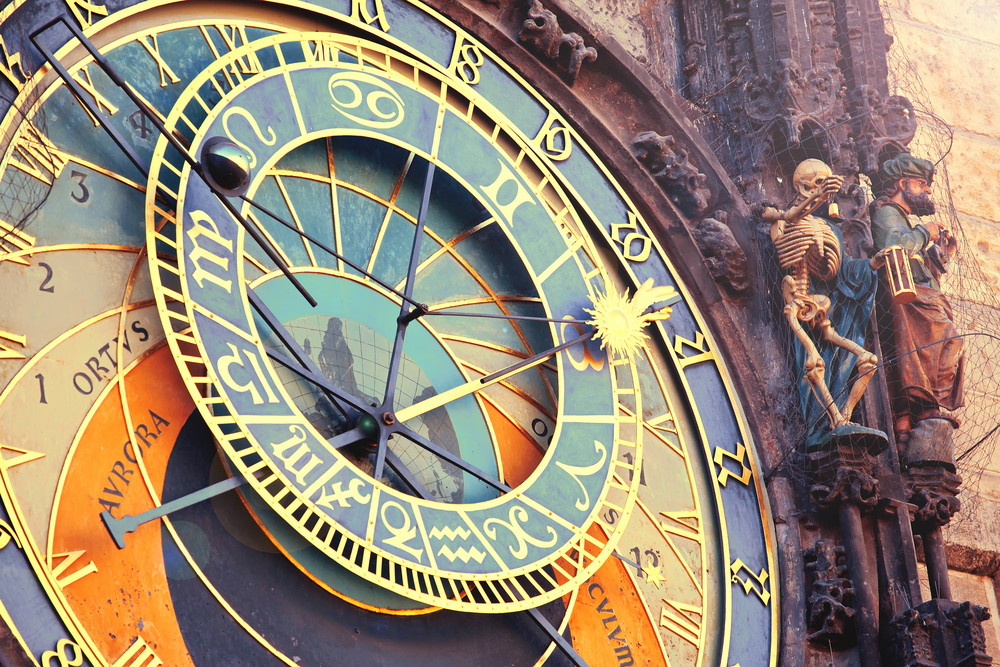 Bohemian Crystal Glitters In Prague
In the mountains of Bohemia in Czechia, the most beautiful crystal is produced. It gleams and shines in all the shops in all of Prague.
There are different qualities of Bohemian crystal to purchase, at different price ranges to fit your budget. Shopkeepers do barter, so do not pay full price. Haggle a little beforehand.
I purchased a crystal vase and once back home regretted I had not bought more. It is just that beautiful.
Look here: Prague: 3-Hour Alternative Walking Tour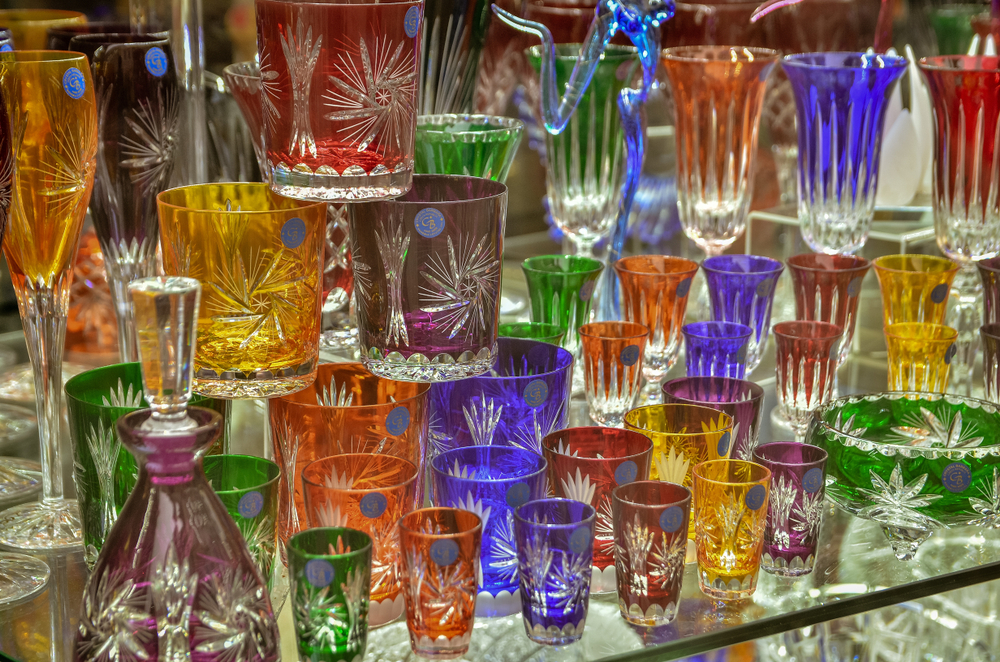 The Jewish Quarter (Josefov)
Prague's historic Jewish Quarter hosts several significant sites worth seeing.
Located between Prague Old Town and the Vltava River, it used to be referred to as the Jewish ghetto.
You can see the Spanish Synagogue and the Old-New Synagogue, Europe's oldest active synagogue.
The Old Jewish Cemetary is an unforgettable sight. There are 12,000 visible graves, with countless souls buried below. Due to space limitations, it was necessary for graves to be placed on top of one another, sometimes as many as twelve layers deep.
There are tickets required to enter these places, so check for availability online.
Look here: Prague: Jewish Quarter Walking Tour with Admission Tickets
Look here: Prague: Walking Jewish Quarter Tour with Museum Entry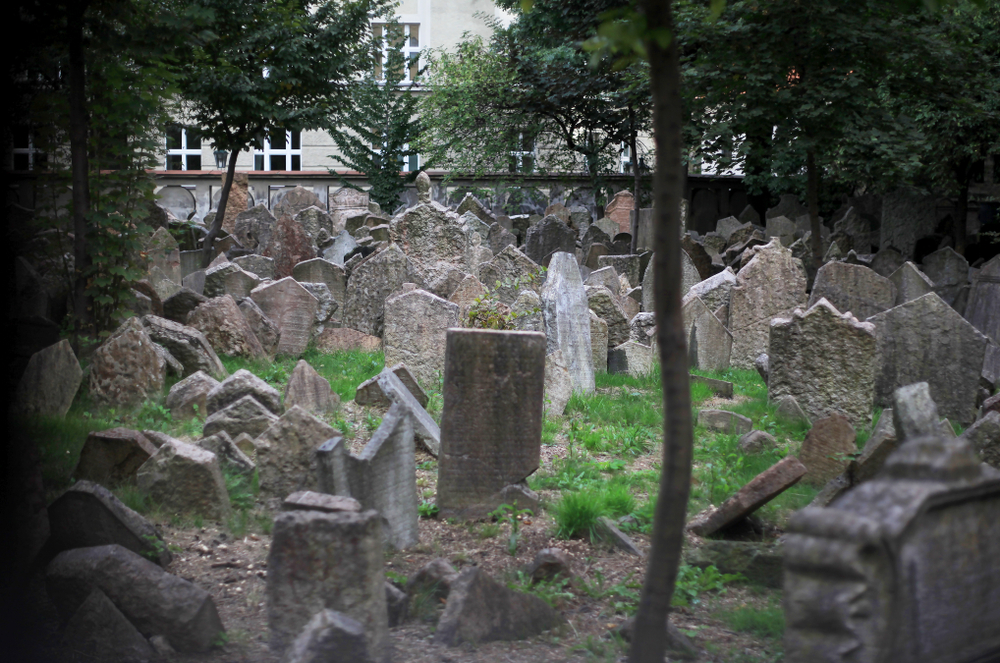 See The Infant Jesus Of Prague
You will find the Infant Jesus of Prague Church located inside Our Lady of Victorious Church in Prague. It is commonly also known as the Infant of Jesus of Prague Church and is a fine example of Baroque architecture.
Tradition has it throughout history many miracles and extraordinary events were attributed to praying to the Infant Jesus.
The statue arrived in Prague, was broken during a war, forgotten, and restored. Many graces have been bestowed and it is now called the Miraculous Infant Jesus of Prague.
You do not have to be Catholic to stop by Our Lady of Victorious Church. Seeing the stunning Baroque side altars and the majestic main altar is rewarding enough. This church should be a consideration on your one day in Prague itinerary.
Look here: Prague: 1-Hour Panoramic Vltava River Cruise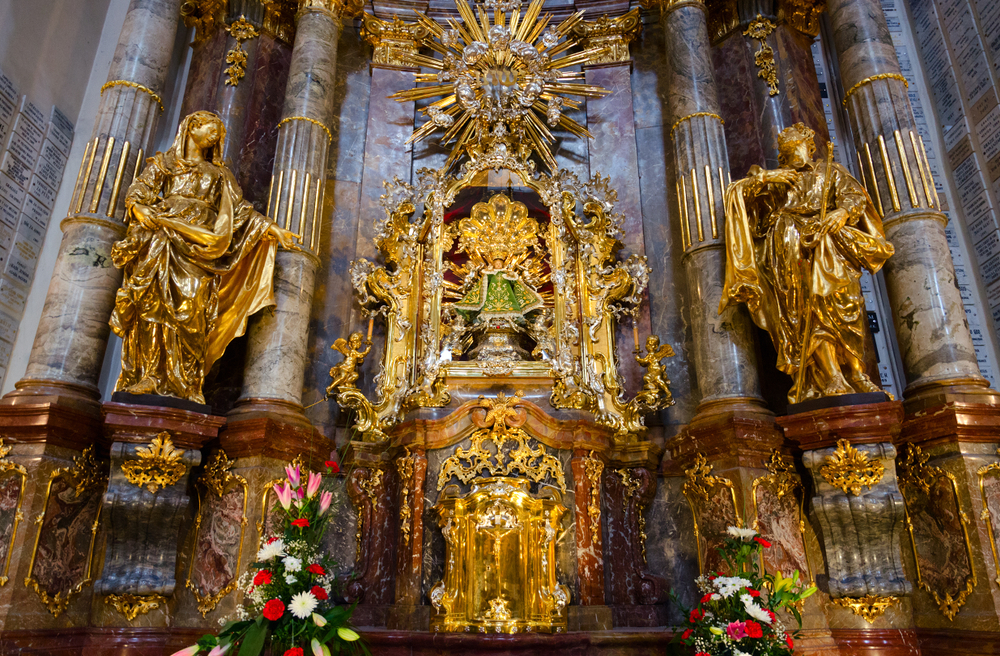 Packing Tips For Your One Day In Prague
Using these useful packing tips will enhance your one day in Prague!
Here are some tips on How To Pack Lightly that I hope will help when it comes time to pack!
A concealed travel pouch may be one of the most important items you bring when traveling to Prague. (Please refer to my explanation below about how my family was robbed during on a trip to Paris and while it is so important to protect yourself and your belongings!).
This unisex RFID blocking concealed travel pouch is lightweight and comes in several colors. It has lots of organization to give you peace of mind.
If you have a pouch already that does not come with the RFID protection, these RFID sleeves would be a solution. This configuration comes with enough passport and credit card sleeves that the entire family would be protected.
They are slim too, so they will easily fit into your pouch or wallet.
I was never a fan of packing cubes until I tried them out! Now I am sold. These Bagail packing cubes are the exact ones I use whenever I travel. I cannot believe how much more organized I am now! And I never leave without them anymore.
Don't forget to bring along a universal power adapter when traveling to Prague. This worldwide power plug is a great example and will charge your phone at the end of your busy days.
And this world traveler adapter kit can charge several devices at the same time. This is what you will need when there are several people traveling in your group, or if you bring several electronic devices on your trip that require charging at the same time.
If you are planning on taking a lot of pictures with your phone (like we did!) you will definitely want to consider an external charging battery. This Anker high-speed phone charging battery is the exact one I carry with me on all of my trips.
It can be used on a variety of phones, not just an iPhone like I have. And wow is it fast! I like that it holds its charging capabilities for several uses so I do not have to worry about it while out and about.
If I forget to recharge it at night, it will still be good to go the next day.
My daughter gifted me with this FugeTek selfie stick and tripod for my birthday. It is made of lightweight aluminum and is Bluetooth enabled.
It connects with my phone easily and it is actually very simple to take group photos or selfies with the remote control. I think it would be a great item to add to your 2 days in Prague packing list.
Hydration is so important. You want to remain hydrated to support your immune system which in turn will be stronger to fight off any germs you will encounter during your travels.
You will want to bring your own refillable water bottle with you.
I never leave home on a trip without my Bobble filtration bottle. the 18.5-ounce size is perfect for travel and it fits nicely in the pocket of a backpack or your purse.
Also when filled with water, it is not too heavy to carry. And the charcoal filter ensures fresh clean water whenever you fill the Bobble. You can find filter replacements here.
Perhaps you are traveling a long distance and packing space is a premium. Then this set of collapsible silicone foldable water bottles would work well for you. Would not take up much space in your suitcase at all.
You will want a backpack or daypack with you to store snacks, your water bottle, phone, extra clothes, etc. while you are exploring Prague. This foldable water-resistant backpack would be great.
It is very affordable and is available in many color options for you to choose from. The fact that it folds down into a zippered pouch will make it easy to pack.
Perhaps you need a more substantial backpack for your international travel. This antitheft backpack has a charging port, is water-resistant and can comfortably carry up to a 15.6″ laptop.
You will be walking more than usual during your one day in Paris itinerary. A sturdy and comfortable walking shoes are a must-have, especially because there are a lot of cobblestoned streets.
These waterproof all-season shoes are extremely affordable and yet fashionable. Mostly everyone is familiar with the Skechers brand, and these Air Run high fashion sneakers come in a lot of colors to match your outfits and are still affordable.
If you are visiting Prague in warmer weather, maybe you want a pair of sandals to wear to dinner or to the local cafe, I highly recommend these Vionics adjustable strap orthotic sandals.
I have several pairs of Vionics that I bring with me *everywhere* I travel. They are very comfortable.
Bring a lightweight scarf or shawl. Scarves and shawls are very popular in Europe and Prague is no exception. Both men and women wear scarves, both decoratively and as a layering piece to keep warm.
This cotton unisex lightweight scarf is versatile and can be worn in any season. And here's another option to consider:
this lightweight sunscreen shawl scarf would do double duty to protect you from the Czech sun should you spend one day in Prague in the warmer seasons as well as being a fashion accessory layering piece.
We all need to protect our eyes from the sun's harmful UVA/UVB rays. These unisex polarized sunglasses come in a lot of lens colors and frame designs and are extremely affordable too.
If you are fond of the aviator-style of sunglasses these polarized aviators may interest you.
If you are in need of new luggage to travel to Prague, this expandable soft side spinner luggage is affordable and comes in lots of colors.
If you like hard-sided better, then you may favor this hard-sided luggage set better. Both sets come with TSA locks and 8 wheels per piece.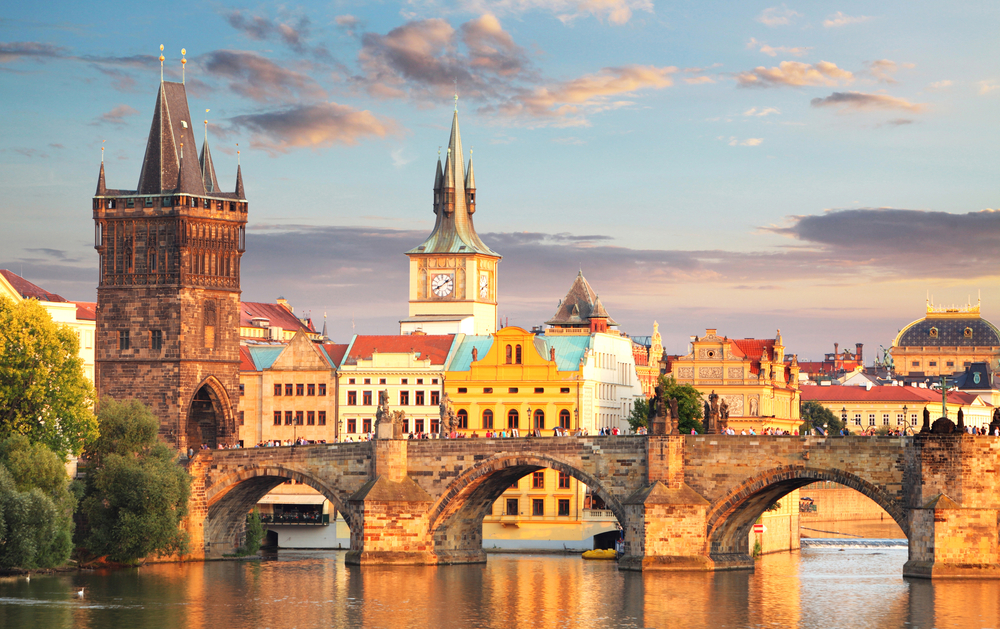 Quick Tips For Your One Day In Prague
Here are some quick tips and tricks which hopefully will enhance your one day in Prague and make it less stressful and more enjoyable.
UPDATED: Stay vigilant! During our last trip to Paris, our family of four was robbed 3 times. We even discussed at great length how we had to remain vigilant to protect ourselves against pickpocketers.
However, we were not successful.
Please do not have any preconceptions about who can violate you by stealing your possessions. Stay vigilant and alert. Hope you have more success than we did.
Prague is a large European capital city. Pickpocketing is rampant there as well. Please stay vigilant and watch out for each other.
Remember to always stay hydrated. Bring a nondisposable refillable water container and refill it often! Not only will you hedge the odds against getting sick, but you will also be saving a lot of water bottles from being sent to the Czech landfills.
Do not worry about the language barrier. When we visited Prague, my sister and I knew no Czech words and had absolutely no difficulty communicating with the Prague people.
The Czechs know enough English that you will be able to communicate enough for them to understand. There are even translation apps you can download to your phone.
Call your credit card company and check to see if charges foreign transaction fees every time you are out of the country. If it does, inquire about applying for a credit card that does NOT charge such fees.
When using an ATM in Prague, make sure it is in your bank's network, so you do not incur a transaction fee every time you use a Czech ATM to withdraw money. Also, consider withdrawing larger amounts of money, fewer times, to limit the transaction fees by your bank, if any.
Whenever you can, purchase advanced tickets to Prague attractions whenever possible during your 2 days in Prague. Tickets purchased online, in advance, are mostly always discounted, and many times come with a "skip the line" perk.
You will have more time to spend at the attraction since you will not be waiting in the entrance line. Also, you can better pace yourself during your busy days.
One day in Prague is ample time for you to visit many of her most iconic monuments, churches, and attractions, using this ultimate one day in Prague guide.
I do hope you visit numerous restaurants and bakery shops too. They will delight your senses and offer the opportunity to taste the authentic local cruise and beer.
Prague will welcome you with open arms. Spending one day in Prague will be a trip that you won't soon forget.
Have you ever been to Prague? Share one highlight that was your favorite thing to do, or place to visit. What would be your top attraction recommendation?
Linda On The Run is a participant in the Amazon Services LLC Associates Program, a program designed to provide a way to earn fees by advertising and linking to Amazon.com