Are you traveling to Ireland? Are you looking for some advice so you are more prepared once you arrive in Ireland?
Well, you have come to the right place because I have spent time in Ireland. And here I have listed 15 things to know before traveling to Ireland.
Read how to avoid getting sick on a plane if you are flying into Ireland and are looking for tips on remaining healthy to enjoy your holiday.
Ireland is an island in the North Atlantic Ocean. It is located very close to Great Britain, separated by the Irish Sea.
It is the third-largest island in Europe and boasts a comfortable climate year-round, not too hot nor not too cold.
If you are flying a long distance while traveling to Ireland, read my 7 tips for surviving long haul flights.
Look here if you need transportation to Dublin from the airport: Dublin: Airport Express Airlink Bus Transfer
The epic Irish history, the food and drink, the draw-dropping scenery, and the people all are wonderful reasons to explore, discover, and visit Ireland!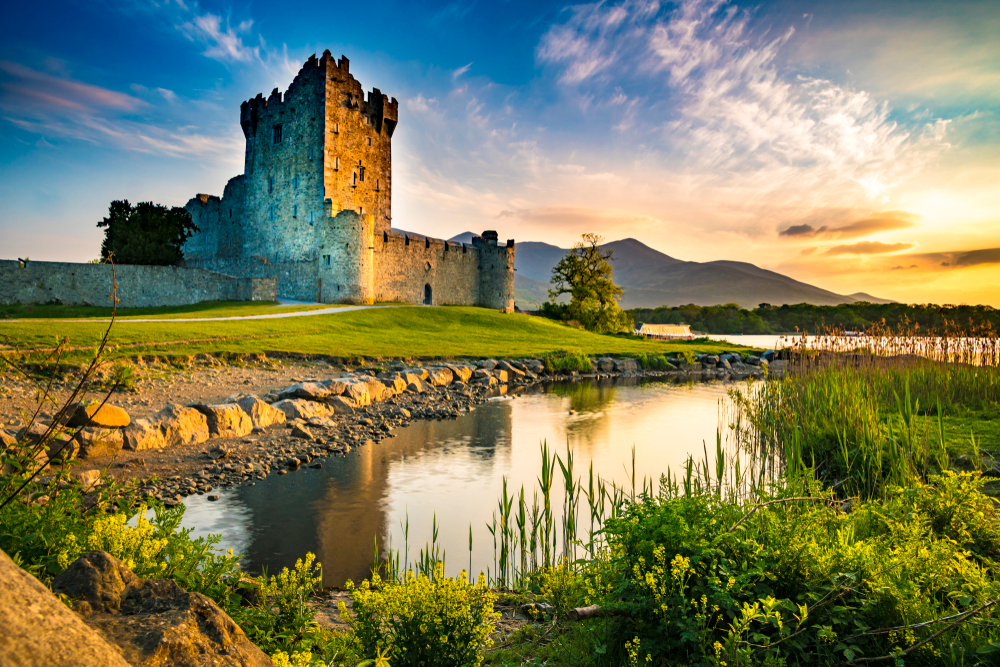 15 Things To Know Before Traveling To Ireland
Check On Your Country's Irish Visa Entry/Exit Requirements
Americans traveling to Ireland are not required to obtain a visa. However, only a 90-day stay is permitted within all of the European Union.
So if you are not holding an American passport, it is prudent for you to research your country's Irish visa requirements.
Read my 7 day Ireland itinerary for tips and suggestions if you have a week to spend in Ireland.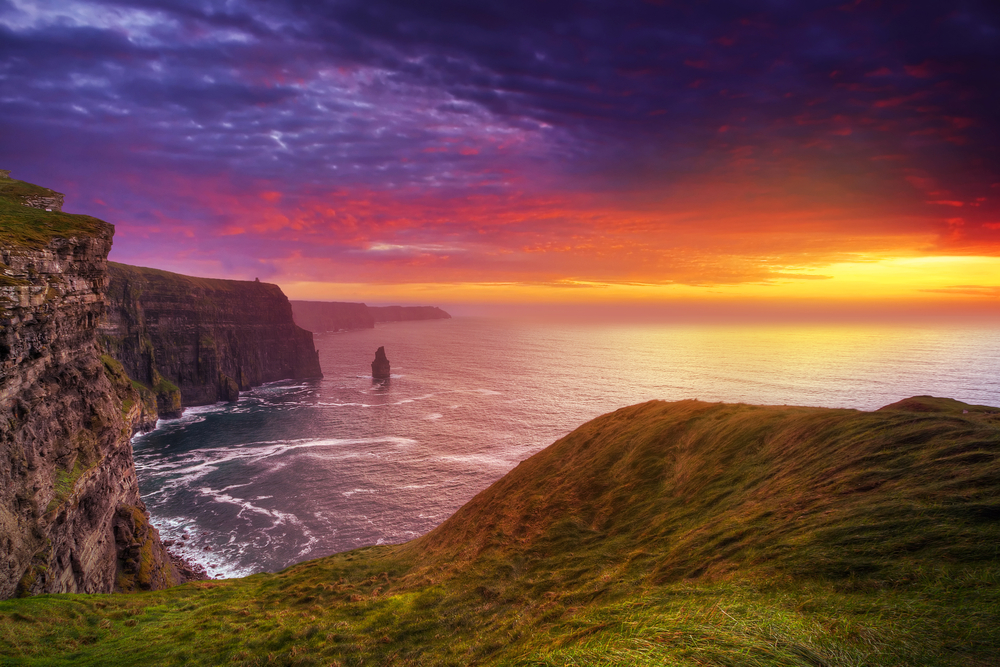 Check Your Passport Before Traveling To Ireland
You will need a current and valid passport to enter Ireland. Your passport's expiration date must extend longer than the duration of your stay in Ireland.
Also, Ireland requires one full empty blank page.
Check your passport dates and empty pages well in advance of your trip because expedited handling fees to renew your passport are quite expensive!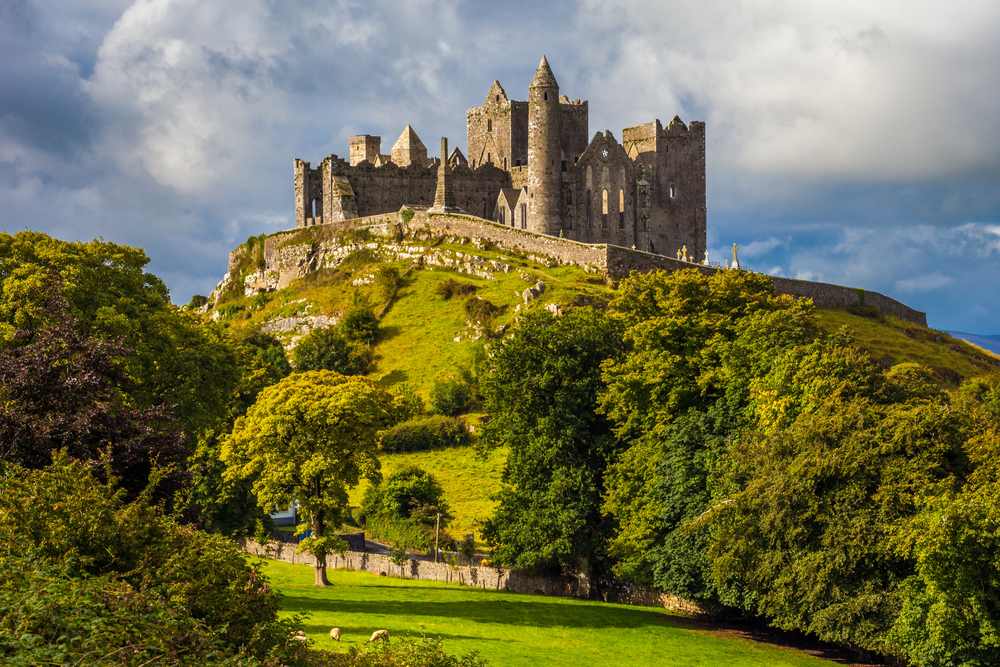 Purchase An Irish SIM Card For Your Phone
When traveling to Ireland, one of the best pieces of advice I can share with you is to purchase an Irish SIM card for your smartphone before you leave the airport.
With the new SIM card, the cell towers will recognize your phone as Irish and you will have improved cell service and much-improved Wifi.
Your phone number will be new as well. So it is best for you to remain in contact with your family and friends through Facebook Messenger or the What's App.
There are several kiosks at the Dublin airport selling SIM cards for your convenience.
Look here: Blarney Castle Full-Day Tour from Dublin
Cash or Credit Cards? What Is Best To Have?
The simple answer is when traveling to Ireland, you will want to have both!
Credit cards are widely accepted throughout The Emerald Isle. However, if you are using cash, only the euro or pound are accepted.
The Republic of Ireland uses the Euro. Northern Ireland uses the British Pound Sterling.
Look here: House of Waterford Crystal: 1-Hour Factory Tour
You will get the best exchange rate when traveling to Ireland if you use an ATM. I highly suggest you use an ATM before you leave the airport to withdraw money in the local currency
Be aware there are fees to use an ATM. So, may I suggest you withdraw a larger sum of money, that can last a longer period of time, so you do not keep having to pay the transaction fees.
Also, check with your bank at home before traveling to Ireland and find out the names of fee-free "in-network" bank ATMs in Ireland, so the out-of-network fee is not charged you as well.
If you need to exchange money from home into the local currency, your safest and fairest bet would be an Irish bank.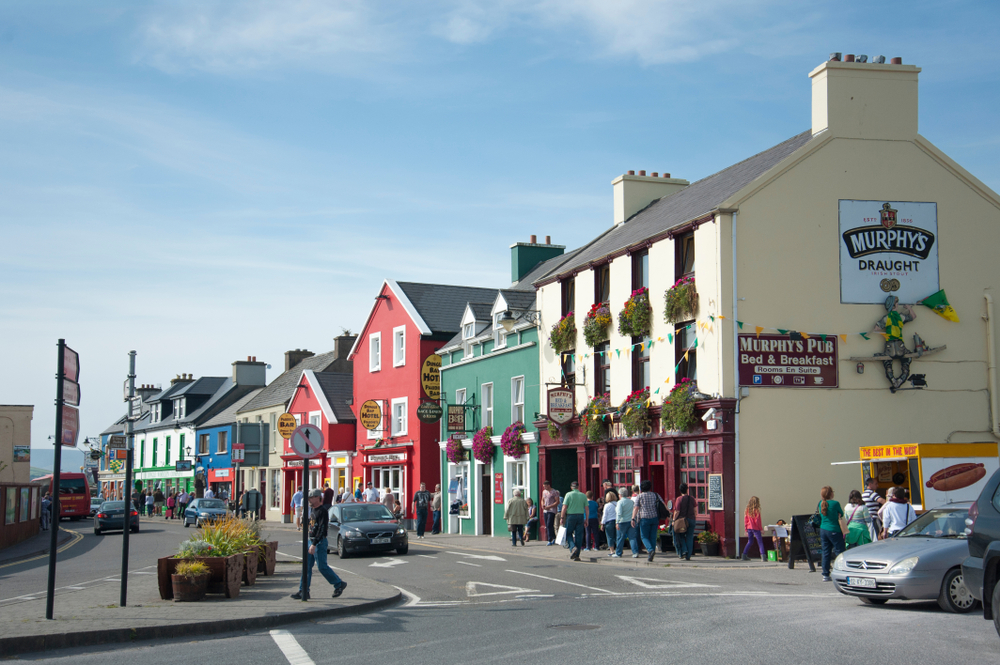 Renting A Car Is A Great Option In Ireland
If you want more independence, or will be spending a longer period of time in Ireland, renting a car is a great idea to consider before traveling to Ireland.
There are so many breathtakingly beautiful destinations in Ireland and having a rental car is a great option!
There are a few things to know.
By law, an international driver's license is not required to rent a car in Ireland. However, the rental car company you work with may require one.
So research your best options, and inquire with the company you decide to work with.
Vehicles in Ireland drive on the left side of the road. As an American, this was a difficult transition for me. And I really needed to pay attention.
We had no issue getting a car with an automatic transmission, so be aware manual transmission is a possibility.
Once you leave the major metropolitan areas and villages, the main roads quickly become narrow, uneven, and twisty-turny winding.
Most of my time was spent on the back seat of our rental lying prone because I was very carsick when in the Irish countryside.
I wish I would have known about this before traveling to Ireland. I could have brought along some Dramamine, Bonine, or travel wristbands for some relief.
Making a right turn on red is illegal in Ireland. The light must be green. We Americans had yet another thing to keep in mind when driving in Ireland.
The road signs in Ireland are bilingual. They are written in Gaelic on the top with the English translation written just below it.
And there are a lot of roundabouts in Ireland to tend to, instead of traffic lights.
With this knowledge, and an independent spirit renting a car in Ireland is a great idea. However, there are can be a pitfall or two when dealing with international car rental companies.
Read about our rental experience with Europcar Ireland during my visit. I hope you learn from our mistakes.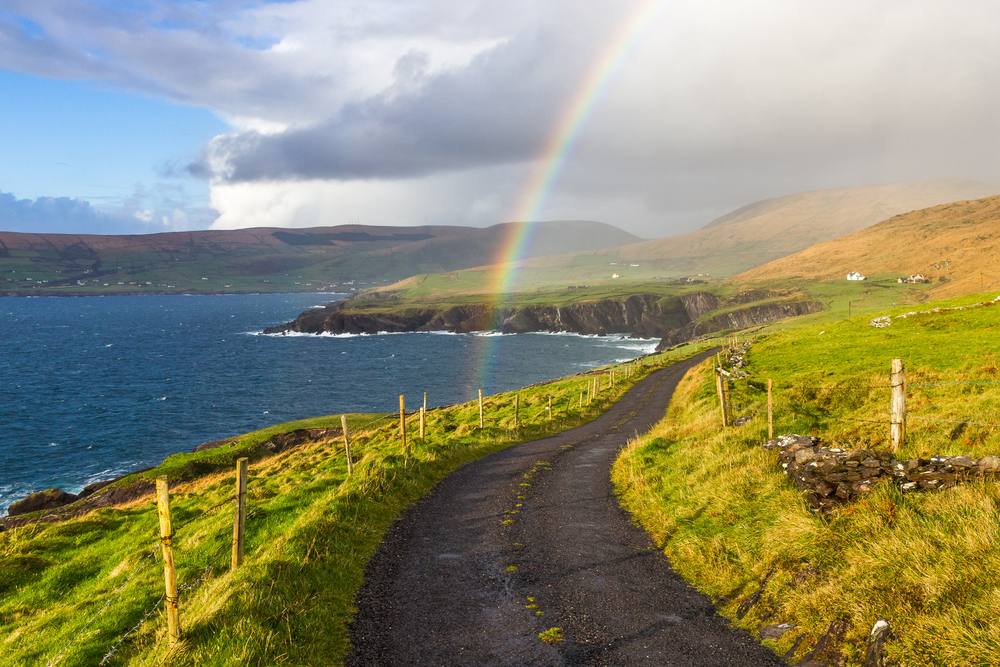 Use Irish Public Transportation
If touring with a professional company is more your style, that is a great option! During your downtime, do not be afraid to use the available public transportation Ireland has to offer.
Using my smartphone enabled with an Irish SIM card, I was easily able to use my iPhone's map application to get around Dublin, using public transportation.
You can look here to read about public transportation options in Dublin.
In cosmopolitan cities and quaint charming Irish villages, you will find many options to access for public transportation that varies by the size of the city. Trains, busses, trams, and trolleys are all great options.
Be very aware of the fact that bus pick up and drop off locations can vary widely. Sometimes by a few blocks!
Don't Plan On Spending Too Much Of Your Time In Dublin
Dublin is the capital of Ireland and its largest city. Located on Ireland's east coast it is home to almost two million people. It is both a contemporary and historical city at the same time!
A great number of visitors to Ireland fly into Dublin airport and are romanced by all that Dublin has to offer. They tend to spend a great deal of time there. And for great reasons, there is much to see, do and eat in Dublin.
But don't be lulled into staying there for the majority of your time on the Emerald Isle.
On my first trip, I spent ten days in Ireland, the first three were in Dublin. I think one to three days is an adequate amount to time to see the sights, sample the food, and drink the beer/whiskey in Dublin.
If you are looking to learn more about Dublin, read my three day Dublin itinerary here.
If you have less time to devote to Dublin look at my one day Dublin itinerary for suggestions on which highlights to visit.
Look here: From Dublin: Fully Guided Day Tour to the Cliffs of Moher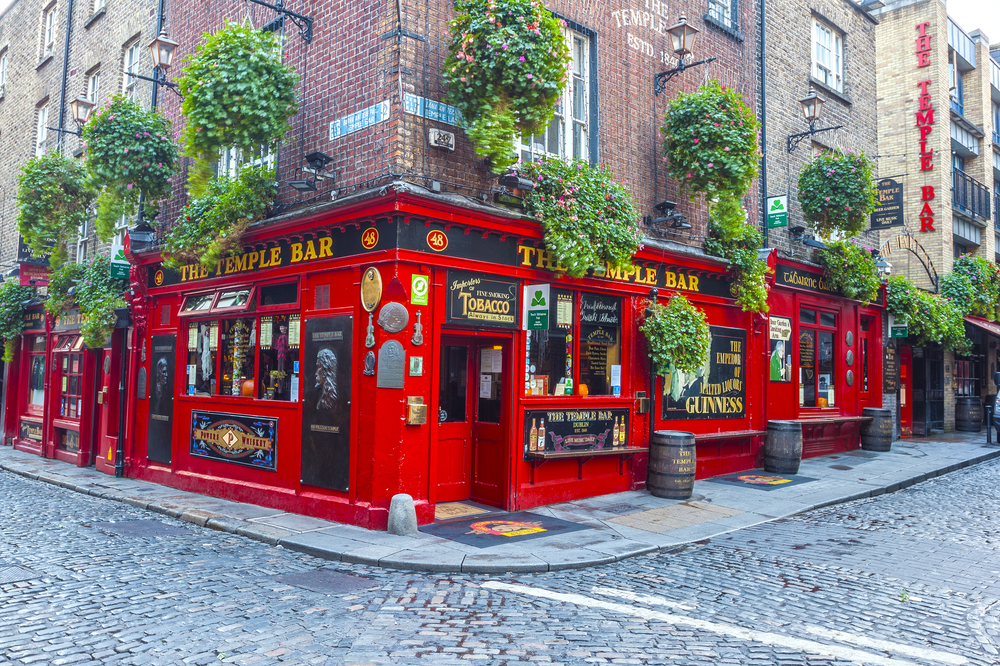 You Will Feel Safe As In Any European City While In Ireland
Let me start out by saying my family and I were robbed in broad daylight in Paris France. That would be 3 out of 4 of us. All in the same day. At different locations. So we are aware of unsafe circumstances.
We always felt safe everywhere when traveling around Ireland.
I was alone during my visit to Dublin for several days, and I walked a great bit around the city. I never felt unsafe ever.
Once I reunited with my family and we began our road trip around the island, we never had any concerns for our personal safety.
Of course, remain vigilant with your personal space and your belongings.
Look here: Blarney and Cobh Tour from Cork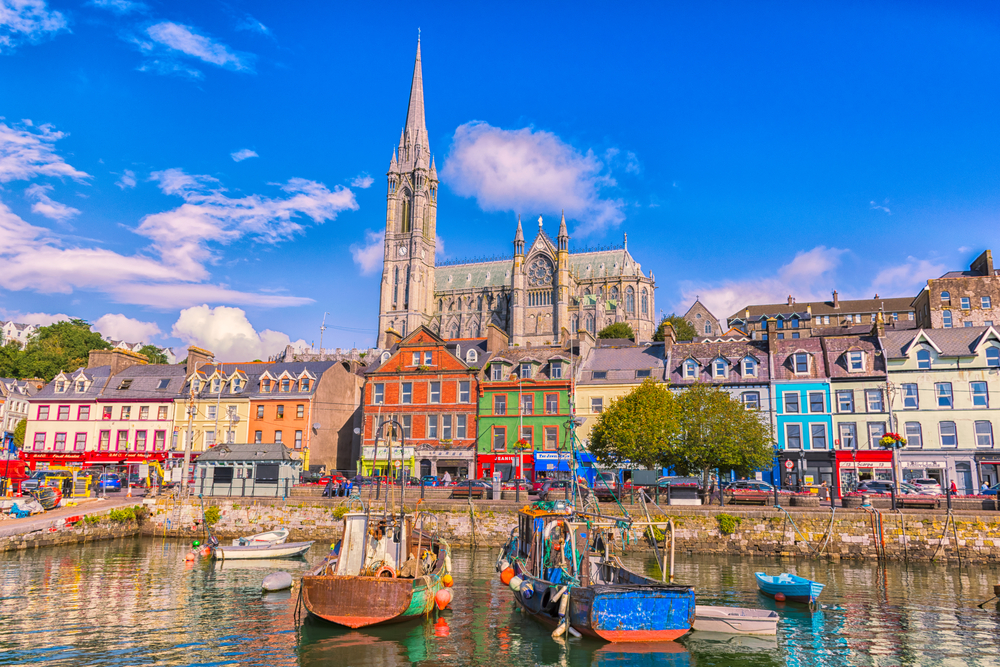 Bring Along A Travel Adapter When Traveling To Ireland
Do not count on your Air B & B or hotel to have enough electrical power adapters for all of your devices. You must bring one (or some) of your own.
If you have multiple devices to charge every night, as we did, you will want to bring along several devices just in case, to fit into the 230V Irish outlets.
Look here: Cliffs of Moher: Visitor Experience Ticket
Irish Crafts Will Not Disappoint You
As in any vacation journey, traveling to Ireland means bringing home fantastic souvenirs for family and friends. And yourself!
Ireland is known for its Aran sweaters and exceptional linens.
The sweaters can be either hand-knitted or knitted on a loom by a machine. Either one is acceptable and there are considerable savings when purchasing the latter.
As with anywhere in the world, be wary of unscrupulous shopkeepers who switch out labels on merchandise to show it was handmade, or made in Ireland. When indeed it was not.
Look for reputable shops that can provide proper authenticity for the items they sell. And have large signs explaining about the merchandise they sell.
The symbols of Ireland are the green shamrock, the harp, and the Celtic cross. You will see mass-produced and locally made products wherever you travel within Ireland.
Both are great options depending on your budget and how many people you are buying souvenirs for!
Read my tips if you are looking to pack lightly when traveling to Ireland.
Should You Tip When In Ireland?
Tipping in Ireland is always an option. Especially for exceptional service. Such as in restaurants, taxis, for hairdressers, and in nail salons.
The standard tip is 5%. For exceptional service, or when in doubt, leave 10%. All tips are up to you.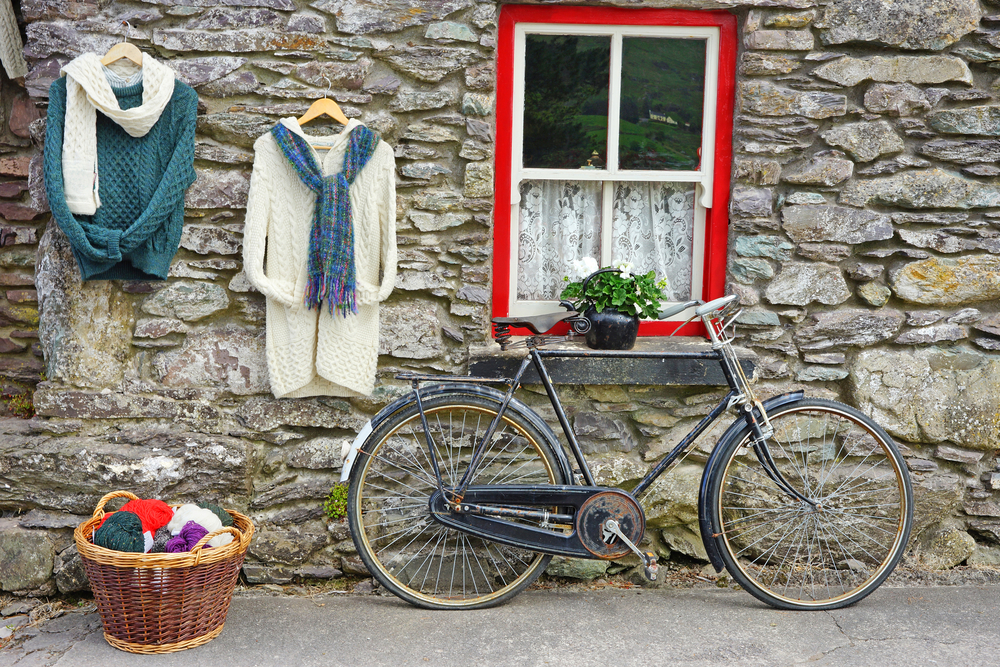 Consider Visiting Northern Ireland
The Island of Ireland contains two separate entities: The Republic of Ireland and Northern Ireland.
The Republic of Ireland is the destination that most people visit when traveling to Ireland.
Northern Ireland remains a part of the United Kingdom.
Due to Ireland's civil unrest in the past, many believe Northern Ireland in general and Belfast specifically are still unsafe. As they once were in the past. This is definitely not true!
I'd say most are just not that familiar with Northern Ireland and what there is to do or see there.
Belfast is located a quick two hours from Dublin. It is driveable, or you can take the train or bus, or even fly.
Look here: Giant's Causeway and Rope Bridge Tour from Belfast
The scenery is unsurpassed. Castles next to the sea, beautiful forests, sea cliffs, and rolling hills all coexist alongside bustling cities and towns.
If you are a Game of Thrones fan, you are aware the series was filmed in Northern Ireland and you can visit where it was filmed! Reading this Game of Thrones Ireland Itinerary help you find the best filming spots!
And visiting Northern Ireland is a unique way to visit two countries on the same day, or during the same vacation. Once you cross the border you will see the British flag flying!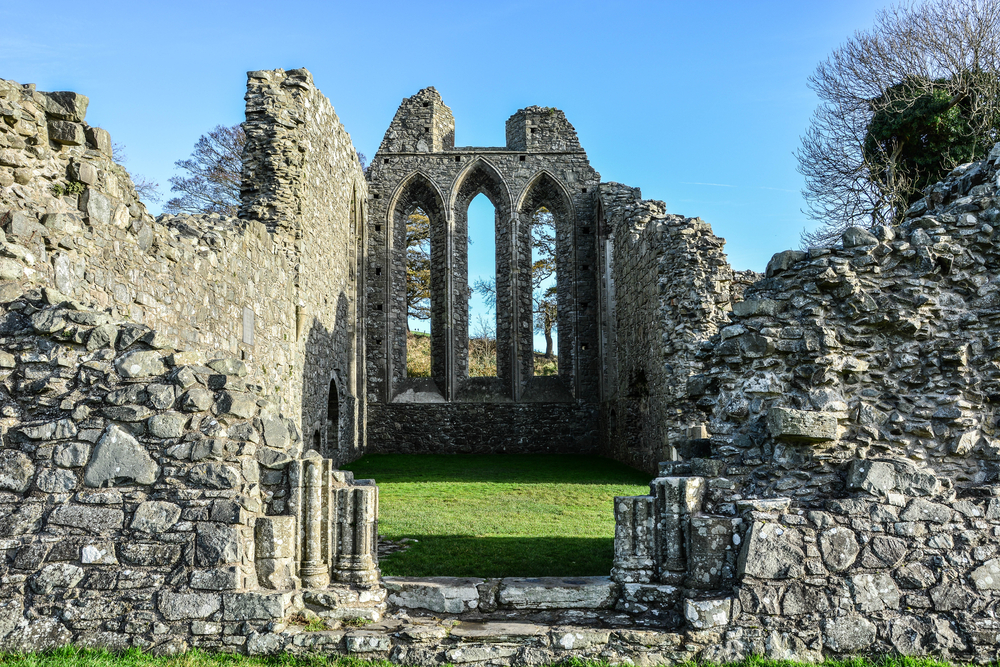 When Traveling To Ireland There Is More Than The Ring Of Kerry
Perhaps we overestimated the Ring of Kerry in our minds. We had heard so much about it. I want to share that the Ring of Kerry did not impress my family or me.
The twisty roads I mentioned before? They were everywhere along the Ring of Kerry. I was pretty much prone on the back seat the entire time.
Look here: Ring of Kerry: Lakes of Killarney Scenic Coach Tour
Not only that, but the scenery also was not THAT spectacular. Awesome for sure, but I think we over-anticipated it.
Then there were all those massive tour busses. They were driving as if they ruled the narrow roads! They barely slowed down for oncoming traffic and it was very scary.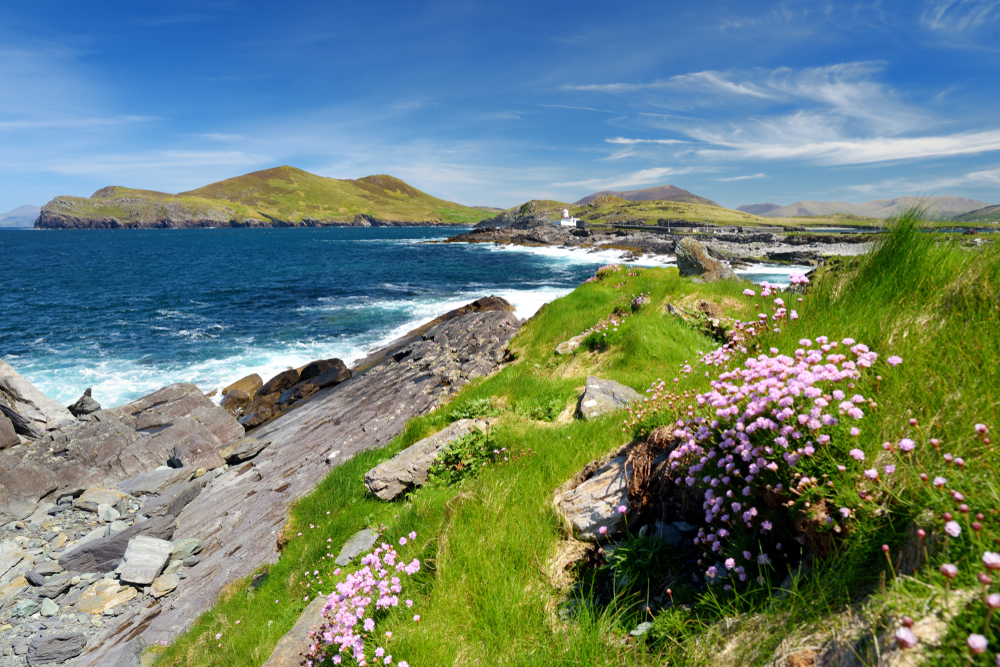 Try The Dingle Peninsula When Traveling To Ireland
Located in southern Ireland, we were very impressed with Dingle. A charming hamlet, it is the beginning and terminus of the world-famous Slea Head Drive.
Look here: Dingle & Slea Head Peninsula Day Tour
The roads are still narrow, but not as difficult to drive and the views are beyond epic! You will see historical sights, Star Wars filming sites.
And the Irish countryside you expect with charming farmhouses and sheep grazing. And not that many huge tour busses. Highly recommend!
Read about the top ten things to do in Dingle for my tips on what to do and see there.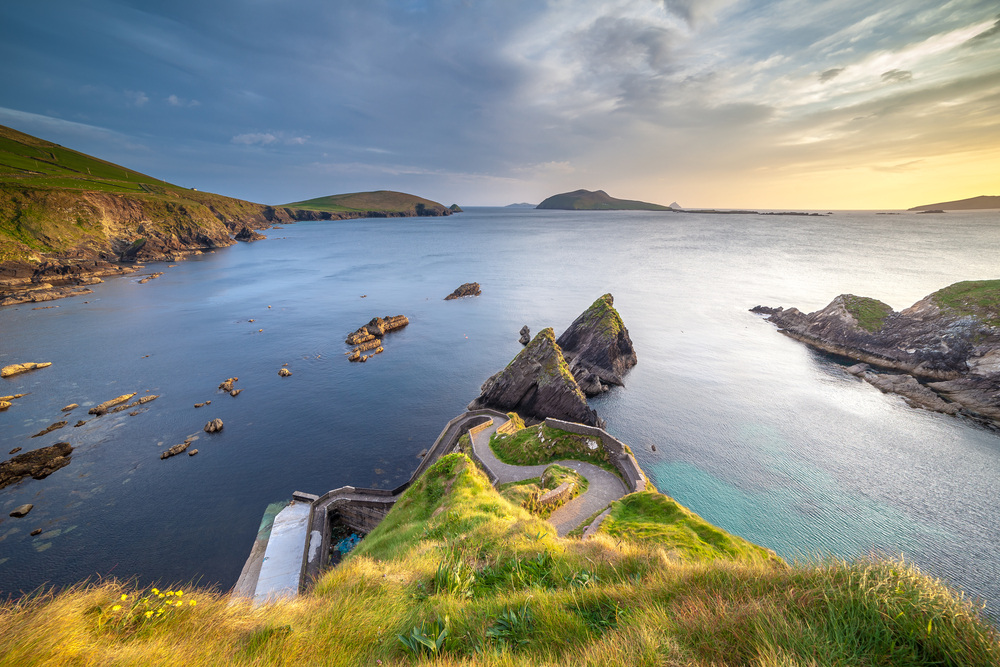 Traveling To Ireland In The Off-Season Is A Great Idea
A lot of travelers believe that summer is the best time to visit Ireland. They think that's when the weather is the best and the country is its greenest.
Well, it is also very crowded with international tourists and locals on holiday. It can be unbelievably hot and some of the charming hotels and cottages may not be equipped with air conditioning.
Ireland is green pretty much all year round due to its climate. If you have some options when traveling to Ireland, I would suggest a trip during the offseason.
It is often less crowded, and the prices are often cheaper during the "shoulder seasons."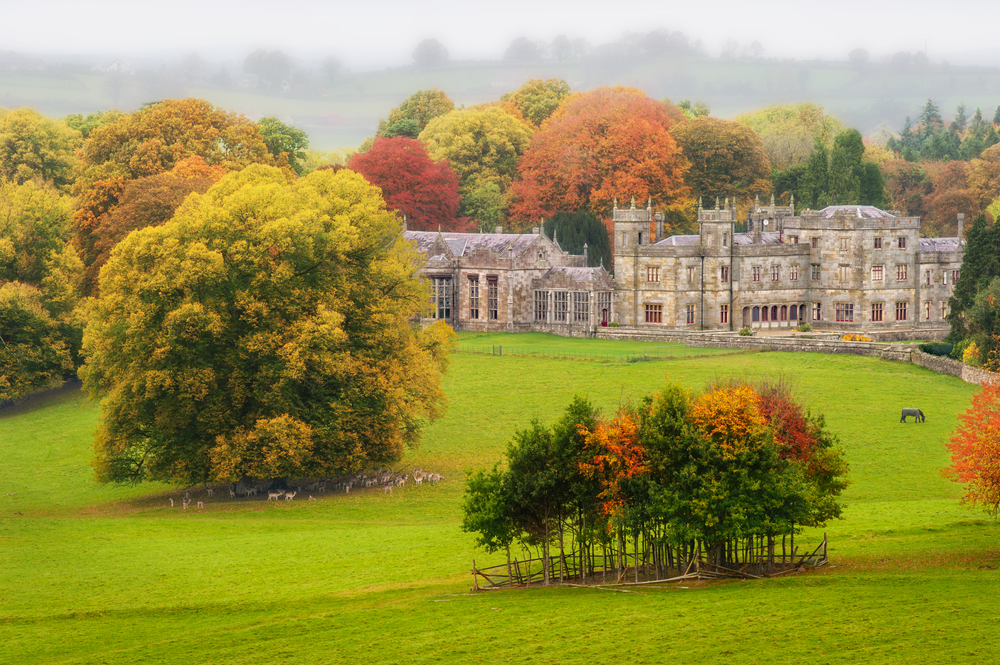 Packing Tips When Traveling To Ireland
And if I forget to recharge it at night, it will still be good to go the next day.
My daughter gifted me with this FugeTek Selfie Stick and Tripod for my birthday. It has Bloothtooth connectivity so it is very easy to use.
It is made of durable aluminum and is very lightweight and easy to carry. I love mine and I think you will enjoy it too!
Don't forget to bring along a universal power adapter when traveling to Russia. This worldwide power plug is a great example and will charge your phone at the end of your busy days.
And this world traveler adapter kit charges several devices at the same time. This is what you will need when there are several people traveling in your group.
Or if you bring several electronic devices on your trip that require charging at the same time.