Are you in the planning stages of an Irish road trip, and searching for a car rental company? I recently spent two weeks in Ireland, driving around a lot of the countryside, and my family and I used Europcar Ireland to rent our SUV.  The car was beautiful and the ride was sublime. Read all about my experiences below!
Traveling Ireland Using A Europcar Rental: My Experience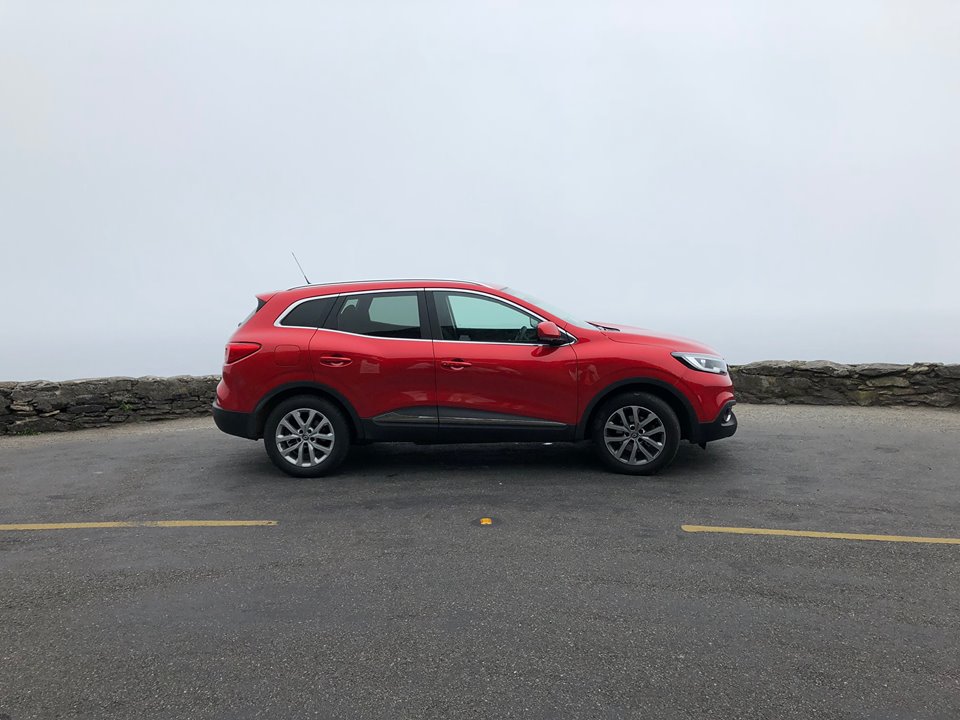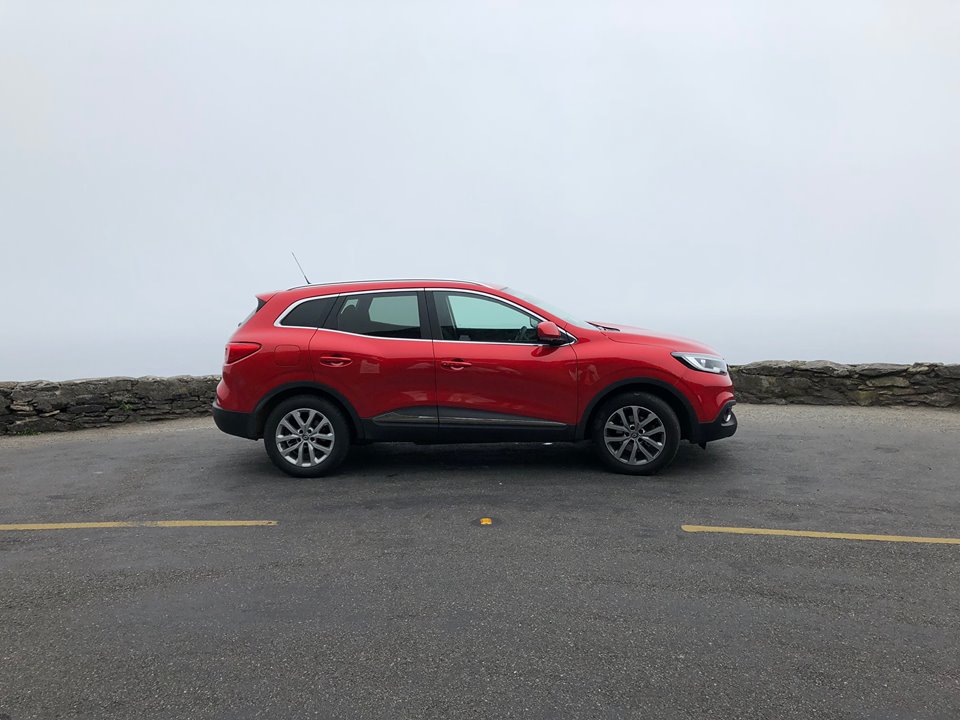 Pickup At Dublin International Airport Was A Breeze
We arrived at Dublin International  Airport around 10 AM local time after a long overnight flight. We never worked with Europcar before and headed to the car rental section of the airport, after we retrieved our checked bags from baggage claim.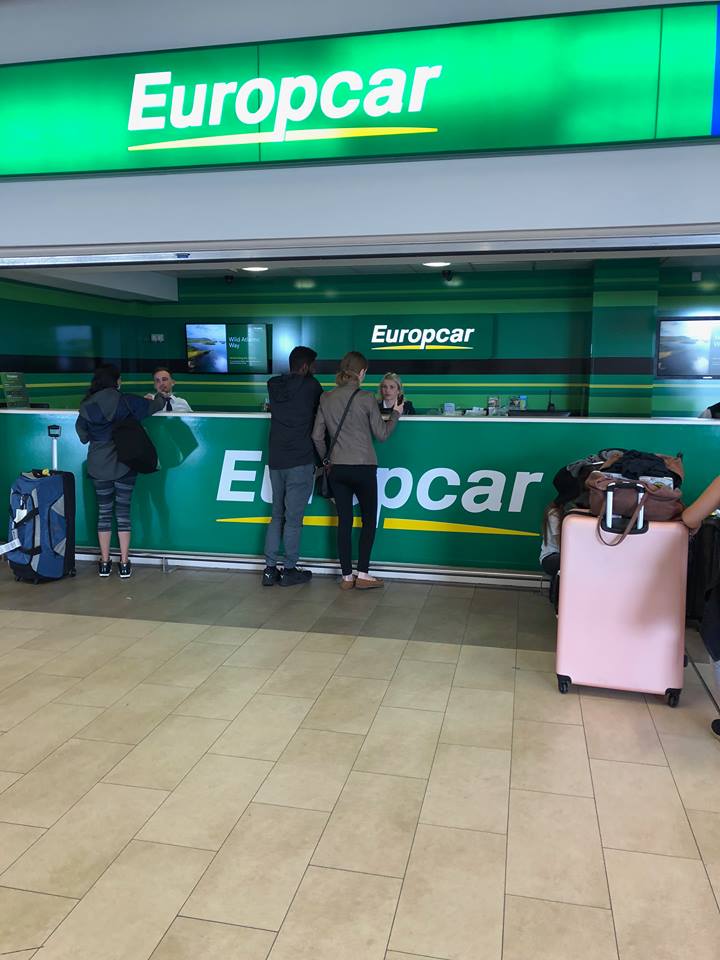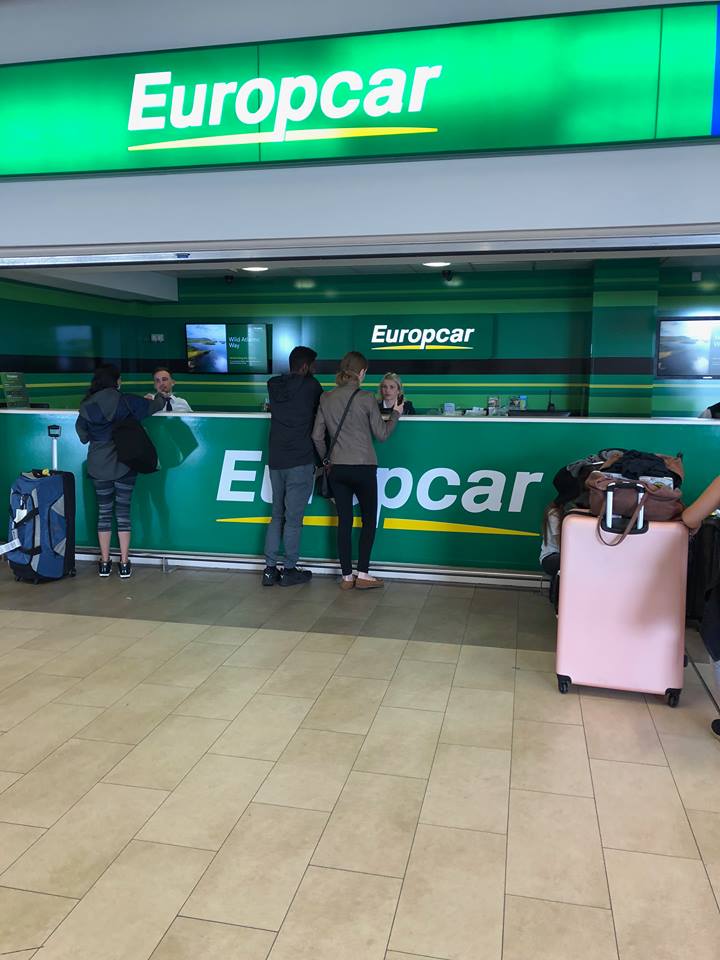 We stopped at the Europcar rental counter/customer service and were instructed where to go to find the shuttle bus to be taken to the off-site Europcar location to secure our car.
The shuttles arrived frequently to transport passengers, and when we arrived there was already a van waiting to take passengers to get their rental car.  The driver of the shuttle was very friendly and helped load (and unload) all our luggage, and the drive to where we would retrieve our car was literally five minutes away. The shuttle bus, while crammed with passengers, was very comfortable for the short ride.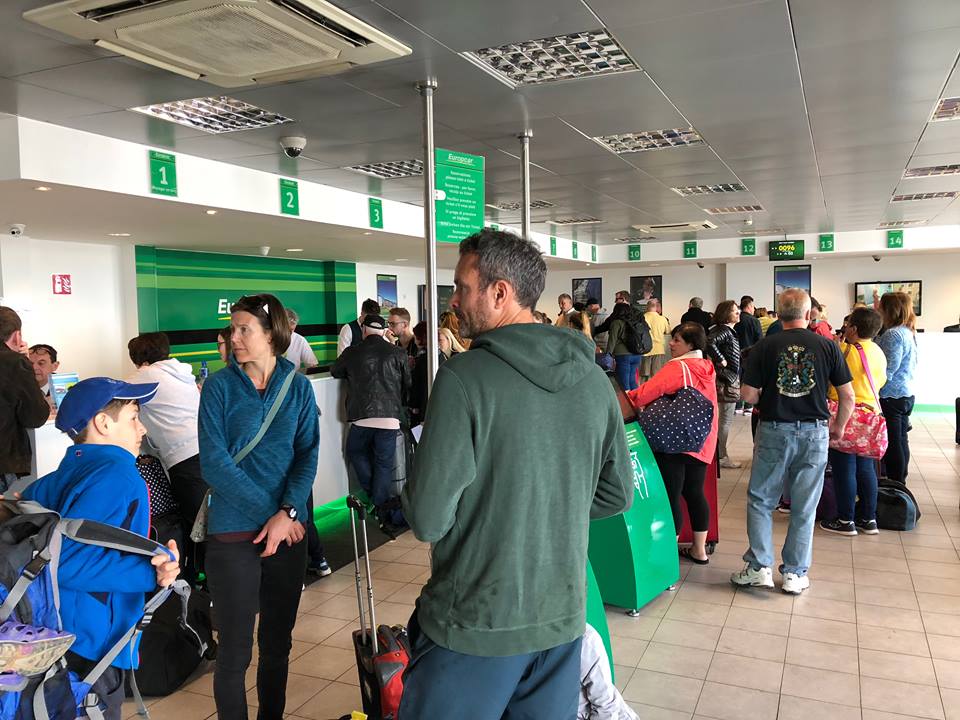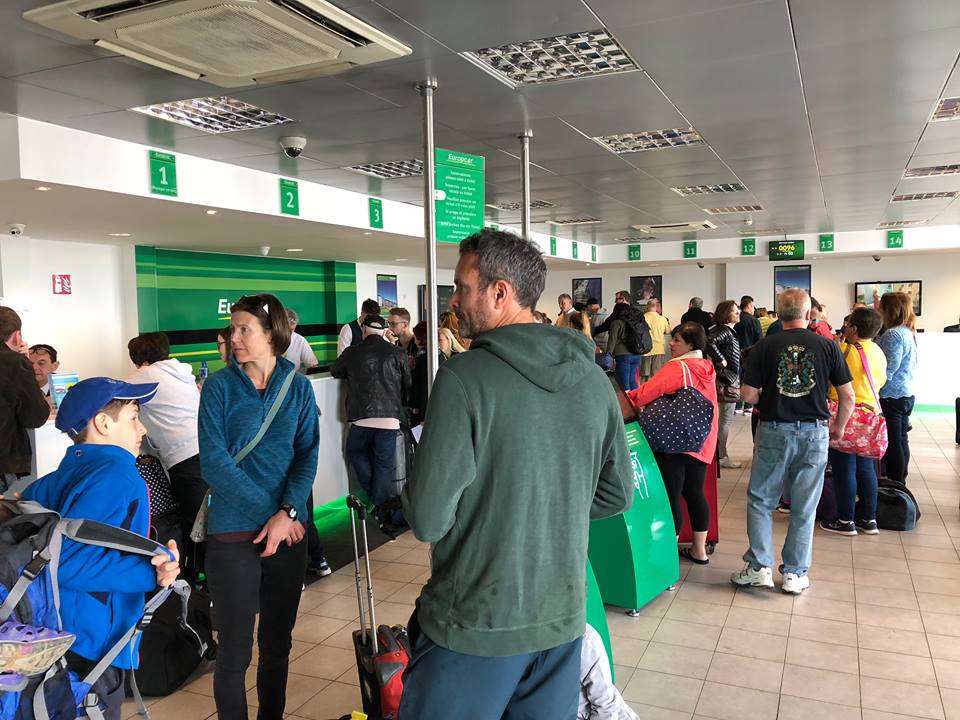 Very busy Dublin Europcar customer service location, but we were in and out rather quickly.
We found customer service very busy, (something like almost six hundred cars are rented daily at this location!), but we took a number, and were called within a few minutes. The speed and efficiency were very greatly appreciated by us because we were all fatigued from our overnight flight.
At first, we did not receive the correct vehicle (we requested an SUV large enough for three adults and ALLLLL of our luggage for two weeks in Ireland!), and my daughter Victoria went back in to speak with customer service and the situation was quickly sorted out. We were assigned another vehicle, which we were unable to locate in the lot on our own, and we requested assistance from a Europcar worker, who graciously helped us, even though he was on his lunch break, and actually eating his lunch! We definitely appreciated his help, on his break, no less! Before we knew it, our Europcar rental Renault was being driven to us. We received a  gorgeous shiny red Renault SUV, which fit the three of us and ALLL of our luggage quite comfortably!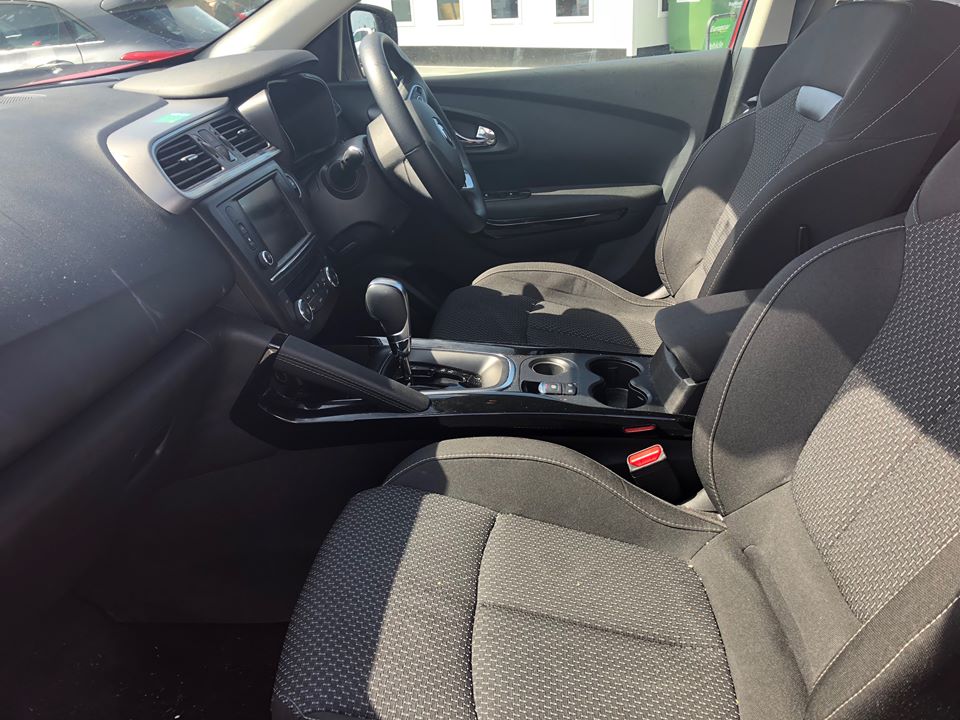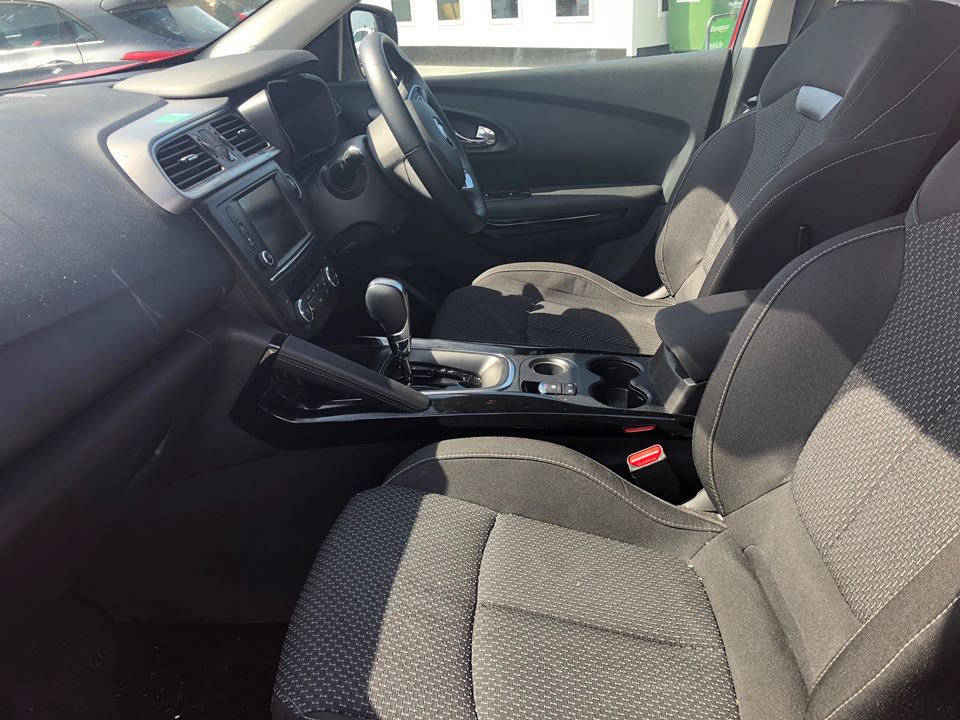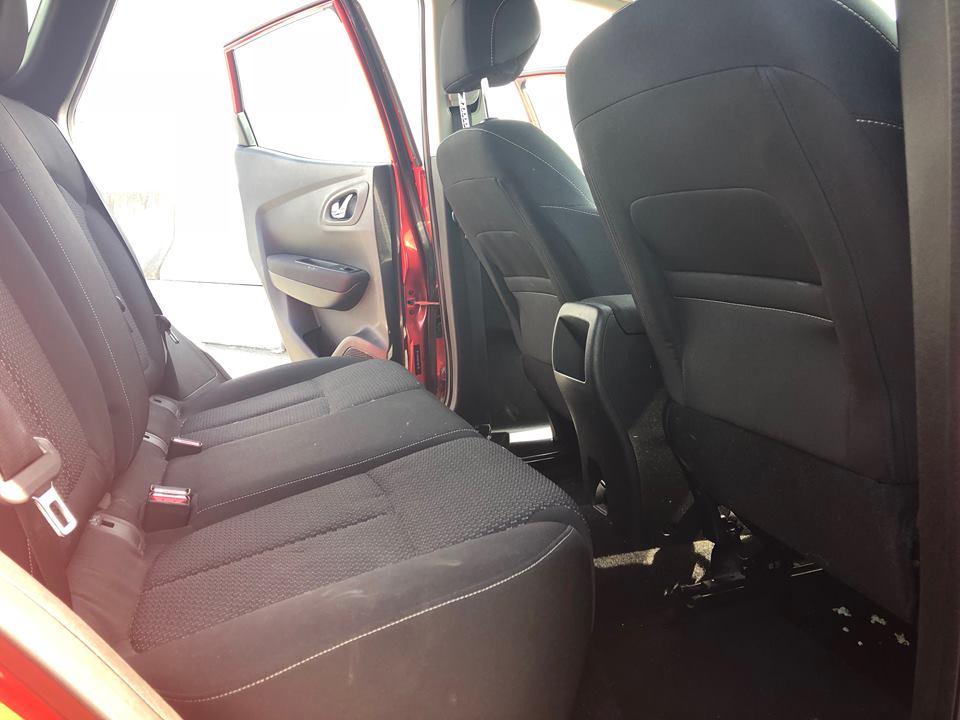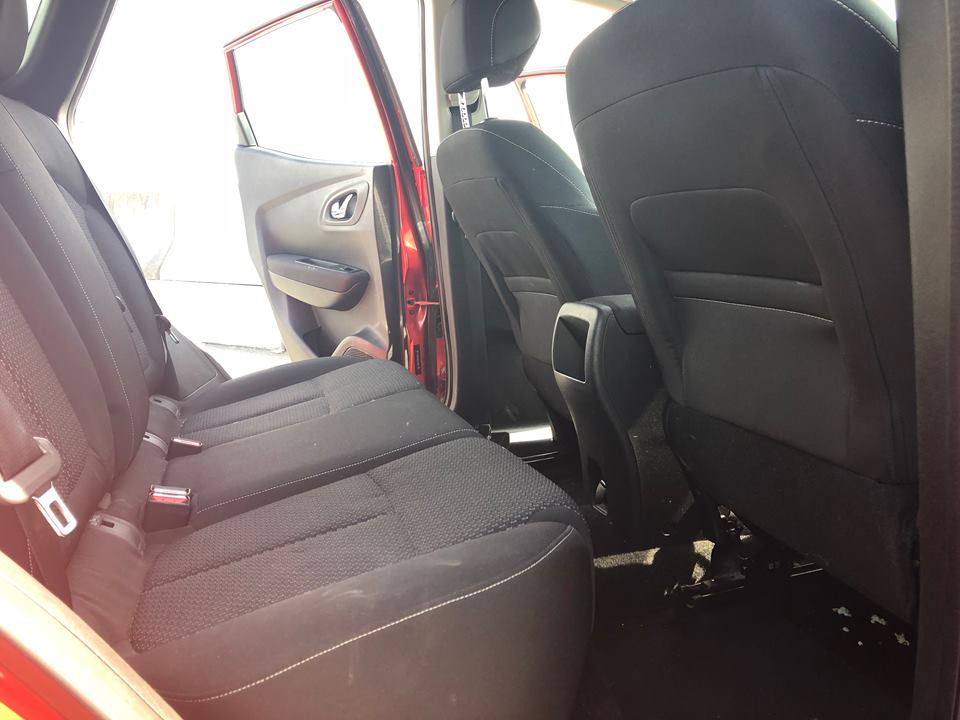 We headed out from Dublin International Airport to begin our explorations of the Emerald Isle. I chose not to drive, because driving on the left side of the road intimidated me, and so my family, Victoria, and Terrence graciously assumed all driving duties and I camped out in the back seat. I had wonderful views from my side windows, and plenty of space to relax and stretch my legs!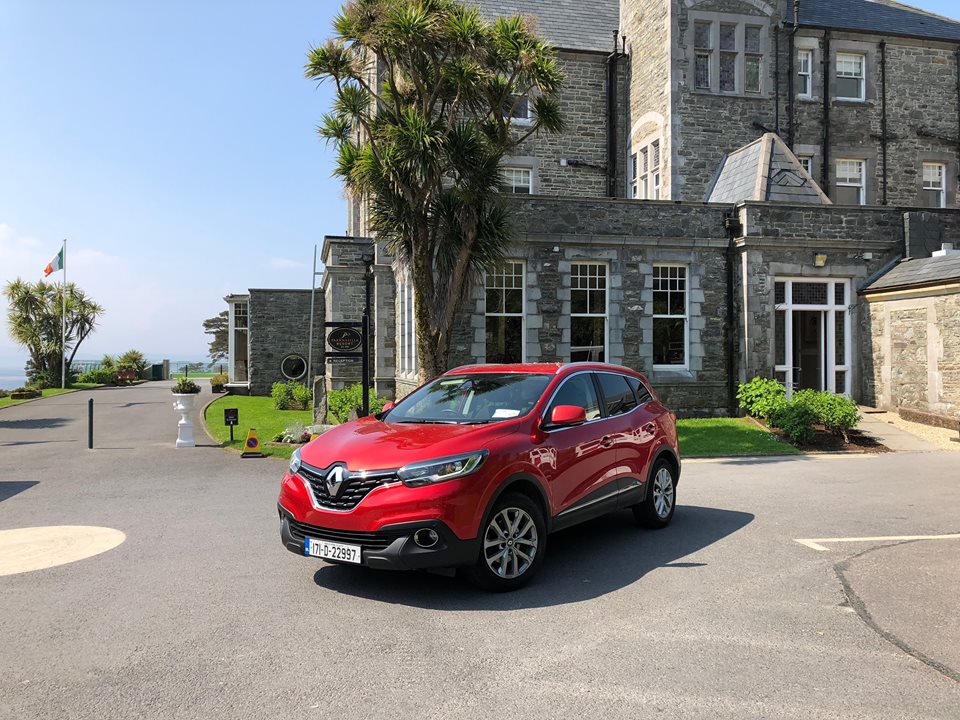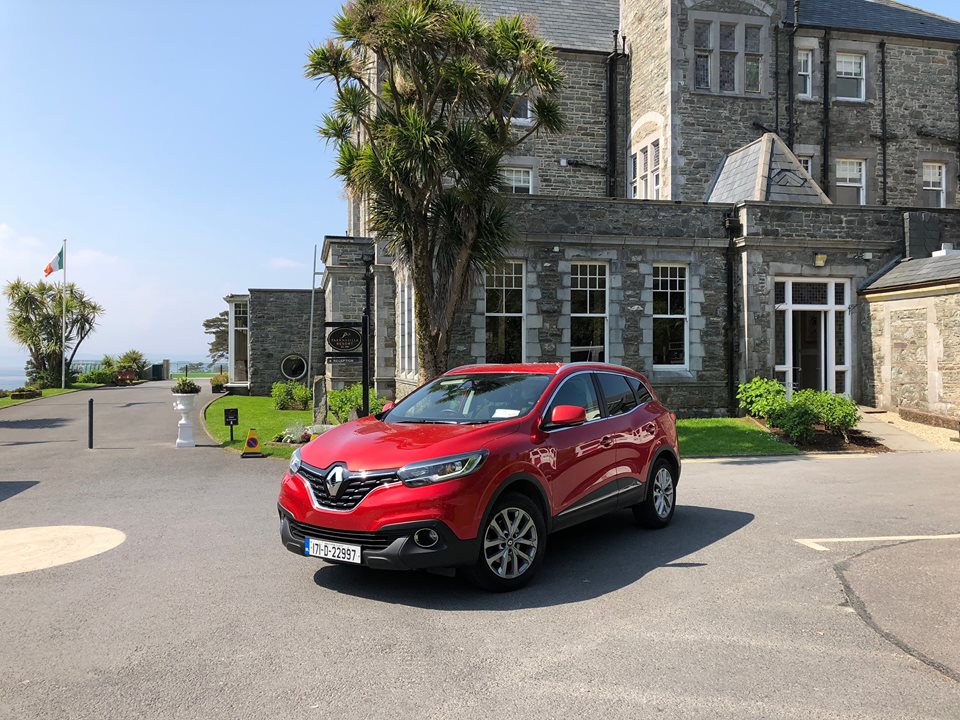 The roads on The Wild Atlantic Way, including The King of Kerry, were narrow and twisty, and our Europcar maneuvered them beautifully.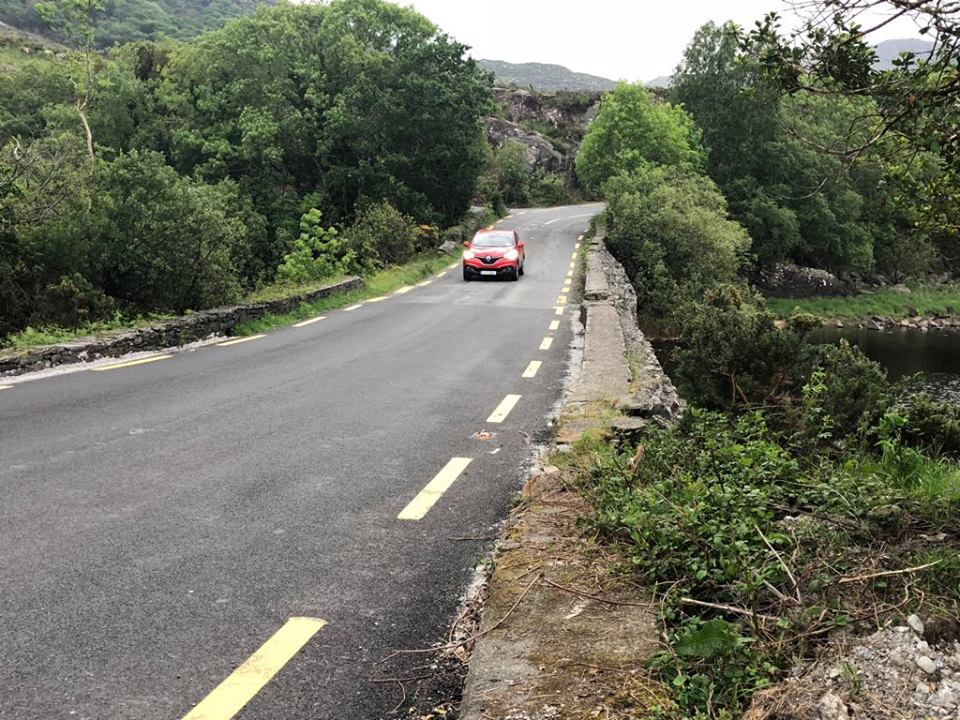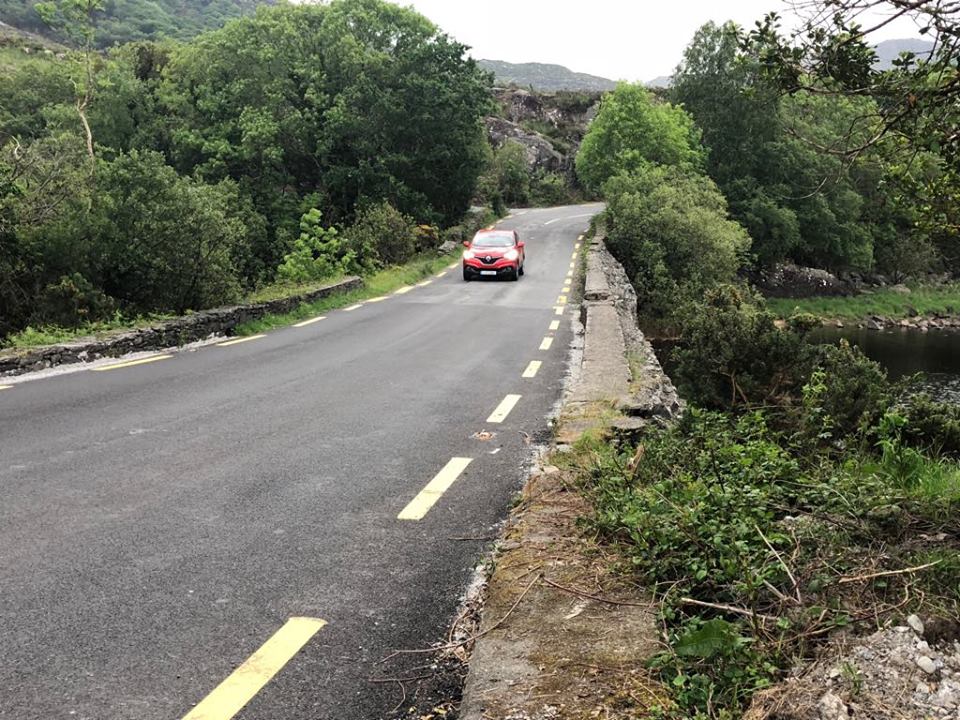 Drop Off At Dublin International Airport: Almost Without A Hitch.
We headed back to Dublin International Airport from Doolin, on our departure day,  a three-hour trip. I was worried about what we would do if we had car trouble on the way to the airport that morning, but that worry was for nothing because Europcar has twenty-four hour seven days a week, roadside assistance. I felt reassured that if there was any problem with our car, a Europcar staff member would be available to assist us. That was surely a comfort, and I am glad we did not have to use that service!
Once we arrived at the drop-off location at the Dublin International Airport, (the same location where we picked up the car, just a separate part of the parking lot,) a Europcar employee came out and did a 'walk around'  to inspect our vehicle, while we were unloading all of our luggage, and discovered some damage on the left side of the car: scratches and scraped paint above driver's front wheel, and the driver's back wheel had some scrapes on it.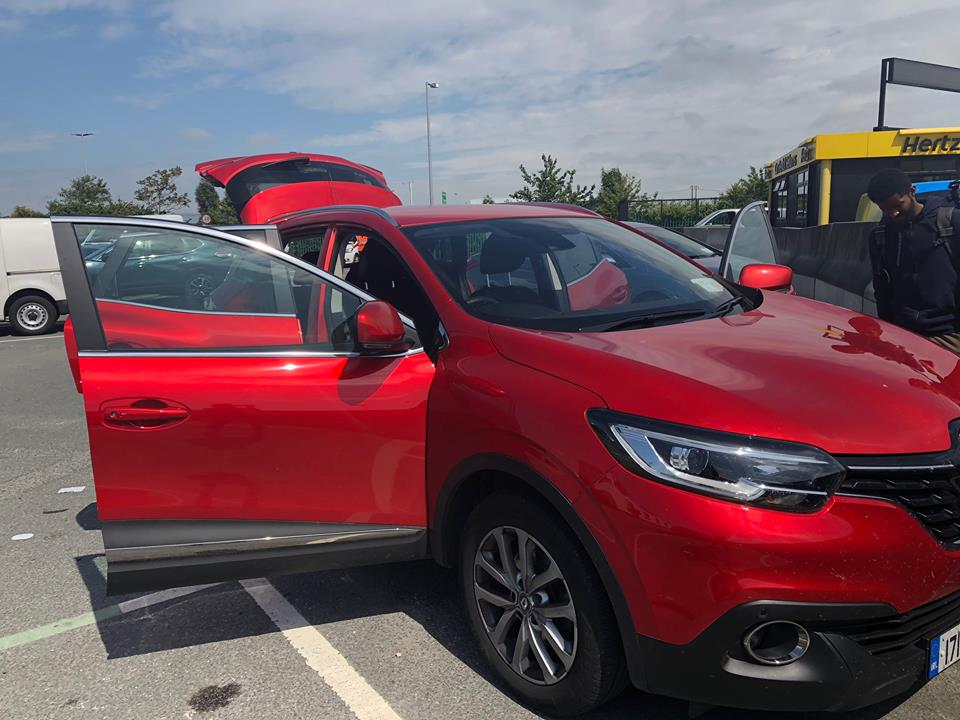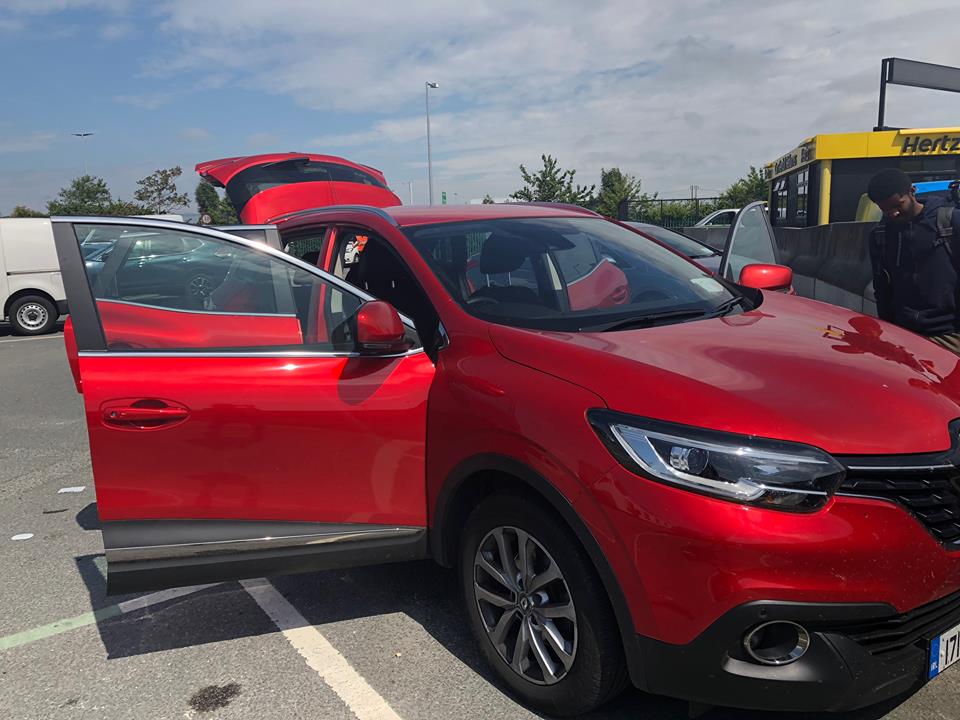 He brought this to Victoria and Terrence's attention, and we were worried and alarmed. We all recollected how busy it was picking up the car, and how we couldn't locate our car in the lot and it had to be brought to us. That's when we realized that we had NOT performed a 'walk around' inspection with a Europcar employee when we picked up the car.
Victoria had taken initial photos of the car when we got it, and the scrapes of the back wheel on the driver's side were evident in her pictures. The customer service rep noted that in his paperwork, and we were not charged for those damages.
However, Victoria's pictures of the scrapes and paint chipped off in the front of the car on the driver's side, were unclear, and the customer service rep informed us that our car had no history of scrapes in his records in that location on the car, and we were going to be charged. We were nervous about arriving at the airport for our international flight on time and discussed we would need to resolve this situation once we were back home. A substantial fee was charged to Victoria's credit card, to cover these damages.
The shuttle buses transporting passengers to Dublin International Airport arrived frequently, and before we knew it, we and our luggage were loaded up and we were taking the five-minute ride to the airport.
Once we arrived back home, Terrence perused any pictures he took with his professional camera of our Europcar, and he also had snapped several pictures of the car right after we took possession of it. Fortunately for us, one of his photos clearly showed that the damage to the left front of the vehicle was present when we got the car. We notified Europcar immediately and submitted paperwork along with the picture, and the fee was refunded to Victoria's credit card.
What did we learn from this experience? ALWAYS always take the time to do a 'walk around' and inspect your rental car when you receive it, with a company employee if possible, or do it alone, and bring to the attention of the car rental company immediately any damages you find.
Europcar Ireland customer service was efficient and the staff was kind and courteous. This is how I determine which company to work with: how they treat their customers. The process of renting a car at the Dublin International Airport, to returning the car, were smooth and easy to understand, and the frequent shuttles were appreciated.
.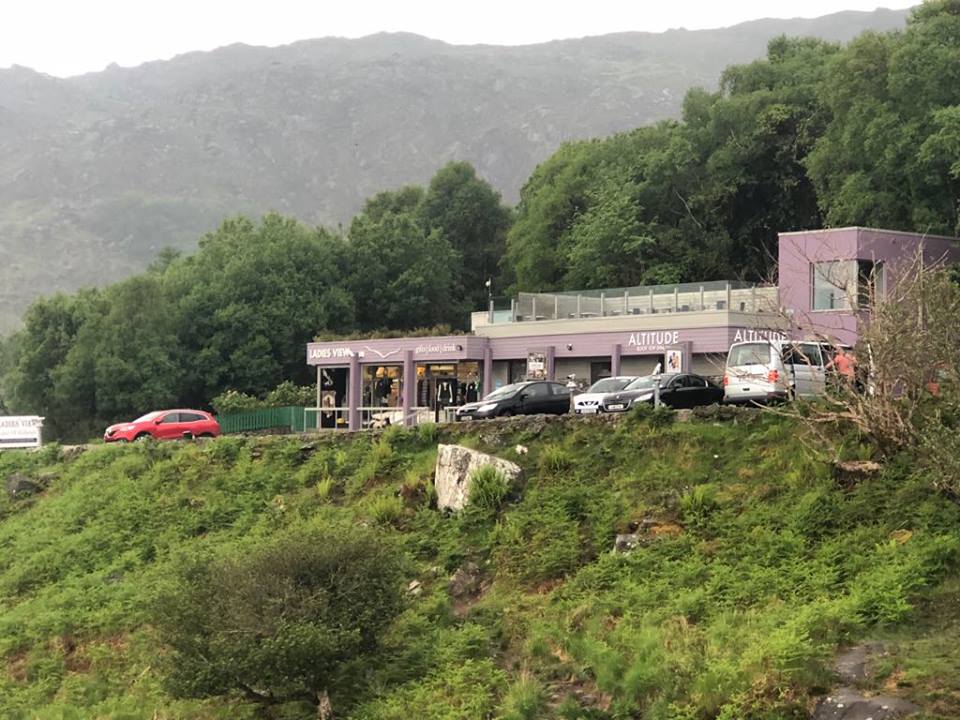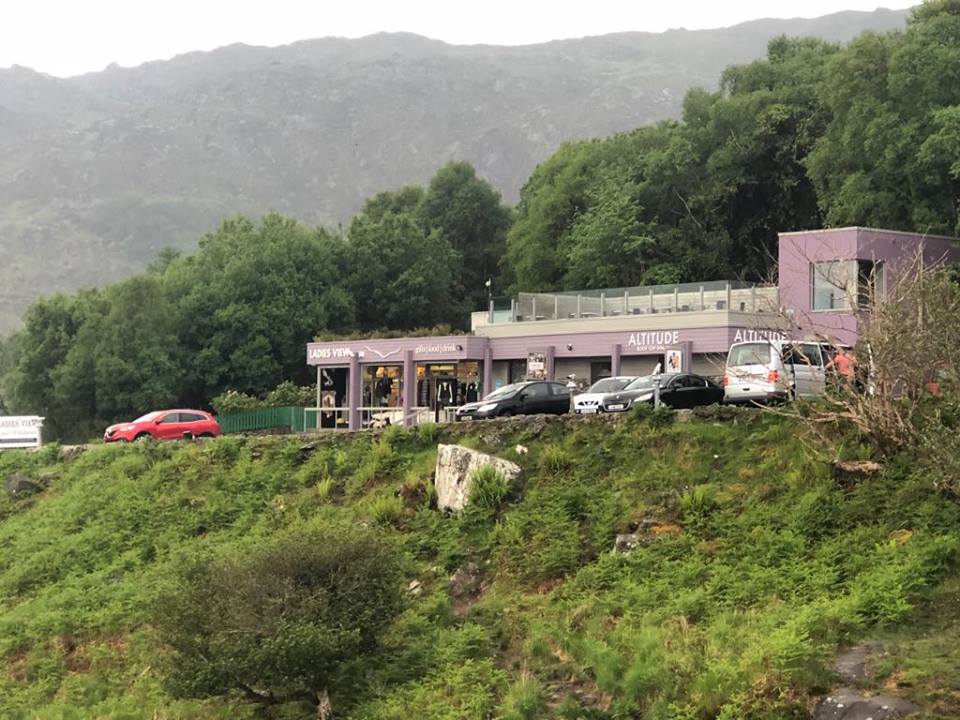 Disclaimer: Europcar Ireland provided me with a rental car, while I road-tripped Ireland, in exchange for this truthful review about my experiences with Europe Ireland. All opinions are my own.