Are you looking for the ultimate 7 day Ireland itinerary? Seven days is a great amount of time to explore the Emerald Isle.
I was in Ireland with my family and our 7 day Ireland itinerary road trip was filled with the best Ireland had to offer. My visit was so fantastic I want to show you how to have the same experiences when you plan your own ultimate 7 day Ireland itinerary.
I am not going to put specific time suggestions for each stop on your trip, you decide how long or how little time you want to spend in each location along your 7 day Ireland itinerary trip.
The Ultimate 7 Day Ireland Itinerary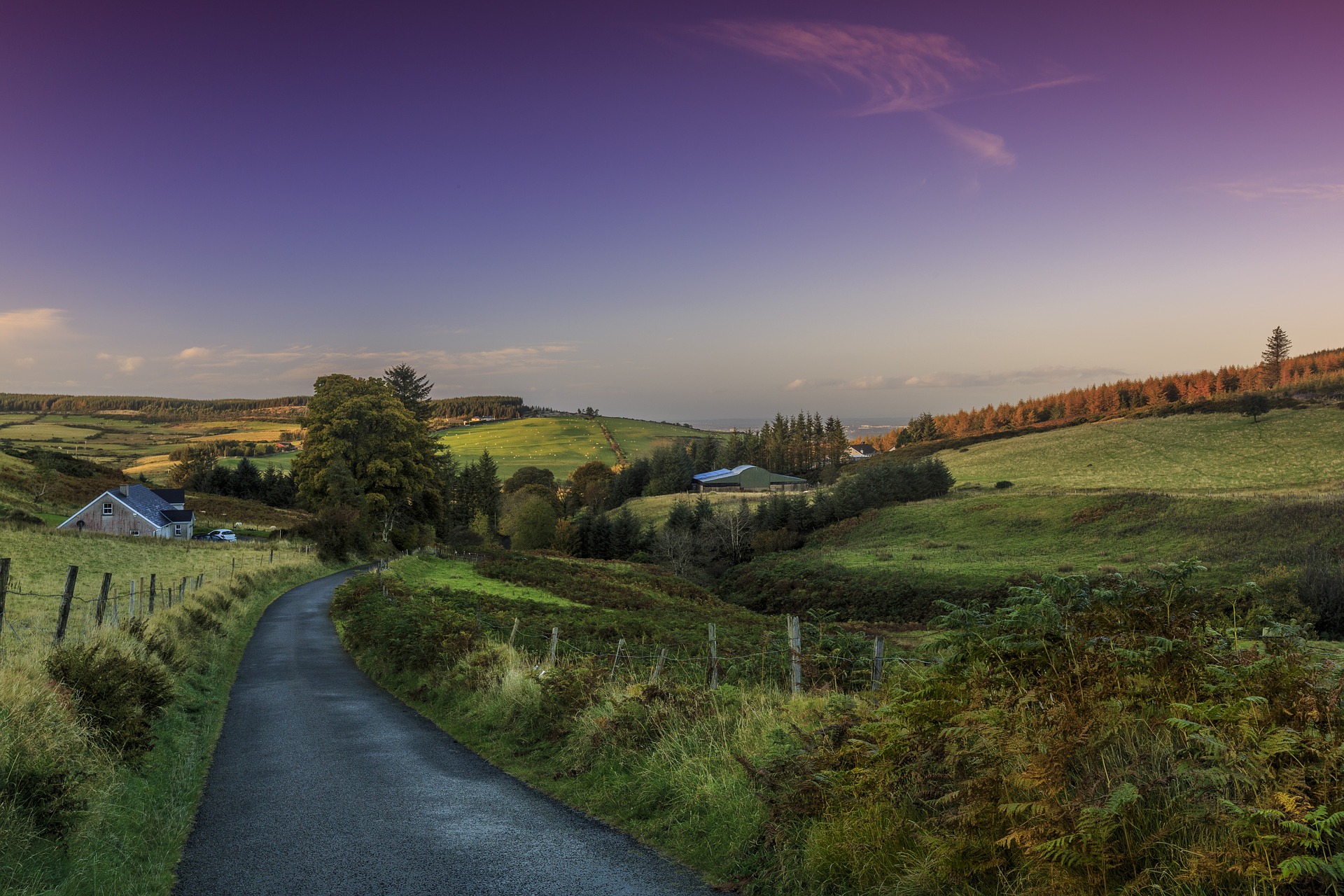 How To Get To Ireland For Your 7 Day Ireland Itinerary Trip
You most probably will begin your 7 day Ireland Itinerary road trip by flying into Dublin International Airport on Dublin's east coast.  It is a very busy airport with a lot of relatively inexpensive international flights in and out of it every day.
If you are looking for suggestions on how to pack for your Ireland itinerary, read my advice on how to pack lightly.  And if you want to remain healthy during your Ireland itinerary road trip, read my tips on how not to get sick on an airplane. 
If you need a car rental for your Ireland itinerary transportation, car rental companies have customer service desks located conveniently adjacent to baggage claim.
You will need to board a small tram to get to the off-site airport location where your car is, but it is a fast and easy process.
Look here:  Airlink Express: Dublin Airport to Dublin's City Center 
Day 1: Begin Your 7 Day Ireland Itinerary Exploring Dublin
Dublin is the capital of the Republic of Ireland and there are over 500,000 people who call Dublin their home. Dublin is full of history yet has a cosmopolitan flair.
When you have more time in Dublin, read my 3 days in Dublin Itinerary.
When I stayed in Dublin my Air B&B was inside Dublin's city walls and all shopping, restaurants, and attractions were easily accessible by walking.
Look here: Walking Tour of Dublin
Look here: Dublin: Local Food Tour
Look here: Dublin: City Sightseeing Hop-On Hop-Off Bus Tour
I would suggest beginning your day in Dublin at Dublin Castle. It is located in the heart of Dublin and is steeped in history. You can wander around on your own or take a guided tour which requires a small fee.
Dublin Gardens and the Charles Beatty Library are both adjacent to the castle and worth looking into.
Tickets here: Fast-Track Access Book of Kells and Dublin Castle Tour
Tickets here: DoDublin Hop-on Hop-off Bus Tour
Tickets here: Dublin Pass with Bus Tour: Free Entry to 33 Attractions
Tickets here: 2-Hour Deluxe Whiskey & Food Tasting
A tour of the Guinness Storehouse is a really fun thing to do whether or not you like "the brown stuff."  I found it very interesting.
The self-guided tour is through 5 levels of Guinness history and you cannot miss the Gravity Bar on the top floor with its 360* views of Dublin. Yes, beer is included on the tour!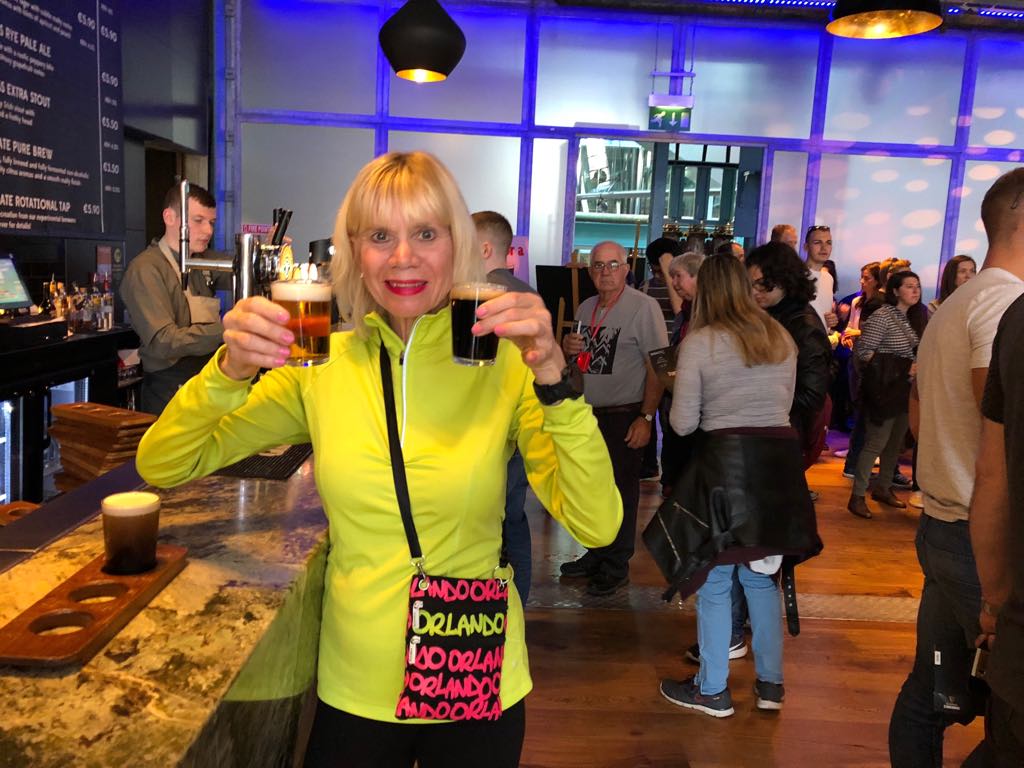 Here I am with my Guinness beer samplers as part of the Guinness Storehouse tour, a fun thing to add to your Ireland itinerary.
Tickets here: Guinness Storehouse: Skip-the-Line Ticket with Free Pint
Tickets here: Big Bus Open-Top Hop-on Hop-off Tour & Guinness Storehouse
Tickets here: Skip-the-Line: Guinness & Jameson Irish Experience Tour
A not-to-be-missed attraction to add to your 7 day Ireland itinerary is visiting Trinity College and the Book of Kells. I would skip the outdoor tour of the college and head straight to the Long Room Library and the Book of Kells!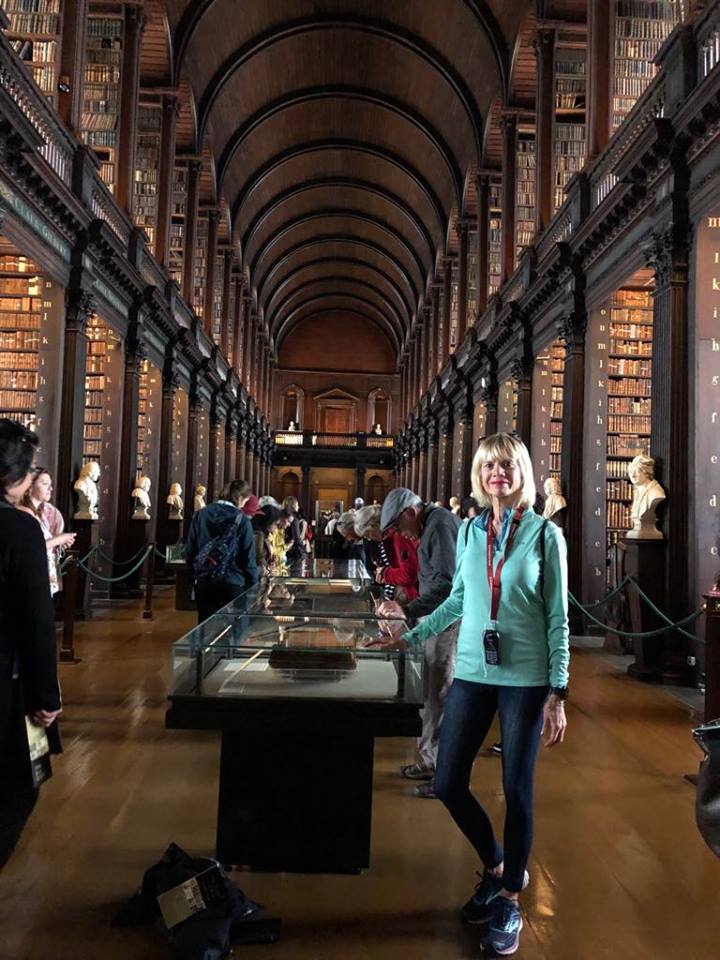 Here I am in the Long Room Library, at Trinity College.
Tickets here: Do Dublin Hop-on Hop-off Bus Tour
Tickets here: Fast-Track Access Book of Kells and Dublin Castle Tour
The trendy Temple Bar area is a great place to wander around to cap off a night touring Dublin. It is several blocks of bars, restaurants, and shops that boast an eclectic vibe.
The Temple Bar is very crowded, so if having a drink in this authentic Irish pub is on your 7 day Ireland itinerary list, please leave plenty of time.
Read next: My experience with Europcar rental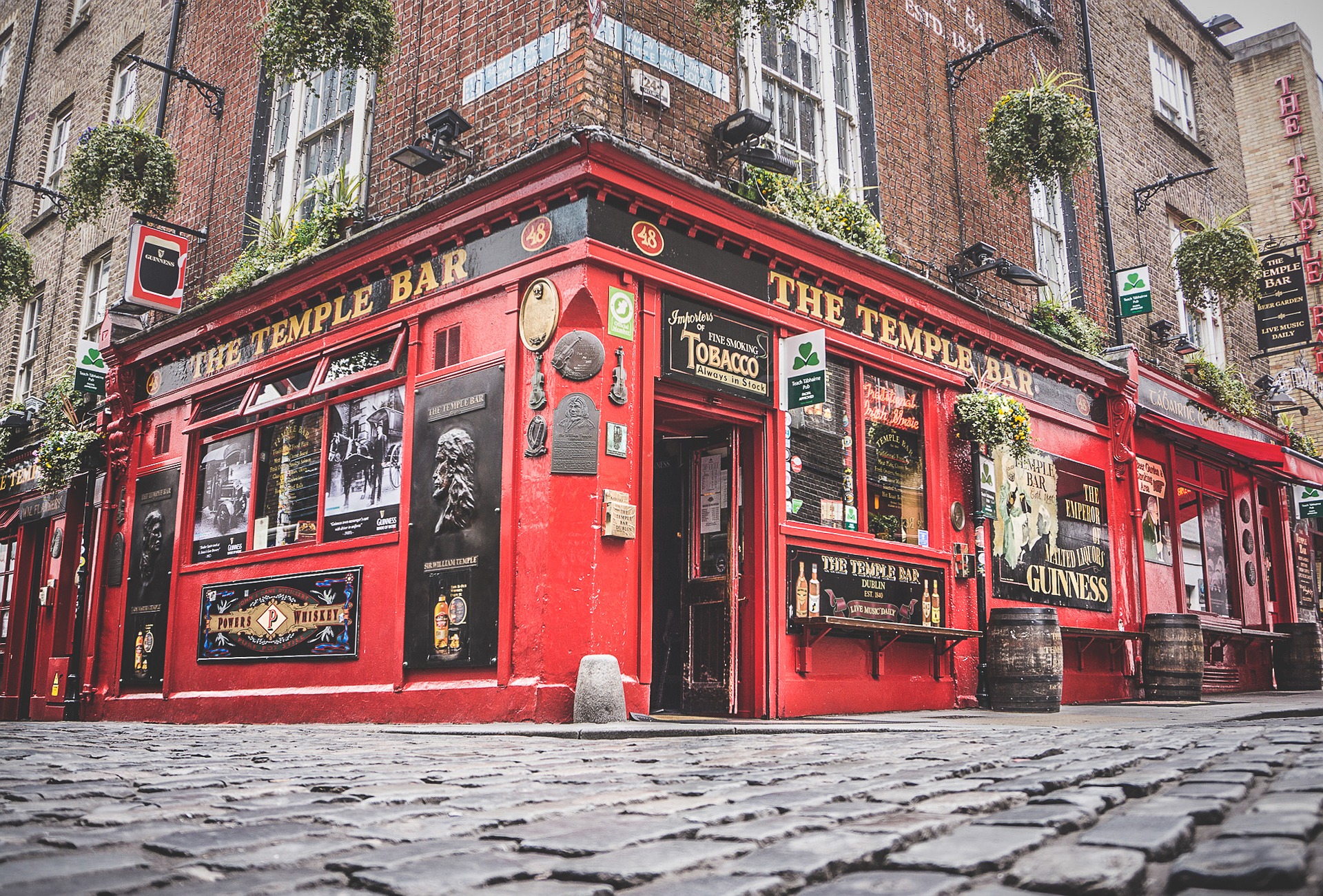 Dublin's iconic Temple Bar. A popular location to add to your Ireland itinerary. 
For more suggestions of additional things to do in Dublin during your Ireland itinerary trip, read this next: The Ultimate 2 days in Dublin Itinerary.
Look here: From Dublin: Cliffs of Moher, Burren & Galway Full-Day Tour
Look here: From Dublin: Galway and Cliffs of Moher Day Trip
Day 2: Explore Ireland's Ancient East
Begin the second day of your 7 day Ireland itinerary by leaving Dublin to discover the treasures Ireland's Ancient East has to offer.
You will head to the iconic Rock of Cashel, in County Tipperary, where St. Patrick himself visited and baptized kings. The Rock of Cashel is very spectacular and one of the most visited of all Irish attractions.
It sits high upon a hill in Cashel. There is an entry fee which includes a very informative guided tour. Learn how and who has the privilege of being buried even to this day in the cemetery on the Rock of Cashel as well.
Make sure you bring your camera because the views of the Irish countryside and the sheep grazing are amazing.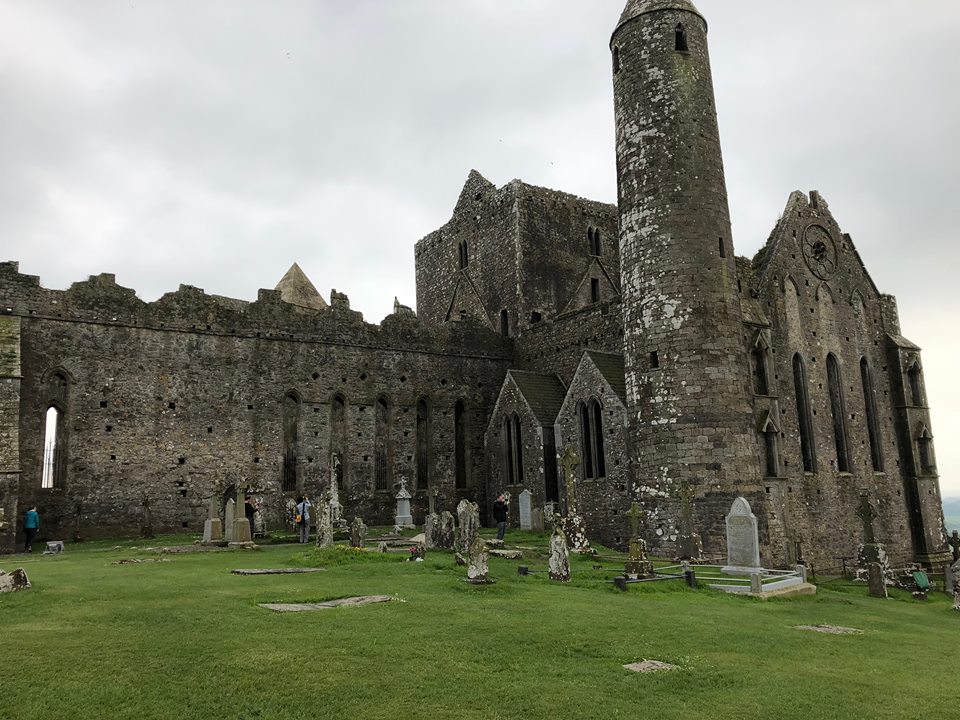 The Rock of Cashel in County Tipperary, situated high on a hill is a must-see to add to your Ireland itinerary list. 
Across the road from the Rock of Cashel, you will find the ruins of Hore Abbey. Hore is Gaelic for 'brown,' the color of the outfits the monks wore when it was a working abbey.
Today it is an abandoned abbey that is a fraction of the size, yet so full of its own history. It is situated on a large parcel of land and is a short walk from the road.
It is free and not considered an "official" attraction, so there are no guides or tours offered. But it is genuine and interesting and is definitely worthy to be an addition to your Ireland itinerary. Another camera-worthy attraction too.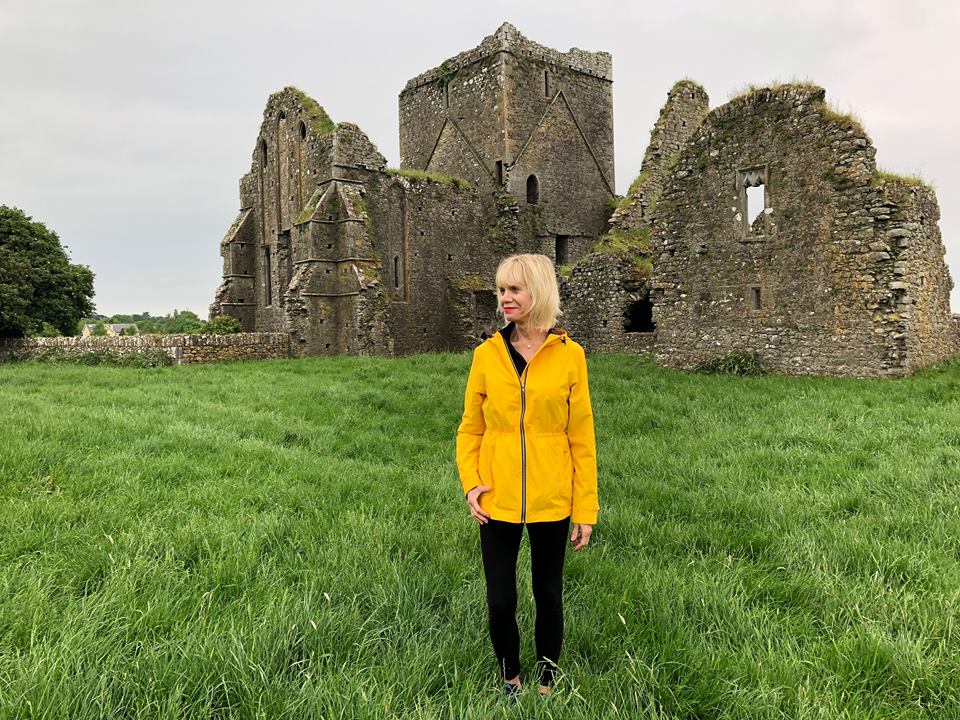 Outside the ruins of Hore Abbey.
Any Ireland itinerary must include kissing the Blarney Stone! Also referred to as The Stone of Eloquence,  for over 200 years scores of people have ascended Blarney Castle, to kiss the stone to gain "the gift of gab."
From Cashel head to Blarney, 5 miles outside of Cork. There is an entry fee, but the grounds of Blarney Estate are stunning and well-manicured.
I never realized there was so much to do there. I thought we would "kiss the stone" and then leave. Nothing could be farther from the truth. So, you will also want to explore the gardens during your visit.
However, if you are like us, you would naturally head to the Blarney Castle first to kiss that stone. We certainly did and waited in a very long line. Later in the day, we noticed no line at all.
So, consider meandering the grounds and admiring the 60 acres which include various gardens, walks, and streams. After expending all that energy, stop at the quaint Stable Yard Cafe and for refreshments and a well-deserved rest.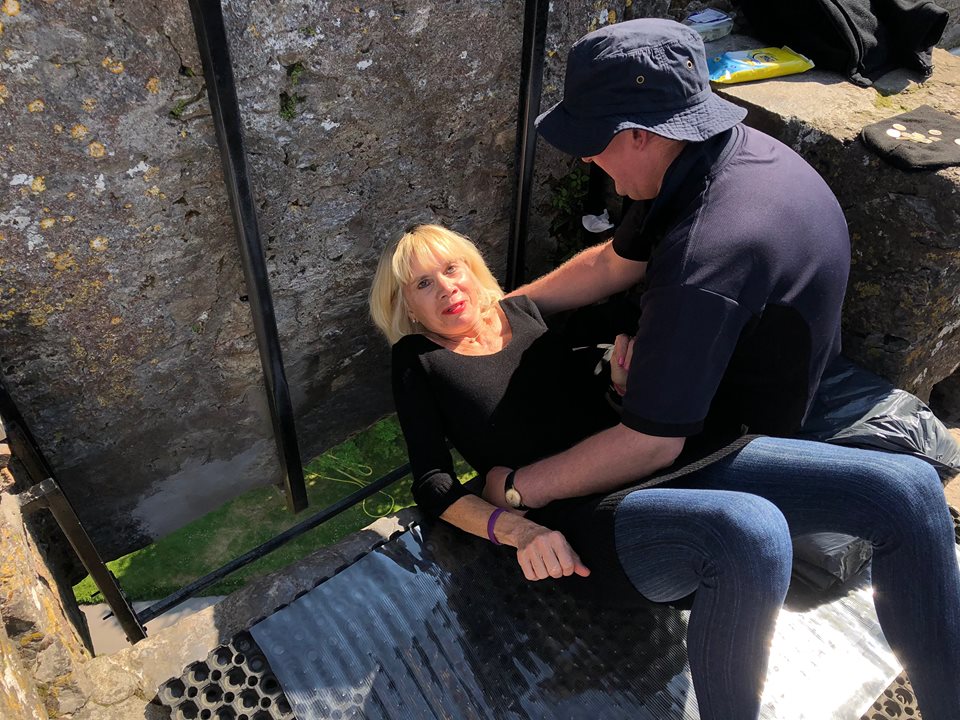 I am getting into position (with a wary look on my face) to kiss the Blarney Stone. One of my number one things to do on my own 7 day Ireland itinerary road trip!
When you are ready, head to Blarney Castle. You will have to climb a steep winding stone staircase to get to the top. The views out the openings of the property and adjacent countryside are breathtaking.
Once on top, you have to walk several steps to where the stone is. When it is your turn, there are assistants to help you sit down. You will then have to lay down and put your head backward, and you kiss the stone upside down.
It is below where you are sitting and you have to reach for it.  It really is such a cool experience. Have a camera ready for this one of a kind moment during your Ireland itinerary!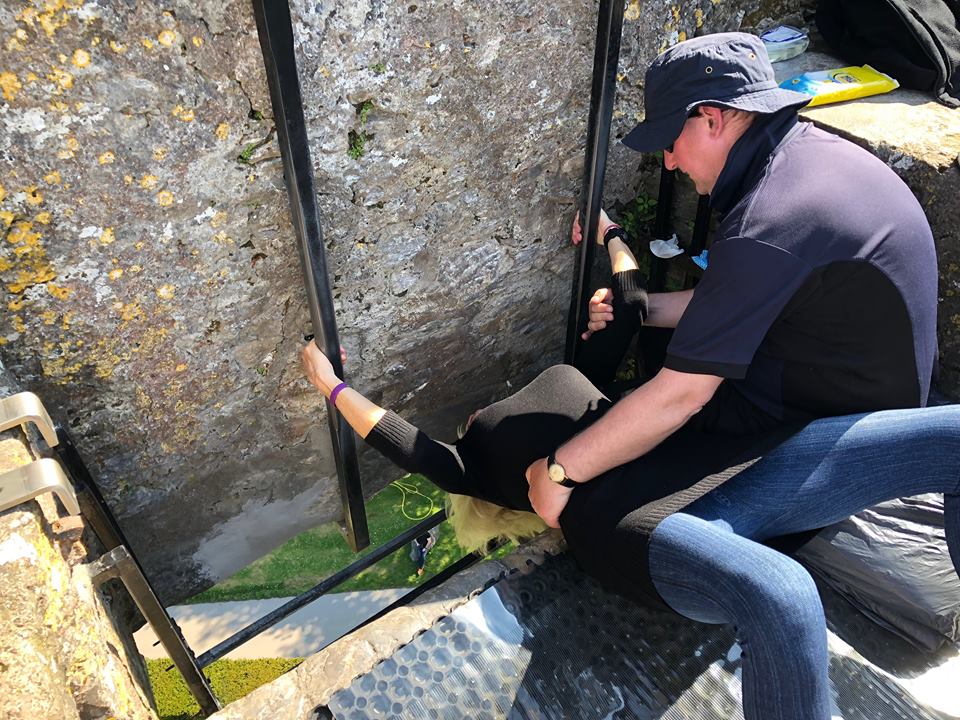 I did it! Here I am kissing the Blarney Stone upside down, laying down with my head all the way back. Yes, it was worth it and I suggest you add this memorable experience to your Ireland itinerary! 
Consider putting Cork on your Ireland itinerary as a great location to spend the night at the end of your second day. Only a few hours from Dublin, Cork is centrally located and easy to get to.
We spent the night at the Hayfield Manor, an excellent choice to add to your Ireland itinerary when selecting hotel accommodations. Read about my experience at the five-star rated Hayfield Manor Hotel here. Looking to pamper yourself? Look no further than the luxurious Hayfield Manor Hotel.
Tickets here: From Cork: 9-Hour Guided Ring of Kerry and Killarney Tour
Tickets here: Cork: Hop-on-Hop-off City Sightseeing Tour 
Day 3: Drive The Ring Of Kerry As Part Of Your Ireland Itinerary
No trip to Ireland is complete without driving at least a part of the famous Ring of Kerry and should be a top thing to include on your 7 day Ireland itinerary. Legendary for stunning-beyond-belief panoramic vistas, the Ring of Kerry will not disappoint.
Please be aware though, the roads are very narrow, (think one-lane wide!) and twist and turn wildly as you travel through the rugged Irish countryside. If you see another vehicle approaching in the opposite direction, it is best to slow down and pull over to let it pass.
This advice goes double if it is a large tour bus coming towards you! Pull over and let it pass.
I was overcome with a severe case of motion sickness when I traveled the Ring of Kerry during my own Ireland itinerary road trip.  And sadly I was not prepared. If you also are prone to motion or car sickness, I want you to be prepared for the Ring of Kerry!
These anti-nausea acupressure wristbands are a cheap option for you to bring on your Ireland itinerary road trip.
Another idea to curb the symptoms of motion sickness is the motion sickness patch which is also very inexpensive. And Bonine tablets or Dramamine tablets could also help prevent or lessen nausea that often accompanies motion sickness.
Whichever you choose, I want you to be aware motion sickness is a rather common occurrence on the Ring of Kerry, and I want you to be ready for it during your own Ireland itinerary trip.
You will definitely want to add stopping to view and admire the Kerry Cliffs on your 7 day Ireland itinerary! They are very spectacular and said to resemble the Cliffs of Moher but in miniature.
I can admit, I thought they were nothing short of amazing! Viewing them is done on the Skellig Ring Road. It is directly off the Ring of Kerry, but do not worry, there are LOTS of signs and you will not miss the turnoff.
When viewing The Kerry Cliffs, be sure to look for the Skellig Islands out in the distance. This is where a Star Wars movie was filmed. There is a small admission fee to see the Kerry Cliffs, and they should not be missed!
You will be able to take a  wonderfully memorable walk to view the cliffs and islands out in the distance and take lots of pictures!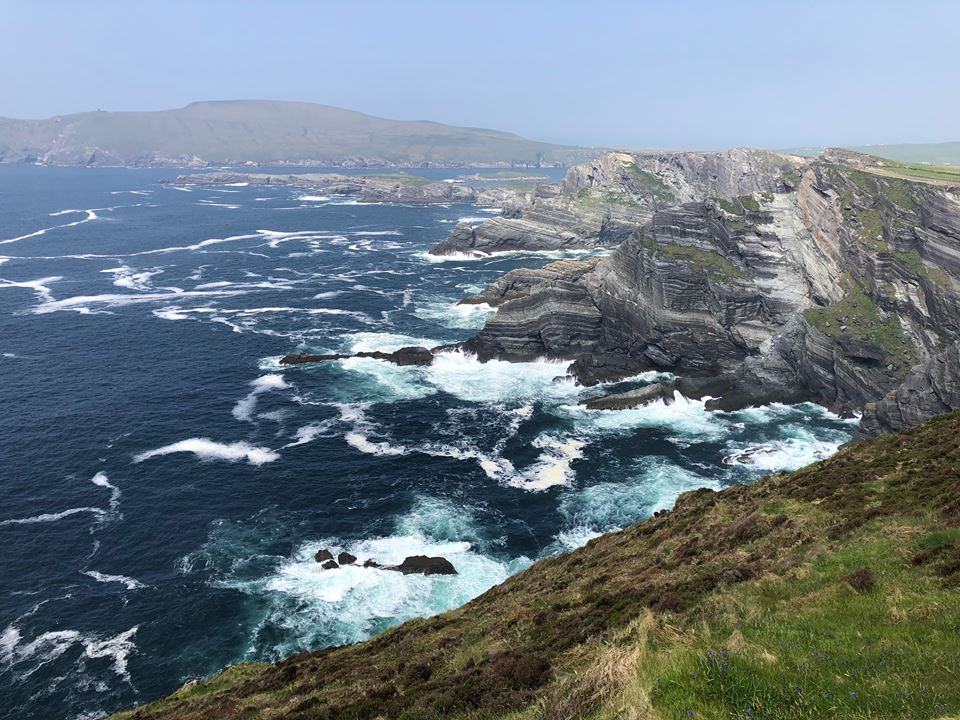 Stunning tumultuous seas at the Kerry Cliffs. You can view these seas and cliffs as well if Kerry Cliffs are on your Ireland itinerary. 
Valentia Island is located less than two kilometers from the Kerry Cliffs and Skellig Ring Road.
It is home to charming Irish seaside towns and to an iconic lighthouse (admission fee required). This is a wonderful location to add to your 7 day Ireland itinerary.
You could stop for refreshments and enjoy the seascapes! When we visited, we drove onto the island over a bridge and left on their car ferry, an unusual experience for me. It was quite entertaining.
Tickets here: Ring of Kerry Full-Day Tour from Killarney
Day 4: Explore  Killarney For Shopping And Outdoor Fun During Your 7 Day Ireland Itinerary Road Trip
Located in County Kerry, there are not enough words to describe Killarney.  Situated off the Wild Atlantic Way and The Ring of Kerry, there is such a wide range of things to do in Killarney that everyone in your Ireland itinerary party will be satisfied.
Killarney is the gateway to Killarney National Park with its own myriad of things to do: walking, running, hiking, and kayaking. Downtown Killarney is home to world-class shopping and restaurants.
Read next: Five charming things to do in Killarney for first-time visitors.
There is plenty of history in Killarney too! Queen Victoria visited Killarney after generously giving six years notice of her visit. She stayed at Muckross House, which today is a very popular Irish national treasure.
You can wander the grounds and farm of Muckross House, but there is a small entry fee to tour the house. This attraction gets extremely busy, so please take this into consideration when planning when to visit here as part of your 7 day Ireland itinerary.
Heading out on Kerry Road you will drive into Killarney National Park and see the absolutely most beautiful scenery.
At the entrance to the park, while still in town you will see Killarney House and Gardens. A gift to the Irish people, this is an attraction not to be missed! It is free to tour the house and wander through the beautifully manicured gardens.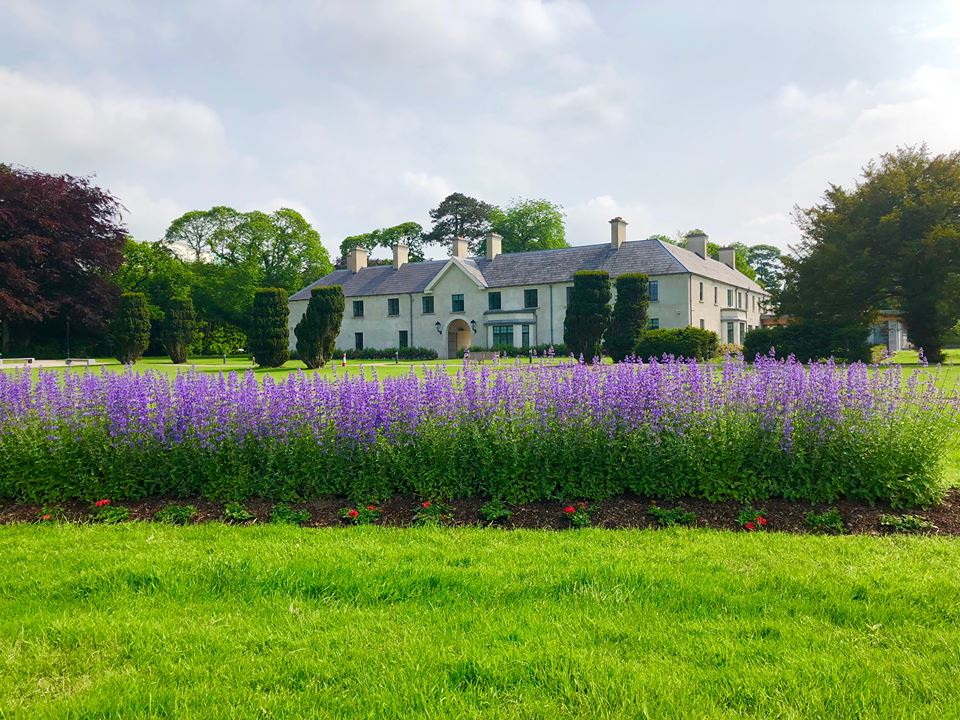 Ross Castle is also in Killarney just as it meets the national park. Situated on a beautiful lake it is free to wander the grounds, but a small fee is required to tour the inside of the castle.
Look here: Ring of Kerry Full-Day Tour from Killarney
Along the Kerry Road, as you are driving in the Killarney National Park, you will find Torc Waterfall. It is a must-see on your 7 day Ireland itinerary because it is very beautiful.
It is very easy to access as it is located a few hundred yards walk off the highway. It is a gradual uphill climb, so take your time.  It will be worth it.
If you are adventurous there are some moderately strenuous hikes that will take u up the mountain above the falls.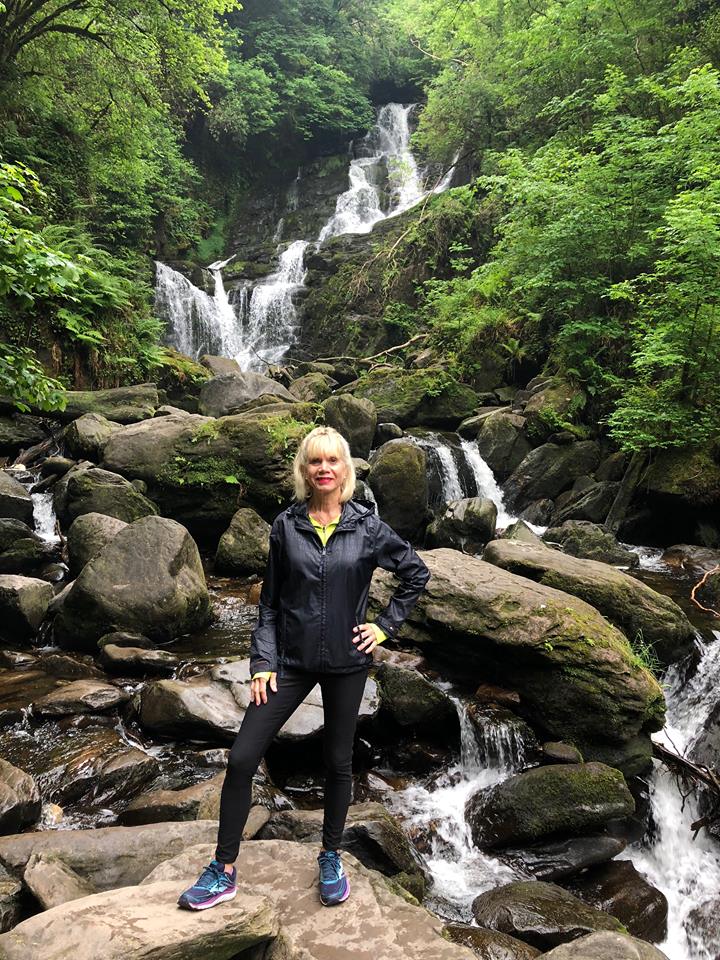 At Torc Waterfall in Killarney National Park. This is only a 200-meter walk from the parking lot, easily accessible to everyone in your Ireland itinerary group. 
Tickets here: 1-Hour Lakes of Killarney: Boat Cruise
Tickets here: Ring of Kerry: Lakes of Killarney Scenic Coach Tour
Look here: Ireland: Dingle Peninsula Day Tour
Day 5: Visit The Stunning Dingle Peninsula, A Must See On Your 7 Day Ireland Itinerary
Dingle Peninsula, in my humble opinion, tops my list of stunning locations and panoramic seascapes and must be on your Ireland itinerary list of top places to visit.
For lots more information, read my Top Ten Things to do in Dingle! 
The most exciting and memorable thing you will probably do in Dingle is driving on Slea Head Drive. It is a loop drive of the Dingle Peninsula and boasts unforgettable memorable seascapes.
I did not get carsick while driving on Slea Head. But a word of caution though, the road is still one-lane narrow, and there are still plenty of tour busses barrelling along to watch out for!
Along the Slea Head drive, you will want to stop pull over for the stunning sea cliff views, two Star Wars movie locations, and enjoy the epic Irish countryside!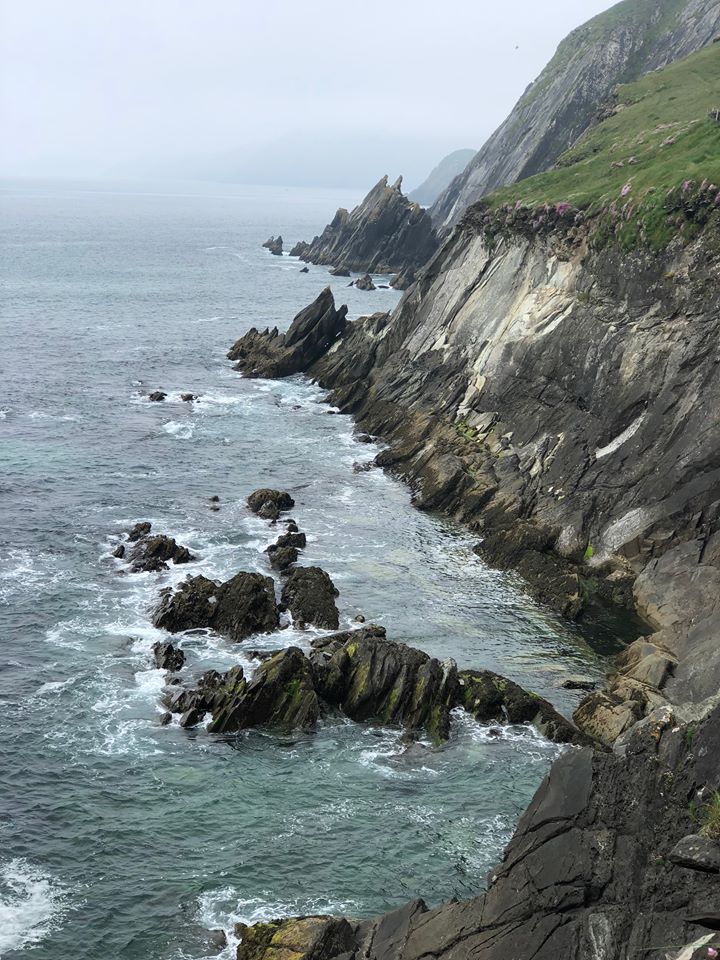 The iconic Star Wars rock formations used in the 2015 megamovie The Force Awakens. 
The charming downtown of Dingle is attention-worthy for your Ireland itinerary! It is very quaint and has lots of pubs, shops of every kind and is very walkable!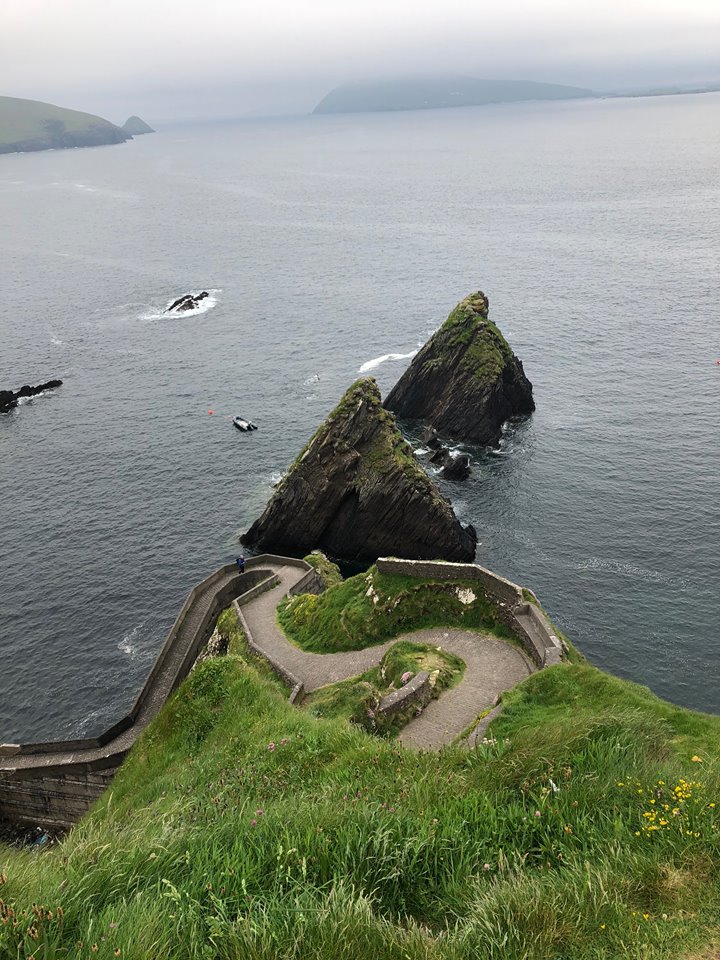 This is one of the most famous locations used for Irish publicity campaigns: Dunquin Pier as seen along Slea Head Loop. A part of my own Ireland itinerary list and could be yours as well. 
The charming downtown of Dingle is attention-worthy for your Ireland itinerary! It is very quaint and has lots of pubs, shops of every kind and is very walkable.  There is so much more to do in and around Dingle.
Look here: Dingle & Slea Head Peninsula Day Tour
Look here: Ireland: Dingle Peninsula Day Tour
Look here: Full-Day Tour of Dingle & Killarney National Park Walk
Day  6: Check Doolin And The Cliffs Of Moher Off Your Ireland Itinerary Bucket List!
Besides kissing the Blarney Stone, visiting the Cliffs of Moher was tops on my very own 7 day Ireland itinerary list of things to do.
And when I realized the seaside town of Doolin, located in County Clare,  was just a mere few minutes away I added it to my Ireland itinerary as well.
Read next: 15 fun things to do in Doolin to learn more about this fun little town that should be on your Ireland itinerary.
The Cliffs of Moher boast being one of the most popular of all Ireland's tourist attractions and deserve a spot on your Ireland itinerary. They rise a spectacular 700 feet from the Atlantic Ocean and run an impressive 5 miles along the coastline.
If you drive, there is a parking fee, and because this is such a popular destination the lots are massive, but there is plenty of room for everyone.
You can begin this part of your Ireland itinerary by visiting the Cliffs of Moher Interpretive Center. Built into the side of a hill, it contains information about the history of the Cliffs of Moher and useful information on how to best plan your visit.
There are restrooms located at the entrance to take advantage of as well because once you begin, there are no restrooms at the Cliffs of Moher themselves.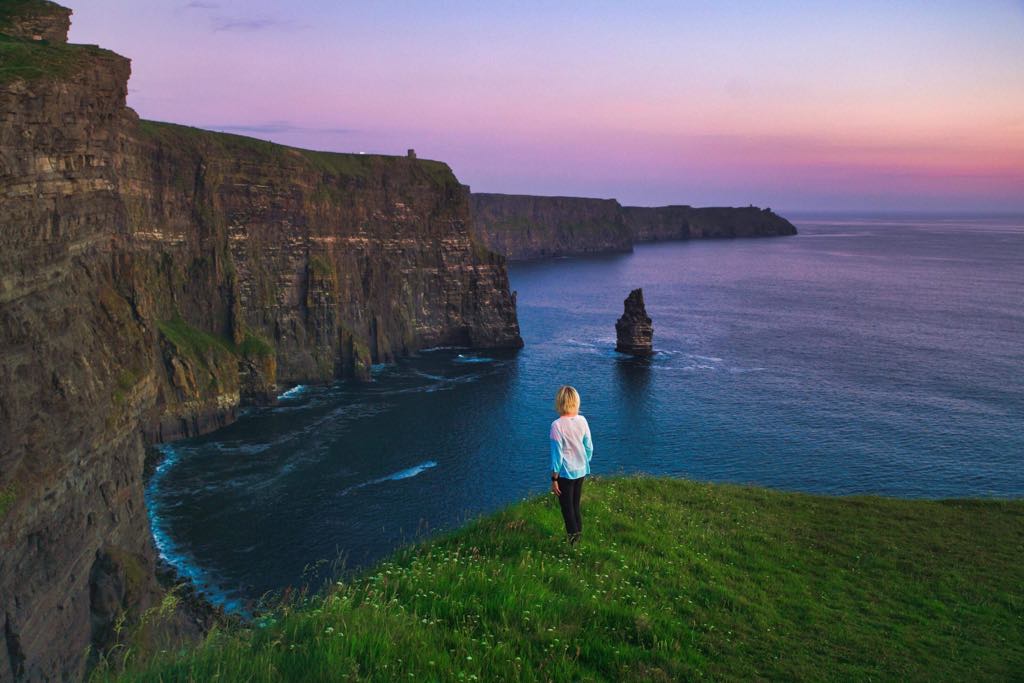 Stunning view of the Cliffs of Moher at sunset on a beautifully clear day. 
The views of the Cliffs of Moher will be one of the most memorable of your Ireland itinerary list. You can remain on the visitor center property, or meander outside and walk atop the Cliffs of Moher themselves and view them at different vantage points.
There is also the Doolin Coastal Trail to explore if you are so inclined. It is a five-mile (8k) coastal trail that will take you right to Doolin!
Look here: From Doolin: Cliffs of Moher Cruise & Visitor Centre
Look here: From Doolin: Cliffs of Moher Cruise
Look here: Cliffs of Moher 1-Hour Cruise from Doolin
Doolin is definitely worth being on your 7 day Ireland itinerary list of seaside villages to explore! It is a quaint little place that certainly invites you to make a visit!
Renowned worldwide for trad Irish music Doolin has many pubs and restaurants for you to explore whether for a quick lunch or leisurely dinner. The downtown boasts pink houses and lots of little shops for any last-minute souvenirs you might need to purchase for yourself or for loved ones at home!
If you have the time to linger in charming Doolin, perhaps a ferry ride across to the Aran Islands could be in your plans. During my Ireland trip, my family and I planned to visit the Aran Islands, but we simply ran out of time. Maybe you will have more time available than we did.
Tickets here: From Doolin: Inis Oirr Island and Cliffs of Moher Ferry
Tickets here: From Doolin: Inis Mor Ferry and Aran Islands
Tickets here: From Doolin: Inis Oirr (Inisheer) Ferry and Aran Islands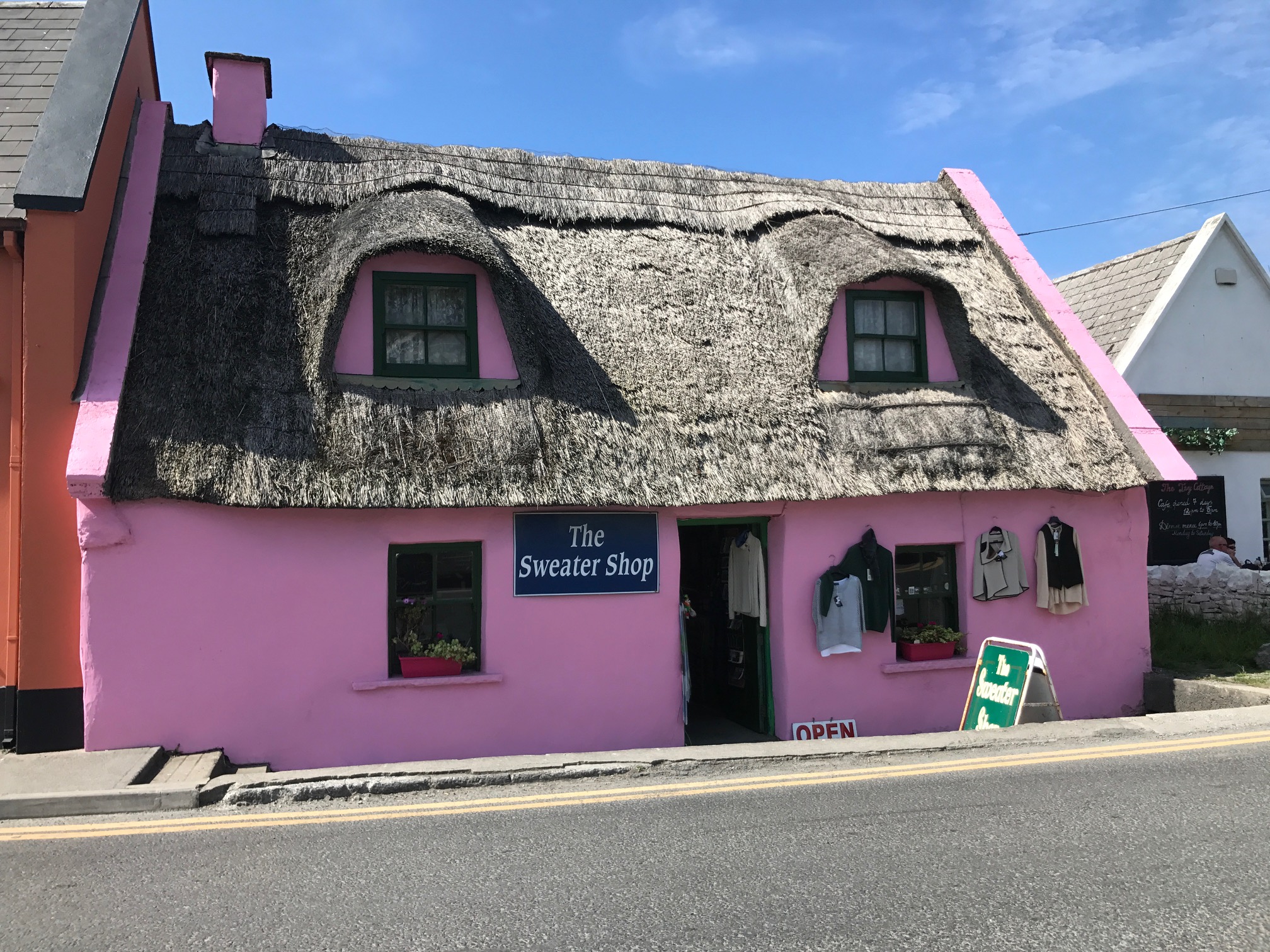 Charming pink house in downtown Doolin. 
Day 7: Begin The Last Day Of Your Ireland Itinerary Heading Back To Dublin
The last day of your 7 day Ireland itinerary road trip, is essentially a free day. Perhaps day seven will find you back in  Dublin for your international flight back home.
With a few free hours to spare, you could explore some Dublin sites you missed as you started on your 7 day Ireland Itinerary a week ago.  Like Molly Malone's statue, or The Old Post Office on O'Connell Street.
Look here: Walking Tour of Dublin
Packing Tips For Your 7 Day Ireland Itinerary
It is my hope that using these useful packing tips will enhance your 7 Day Ireland itinerary and I hope to help make it more stress-free!
A concealed travel pouch may be one of the most important items you bring during your 7 day Ireland itinerary.  This unisex RFID blocking concealed travel pouch is lightweight and comes in several colors.
It has lots of organization to give you peace of mind. You can keep your most valuable documents safe and secure next to your body.
If you have a pouch already that does not come with the RFID protection, these RFID sleeves would be handy to prevent identity theft.
This configuration comes with enough passport and credit card sleeves that the entire family would be protected. They are slim too, so they will easily fit into your current pouch or wallet.
f you are planning on taking a lot of pictures with your phone you will definitely want to consider an external charging battery. This Anker high-speed phone charging battery is the exact one I carry with me on all of my trips.
It can be used on a variety of phones, not just an iPhone like I have. And wow is it fast! I like that it holds its charging capabilities for several uses so I do not have to worry about it while out and about.
And if I forget to recharge it at night, it will still be good to go the next day. And it is able to charge two devices at the same time.
My daughter gifted me with this FugeTek Selfie Stick and Tripod for my birthday. It has Bloothtooth connectivity so it is very easy to use. It is made of durable aluminum and is very lightweight and easy to carry. I love mine and I think you will enjoy it too!
I was not a fan of packing cubes until I started to use them! This is the exact set of packing organizers I use whenever I travel.
I cannot believe how much they really do help with the organization. If you have not considered packing cubes, I would recommend giving them a try.
I am a big fan of locking my luggage too. These TSA compatible durable luggage locks have easy to read numbers and are easy to set. I lock my checked bag if I have one.
I always lock my carry on as well. Especially on a long international flight where I might be napping.
I also lock the luggage I leave behind when I am out sightseeing on a trip. Whether I am at an Air BB or a hotel, I want to keep my valuables as secure as possible if a room safe is not available.
Don't forget to bring along a universal power adapter on your 7 day Ireland itinerary. This worldwide power plug is a great example and will charge your phone at the end of your busy days.
And this world traveler adapter kit can charge several devices at the same time. This is what you will need when there are several people traveling in your group. Or if you bring several electronic devices on your trip that you would like to charge at the same time.
Hydration is so important. You want to remain hydrated to support your immune system which in turn will be stronger to fight off any germs you will encounter during your travels.  You will want to bring your own refillable water bottle with you.
I never leave home on a trip without my Bobble filtration bottle. The 18.5-ounce size is perfect for travel and it fits nicely in the pocket of a backpack or your purse. Also when filled with water, it is not too heavy to carry.
And the charcoal filter ensures fresh clean water whenever you fill the Bobble. You can find filter replacements here. 
Perhaps you are traveling a long distance and packing space is a premium. Then this set of collapsible silicone foldable water bottles would work well for you. They would ould not take up much space in your suitcase at all. And you will be receiving a set of two.
You will want a backpack or daypack with you to store snacks, your water bottle, phone, extra clothes, etc.. This foldable water-resistant backpack would be great.
It is very affordable and is available in many color options for you to choose from. The fact that it folds down into a zippered pouch will make it easy to pack.
Perhaps you need a more substantial backpack for your international travel. This antitheft backpack has a charging port, is water-resistant and can comfortably carry up to a 15.6″ laptop.
You will be walking more than usual during your 7 day Ireland itinerary. A sturdy and comfortable pair of walking shoes is a must-have.
These waterproof all-season shoes are extremely affordable and yet fashionable.  Mostly everyone is familiar with the Skechers brand, and these Air Run high fashion sneakers come in a lot of colors to match your outfits and are still affordable.
If you are visiting Ireland in warmer weather, maybe you want a pair of sandals to wear to dinner or to the local cafe, I highly recommend these Vionics adjustable strap orthotic sandals. I like them so much I purchased another pair in a different color.
These flip flop Vionic Tides are another style I have several colors of. I bring several colors when I travel. I never have to worry about my feet aching. Highly recommend Vionics.
Bring a lightweight scarf or shawl. Scarves and shawls are very popular in Europe and Ireland is no exception. Both men and women wear scarves, both decoratively and as a layering piece to keep warm.
This cotton unisex lightweight scarf is versatile and can be worn in any season. And here's another option to consider: this lightweight sunscreen shawl scarf would do double duty to protect you from the sun should you visit Ireland in the warmer seasons as well as being a fashion accessory layering piece.
We all need to protect our eyes from the sun's harmful UVA/UVB rays. These unisex polarized sunglasses come in a lot of lens colors and frame designs and are extremely affordable too.
If you are fond of the aviator-style of sunglasses these polarized aviators may interest you.
If you are in need of new luggage, this expandable soft side spinner luggage is affordable and comes in lots of colors.
If you like hard-sided better, then you may favor this hard-sided luggage set better. Both sets come with TSA locks and 8 wheels per piece. Either will be great for the plane or train or even your car depending on how you plan to travel to Ireland
Quick Tips For Your 7 Day Ireland Itinerary
Here are some quick tips and tricks which hopefully will enhance your 7 day Ireland itinerary and make it less stressful and more enjoyable.
UPDATED: Stay vigilant! During a  trip to Paris, our family of four was robbed 3 times. We discussed at great length how we had to remain vigilant to protect ourselves against pickpocketers.
However, we were not successful. My daughter had her brand new Olympus camera stolen in the broad daylight in a McDonald's Restaurant in the Montmartre District of Paris while we were having afternoon refreshments.
My thief was caught red-handed with her arm up to her elbow inside of my backpack.  I was walking along a busy Parisian boulevard near Notre Dame Basilica.
Lucky for me my daughter apprehended her. Fortunately,  I was carrying my passport and credit cards on my body.
She wore better clothes, better shoes and more trendy sunglasses than I did. She did not "fit" our idea of what a pickpocketer was. (I still do not understand how she could unzip my backpack while I was wearing it, without me knowing or feeling it.)
Please do not have any preconceptions about who can violate you by stealing your possessions while in Ireland.  Stay vigilant and alert. Hope you have more success than we did.
Remember to always stay hydrated. Bring a nondisposable refillable water container and refill it often! Not only will you hedge the odds against getting sick, but you will also be saving a lot of water bottles from being sent to the landfills.
Call your credit card company for two reasons: 1) to notify the bank that you will be out of the country and give them your exact travel dates. 2) to check to see if the bank charges foreign transaction fees every time you are out of the country and use your card.
If it does, inquire about applying for a credit card that does NOT charge such fees.
When using an ATM in Ireland make sure it is in your bank's network, so you do not incur a transaction fee every time you use an ATM to withdraw money. Also, consider withdrawing larger amounts of money, fewer times, to limit the transaction fees by your bank.
Whenever you can, purchase advanced tickets to Irish attractions whenever possible during your 7 days in Ireland. Tickets purchased online, in advance, are mostly always discounted, and many times come with a "skip the line" perk.
You will have more time to spend at the attraction since you will not be waiting in the entrance line. Also, you can better pace yourself during your busy days.
As you plan your 7 day Ireland itinerary trip from the comfort of your own home, you may choose to spend more time or less time at one of the locations I have recommended along the way. It is entirely up to you.
This 7 day Ireland Itinerary road trip and all the suggestions here can be modified and adapted to your own personal timeframe and preferences. Be creative and customize a memorable 7 day Ireland itinerary trip of a lifetime you will never forget!
Have you ever been to Ireland? What was your favorite part? Please leave a comment below in the comment section! 
Please be advised that Linda On the Run is a participant in the Amazon Services LLC Associates Program, a program designed for sites to earn fees by advertising and linking to Amazon.com
This article also contains Get Your Guide affiliate links to make planning and scheduling your trip easier and less stressful. 
Pin this post: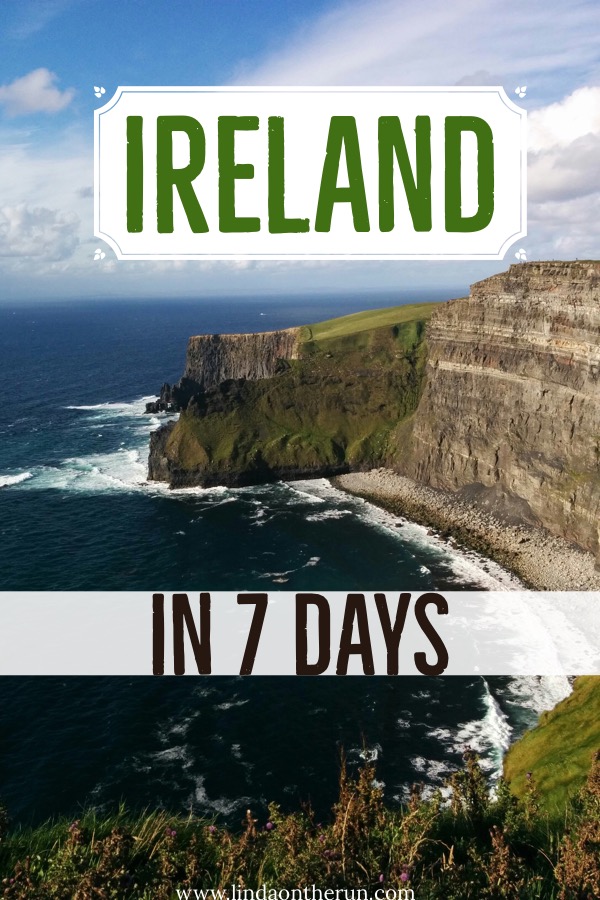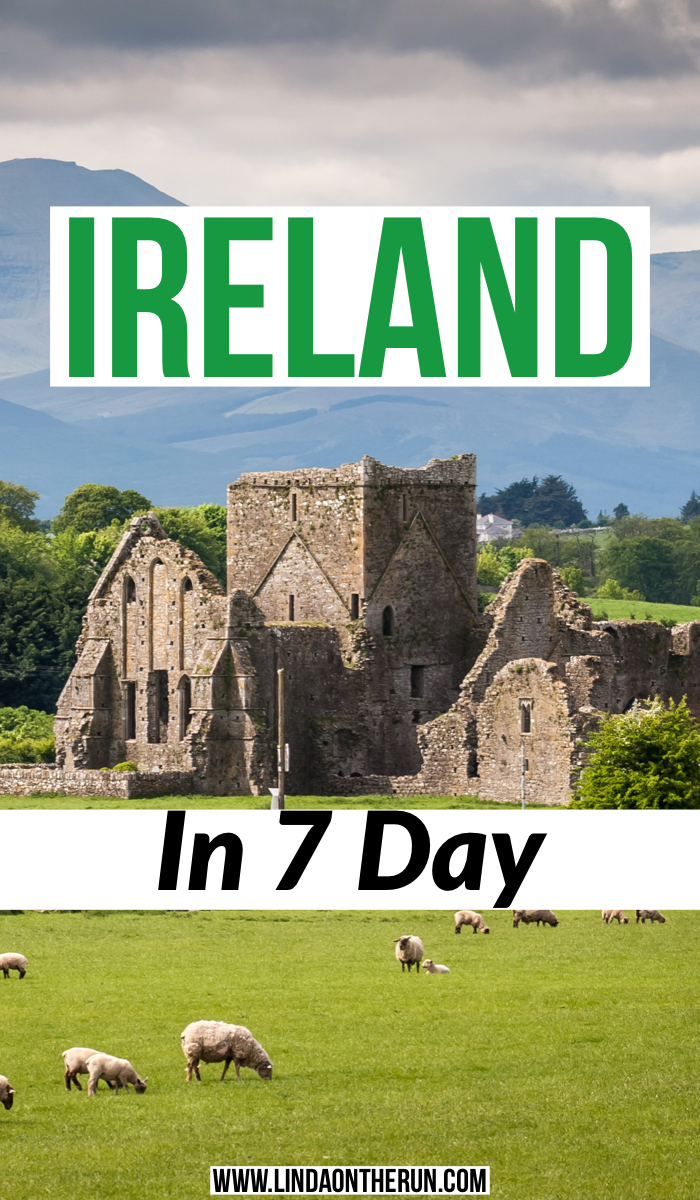 alt="Ireland Itinerary In 7 Days" width="700″ height="1200″>