Are you looking for the best things to do in Doolin Ireland? If so, you have come to the right place! Doolin is situated in County Clare, in the western mid-section of Ireland. On the Atlantic Ocean, along the Wild Atlantic Way, it boasts super epic vistas.
Located three hours from Dublin, and approximately ninety minutes from Galway, Doolin is definitely a charming Irish seacoast town not to be missed. The closest town to the Cliffs of Moher makes Doolin a great place to stop and rest and explore the area.
Doolin boasts the most spectacular seascapes that will leave you breathless. The bucolic farmlands of Doolin with its grazing sheep and cows will also make an impression you will not soon forget.
All the things to do in Doolin attract busloads and carloads of tourists. However, Doolin still retains her local charm, as it is not as large as Killarney or Dublin.
Some of the things to do in Doolin are in the town and some are located on her outskirts. Whichever of the suggested things to do in Dingle you choose, you will be richly rewarded.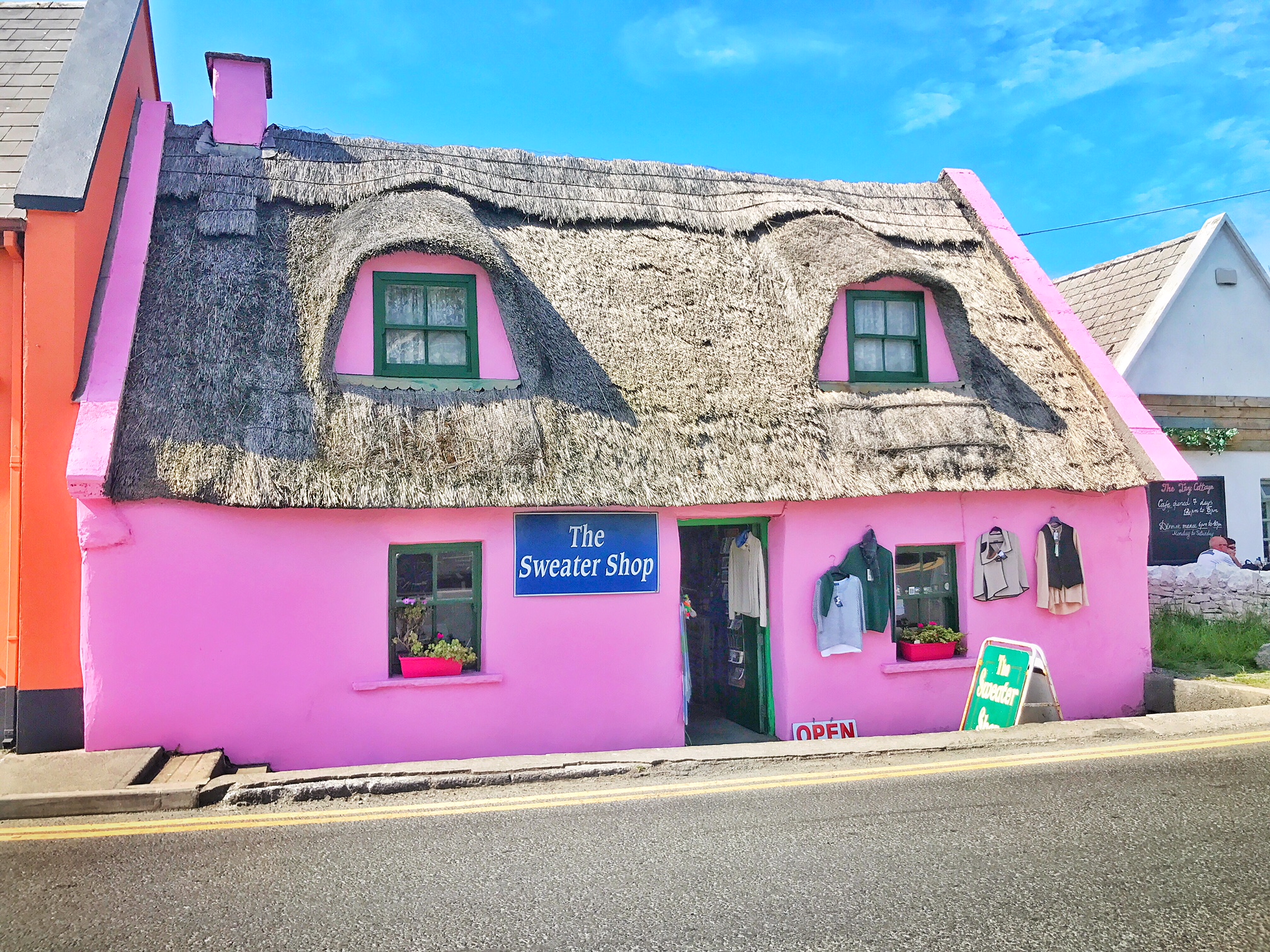 Charming Instagram worthy pink shop in Doolin Ireland.
7 Fun Things To Do In Doolin Ireland
1) One Of The Top Things To Do In Doolin Is To Visit TheCliffs Of Moher
Let us face it: most of us travel to Doolin because seeing the epic Cliffs of Moher is tops on our list of things to do in Doolin. And rightly so! The Cliffs of Moher are magnificent and worthy of our attention.
The Cliffs of Moher boast of being one of the most popular tourist attractions in all of Ireland.
They rise a spectacular seven hundred feet reaching for the sky, and hug the Atlantic Ocean for an impressive five miles. The Cliffs of Moher are Mother Nature's handiwork and definitely not to be missed.
Tickets here: Cliffs of Moher 1-Hour Cruise from Doolin
Tickets here: From Doolin: Cliffs of Moher Cruise & Visitor Centre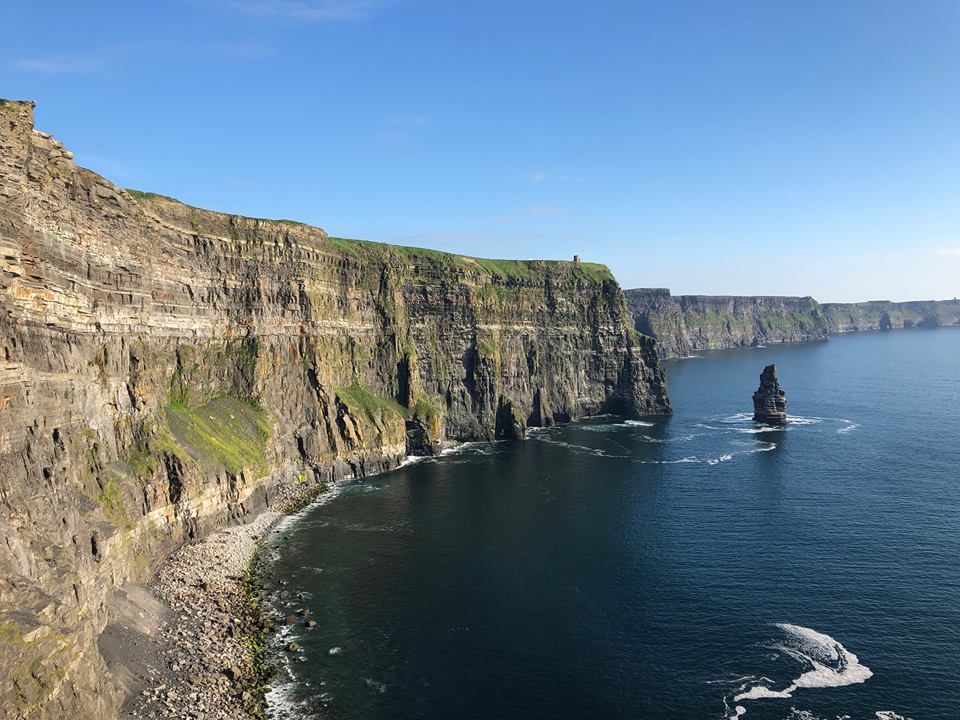 On a clear day like we had, the Cliffs of Moher and the Atlantic Ocean can be seen for miles!
If you are adventurous, starting in Doolin, you can walk the Doolin Coastal Trail to the majestic Cliffs of Moher as one of your top things to do in Doolin. This spectacular walking trail is only 8k long (a bit under 5 miles) and well worth any effort it would take.
You will be richly rewarded with stunning views of the Atlantic Ocean and even the Aran Islands on a bright and sunny day. And of course, the Cliffs of Moher as you draw near to them!
You will want to bring along your own nondisposable water bottle with you when visiting the Cliffs of Moher. This leakproof and foldable 26 oz outdoor water bottle would be a great choice. It is FDA approved and BPA free.
Also, if you travel by plane to Ireland, this foldable water bottle would not take much space in your luggage. If plastic is not your thing, this stainless steel double walled leakproof choice may interest you. It comes with two lids, a variety of sizes to select from and comes in several colors.
The closer you approach the Cliffs of Moher, the more crowded with tourists the trail becomes. You can choose a self-guided tour, or hire a local guide who is well-versed in the local history. The guided tour lasts about three hours.
If you decide to go it alone, I would still suggest you leave at least two hours to enjoy all the views you will encounter: the bucolic countryside full of sheep and goats, and the Atlantic Ocean in all her splendor on your way to the Cliffs of Moher.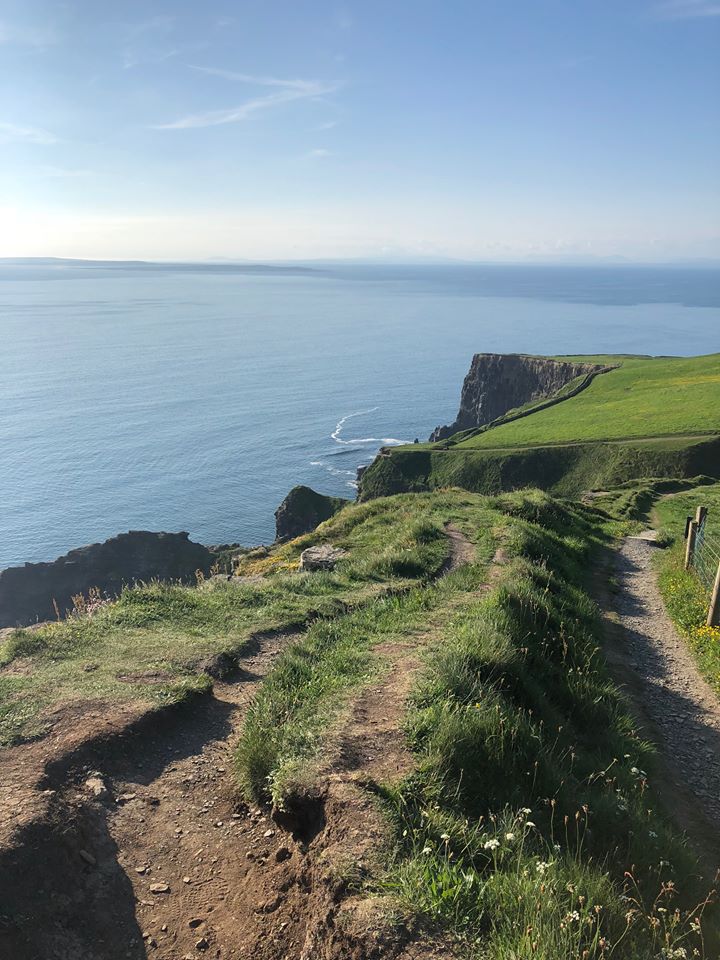 One of the most amazing things to do in Doolin is walking the Doolin Coastal Trail. Here is a very small part of it.
A pair of sturdy closed-toe shoes, or sneakers, are something to consider when making your list of things to do in Doolin Ireland. They will offer support and stability for walking and hiking. These Merrell Edge Hikers are a great choice. They are reasonably priced and come in several colors to choose from.
A bit less expensive, these Skechers D'lites memory foam lace-up sneakers come in lots of colors to choose from. And these Skechers flex appeal sneakers are very affordable and come in lots of colors to choose from that would match any wardrobe you might be bringing along to Doolin Ireland.
Another of the interesting things to do in Doolin to put on your list to consider is viewing the Cliffs of Moher from the sea level. That would be quite another perspective altogether! You can take a boat tour leaving from Doolin Pier that lasts approximately one hour.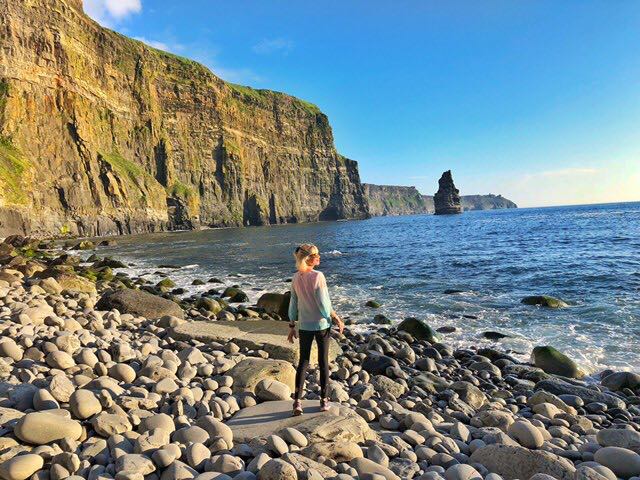 Here I am viewing the Cliffs of Moher from sea level.
If you decide to add taking a boat tour to your list of things to do in Doolin Ireland, you will want to have an overcoat, because it is always cooler on the water, no matter what time of year you travel to Doolin.
You might consider bringing along this Columbia Benton Springs full zip fleece jacket with you. It is available in many colors. This hooded lightweight waterproof jacket is very affordable and is a good choice for chilly weather. Sometimes just a hooded lightweight windbreaker is sufficient for chilly weather. It is cheap and offered in a variety of colors.
Of course, one of the most popular ways to get to the Cliffs of Moher is driving your own vehicle. Please do be advised that you will have to pay for parking. And while the parking lots are expansive, they are located quite near the entrance of the Cliffs of Moher for your convenience.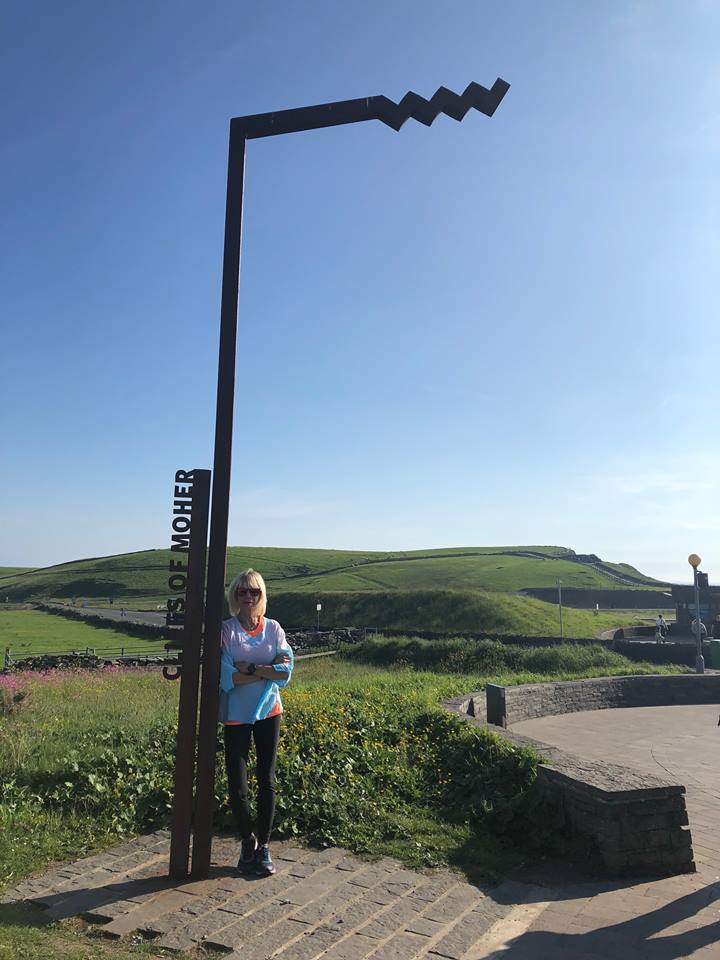 Having your picture taken at the entrance to the Cliffs of Moher is one of the great things to do in Doolin.
You will want to protect your eyes from the sun's harmful rays while in Ireland and a pair of sunglasses (as I am wearing in the picture above) is a good thing to bring along. These unisex polarized glasses with UV protection are stylish. I really like these unisex polarized sunglasses because they are unbreakable!
Make sure you take some time to visit the Cliffs of Moher Interpretive Center. You will see this huge domed underground building built into the side of a hill, which you notice on your right, once you enter. The visitor center contains lots of useful information and history concerning the Cliffs of Moher.
Tickets here: Cliffs of Moher: Visitor Experience Ticket
There are restrooms located right at the interpretive center, so make sure to make use of them before you begin your exploration of the Cliffs of Moher!
Read next: Things to do in Dingle Ireland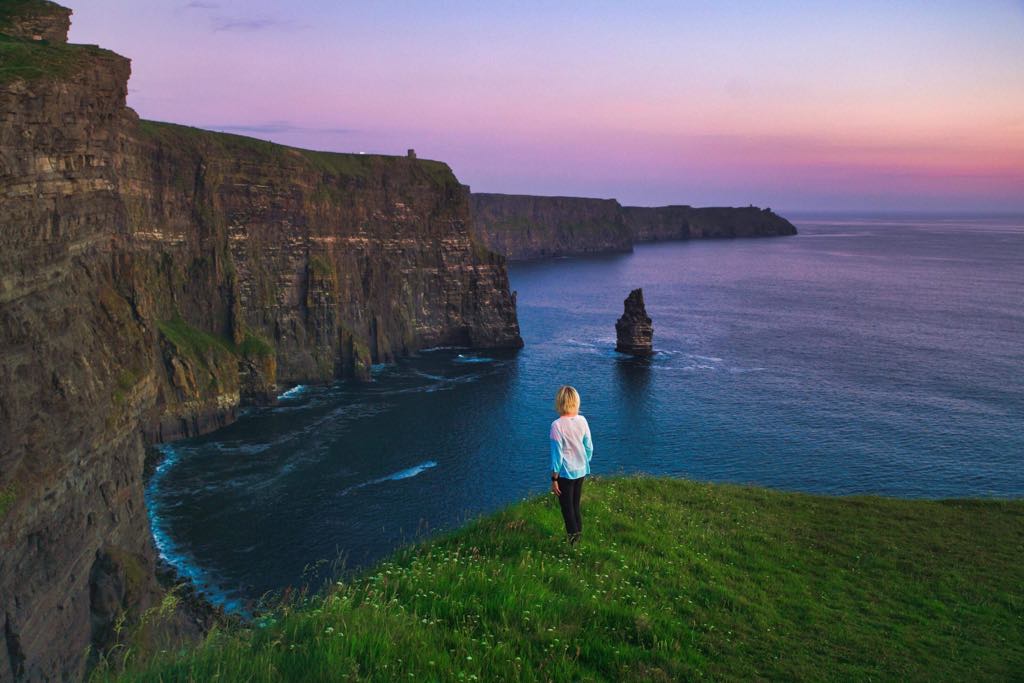 Viewing the sunset at the Cliffs of Moher is definitely one of the unforgettable things to do in Doolin!
2) Eating Is One Of The Fun Things To Do In Doolin Ireland
With all the adventurous things to do in Doolin and the surrounding area, you will work up a hearty appetite for sure. Doolin boasts a cornucopia of restaurants and gastropubs for you to choose from.
When visiting Doolin, we chose to have dinner at the Ivy Cottage. The weather was perfect and we decided to eat out on their patio. My vegan meal was scrumptious and I highly recommend this restaurant.
There were no other complaints either from the vegetarian and omnivore traveling with me. The restaurants and pubs of Doolin make every attempt to cater to every need of their guests.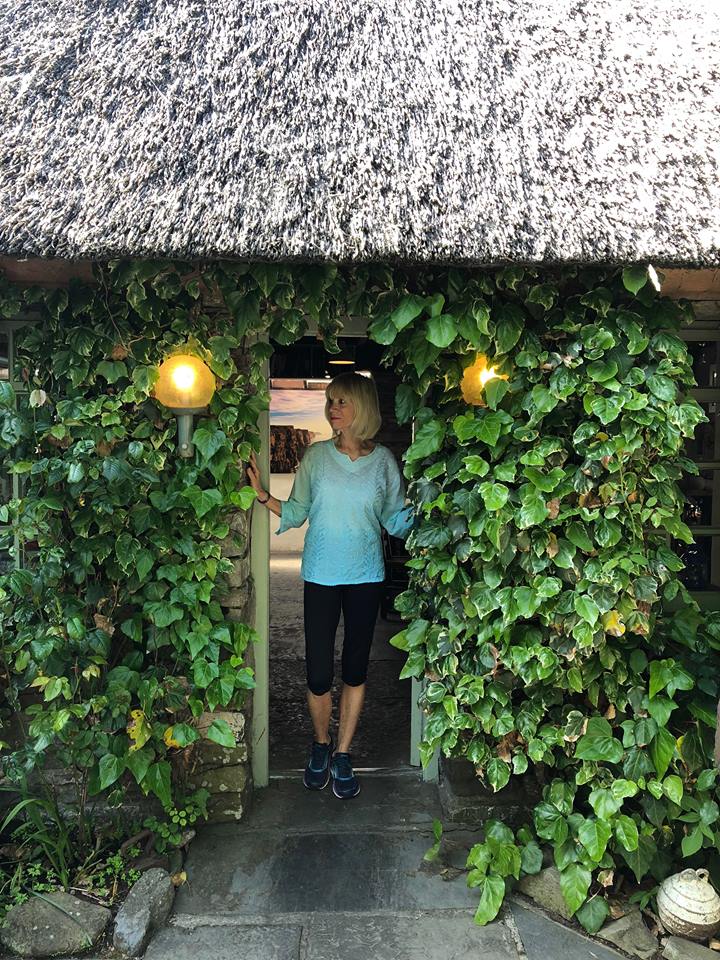 Dinner at the Ivy Cottage is one of the best things to do in Doolin.
Read next: The Ultimate 2 Days in Dublin Itinerary
3) A trip to the Aran Islands is one of the epic things to do in Doolin Ireland!
Consistently one of the most popular Irish tourist attractions, a day-trip to the Aran Islands from Doolin remains one of the most exciting things to do in Doolin. The three Aran Islands are world-renown for their geology, history, and Irish culture, and one of the rare places where the inhabitants continue to use their native Irish language every day!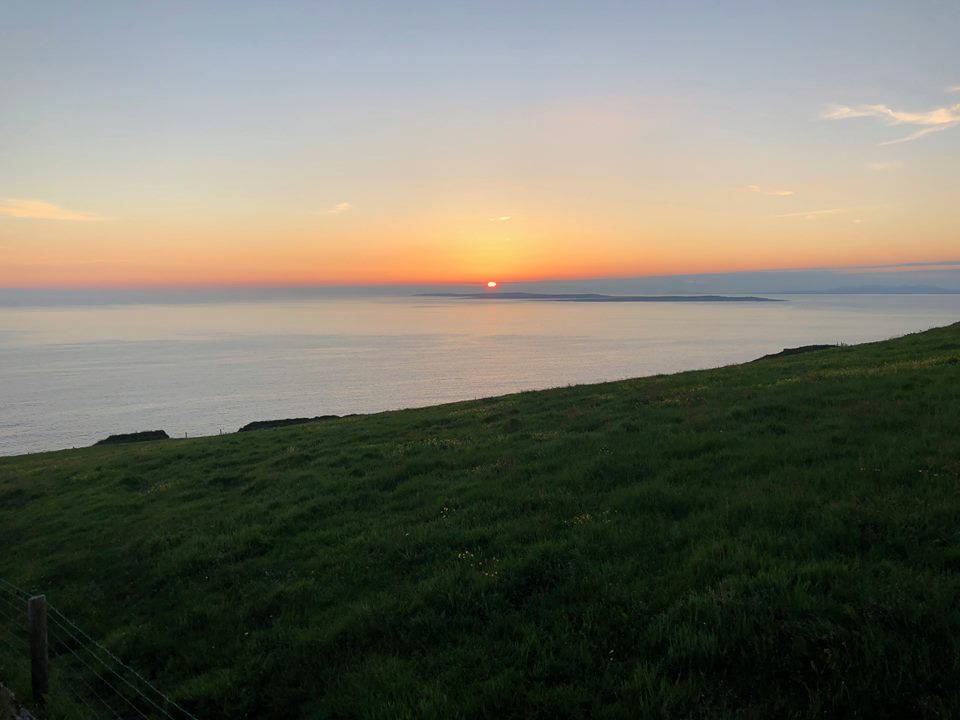 Sunset over the Aran Islands looking from the Doolin Coastal Trail.
You can get to the Aran Islands from Doolin Pier using several local ferry companies located there which operate generally from March until November. These ferry companies use the most direct route to get to the Aran Islands from Doolin.
Due to seasonal weather conditions, the ferry schedule may change, so make sure to check with your ferry company and be aware of your scheduled sailing.
Look here: From Doolin: Inis Oirr Island and Cliffs of Moher Ferry
Look here: From Doolin: Inis Mor Ferry and Aran Islands
Look here: From Doolin: Inis Mor (Inishmore) Ferry
If you decide on a day-long trip to the Aran Islands, you will want to bring along a backpack/daypack to carry all your necessities like an extra sweater, water bottle, and snacks. This unisex lightweight foldable/packable water-resistant daypack folds into its own pouch, making it easy for packing when not in use. And the color options are amazing!
If you are looking for something a little more serious, but that does not cost much more, this unisex travel backpack is water-resistant and TSA-friendly and comes with many other features.
Once you have arrived at the Aran Islands, you have many options! It is literally like taking a step back in time. You can take a guided tour, or hire bicycles and head out to explore the raw beauty and local culture the Aran Islands offer. Romantic winding roads and the beaches all inspire wonderful memories which you will carry back home with you!
And there are plenty of spirited Irish restaurants and cafes for you to discover. Make sure you do not leave the Aran Islands hungry.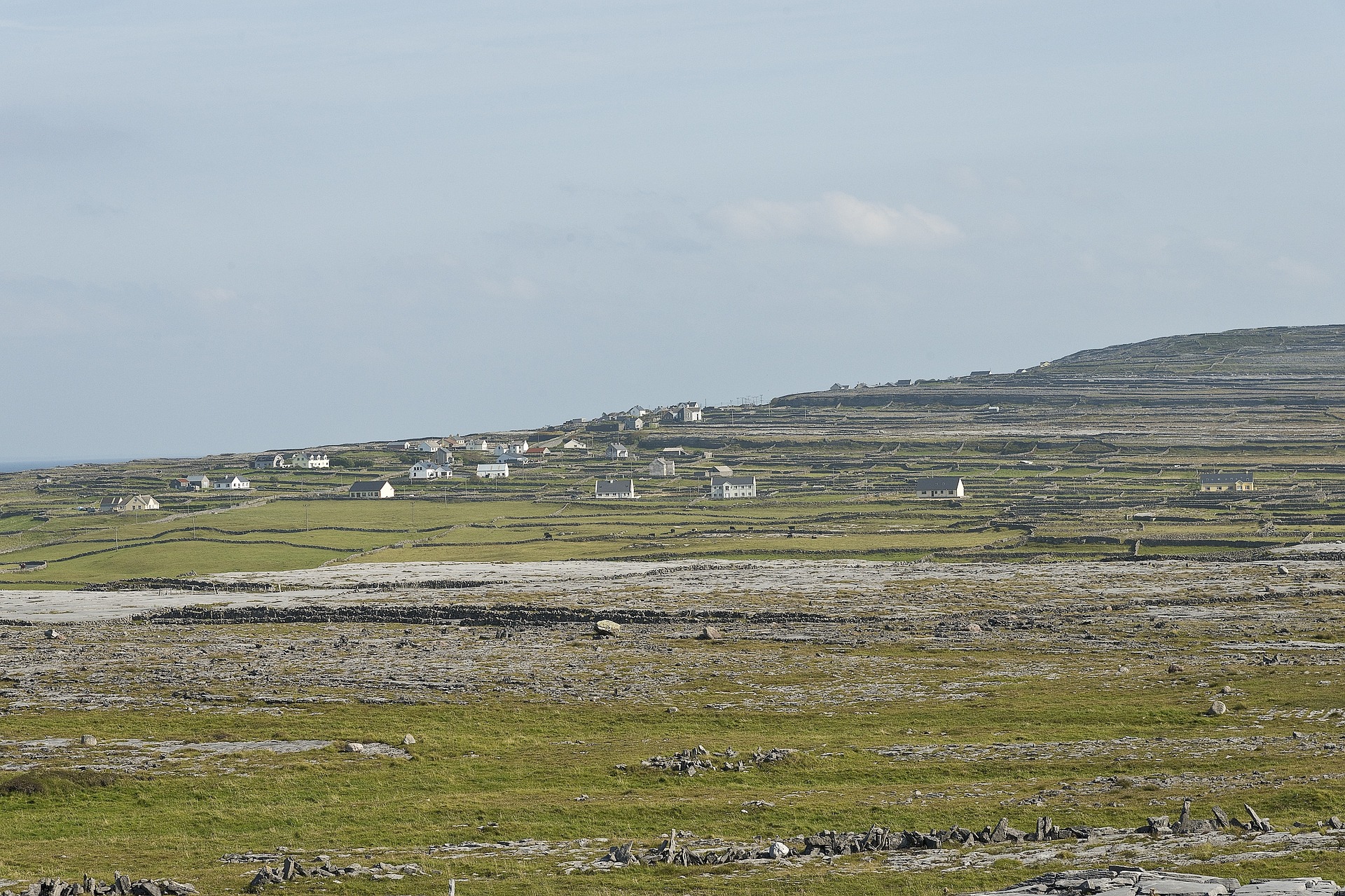 A charming Aran Islands village.
Read next: Charming things to do in Killarney for first-time visitors.
4) Listen To Irish Music In Doolin
One of the most enjoyable things to do in Doolin is to listen to Irish music! Doolin has the reputation of being the home of Irish music, and the most musical village in all of County Clare! It is often said there are more musicians per square mile in Doolin than anywhere else in the entire world!
The Doolin pubs and musicians are world renown for traditional Irish music. Most of the local pubs or music houses start their loud and often raucous music "sessions" around 9:30 PM, but to be sure, check with the local establishments to verify. In Doolin, there are several pubs for you to choose from, to investigate just exactly what is so iconic about the local Doolin music scene and the popular Irish music sessions.
5) Visiting The Burren Region Is One Of The Totally Unique Things To Do In Doolin
The Burren appears not to be part of our earth, but of another planet, and certainly deserves to be on your list of things to do in Doolin. The word "Burren" actually translates to mean a "rocky place."
The limestone rock landscape you will encounter looks nothing like the enchanting rolling green hills of Ireland that you are accustomed to seeing on your Irish trip thus far. The otherworldly lunar and dramatic landscape is very much worth adding to your list of things to do in Doolin.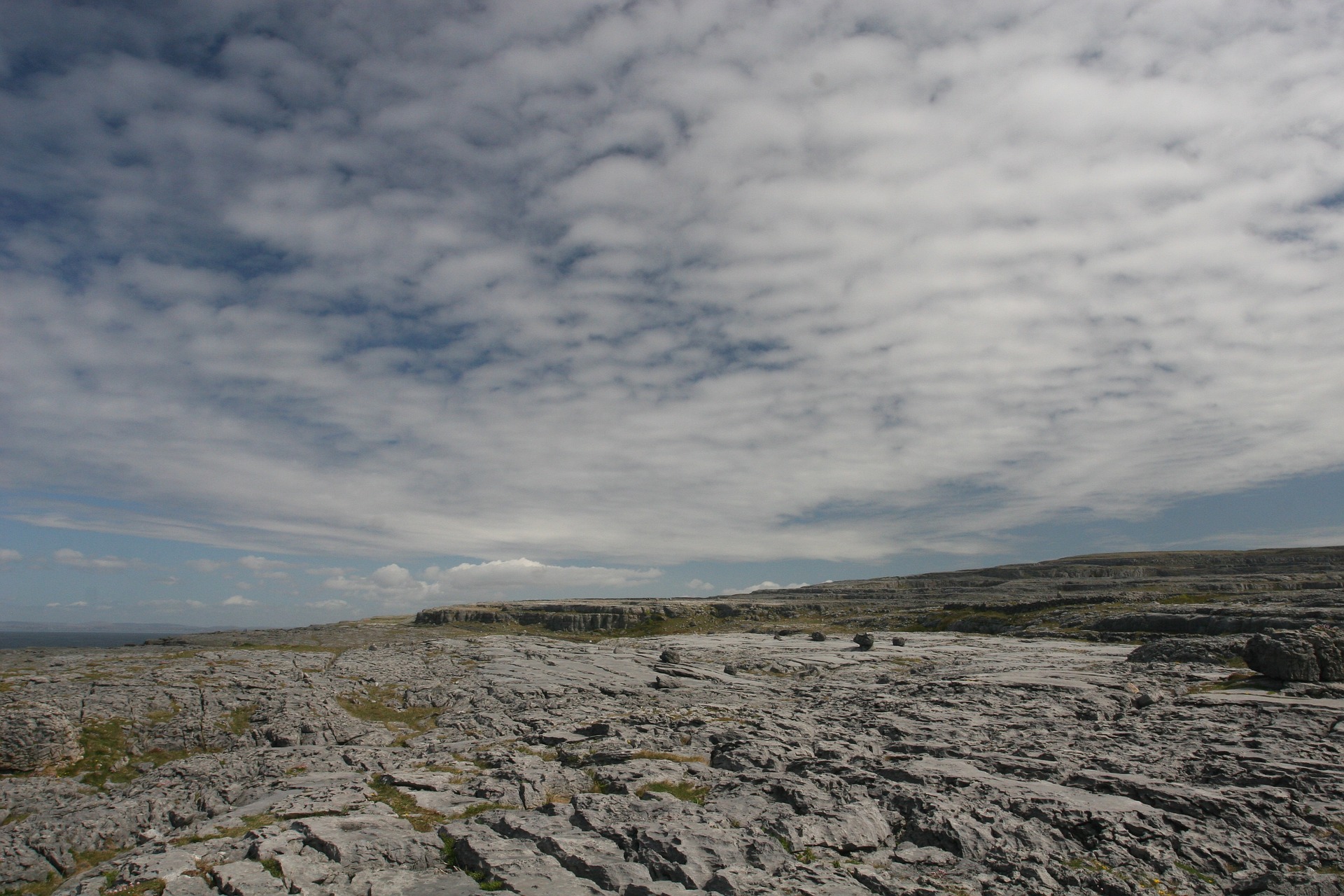 The very dramatic lunar landscape of The Burren
The Burren region is comprised of about 116 square miles starting in Doolin and boasts many interesting geological patterns, tombs, and historical ruins. There are also many trails and walks for you to choose from.
You will see up close and personal the stone grey landscape and the archeological forts, stone crosses and tombs. You even have the option of taking a guided tour with a local guide. there are a lot of options for exploring the Burren to add to your things to do in Doolin list.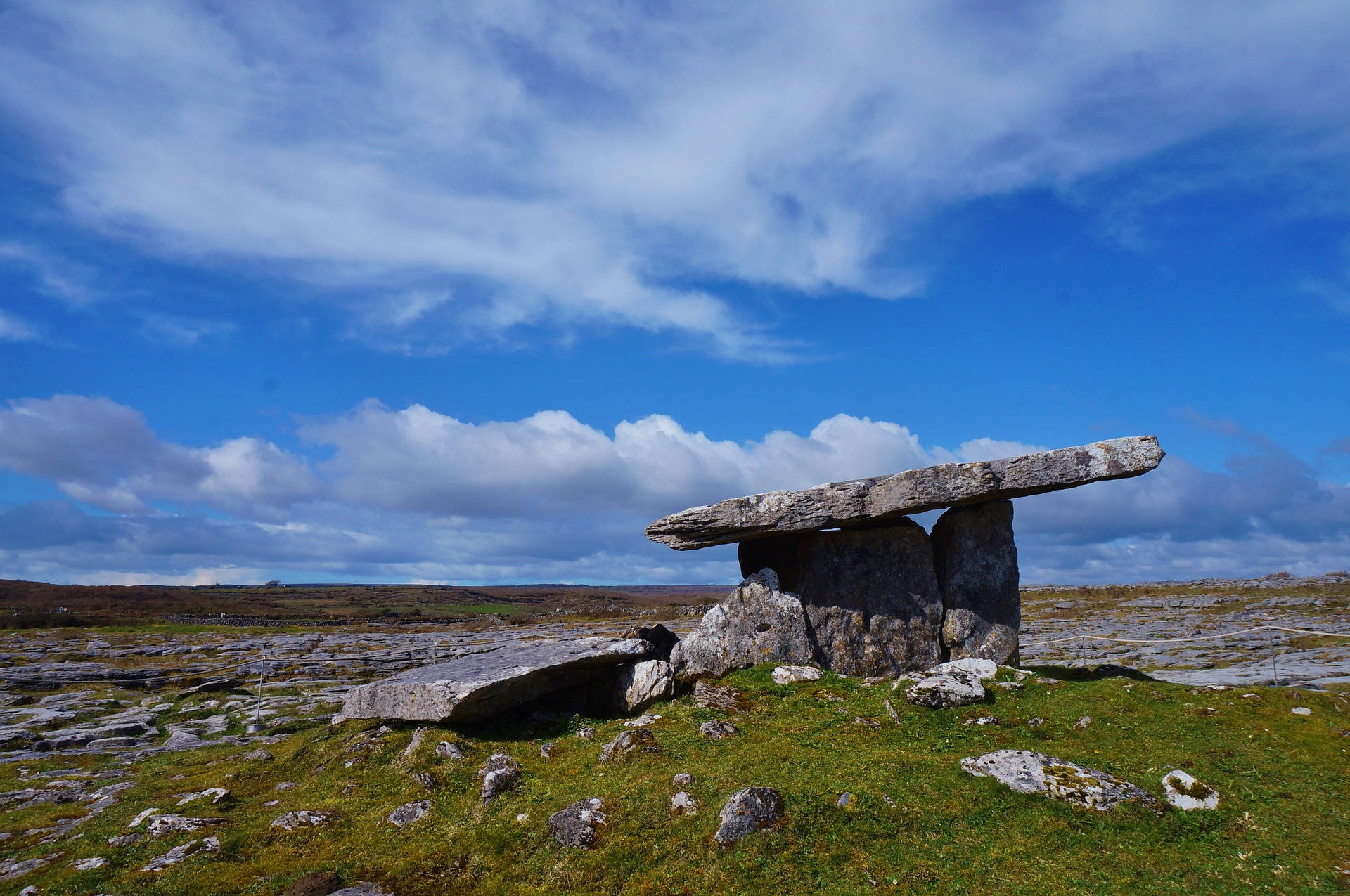 Ancient rock formations found in The Burren near Doolin, County Clare.
6)View The Unbelievably Huge Stalactite In Doolin Cave
Located in The Burren Region just outside of Doolin Ireland is Doolin Cave. Stop at the award-winning Doolin Cave Visitor Center to begin your visit. There is an admission fee and to save time and money, plan to purchase your tickets online beforehand.
The star and main attraction of Doolin Cave is the magical Great Stalactite. It is an astounding 23 feet (7.c meters) long hanging down from the cave ceiling. It is so unbelievable it has to be seen to be believed and should be added to your list of things to do in Doolin Ireland.
You can extend your trip at Doolin Cave by hiking the farmland Nature Trail, having a bite to eat at the cafe, and shopping for hand-crafted items in the gift shop.
7) Stop At Doonagore Castle For Epic Photos While Visiting Doolin Ireland
Located approximately one kilometer from Doolin, and situated on a hill halfway between Doolin Village and the Cliffs of Moher you will discover Doonagore Castle. It is an iconic County Clare landmark and should be added to your list of things to do in Doolin Ireland. It is a round 16th-century tower house with a small round courtyard enclosure.
Because of its location, up on a hill overlooking Doolin and the Atlantic Ocean, the pristine vistas are spectacular. There are opportunities galore for wonderful and memorable photographs.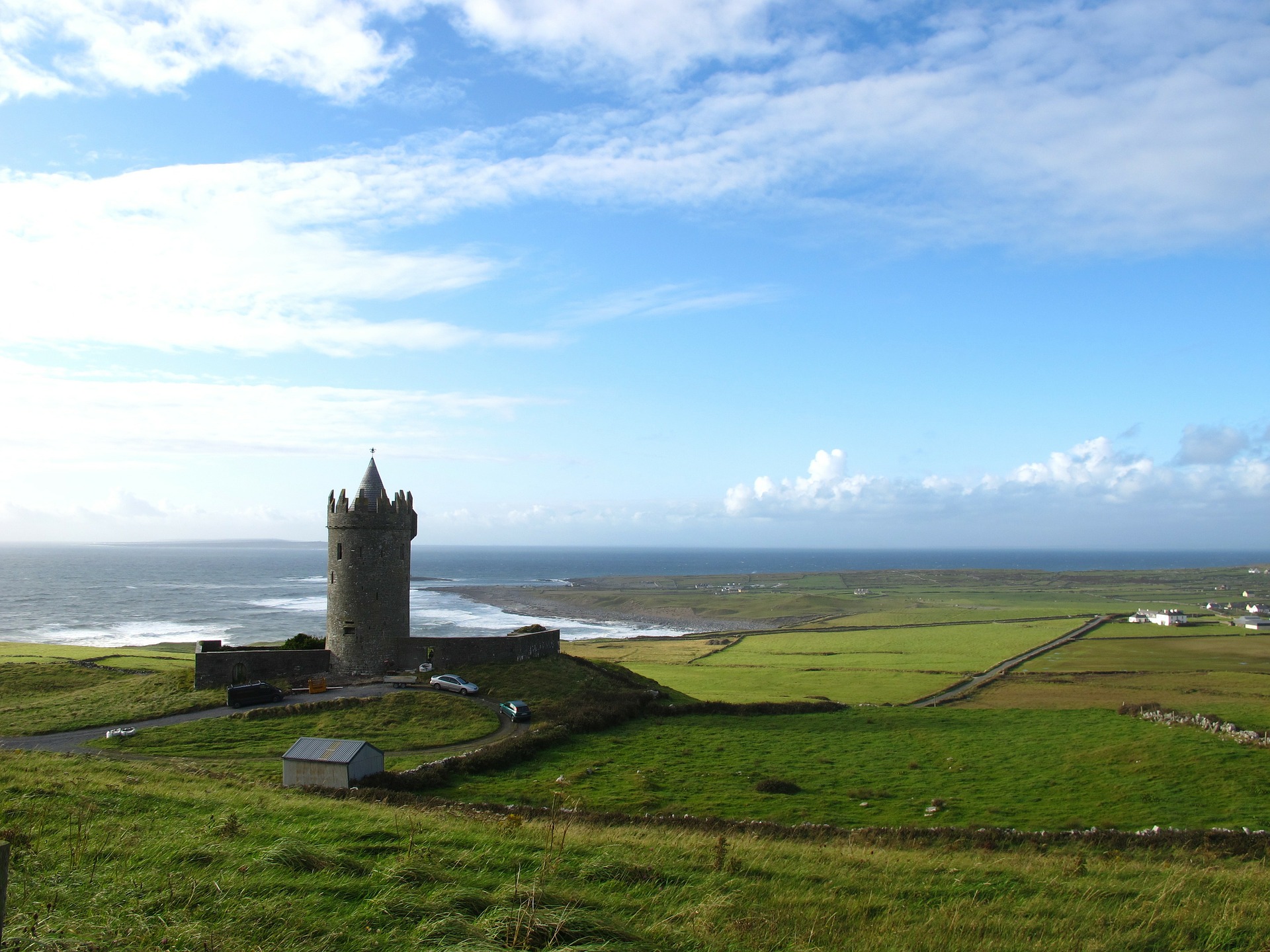 Picturesque Doonagore Castle is one kilometer from Doolin Ireland
Getting To And Around Doolin Ireland
Doolin Ireland is located on the Atlantic Ocean, along the Wild Atlantic Way. Views are jaw-dropping spectacular!
Renting a car is one of the best ways to travel the Wild Atlantic Way and see all the breathtaking vistas and views all along the way. You would have your own transportation to the various attractions in and around Doolin and could plan your days on your own schedule.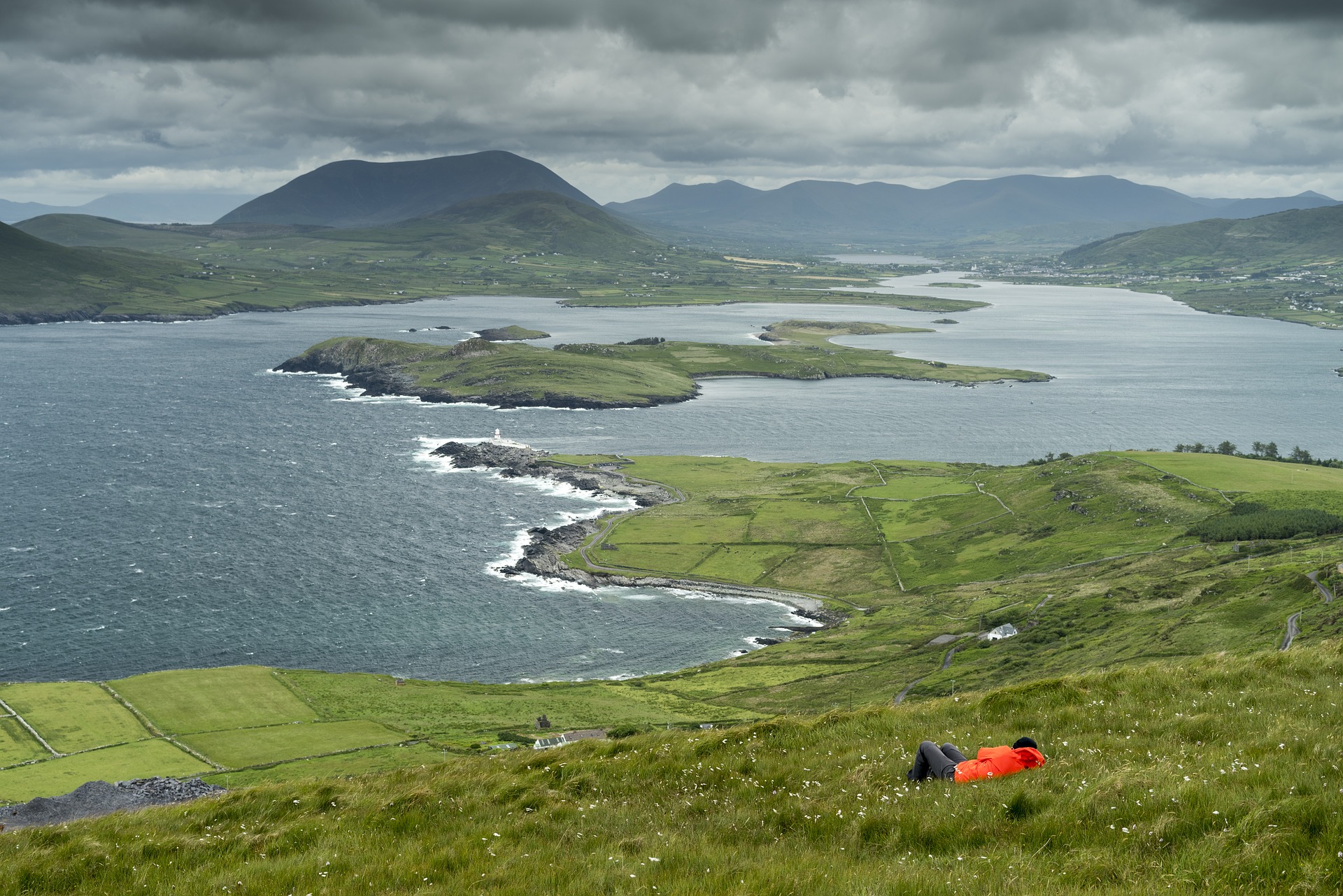 Whether you drive or ride on a tour bus, beautiful views along the Wild Atlantic Way will inspire you.
Read Next: My Experience With EuroCar Ireland
If a car rental is not in your plan, there are lots of guided tours headed to Doolin. The pro about being on a guided tour is you are chauffeured around in a huge comfortable bus or van and driven to the different and various locations.
Each way has its own pros and cons, and it is for you to decide the best way to travel to Doolin Ireland that is most convenient and practical for you and your traveling companions.
Look here: Tour to the Cliffs of Moher & Doolin from Dublin
Look here: From Dublin: Cliffs of Moher, Burren & Galway Full-Day Tour
Look here: Cliffs of Moher Half-Day Express Coach Trip from Galway
Look here: Cliffs of Moher Full-Day Tour from Dublin
Look here: Cliffs of Moher Tour with Boat Ride and Caherconnell Fort
How Long Should You Spend In Doolin?
What you have on your list of things to do in Doolin Ireland will dictate how long you will spend there. If you are on a tour, then the amount of time you have to spend there will be figured into the tour's itinerary.
If you are traveling independent of a guided tour group (on your own!) I would suggest anywhere from an afternoon to several days. You can make a quick stop for lunch at one of the quaint Doolin restaurants, on your way to the Cliffs of Moher or the Burren or Doolin Cave.
Or if you have a leisurely amount of time, you can choose to stay for several days and visit all the attractions, and even perhaps the Aran Islands on an itinerary that suits your schedule.
Additional Packing Tips For Your Trip To Ireland
I think that using these useful packing tips will enhance your trip to Ireland and help you remain organized while there.
A concealed travel pouch may be one of the most important items you bring during your visit to Ireland. This unisex RFID blocking concealed travel pouch is lightweight and comes in several colors. It has lots of organization to give you peace of mind. You can keep your most valuable documents safe and secure next to your body.
If you have a pouch already you may not want to or need to invest in a new one, like me. If it does not come with the RFID protection, these RFID sleeves would be handy to prevent identity theft.
This configuration comes with enough passport and credit card sleeves that the entire family would be protected. They are slim too, so they will easily fit into your current pouch or wallet.
I was never a fan of packing cubes until I tried them out! Now I am sold. These Bagail packing cubes are the exact ones I use whenever I travel. I cannot believe how much more organized I am now!
Don't forget to bring along a universal power adapter on your trip to Ireland. This worldwide power plug is a great example and will charge your phone at the end of your busy days. And this world traveler adapter kit can charge several devices at the same time. This is what you will need when there are several people traveling in your group, or if you bring several electronic devices on your trip that require charging at the same time.
If you are planning on taking a lot of pictures with your phone you will definitely want to consider an external charging battery. This Anker high-speed phone charging battery is the exact one I carry with me on all of my trips.
It can be used on a variety of phones, not just an iPhone like I have. And wow is it fast! I like that it holds its charging capabilities for several uses so I do not have to worry about it while out and about. And if I forget to recharge it at night, it will still be good to go the next day.
My daughter gifted me this FugeTek Selfie Stick and Tripod for my birthday. It has Bloothtooth connectivity so it is very easy to use. It is made of durable aluminum and is very lightweight and easy to carry. I love mine and I think you will enjoy it too!
I am a big fan of locking my luggage too. These TSA compatible durable luggage locks have easy to read numbers and are easy to set. I lock my checked bag if I have one. I always lock my carry on as well. Especially on a long international flight where I might be napping.
I also lock the luggage I leave behind when I am out sightseeing on a trip. Whether I am at an Air BB or a hotel, I want to keep my valuables as secure as possible if a room safe is not available.
Hydration is so important. You want to remain hydrated to support your immune system which in turn will be stronger to fight off any germs you will encounter during your travels. You will want to bring your own refillable water bottle with you.
I never leave home on a trip without my Bobble filtration bottle. The 18.5-ounce size is perfect for travel and it will fit nicely in the pocket of a backpack or your purse. Also when filled with water, it is not too heavy to carry. And the Bobble carbon filter ensures fresh clean water whenever and wherever you fill the Bobble. You can find filter replacements here.
Perhaps you are traveling a long distance and packing space is a premium. Then this set of collapsible silicone foldable water bottles would work well for you. Would not take up much space in your suitcase at all. And you will be receiving a set of two.
You will want to bring a backpack or daypack with you to store snacks, your water bottle,phone, extra clothes, etc.. This foldable water-resistant backpack would be great. It is very affordable and is available in many color options for you to choose from. The fact that it folds down into a zippered pouch will make it easy to pack.
Perhaps you need a more substantial backpack for your international travel. This antitheft backpack has a charging port, is water-resistant and can comfortably carry up to a 15.6″ laptop.It comes in a range of colors to choose from and it is inexpensive as well.
You will be walking more than usual when visiting Doolin. A sturdy and comfortable pair of walking shoes is a must-have. These waterproof all-season shoes are extremely affordable and yet fashionable. Mostly everyone is familiar with the Skechers brand, and these Air Run high fashion sneakers come in a lot of colors to match your outfits and are still affordable.
You may be visiting Ireland in warmer weather, and you may want a pair of sandals to wear exploring. I highly recommend these Vionics adjustable strap orthotic sandals. I have several pairs of these exact Vionic sandals in several colors that I bring with me *everywhere* I travel. They are very comfortable. I also sometimes bring along my Vionic Tides flip flops. The toe post is so comfortable which makes wearing these super comfortable.
Bring a lightweight scarf or shawl. Scarves and shawls are very popular in Europe, and Ireland is no exception. Both men and women wear scarves, decoratively and as a layering piece to keep warm. This cotton unisex lightweight scarf is versatile and can be worn in any season.
And here's another option to consider: this lightweight sunscreen shawl scarf would do double duty to protect you from the sun in the warmer seasons as well as being a fashion accessory layering piece.
We all need to protect our eyes from the sun's harmful UVA/UVB rays. These unisex polarized sunglasses come in a lot of lens colors and frame designs and are extremely affordable too.
If you are fond of the aviator-style of sunglasses these polarized aviators may interest you. I like polarized sunglasses because they remove the glare and help you to see things more clearly. This will be very helpful in Ireland.
If you are in need of new luggage, this expandable soft side spinner luggage is affordable and comes in lots of colors. If you like hard-sided better, then you may favor this hard-sided luggage set better.
Both sets come with TSA approved zippers locks and 8 wheels per piece. Either will be great for the plane or train or even your car depending on how you plan to travel to Italy.
Doolin is much more than just the city located "close to the Cliffs of Moher." There are so many other things to do in Doolin and her surrounding areas, that this quaint little town is a must-visit location on your next trip to Ireland!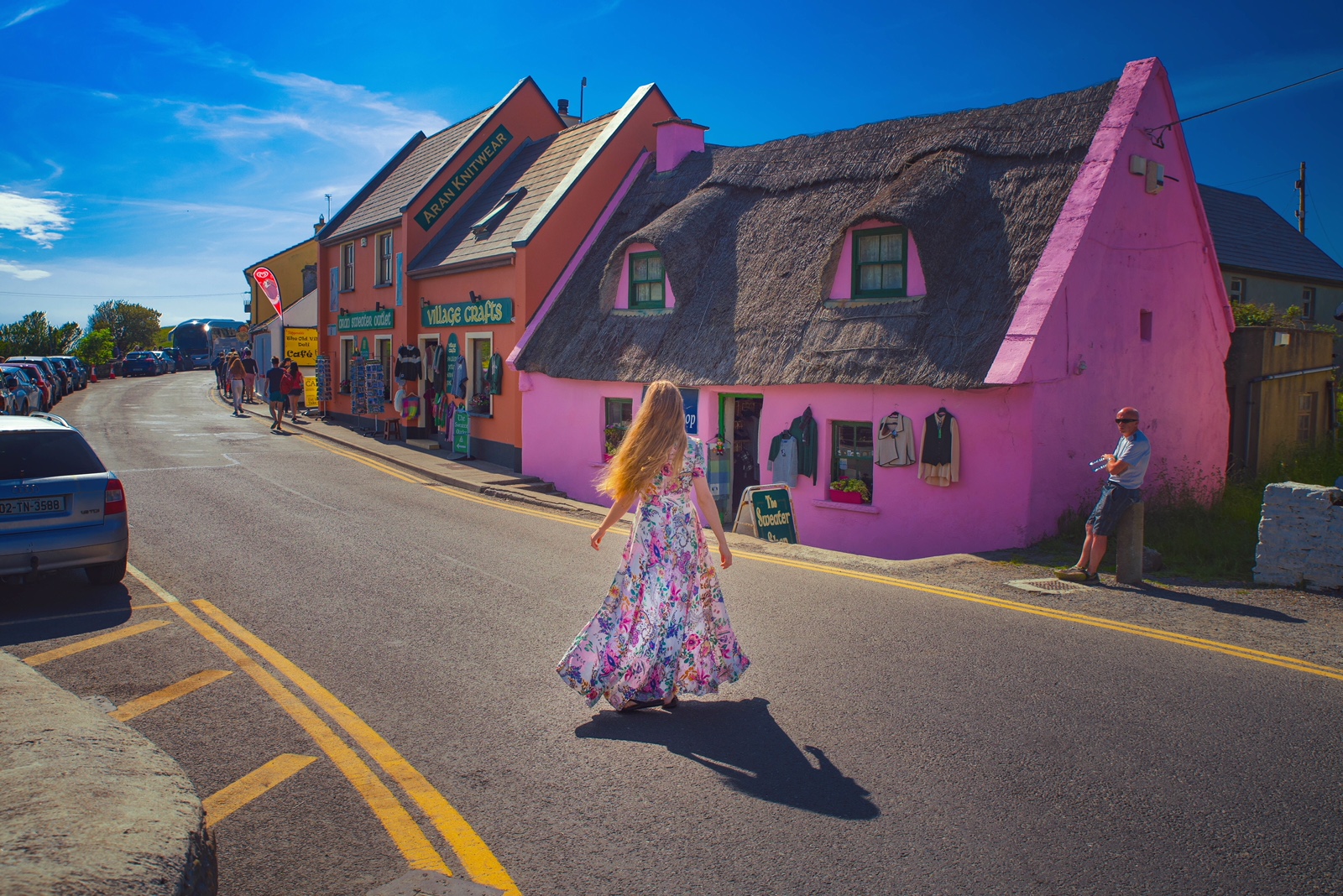 On your visit to Doolin Ireland, you can snap a memorable Instagram shot just as Victoria and Terrence of Follow Me Away did.
READ NEXT
How To Avoid Getting Sick While Flying
7 Tips For Surviving A Long Haul Flight
Travel Tips For Solo Travelers Heading To Ireland
How To Pack Lightly Using Only A Carry On
Traveling Ireland Using Europcar: My Experience
The Ultimate 7 Day Ireland Itinerary
Top 10 Things To Do In Dingle Ireland
Please be advised that Linda On the Run is a participant in the Amazon Services LLC Associates Program, designed to provide sites the ability to earn fees by advertising and linking to Amazon.com
Get Your Guide affiliate links are also in this post.
Have you ever been to Doolin during your visit to Ireland? Did you find it as quaint and interesting as I did? Please post your experiences in Doolin in the comment section below.
Pin this post: