Looking to spend 3 days in Dublin and wanting some advice and inspiration?
Will you be visiting Dublin to see the sights and learn some Irish history? Or eat incredible food and hoist a beer in a real Irish pub? Looking for some tips and recommendations?
Well, look no further. I fell in love with this exciting European capital city when visiting Dublin. Here I have put together the perfect 3 days in Dublin itinerary.
I have listed the famous sights that have tourists from all over the world flocking to Ireland to see.
As well as a few day trips and even some offbeat attractions that I enjoyed and I believe you will too! Dublin is such a jewel of a city with lots to do and lots to see.
I want to make sure you have plenty of options when you are planning for your 3 days in Dublin.
It is up to you to decide in what order you visit each location, and how long you spend at it. That depends, of course, on your schedule, how many are traveling with you and the unpredictable Irish weather.
The Ultimate 3 Days In Dublin Itinerary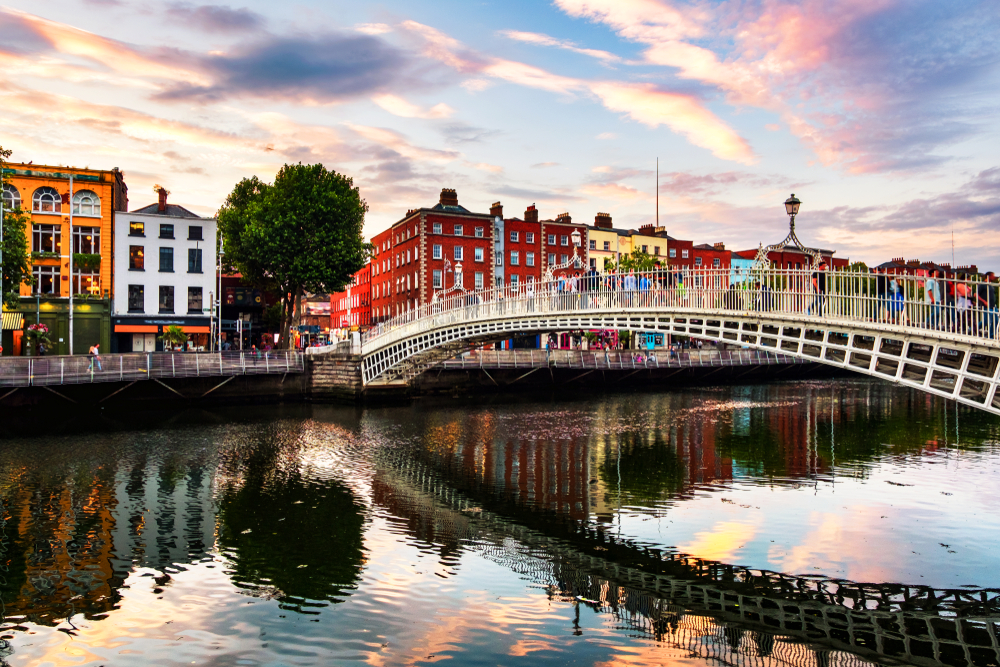 How To Get To Dublin City For Your 3 Days In Dublin
Most international travelers get to Dublin by flying into Dublin International Airport from all over the world. Read how to survive a long flight here. Some that live closer, such as some parts of Europe or other parts of Ireland, drive their own cars or use the trains or busses to get to Dublin. Train travel within Dublin is a very popular way to get around.
Here you can learn tips on how to avoid getting sick when traveling.
If you have arrived by plane into Dublin International Airport, you must decide how to get to Dublin. It is a distance of a bit over 6 miles/10K. Taxi and Uber drivers are available for hire, but that can be a bit pricey.
While visiting Dublin, if you choose to rent a car, read my experience here with Eurocar. It will give you insight into that option should you wish to have a car at your disposal during your 3 days in Dublin.
What I chose to do when visiting Dublin was to take the Airlink Express, Route 747 from the airport into Dublin City Center about 6 miles away. It is less than $10.00 USD, one way, and you can purchase a round trip ticket that would make each way a wee bit cheaper.
While it is an express route, the bus does make a few stops along the way. So wherever you are staying when visiting Dublin, the bus will drop you in a convenient location.
Tickets here: Dublin: Airport Express Airlink Bus Transfer
I was on the 747 until the O'Connel Street stop, which is located at the iconic Irish landmark, the Spire. My Air B&B was a few blocks from there and very convenient for me to walk to, luggage and all!
If you are interested in packing lightly for your 3 days in Dublin read my packing tips here.
How To Get Around During Your 3 Days In Dublin
I chose to stay at an Air B&B inside the Dublin City Center Walls. I was then able to walk to everything! Yes, I did pay more for this location and the convenience it afforded me. But to me, it was worth every penny.
Being close to the attractions, restaurants, and pubs (or not!) is something you will need to weigh the pros and cons of. If you are not a fan of walking or it does not appeal to you, public transportation in Dublin is amazing! And
Busses, trains, and trams are all cheap, quick, and have schedules that will make getting around town a breeze. And is always a viable option if you get caught in the unpredictable Dublin weather.
DART is the electric rail system and stands for Dublin Area Rapid Transit, and is a fast and easy way to get around Dublin.
And another option for you is the Luas- Dublin's light rail tram system. Currently, it offers two independent routes, and schedules are online for your convenience.
It is hoped that in the future, the two lines will connect. There are ticket vending machines at every stop.
Tickets here: Dublin Pass with Bus Tour: Free Entry to 33 Attractions
Tickets here: Dublin Big Bus Open-Top Hop-on, Hop-off Sightseeing Tours
Tickets here: DoDublin Hop-on Hop-off Bus Tour
Day One Of Your 3 Days In Dublin Itinerary
Stop One: Trinity College, The Long Library And The Book Of Kells
Begin your first day visiting Dublin at one of the most iconic locales in all of Dublin, Trinity College. Of all the Dublin attractions visiting Trinity College, The Long Library and the Book of Kells was tops on my wishlist!
The grounds of Trinity College are very beautiful and there is a paid guided tour offered. I opted to take this tour to learn about the history of the college. But to be honest, while I did learn a lot I would recommend skipping this optional outdoor guided tour. If you are interested, you can meander the grounds of the college on your own.
Head instead directly to the absolutely incredible Old Library on campus. As impressive as the library itself is, it also houses the historical Book Of Kells. There is an entry fee to enter, but it is certainly worth seeing this fantastic historical library during your 3 days in Dublin.
Audio tours are available for rent, once inside, and I chose that option for myself. And I was very glad I did. The commentator explained everything in great detail and I recommend that option.
After a few exhibits explaining the calligraphy and drawings in the Book of Kells, you will be directed into the room displaying the book, written approximately 880 A.D. Probably in Britain, Ireland or Scotland by Catholic monks. It is considered a precious national Irish treasure.
The Book of Kells in on display within a temperature-controlled glass display case. It was most definitely the highlight of my visiting Dublin! The Book of Kells is a written manuscript of all four gospels in the New Testament.
The pages are turned on average once every two months, so if you visit again, you will not view the same exact pages. The calligraphy is exquisite and the drawings of plants, animals, and people were as well.
Look here: Fast-Track Access Book of Kells and Dublin Castle Tour
Next, you will head to the Long Room Library. It is the largest room in the Old Library at Trinity College. It houses over 220,000 vintage books. The room is massive, housing books from floor to ceiling on either side of the room.
Also visible are many busts of great philosophers and writers of the western world. All men. Yes, all men!!! Nonetheless, the busts lining both sides of the room were impressive. Each of the men they represented's body of work that contributed to civilization was impressive too.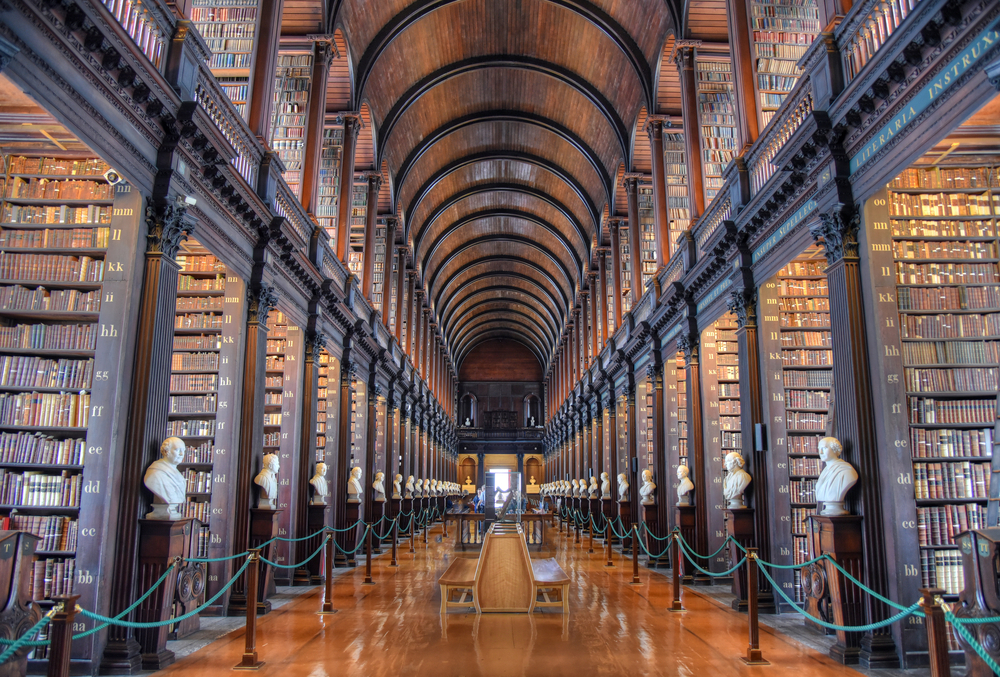 Stop Two: St. Patrick Cathedral
Saint Patrick's is a Church of Ireland cathedral and the national cathedral of the Emerald Isle. The paid entry includes a guided tour. This Gothic-inspired church has a beautiful interior. Saint Patrick himself baptized converts to Christianity using a spring on the property.
Jonathan Swist, author of many things including Gulliver's Travels is buried there.
Look here: St Patrick's Cathedral: Self-Guided Cathedral Admission
Stop Three: Dublin Castle, Dublin Gardens, Chester Beatty Library
Dublin Castle is full of history and within walking distance of Saint Patrick Cathedral. You can walk around the grounds yourself, or take a paid guided tour. If you walk around on your own, you will not be able to see the staterooms on the second floor. I opted for the paid tour and recommend it.
"Dublin" originates from the Gaelic word "Dubh Linn" which translates into Black Pool. The stagnant pool of dirty water from the River Liffey was originally one the Dublin Castle property, and how the city received its name.
If you find yourself hungry or thirsty, there is a lovely eatery at the back of the castle with outdoor seating. The tour lasts one hour.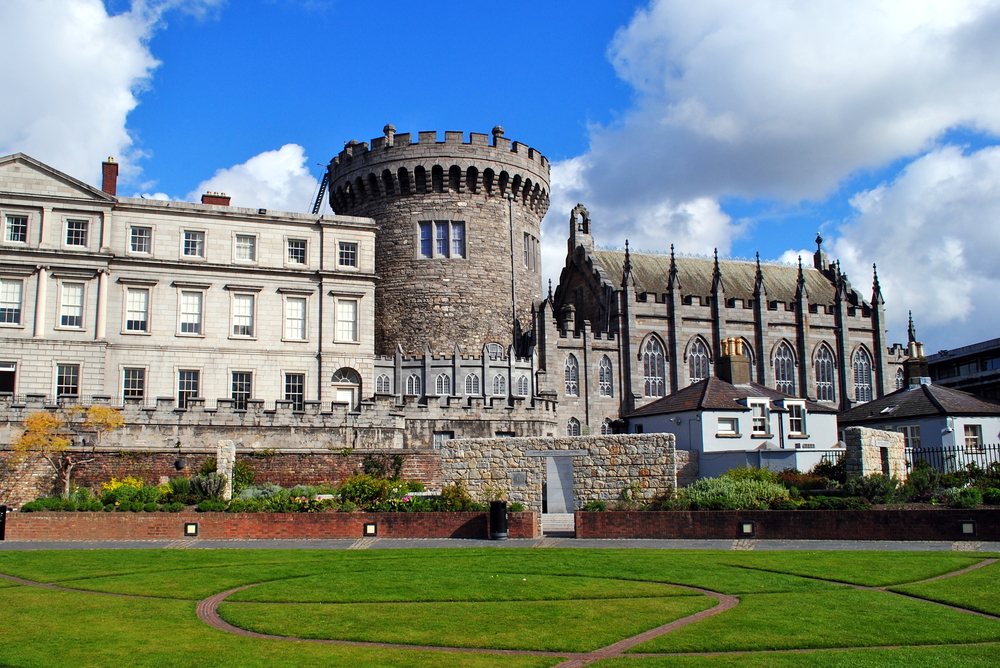 Dublin Gardens are located immediately behind Dublin Castle and a beautiful place to stop and enjoy the landscape. You can even have your refreshments from the snack shop out on the balcony overlooking Dublin Gardens.
The Gardens are designed with a pattern of six connecting winding pathways that can be seen from the air and resemble the iconic Celtic design.
Chester Beatty Library is located directly adjacent to the Dublin Castle and is free. It houses the collections of Sir Charles Beatty, who made his name in mining. Guided tours are available for a fee. Check the tour times when you plan to visit so you can adjust your day accordingly.
The treasures are displayed in two collections, "Sacred Traditions" and "Artistic Traditions." Upon his death, Mr. Beatty bequeathed these priceless and sometimes rare items to the Irish People.
Conference Center Building is located on Dublin Castle's grounds. It hosts traveling exhibitions. When I was visiting Dublin, there was a very moving and very inspiring presentation of the Irish Famine. It was both very sad and very enlightening.
Depending on when you are visiting Dublin, the presentations will vary. Or the building may be closed.
Look here too: Malahide Castle & Gardens Entrance Ticket
Stop Four: The General Post Office
The General Post Office located in the center of O'Connell St., Dublin's main street, is one of Ireland's most famous buildings. And currently is a working post office.
It is more recognized as the main stronghold of the rebels of the 1916 Irish "Rising," during the country's quest for independence. And also for its beautiful architecture.
There is an option of a paid admission attraction highlighting and explaining in great detail the 1916 Rising. Otherwise, there are informative panels which explain in detail the chain of events, and the participants involved in the Irish 1916 Easter Rising.
Stop Five: Molly Malone Statue and O'Neill's Pub
Something quirky to visit is the statue of the mysterious but very popular Irish personality, Molly Malone, located on Grafton Street. Not far from the General Post Office.
Molly's background is obscure at best. Irish lore has her selling seafood from her wheelbarrow during the day and/or working as a prostitute at night. No one is quite sure.
Her statue dresses her very provocatively if that's any indication of her true profession. Current local tradition holds if you rub one of Molly's breasts, you will have a bit of good luck! This is a popular tourist attraction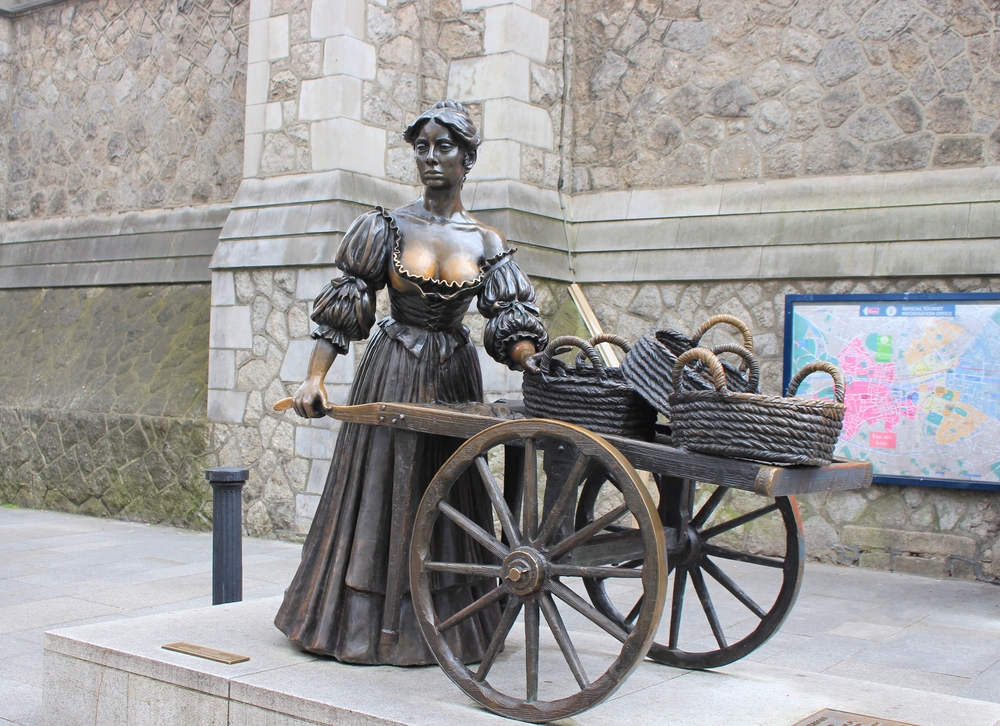 Oneill's Pub & Kitchen is located directly across the street from the Molly Malone Statue. It is very popular and has been around for over 300 years! As a result, it is a great place to try traditional Irish food in Dublin.
It is an authentic Irish pub experience. Complete with Irish music, good food sourced locally, and of course, the beer!
Stop Six: The Ha'Penny Bridge
Ha'Penny Bridge is made of ornate cast iron and although its official name is the Liffey Bridge, it is still called the Ha'Penny Bridge. The name is derived from the cost (ha'penny or 1 1/2 pence) charged early Irish pedestrians to cross the Liffey River.
It is a great place to stop and take pictures commemorating your 3 days in Dublin visit. It is much fancier than other bridges crossing the Liffey River and worth a look-see!
Look here: Discover Dublin By Boat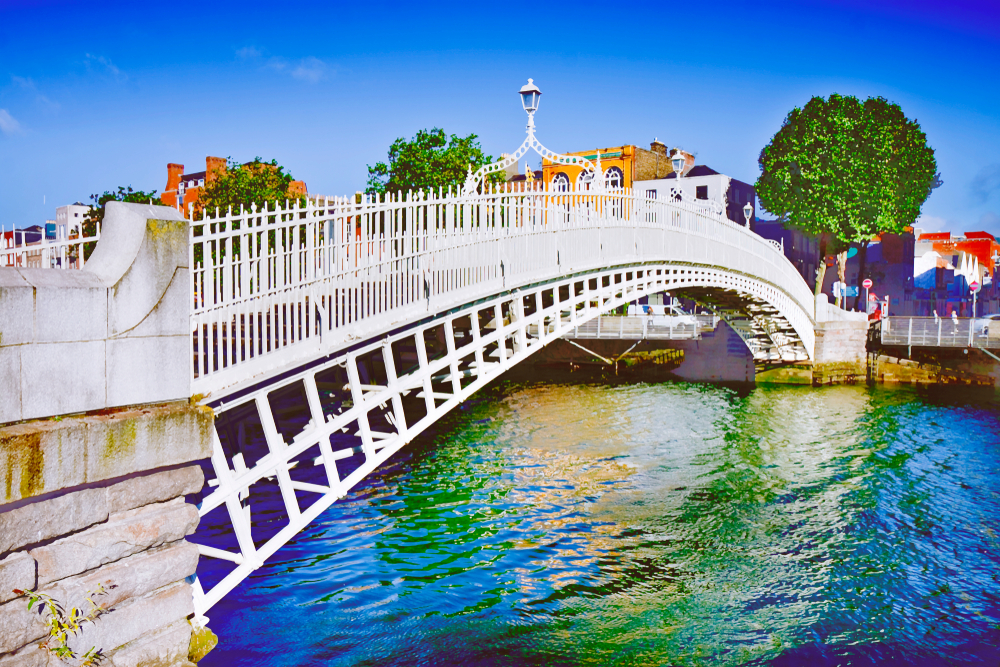 Stop Seven: Trendy Temple Bar District
The very popular and trendy Temple Bar District is a fantastic way to end the first day of your 3 days in Dublin. Be forewarned, the Temple Bar district of Dublin is extremely popular and almost always very crowded.
You will find a few blocks where eclectic restaurants, pubs, and galleries are jam-packed together. The Temple District is considered the most popular tourist destination in Dublin.
It was a Friday late afternoon when I visited, and I could not believe how crowded the several block area was. So, depending on the day/time you visit, crowd size may impact you.
Raising a glass at the Temple Bar is an extremely popular activity, and again, remember the line to enter is often very long. Please take that into account when visiting Dublin.
Look here: Pub Crawl of Dublin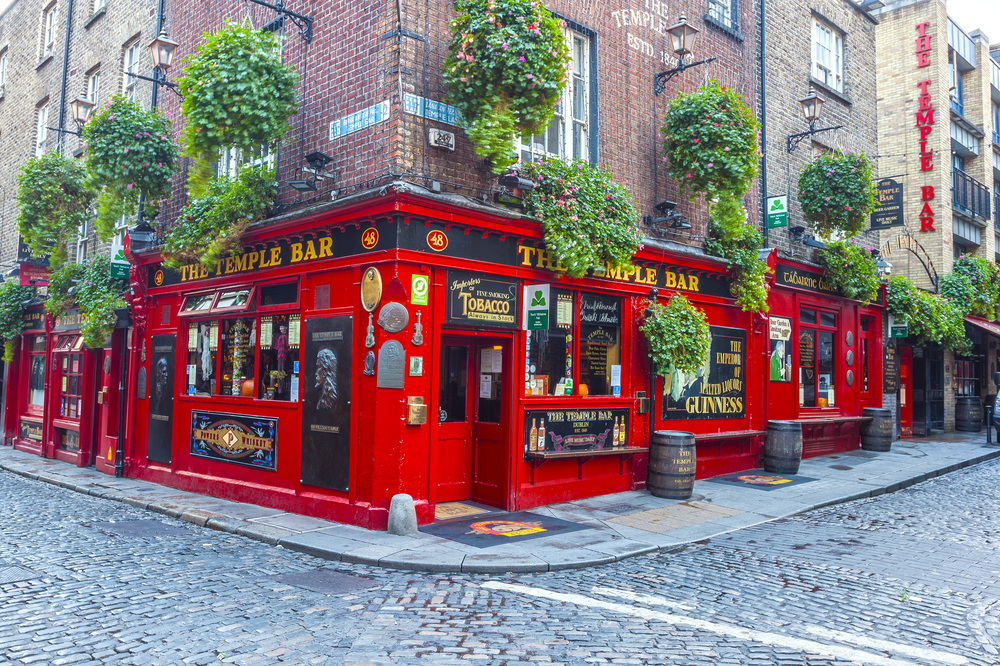 Day Two Of Your 3 Days In Dublin Itinerary
Stop One: Kilmainham Gaol Museum
Today begins with a visit to Kilmainham Gaol Museum, located just outside of Dublin City's walls. If you are into walking, it is still walkable as I did it.
Once used as a prison, Kilmainham Gaol is now a museum run by the Irish government detailing some of the most courageous and most devastating events in Irish history. Imprisoned there were the Irish rebels accused of inciting many Irish rebellions, including the 1916 Easter Rising.
It was at Kilmainham Gaol that the British put to death by firing squad many of the leaders of the 1916 Rising. The jail also housed many ordinary Irish citizens for their crimes as well, in deplorable conditions.
There is an admission fee, but that comes with a guided tour that lasts about one hour. Consider purchasing your tickets online if possible. I did not and waited at least 20 minutes in line to purchase my ticket. There is also a moving and very interesting museum at the end of the tour.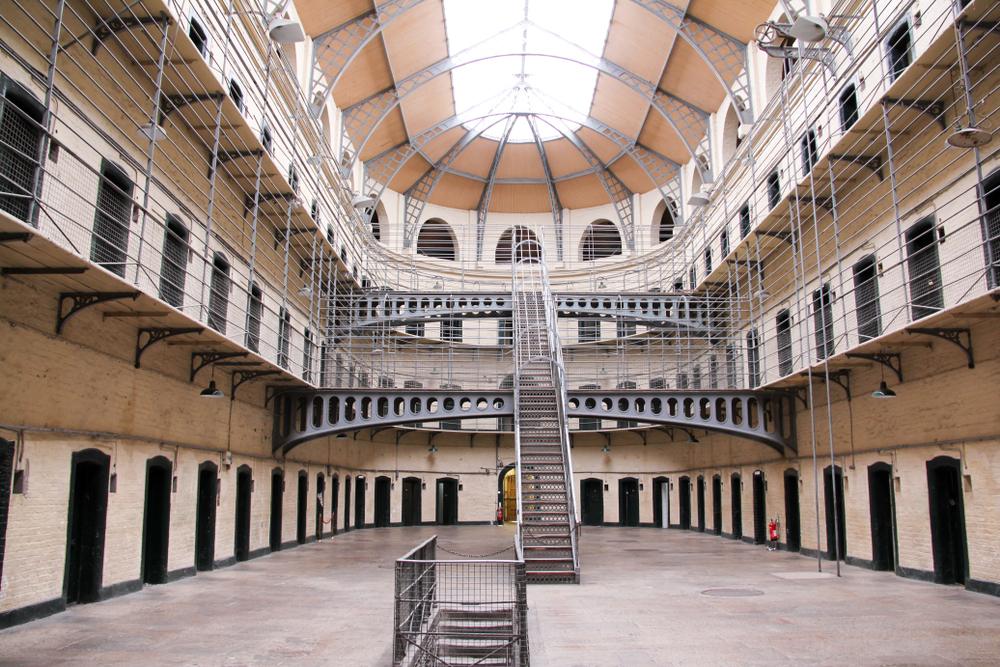 Stop two: Guinness Storehouse
I am not a beer drinker, but I definitely could not resist the desire to tour the world-famous Guinness Storehouse. Purchasing advance tickets online for everyone in your party will assist you greatly.
This is a very popular attraction, with tourists arriving by the busload, so be prepared for it to be crowded. It is seven stories full of interesting exhibits, dedicated to the history of making the "black stuff."
There are elevators that make the Guinness Storehouse wheelchair and stroller friendly. Of course, free beer is included with admission!
There are several restaurants and cafes available to you while touring. Also, an extremely large retail shop selling all things Guinness.
Look here: Skip-the-Line Guinness Storehouse Signature Package
Look here: Guinness Storehouse: Skip-the-Line Ticket with Free Pint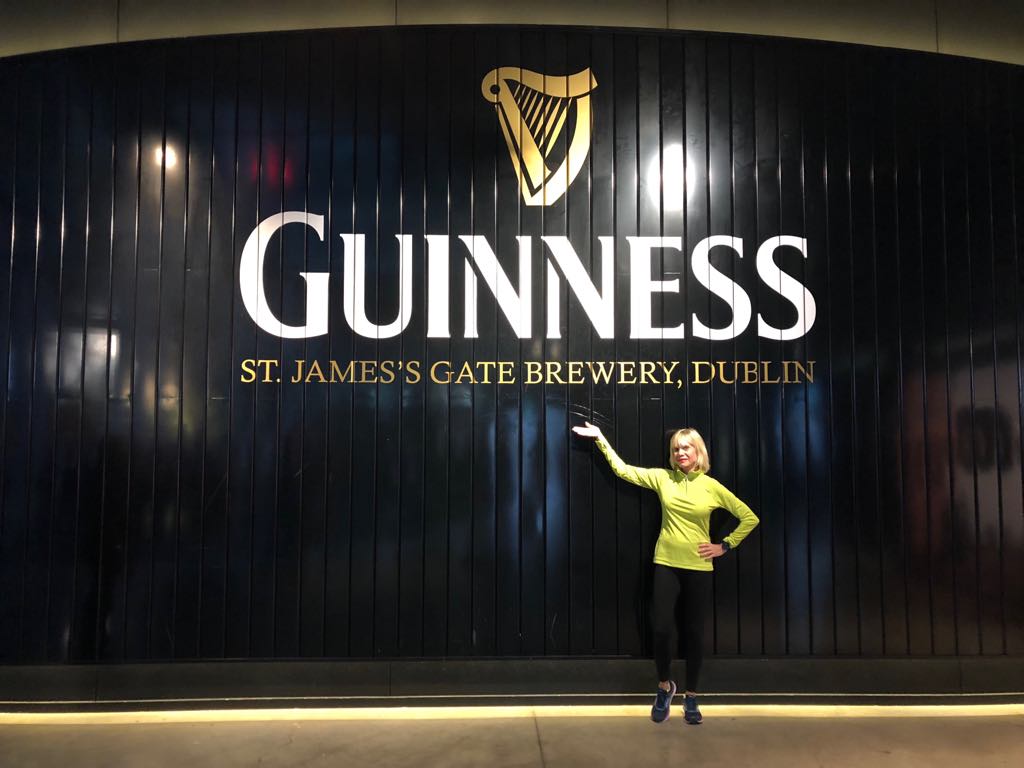 Stop Three: The Brazen Head Pub, Ireland's Oldest Pub
Officially designated as the oldest pub in Ireland, The Brazen Pub will give you that authentic Irish pub experience! It has been in operation since 1198! You will find pictures and scrolls on its walls telling the story of Irish history.
Award-winning food is served, as well as wine if you do not favor beer! Traditional Irish music is played (check the schedule before you go.) Reservations are not accepted.
Stop Four: Christchurch Cathedral
There are two cathedrals in Dublin, both belonging to the Church of Ireland. Saint Patrick's Cathedral, which I recommended for day one of your 3 days in Dublin trip and Christchurch Cathedral, also referred to as the Cathedral of the Holy Trinity.
Christchurch Cathedral has been welcoming worshipers and visitors alike for over one thousand years. Its medieval architecture is beautiful both inside and out. There is a modest admission fee, which helps with the upkeep of the church. You can rent an audio guide to explain things as well.
Tickets here: Christ Church Cathedral Entrance Ticket & Self-Guided Tour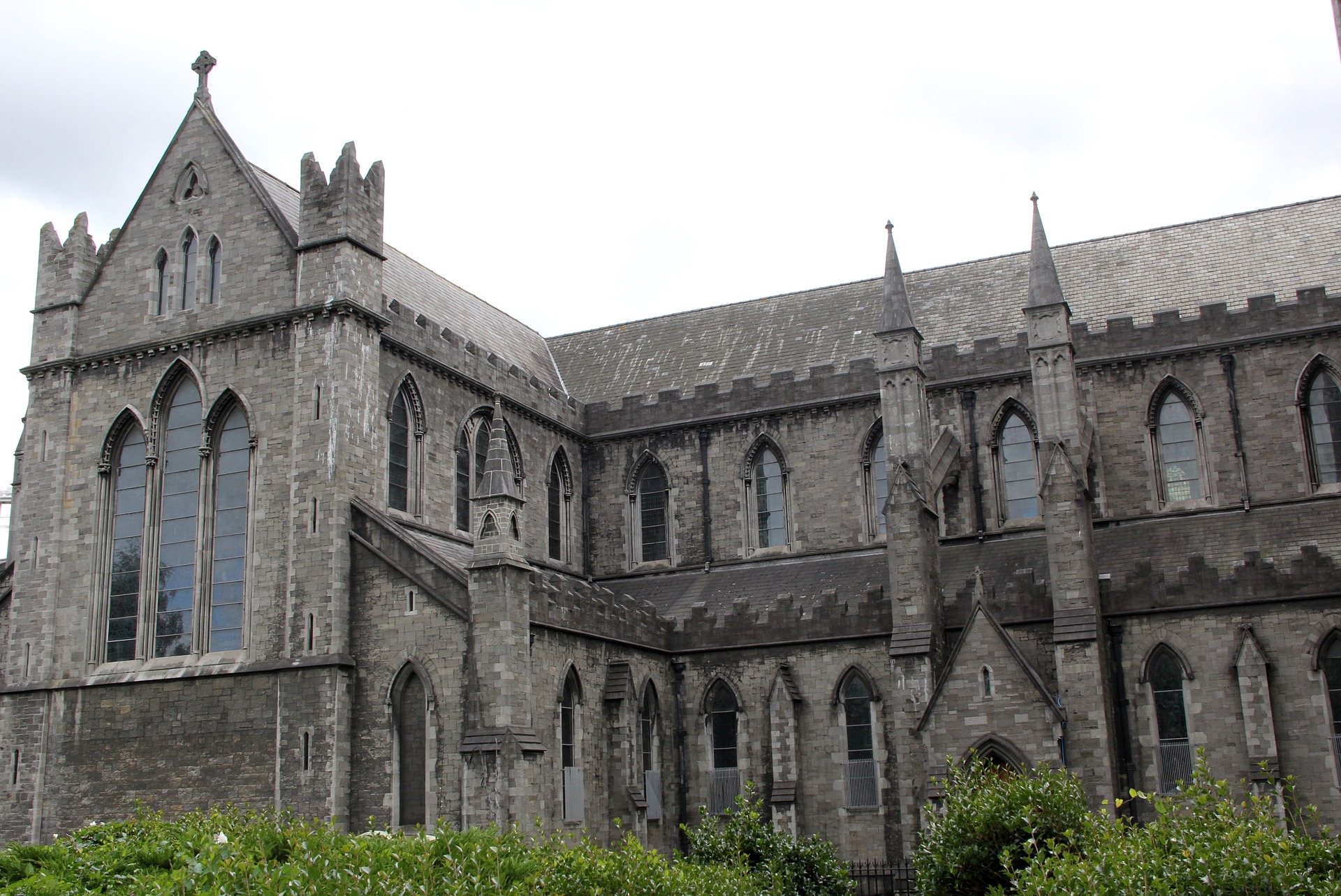 Stop Five: EPIC: The Irish Emigration Museum
Located just a ten-minute walk from Dublin's City Center in Dublin's Docklands neighborhood, is the Irish Emigration Museum. It was voted "Europe's Leading Tourist Attraction" in 2019!
Here you will discover how the Irish influenced the world once they emigrated from their home country. Irish history is told through interactive exhibits and films. The dance world was impacted by the Irish and you can practice your Riverdance moves!
Tickets for adults are less than $20 USD. There is an ever-changing schedule of events so research online beforehand.
Look here: Jeanie Johnston Tallship Emigrant Experience
Day Three Of Your 3 Days In Dublin Has Lots Of Options
Depending on how you feel and how much time you have, I have given you several options for today. The first several for adventures which take you a bit out of Dublin. Followed by recommendations in town that are equally as amazing!
Stop One: Take An Adventure Out Of DublinTo Bray In County Wicklow
The charming seaside town of Bray is located 20km/12miles south of Dublin, on Ireland's east coast. Because it is so close to Dublin, it is an ideal destination for you to see while visiting Dublin! Catching a quick DART will get to Bray in no time, and the trains run there frequently.
This lovely seaside town of 30,000+ people has spectacular seaside views and charming shops and restaurants for your pleasure.
Take a stroll along the Bray Promenade is a way to get some exercise and see the beautiful seaside views. Local pubs and restaurants will lure you in for lunch or dinner.
There is an arcade-casino that is sure to please everyone in your group. The games from our childhood are still available for the kids or the kids-at-heart to indulge in, along with the familiar carnival attractions. For those adults interested there is a casino available. There is no admission charge.
Stop Two: Take The Bray To Greystones Hike
One of the most well-known activities Bray offers is the very popular Cliff Walk. It is a 7 km/4mi linear path that offers spectacular views of the Irish Sea. The suggested time to set aside to complete this famous walk is 2 to 2.5 hours.
The path is very well maintained. It has a "moderate" rating, which means it is suitable for older children, and fit adults. From the Bray trailhead, you will head to the top of Bray Head where you will see gorgeous views of the water, the Wicklow Mountains and Bray itself.
Look here: Wicklow Mountain, Glendalough & Kilkenny Full-Day Tour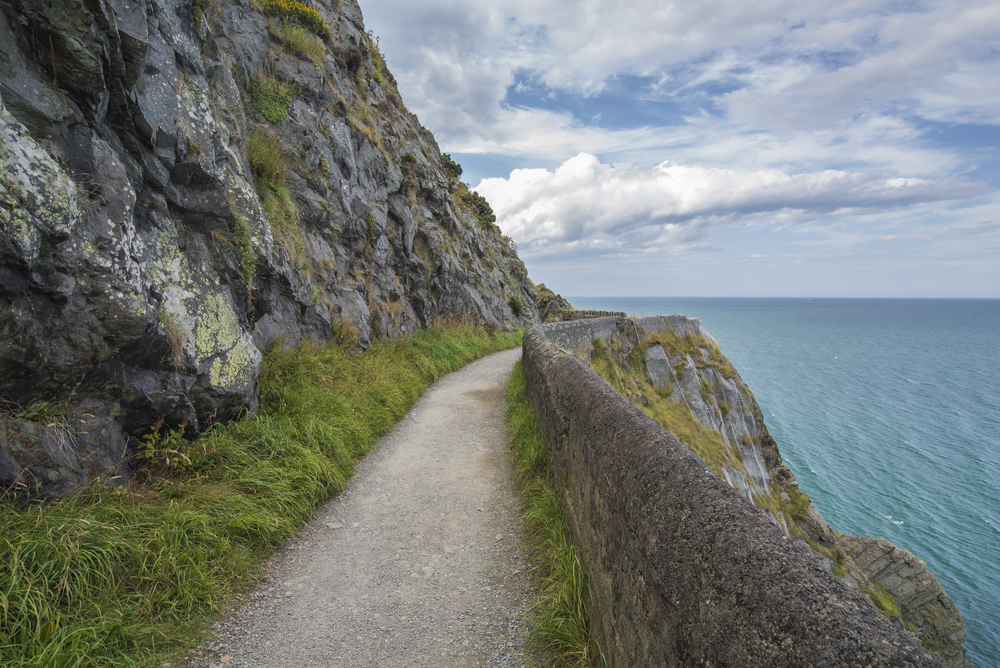 Stop 3: Greystones
A lovely little seaside town of 18,000+ inhabitants, Greystones derived its name from a 0.5 mile/1KM length of grey stones that lie between the beaches and the waterfront.
Walk down Church Road and you will certainly find a pub or restaurant that interests you. If the weather is pleasant when you visit Greystones, venture on down to the seaside, to South Beach. When it is warmer there is a lifeguard on duty and the water is of great quality to swim in.
When you are finished exploring at Greystones, you can walk back to Bray along the cliff walk or take the DART. The trains run very frequently.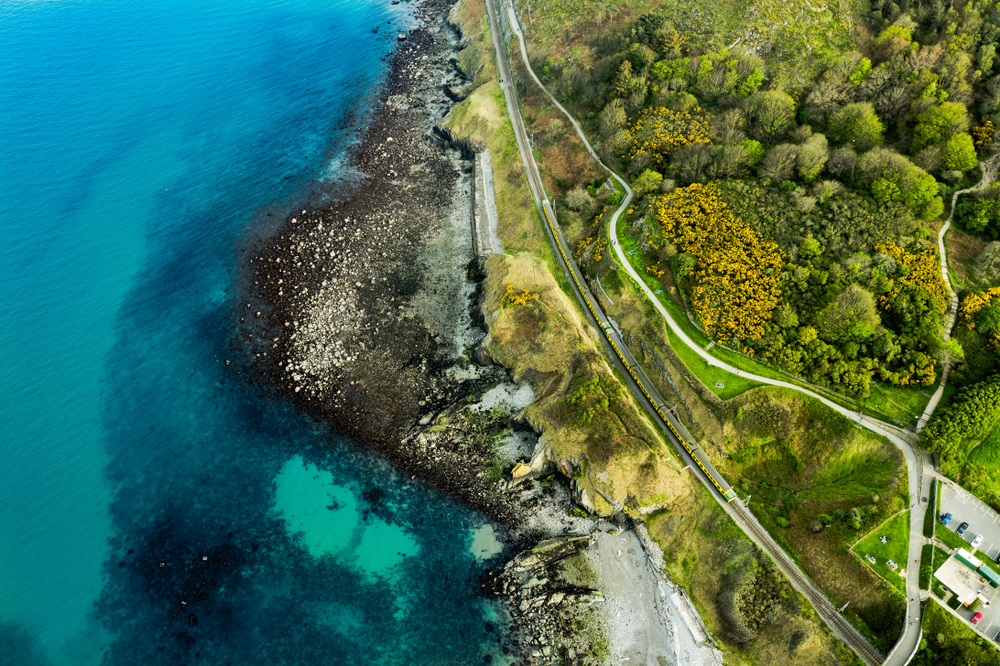 Stop 4: Explore St Stephen's Green
Located off of Grafton in the heart of Dublin's City Center, St. Stephen's Green is a city park. It is literally an oasis in the middle of the bustling city of Dublin.
For the past several years St. Stephen's Green has earned the coveted Green Flag award. It is an international distinction and nod to the environmentally and sustainable way the park is run.
There are walking/running trails, and a playground for children. There is also a garden for the visually impaired. Make sure you seek out the sculptures honoring Irish history.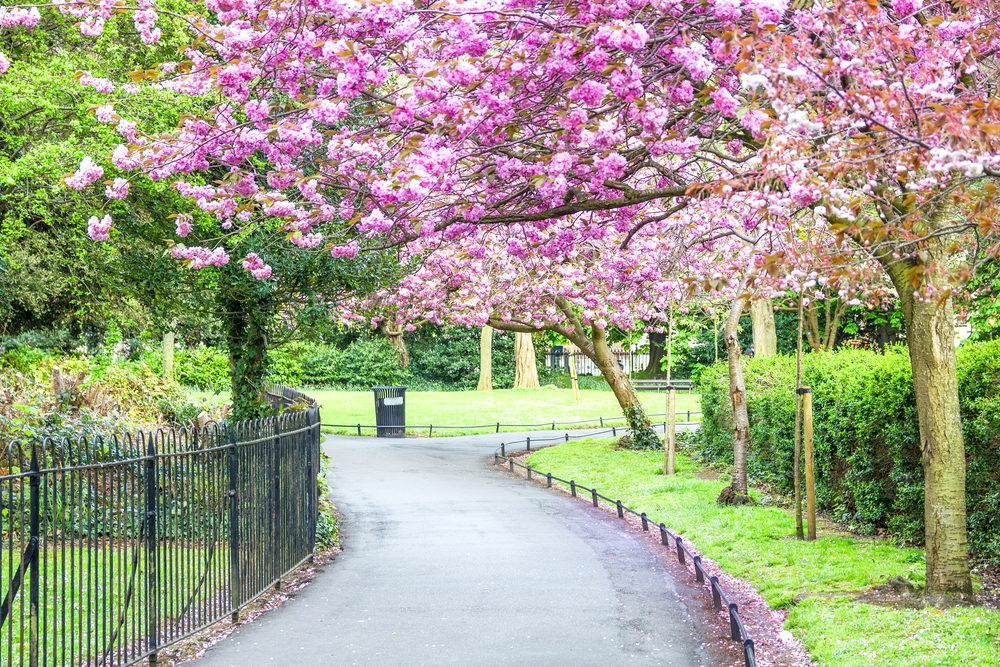 Stop 5: Take A Walk Down Grafton Street
Located literally at St Stephen's Park, Grafton Street is one of the main shopping streets in Dublin. This pedestrian-friendly street boasts both national and international brand-name stores.
It is a very lively spot with many restaurants and pubs as well to choose from. It is the perfect spot to have dinner and purchase some Irish souvenirs.
If you have time, head into Stephen's Green Shopping Center.  It is an indoor mall with over 90 shops. It is named after St. Stephen's Green (the park) located across the street from its main entrance. If provides a myriad of services,  including internet access and ATM access.
Here you will find lots of places to have breakfast in Dublin!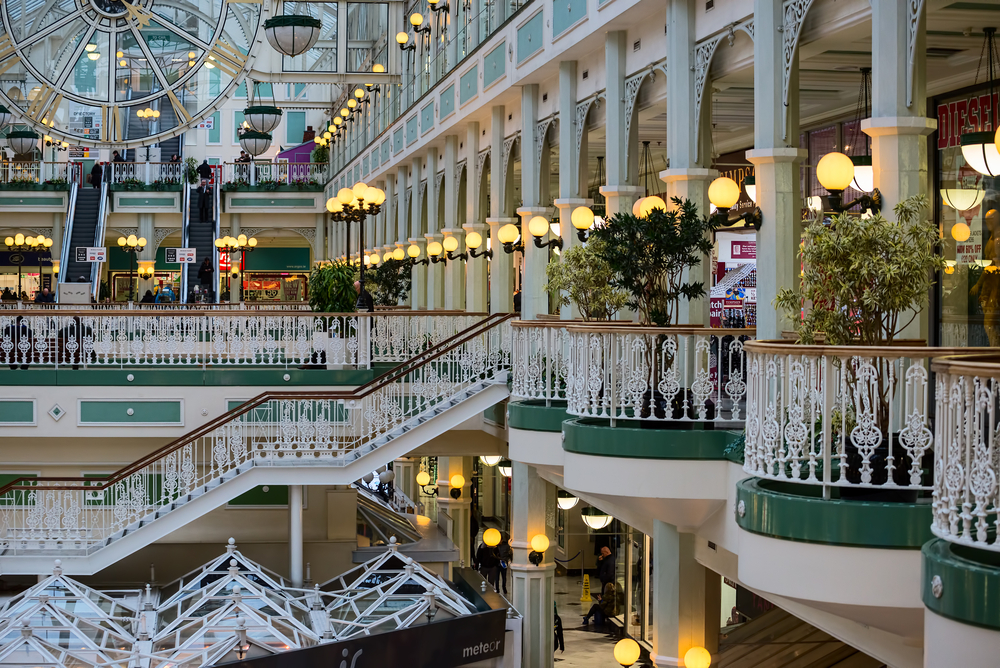 Stop 6: Take A Teelings Irish Whisky Tour
OK, not everyone is a beer lover, including me. So perhaps learning about and tasting this award-winning Irish Whiskey is more to your liking.
The Teeling Distillery offers guided tours where you will have the change to learn about the whiskey-making process. And, at the end of every tour, there are, of course, sampling options!
This is one of the more popular attractions in Dublin, and it is suggested that you purchase your tickets in advance online so as to have a definite confirmation day/time.
Tickets here: Teeling Whiskey Distillery Tour & Tasting
If you are interested in some day trips from Dublin, look at these options:
From Dublin: Cliffs of Moher, Burren & Galway Full-Day Tour
From Dublin: Giants Causeway and Carrick-a-Rede Rope Bridge
Glendalough and Wicklow Half-Day Tour from Dublin
Cliffs of Moher & Galway City Full-Day Tour from Dublin
Packing Tips For Your When You Are Visiting Dublin In 3 Days
Using these useful packing tips will enhance your 3 days in Dublin and I hope more stress-free!
A concealed travel pouch may be one of the most important items you bring when visiting Dublin. This unisex RFID blocking concealed travel pouch is lightweight and comes in several colors. It has lots of organization to give you peace of mind. You can keep your most valuable documents safe and secure next to your body.
If you have a pouch already that does not come with the RFID protection, these RFID sleeves would be handy to prevent identity theft. This configuration comes with enough passport and credit card sleeves that the entire family would be protected. They are slim too, so they will easily fit into your current pouch or wallet.
If you are planning on taking a lot of pictures with your phone you will definitely want to consider an external charging battery. This Anker high-speed phone charging battery is the exact one I carry with me on all of my trips.
It can be used on a variety of phones, not just an iPhone like I have. And wow is it fast! I like that it holds its charging capabilities for several uses so I do not have to worry about it while out and about.
And if I forget to recharge it at night, it will still be good to go the next day. And it is able to charge two devices at the same time.
I was never a fan of packing cubes until I tried them out! Now I am sold. These Bagail packing cubes are the exact ones I use whenever I travel. I cannot believe how much more organized I am now!
These luggage locks are TSA-approved. I always lock my luggage whenever I leave my hotel room or Air B&B. Especially if there is not a room safe.
My daughter gifted me with this FugeTek Selfie Stick and Tripod for my birthday. It has Bloothtooth connectivity so it is very easy to use. It is made of durable aluminum and is very lightweight. I love mine. I think this will make a great addition to your 3 days in Dublin list of things to bring.
Don't forget to bring along a universal power adapter when in Dublin in 3 days. This worldwide power plug is a great example and will charge your phone at the end of your busy days.
And this world traveler adapter kit can charge several devices at the same time. This is what you will need when there are several people traveling in your group, or if you bring several electronic devices on your trip that require charging at the same time.
Hydration is so important. You want to remain hydrated to support your immune system which in turn will be stronger to fight off any germs you will encounter during your travels. You will want to bring your own refillable water bottle with you.
I never leave home on a trip without my Bobble filtration bottle. the 18.5-ounce size is perfect for travel and it fits nicely in the pocket of a backpack or your purse. Also when filled with water, it is not too heavy to carry. And the charcoal filter ensures fresh clean water whenever you fill the Bobble. You can find filter replacements here.
Perhaps you are traveling a long distance and packing space is a premium. Then this set of collapsible silicone foldable water bottles would work well for you. Would not take up much space in your suitcase at all. And you will be receiving a set of two.
You will want a backpack or daypack with you to store snacks, your water bottle, phone, extra clothes, etc.. This foldable water-resistant backpack would be great. It is very affordable and is available in many color options for you to choose from. The fact that it folds down into a zippered pouch will make it easy to pack.
Perhaps you need a more substantial backpack for your international travel. This antitheft backpack has a charging port, is water-resistant and can comfortably carry up to a 15.6″ laptop.
You will be walking more than usual during your 2 days in Dublin itinerary. A sturdy and comfortable pair of walking shoes is a must-have. These waterproof all-season shoes are extremely affordable and yet fashionable.
Mostly everyone is familiar with the Skechers brand, and these Air Run high fashion sneakers come in a lot of colors to match your outfits and are still affordable.
f you are visiting Dublin in warmer weather, maybe you want a pair of sandals to wear to dinner or to the local cafe, I highly recommend these Vionics adjustable strap orthotic sandals. I have several pairs of these exact Vionic sandals in several colors that I bring with me *everywhere* I travel.
They are very comfortable. I also sometimes bring along my Vionic Tides flip flops. The toe post is so comfortable which makes wearing these super comfortable.
Bring a lightweight scarf or shawl. Scarves and shawls are very popular in Europe and Dublin is no exception. Both men and women wear scarves, both decoratively and as a layering piece to keep warm. This cotton unisex lightweight scarf is versatile and can be worn in any season.
And here's another option to consider: this lightweight sunscreen shawl scarf would do double duty to protect you from the Irish sun should you visit Dublin in the warmer seasons as well as being a fashion accessory layering piece.
We all need to protect our eyes from the sun's harmful UVA/UVB rays. These unisex polarized sunglasses come in a lot of lens colors and frame designs and are extremely affordable too.
If you are fond of the aviator-style of sunglasses these polarized aviators may interest you.
if you are in need of new luggage, this expandable soft side spinner luggage is affordable and comes in lots of colors. If you like hard-sided better, then you may favor this hard-sided luggage set better.
Both sets come with TSA locks and 8 wheels per piece. Either will be great for the plane or train or even your car depending on how you plan to travel to Dublin.
Quick Tips For Your 3 Days In Dublin Itinerary
Here are some quick tips and tricks I've learned which will enhance your time when visiting Dublin:
Please remember, always stay hydrated. Bring a reusable water bottle with you and refill it often. I never travel without my Bobble water bottle. It is just the right size to fit into my daypack and the replaceable carbon filter assures I will always have clean drinking water.
The official language of Ireland is Gaelic, the second is English. All the street signs and all government signs have two languages: first Gaelic, second English. This can take a bit of time to get used to.
Use the Dublin Spire as a landmark to get around Dublin City. It juts almost 394 feet into the air, above most city buildings and is easily and visibly seen from around the city. It would make a great meeting place if you get separated from the other members of your group.
Contact your credit card company and check to see if your credit card does or does not have foreign transaction fees. If it does, inquire about the possibility of applying for one that does not carry foreign transaction fees attached to it.
(The small fee charged you whenever you use your card out of your home country.) Also, remember to notify your bank of the dates you will be out of the country.
When you visit an ATM in Dublin, check to be sure it is on the same network as your bank, so you are not charged a transaction fee every time you withdraw cash. Withdrawing larger amounts of money will help you limit bank transition fees.
Purchase advanced tickets to attractions whenever possible. Admission tickets purchased online are usually offered at a discount, and you will save a lot of time waiting in lines to buy tickets at the individual attractions.
Spending 3 days in Dublin will flow more effortlessly when you have your plan and can pace yourself and not have to worry about the availability of tickets at each location.
Have you ever been to Dublin? What was your favorite thing to do? What would be your #1 recommendation for a first-time visitor? Please leave your comments below.
Linda On The Run is a participant in the Amazon Services LLC Associates Program, an affiliate advertising program designed to provide a means for sites to earn advertising fees by advertising and linking to Amazon.com
There are also Get Your Guide affiliate posts as well.