Are you looking for the ultimate 1 day in London itinerary? I recently visited London and I was totally and absolutely smitten with Great Britain's capital city. My visit was so extraordinary that I want to share my suggestions with you. 1 day in London may not seem like a lot of time to explore one of the grandest cities in the world. However, with my tips, you can make the most of every single moment you are there.
Please be advised that Linda On the Run is a participant in the Amazon Services LLC Associates Program, an affiliate program designed to provide a means for sites to earn advertising fees by advertising and linking to Amazon.
There are other affiliate links in this post as well.
Getting to London has never been easier or more convenient. However, depending on where you call home on our planet, it can make for a long travel day or night. Since I do not know your individual travel plans, I am going to advise many options for your 1 day in London itinerary for your consideration. You pick and choose which attractions will work best for you.
As I always advise, it is prudent to purchase tickets to attractions online beforehand. This way you will most likely be eligible for a discount. And more than likely you won't have to wait in any lines. This will save precious time during your 1 day in London.
Consider reading these next:
7 Things To Know Before Your First Trip To London
11 Beautiful Places In London You Should Not Miss
The Ultimate 3 Days In London Itinerary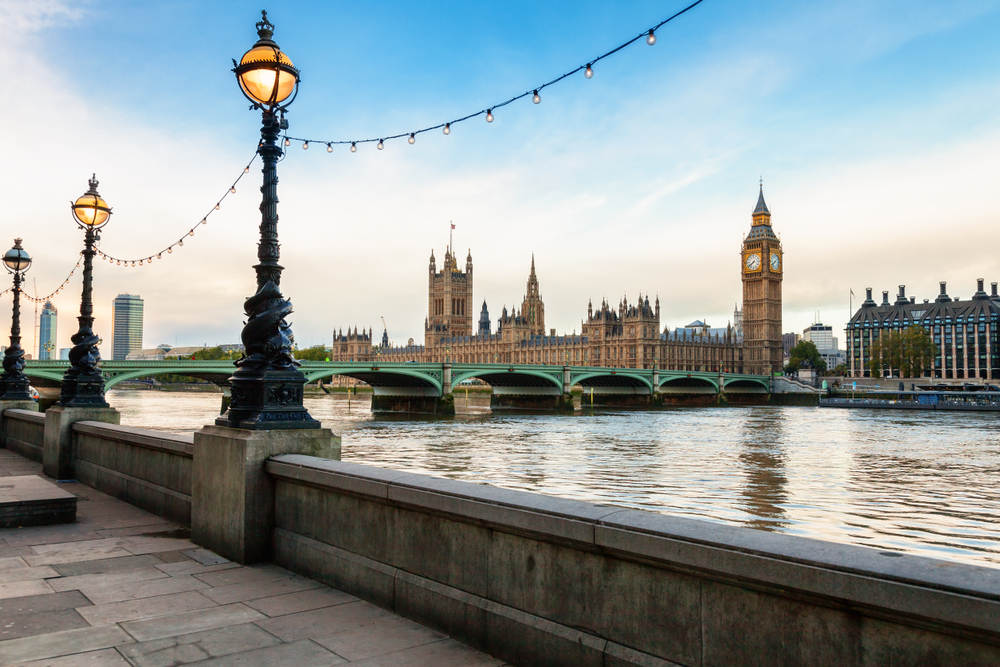 The Ultimate 1 Day In London Itinerary
Stop 1: Buckingham Palace Is A Majestic Place To Visit
Just about everyone who visits London wants to see Buckingham Palace. It is the London home of the English monarch, along with the administrative offices. The palace gates are ornate and the palace building itself is very important to the British people, during both jubilant and sad times.
A very fascinating thing to do is watch the changing of the guard at Buckingham Palace. Did you know that it does not formally happen every day? When I visited London the changing of the guard ceremony was tops on my list of things to see. However, in my excitement, I did not bother to check the dates and times of the ceremony and when I arrived at Buckingham Palace, there was not one scheduled for that day.
Tickets Can Be Found Here: London: Changing of the Guard & Buckingham Palace Tour
Tickets Can Be Found Here: Buckingham Palace: The State Rooms Entrance Ticket
Do not make the same mistake as me when visiting such beautiful places in London. Check online before you schedule your visit to Buckingham Palace to verify the changing of the guards is really happening that day.
When the royal family is on summer holiday, Buckingham Palace is open for tours. So, depending on when you plan your 1 day in London, you may have the opportunity to tour.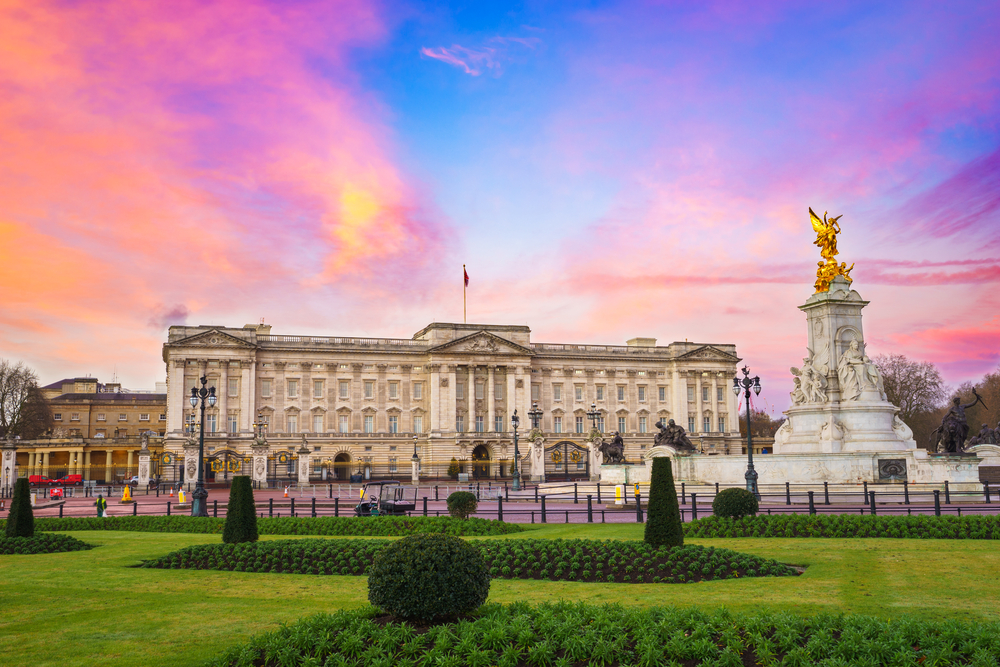 Buckingham Palace
Stop 2: Marvel At The World Famous Houses Of Parliament And Big Ben Tower
Arguably one of the most iconic and frequently visited sites in London is the Parliament Building with its Big Ben tower! This is a great place to stop on your 1 day in London.
Making a striking presence the Houses of Parliament, also known as the Westminster Palace, has paid admission tours available. Or you can rent an audio guide instead if you so prefer.
Get Tickets Here: Walking Westminster: Big Ben & Houses of Parliament
The vertical tower that houses the huge bell otherwise known as Big Ben is really named Elizabeth Tower. It chimes on the hour and has rarely ever stopped. When we visited London, Big Ben (Elizabeth Tower) was under construction and covered with scaffolding and draping. I wish you better luck and hope that the renovations will be over and you will be able to view it in all its majesty.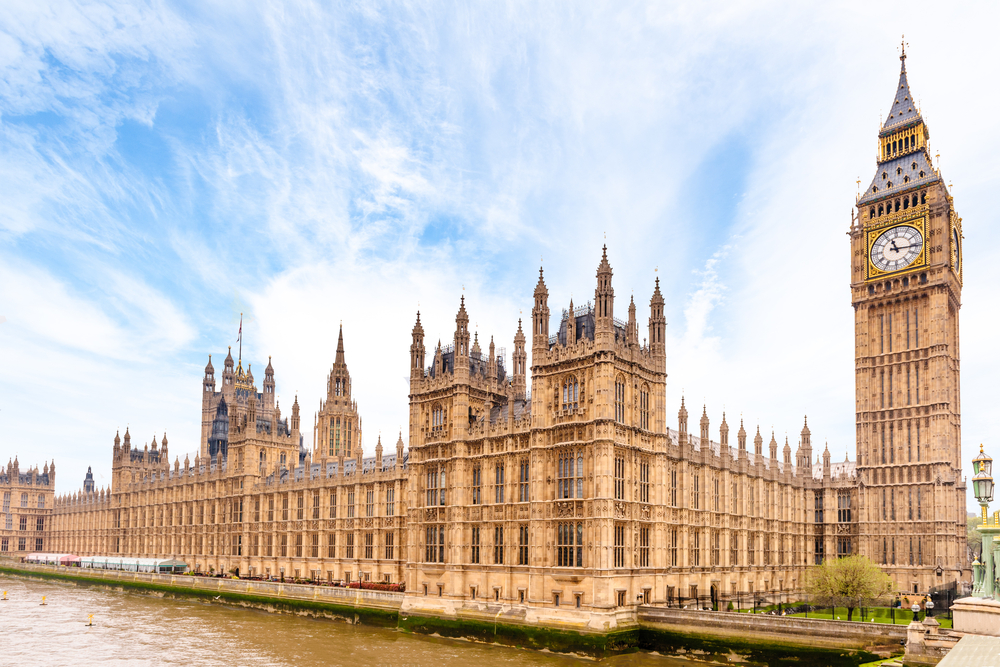 Stop 3: Visit Westminster Abbey Where Royalty Is Crowned
Gothic architecture at its finest can be found at Westminster Abbey not far from Big Ben. This is where all British royal coronations occur and where Prince William married Kate Middleton. The abbey contains monuments and memorials to lots of famous British people throughout history.
The Tomb of the Unknown Soldier is located inside Henry VII's chapel and is dedicated to the thousands of British soldiers who were killed during World War II.
Tickets: London Westminster Abbey Entrance Ticket & Audio Guide
Tickets: Westminster Abbey Tour with Optional Houses of Parliament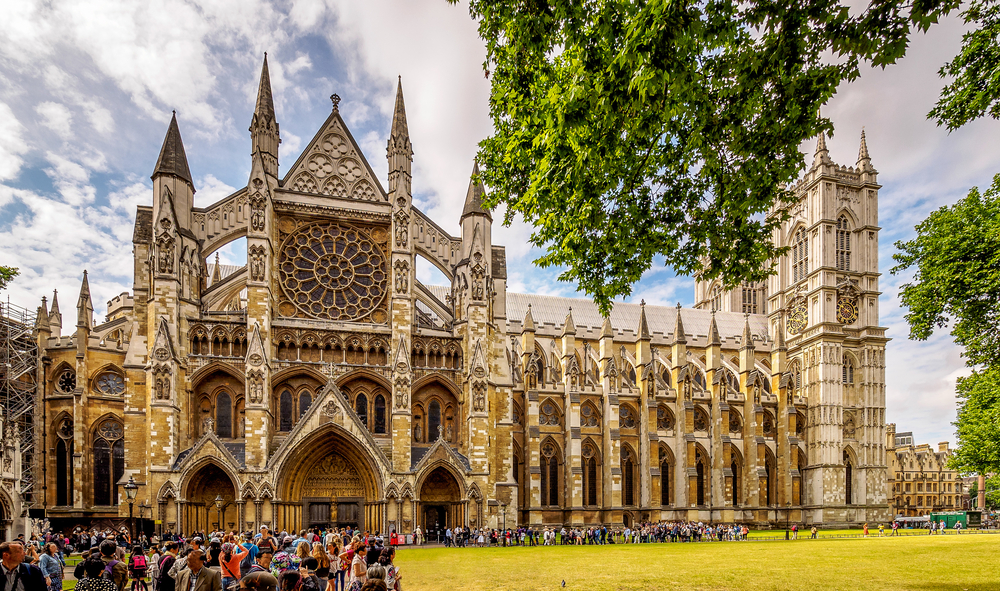 Westminster Abbey
Stop 4: Ride The London Eye For Epic London Views During Your 1 Day In London
Oh my gosh, you cannot miss seeing the London Eye. Its official name is the Coca Cola London Eye (because of who sponsors it) but the London Eye will do. Looking like a huge Ferris wheel it stands an impressive 443 feet high.
Located along the banks of the Thames River, it was built in 1999 to usher in the new millennium and is thus sometimes called The Millenium Wheel as well.
It was a bright sunny afternoon in central London the day I rode the London Eye. From far away it is deceiving just how huge the London Eye really is. Each of its individual glass capsules holds ten to twelve passengers. And the wheel rotates slowly around taking thirty minutes to make its full rotation.
Tickets Here: London Eye: Skip-the-Line VIP Experience with Guide
And wow, what a birds-eye view! I had breath-taking vistas in whatever direction I turned. Seeing the busy Thames River below me, the iconic London landmarks around me, and out to the horizon was really spectacular.
The London Eye is very impressive, and one of the most popular paid attractions in all of Great Britain. I think it is a great stop to add to your 1 day in London list of things to do.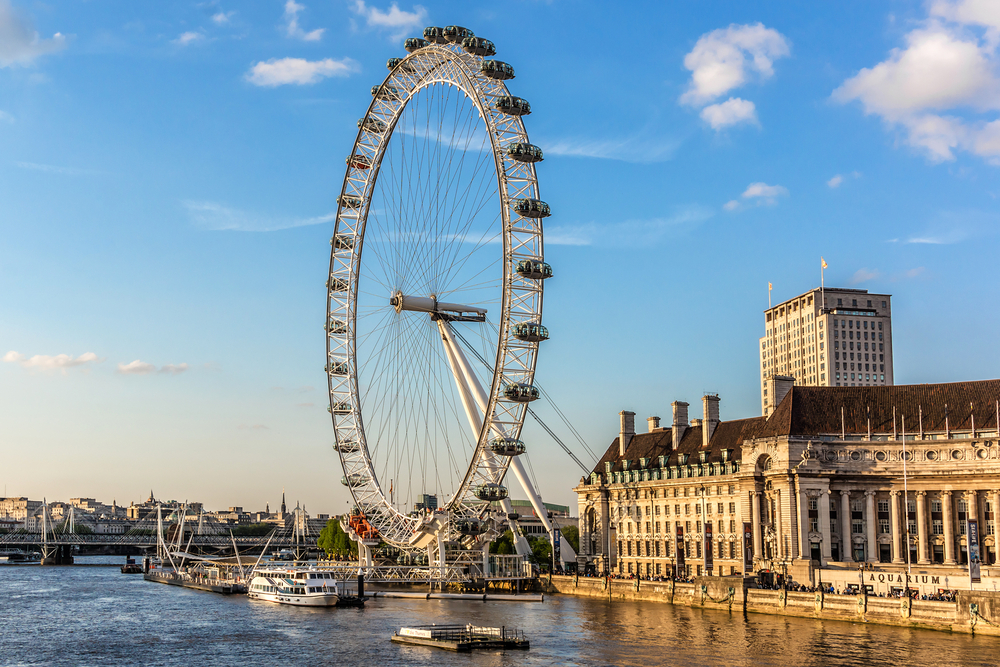 Stop 5: Trafalgar Square In Central London
Trafalgar Square is a very large public square in the Westminster area. It is a pretty epic location to see during your 1 day in London.
There are usually lots and lots of tourists and locals alike meandering through Trafalgar Square. You want to begin your 1 day in London here to see this massive main square, use it as a meeting place, and admire the lovely architecture all around it.
Because it is located in central London, parking is very limited. So if you have a car rental, it is best to make other travel arrangements such as the Underground to get to Trafalgar Square. Also, absolutely no feeding the pigeons. It is the law!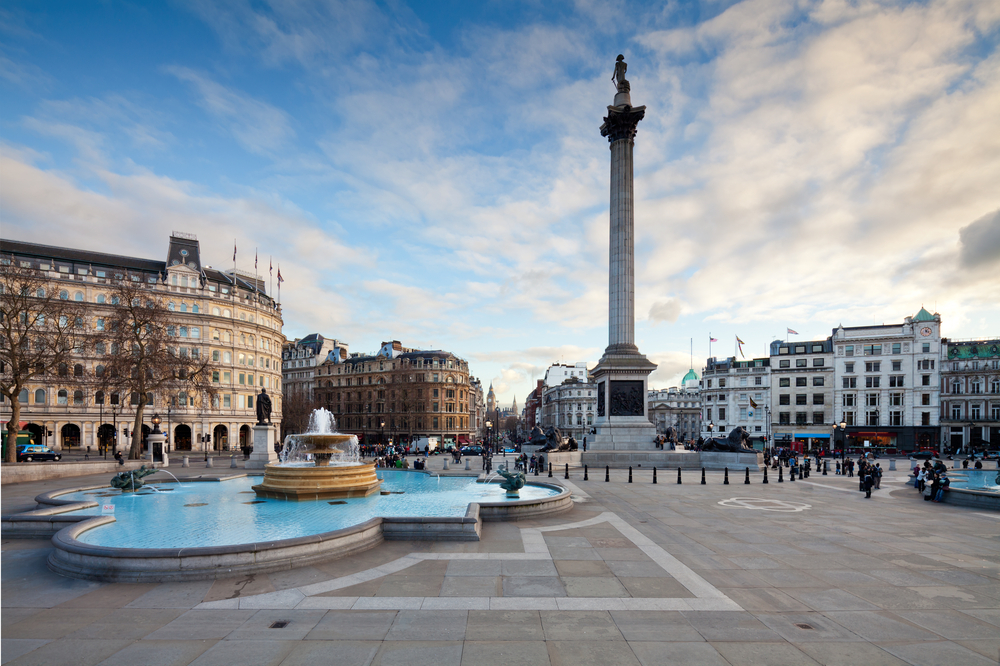 Trafalgar Square in Central London
Stop 6: The National Gallery is Not To Be Missed For World Famous Art
Even though you only have 1 day in London, consider stopping into the National Gallery. It is literally at Trafalgar Square to its north, so you do not have far to go. And secondly, it is FREE to enter.
Here you will find the best of the best from around the world. You will want to get a map of the exhibits because the museum is huge, on many floors. The art collections are displayed in chronological order, and that may help you find something specific you may be searching for. There is a daily free tour around 11:30 AM if you are interested.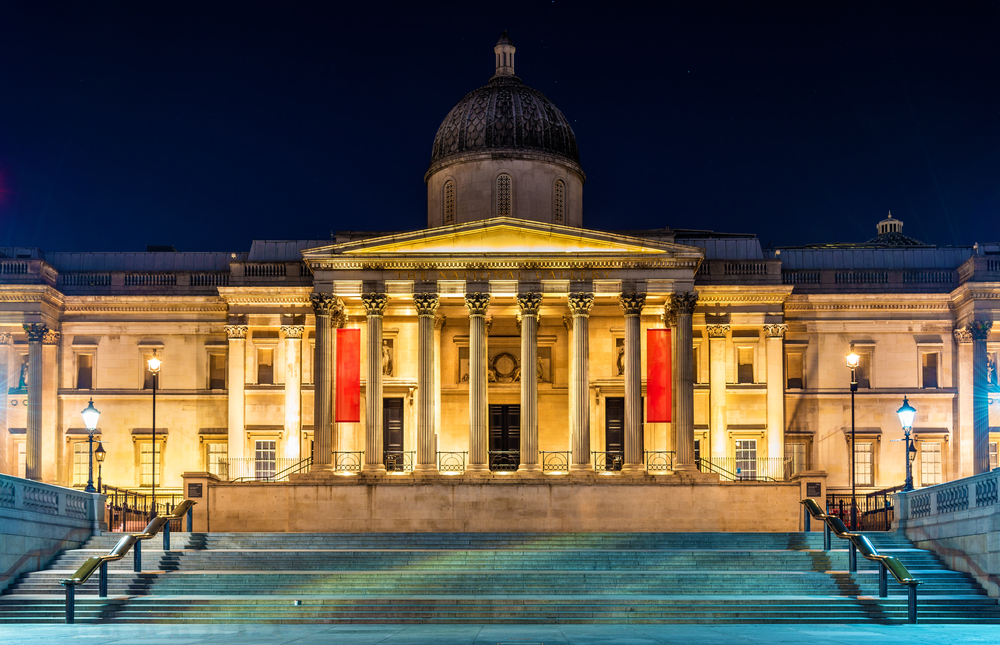 The National Gallery right off Trafalgar Square
Stop 7: Head To Popular Leicester Square To Be Dazzled
As you head towards Leicester Square, you will run into Chinatown. For sinfully authentic Chinese food, with an abundant amount of restaurants to choose from, this is the place to go.
Leicester Square is pedestrian-friendly and located in London's popular and trendy West End. There are shops galore to fit into any budget. Same goes with cafes, pubs, and restaurants. This would be a great place to have lunch or refreshments. And maybe shop for a souvenir or two.
If you are a Broadway lover or like musicals or dramatic performances the West End of London is where you want to head for theatre productions. Do not be like me though, I assumed I could simply visit any theatre in London and purchase tickets for any show I wanted. I really wanted to see the musical Wicked, one of our favorites.
To be truthfully candid, while it is possible to purchase tickets at the venue once you are in London, I found only the most ghastly expensive tickets, in the worst seats, were available. So if seeing a play or musical is on the top of your 1 day in London list, please purchase your tickets online at home before you leave.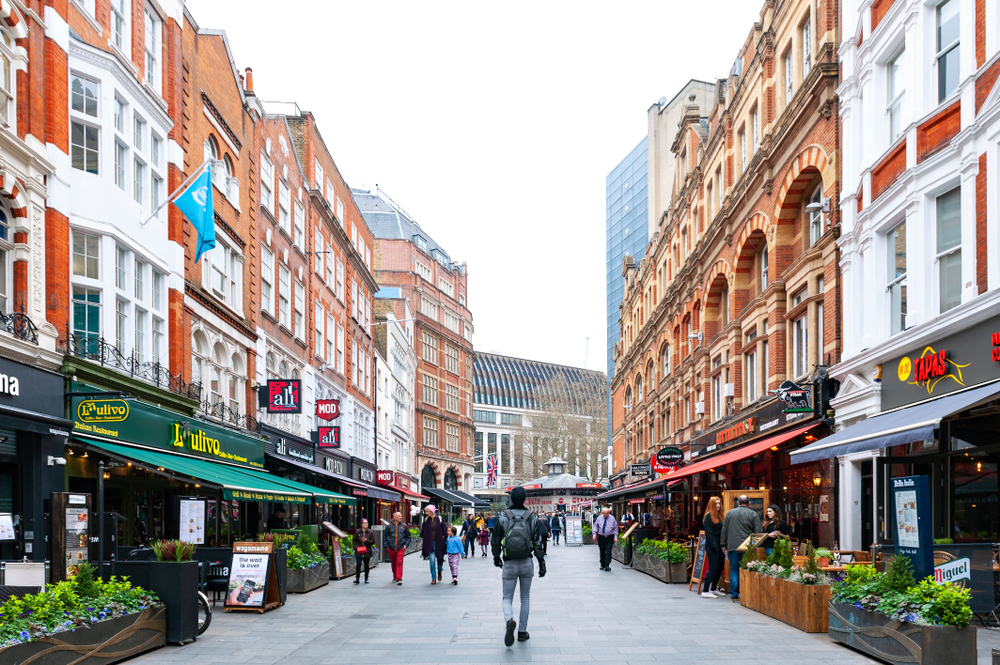 Leciester Square
Stop 8: Covent Garden Is A Stylish Shopping, Dining & Theatre Destination
Located in London's trendy West End, Covent Garden is an upscale shopping area with a rich history. It used to be a fruit and garden market. Far from that nowadays, there is much to see and much to do here during your 1 day in London.
Frequented by locals and tourists alike, you can have high tea in one of the many stylish shops, or simply buy some tea. Restaurants abound along with numerous fashionable shops. Live entertainment is provided by street actors on the weekends.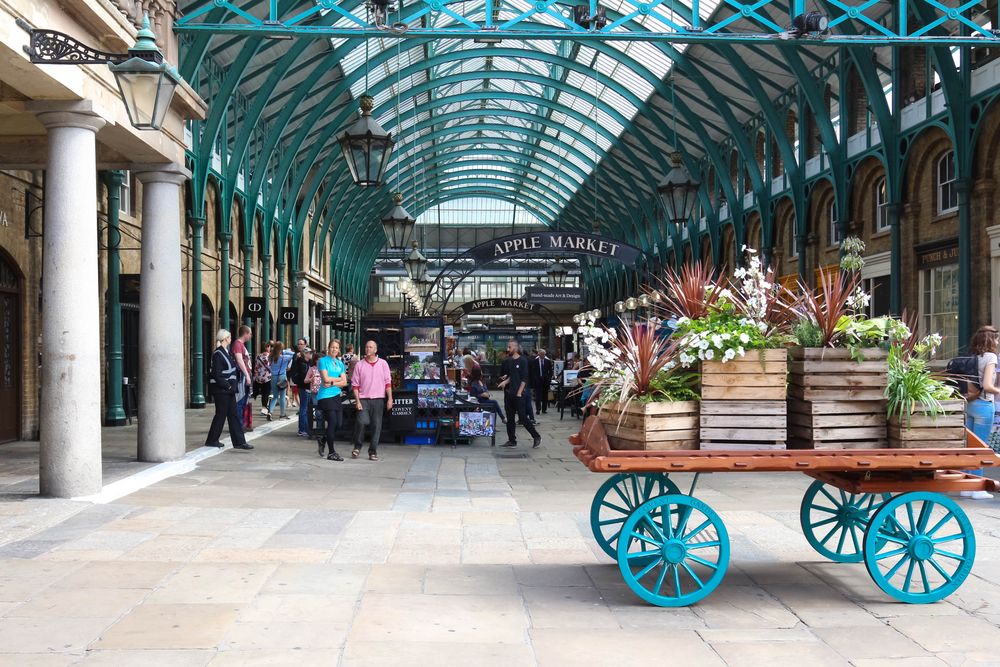 The iconic Covent Garden is a great destination to head to during your 1 day in London.
Many people are not even aware of Neal's Yard. A stylish little courtyard adjacent to Covent Garden, Neal's Yard is one of the beautiful places in London to stop and take a picture or two. Until recently, it was full of garbage. Now it has been renovated into the popular location it is today. It is worth a short visit during your 1 day in London to see the flowers and ivy-covered walls of the colorful shops. And the buildings. and to snap a memorable photo.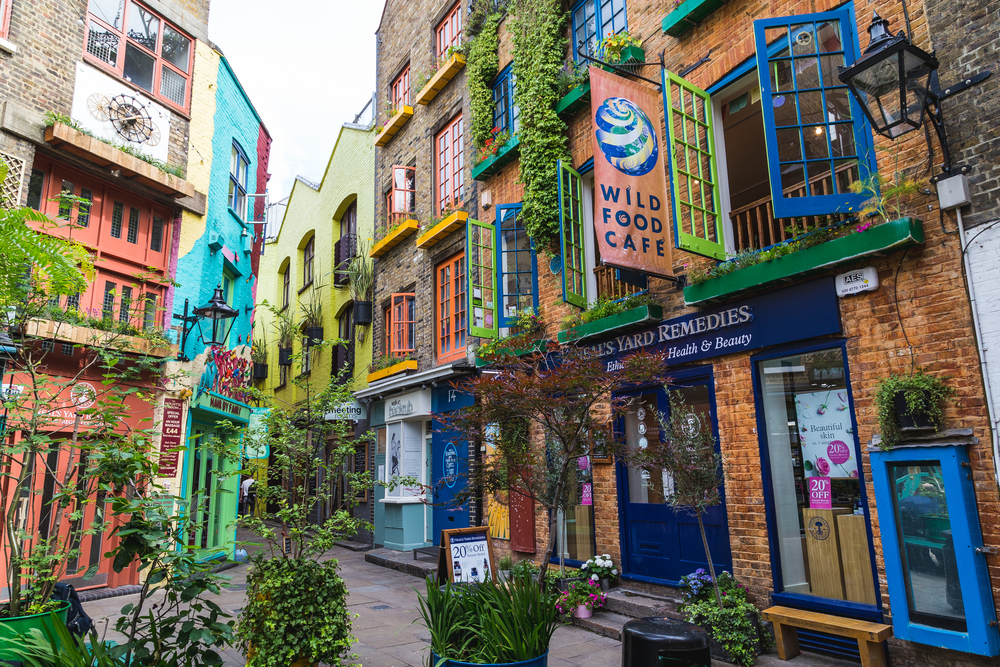 Neal's Yard is directly adjacent to Covent Garden and a great place to snap a picture.
Stop 9: No trip to London would be complete without shopping at iconic Harrods
Harrods is the most famous department store in the world. And the largest in all of Europe. Synonymous with luxury and impeccable service, Harrods should be a consideration for a quick pop in during your 1 day in London. Consisting of 330 departments and having 23 restaurants in its iconic store, visiting Harrod's is an experience!
And yes, I did purchase myself a Harrods souvenir!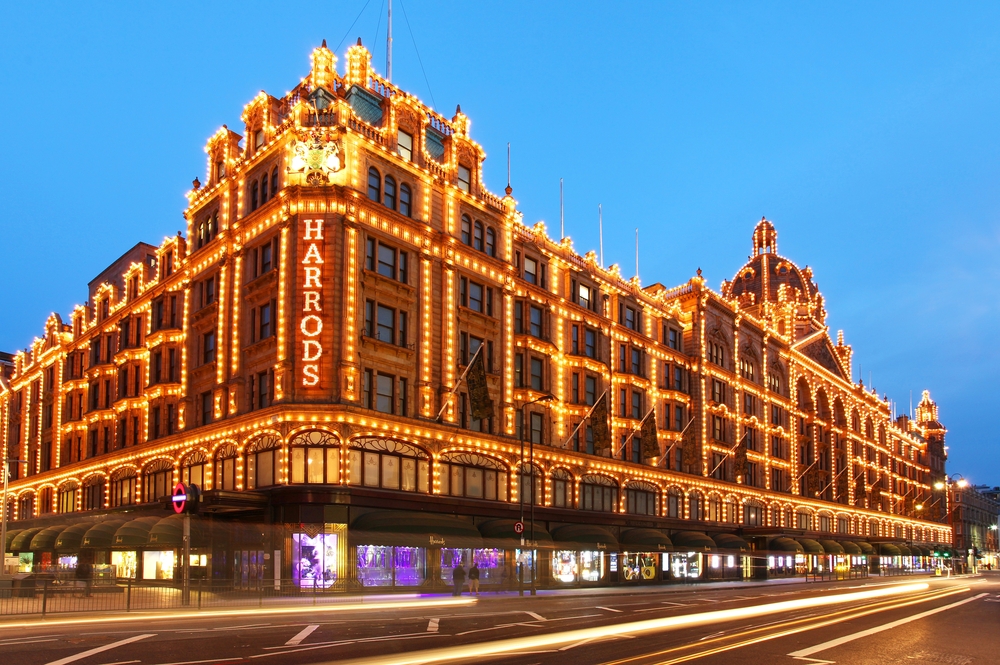 Stop 10: The Tower Of London Is Where Famous Executions Took Place
One of the most popular tourist destinations, the iconic Tower of London is crowded just about all the time. As with all the popular London attractions you will visit during your 1 day in London, it is prudent to purchase your admission tickets online well beforehand.
Located on the north bank of the River Thames, the Tower of London legendary introductory tour is led by the Yeoman Warders (AKA 'Beefeaters'). Self-guided audio headsets are available for a small additional fee. Afterward, you will have time to wander around at your own speed.
Tickets Here: Tower of London Ticket with Crown Jewels Exhibition
Tickets Here: Tower of London Small Group Tour with a Beefeater
Look for the Medieval Palace, and the Jewel House to see the Crown Jewels. You will be able to view the execution site of many famous historical figures and even Raven Tower. You do not have to be a history buff to enjoy touring the Tower of London during your 1 day in London.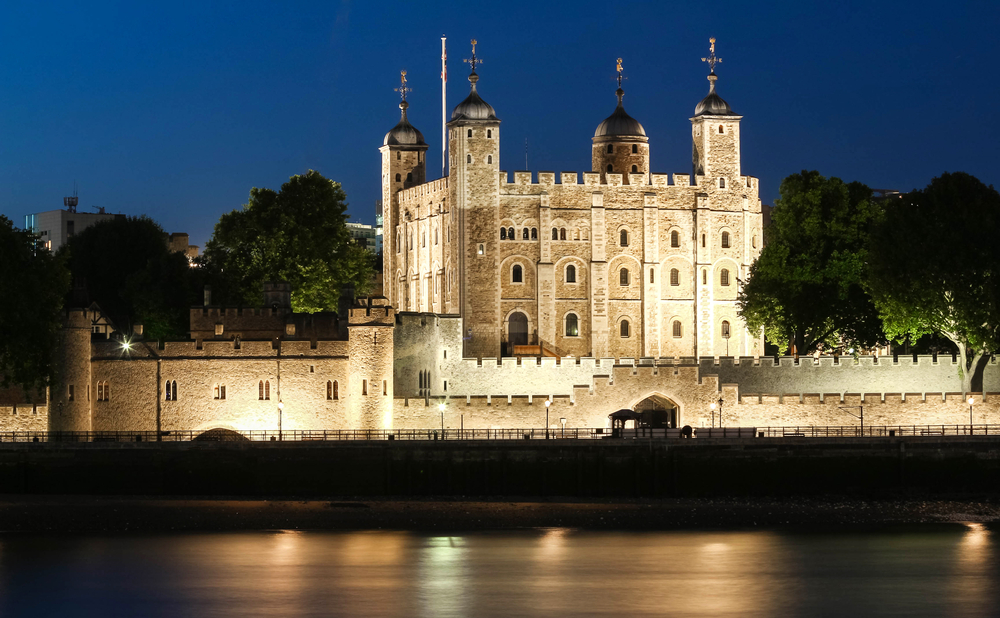 Packing Tips For Your 1 Day In London
Perhaps you are visiting London as part of a layover as you head to other destinations. Or maybe it is a very quick weekend trip. These packing tips will serve as a great refresher about what to bring along!
If you are in need of new luggage, this expandable soft side spinner luggage is affordable and comes in lots of colors. If you like hard sided better, then you may favor this hard-sided luggage set better. Both sets come with TSA locks and 8 wheels per piece.
I was not a fan of packing cubes until I started to use them! This is the exact set of packing organizers I use whenever I travel. I cannot believe how much they really do help with organization. If you have not considered packing cubes, I would recommend giving them a try.
Hydration is so important. You want to remain hydrated to support your immune system which in turn will be stronger to fight off any germs you will encounter during your travels. You will want to bring your own refillable water bottle with you. I never leave home on a trip without my Bobble filtration bottle. the 18.5-ounce size is perfect for travel and it fits nicely in the pocket of a backpack or your purse. Also when filled with water, it is not too heavy to carry. And the charcoal filter ensures fresh clean water whenever you fill the Bobble. You can find filter replacements here.
Perhaps you are traveling a long distance and packing space is a premium. Then this set of collapsible silicone foldable water bottles would work well for you. Would not take up much space in your suitcase at all.
You will want a backpack or daypack with you to store snacks, your water bottle, phone, extra clothes, etc.. This foldable water-resistant backpack would be great. It is very affordable and is available in many color options for you to choose from. The fact that it folds down into a zippered pouch will make it easy to pack.
Perhaps you need a more substantial backpack for your international travel. This antitheft backpack has a charging port, is water resistant and can comfortably carry up to a 15.6″ laptop.
You will be walking more than usual during your 1 day in London itinerary. A sturdy and comfortable walking shoes are a must-have. These waterproof all season shoes are extremely affordable and yet fashionable. Mostly everyone is familiar with the Skechers brand, and these Air Run high fashion sneakers come in a lot of colors to match your outfits and are still affordable.
If you are visiting London in warmer weather, maybe you want a pair of sandals to wear to dinner or to the local cafe, I highly recommend these Vionics adjustable strap orthotic sandals. I have several pairs of Vionics that I bring with me *everywhere* I travel. They are very comfortable and have orthotic footbeds that cradle and support your feet.
A concealed travel pouch may be one of the most important items you bring during your 1 day in London. Please refer to my explanation below about how my family was robbed during our last trip to Paris. This unisex RFID blocking concealed travel pouch is lightweight and comes in several colors. It has lots of organization to give you peace of mind.
If you have a pouch already that does not come with the RFID protection, these RFID sleeves would be a solution. This configuration comes with enough passport and credit card sleeves that the entire family would be protected. They are slim too, so they will easily fit into your pouch or wallet.
Bring a lightweight scarf or shawl. Scarves and shawls are very popular in Europe and London is no exception. Both men and women wear scarves, both decoratively and as a layering piece to keep warm. This cotton unisex lightweight scarf is versatile and can be worn in any season. And here's another option to consider: this lightweight sunscreen shawl scarf would do double duty to protect you from the British sun should you visit London in the warmer seasons as well as being a fashion accessory layering piece.
We all need to protect our eyes from the sun's harmful UVA/UVB rays. These unisex polarized sunglasses come in a lot of lens colors and frame designs and are extremely affordable too.
If you are fond of the aviator-style of sunglasses these polarized aviators may interest you.
Don't forget to bring along a universal power adapter on your 1 day in London, this worldwide power plug is a great example and will charge your phone at the end of your busy days. And this world traveler adapter kit can charge several devices at the same time. This is what you will need when there are several people traveling in your group, or if you bring several electronic devices on your trip that require charging at the same time.
If you are planning on taking a lot of pictures with your phone (like we did!) you will definitely want to consider an external charging battery. This Anker high-speed phone charging battery is the exact one I carry with me on all of my trips. It can be used on a variety of phones, not just an iPhone like I have. And wow is it fast! I like that it holds its charging capabilities for several uses so I do not have to worry about it while out and about, and if I forget to recharge it at night, it will still be good to go the next day.
My daughter gifted me this FugeTek selfie stick and tripod setup for my birthday. I absolutely love it! It is made of lightweight aluminum and so easy to use. It has Bluetooth connectivity and is a breeze to use for group shots or that perfect selfie!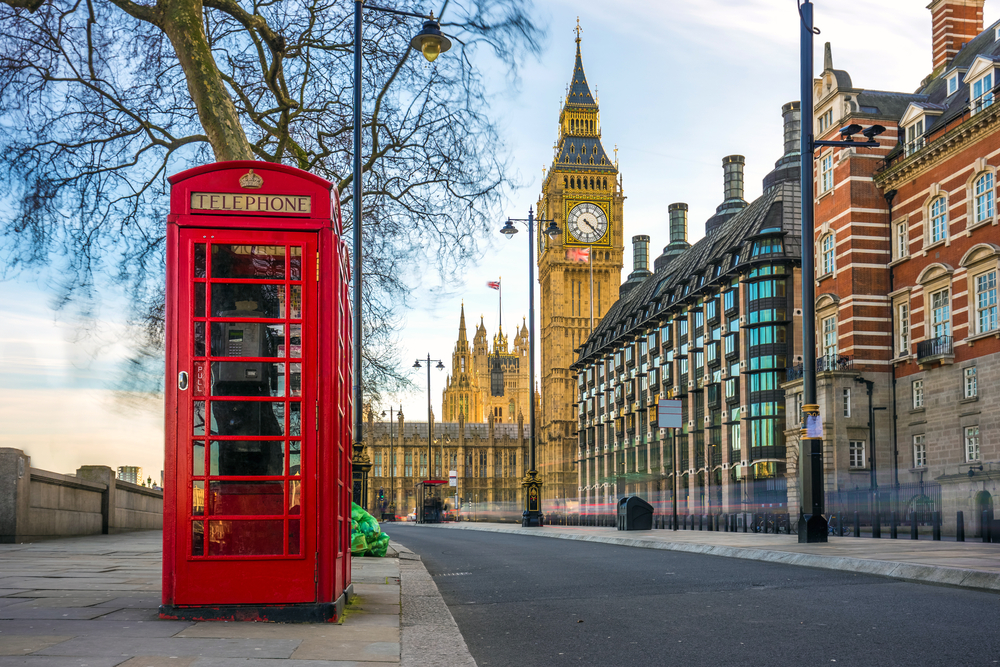 Quick Tips For Your 1 Day In London
Here are some quick tips and tricks which hopefully will enhance your 1 day in London and make it less stressful and more enjoyable.
UPDATED: Stay vigilant! During our last trip to Paris, our family of four was robbed 3 times. We discussed at great length how we had to remain vigilant to protect ourselves against pickpocketers. However, we were not successful. My daughter had her brand new Olympus camera stolen in the broad daylight in a McDonald's Restaurant in the Montmartre District of Paris while we were having afternoon refreshments.
My thief was caught red-handed with her arm up to her elbow inside of my backpack. While I was walking along a busy Parisian boulevard. Lucky for me my daughter apprehended her, and I was carrying my passport and credit cards on my body. She wore better clothes, better shoes and more trendy sunglasses than I did. She did not "fit" our idea of what a pickpocketer was. (I still do not understand how she could unzip my backpack while I was wearing it, without me knowing or feeling it.)
Finally, Terrence had his backpacked unzipped while on the very crowded Paris subway. The burglar had his hand inside an outer pocket but was foiled by a Good Samaritan seated nearby.
Please do not have any preconceptions of who can violate you by stealing your possessions. Stay vigilant and alert. Hope you have more success than we did.
Remember to always stay hydrated. Bring a nondisposable refillable water container and refill it often! Not only will you hedge the odds against getting sick, but you will also be saving a lot of water bottles from being sent to the British landfills.
Call your credit card company for two reasons: 1) to notify the bank that you will be out of the country and give them your exact travel dates. 2) to check to see if the bank charges foreign transaction fees every time you are out of the country and use your card. If it does, inquire about applying for a credit card that does NOT charge such fees.
When using an ATM in London, England, make sure it is in your bank's network, so you do not incur a transaction fee every time you use a British ATM to withdraw money. Also, consider withdrawing larger amounts of money, fewer times, to limit the transaction fees by your bank.
Whenever you can, purchase advanced tickets to London attractions whenever possible during your 1 day in London. Tickets purchased online, in advance, are mostly always discounted, and many times come with a "skip the line" perk. You will have more time to spend at the attraction since you will not be waiting in the entrance line. Also, you can better pace yourself during your busy days.
1 day in London really is enough time for you to visit many of her most iconic monuments and attractions. Using this Ultimate 1 day in London itinerary will maximize your planning ensuring you see the most during your time in London. Please feel free to rearrange my suggestions to suit your own schedule.
Have you ever been to London? Share one highlight that was your favorite thing to do, or place to visit. What would be your top attraction recommendation?
Pin this post: