Are you planning to visit Alaska in September? If yes, then here is everything you need to know including the best things to do in Alaska in September, the best time to visit, and more.
There are so many exciting places to visit in Alaska with diverse landscapes and lots of fun activities to enjoy, especially in the fall season.
Planning your trip to Alaska last minute?
Make sure to book ahead! Hotels and tours can sell out the closer you get to your trip. Here are our top pics for Alaska!
Top Experiences and Tours in Alaska:
Best Alaska Hotels:
Since this is the shoulder season, you won't find touristy crowds at most of the places and the prices for accommodations and activities will be considerably lower than in the peak season.
Although the days are shorter with cold and rainy weather, there are many benefits to visiting Alaska in September.
Vibrant fall colors, abundant wildlife, potential Northern Lights, and many such unique and memorable experiences await you if you are traveling to Alaska in the September season.
Are you still confused about what to expect in Alaska in September? Then, read on our article on 7 Things to Know before visiting Alaska in September.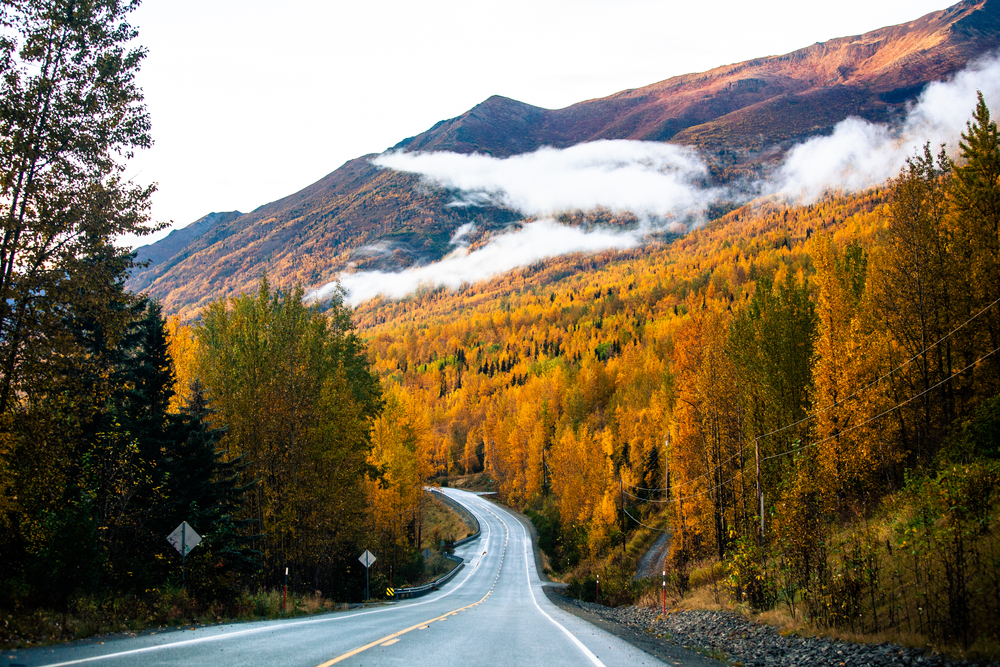 7 Things to Know Before Visiting Alaska in September
It's Not Too Cold in Alaska in September
Are you wondering what clothes for Alaska should you pack? Or how is the Alaska weather in September?
Well, a lot of people think that Alaska is covered in snow throughout the year but that's not the case.
Yes, September weather in Alaska is cold and rainy but you can still easily travel around this beautiful state.
The days are shorter in September in Alaska but you will still get more daylight here than most other places in the USA during the same month.
The weather in Alaska in September, especially the first half, is quite summer-like with the temperature averaging in the mid-50s and high 60s.
By the end of the month, the Alaska September weather forecast shows a slight dip in the temperature (close to 10 degrees), making it cooler than before.
So, if you are wondering whether it would be too cold to travel, then here is a simple answer.
Alaska weather in September is a bit cold and rainy but nothing that is not manageable with an extra layer of clothing.
Glaciers Alaska are spectacular in September!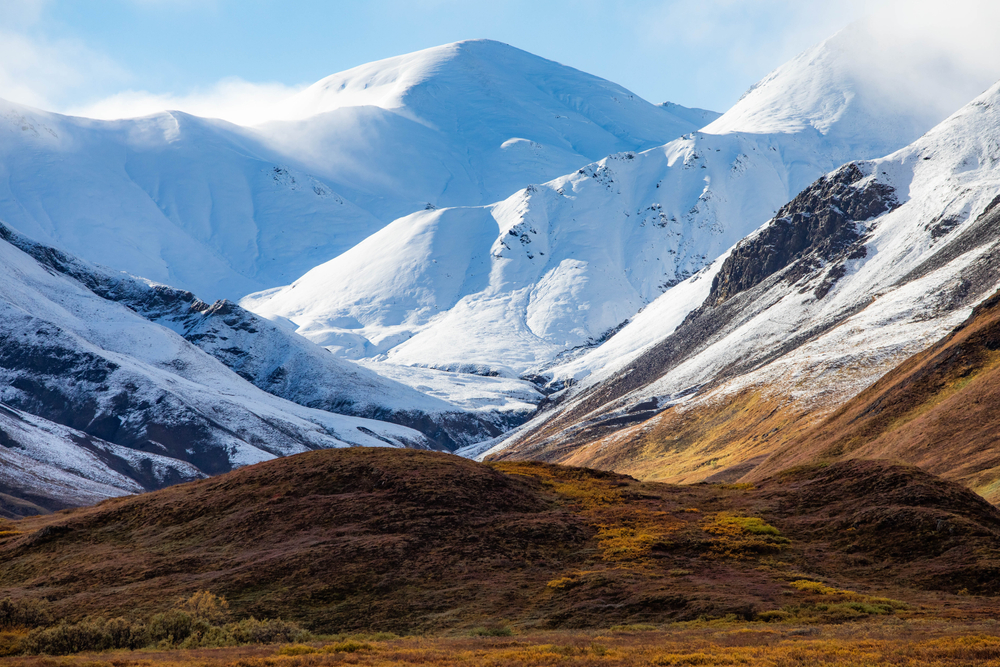 One of the best things about visiting Alaska in September is that this is th best month to visit Alaska for backpackers and budget travelers.
This Is the Shoulder Season So Prices Are Lower
September month lies in the shoulder season so there are fewer tourists around as well, allowing you to sightsee and go hiking without the crowds.
This is the best time to go to Alaska for those who want to enjoy the landscapes without the crowds as one would likely find in the summer months or June to August.
By this time, most families have gone back home due to the kids' school so there are fewer families touring around Alaska during this time.
Since the tourist season has ended and the September weather is not as warm as before, many hotels and tour companies drop their prices significantly as well.
As a result, you are also able to get the best deals and pricing on accommodations in Denali National Park in Alaska and more such places.
To make the most of this reduced pricing, it is recommended that you research deals well in advance.
You can easily get discounted tours, lowered flight rates, and discounted rooms. This will allow you to fit much more into your sightseeing budget for Alaska.
So, if you wish to save money on tours and avoid crowds, then September is the best month to visit Alaska.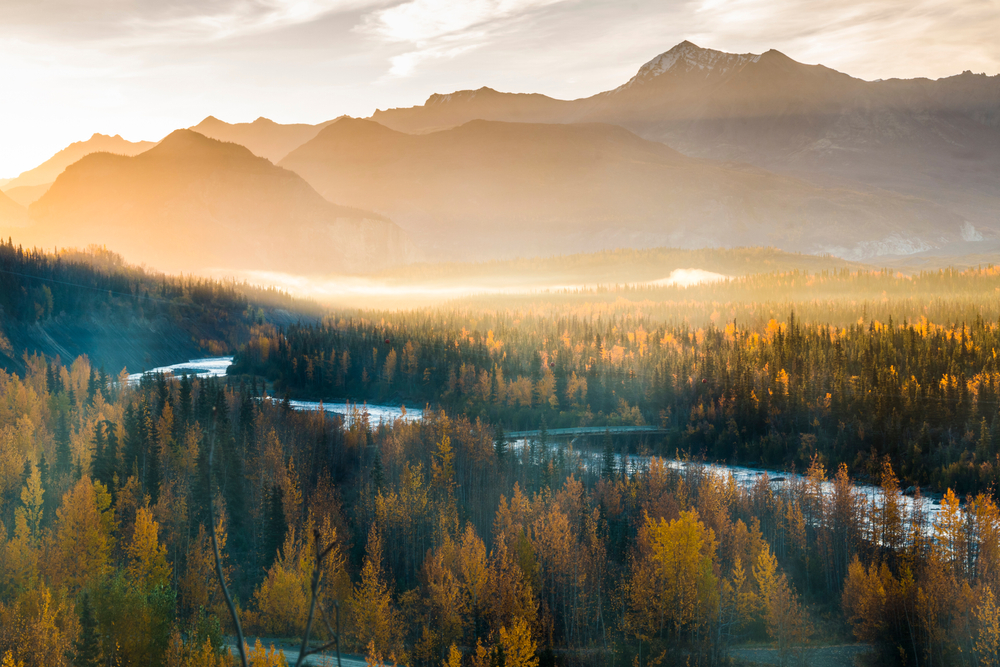 It Is A Great Time For Cruising In Alaska
Now, you might think that September means the end of cruising in Alaska but that's not true at all.
Yes, there are higher chances of rain and unclear weather but there are days when the sun shines upon you and you can truly enjoy the sea views while cruising Alaska in September.
One of the top things to do in Alaska is take a cruise from Whittier into Blackstone Bay.
This cruise runs through the month of October and can be taken from Anchorage in September. On the cruise, you will witness massive tidewater glaciers and abundant wildlife.
Plus, if the weather permits, you can also indulge in kayaking or jet skiing tours. Trust me, this is a top activity in Alaska in September that you cannot miss out on.
Another popular option for cruising Alaska in September is the port town of Seaward. However, the weather is a big gamble here as it receives the highest amount of rainfall in Alaska this month.
You can take a glacier cruise in Kenai Fjords National Park which is one of the top things to do in Alaska in September.
In this activity in Alaska, you will cruise through Resurrection Bay and witness whales, bald eagles, puffins, otters, and more.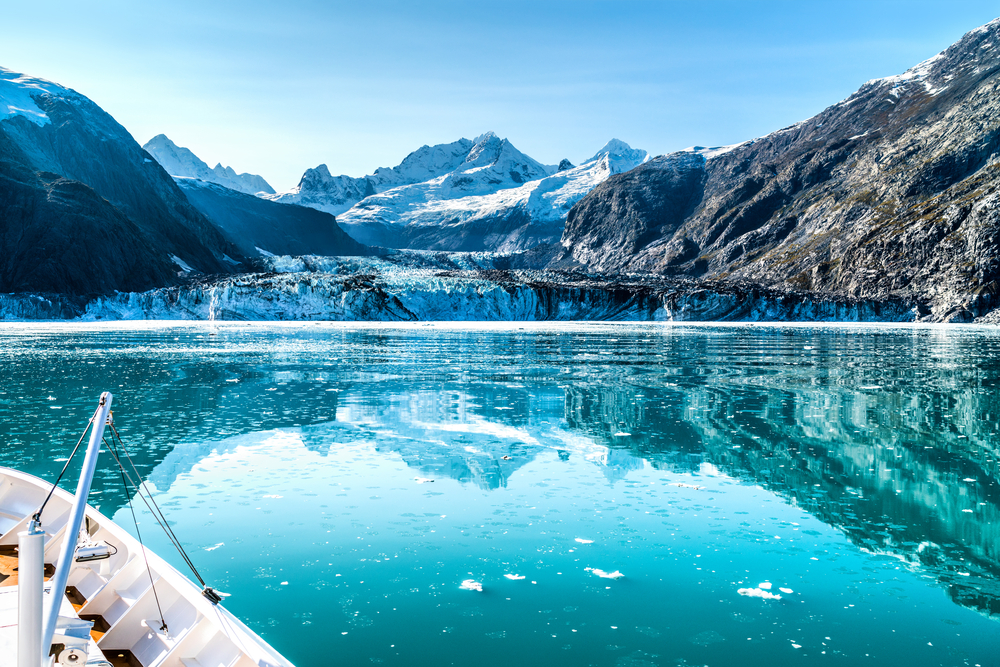 You Might See The Northern Lights If You Are Lucky
Have you heard about the famous Aurora Borealis? If yes, then it might make you happy to know that September is a great time to visit Alaska to witness the Northern Lights.
Fairbanks in Alaska is a popular tourist destination throughout the year but the peak season starts in Fairbanks in September.
This is because this is one of the top places in Alaska where you can see the Northern Lights if the sky is dark and clear.
You are more likely to see the Aurora between 10 PM and 3 AM, so make sure to get a nap during the daytime.
Another top thing to do in Alaska in September is to go on a guided tour of the Northern Lights.
This activity will give you a chance to witness Aurora not only from Fairbanks in September but other places as well that lie beyond the Arctic Circle.
Apart from Aurora watching, this month is also a great time for polar-bear viewing for which you can easily join a tour from Fairbanks itself.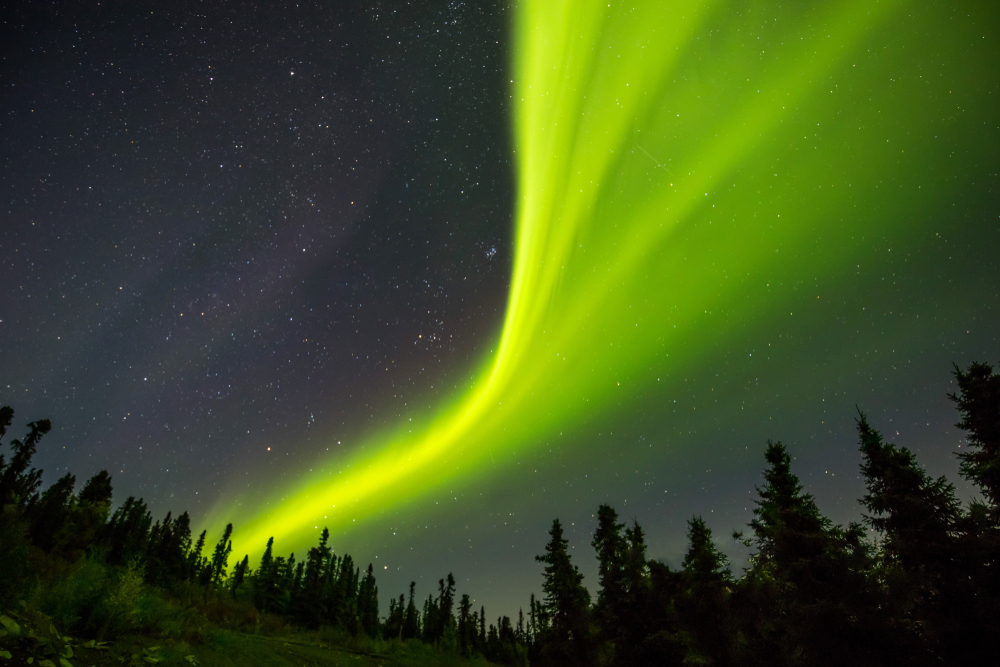 September In Alaska Is A Great Time to Witness Fall Foliage
If you are traveling to Alaska in the fall, then you are in for an absolute treat.
For a fall trip, you can start with Anchorage in September and then head to other places like Denali, Fairbanks, etc. for the beautiful fall foliage.
In Alaska, you won't find a lot of red trees but there is an abundance of yellow and orange ones. On the other hand, the tundra glows bright red, making it the perfect landscape for photographers.
The best towns in Alaska in the fall depends on when you are traveling to Alaska in September.
If you arrive in the early days, you will be able to catch autumn in the north of Anchorage in September. This will include places like Denali, Fairbanks, and Talkeetna.
However, if you arrive in late September, you will notice the mountain peaks covered in white snow while the forest still displays red and orange-colored trees.
This phenomenon is known as the Termination Dust as it signals the end of summer and the onset of the winter season in Alaska.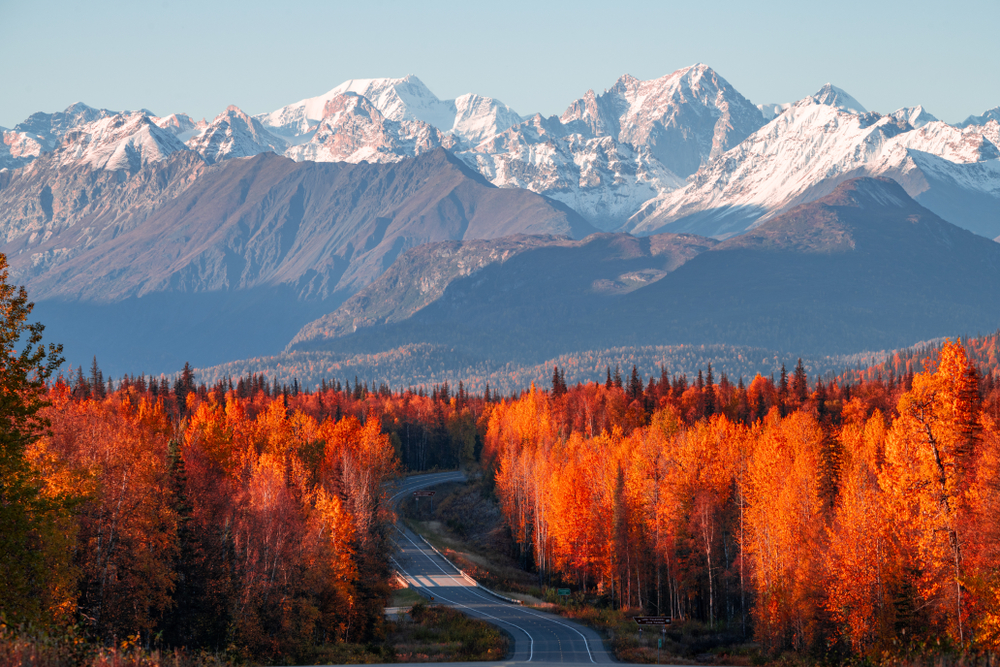 During September in Alaska, There Are Lots Of Festivals And Activities To Participate In
One of the top events in Alaska in September season is the Alaska State Fair which is held just 40 minutes from the city of Palmer.
At this festival, you get to enjoy amazing concerts, lots of local goods, and delicious food.
That's not all, you will also witness the world-famous, massive vegetables that grow in Alaska under the midnight sun.
Apart from the incredible festival, September is also a great time to go hiking, flyfishing, a flightseeing tour, and more in Alaska.
One of the best hiking spots in Anchorage in September is Flattop Mountain if you are looking for a challenge.
There are many other fun trails to check out here as well such as Talkeetna Lake Trails, Winner Creek Trail in Girdwood, Home Spit Trail, and more.
One of the top activities in Alaska that you must try in September is Fly Fishing in the Kenai River.
Another must-try experience in Alaska in September is a ride on the Alaska Railroad where you can see breathtaking scenery and beautiful fall colors.
Trust me, there is no shortage of fun things and experiences to try in Alaska in the fall, so you will have lots of options and attractions to explore.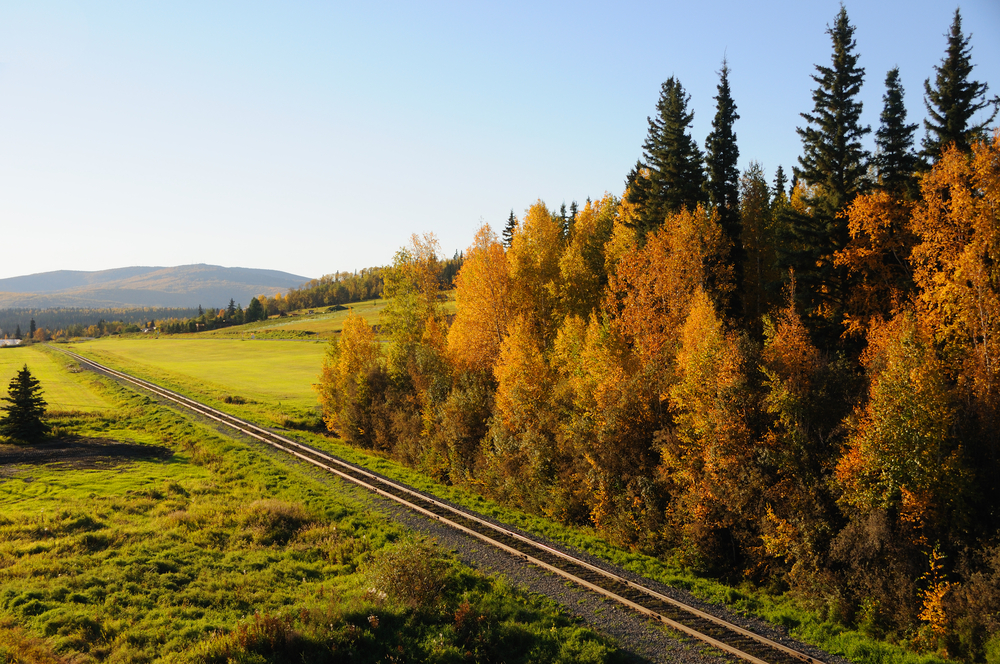 September In Alaksa Is a Great Time For Wildlife Sightseeing
September is also one of the best times to go to Alaska for wildlife sightseeing.
You can choose to drive around Alaska in September and witness many amazing animals.
In fact, this is the perfect time for sighting big mammals such as moose, caribou, and grizzly bears as they head to lower elevations to prepare for the winter.
Moreover, there won't be any crowds to scare off the animals so you have a better chance of viewing these majestic animals.
You can spot Alaska's Big Five which includes Dall sheep, bears, caribou, wolves, and moose. But make sure you have binoculars ready, especially if you are driving through Alaska.
Stop at the Alaska Wildlife Conservation Center where you can meet injured/orphaned animals and how the facility helps them.
From porcupines to bears, you will find all kinds of animals here.
One important thing to keep in mind is that wildlife in Alaska can be deadly, especially since they are mostly trying to defend themselves.
So, be careful during your wildlife sightings and respect their space and sanctuary. Keep all the safety measures ready including a bear spray, in the off chance that you need to use it.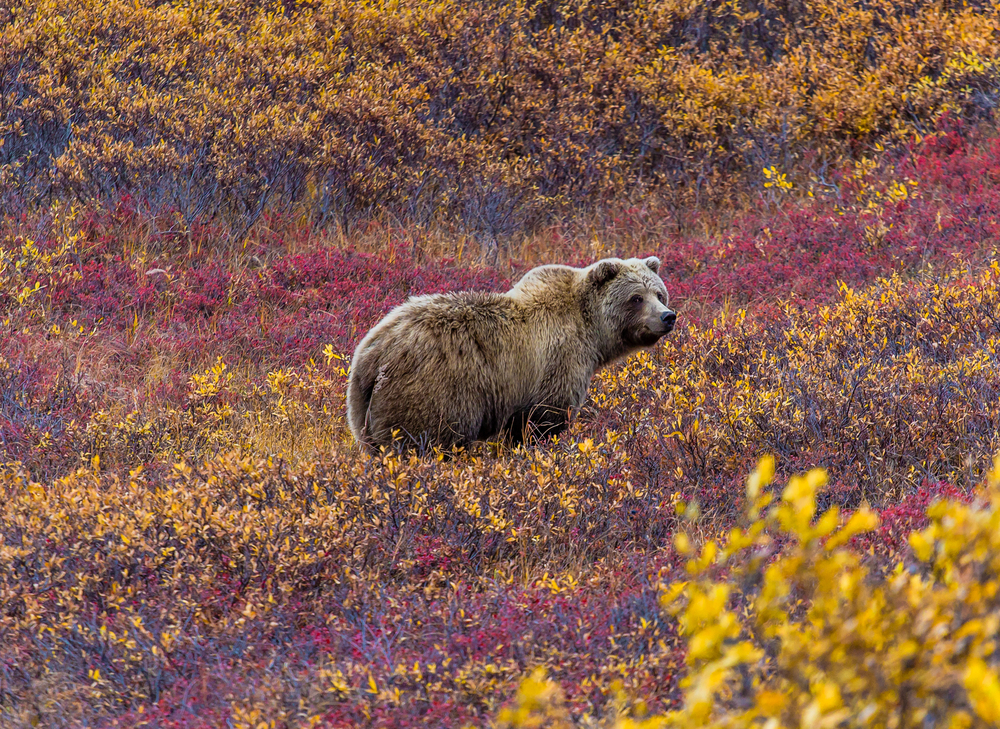 Packing List For Things To Do In September In Alaska
If you will be traveling, either by plane or by car to Alaska, here are some tips on how to pack lightly.
A concealed travel pouch may be one of the most important items you bring along when visiting Alaska in September.
It is always important to protect your personal information. Identity thieves are everywhere.
This unisex RFID-blocking concealed travel pouch is lightweight and comes in several colors. It has lots of organization to give you peace of mind.
You can place it under your clothes next to your body to carry your ID safely.
If you have a pouch already that does not come with RFID protection, as I do, these RFID sleeves are the perfect solution.
This configuration comes with enough credit card sleeves that the entire family would be protected. They are slim too, so they will easily fit into your pouch or wallet.
If you are planning on taking a lot of pictures with your phone you will definitely want to consider an external charging battery.
This Anker high-speed phone charging battery is the exact one I carry with me on all of my trips.
It can be used on a variety of phones, not just an iPhone as I have. And wow is it fast!
My daughter gifted me with this FugeTek selfie stick and tripod setup for my birthday. I absolutely love it! It is made of lightweight aluminum and so easy to use.
It has Bluetooth connectivity and is a breeze to use for taking photos.
You will want to bring your own refillable water bottle with you.
I never leave home on a trip without my Bobble filtration bottle. The 18.5-ounce size is perfect for hiking and it fits nicely in the pocket of a backpack.
Then this collapsible silicone foldable water bottle would work well for you. Would not take up much space at all.
You will want a backpack or daypack with you to store snacks, your water bottle, phone, extra clothes, etc… No matter the time of day or evening.
This foldable water-resistant backpack would be great.
It is very affordable and is available in many color options for you to choose from. The fact that it folds down into a zippered pouch will make it easy to pack.
—
As you can see when it comes to things to do in Alaska in September, the options are endless. It is such a unique time of year with so many interesting attractions.
Whichever of these Alaska activities you chose to take part in I know the memories will stay with you forever. Have a great time and please come back and tell me all about it.