Glaciers in Alaska are among the top sights to see when exploring the Last Frontier.
Whether cruising or setting off on an epic road trip, glaciers are some of the best places to visit in Alaska!
Planning your trip to Alaska last minute?
Make sure to book ahead! Hotels and tours can sell out the closer you get to your trip. Here are our top pics for Alaska!
Top Experiences and Tours in Alaska:
Best Alaska Hotels:
Glaciers can be described as a river of ice. These masses of ice slowly move across the landscape carving out valleys and fjords. Due to climate change, many glaciers today are receding.
You will not want to miss the chance to witness their rugged beauty and icy, blue color. Add at least one glacier to your Alaska itinerary.
Alaska glaciers can be seen in many different ways. Some are accessible by car or can be hiked to while others can only be seen from boats or planes and helicopters.
There are also many guided Alaska glacier tours that will give you a chance to see the landforms close up. You will learn why are glaciers important and how they affect the environment.
No matter how you experience the best glaciers in the US, you are sure to have a memorable time.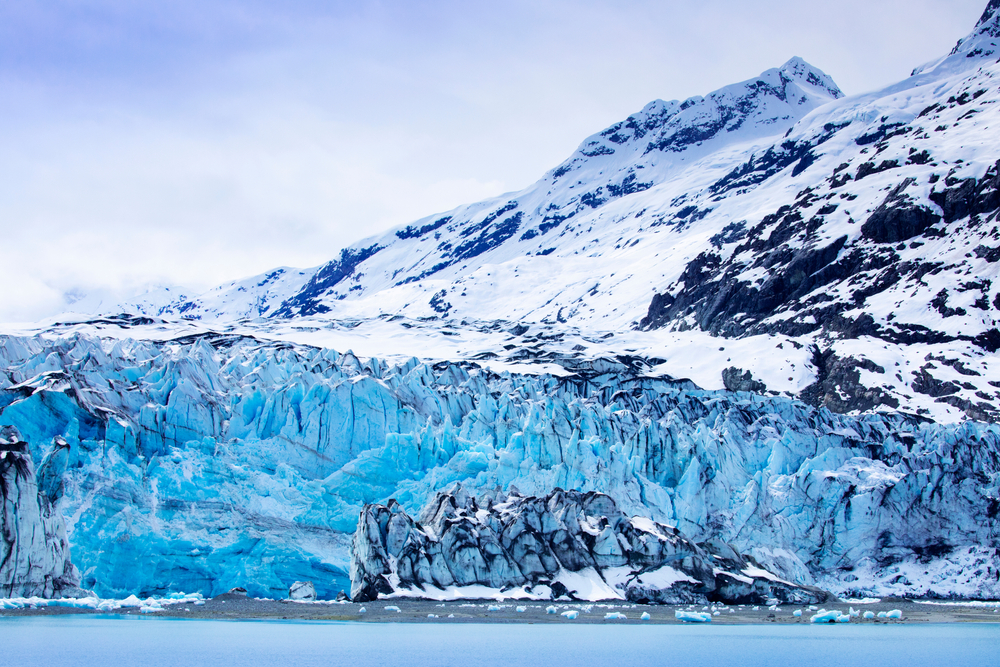 10 Epic Glaciers in Alaska for Your Bucket List
Exit Glacier
Exit Glacier is one of the most famous glaciers in Alaska. Found in Kenai Fjords National Park near Seward, this glacier is also one of the most easily accessible Alaska glaciers.
Just a twenty-minute drive from Seward will bring you to the Exit Glacier Nature Center and from there it is a short, easy hike to views of the 14-square-mile glacier.
Start off on the one-mile, accessible Glacier View Loop Trail to find panoramic views of Exit Glacier.
You can then loop back to the parking lot or continue on the more difficult Glacier Overlook Trail for an extra 0.6 miles.
As you hike the trails, you will see signs showing how far the glacier has receded over time. For more information about the glacier, take a ranger-led walk.
If you want a longer, more challenging hike, you can also connect to the 8-mile roundtrip Harding Icefield Trail.
This trail will provide amazing views of one of the best national parks in Alaska.
While Exit Glacier is accessible year-round, the road is closed in the winter. You can still explore the area by snowmobiling, cross-country skiing, or snowshoeing.
Exit Glacier is a great place to stop if you are driving from Anchorage to Seward.
Book Here: Seward: Kenai Fjords National Park 6-Hour Cruise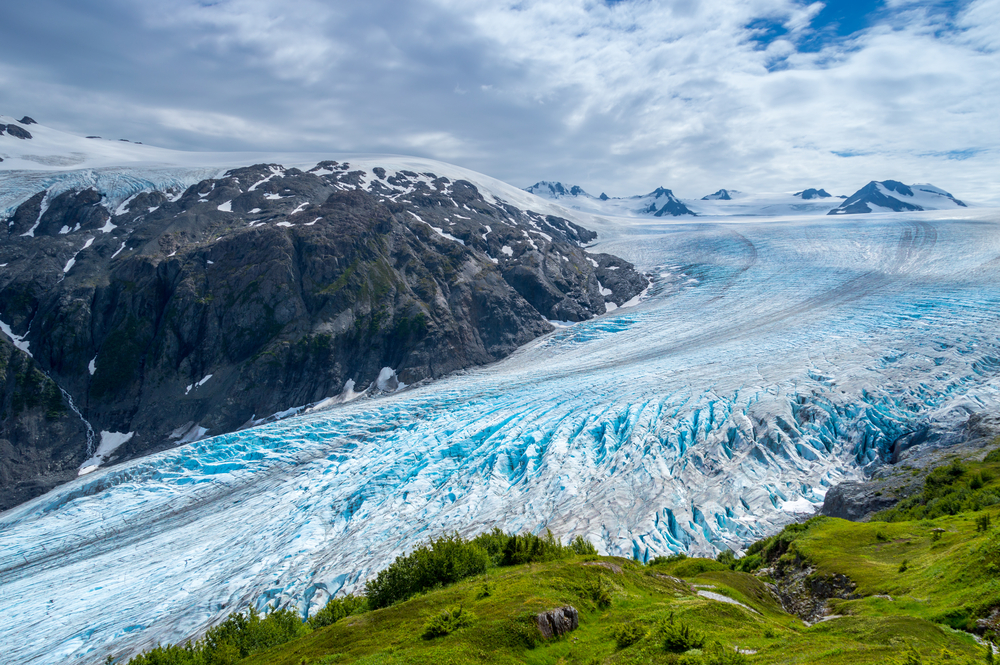 Knik Glacier
Located in the Chugach Mountains about 50 miles east of Anchorage, the 25-mile-long Knik Glacier is known for its epic 400-foot ice walls.
Knik Glacier cannot be reached by car so you will have to book a tour ahead of time for a chance to see it.
One option is a backcountry ATV tour. The trail is about 25 miles and will present you with grand views of rivers, lakes, meadows, and forests. You might also see wildlife.
Another fun way to see the glacier is by helicopter. There are many tour companies that offer these "flightseeing" tours.
If you want a special experience, choose a tour with a glacier landing. You will have the chance to walk on the glacier and see it up close.
Another interesting thing about Knit Glacier is that it was used as a filming location in the 1991 movie Star Trek VI: The Undiscovered Country.
Book Here: Anchorage: Knik Glacier Helicopter Tour with Landing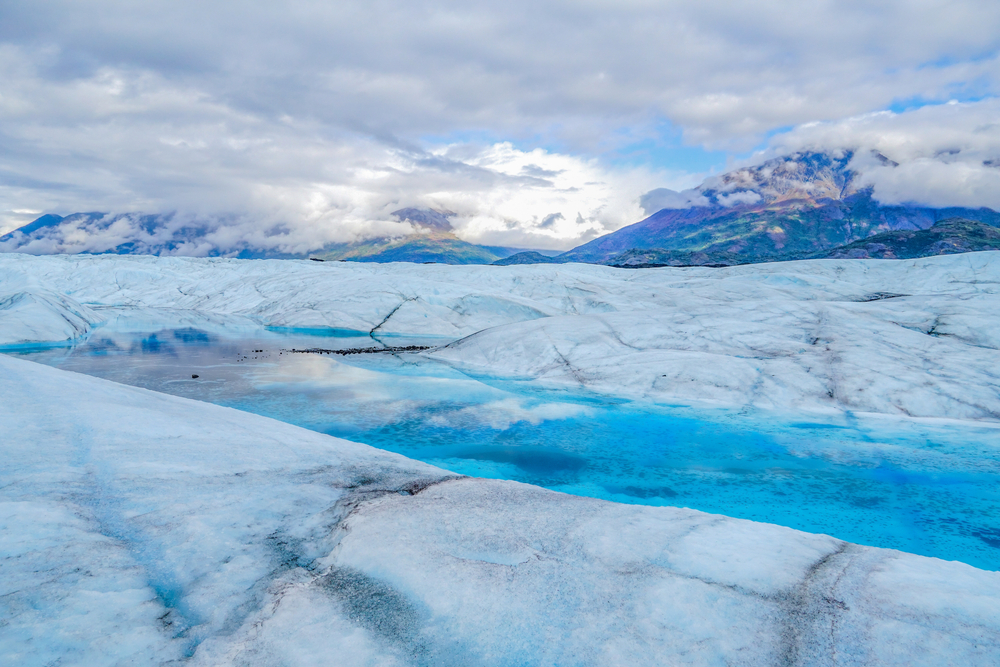 Portage Glacier
Portage Glacier is a little over an hour southeast of Anchorage just outside of Whittier.
This glacier receded steadily over the 20th century but has since remained stable since the late-1990s. However, it is no longer visible from the visitor's center.
There are a few options to see the glacier, though.
First of all, you can take a day cruise on Portage Lake which allows you to get within 300 feet of the glacier. Listen to commentary as you enjoy amazing views.
Visiting Alaska in May is one of the best times of the year to view glaciers!
Next, you can kayak on the lake but for safety reasons, you cannot get too close to the glacier. It can also be really windy out on this lake.
The last option is the cheapest and offers the most exercise. The Portage Pass Trail is a 4-mile roundtrip hike. It is rated moderate with a 750-foot elevation gain.
You'll end up on a gravel beach right across from the glacier, perfect for photos.
Book Here: From Anchorage: Portage Glacier and Wildlife Full-Day Tour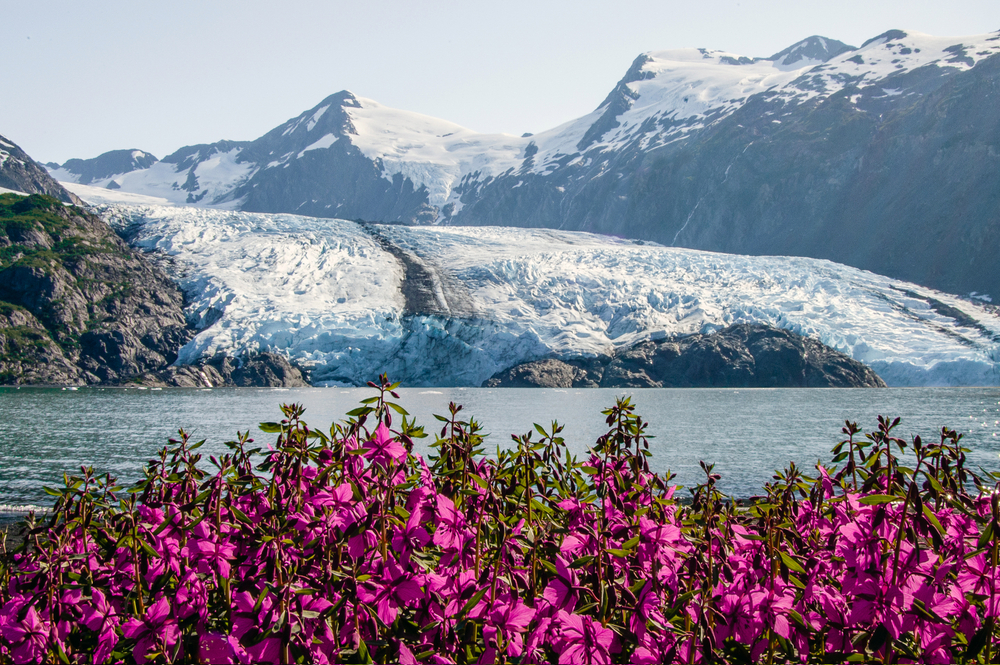 Matanuska Glacier
Matanuska Glacier is just north of Knik Glacier on the scenic Glenn Highway.
It is the largest glacier in the United States that is accessible by car. It is massive at 27 miles long and four miles wide.
If you are looking for the best Alaska glaciers that require no hiking or booking a tour, this is the one for you! You can easily see it from the parking lot.
If climbing a glacier is on your bucket list, you can book a guided tour to trek on the ice. You will have a great time with the family as you explore the glacier.
Take pictures of the otherworldly landscape and admire the bright blue colors of the ice.
This is one of the best glaciers near Anchorage since it is just a two-hour drive away, ideal for a day trip.
Book Here: From Anchorage: Matanuska Glacier Full-Day Tour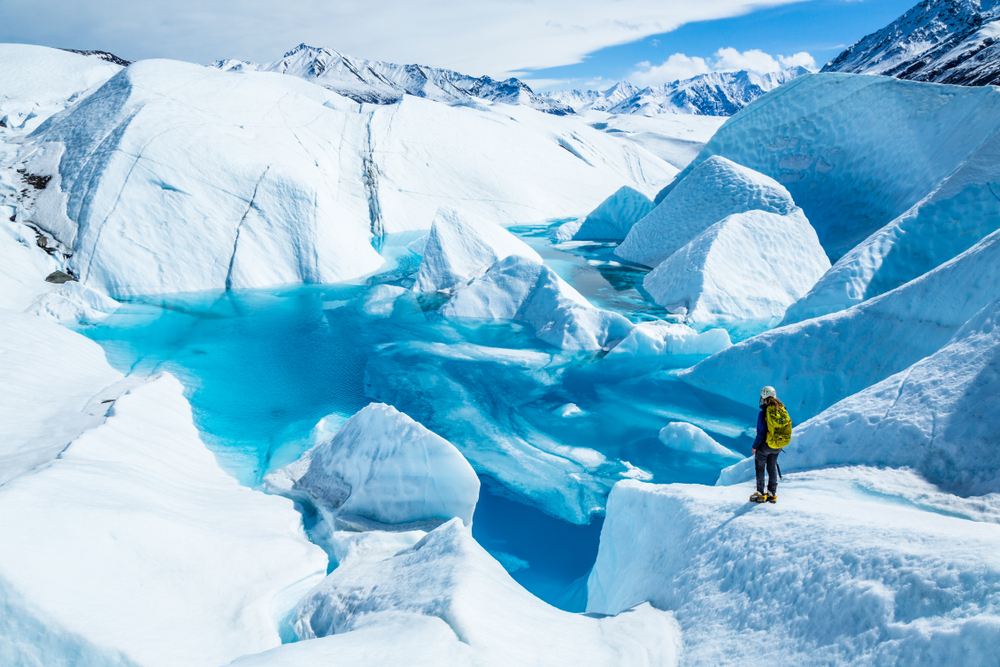 Hubbard Glacier
Hubbard Glacier is part of Wrangell–St. Elias National Park and Preserve on the border with Canada. It is the largest tidewater glacier in North America at 76 miles long and 7 miles wide.
It connects Mount Logan in Canada to Disenchantment Bay near the small town of Yakutat.
The glacier was named after Gardiner Hubbard, the first president of the National Geographic Society.
The most common way to view Hubbard Glacier is from a cruise ship. Many Alaska cruises include this natural wonder as part of their itinerary.
If you want to see glaciers calving in Alaska, this is a good spot because this glacier is known for its rapid advancement which causes calving.
You will hear the ice crack before the icebergs fall into the water. It is a sight to behold!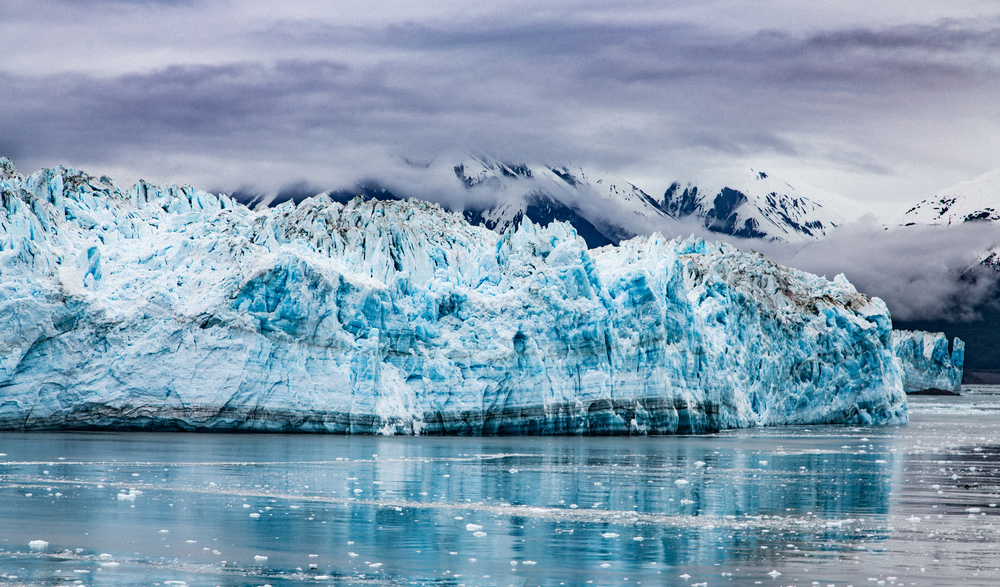 Mendenhall Glacier
If you are looking for accessible glaciers near Juneau, Mendenhall Glacier will leave you speechless.
It is only about a twenty-minute drive from Juneau, making it perfect for a day trip or cruise shore excursion.
Stop by the Mendenhall Glacier Visitor Center first and then set out to find the best views. If you are short on time or want an easy walk, the Photo Point Trail is paved and only 0.3 miles.
For another view, join up with the Nugget Falls Trail. It is an easy, 2-mile out-and-back trail. You'll see the pretty, 377-foot waterfall on the beach and the glacier across the lake.
If you want to get closer to the glacier, take a guided kayak tour or a boat cruise on Mendenhall Lake.
Helicopter tours are available as well. With a landing, you can walk on the epic glacier.
Book Here: Juneau: Mendenhall Glacier Adventure Tour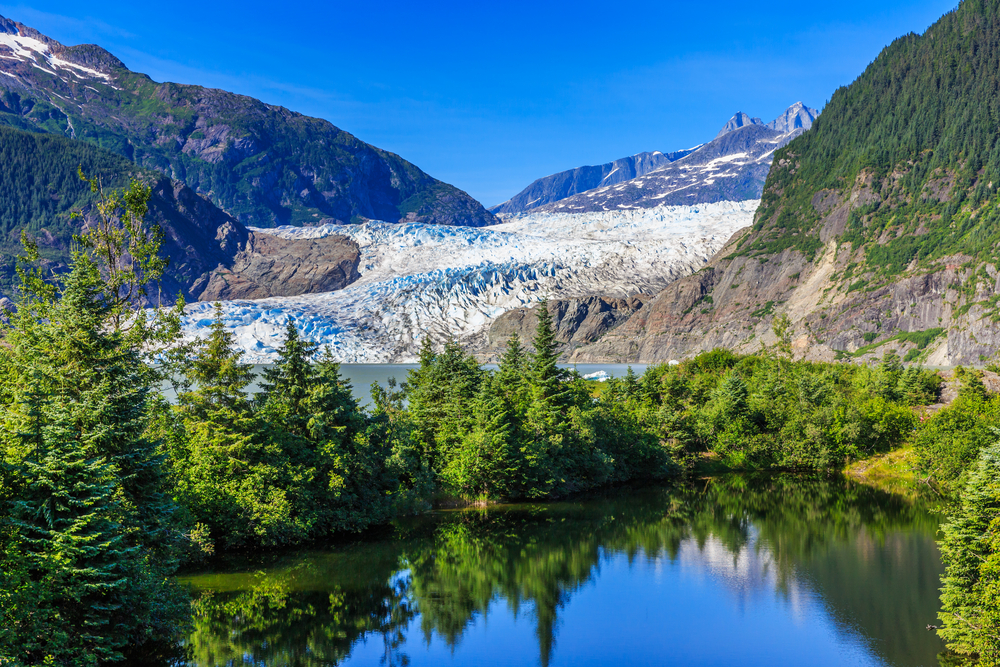 Columbia Glacier
Found on Prince William Sound, Columbia Glacier near Valdez is a massive 400 square miles. It is a must-see when traveling to Alaska.
Sadly, this Alaska glacier is rapidly retreating, losing 13 million tons of ice each day. Because of the calving, there are many large, uniquely shaped Alaska icebergs to spot floating on the water.
The best way to see this glacier is by taking a day cruise from Valdez. Along with views of the ice, this is a great way to spot wildlife such as whales, seals, sea otters, and birds.
The amount of ice in the water determines how close you can get to the glacier. Even from a mile away, this large glacier's 400-foot walls of ice are impressive.
You can also kayak in the bay or take a helicopter tour to see one of the best glaciers in Alaska from the sky.
Book Here: Valdez: 6-Hour Columbia Glacier Cruise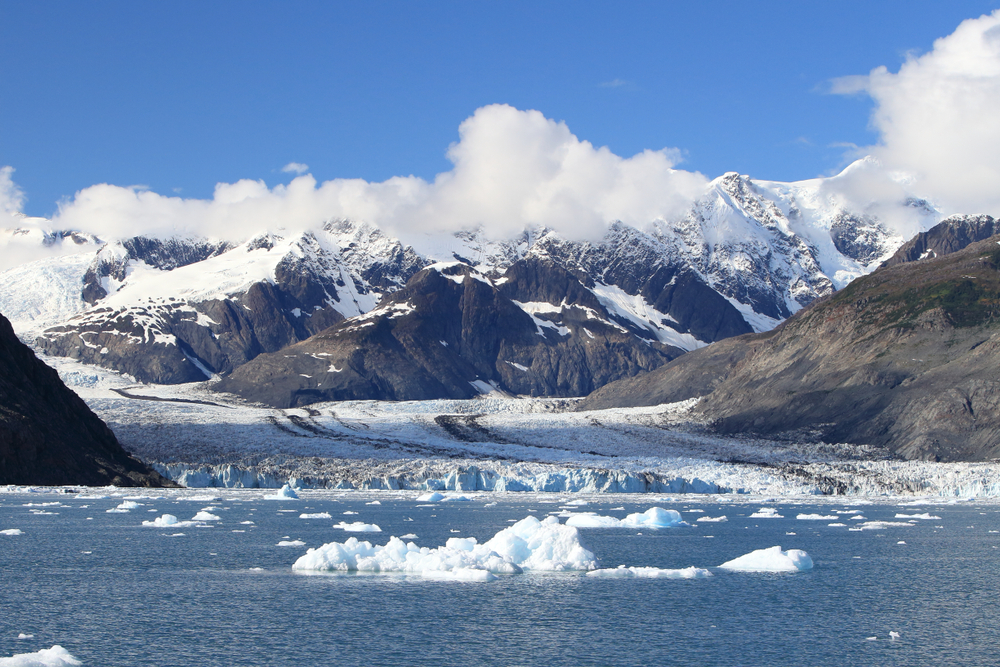 Spencer Glacier
Just south of Portage Glacier in the Chugach National Forest, Spencer Glacier is one of the most beautiful glaciers in Alaska.
The cool thing about this Alaska glacier is that it is only accessible by train. The Alaska Railroad's Glacier Discovery Train leaves from Anchorage. This is one of the best things to do in Anchorage.
One of the stops is the Spencer Glacier Whistle Stop where you can disembark and explore the area. There are lots of fun Alaska activities to do here!
There are a few different trails to hike including an easy 1.3-mile trail that leads to an overlook on Spencer Lake. For a longer, more difficult hike, do the Spencer Bench Trail which is about 6 miles out and back.
If rafting or kayaking in Alaska is something you want to try, there are both guided and unguided options here. You can paddle in Spencer Lake and the connected Placer River.
This is also one of the best places for camping in Alaska. There are tent campsites or you can book the Spencer Bench Cabin. Make reservations in advance!
In winter, you can also do a snowmobiling tour!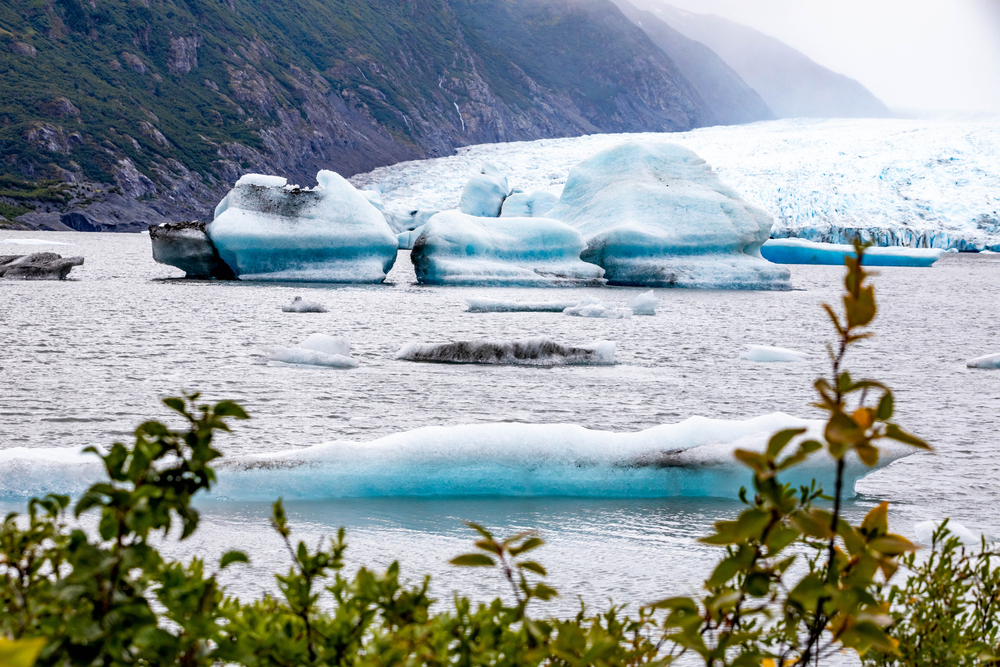 Margerie Glacier
Margerie Glacier is one of the best glaciers in Glacier Bay National Park. This is a location included on most Alaska cruises.
This glacier is about 21 miles long and features an ice face that towers over the water at 200 feet. You might get the chance to see the glacier calving.
Even if you are not on a major cruise, you can take day boat tours or kayak trips from the Glacier Bay Lodge in Gustavus.
As you glide through the water, wildlife is abundant. Keep an eye out for bears, moose, sea lions, harbor seals, orcas, humpback whales, and more.
There are also many birds including bald eagles, tufted puffins, ravens, and black-legged kittiwakes.
There are actually over 1,000 glaciers in Glacier Bay National Park. Some of the other notable ones include Johns Hopkins Glacier and Lamplugh Glacier.
Book Here: Glacier Bay: Glacier and Wildlife Catamaran Tour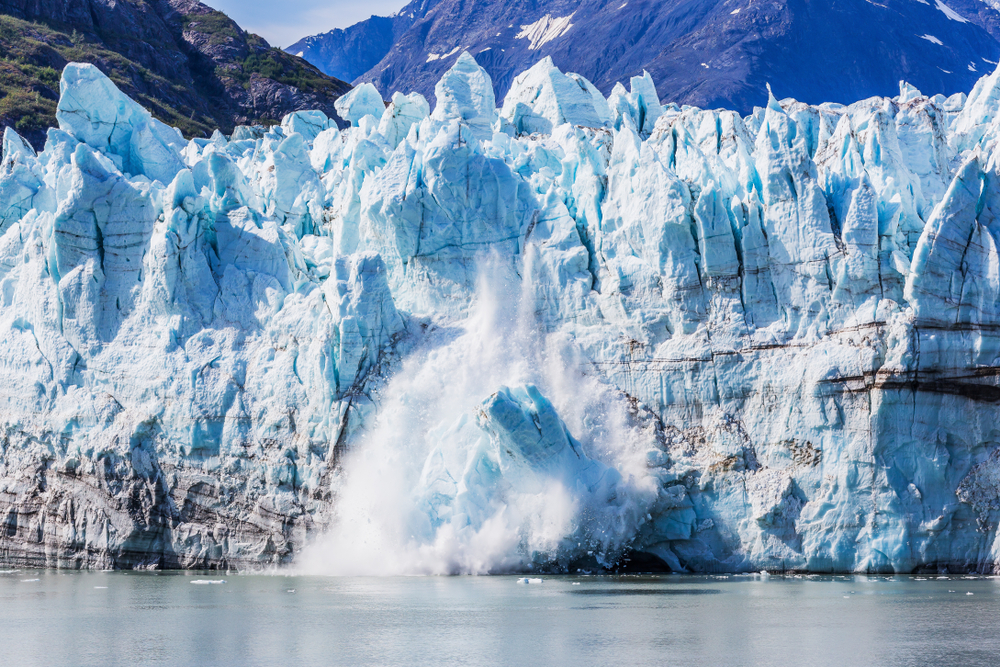 Sawyer Glaciers
If you are cruising the Tracy Arm Fjord south of Juneau, you will love the views of the North and South Sawyer Glaciers, also known as the Twin Sawyer Glaciers.
Each glacier is around 30 miles long and produces bright blue icebergs. With all of the floating ice, it can be hard to get close to the glaciers.
As you cruise through the majestic landscape in summer, you will see waterfalls and have the chance to spot wildlife. Harbor seals, sea lions, mountain goats, bald eagles, and bears call this area home.
A cruise is one of the best things to do in Alaska in May.
If you are planning on doing a cruise, check out my complete Alaska cruise packing list too!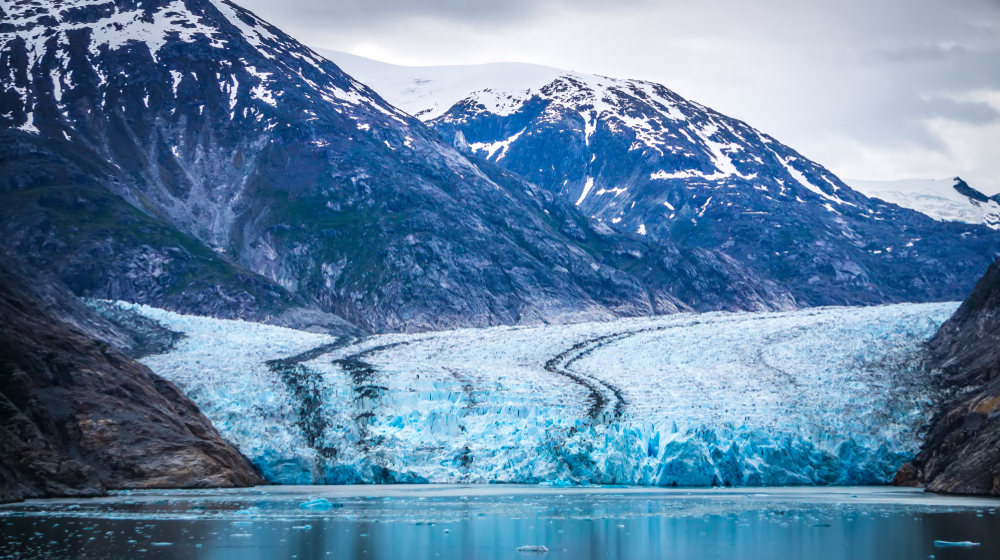 Packing List For Things For Visiting Glaciers In Alaska
If you will be traveling, either by plane or by car to Alaska, here are some tips on how to pack lightly.
A concealed travel pouch may be one of the most important items you bring along when visiting Alaska glaciers.
It is always important to protect your personal information. Identity thieves are everywhere.
This unisex RFID-blocking concealed travel pouch is lightweight and comes in several colors. It has lots of organization to give you peace of mind.
You can place it under your clothes next to your body to carry your ID safely.
If you have a pouch already that does not come with RFID protection, as I do, these RFID sleeves are the perfect solution.
This configuration comes with enough credit card sleeves that the entire family would be protected. They are slim too, so they will easily fit into your pouch or wallet.
If you are planning on taking a lot of pictures with your phone you will definitely want to consider an external charging battery.
This Anker high-speed phone charging battery is the exact one I carry with me on all of my trips.
It can be used on a variety of phones, not just an iPhone as I have. And wow is it fast!
My daughter gifted me with this FugeTek selfie stick and tripod setup for my birthday. I absolutely love it! It is made of lightweight aluminum and so easy to use.
It has Bluetooth connectivity and is a breeze to use for taking photos.
You will want to bring your own refillable water bottle with you.
I never leave home on a trip without my Bobble filtration bottle. The 18.5-ounce size is perfect for hiking and it fits nicely in the pocket of a backpack.
Then this collapsible silicone foldable water bottle would work well for you. Would not take up much space at all.
You will want a backpack or daypack with you to store snacks, your water bottle, phone, extra clothes, etc… No matter the time of day or evening.
This foldable water-resistant backpack would be great.
It is very affordable and is available in many color options for you to choose from. The fact that it folds down into a zippered pouch will make it easy to pack.
—
The glaciers and icebergs of Alaska are truly a sight to see! If you love dramatic landscapes, you have to experience the best glaciers in Alaska by foot, boat, or helicopter.