If you are looking for the best places to visit in Alaska, you will not be disappointed!
Alaska is the largest U.S. state and is full of vast wilderness and cute, small towns. There is so much to see from rugged mountains to icy glaciers to picturesque bays and fjords.
Whether you are traveling to Alaska on a road trip or during a cruise, the Last Frontier has so much to offer its visitors!
Planning your trip to Alaska last minute?
Make sure to book ahead! Hotels and tours can sell out the closer you get to your trip. Here are our top pics for Alaska!
Top Experiences and Tours in Alaska:
Best Alaska Hotels:
Some of the best things to do in Alaska include hiking, wildlife viewing, kayaking, camping, and photography. Plus there are many cities and towns to explore.
No matter your interests, the best places in Alaska will keep you entertained!
Let's dive into where to go in Alaska for a fantastic vacation!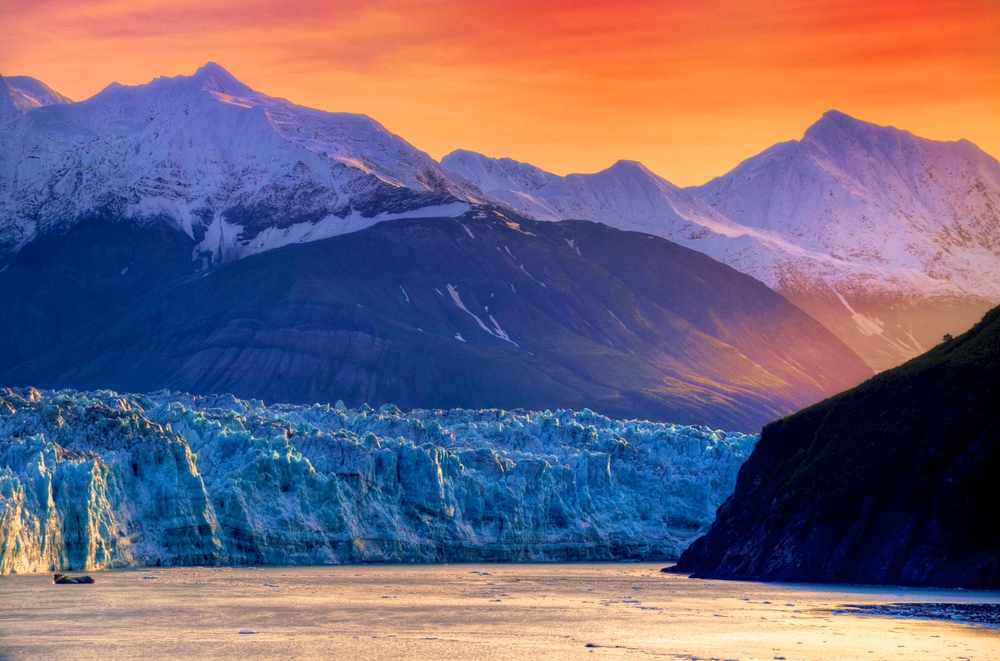 15 Epic Places to Visit in Alaska for Your Bucket List
Anchorage
Anchorage is the largest city in Alaska and is found in the south of the state on the Cook Inlet.
If you want to stay in a place with a big city feel but also be a short drive from nature, then Anchorage is one of the best Alaska destinations for your trip.
There are plenty of fun things to do in Anchorage. Check out the Alaska Native Heritage Center or the Anchorage Museum.
Stroll through downtown and pop into some shops. For a dose of nature, there are plenty of parks or you can explore the Alaska Botanical Gardens.
No matter what you do in Anchorage, you will have a great time! You cannot miss out when visiting Alaska.
May in Alaska is a great time to visit Alaska!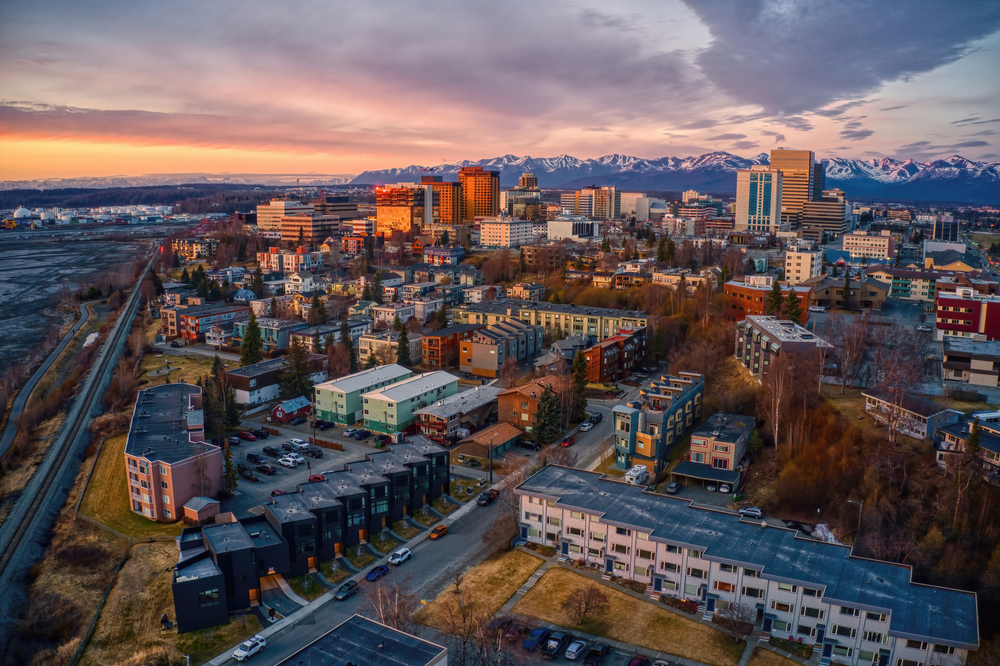 Denali National Park and Preserve
There are eight national parks in Alaska, the second most of any U.S. state behind California.
Denali National Park is one of the best and most accessible parks to visit. With six million acres to explore, you can easily spend a day or two here.
The centerpiece of the park is Denali, the tallest mountain peak in North America. At 20,310 feet, it towers over the rugged landscape.
You have to add this beautiful park to your Alaska itinerary because there is so much to do in here in the south-central area of the state.
Spend time hiking in the low-elevation taiga forest before heading up to the alpine tundra and mountains. Keep an eye out for bears, moose, caribou, golden eagles, Dall sheep, and so much more!
Other activities include attending ranger programs, camping, biking, and photography.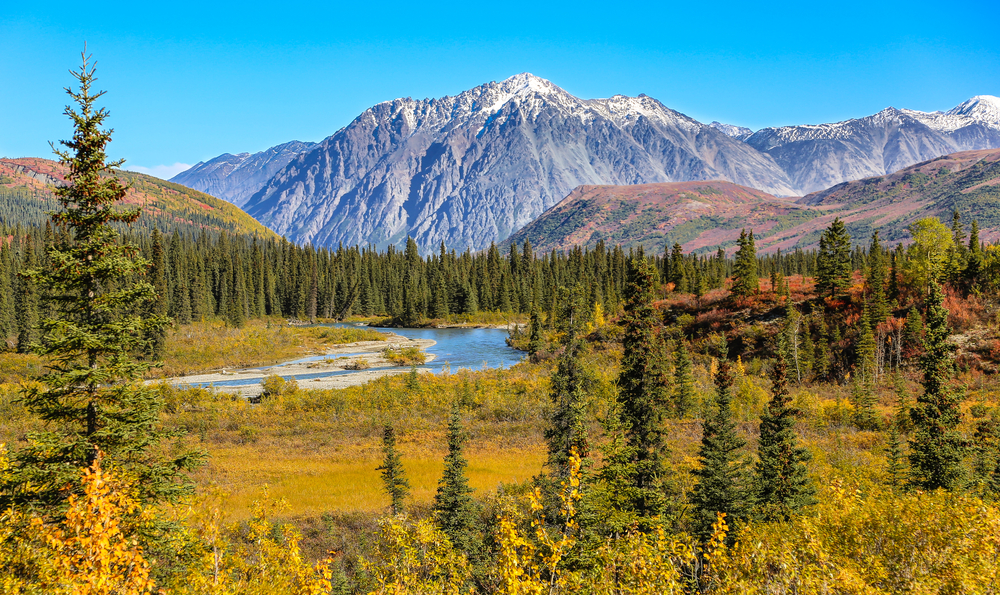 Fairbanks
Fairbanks is found along the Chena and Tanana Rivers in central Alaska.
And there are so many awesome things to do in Fairbanks Alaska!
To learn about the region, stop by the Morris Thompson Cultural & Visitors Center and the Museum of the North.
Other cool museums include the Fountainhead Antique Auto Museum and the Fairbanks Ice Museum.
In town, you will also find many great restaurants. If you want to grab a drink, check out Hoarfrost Distilling or HooDoo Brewing Company.
If you visit in the winter, the Fairbanks area is the place to be for viewing the northern lights. Book a tour with an expert guide to help you find the best place to see this epic phenomenon.
Visiting Alaska in Winter and heading to Fairbanks is great for seeing the northern lights!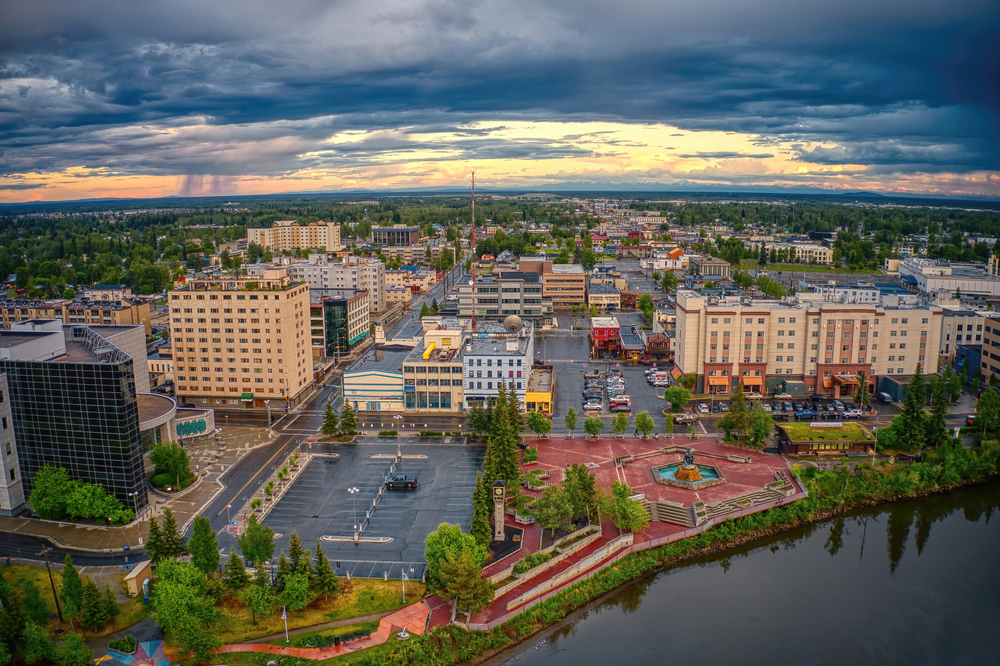 Homer
Homer sits on Kachemak Bay on the Kenai Peninsula in southern Alaska. If you are interested in marine life, this small town is one of the best places to visit in Alaska!
There are lots of interesting things to do in Homer!
The Center for Alaskan Coastal Studies offers many educational tours with naturalists who will teach you about the local wildlife.
You will also love the Alaska Maritime National Wildlife Refuge Visitor Center. This free attraction will help you learn all about seabirds.
Nature lovers will also want to take a boat across the bay to Kachemak Bay State Park. With a mix of forests, beaches, and glaciers, this is the place to see black bears, whales, sea lions, moose, and more.
Homer is one of the best small towns in Alaska, so you must add it to your itinerary!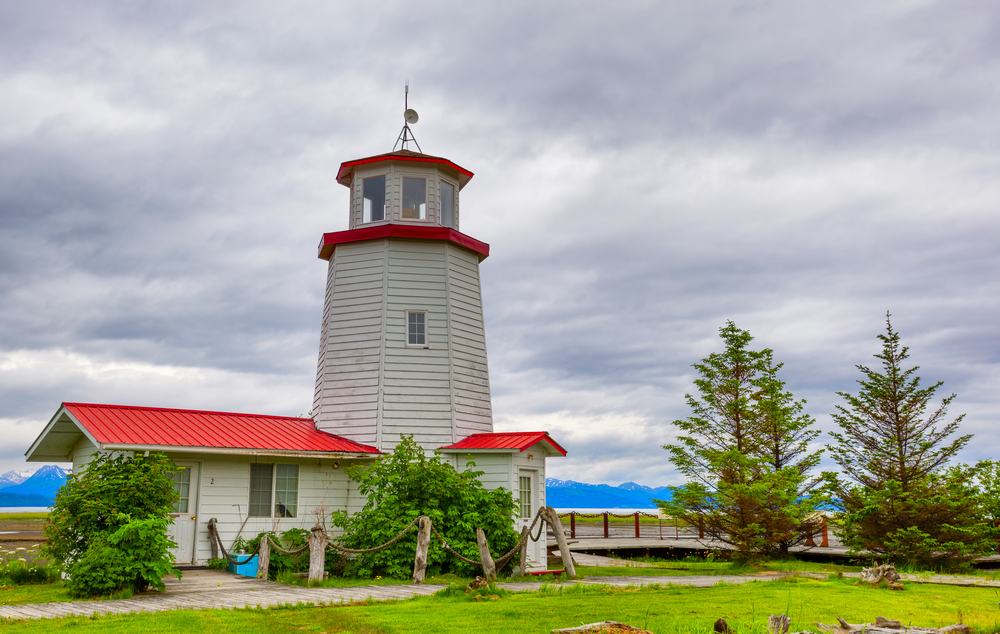 Seward
Another small town on the Kenai Peninsula to visit in Alaska is Seward. Tucked between mountains and Resurrection Bay, Seward is a fantastic jumping-off point for nature trips.
You can book kayak tours or rent a boat to explore the water. There are also a ton of hiking trails nearby.
For great photography opportunities, walk along Waterfront Park or visit the boat-filled harbor.
If you are looking for one of the best places for camping in Alaska, Miller's Landing, just south of Seward, is a great choice. It is on the water and offers views of wildlife.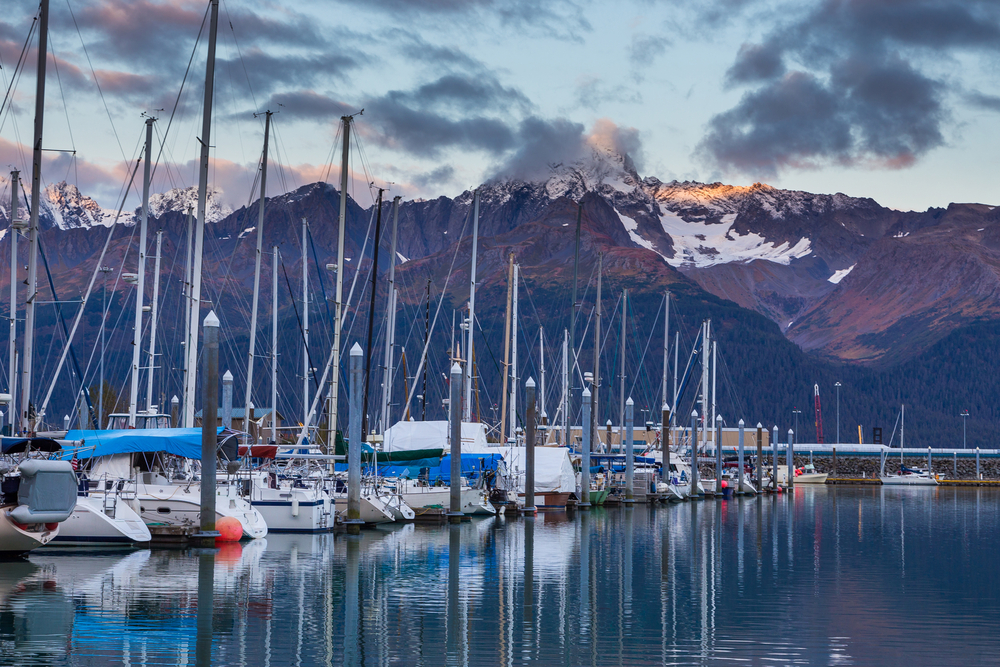 Kenai Fjords National Park
Just outside of Seward is Kenai Fjords National Park with glacier and ocean views.
The main feature of this park is the 700-square-mile Harding Icefield. To see it, set out on the challenging 8.2-mile round trip Harding Icefield Trail.
The trail starts in the valley among forests and meadows before climbing above the tree line where you will be treated to views of the otherworldly icefield.
If you are not up for a 6+ hour hike, you can still see the icy landscape of Exit Glacier. This is the only part of the park accessible by car.
The 1-mile, accessible Glacier View Loop Trail is great for all skill levels. It also connects to the harder Glacier Overlook Trail. From here, you can join up with the Harding Icefield Trail.
Boat tours and kayaking are also available at this park.
Do not skip visiting Seward as there are many Alaska glaciers to visit!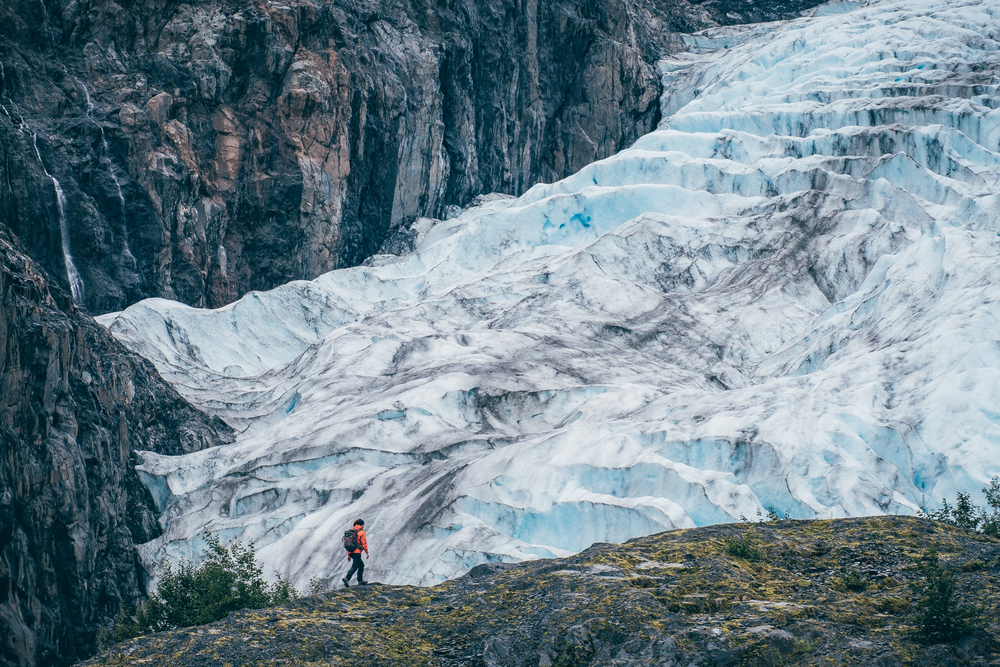 Talkeetna
The town of Talkeetna is found just south of Denali National Park on the Susitna River.
Wander the cute, historic downtown, visit local shops and restaurants, and stop by the Talkeetna Historical Society Museum.
The red and white Nagley's General Store is a must-see. The store has been in operation since 1921.
Head into Denali State Park to camp, hike scenic trails, or canoe on Byers Lake.
To see the Denali region from the sky, book a tour with Talkeetna Air Taxi. They have a number of tour options, and you can even do a glacier landing.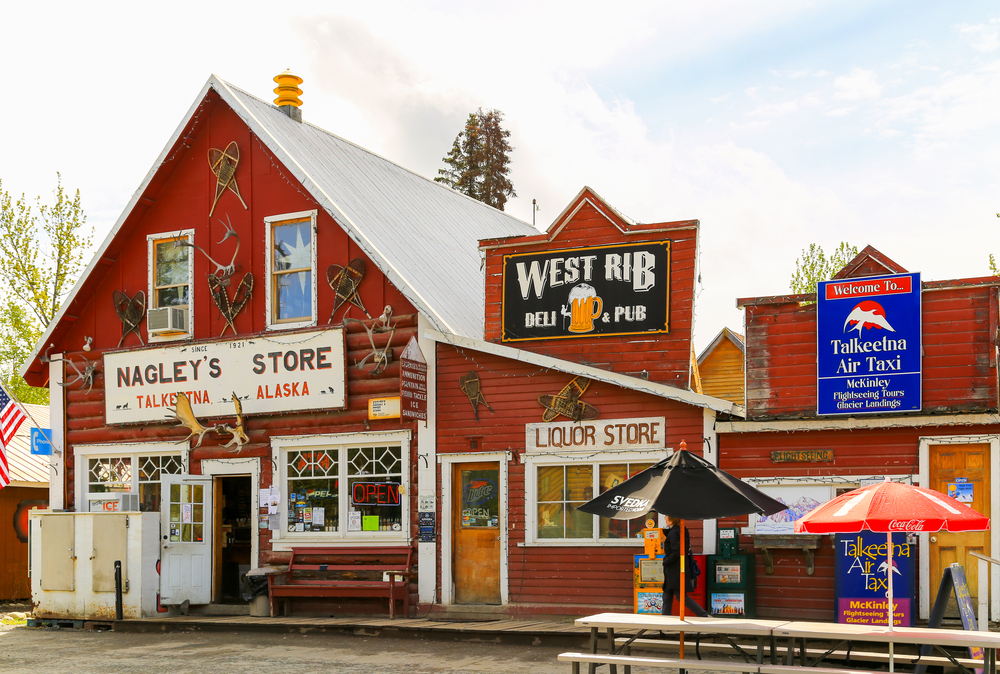 Mendenhall Glacier
Mendenhall Glacier is one of the best and most accessible glaciers in Alaska since it is just a short drive outside of Juneau.
The glacier is about half and mile wide with ice as deep as 1,800 feet. With its craggy shape and blue color, it is a sight to behold.
There are many hiking trails near the glacier, but one of the best ways to experience it is by kayaking in Mendenhall Lake.
There are many excursion groups you can tour with that will let you get a close look at the amazing icy structure. You will also be able to see many birds soaring overhead and wildlife along the shore.
Taking a helicopter tour is another way to see one of the best places to visit in Alaska.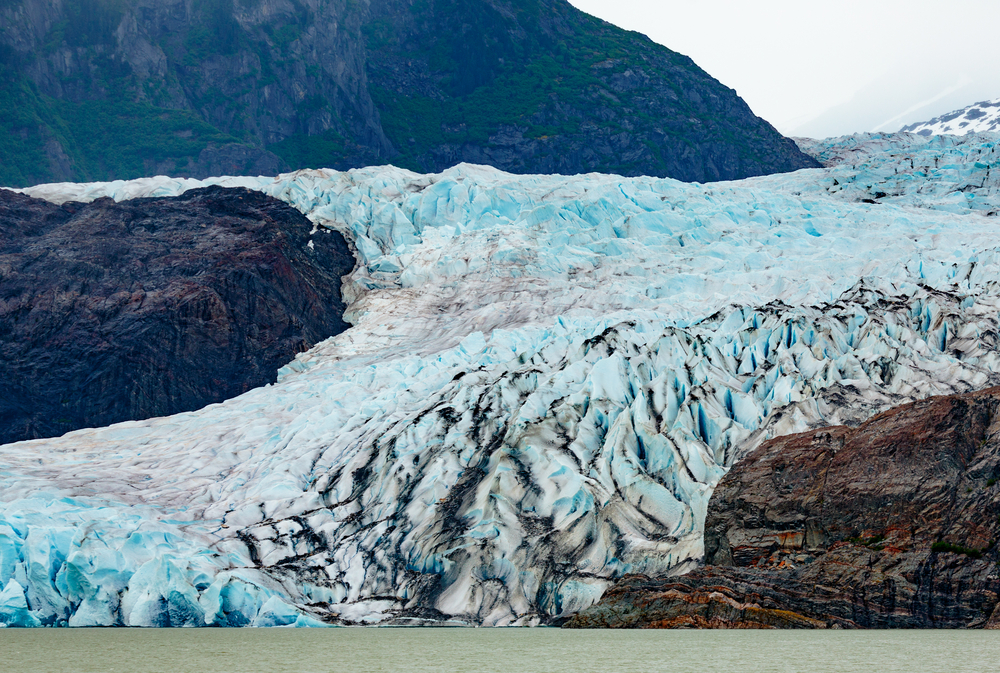 Ketchikan
Found on Revillagigedo Island in the far southeastern part of the state, Ketchikan is a popular cruise ship port.
Nestled between mountains and water, this charming town offers plenty to see and do whether you are there for a day or longer.
Ketchikan is known for its beautifully constructed totem poles and rich Native Alaskan history.
Take time to visit the Totem Heritage Center, Tongass Historical Museum, Totem Bight State Historical Park, and Southeast Alaska Discovery Center.
The Saxman Native Village is also a must-see place for soaking in the culture. This open-air museum has the largest collection of standing totem poles in the world. You might even get the chance to see a carver working.
After seeing the totem poles, walk along charming Creek Street with its colorful buildings and pop into some shops and cafes.
Ketchikan is easily one of the best places to visit in Alaska.
If you are planning an Alaskan cruise, check out our perfect Alaska Cruise packing list.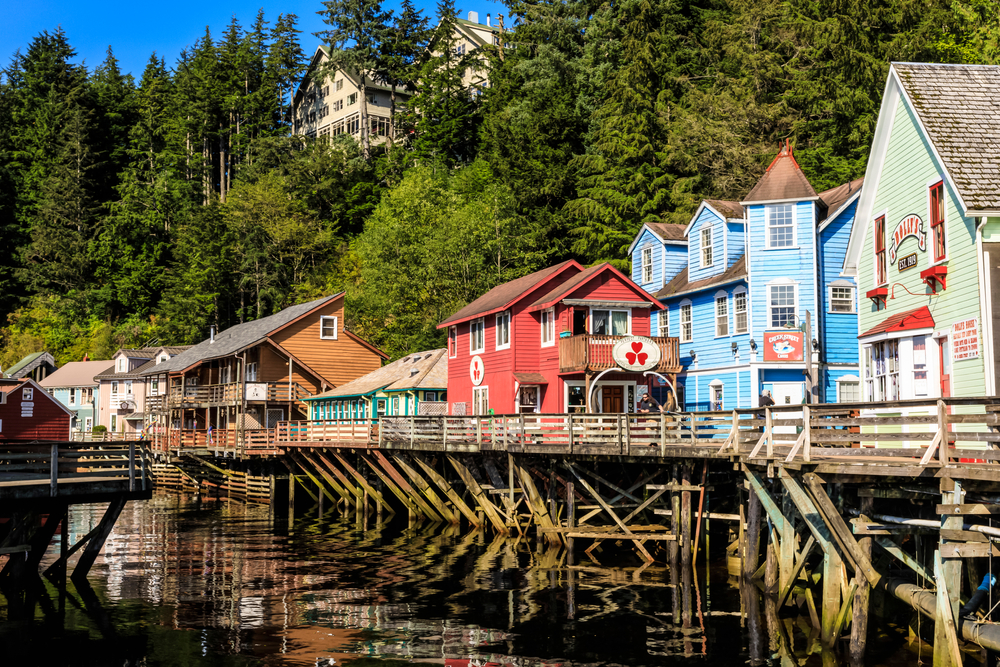 Valdez
Found on the Port Valdez fjord, the town of Valdez is one of the best places to visit in Alaska for wildlife viewing in the gorgeous scenery.
While in town, visit the Valdez Museum and Historical Archive to learn about the area's rich history.
Then stop by the Maxine & Jesse Whitney Museum to see a large collection of Native Alaskan art and artifacts.
Head out on the water for a dolphin and whale-watching tour. There is a chance to see humpback whales, orcas, dolphins, and porpoises.
If you want something a little more action-packed, you can also go white-water rafting or sea kayaking.
The nearby Shoup Bay State Marine Park is great for classic Alaska views of mountains and the bay. Enjoy hiking and camping here.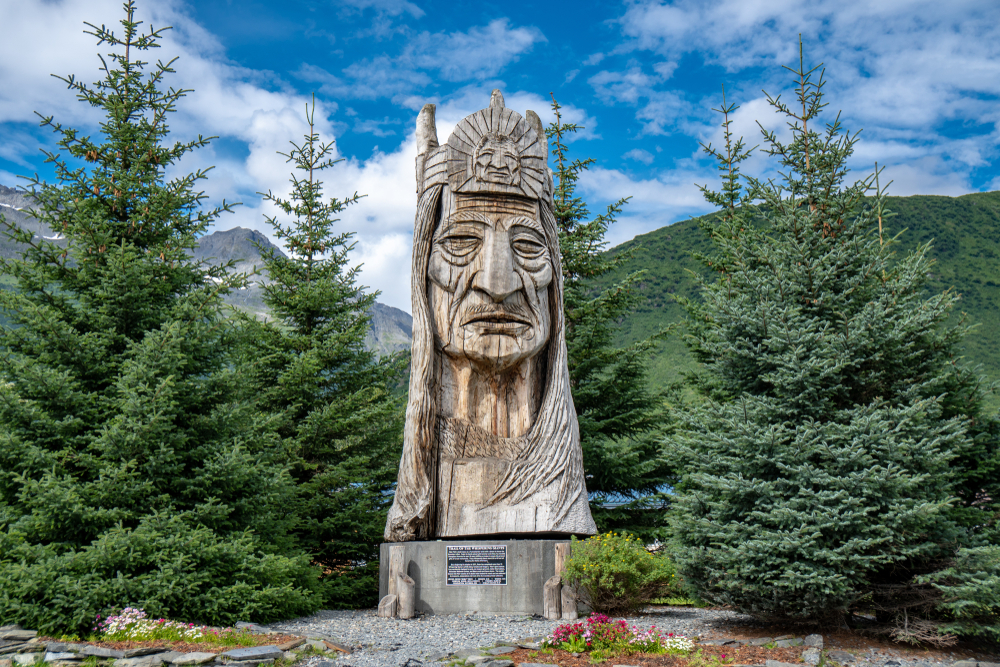 Juneau
The capital of Juneau is one of the top Alaska cities to visit. Found on the Alaska panhandle, it is a popular cruise port and overall Alaska destination for tourists.
Even though it is the capital, Juneau is fairly small, especially when compared to Anchorage.
Even so, there are still plenty of Alaska attractions to enjoy in the city and the surrounding nature. It is still one of the coolest places to visit in Alaska!
Located next to the cruise port is the Mount Roberts Tramway. This ride provides panoramic views as it lifts you 1,800 feet.
When it drops you off on the mountain, you can hike trails that will take your breath away.
In Juneau, you will also want to visit the Alaska State Museum which has many exhibits covering the complete history of the state. There are also many historic buildings in town.
Other attractions here include whale-watching tours, the Glacier Gardens Rainforest Adventure, and the Last Chance Mining Museum.
You will agree, Juneau is one of the best places to see in Alaska!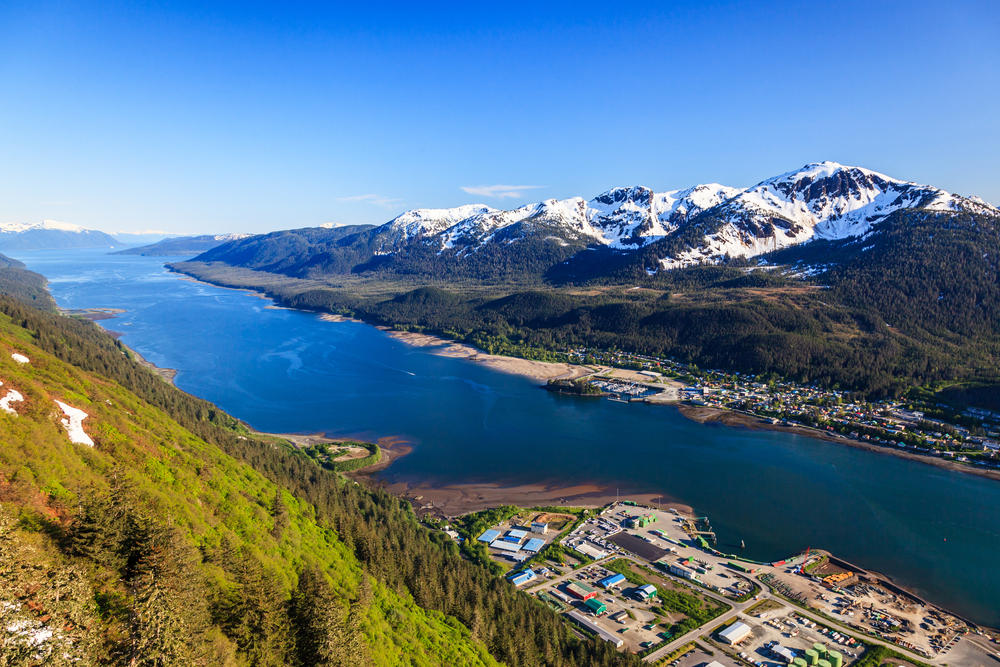 Sitka Is One Of The Best Places To Visit In Alaska
The historic town of Sitka can only be reached by boat or plane, but it is so worth it! After cruising the Inside Passage, many Alaska cruise ships stop here.
The Sitka National Historical Park has beautiful trails and an assortment of colorful totem poles to admire. For more Native Alaskan history, visit the Sheldon Jackson Museum.
If you are interested in marine biology, visit the Sitka Sound Science Centre. You will learn about aquatic life and enjoy the aquarium.
Take time to walk downtown and see some of the many buildings listed on the National Register of Historic Places.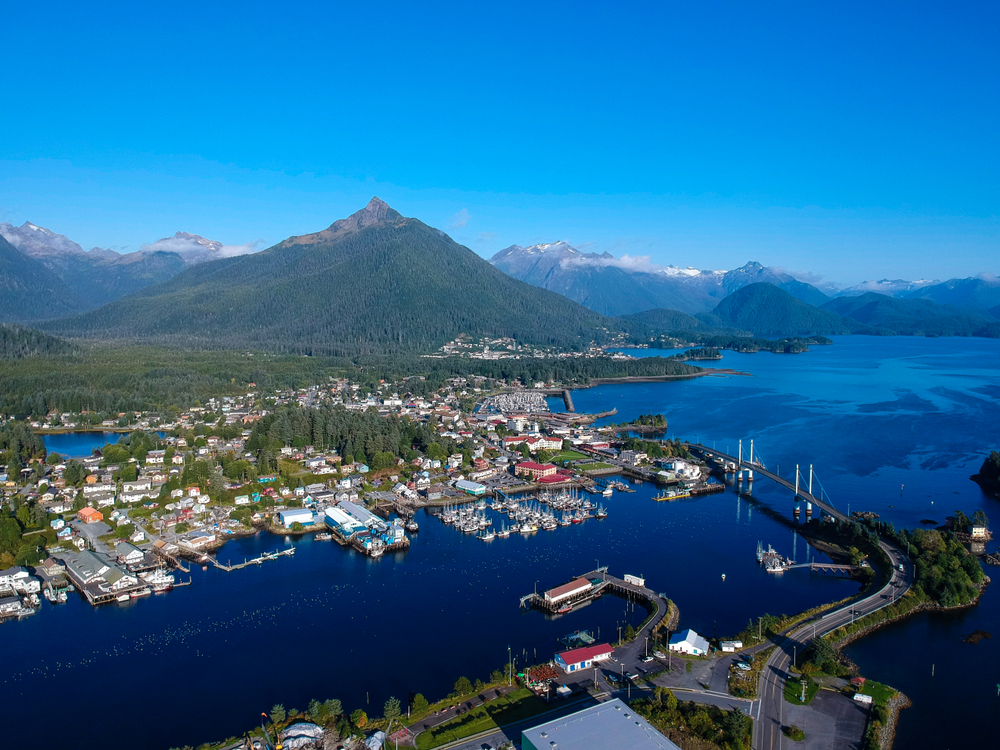 Skagway Is One Of The Most Beautiful Places To Visit In Alaska
Skagway is another town on the Inside Passage reachable by boat. It is one of the best places to go in Alaska for history buffs and nature lovers alike.
This town played an important role during the Klondike Gold Rush, and you can learn about this time period at the Klondike Gold Rush National Historical Park.
There are many historic buildings throughout town to spot as well.
One of the top sightseeing in Alaska activities is a ride on the White Pass & Yukon Route Railway.
Known as one of the most scenic train rides in the world, there are a couple of different excursions available.
The White Pass Summit Excursion is about 2.5 hours round trip. You will turn around at White Pass on the Canadian border.
If you want a longer day trip, book the Bennett Scenic Journey.
This 8-hour, 120-mile roundtrip train ride will give you jaw-dropping views of Alaska as well as British Columbia and the Yukon in Canada.
This is one of the most beautiful places to visit in Alaska.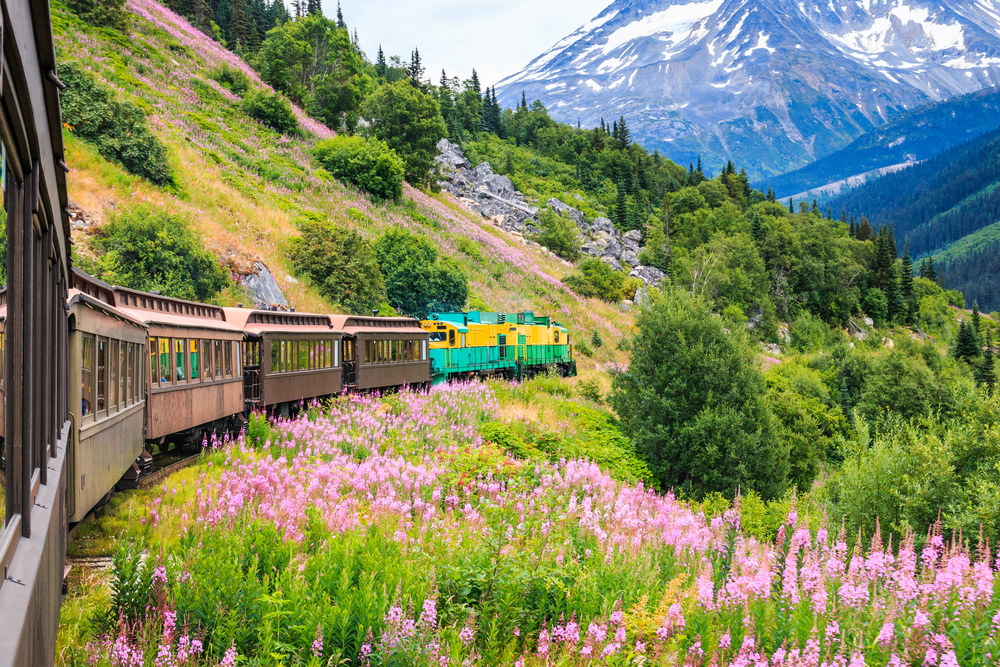 Seward Highway
If scenic drives are your thing, then the Seward Highway is one of the best Alaska places to visit for a road trip.
This 127-mile Alaska Scenic Byway connects Anchorage to Seward and can be driven in either direction.
You will make many stops along the way to take pictures and admire the views of forests, glaciers, waterfalls, and small towns. There are also great hiking trails along this route.
The 50 miles that follow the Turnagain Arm is a great area to spot beluga whales and other wildlife. You will love the vast, mountain views.
For some small-town charm, stop in Whittier or Moose Pass.
Overall, driving this highway is one of the best activities in Alaska!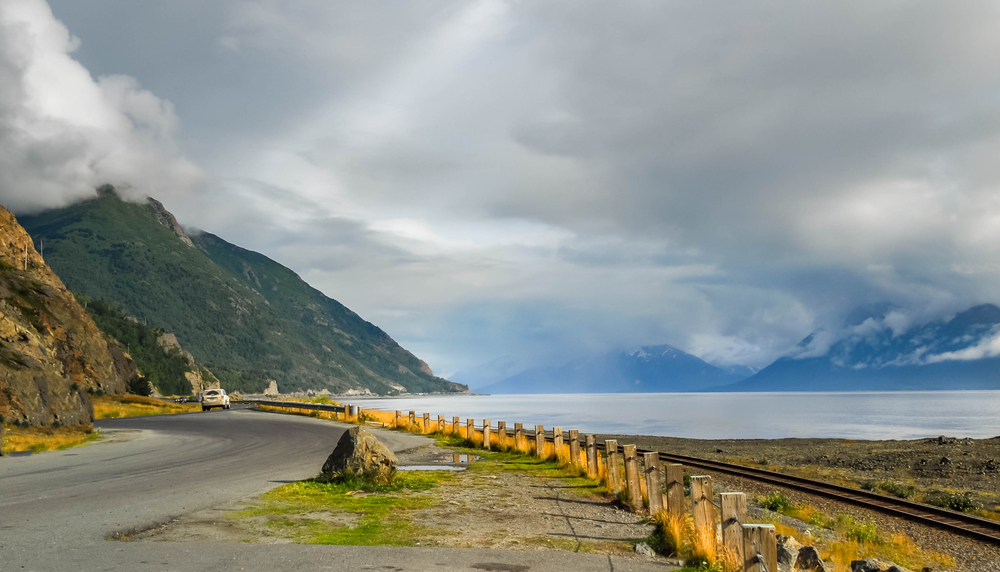 Chena Hot Springs
Just over an hour from Fairbanks, Chena Hot Springs Resort is a fantastic day trip in Alaska. You can also stay at the resort in the lodge, cabins, campground, or other accommodations.
The resort has an outdoor hot springs lake and hot tubs as well as an indoor pool and hot tubs.
The hot springs lake is adults-only and is about 106 degrees Fahrenheit. The natural, mineral spring water will leave you relaxed.
For even more relaxation you can enjoy a massage. This is a great idea of what to do in Alaska for couples.
The Aurora Ice Museum is super cool too! Open year-round and made of 1,000 pounds of ice, this museum holds many ice sculptures and an ice bar.
The resort also offers many outdoor tours no matter what season you visit Alaska. In winter, you can enjoy one of the best events in Alaska: the northern lights!
Hot springs are some of the best places to visit in Alaska and Chena Hot Springs is one of the best!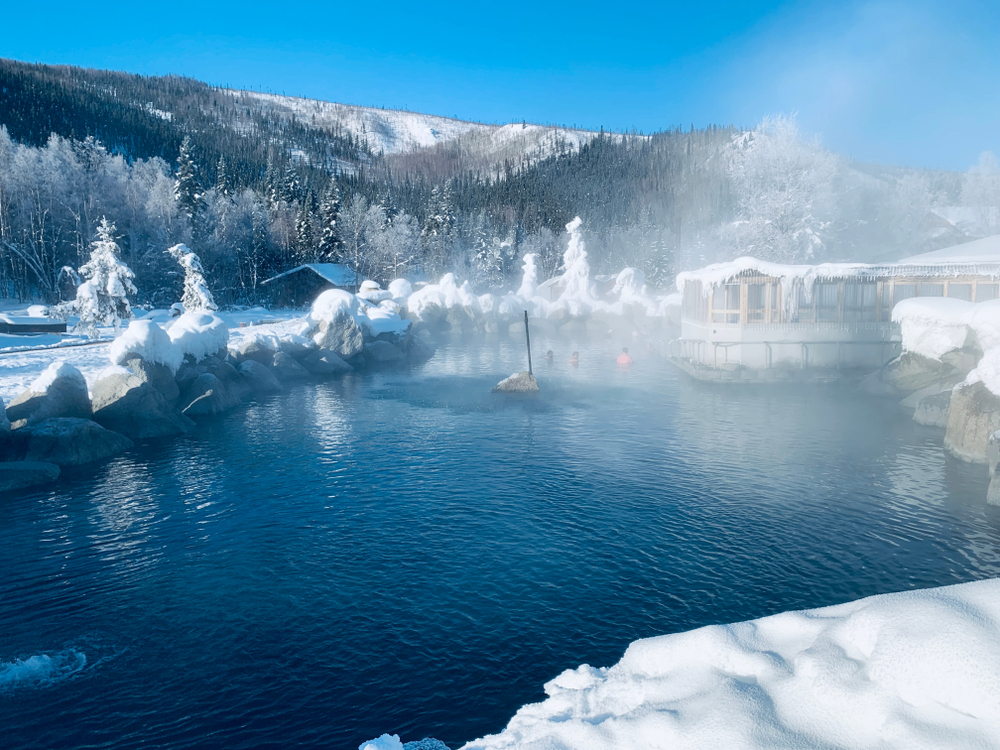 Packing List For Places To Visit In Alaska
If you will be traveling, either by plane or by car to Alaska, here are some tips on how to pack lightly.
A concealed travel pouch may be one of the most important items you bring along when visiting Alaska attractions.
It is always important to protect your personal information. Identity thieves are everywhere.
This unisex RFID-blocking concealed travel pouch is lightweight and comes in several colors. It has lots of organization to give you peace of mind.
You can place it under your clothes next to your body to carry your ID safely.
If you have a pouch already that does not come with RFID protection, as I do, these RFID sleeves are the perfect solution.
This configuration comes with enough credit card sleeves that the entire family would be protected. They are slim too, so they will easily fit into your pouch or wallet.
If you are planning on taking a lot of pictures with your phone you will definitely want to consider an external charging battery.
This Anker high-speed phone charging battery is the exact one I carry with me on all of my trips.
It can be used on a variety of phones, not just an iPhone as I have. And wow is it fast!
My daughter gifted me with this FugeTek selfie stick and tripod setup for my birthday. I absolutely love it! It is made of lightweight aluminum and so easy to use.
It has Bluetooth connectivity and is a breeze to use for taking photos.
You will want to bring your own refillable water bottle with you.
I never leave home on a trip without my Bobble filtration bottle. The 18.5-ounce size is perfect for hiking and it fits nicely in the pocket of a backpack.
Then this collapsible silicone foldable water bottle would work well for you. Would not take up much space at all.
You will want a backpack or daypack with you to store snacks, your water bottle, phone, extra clothes, etc… No matter the time of day or evening.
This foldable water-resistant backpack would be great.
It is very affordable and is available in many color options for you to choose from. The fact that it folds down into a zippered pouch will make it easy to pack.
—
If Alaska was not on your bucket list before, it should be now! There are so many amazing places in Alaska to visit!