Are you looking for national parks in Alaska? You are in the right place.
In this article, I will walk you through the best national parks in Alaska and tell you everything you need to know about visiting them.
There are so many epic places to visit in Alaska.
Planning your trip to Alaska last minute?
Make sure to book ahead! Hotels and tours can sell out the closer you get to your trip. Here are our top pics for Alaska!
Top Experiences and Tours in Alaska:
Best Alaska Hotels:
When it comes to Alaska national parks there are some epic ones to visit.
A state known for its incredible landscapes, expanses of wilderness, and remote locations, these parks offer visitors something unique.
Some of these parks have mountains, and some are covered in forest and ice but all are beautiful and epic in scale.
From the beautiful Denali National Park & Preserve Alaska to the incredible Kenai fjords, Alaska national parks have a lot to offer.
Alaska has many national parks for explorers and adventurers out there. In this article, I have included some of the most breathtaking ones.
I adore Alaska and what I love about it is how remote and quiet it is. The national parks in Alaska are not like others.
Most of them are challenging to get to and they don't have all the amenities you would expect elsewhere. However, for those that venture, the rewards are great.
So are you ready to take a wild ride through the Alaskan wilderness? Grab a drink, pull up a chair, and let me walk you through the Alaska national parks.
If this is your first visit to Alaska here are some things you need to know.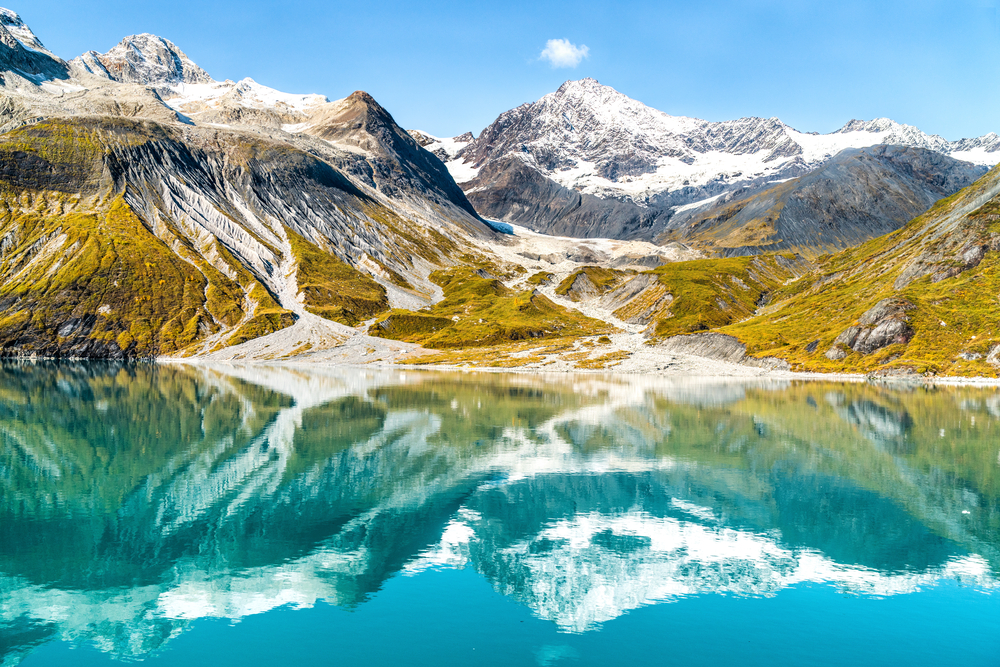 10 Epic National Parks In Alaska For Your Bucket List
Denali National Park And Preserve
Denali Alaska gives you six million acres of wilderness to explore. To put that in context it's the size of three Yellowstone parks.
At low elevation, this park is a taiga forest that gives way to alpine tundra and snowy mountains as you climb.
This park in Alaska United States contains North America's tallest peak, Denali which is 20,310 feet.
Here you will find tranquillity and solitude with only the wild animals for company. There are 39 documented species of mammals and over 650 species of flowering plants in this park.
Denali is probably one of Alaska's more popular parks and the best park to see wildlife. Couple this with the beautiful vistas and it's something special.
In interior central Alaska, the park is located about 120 miles south of Fairbanks.
It is one of the more accessible parks to get to. A visit here often forms part of the many cruise tours to this region.
There is one main road running through the park and special buses with guides and transit buses travel this route.
Tent Camping is allowed on established campgrounds around the park with RVs being allowed at the 0.25 mile and the mile 29 campground.
If you are backpacking or camping you will require a backcountry permit bought at least a day before your trip begins.
Climbers targeting Denali or Forake must register 60 days before the trip with the rangers.
Trails are well-marked and run from the entrance gate. For those more adventurous there is the 93-mile Park Road Trail and for experienced mountaineers, Denali offers a great challenge.
There are so many great ways to see this Alaska national park. Helicopter flights, whitewater rafting, and ATV tours are some of the more unusual.
Skiing and snowshoeing are also popular. Backcountry backpacking, basecamp exploration, and photography safaris are great tours to take for those that don't want to go it alone.
Summer temperatures range from 33 -75 °F, (.5-23°C) and snow can be found on the mountains in summer.
Winters are extremely cold and temperatures can get as low as 40 °F, 4°c. The park is open all year round.
This is one of the easier national parks in Alaska to navigate. A visit here will give you a great taste of the Alaskan wilderness and all it has to offer.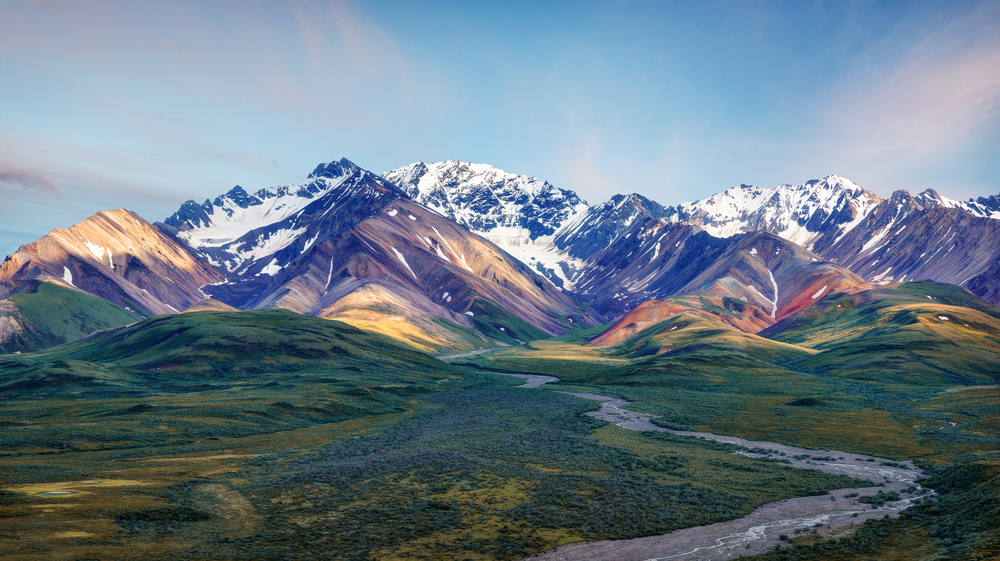 Glacier Bay National Park
With rugged mountains, breathtaking glaciers, Incredible coastline, fjords, and rainforests there is a lot to explore here.
3.3 million acres await you and this park is the highlight of Alaska's Inside Passage.
This Alaska park is also part of the world's largest international protected areas. It's the most visited of all the national parks in Alaska for a reason.
It truly is stunning and offers so many opportunities for exploration.
Glacier Bay Alaska is beautiful with its snow-capped mountains, spectacular glaciers, and green forests.
It is part of one of the largest internationally protected Biosphere Reserves in the world and also somewhat of a living laboratory with scientific experiments continually happening.
Most of the visitors to this park never put their feet on dry land. This is the national park that all cruise ships visit.
Cruise ships are accompanied by a national park guide who joins the ship and explains the surroundings to the passengers. Whales are a regular site here so keep your eyes out.
While most see this wilderness by boat, camping, hiking, backpacking, kayaking, rafting, and mountaineering are all available for those willing to go off the grid.
Flightseeing is also another amazing way to see this park from above
If you are going it alone Gustavus is the main hub but it is still very isolated.
You will find a free campground at Barlett Cove. Whale watching and other trips can be organized from the Huma Tlingit.
This Alaska park lies west of Juneau in the southeast region. It can only be reached by plane or boat and there is only one road that connects Gustavus and the airfield.
In the summer temperates tend to range from 50-60 °F, 10-15°C, and in the winter between 3- -4 °F, -16, and -20°C.
Glacier Bay Alaska is one of those places in Alaska United States that everyone needs to visit in their lifetime.
If you are going on an Alaskan cruise here is a cruise packing list for you.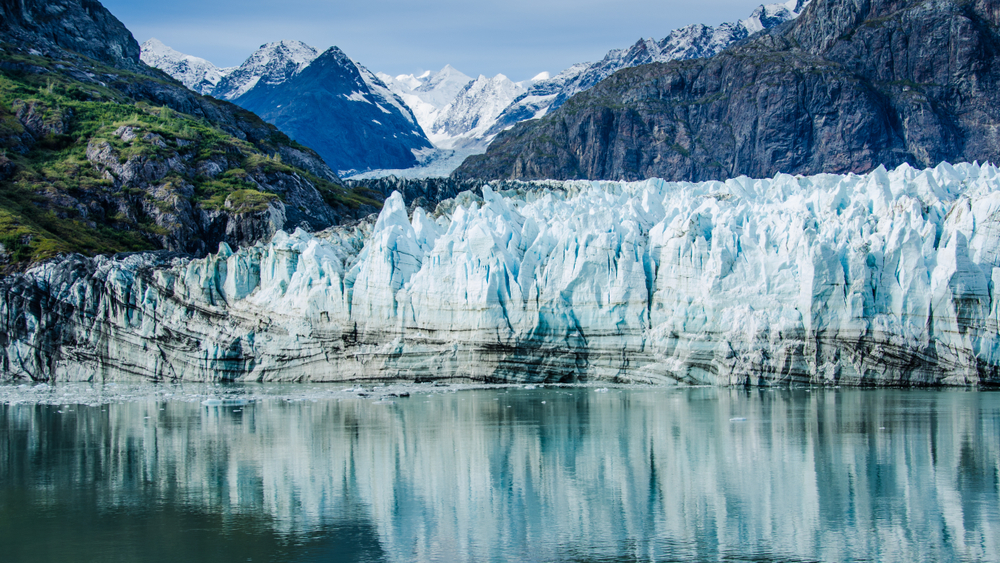 Kenai Fjords National Parks In Alaska
Kenai Fjords National Park is also one of the more accessible parks. In southcentral Alaska at the edge of the Kenai Peninsula, this park offers you a glimpse into what the ice age may have looked like.
Here lush forests rise to an expanse of ice to create something dramatic and mesmerizing.
About 2 ½ hours south of Anchorage its crowning glory is a reservoir of snow and ice the size of Rhode Island.
This reservoir feeds over 40 glaciers. It's known as the Harding Icefield and it really is stunning. Known as the Kenai fjords, or Alaska fjords tours can be organized in nearby Seward.
If you are looking for things to do in Seward this will help.
It's a great park for hiking and kayaking with boat and kayak tours the hottest tourist attractions.
You get up close and personal with some giant tidewater glaciers on these tours and it's an experience you won't forget.
You can purchase tickets the day of, or preferably online beforehand, for a 3 or 4-hour, or even day-long marine wildlife tour!
Summer temperature range from 40-70 °F, and 4-21°C and winter temperates can range from 30's- -20°F, -1-28°C.
The weather can change rapidly here though so keep that in mind. The park is open all year round with the peak months being June, July, and August.
Just north of Seward is the Exit Glacier. It is a rapidly retreating glacier that acts as a barometer for climate change.
You can take a guided trail to see this or for the adventurous take a challenging hike to Harding Icefield for those who don't want to see it from the water.
If you are thinking of visiting this Alaska national park here are some things to know before visiting the Exit Glacier.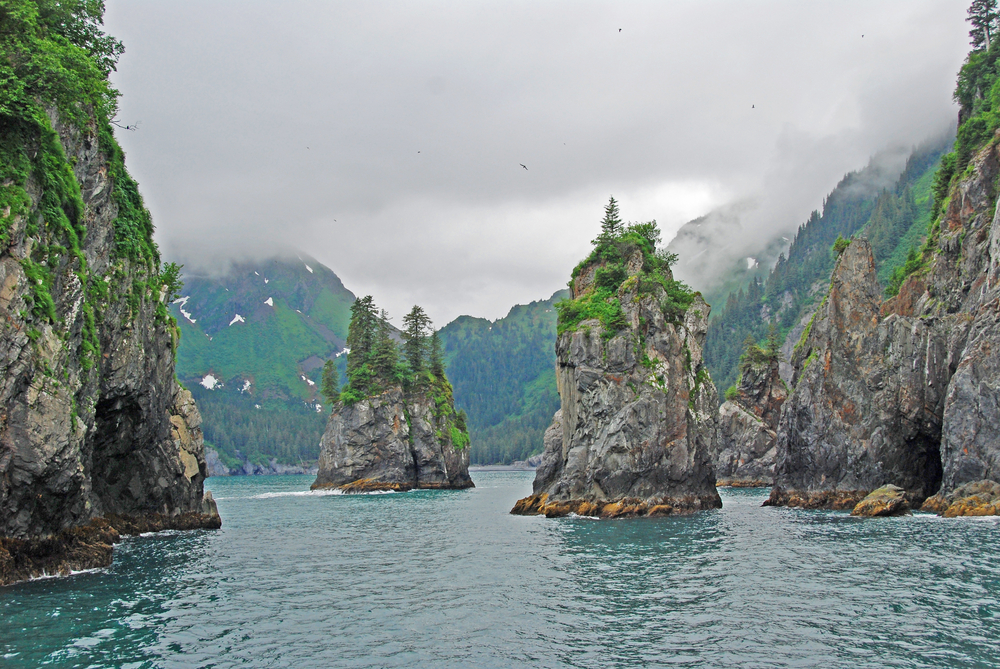 Wrangell-St Elias National Park In Alaska
This is one of the world's largest national parks, and the largest U.S. national park. It covers an area of 13.2 million acres.
That is the size of Yellowstone, Yosemite, and Switzerland combined for context. It is huge.
It is situated by Mount St. Elias which stands over 18,000 feet. This park is a place to have a real adventure offering hiking galore along its many peaks and glaciers.
In southcentral Alaska, this is a remote and isolated park. There is a permanent population of fewer than one hundred people so you really are by yourself here.
A shuttle bus takes visitors here from Glennallen from May to September. This is the best time to go and the best way to get to the park.
Glennallen is one of the most picturesque towns in Alaska!
The park is open all year round but some of the roads are closed in winter.
There is plenty of mining history to explore here and the main attraction here is the former copper mining towns of Kennecott and McCarthy.
Now ghost towns, part of these towns are in ruins and some are partly restored or fully restored. Tours are run by the national park service and they are well worth taking.
There are a handful of trails in the park, a glacier you can walk on, and some disused mining shafts but other than that it's all wilderness here.
This is serious backpacking territory for the experienced only. Mountaineering is a popular pursuit there and some of North America's largest volcanoes are there to explore.
The biggest of these is the 14,163ft Mount Wrangell (an active volcano).
Fly-in hiking is popular and air taxis are the best way to get around. Summer temperatures are pleasant here in the upper 60's °F, 20°C.
The winter months see an average high of 10 °F -12°C and lows of -7 °F, -21°C.
The wildlife here is plentiful but stays well away from humans. Take binoculars if you want to see mountain goats, caribou, moose, grizzly and black bears, and even bison.
This is one of the best national parks in Alaska for solitude.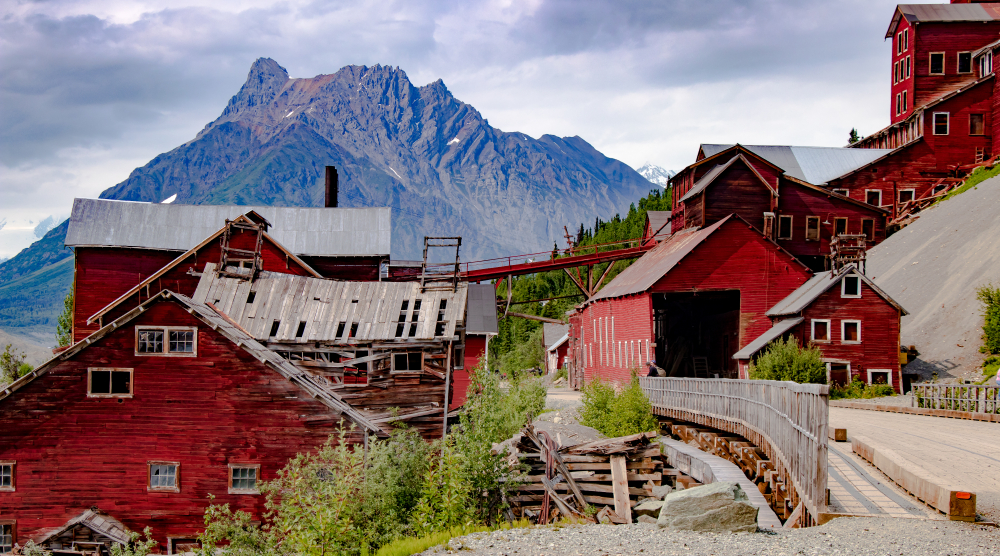 Gates Of The Arctic National Park and Preserve
With no roads and trails, this really is the definition of wild and remote. This area remains virtually unchanged since the day it was formed and is the best park for off-the-grid adventures.
Here you will find glacier-carved valleys and wild rivers against beautiful endless landscapes. Flanked by two mountains, hence the name, here wilderness really is at its best.
This is the northernmost national park in the United States and is situated entirely north of the Arctic Circle. In northern Alaska, it is about 200 miles north of Fairbanks.
The park boasts 145 bird species alone that share the space with over 200,00 caribous and countless other wildlife. This park has one of the last completely intact Arctic ecosystems.
There are no roads, no accommodation, no cell service, no campgrounds, and no trails. This is backpacking and camping as wild as it gets.
For that less experienced who don't want to go it alone, you can book guided trips normally a week in length.
There are six rivers in this Alaska park and kayaking or rafting is a great way to explore. Flightseeing trips are popular and wildlife spotting is too.
The terrain ranges from foothills to limestone and granite peaks. There is also low-lying wetlands and boreal forest. There are 8.4 million acres here to explore.
The park visitors center is in Bettles and access to the park is usually by small plane from either there or the ranger's station at Anaktuvuk Pass.
You can also hike in from Dalton Highway or Anaktuvuk Pass but there are river crossings, rugged terrains, and no trails to speak of.
The park is open all year round and temperature can vary from -17°F, -27°C in the winter to 71°F, 21°C in the summer.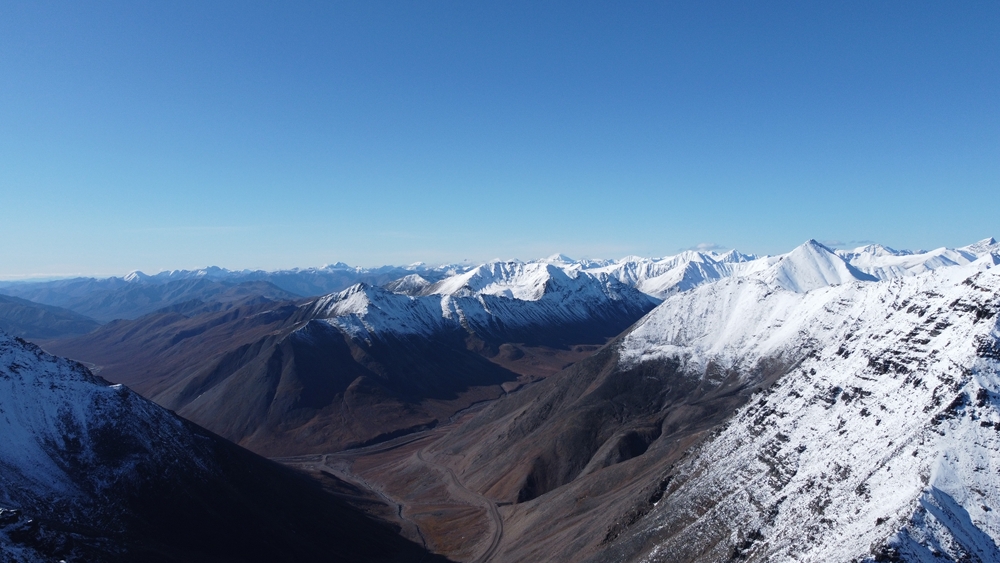 Klondike Gold Rush National Historic Park In Alaska
Formed in 1975 to preserve the history of the Klondike Gold Rush of 1897-98 this Alaska national park consists of four units.
There is a six-block historic business district, the Chilkoot Trail, a corridor comprising the White Pass Trail, and a visitor center in Seattle and in Skayway.
The park became an International Historical Park in 1998 and is managed by the U.S. NPS and Parks Canada. The National Park Service has to date restored most of the historic buildings.
Particularly in Skagway where the visitors center occupies the 1898 Railroad Depot. This center offers lots of free activities and events and resources to help you understand the area.
Your route to the goldfields starts in the ghost town of Dyea on The Chilkoot Trail.
It is often called the world's longest outdoor museum with 33 miles of great hiking leading into Canada. The park is made up of carved valleys, streams, and incredible vistas.
This park is another cruise ship favorite making it one of the most visited parks in Alaska. It offers a blend of history and outdoor adventure that is appealing to most.
While here you must visit Mascot Saloon, one of the 70 saloons that were open during Skagway's heyday. You can also tour the mountains on the historic White Pass And Yukon Railroad.
There is a 22-site campground in Dyea and nine campgrounds along the Chilkoot trails.
The park is near Skagway in southeast Alaska which is 96 miles north of Juneau and is reached by air or ferry.
You can also get there via the South Klondike Highway which can only be accessed from Canada.
Most of the park especially the buildings are only open from May to mid-October outside of this time the administration office is open.
The climate here is quite unique and the park is sandwiched between wet, temperate rainforest and the dry Yukon Interior.
Summer highs are in the 50s and 60s°F, 10-15°C, and winter 20s and 30s°F, -6–1°C.
You should add this to your Alaska itinerary!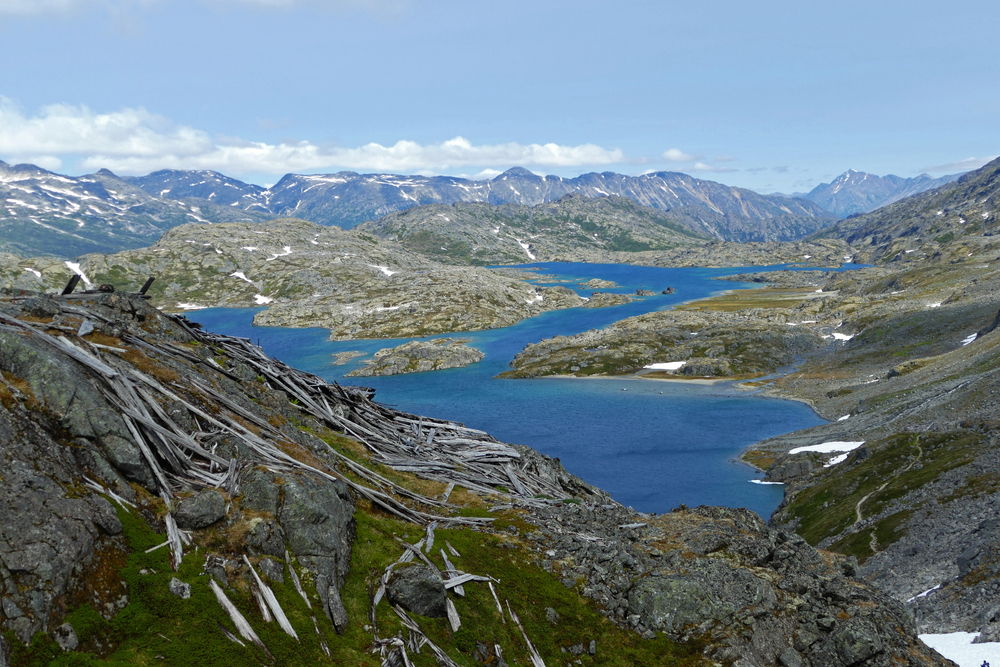 Sitka National Historic Park In Alaska
Sitka National Historic Park preserves the site of a battle between invading Russian traders and indigenous Kiks.ádi Tlingit in the Battle of 1804.
The coastal trail here is beautifully lined with Totem poles from the Tlingit and Haida areas.
It's Alaska's smallest national park at just 113 acres sitting on an island amid spruce and hemlock trees. It's the oldest federally designated park in Alaska and is within easy walking distance of Sitka.
The park displays Russian and Tlingit artifacts and the visitor's center shows a video on the park's history.
The Coastal Trail and the Russian Memorial Trails offer great hiking and the historic grounds of the Battle of Sitka are worth a visit.
You can explore by yourself or join one of the ranger's tours. There is also a Russian Bishop's House to explore which is the oldest intact Rusian building in Sitka.
The park is in the southeast region of Alaska. Sitka is on Baranof Island and can only be reached by air or sea, there is no road leading from the mainland. There is a ferry service.
Average temperatures range from 70 °F, 21°C in the summer to 20°C,-6°C in the winter.
If you love history then this is one of the best national parks for you.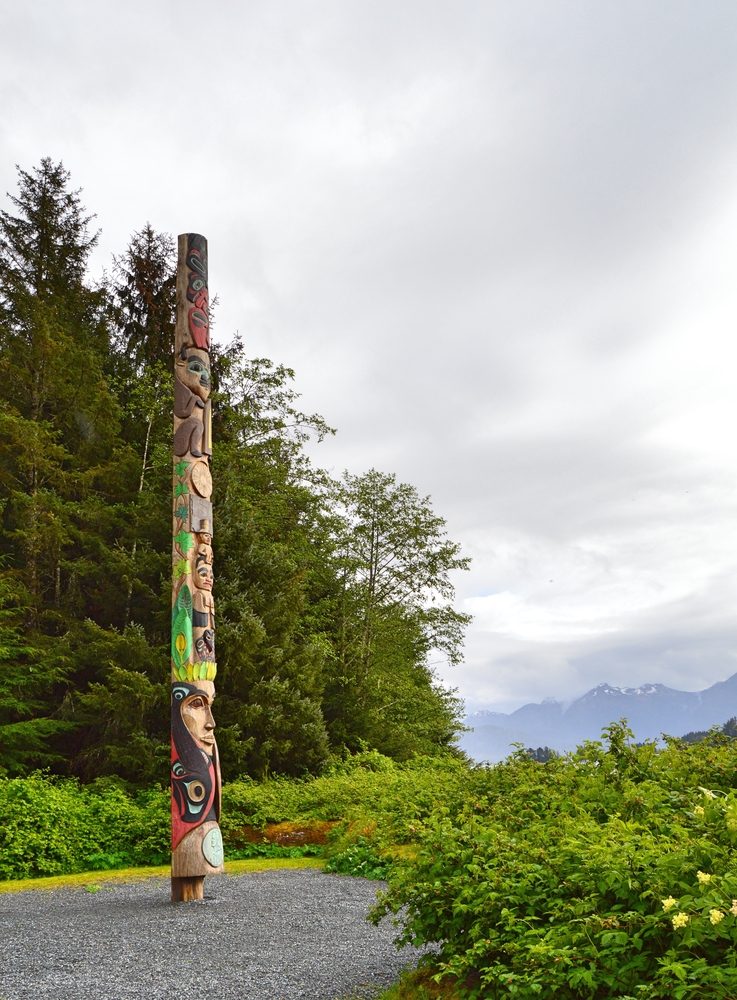 Yukon-Charley Rivers National Preserve
Here you will find yet again a hardly touched landscape. Gold rush remnants, wildlife, and epic scenery wait for you in this wilderness.
The best and most popular way to see this park is by floating down the Yukon River or paddling down the Charley River. Whichever you do there are 2.5 million acres to explore in interior Alaska.
Camping, hiking, watching wildlife, and exploring historic sites are all activities available here.
This is one of the most spectacular places for camping in Alaska.
It's the breeding ground for the endangered peregrine falcon and is the calving ground for what is known as the Forty-mile caribou herd.
The Charley River is often referred to as one of the most spectacular rivers in Alaska with rapids from Class II to class IV.
Most going here will charter a flight to Gelvin's Airstrip which is near the headwaters of the river.
They then float from there to Circle which is on the Yukon. Or you can float from Eagle to Circle on the Yukon with is a 158-mile trip typically taking five days.
There are no trails on the preserve and the hiking is limited so you will need to stick mainly to game trails or old mining trails.
There are no roads and no designated campsites. Backcountry camping is permitted but you are very much on your own out here.
In the summer months, the days are hot and the nights are cool and thunderstorms and high winds are commonplace.
Rivers begin freezing in October and winter is cold with snow. The park is open all year round.
This is one of the best national preserves in Alaska for isolation.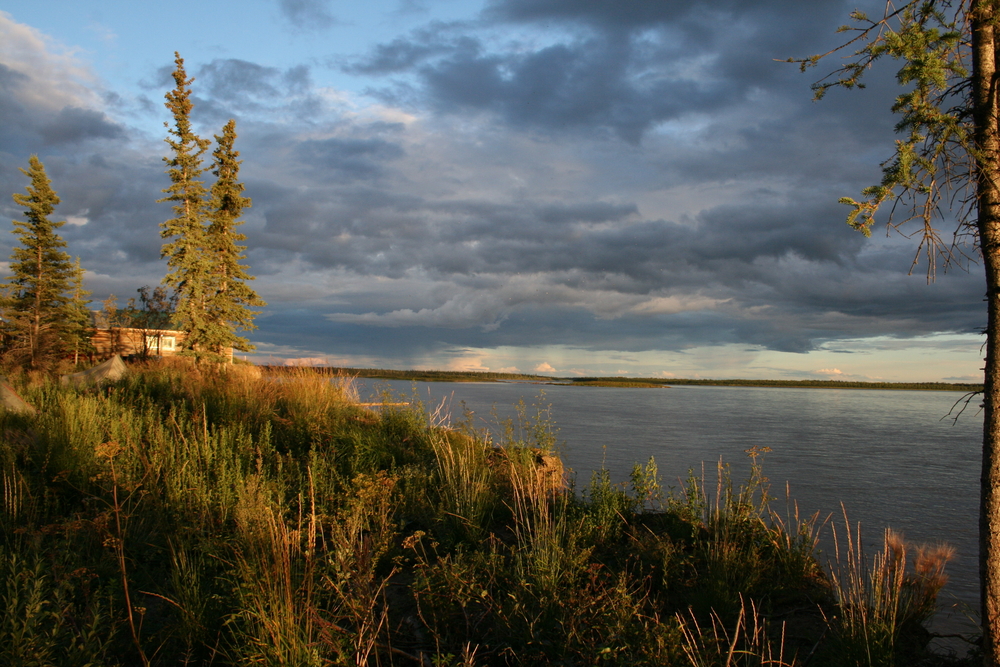 Katmai National Park And Preserve
If your main reason to come to Alaska is to see brown bears then this is the park for you.
It's also home to an active volcano which at one point was recorded as having the largest volcanic eruption in Alaska's recorded history.
Most of the pictures of bears that you have seen were probably shot here. In fact, it was probably shot at Brooks Falls, Alaska where the bears come to catch spawning salmon.
Other good bear-spotting locations include Hallo Bay, Geographic Harbor, Swikshak Lagoon, and Moraine Creek/Funnel Creek.
In this park, you will find broad rivers, large mountains, and the Valley of Ten Thousand Smokes. This valley is where the desolate remains of the Novarupta eruption in 1912 lie.
Hiking here isn't easy as the park only has five miles of maintained trails, the rest is backcountry and it's best to go with a professional who knows the area.
The best way to see the park is from the water on the 80-mile Savonoski Loop which can take anywhere between four and ten days to complete.
This is a fly-in-only park with rustic all-inclusive accommodation available at Brooks Lodge. You can organize trips in Anchorage.
Brooks Camp is the most populated destination with a campground, rangers stations, and visitors center. All visitors must attend a bear safety talk.
The park is 4 million acres so make sure you have an Alaska national parks map and are experienced before you venture out.
This is the best national park in Alaska for bear spotting.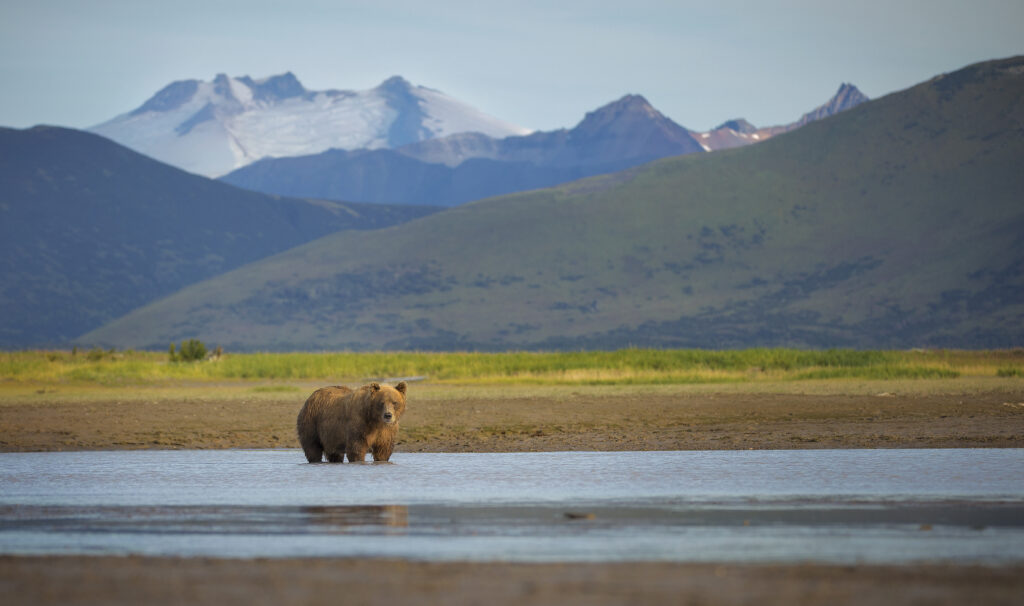 Chugach National Forest
I know this isn't a national park but I wanted to include it because it's beautiful and relatively easy to visit unlike some of the other destinations in this article.
This national forest covers an area of 6.9 million acres. It begins 35 miles south of Anchorage on the Seward Highway.
One of the most visually beautiful and award-winning drives from Anchorage to Seward is along the Seward Highway!
It covers the northeastern quadrant of the Kenai Peninsula, including Whittier, Moose Pass, Hope, Seward, and Cooper Landing.
The landscape showcases pretty much every geological zone in Alaska taking in the rain forest, boreal woods, wetlands, 20 tidewater glaciers, coastal inlets, and a snowbound coastal range.
The forest is accessed by various developed access points most having parking and toilet facilities.
There are two major visitor centers, dozens of campsites, public-use cabins, and 500 miles of maintained trails.
Hiking and biking are great ways to see this area, The Trails of Blue Ice is flat and family-friendly and Devils Pass trail is a mountain bikers heaven.
Also, worth considering is what's called The Whistle Stop. Here you take the Glacier Discovery Train to the Spencer Glacier Whistlestop where you can hike mountains or kayak among icebergs.
Chugach National Forest stretches across central Alaska temperature tends to range from 15°F, -9°C in the winter to 64°F, 17°C in the summer.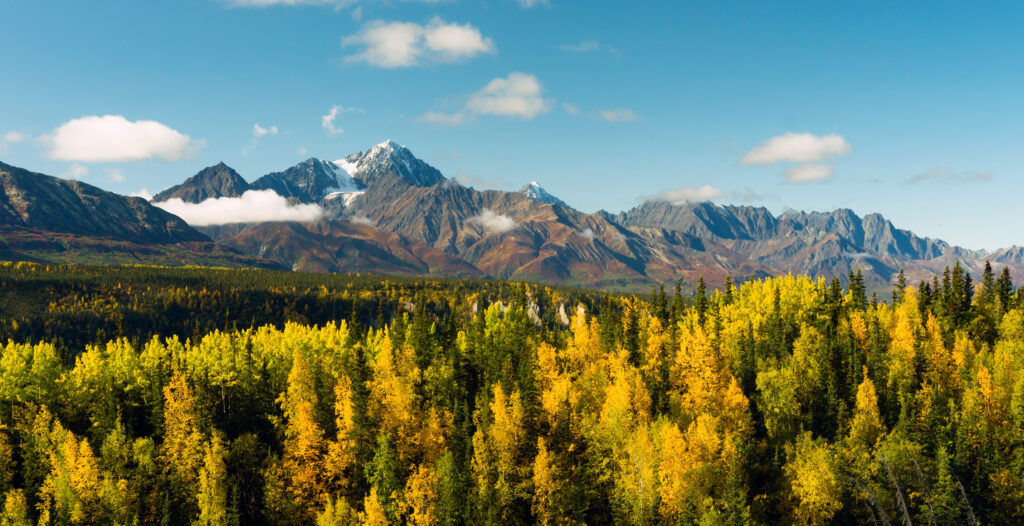 Packing List For Visiting National Parks In Alaska
If you will be traveling, either by plane or by car to Alaska, here are some tips on how to pack lightly.
A concealed travel pouch may be one of the most important items you bring along when visiting Alaska national parks.
It is always important to protect your personal information. Identity thieves are everywhere.
This unisex RFID-blocking concealed travel pouch is lightweight and comes in several colors. It has lots of organization to give you peace of mind.
You can place it under your clothes next to your body to carry your ID safely.
If you have a pouch already that does not come with RFID protection, as I do, these RFID sleeves are the perfect solution.
This configuration comes with enough credit card sleeves that the entire family would be protected. They are slim too, so they will easily fit into your pouch or wallet.
If you are planning on taking a lot of pictures with your phone you will definitely want to consider an external charging battery.
This Anker high-speed phone charging battery is the exact one I carry with me on all of my trips.
It can be used on a variety of phones, not just an iPhone like I have. And wow is it fast!
My daughter gifted me with this FugeTek selfie stick and tripod setup for my birthday. I absolutely love it! It is made of lightweight aluminum and so easy to use.
It has Bluetooth connectivity and is a breeze to use for taking photos.
You will want to bring your own refillable water bottle with you.
I never leave home on a trip without my Bobble filtration bottle. The 18.5-ounce size is perfect for hiking and it fits nicely in the pocket of a backpack.
Then this collapsible silicone foldable water bottle would work well for you. Would not take up much space at all.
You will want a backpack or daypack with you to store snacks, your water bottle, phone, extra clothes, etc… No matter the time of day or evening.
This foldable water-resistant backpack would be great.
It is very affordable and is available in many color options for you to choose from. The fact that it folds down into a zippered pouch will make it easy to pack.
—
As you can see when it comes to national parks in Alaska, there are so many to choose from. I've included a diverse range here but I have left out lots too such as Lake Clark, Alaska.
Whether you are looking for Alaska fjords or want to visit Glacier Bay Alaska or perhaps want to spend lots of time alone in the forest Alaska delivers.
There really is nothing else that compares to Alaska national parks. Whichever you visit you will have an amazing time.
Please come back and let me know which one you visit and how your trip goes.