.I was thrilled when my daughter Victoria invited me to celebrate her twenty-fifth birthday in Paris, France, the City of Lights! That excitement quickly turned to fear when I realized I would have to travel alone from Europe back home to the United States. I hadn't been overseas since I was a teenager, and the thought of flying all that way, making connections in foreign countries, and going through customs by myself was daunting. Well, I indeed did travel home, made my connections and went through US Customs. Alone. Here are my tips for becoming a  Savvy Solo Senior Traveler.
 Savvy Solo Senior Travelers Do Research and Plan Ahead
Planning, reserving and confirming sooner rather than later will lessen fears of the unknown. Once your destination is resolved with target dates, you can then turn your attention to researching airlines and land transportation.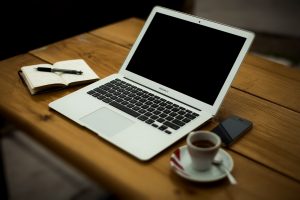 I selected times and flights that I was comfortable with and worked with my schedule. I realized our Paris Air B&B was situated one hour from Charles de Gaulle Airport, and since I'm not an early riser, a mid-morning flight suited me just fine. My target to be at the airport was three hours before my international flight's departure. That meant I had to leave the flat 0600h. The subways were too complicated for me to navigate alone, and it would have been too difficult to negotiate stairs with my luggage, so I opted for UBER transportation. That turned out to be quite an eventful trip! More about that later.
Because I 100% absolutely HAD to be at an appointment the morning after my travels brought me home, I chose an itinerary that gave me a generous three hour cushion of time between my flight connections. Fortunate for me it was in Dublin, Ireland, and I did not have to deal with non-English speaking personnel
Savvy Solo Senior Travelers Pack Lightly
You have heard this advice before I know. But it certainly bears repeating. If possible, depending on your destination, aim to pack everything in a roll-aboard suitcase, plus a medium-sized over-the-shoulder carry-on. This will save you a lot of time at your final destination airport. When you don't have an extra pair of hands to assist you with your luggage, you need to be extra thoughtful about how you pack. If it's in your budget, invest in high quality rolling carry-on luggage. Also, look for a smaller carry on bag that will stack neatly, or more importantly, attach to the top handle of your wheeled bag.
While I did purchase a new 21″ roll-aboard suitcase, I did not have a bag that stacked neatly or attached to my new suitcase. I did not give it a thought beforehand because I used a totally chic, totally humongous Victoria's Secret zippered bag. I could practically get inside of it. I could bring everything I wanted plus my kitchen sink. Yay me! Sadly, it was too large to sit securely and too heavy to balance on top of my suitcase. It was too heavy for me to carry comfortably over my shoulder and became cumbersome. Because of its weight, it would fall off the suitcase, changing the center of gravity. Simply put, it was difficult to travel with and a poor decision.
Savvy Solo Senior Travelers Have Proper Documentation With Them At All Times
A government issued passport is accepted as the highest level of identification by security worldwide. If you do not have a passport and plan to travel internationally, consider applying for your passport several months prior to your travel. You can obtain an application form at your local post office or online at passports.state.gov You will also need two official photographs, instructions provided in the application. AAA and some drug or warehouse stores are able to take them for you. No cell phone photos will be accepted.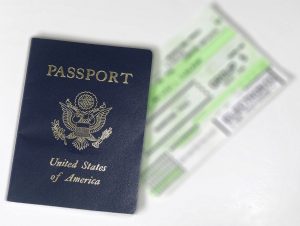 You will need to check in for your flight twenty-four hours before departure and obtain your boarding pass. If you are able, download your airline's app to your phone. This way you have the choice of either downloading your boarding pass to your phone (on the airline's app) or printing it out to bring it with you. Printing is easy if you are staying at a hotel, sometimes not so easy if you are not.
On the morning of travel, I had my passport and phone (with boarding pass downloaded) in a small purse I wear under my coat.
Savvy Solo Seniors and Security
Passing through immigration and security can happen in odd sequences, and not feel logical at all, especially when in transit between flights. Follow the signs! Whatever airport you are at.
Pack your bags so mandatory items can be easily and quickly removed at security. The most frequent error made by travelers is improperly packing LAGs (liquids, aerosols, and gels.) To remain in your onboard bag, LAGs must be in containers of 3 oz or less, and all these containers must fit into a one-quart bag that must be closed. (If it cannot be closed, you are packing more than the allowed amount.) Listen to instructions at security for the handling of your electronic devices. This varies from country to country. Finally dress comfortably. Shoes must be removed when traveling to or through the USA, and metal buttons and snaps often sound the security alarm. Don't forget to empty your water bottle before security. It can be refilled on the other side.
I would be remiss if I didn't add TSA Precheck and Global Entry as options to move through security more quickly and smoothly. You can find more information about TSA Precheck, a five year membership with an $85.00 fee, at www.tsa.gov/precheck, and Global Entry, also a five year membership, with a fee of $100.00 at www.cbp.gov. Global Entry provides the TSA Precheck benefit, plus expedited US customs screening for international travelers when entering the United States.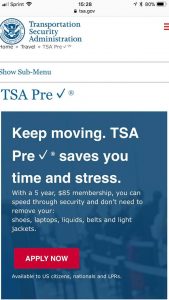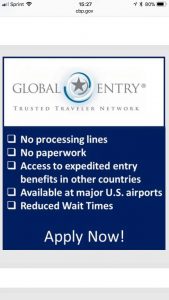 I opted for the Global Entry Program because of my future travel plans, but do your research and select the one most advantageous to you, if you are interested. Currently, all my paperwork has been completed and I have a face-to-face interview with a government agent at the Orlando International Airport the beginning of February to complete my formal application for Global Entry.
I usually always wear socks when going through security, since I have to most likely remove my shoes. I have a fave pair of black jeans I wear a lot. Like, a lot. They have big black buckles on either side of the waist. I never make it through security wearing those jeans. Too much metal and the alarms always sound meaning I have to endure more screening. It did not take me long to put those jeans in my carry on bag and not wear them on travel days.
Remember my Uber ride from my Air B&B in Paris to the airport? Once we arrived on the airport property, I became increasingly uncomfortable as the driver, following his Uber navigational device, was driving to the outer darker fields of nowhere. He stopped the car and turned to me and admitted in his finest broken English, "I cannot get you to the airport terminal, this is all my Uber Maps shows me." I was stunned. The sun had not risen yet and it was still inky black out. I was terrified. I asked Mr. Australian Siri, I call him Julian, on my phone to navigate me to the airport terminal, and he kindly agreed. For me, it was a safe and happy ending.
Do you have an unhappy or terrifying travel tales? Do you have any further travel tips or advice for traveling solo? Please share in the comments below. I would like to hear your tales and tips!
Pin this post by hovering your mouse over the photo below: