Will you be visiting Bratislava, Slovakia? Perhaps while on a Danube River riverboat cruise, or backpacking or road tripping through Eastern Europe? If you are wondering about Bratislava, Slovakia, and what to do when you visit you have come to the right place. I recently visited Bratislava, and I really liked the city, its history, and its warm and friendly people.
Bratislava, the capital city of Slovakia, is situated on the Danube River at the border of Austria and Hungary. It is Europe's newest capital city and the bridge between Eastern and Western Europe. 426,000 people call Bratislava home.
Here I have listed the top 8 best things to do in Bratislava, Slovakia that you do not want to miss out on. I hope you like Bratislava as much as I do!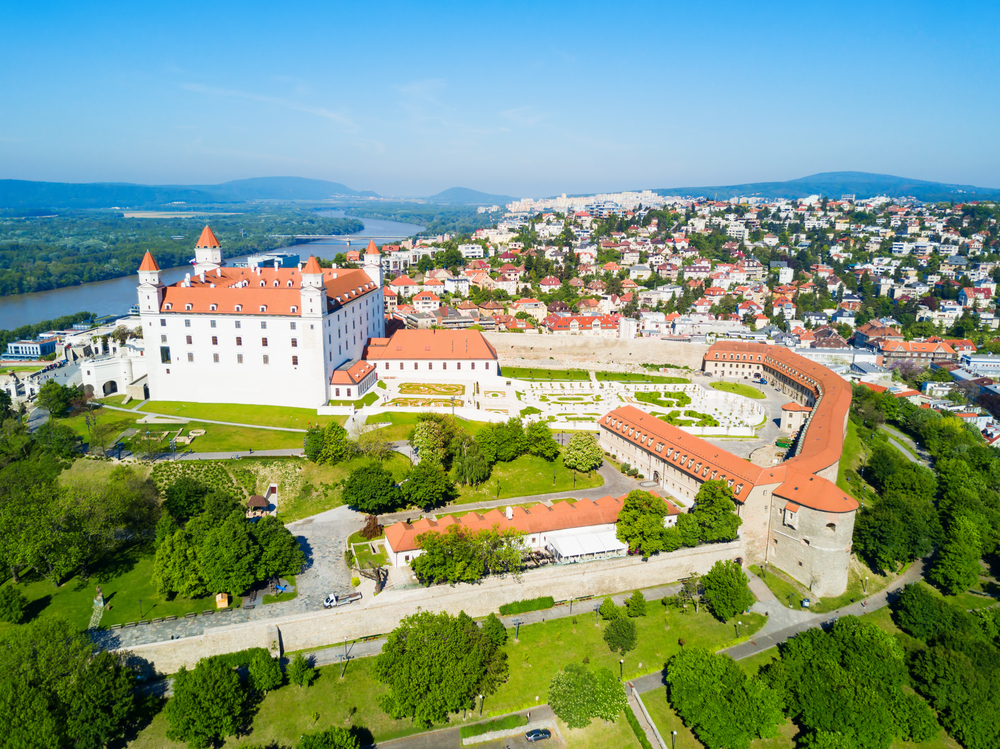 8 Best Things To Do In Bratislava That You Do Not Want To Miss
1) One Of The Most Popular Things To Do In Bratislava Is Visit Bratislava Castle
Overlooking the town and the River Danube, Bratislava Castle dominates the landscape. It has long been the symbol of Bratislava. Hungarian kings and queens have been crowned there. The Hungarian jewels have been housed there. During its history, it has gone from a fortress to a royal residence to a military garrison.
There was a fire at the castle in 1811, and the castle remained in a rubble until it was reconstructed after the Second World War to its original glory. The Slovakian National Museum is housed inside. If you find yourself hungry there is a lovely restaurant as well.
It is rectangular in shape and has four towers, one on each corner. Because it is perched high up on a hill, you may want to consider riding to the top. I was on a tour and rode a bus up to the castle and back down again. But it is possible to walk to the top and many people do.
In the Bratislava Castle courtyard, you will see an amazing view of the River Danube. One of the more popular things to do in Bratislava is to look out and view the Danube river from the castle compound. That said, it can be crowded. But if you are patient, a place will open up for you and your family to drink in the view and take memorable pictures. It is breathtaking and you can actually see how close Bratislava Slovakia sits to the Hungarian-Austrian borders.
There is no fee to enter the castle, only the museum.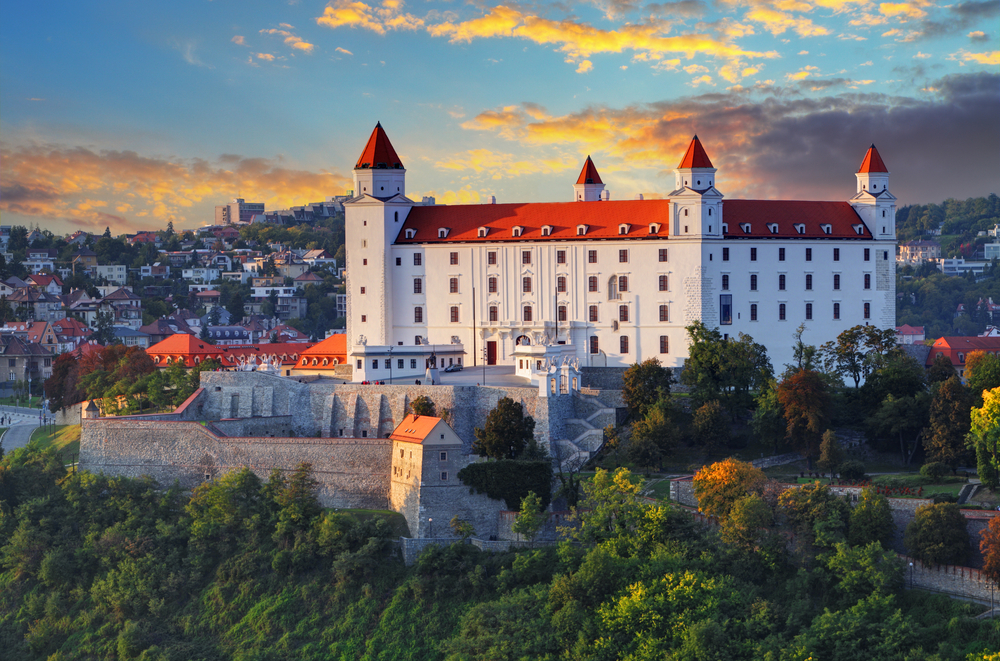 The imposing and historical Bratislava Castle sits high upon a hill overlooking Bratislava, Slovakia on the River Danube.
2) St Martin's Cathedral And The Underground Catacombs Are Very Interesting
Located below Bratislava Castle, St Martin's Cathedral is the second most popular visited tourist site and should be on your list of things to do in Bratislava. The church had been the coronation church of king and queens of Hungary for centuries. For those who follow European history, Queen Maria Theresa of the Hapsburg Dynasty was crowned in St. Martin's.
Named after Saint Martin, the Roman Catholic martyr who gave half of his coat to a beggar man who had no coat, the church is a stunning example of Gothic architecture, with a few Baroque inspirations.
There is no entry fee to enter the main church to look around. There is however a very small fee to tour the underground Crypt and catacombs. Cardinals, archbishops and members of royal families are buried there.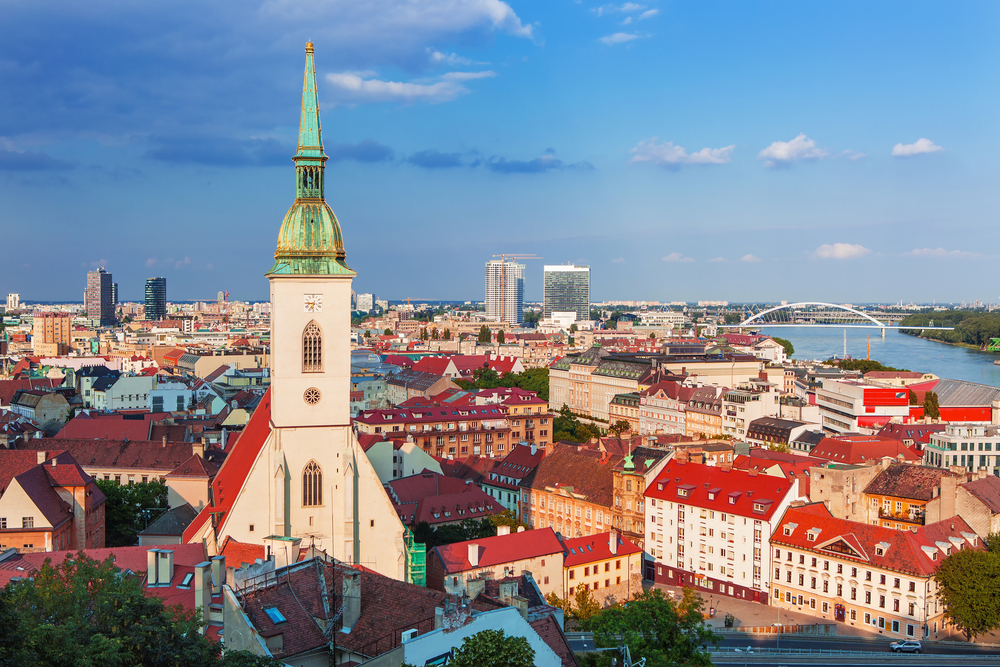 One of the interesting things to do in Bratislava is to visit the catacombs of St. Martin Cathedral.
3) Add Pink And Pretty Primate's Palace To You Things To Do In Bratislava Goals
Arguably one of the most beautiful buildings in all of Bratislava, 18th century pale pink and white Primate's Palace is a must see. It is located in Primate Square, very close to Bratislava's Main Square. It boasts royal oil paintings, most notably from the Hapsburgs, bright crystal chandeliers, and gorgeous tapestries.
The 'Hall of Mirrors' Room is simply exquisite and the only place inside the palace where you are permitted to take pictures. There is a lovely courtyard outside with a fountain and statue of St. George, slaying the 3-headed dragon.
There is a nominal fee to enter. But the opulence is so worth seeing.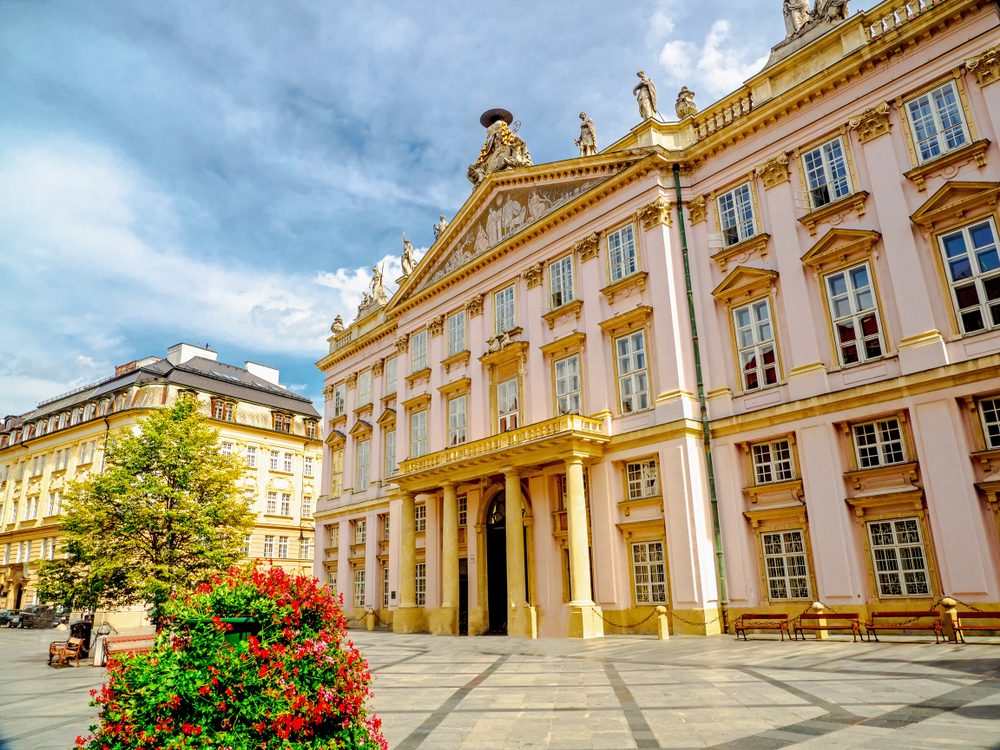 4) Enter Bratislava Old Town Through St. Michael's Gate
When I visited Bratislava with my family, we thought St Michael's Gate was stunning. It is one of three ways to enter Bratislava's Old Town. It must be a very popular way too because it was super busy and very crowded. There were cafes and restaurants open and souvenir shops galore. Local crafters set up booths too to tempt us with their wares.
As you approach St. Michael's Gate, you will cross over a bridge. On the left, you will see a nice green space below you. In warmer weather, the locals like to hang out there.
As you approach St. Michael's Gate, you should stop and look above you. St Michael's Tower is seven stories high! There is a museum inside, and an observation tower which gives you unparalleled views of Old Town Bratislava. You may consider touring St. Michael's Tower as one of the things to do in Bratislava you do not want to miss.
At the same time, look at the golden circle at your feet, also known as zero kilometers. It illustrates the distance from Bratislava to 29 other capital cities.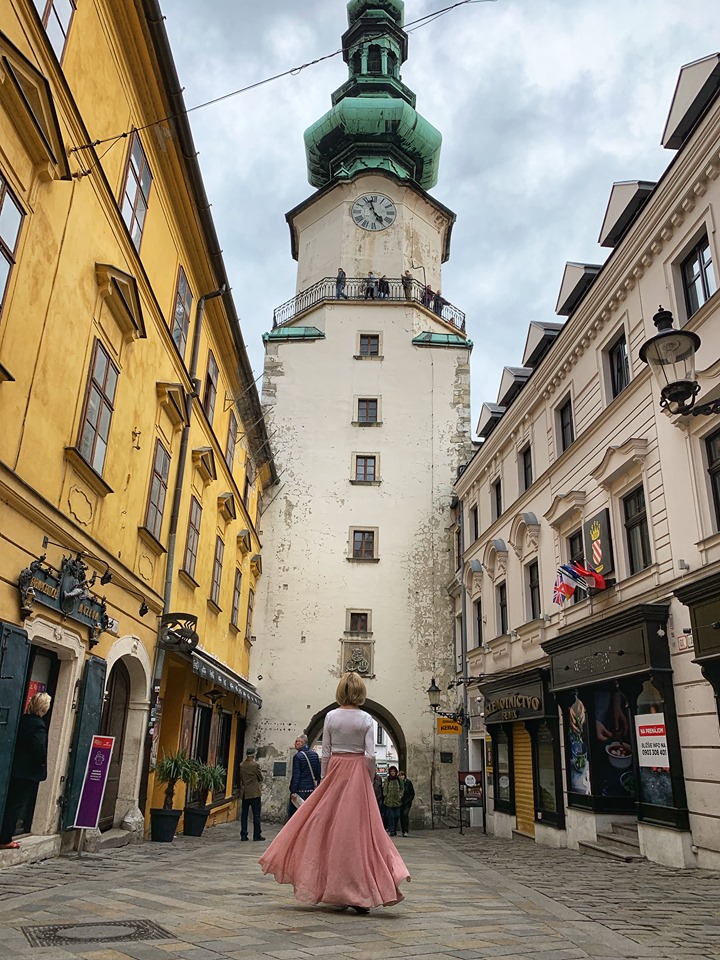 Here I am about to enter Old Town Bratislava through St. Michael's gate.
4) Historic Old Town Hall And Tower
The oldest city hall in Slovakia, and the oldest stone building in Bratislava, the Old Town Hall is a very worthy location to have on your list of things to do in Bratislava. It has killer views of the Old Town Square and top attractions in Bratislava.
There is a nominal entrance fee if you plan to climb the 3 floors up to the observation tower. But of course, you will want to, yes? The fee is much lower if you are only interested in the Museum of City History. The museum has interactive exhibits and displays of the local area. There are also audio guides for rent if you like them.
Once you reach the tower level, you are able to walk around and see Bratislava from a bird's eye view. Some of her most visited attractions are visible in the distance, such as St Martin Church and the Castle.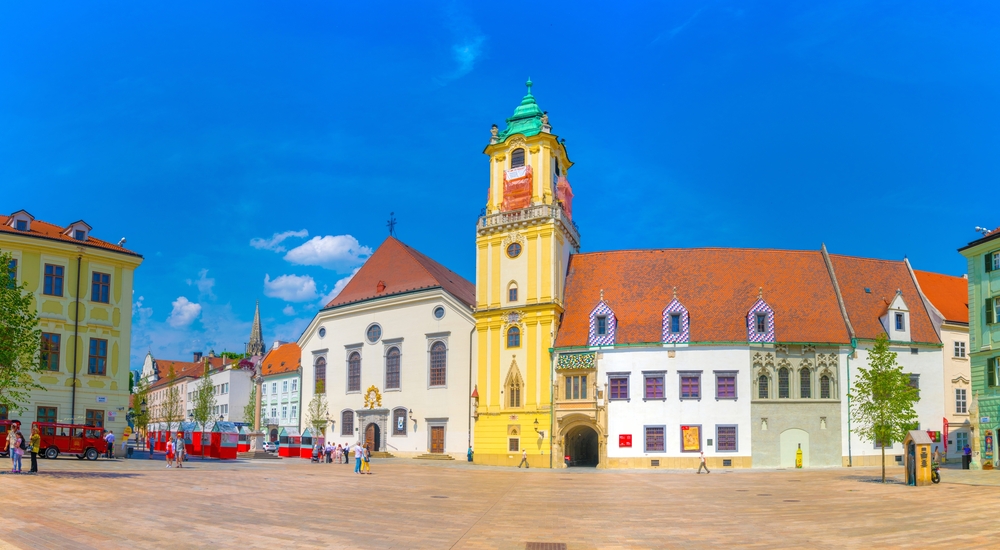 The historical Bratislava Old Town Hall. If you climb up into the tower, the views are spectacular!
5) The UFO Observation Lookout And Restaurant Will Be Unforgettable
You simply cannot miss the UFO Tower as it stands tall in the Bratislava skyscape. It is a few minutes walk from Bratislava's Old Town, and you can literally see the UFO Tower from just about everywhere in the city. The New Bridge or UFO Bridge spans the Danube River.
There is an admission fee to enter the observation tower only, but it is waived if you have dinner at the restaurant inside as well. The space ship looking observation tower and the restaurant can be reached by a short elevator ride and offers unparalleled views of not only Bratislava but the surrounding countryside as well. This experience will be an unforgettable experience to put on your things to do in Bratislava itinerary.
I spoke with several who visited the UFO Restaurant and Tower and hands down all shared it was an unforgettable experience.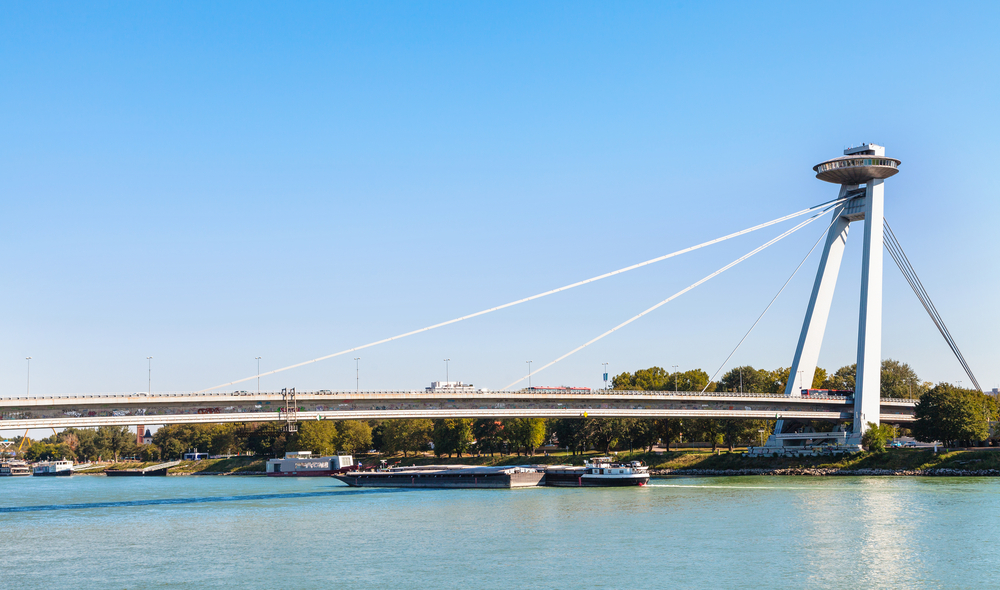 One of the extraordinary things to do in Bratislava is to visit the UFO observation lookout and see the fantastic views of the city. Having dinner or a cocktail would be a treat as well.
6) Looking For Bratislava's Whimsical Statues Is Really Fun
With a rich and long history such as Bratislava has, you are bound to see monuments, memorials, and figures as you explore Slovakia's capital city.
But here I am specifically referring to the whimsical bronze statues that surprise and delight locals and tourists alike in Bratislava.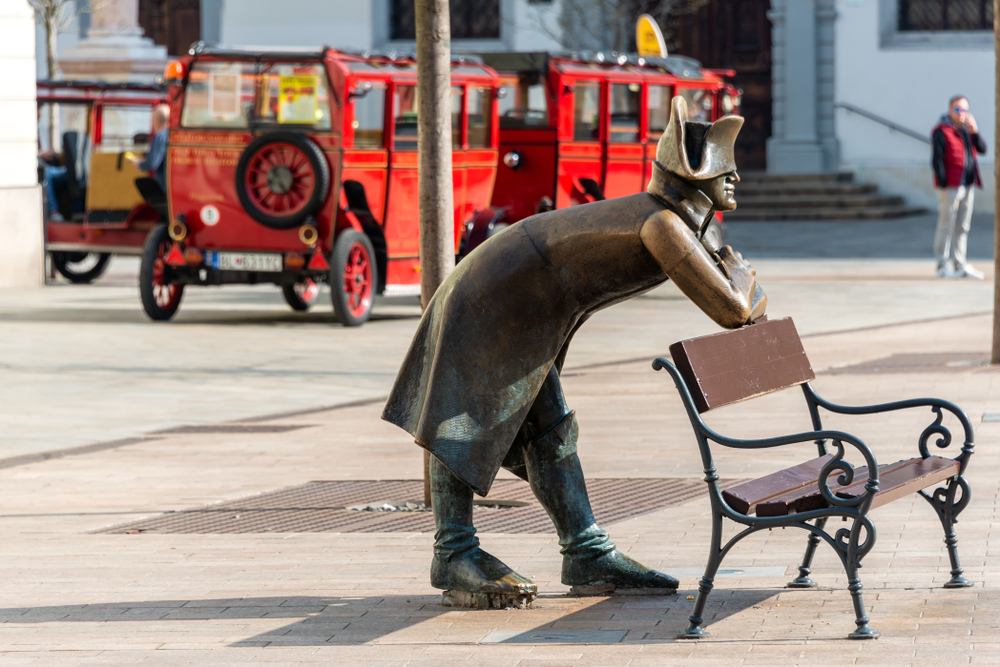 For example, maybe you would like to sit a spell and have a conversation with Napolean.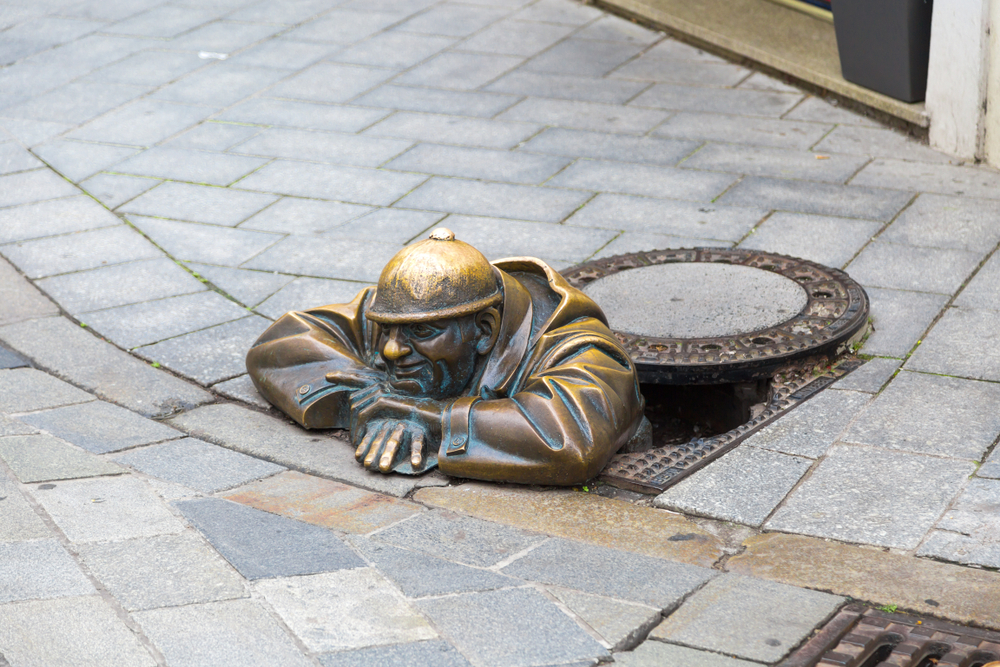 Or maybe you will pass this working man and figure out what he is looking at?
Unique and unusual statues are found everywhere in Bratislava. They add an interesting and fun element to your things to do in Bratislava list.
7) Visiting The Little Blue Church Is An Amazing Things To Do In Bratislava
Yes, it is true. A blue church. A true example of art nouveau, the exterior and the interior of this church are, you guessed it, blue! The mosaic tiles of the roof, the facade, and even the gate are all blue. The pews inside are blue as well, along with many blue accents.
Named the Church of Saint Elisabeth, who grew up nearby, it is not open on a regular basis. Hopefully, you will be fortunate, as we were, and the church will be open the day you visit. There is no entrance fee, but please be quiet and respectful if you enter the worship space.
If the Blue Church is closed, it is still really worth it though, to see its exterior and I urge you to make the 10-minute walk from Bratislava's City Center to see it.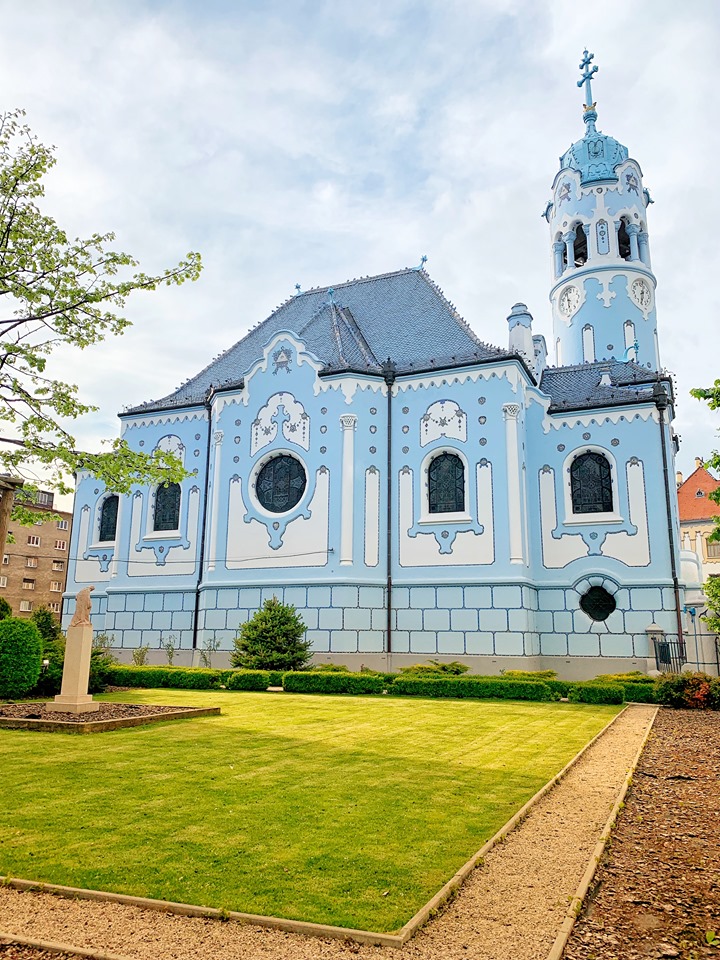 The lovely Blue Church is only a 10-minute walk from Old Town Bratislava.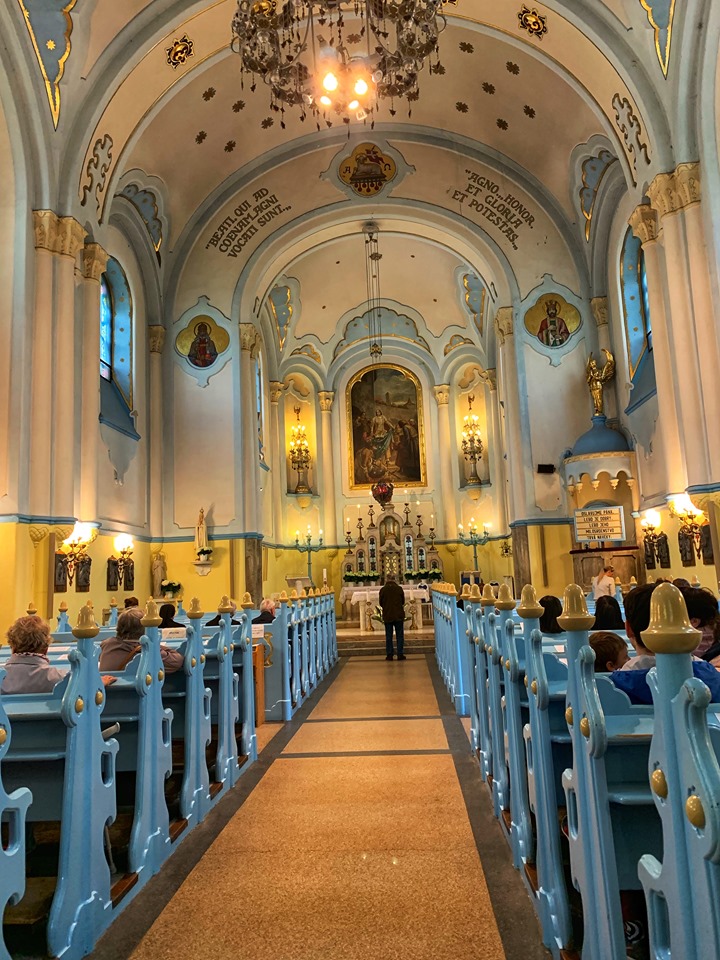 Even the inside of the Blue Church, also known as the Church of Saint Elizabeth is blue! This is certainly worth adding to your things to do in Bratislava list.
8) Eurovea Is A Lively Complex Along The Danube Promenade
Located within walking distance of Bratislava's Old Town, a new and lively district has arisen. Offices and trendy apartments, as well as chic shops and stores, are located at Eurovea. Much like the "mall" we westerners are familiar with, you may decide to check this Slovakian one out!
The crown jewel though, and a great reason to put visiting Eurovea on your things to do in Bratislava is the large pedestrian promenade along the River Danube waterfront. It is very popular and busy most of the time.
Restaurants, cafes, and bars spill out onto this amazing outdoor space. Take a walk from Bratislava for some exercise. Stop and stroll along the promenade along the Danube. Have dinner and or cocktails in one of the lively restaurants or bars. Or shop for some souvenirs. Whatever your reason, Eurovea is interesting enough to place on your things to do in Bratislava agenda.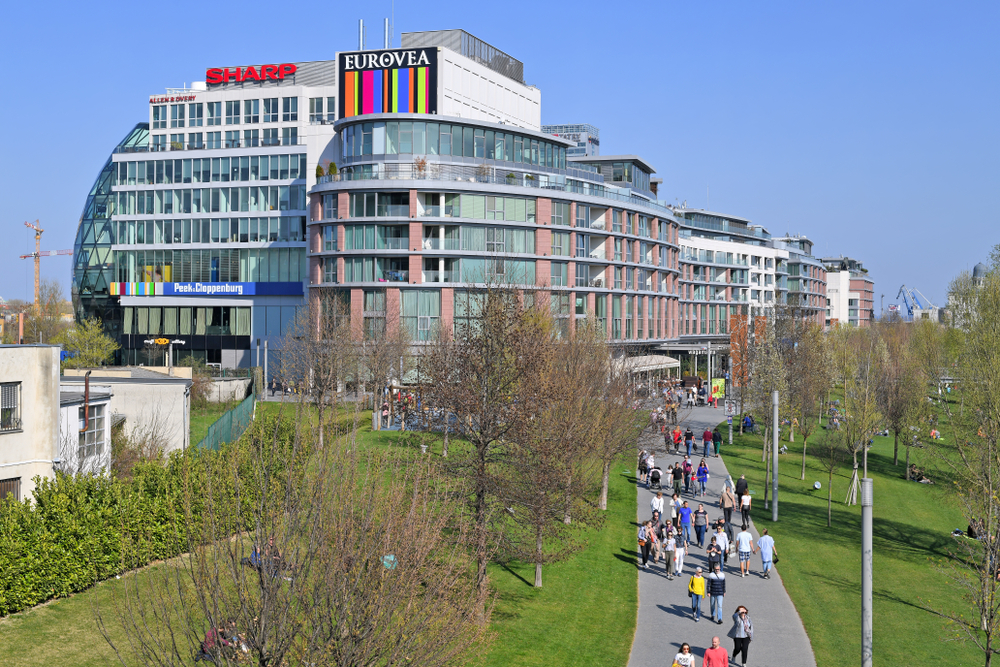 Eurovea and pedestrian promenade along the Danube River.
Here I have given you 8 great things to do in Bratislava that I know will enhance your visit there, no matter how long it is.
Have you ever visited Bratislava, Slovakia, the newest European capital? Did you love it as much as I did? What was your favorite part? Please use the comments section below and share!