Searching for the best things to do in Bratislava?
Will you be visiting Bratislava, Slovakia? Perhaps while on a Danube River riverboat cruise, or backpacking or road tripping through Eastern Europe?
Read my tips on how to remain healthy while traveling. No matter how you arrive in Eastern Europe, you want to be healthy to enjoy your trip!
If you are wondering about Bratislava, Slovakia, and what to do when you visit you have come to the right place. I recently visited Bratislava, and I really liked the city, its history, and its warm and friendly people.
Bratislava, the capital city of Slovakia, is situated on the Danube River at the border of Austria and Hungary. It is Europe's newest capital city and the bridge between Eastern and Western Europe.  426,000 people call Bratislava home.
If you are flying a great distance to get to Eastern Europe, here are 7 tips for surviving long haul flights.
Here I have listed the top 19 best things to do in Bratislava, Slovakia that you do not want to miss out on. I hope you like Bratislava as much as I do!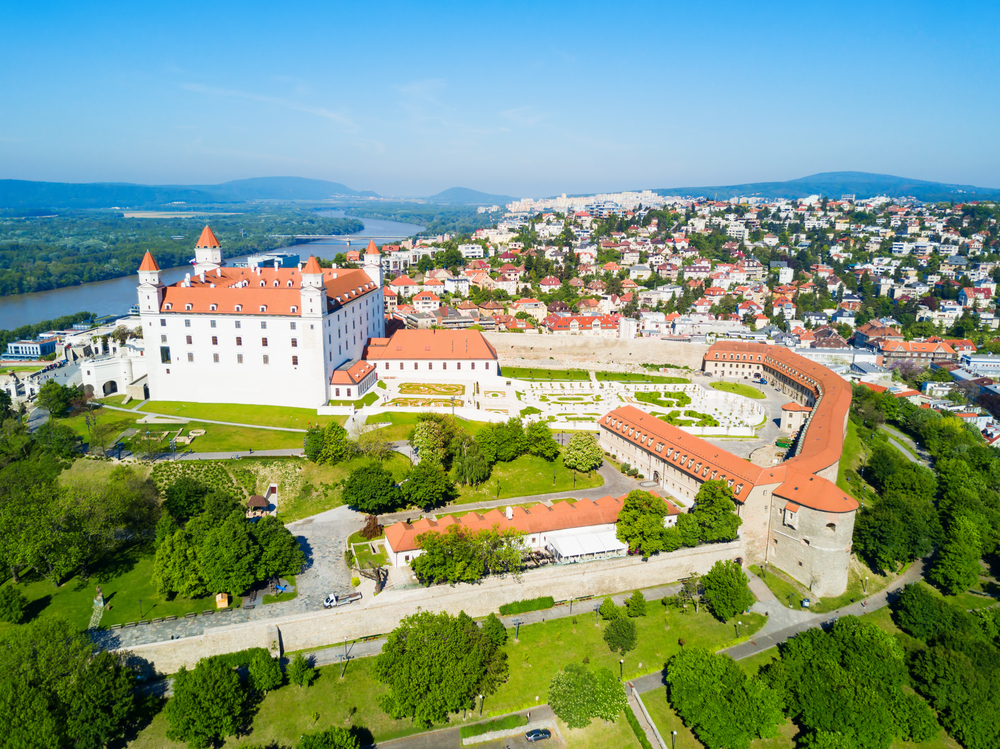 19 Best Things To Do In Bratislava That You Do Not Want To Miss
1) One Of The Most Popular Things To Do In Bratislava Is Visit Bratislava Castle
Overlooking the town and the River Danube, Bratislava Castle dominates the landscape. It has long been the symbol of Bratislava.
Hungarian kings and queens have been crowned there. The Hungarian jewels have been housed there. During its history, it has gone from a fortress to a royal residence to a military garrison.
There was a fire at the castle in 1811, and the castle remained in a rubble until it was reconstructed after the Second World War to its original glory. The Slovakian National Museum is housed inside. If you find yourself hungry there is a lovely restaurant as well.
It is rectangular in shape and has four towers, one on each corner. Because it is perched high up on a hill, you may want to consider riding to the top.
I was on a tour and rode a bus up to the castle and back down again. But it is possible to walk to the top and many people do.
In the Bratislava Castle courtyard, you will see an amazing view of the River Danube. One of the more popular things to do in Bratislava is to look out and view the Danube river from the castle compound.
That said, it can be crowded. But if you are patient, a place will open up for you and your family to drink in the view and take memorable pictures.   It is breathtaking and you can actually see how close Bratislava Slovakia sits to the Hungarian-Austrian borders.
There is no fee to enter the castle, only the museum.
Look here: Bratislava: Sightseeing Bus Tour with Castle Admission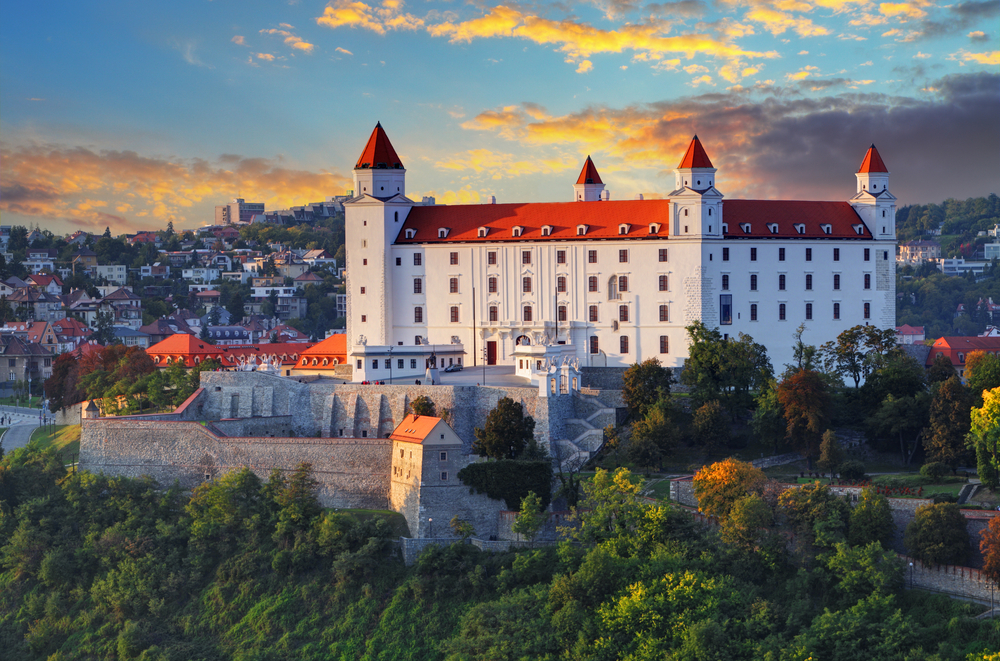 The imposing and historical Bratislava Castle sits high upon a hill overlooking Bratislava, Slovakia on the River Danube.
2) Slovak Parliament Building
Located on the hillside of Bratislava,  on the southeast corner of Bratislava Castle is the Slovak Parliament Building. This imposing building is where the National Council of the Slovak Republic meets.
Slovakia is a parliamentary democratic republic. Representatives to its multi-party platform are voted in for four-year terms.
Be on the lookout for the beautiful Statue of Liberty in front of the building.
Look here: Bratislava: Riverside, Castle or Complete City Bike Tours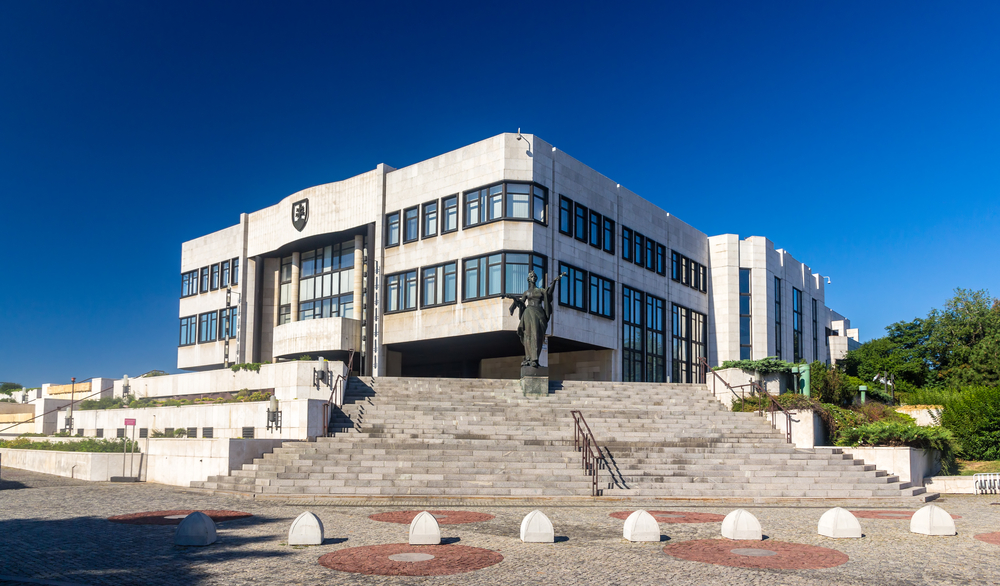 3) St Martin's Cathedral Is The Coronation Church
Located below Bratislava Castle, St Martin's Cathedral is the second most popular visited tourist site and should be on your list of things to do in Bratislava.
The church had been the coronation church of kings and queens of Hungary for centuries. For those who follow European history, Queen Maria Theresa of the Hapsburg Dynasty was crowned in St. Martin's.
Named after Saint Martin,  the Roman Catholic martyr who gave half of his coat to a beggar man who had no coat, the church is a stunning example of Gothic architecture, with a few Baroque inspirations.
4) The Underground Catacombs Of St. Martin's Are Intriguing
There is no fee to enter St Martin's Cathedral in Bratislava. Its gothic inspiration is unparalleled.
There is however a very small fee to tour the underground Crypt and catacombs. Cardinals, archbishops, and members of royal families are buried there.
Look here: Bratislava by Sightseeing Bus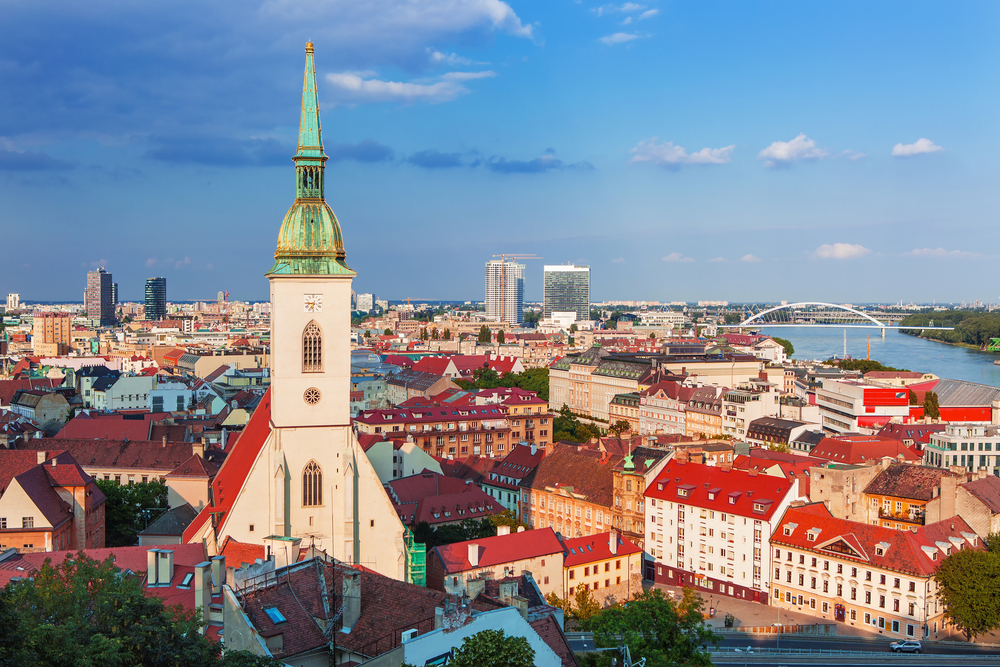 One of the interesting things to do in Bratislava is to visit the catacombs of St. Martin Cathedral.
5) Add Pink And Pretty Primate's Palace To Your Things To Do In Bratislava List
Arguably one of the most beautiful buildings in all of Bratislava, 18th century pale pink and white Primate's Palace is a must-see.
It is located in Primate Square, very close to Bratislava's Main Square. It boasts royal oil paintings, most notably from the Hapsburgs, bright crystal chandeliers, and gorgeous tapestries.
The 'Hall of Mirrors' Room is simply exquisite and the only place inside the palace where you are permitted to take pictures.
There is a lovely courtyard outside with a fountain and statue of St. George, slaying the 3-headed dragon.
There is a nominal fee to enter. But the opulence is so worth seeing.
Look here: Bratislava: Private Walking Tour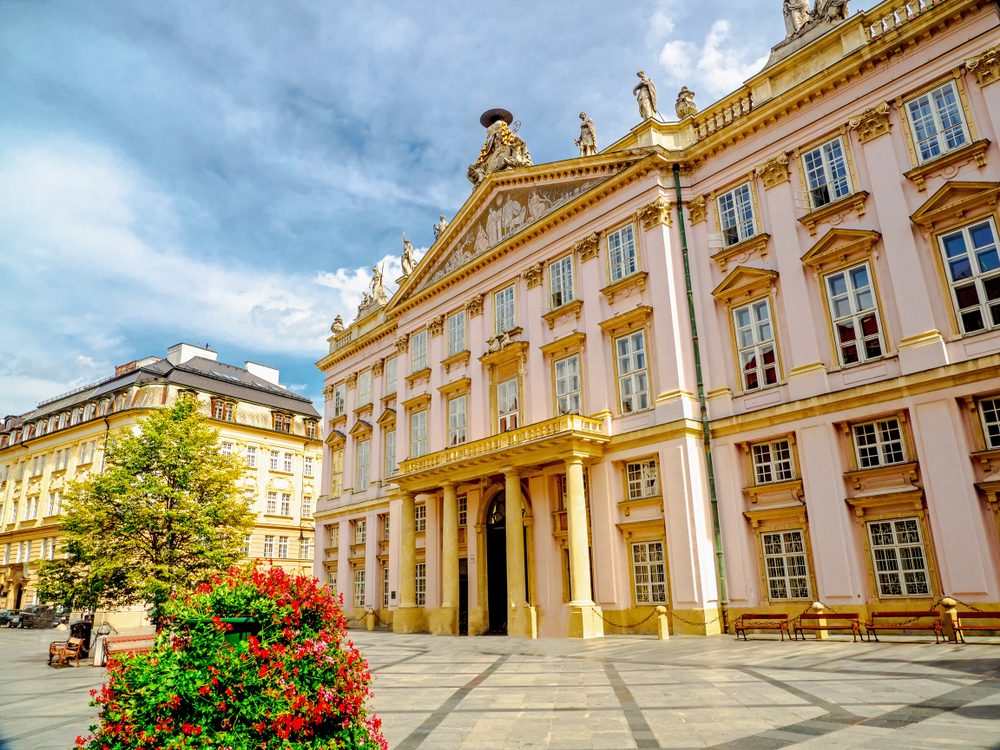 6) Enter Bratislava Old Town Through St. Michael's Gate 
When I visited Bratislava with my family, we thought St Michael's Gate was stunning.
It is one of three ways to enter Bratislava's Old Town. It must be a very popular way too because it was super busy and very crowded.
There were cafes and restaurants open and souvenir shops galore. Local crafters set up booths as well,  to tempt us with their wares.
As you approach St. Michael's Gate, you will cross over a bridge. On the left, you will see a nice green space below you. In warmer weather, the locals like to hang out there.
Look here: Bratislava: Taste of Slovakia Walking Tour
7) See Bratislava Old Town From St. Michael's Tower
As you approach St. Michael's Gate, you should stop and look above you. St Michael's Tower is seven stories high! There is a museum inside, and an observation tower which gives you unparalleled views of Old Town Bratislava.
You should consider touring St. Michael's Tower as one of the things to do in Bratislava you do not want to miss.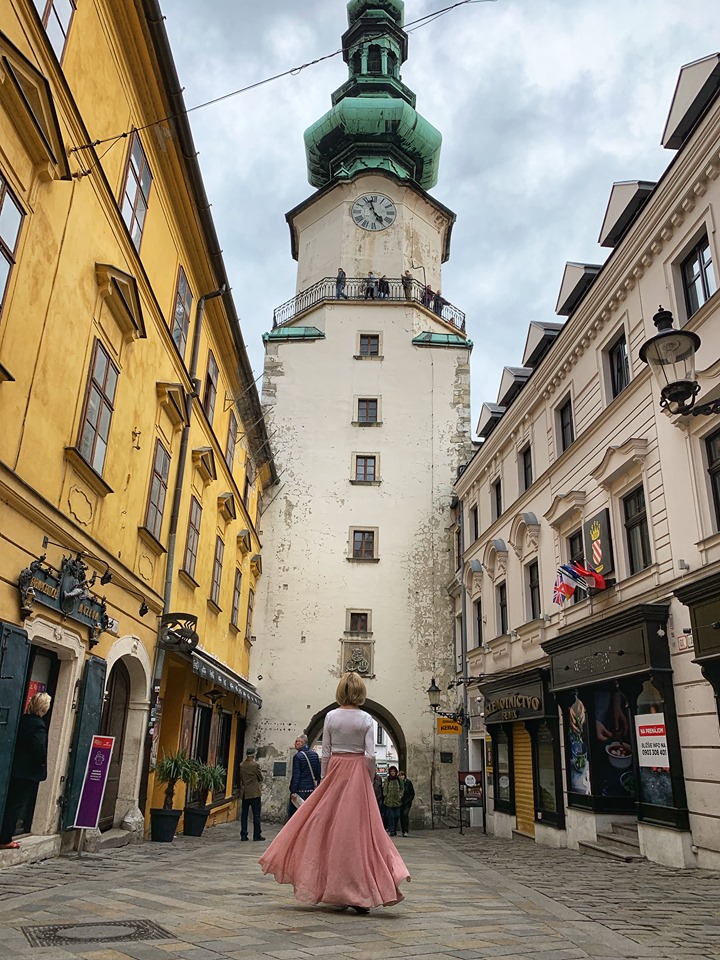 Here I am about to enter Old Town Bratislava through St. Michael's gate. St. Michael's Tower is above.
8) Discover 0 Kilometers In Bratislava!
As you walk through St Michael's Gate, stop and look at the golden circle at your feet.
It is known as zero kilometers. It illustrates the distance from Bratislava to 29 other capital cities.
Look here: Bratislava: Grand City Guided Tour
9) Historic Old Town Hall 
The oldest city hall in Slovakia, and the oldest stone building in Bratislava, the Old Town Hall is a very worthy location to have on your list of things to do in Bratislava.
Inside of this historic building, you will find the Museum of City History.  There is a small fee to enter. There are interactive exhibits and displays of the local areas. You can also rent audio guides.
10) Old Town City Hall Tower Has Epic Views
Located inside Bratislava's city hall, you climb up three floors to the observation tower to see Bratislava panoramic view! There is a small fee for this.
You will see some of the most popular sites such as St Martin Church and Bratislava Castle.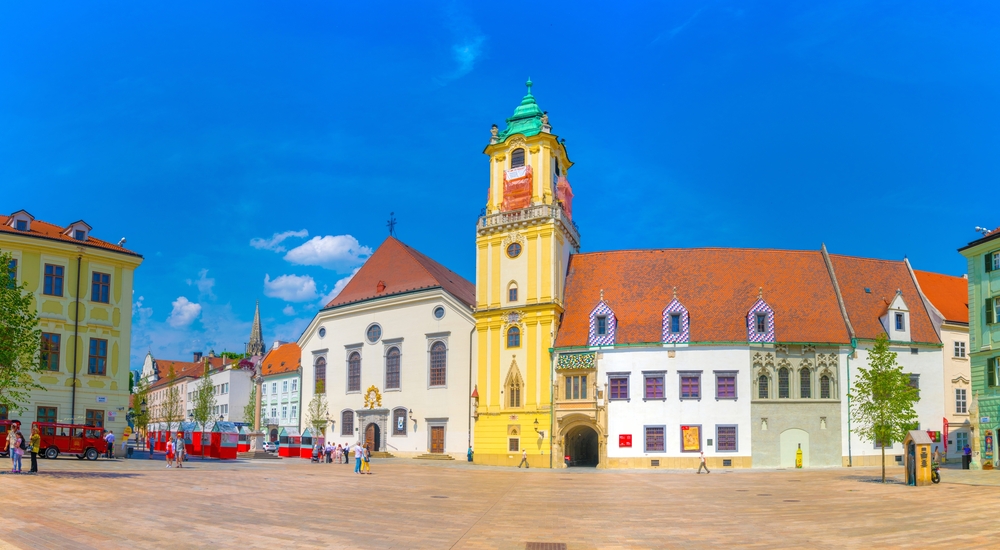 The historical Bratislava Old Town Hall. If you climb up into the tower, the views are spectacular!
11) Maximillian Fountain Is A Favorite Meeting Spot In Old Town Square
Located in Bratislava's Main Square is Maximillian's Fountain.
It is a very popular meeting place for tourists and locals alike.
It was commissioned in the 1500s so the local residents had a safe place to retrieve water. King Maximillian contributed to the building of the fountain.
A knight in armor, Roland, sits atop the fountain. He is known as being a fierce defender of the city. and the fountain is also referred to as Roland Fountain.
To this day it still has many traditions attached to it!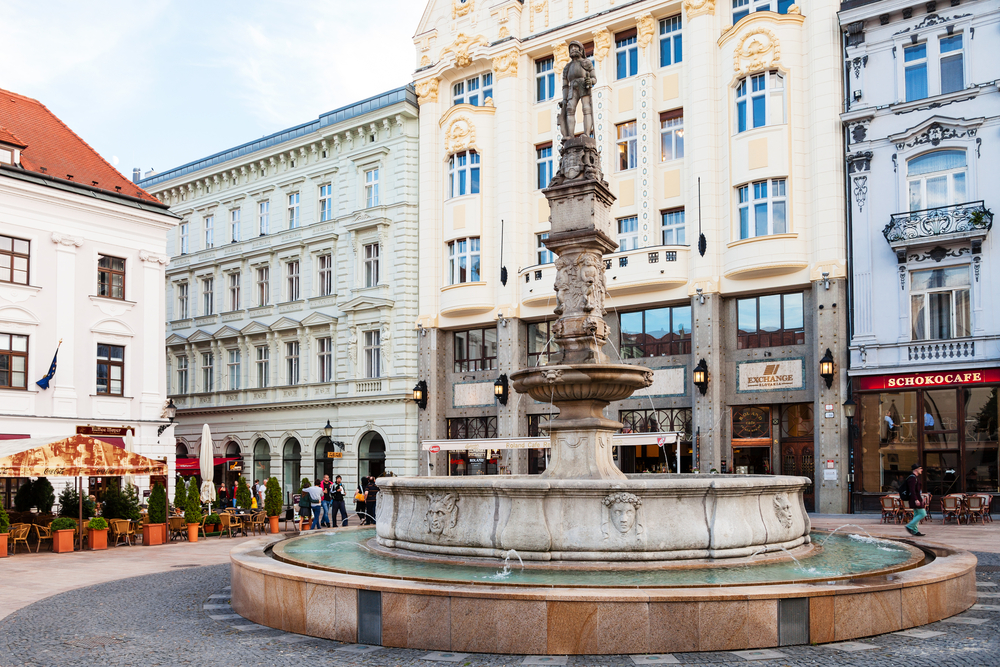 12) Be On The Lookout For The Medieval Old Town Walls
Built and destroyed through Slovakia's history, there is only one gate, St. Michael's,  and two stretches of the medieval fortification wall remaining. It is near St Michael's Cathedral and runs to Old Town.
Technically inaccessible, it is a valid shortcut to the city center of Bratislava.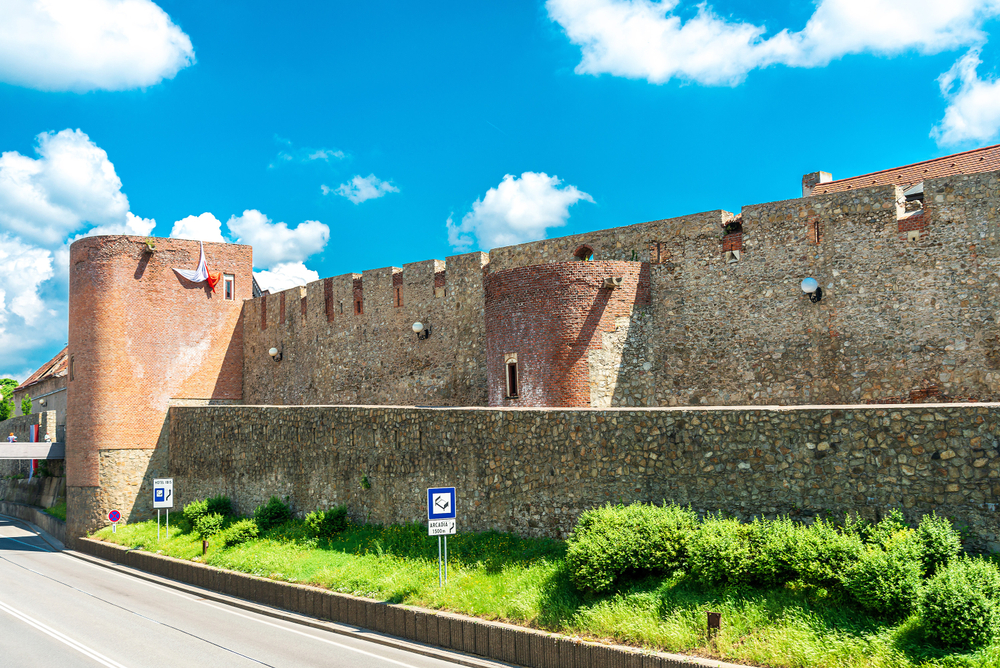 13) The Slovak Radio Building Is Upside Down!
Well, it looks that way anyway.
Completed in the early 1990s, it is literally an upside-down pyramid.
There is a 500+ seat theatre inside along with all the recording studios.
This unique building has won numerous architectural awards and dominates Bratislava's skyline. I think is is a great addition to add to your things to do in Bratislava itinerary.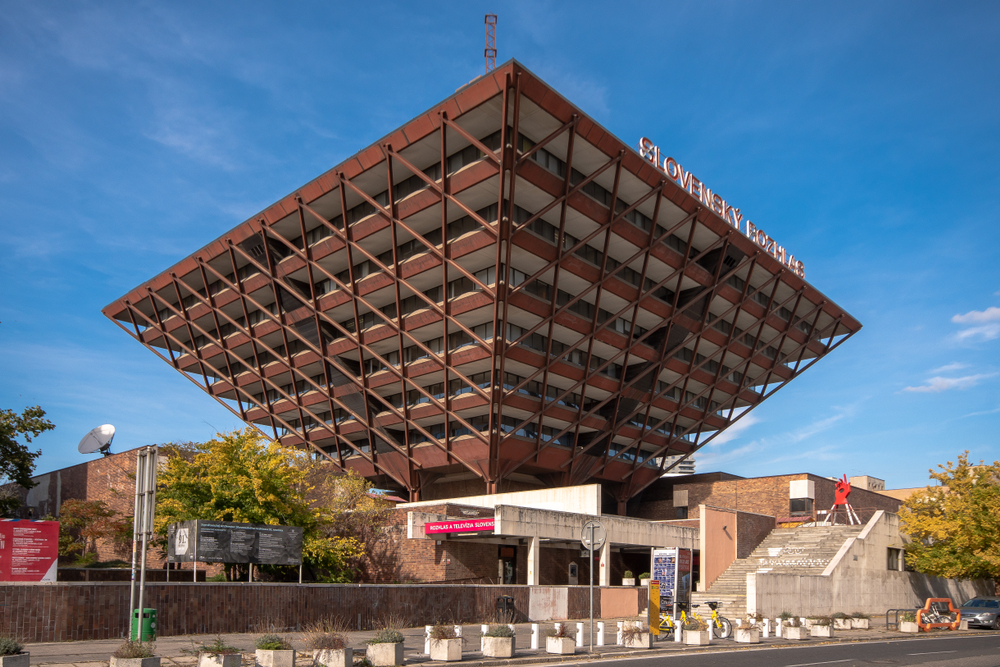 14) The Old Slovak National Theatre
Located just off of Bratislava's Old Town is the Old Slovak National Theatre building.
It is a stunning example of Neo-Renaissance architecture. With its Greek, Gothic and Italian inspirations, this is one of the more beautiful historical buildings in Bratislava.
Three disciplines have utilized this building: drama, opera, and ballet.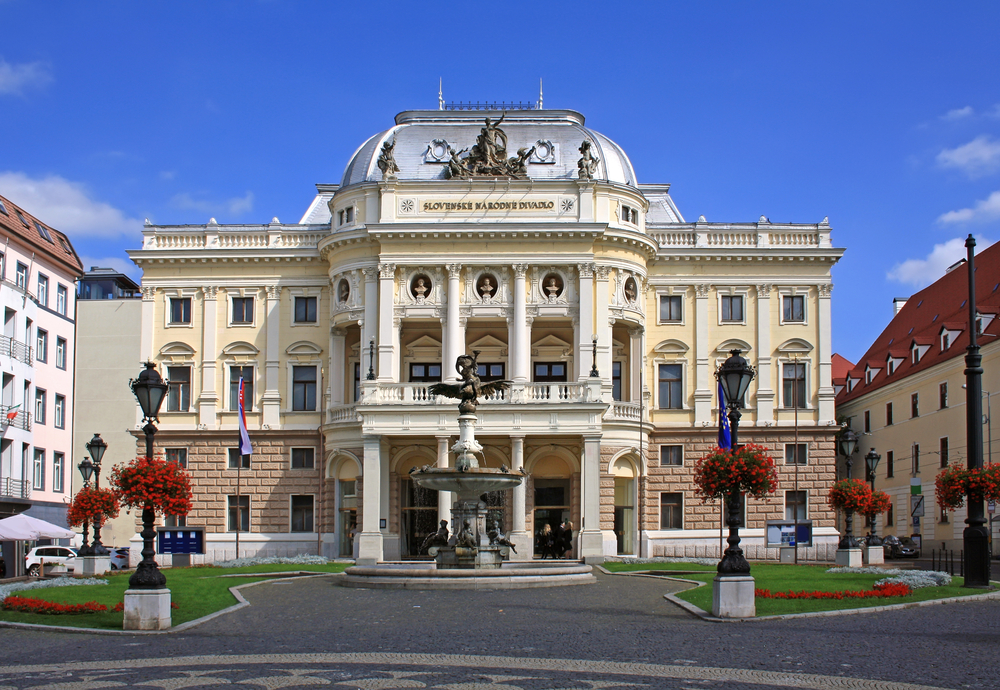 15) The UFO Observation Lookout And Restaurant Will Be Unforgettable
You simply cannot miss the UFO Tower as it stands tall in the Bratislava skyscape. It is a few minute's walk from Bratislava's Old Town.
You can literally see the UFO Tower from just about everywhere in the city. The New Bridge or UFO Bridge spans the Danube River.
There is an admission fee to enter the observation tower only, but it is waived if you have dinner at the restaurant inside as well.
The space ship looking observation tower and the restaurant can be reached by a short elevator ride and offers unparalleled views of not only Bratislava but the surrounding countryside as well.
This experience will be an unforgettable experience to put on your things to do in Bratislava itinerary.
I spoke with several who visited the UFO Restaurant and Tower and hands down all shared it was an unforgettable experience.
Look here: Bratislava by Night Walking Tour & Drink at Observatory Bar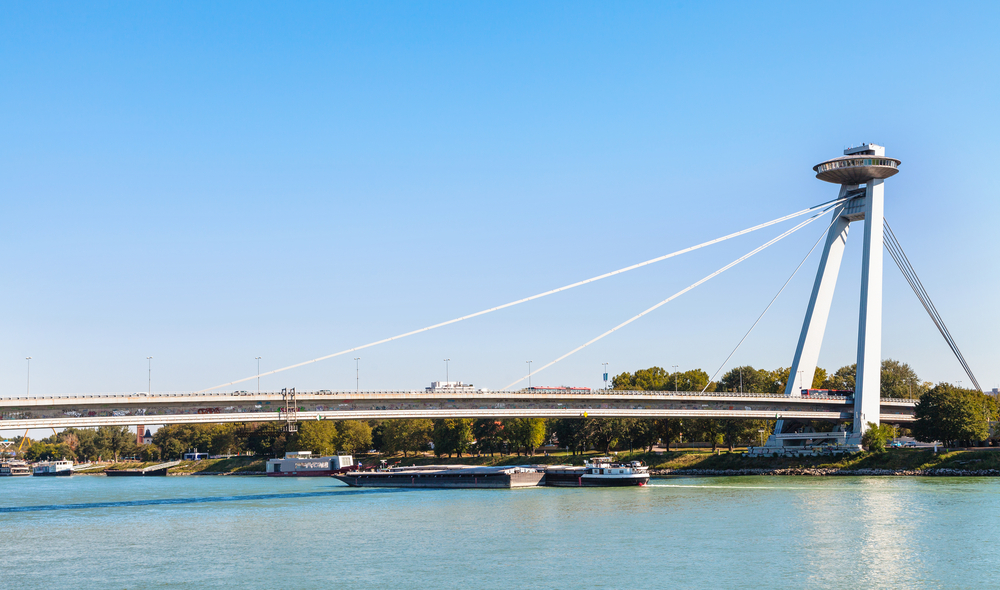 One of the extraordinary things to do in Bratislava is to visit the UFO observation lookout and see the fantastic views of the city. Having dinner or a cocktail would be a treat as well.
16) Looking For Bratislava's Whimsical Statues Is Really Fun
With a rich and long history such as Bratislava has, you are bound to see monuments, memorials, and figures as you explore Slovakia's capital city.
But here  I am specifically referring to the whimsical bronze statues that surprise and delight locals and tourists alike in Bratislava.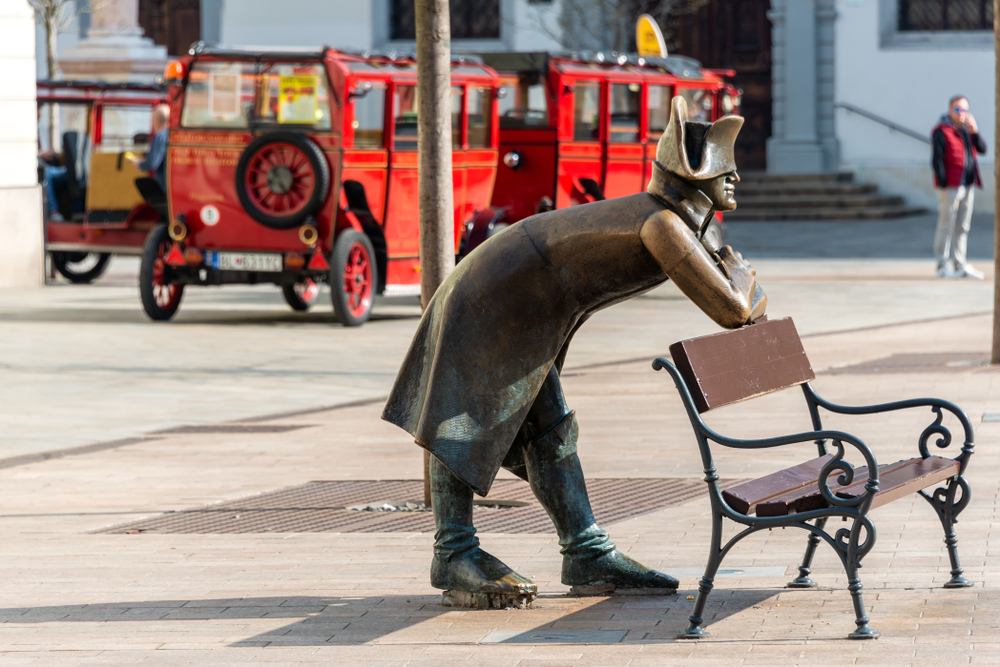 For example, maybe you would like to sit a spell and have a conversation with Napolean.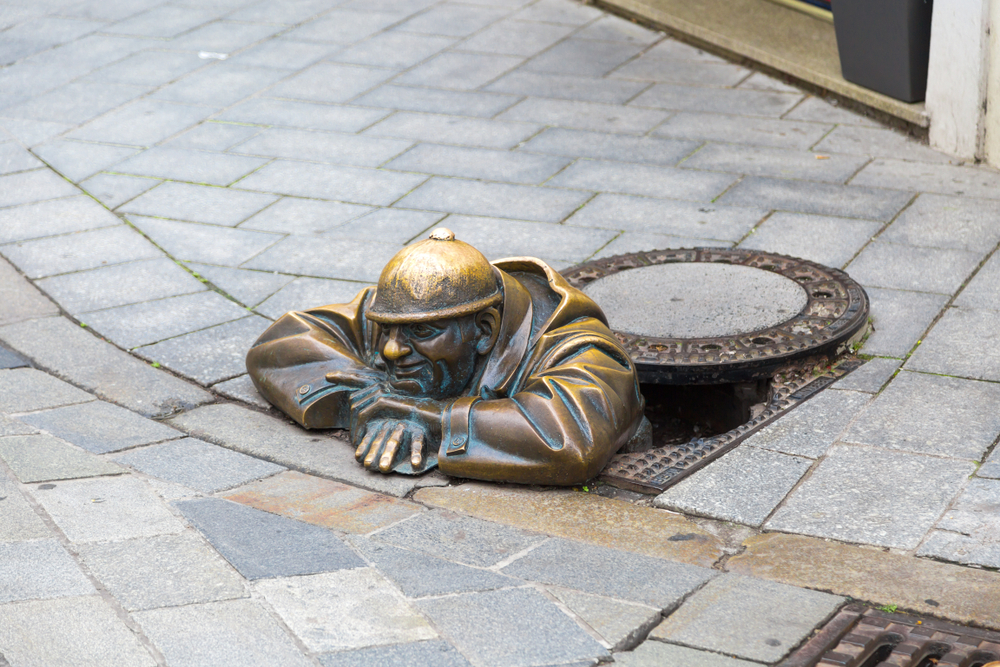 Or maybe you will pass this working man and figure out what he is looking at?
Unique and unusual statues are found everywhere in Bratislava. They add an interesting and fun element to your things to do in Bratislava list.
17) Visiting The Little Blue Church Is An Amazing Things To Do In Bratislava
Yes, it is true. A blue church.  A true example of art nouveau, the exterior and the interior of this church are, you guessed it, blue!
The mosaic tiles of the roof, the facade, and even the gate are all blue. The pews inside are blue as well, along with many blue accents.
Named the Church of Saint Elisabeth, who grew up nearby, it is not open on a regular basis.
Hopefully, you will be fortunate, as we were, and the church will be open the day you visit.
There is no entrance fee, but please be quiet and respectful if you enter the worship space.
If the Blue Church is closed, it is still really worth it though, to see its exterior and I urge you to take the 10-minute walk from Bratislava's City Center to see it.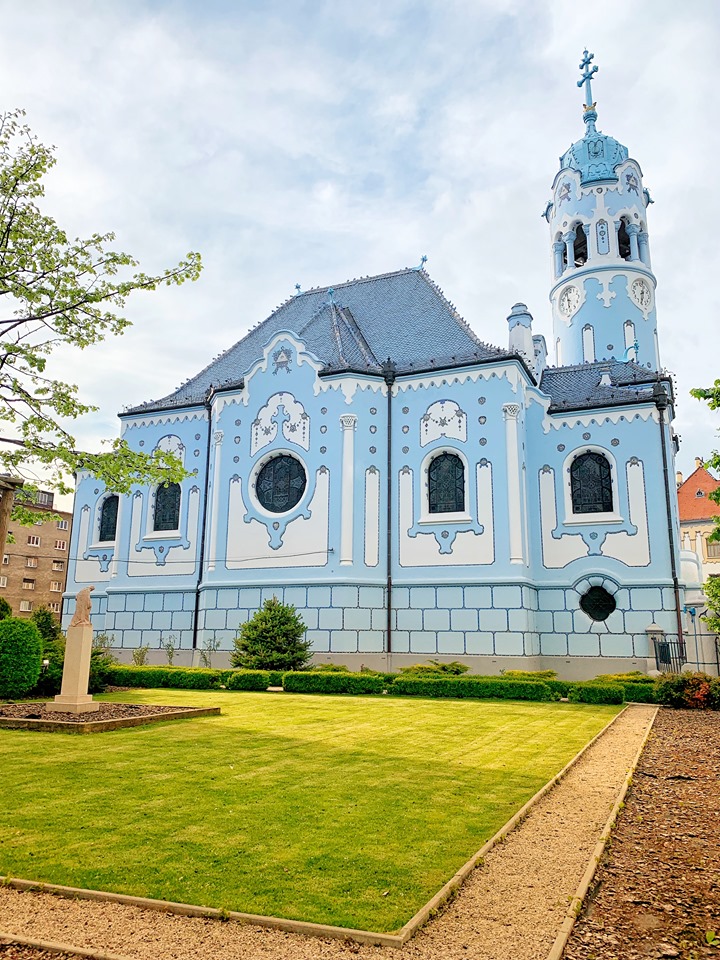 The lovely Blue Church is only a 10-minute walk from Old Town Bratislava.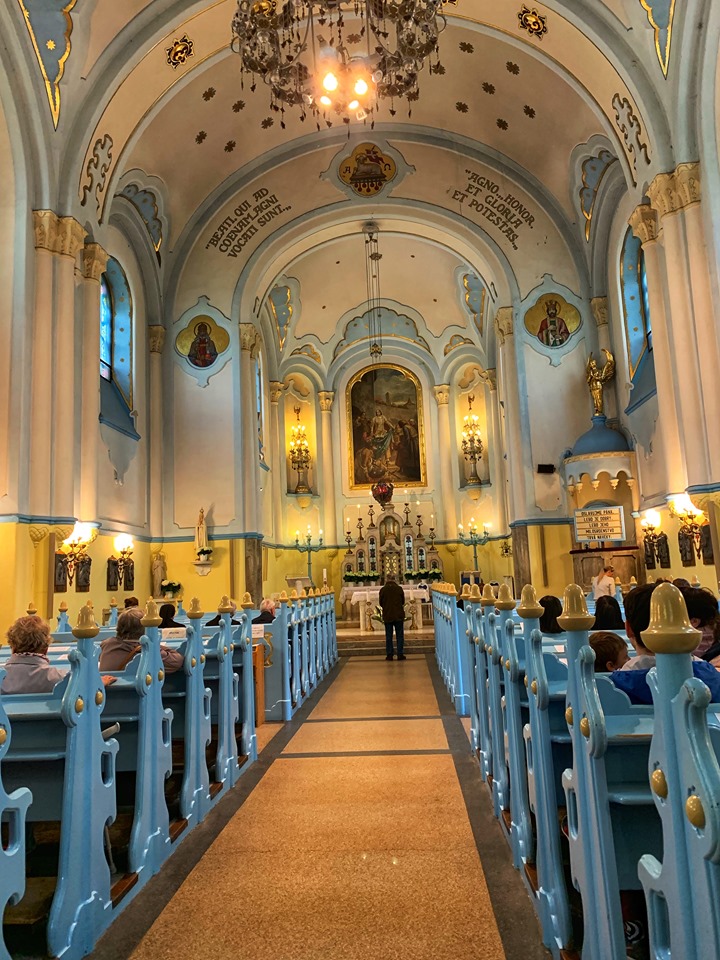 Even the inside of the  Blue Church, also known as the Church of  Saint Elizabeth is blue! This is certainly worth adding to your things to do in Bratislava list.
18) Eurovea Is A Lively Complex Along The Danube Promenade
Located within walking distance of Bratislava's Old Town, a new and lively district has arisen.
Offices and trendy apartments, as well as chic shops and stores, are located at Eurovea. Much like the "mall" we westerners are familiar with, you may decide to check this Slovakian one out!
The crown jewel though, and a great reason to put visiting Eurovea on your things to do in Bratislava is the large pedestrian promenade along the River Danube waterfront. It is very popular and busy most of the time.
Restaurants, cafes, and bars spill out onto this amazing outdoor space.
Have dinner and or cocktails in one of the lively restaurants or bars. Or shop for some souvenirs. Whatever your reason, Eurovea is interesting enough to place on your things to do in Bratislava agenda.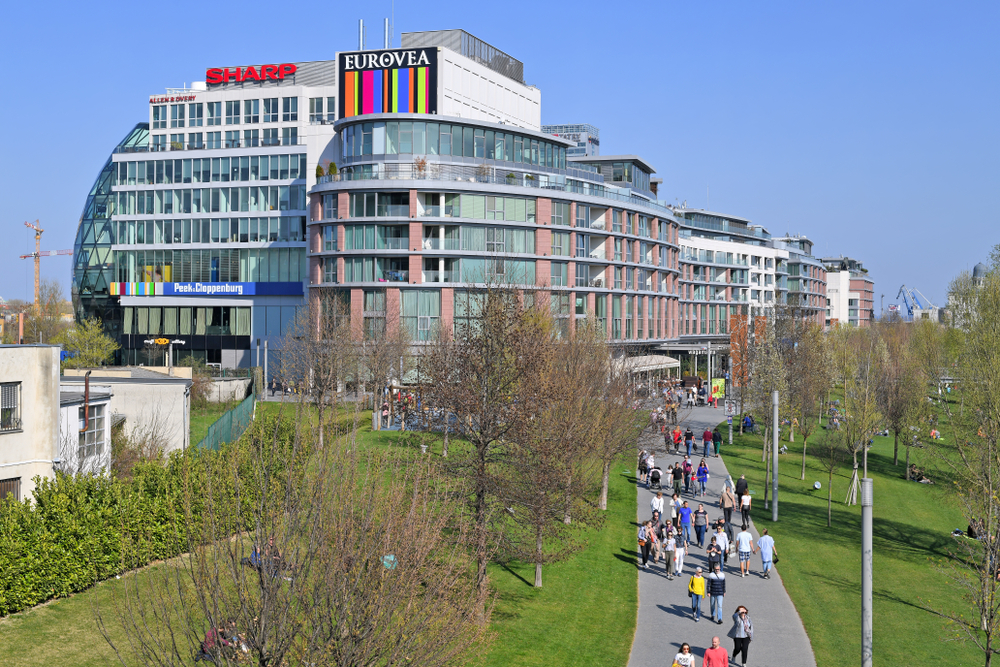 Eurovea and pedestrian promenade along the Danube River.
19) Add Strolling Along The Danube To Your Things To  Do In Bratislava List
Take a walk from Bratislava along the River Danube for some exercise. Stop and stroll the promenade along the Danube.
Bratislava, nestled on the shores of the Danube, amidst the borders of Hungary and Austria offers a beautiful pedestrian-only walkway.
Take a few minutes to have a picnic, or grab lunch at one of the many local establishments along your walk.
Packing Tips When Traveling To Europe
And if I forget to recharge it at night, it will still be good to go the next day.
My daughter gifted me with this FugeTek Selfie Stick and Tripod for my birthday. It has Bloothtooth connectivity so it is very easy to use. It is made of durable aluminum and is very lightweight and easy to carry. I love mine and I think you will enjoy it too!
Don't forget to bring along a universal power adapter when traveling to Russia.  This worldwide power plug is a great example and will charge your phone at the end of your busy days.
And this world traveler adapter kit charges several devices at the same time. This is what you will need when there are several people traveling in your group, or if you bring several electronic devices on your trip that require charging at the same time.
You will want to bring a backpack or daypack with you to store snacks, your water bottle, phone, extra clothes, etc.. Thisfoldable water-resistant backpack would be great.
It is very affordable and is available in many color options for you to choose from. The fact that it folds down into a zippered pouch will make it easy to pack.
Perhaps you need a more substantial backpack for your international travel. This antitheft backpack has a charging port, is water-resistant and can comfortably carry up to a 15.6″ laptop. It comes in a range of colors to choose from and it is inexpensive as well.
You will be walking more than usual during your Russian trip.  A sturdy and comfortable pair of walking shoes is a must-have. These waterproof all-season shoes are extremely affordable and yet fashionable.
Mostly everyone is familiar with the Skechers brand, and theseAir Run high fashion sneakers come in a lot of colors to match your outfits and are still affordable.
You may be traveling to Europe in warmer weather and you may want a pair of sandals to wear exploring.  I highly recommend these Vionics adjustable strap orthotic sandals.
I have several pairs of these exact Vionic sandals in several colors that I bring with me *everywhere* I travel. They are very comfortable.
I also sometimes bring along my Vionic Tides flip flops. The toe post is so comfortable which makes wearing these super comfortable.
Bring a lightweight scarf or shawl. Scarves and shawls are very popular in Europe and Slovakia is no different. Both men and women wear scarves, decoratively, and as a layering piece to keep warm.
This cotton unisex lightweight scarf is versatile and can be worn in any season. I like this colorful oversized scarf too. So many colors to select from!
And here's another option to consider: this lightweight sunscreen shawl scarf would do double duty to protect you from the sun in the warmer seasons as well as being a fashion accessory layering piece.
This Coolibar sunscreen scarf has USB 50+ protection from the sun's rays & comes in great colors.
We all need to protect our eyes from the sun's harmful UVA/UVB rays. These unisex polarized sunglasses come in a lot of lens colors and frame designs and are extremely affordable too.
If you are fond of the aviator-style of sunglasses these polarized aviators may interest you. I like polarized sunglasses because they remove the glare off the water and help you to see things more clearly. This will be very helpful in Russia.
f you are in need of new luggage, this expandable soft side spinner luggage is affordable and comes in lots of colors. If you like hard-sided better, then you may favor this hard-sided luggage set better.
Both sets come with TSA approved zippers locks and 8 wheels per piece. Either will be great for the plane or train or even your car depending on how you plan on traveling to Europe.
Here I have given you 19 great things to do in Bratislava that I know will enhance your visit there, no matter how long it is.
Have you ever visited Bratislava, Slovakia, the newest European capital? Did you love it as much as I did? What was your favorite part? Please use the comments section below and share!
Linda On the Run is a participant in the Amazon Services LLC Associates Program, designed to provide a means to earn fees by advertising and linking to Amazon.com
There are Get Your Guide affiliate links as well.