Looking for pretty gardens and parks in Paris?
Perhaps you are visiting the City of Light with children. Or maybe you have visited before and are looking to visit different, yet beautiful venues. Thinking of a picnic?
If this is your first time visiting Paris, you might want to read about what to expect before you leave on your dream trip.
I love the Paris gardens and parks. Here I am going to give you my top suggestions for gardens and parks in Paris for you to enjoy while you are visiting.
12 Pretty Gardens And Parks In Paris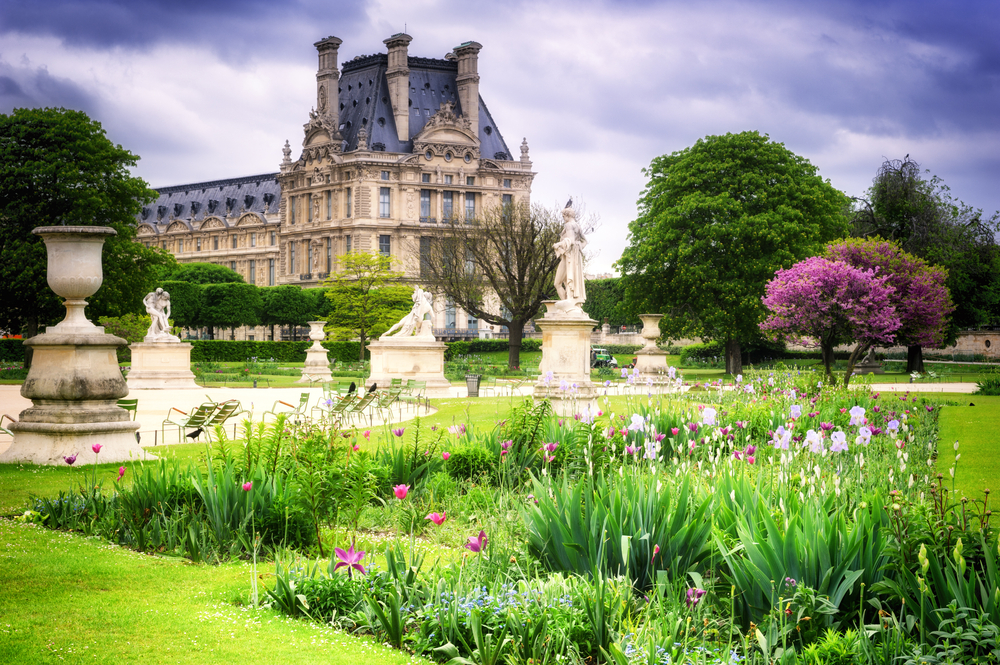 Garden of the Tuileries begins at the Louvre Palace.
Luxembourg Gardens
The Jardin du Luxembourg, as it is referred to in French, was commissioned in the 1600s by Queen Marie de' Medici, and is made up of almost 57 acres of impeccably manicured lawns and tree-lined walkways. It is said to be inspired by the Boboli Gardens in Florence.
Located in the 6th district of Paris, it is a calm oasis of green in the midst of an urban neighborhood. For most of the year, there are flowers blooming throughout the park, including a beautiful rose garden and a collection of orchids.
There are over 100 statues throughout the park as well as the spectacular Medici fountain.
Children will be amused by sailing remote controlled sailboats on the pond located in the middle of this gorgeous garden in Paris. There are activities for adults as well and cultural programs to look into. There may be an exhibition or two depending on the time of year you visit.
The Garden of Luxembourg is one of the beautiful gardens and parks in Paris you do not want to miss out on seeing.
If you need assistance with planning your Paris trip, look here for a five-day itinerary you can easily customize to fit your schedule.
There are all sorts of unique things to do in Paris. If you are looking for things to do in Paris after exploring the gardens and parks in Paris, here are 10 of my favorite unusual things to do in Paris!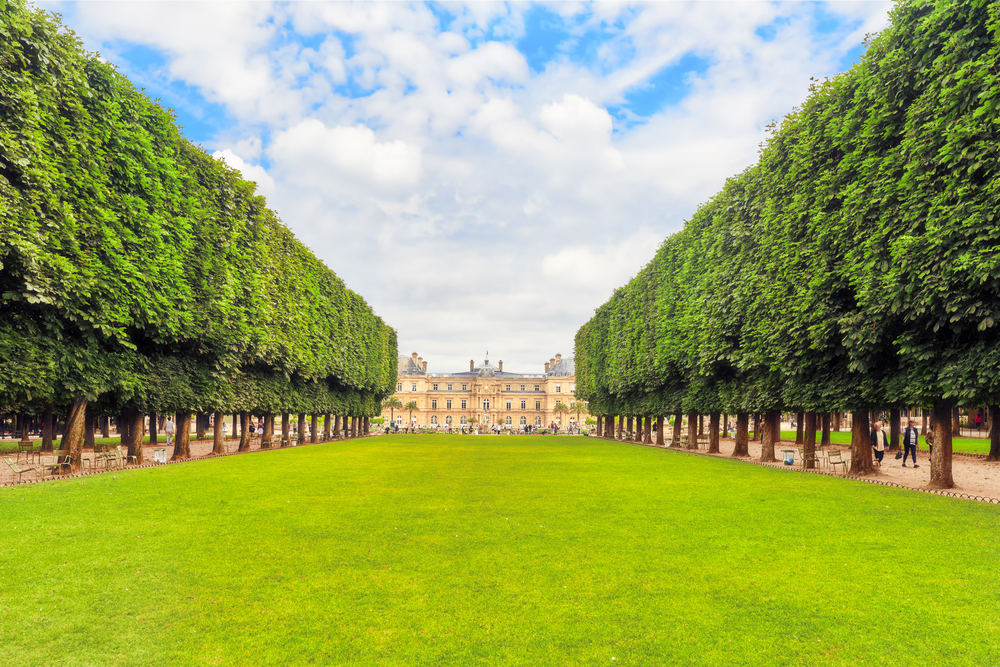 Stunning tree-lined promenades in the Garden of Luxembourg.
The Garden Of The Tuileries
Located in the 1st arrondissement between the Louvre Museum and the Place de la Concord, the Tuileries Gardens is one of the very popular gardens and parks in Paris. There are tree-lined walkways and famous fountains.
Look here for tickets to the Louvre: Ultimate Louvre: Fast-Track Guided Tour With Ticket
Or here: Louvre Museum Timed-Entrance Ticket
Commissioned in the mid-1500s the Tuileries Gardens are where Parisians eat, meet and stroll. At one end you will find the iconic Louvre Museum, housed inside the Palais Louvre.
Stroll through tree-lined and fountain-filled promenades and you will come to the beginning of the most well-known avenue in the world, the Champs-Elysees. It is a grand view!
The Garden of the Tuileries is really one of the most spectacular gardens and parks in all of Paris. Not one to miss out on seeing, for sure.
If you are looking for the best views in Paris look here for tips and suggestions.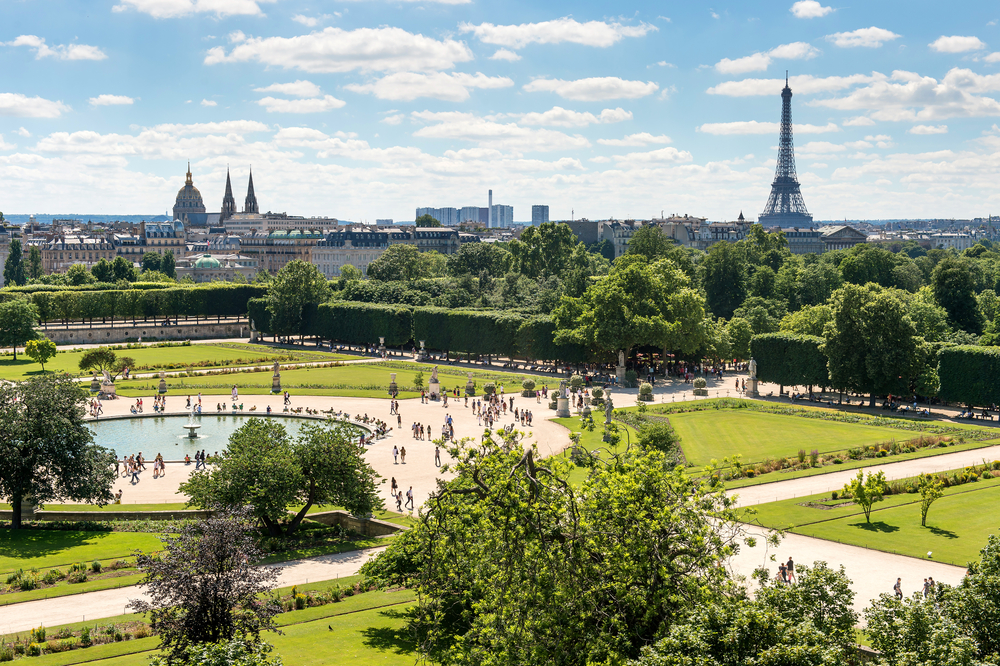 One of the most beautiful of all the gardens and parks in Paris is the Garden of Tuileries.
The Garden of Buttes-Chaumont
The Parc des Buttes-Chaumont is located in the 19th district in the northeast section of Paris. It is about 61 acres in size, one of the larger parks in Paris.
Commissioned by Napolean III and open to the public in 1867, this park received its name because of its starkness, being built on top of stone quarries. This is also the reason there are spectacular views of the city of Paris from this hilly location.
Great for running or biking, there are 1.4 miles of running trails and over three miles of roads, great for bike riding.
You can spend the day exploring its caves and braving the suspension bridge. There are also waterfalls to discover leading to its lake. You should be on the lookout too for some exotic birds that inhabit this garden in Paris.
You can plan to picnic while you enjoy the sweeping views from one of the most charming parks in Paris.
You might add visiting the prettiest bridges in Paris on your to-do list while you are visiting. There are iconic and not so popular ones to discover.
There are many affordable ways to get around and discover Paris. This is one: Paris City Pass: Free Admission and Travelcard.
You may want to consider this multi-day transportation pass: 2-5 Day Passlib with Public Transportation and Cruise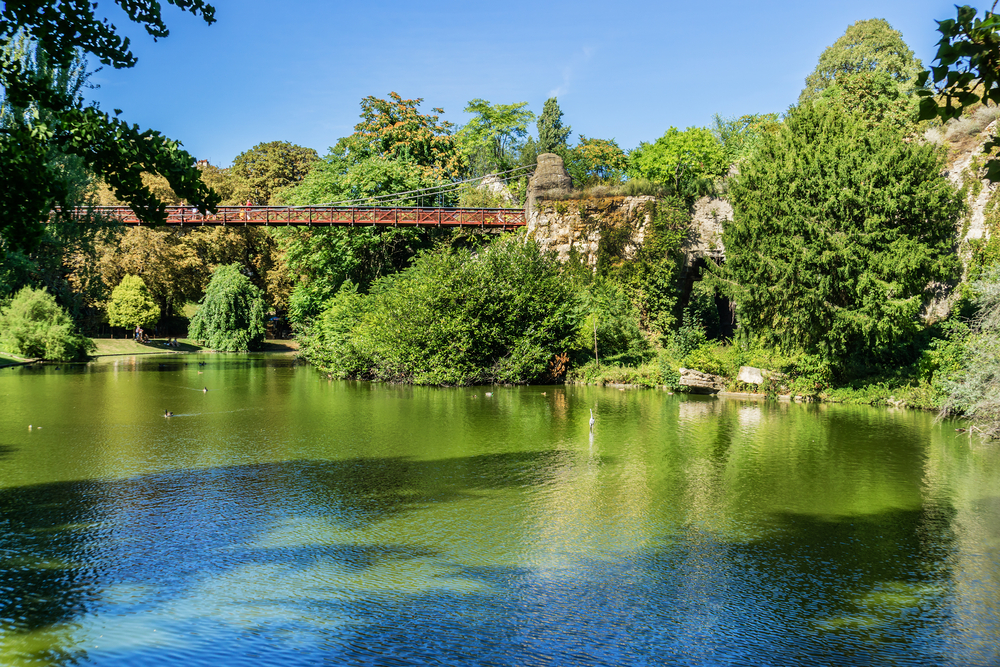 Would you cross this suspension bridge in Garden Buttes-Chaumont?
The Monceau Park
This public gardens and parks in Paris is located in the upscale 8th arrondissement of the city. It was intended to be an "English" garden and thus has unusual features not usually found in the French-inspired parks in Paris.
That is to our good fortune as Monceau Park is a very elegant park containing a miniature Egyptian pyramid, antique statues, a Dutch windmill, and a Roman collonade.
Dating back to the 17th century, this sumptuous park reflects the elegant neighborhood where it is located. There are playgrounds for children and spectacular trees. You can enter through great wrought-iron gates that once belonged to the former city hall of Paris.
At 20 acres, this is one of the quiet and serene gardens and parks in Paris.
Another way to discover some of Paris' treasures with a different perspective, is by taking a Seine River Cruise.
Look at this suggestion: Seine River Hop-On Hop-Off Sightseeing Cruise
Having lunch or dinner on board while cruising the Seine is so much fun. Here are two great suggestions for you:  Paris: 2-Hour River Seine Lunch Cruise or Evening Cruise with Dinner on River Seine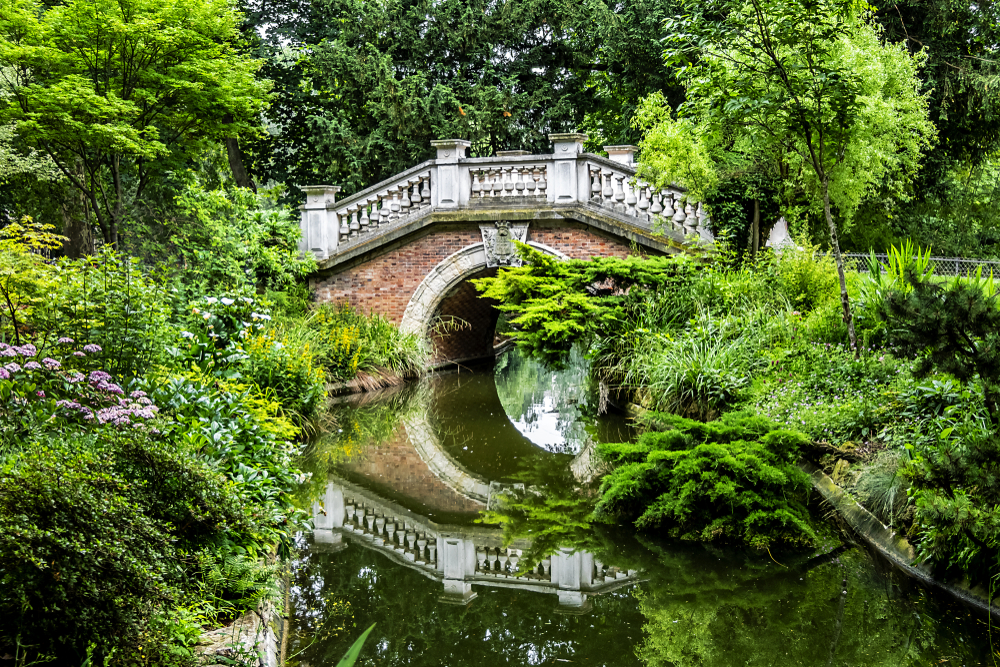 Lovely bridge crossing in Monceau Park, one of the most serene Paris gardens.
Bois de Boulogne
Bois de Boulogne is the second largest of the gardens and parks in Paris, comprising over 2,000 acres. It is in the 16th district of Paris along its western edge. The parcel of land that is the park today was given to the city by Napolean in late 1800 with the intention it was to be turned into a public park.
Within its extremely large borders are pretty gardens and lakes, an amusement park and a zoo. There are greenhouses containing numerous plants and also horse racing tracks. And the French Open is held each year at its tennis complex!
There are so many options of things to do and things to enjoy that Bois de Boulogne is one of the gardens and parks in Paris that should not be missed.
Did you know you can climb to an outdoor observation deck of the Arc de Triomphe? If you are interested and do not want to wait in line to purchase tickets, look here: Skip-the-Line Arc de Triomphe Rooftop Tickets. Here is another option for you: Skip-the-Line Arc de Triomphe Guided Visit.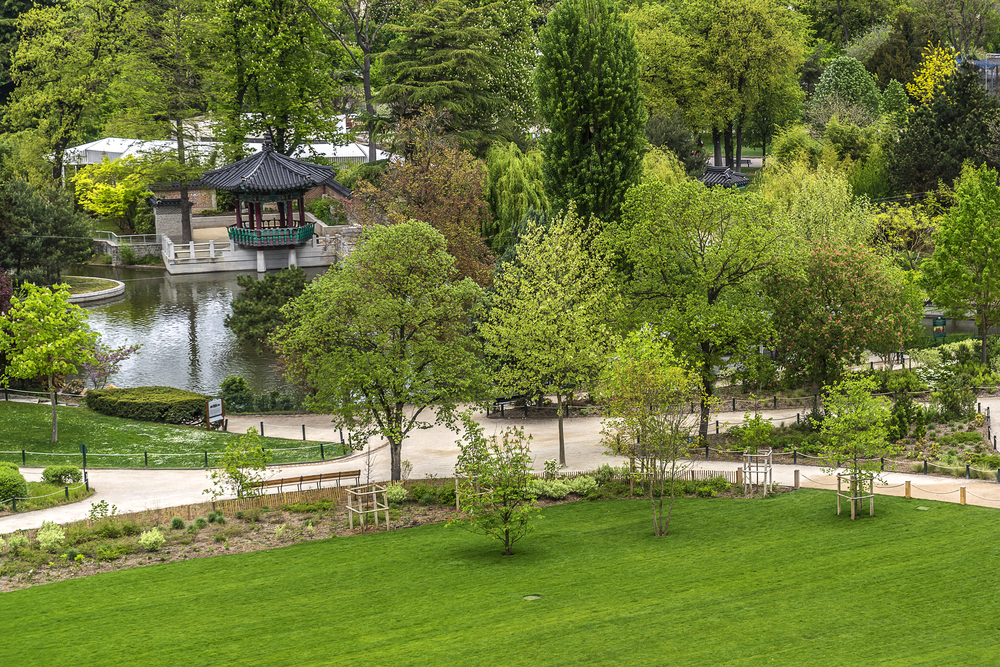 Bois de Vincennes
Located in Paris' east side, in the 12th district,  Bois de Vincennes is the largest of the gardens and parks in Paris at 2,500 acres. It mirrors its cousin, Bois de Boulogne to the west. It sits adjacent to the Chateau de Vincennes, the former residence of past kings of France.
The chateau is a remarkable symbol of medieval architecture and it is very popular. It is open every day
Bois de Vincennes offer loads of activities to choose from, or you may choose to simply relax and reflect on the beautiful flower gardens or the botanical gardens. There are play areas for children and adults alike.
There are boat rides available on one of the lakes and this parks in Paris also offers horse racing.
Do not miss visiting Bois de Vincennes, one of the most spectacular gardens and parks in Paris.
If you are considering visiting the bohemian Paris neighborhood of Montmartre, here is a good option for you to look at: Montmartre 2-Hour Walking Tour. Another is this: Sacré-Cœur and Its Surroundings with Audioguide.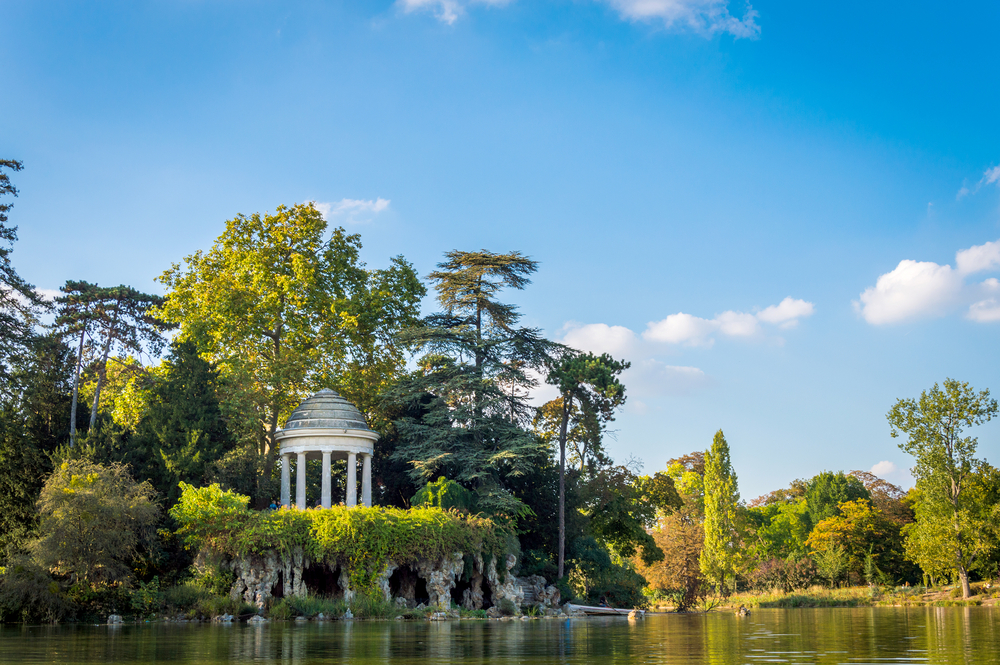 Lovely Lake Daumensnil and the Temple of Love at one of the most beautiful parks in Paris, Park de Vincennes.
Parc de Belleville
Located on the outskirts of Paris, in the 20th District, situated on the hill of Belleville is the highest park in Paris.
The best views in Paris would undoubtedly be the terrace at the top of the park. Here you will find a wonderful panoramic view of the city.
The park has over 1,000 trees and shrubs and a 330-foot long waterfall fountain. It is the longest in all of Paris. At the park, you will find ample space for a picnic, playground for children. and a small museum. Its purpose is to point out the importance of fresh air and exercise. Also the downsides to urban pollution.
Thinking of a night out on the town while in Paris? How about this: Moulin Rouge Show with Champagne or Moulin Rouge Show with Dinner Options.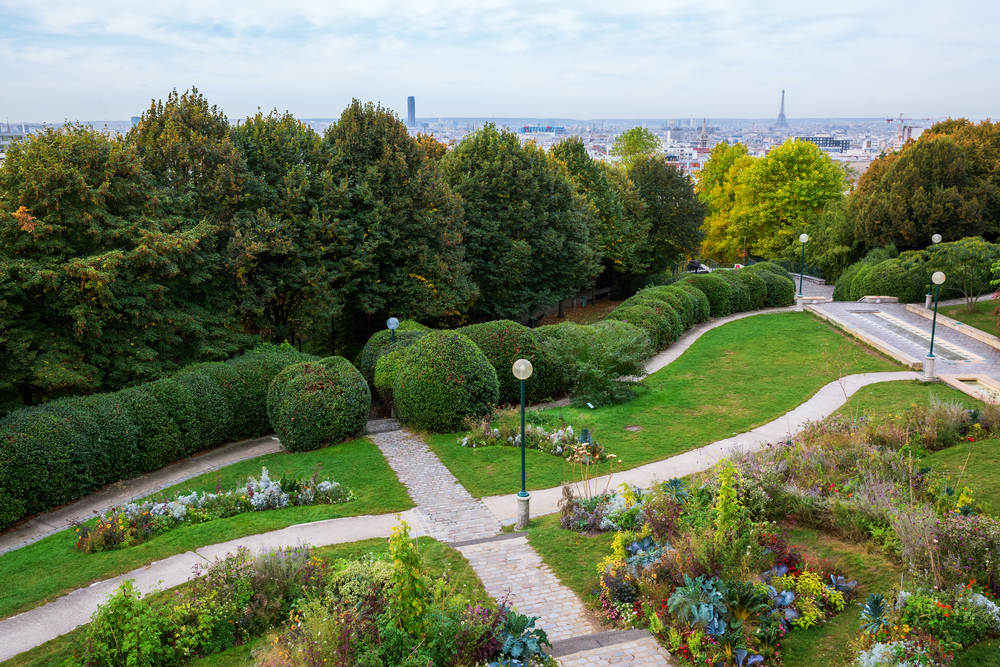 You will enjoy some of the best views in Paris at Park de Belleville.
Place des Vosges
Since its inception in 1612, Place des Vosges has been a very fashionable and upscale square in Paris. It is situated in the fashionable Marais district of Paris, along the dividing lines between the 3rd and 4th districts.
The square was used as a place for the nobility to meander and chat amongst one another. A meeting place.
Today Place des Vosges is one the most beautiful of the historic gardens and parks in Paris. You can wander the symmetrical Linder tree-lined boulevard and admire the fancy mansions from days past.
You can use Place des Vosges as a starting point to explore the popular Marais section of Paris.
Visiting the Opera Garnier is a very popular thing to do in Paris. Here is a way you will not have to wait in the entry line: Self-Guided Visit to Opera Garnier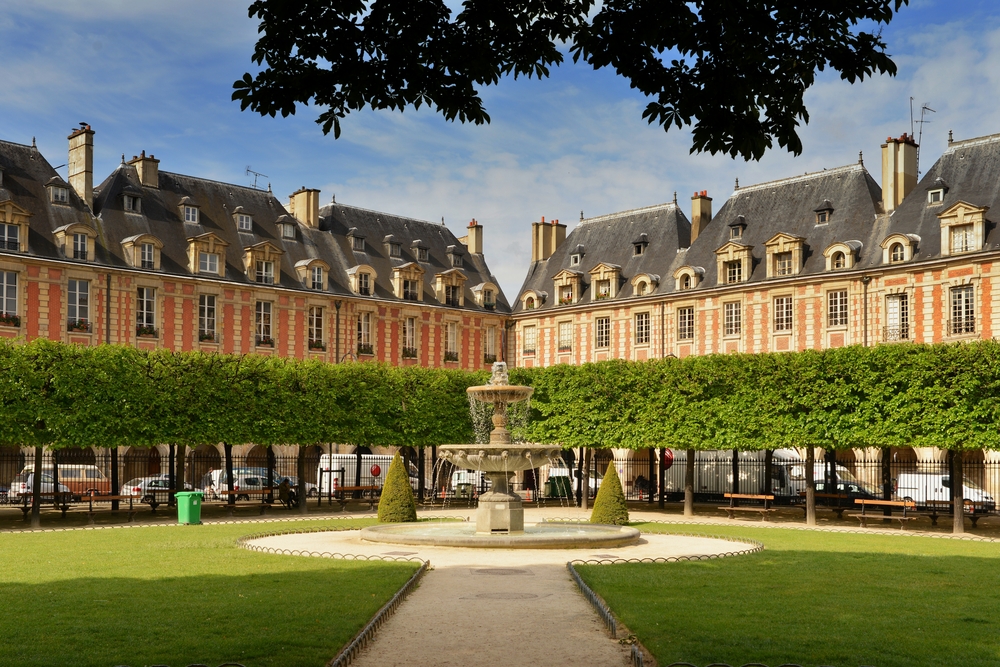 While visiting Place des the Vosges, you can enjoy the beautiful red brick facades of the surrounding buildings!
Parc du Champs-du-Mars
One of my favorite parks in Paris is Champs du Mars. Located in the 7th district, it extends from the iconic Eiffel Tower to the Ecole Militaire. Around since the late 1700s, i
t is blocks and blocks of wide-open spaces. 
It is easily accessible by tourists and locals alike. And it provides the absolute BEST views of the Eiffel Tower.
During the daytime families or friends gather to picnic and hang out. In the evening it is a hotspot to watch the gleaming and glittering Eiffel Tower.
Parc du Champs-du-Mars is one of the pretty parks in Paris you do not want to miss!
If you plan to access the Eiffel Tower look here: Eiffel Tower: Second Floor Priority Access
Or look here at this option: Priority Eiffel Tower Access & Seine River Cruise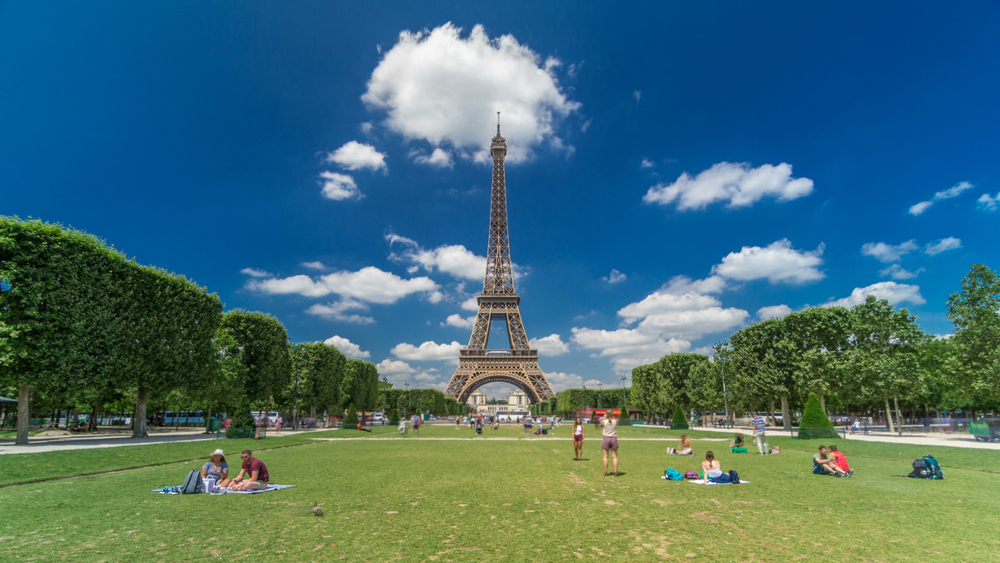 If you visit the Eiffel Tower, you will want to view it from Champs de Mars! Unforgettable.
Bagatelle Park
Bagatelle Park, located in the 16th district of Paris, is one of the beautiful Paris gardens. You can find it in Bois de Boulogne, mentioned above.
It was established in 1775 as a result of a bet made between Queen Marie Antoinette and a family member. This is a popular garden in Paris with both locals and tourists alike.
Impeccably manicured, visitors flock to the spectacular rose garden to see the over 10,000 rose bushes. Of course to see them in bloom the best time to visit would be spring and summer.
There are giant trees lining shaded walkways, lots of plant life, caves and lakes. There is even a Chinese-style pagoda that is unique to this garden in Paris. You can even find peacocks roaming around as well.
Adjacent to the park is Chateau Bagatelle, a small chateau, built originally for hunting and entertaining only.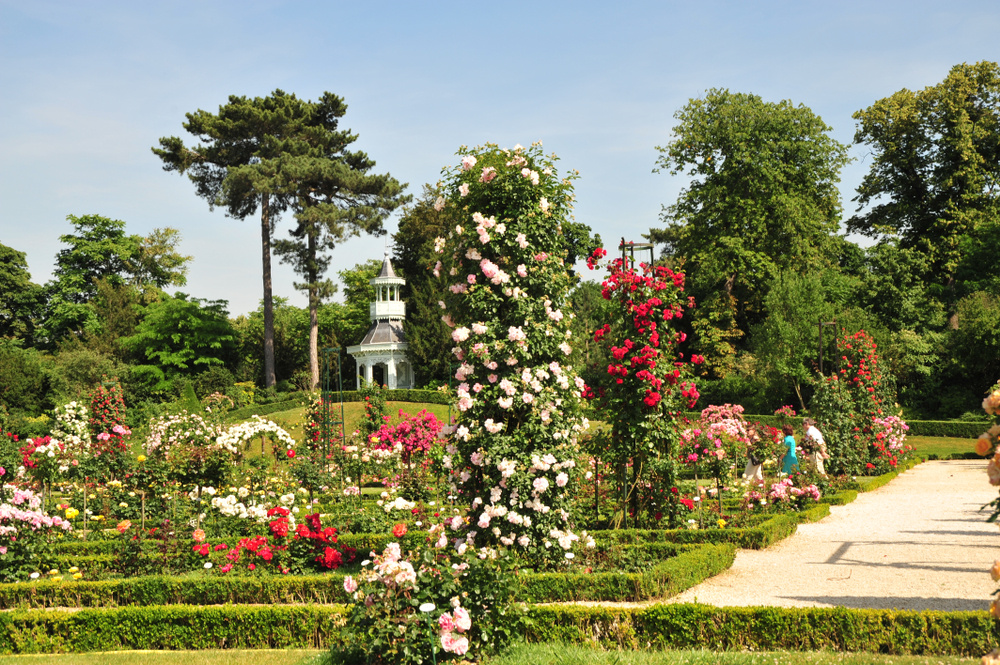 Part of the stunning rose garden in Bagatelle Park, one of the prettiest parks in Paris!
George Brassens Park
Built on the grounds of an old fish market and slaughterhouse, is Parc du George Brassens. It is about 19 acres and located in the 15th arrondissement. It gets its name from the famous poet and singer George Brassens who once lived nearby.
There is a large pond with beautifully manicured lawns and lots of trees. It has a rose garden and on a sloping hill, its own working vineyard! There is also a bee colony in this garden in Paris that harvests honey and sells it one Saturday a month.
There are playgrounds for children to play at and puppet shows to entertain them. In the center of the park is a theatre where programs are presented including dance and plays.
George Brassens Park is one of the beautiful parks in Paris that you want to visit. Perhaps you can sip a glass of pinot noir made on site!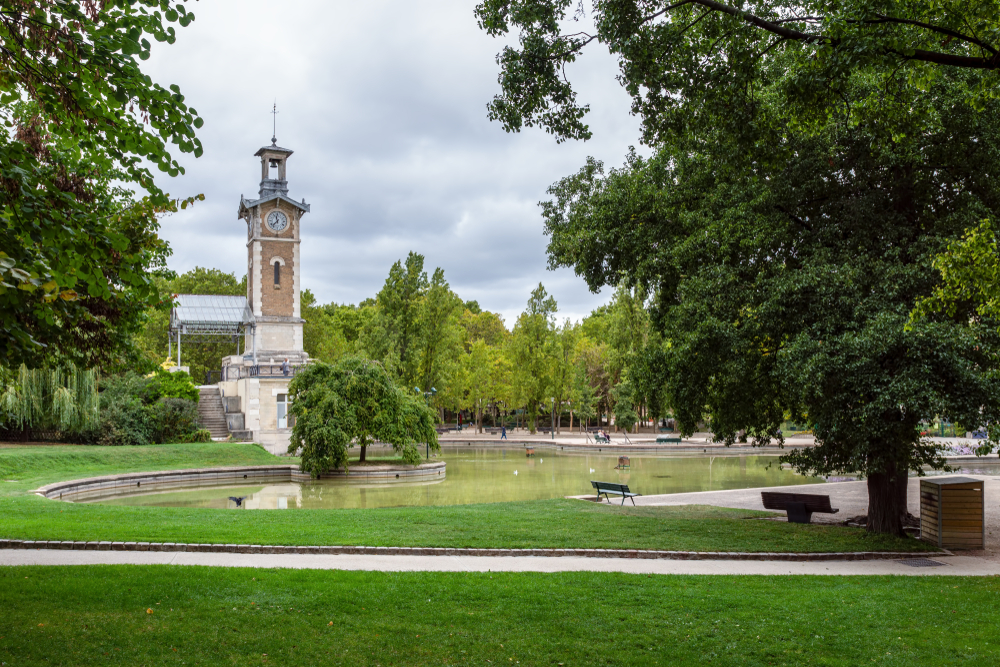 Jardin des Plantes
Jardin des Plantes, "Garden of the Plants, " is the main botanical garden in France! Located in the 5th arrondissement it is sixty-nine acres and is the headquarters of the National Museum of Natural History.
Originally a garden of medicinal plants in the seventeenth century, today Jardin des Plantes has evolved to contain libraries, greenhouses, a zoo and many works of arts. The entire garden and its collections are now considered as a national historic landmark.
The grounds of this interesting parks in Paris include four buildings where specimens are displayed, called galleries. For a wonderful afternoon learning about plants, visiting a museum and greenhouses, I would suggest a visit to Jardin des Plantes, one of the most interesting gardens and parks in Paris.
If you want a suggestion of a museum to visit in addition to the Louvre, my recommendation is Musee d' Orsay. Here is a great option: Musée d'Orsay Reserved Access 1-Day Admission Ticket. If you would like a personalized tour, look here: 2-Hour Musée d'Orsay Guided Tour with Skip-the-Line Access.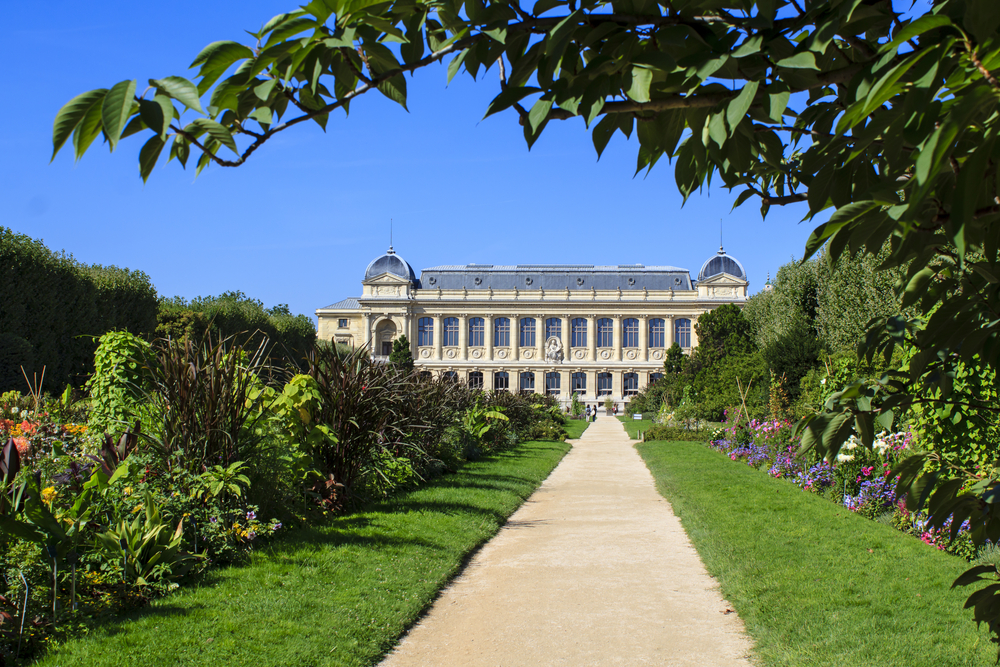 One of the museums at the Jardin des Plantes in Paris
Packing Tips For Your Trip To Paris
I think that using these useful packing tips will enhance your trip to Paris and help you remain organized while there.
A concealed travel pouch may be one of the most important items you bring with you on your visit to Paris.  This unisex RFID blocking concealed travel pouch is lightweight and comes in several colors. It has lots of organization to give you peace of mind. You can keep your most valuable documents safe and secure next to your body.
If you have a pouch already you may not want to or need to invest in a new one. If it does not come with the RFID protection, these RFID sleeves would be handy to prevent identity theft.
This configuration comes with enough passport and credit card sleeves that the entire family would be protected. They are slim too, so they will easily fit into your current pouch or wallet. These are the kind my family and I use not only when traveling but at home as well.
If you are planning on taking a lot of pictures with your phone you will definitely want to consider an external charging battery. This Anker high-speed phone charging battery is the exact one I carry with me on all of my trips.
It can be used on a variety of phones, not just an iPhone like I have. And wow is it fast! I like that it holds its charging capabilities for several uses so I do not have to worry about it while out and about. And if I forget to recharge it at night, it will still be good to go the next day.
My daughter gifted me with this FugeTek Selfie Stick and Tripod for my birthday. It has Bloothtooth connectivity so it is very easy to use. It is made of durable aluminum and is very lightweight and easy to carry. I love mine and I think you will enjoy it too!
I was never a fan of packing cubes until I tried them out! Now I am sold. These Bagail packing cubes are the exact ones I use whenever I travel. I cannot believe how much more organized I am now! And I never leave without them anymore.
Hydration is so important.  You want to remain hydrated to support your immune system which in turn will be stronger to fight off any germs you will encounter during your 5 days in Paris.  You will want to bring your own refillable water bottle with you.
To learn how to stay healthy while traveling read here for tips.
I never leave home on a trip without my Bobble filtration bottle. The 18.5-ounce size is perfect for travel and it will fit nicely in the pocket of a backpack or your purse. Also when filled with water, it is not too heavy to carry. And the Bobble carbon filter ensures fresh clean water whenever and wherever you fill the Bobble. You can find filter replacements here. 
Perhaps you are traveling a long distance and packing space is a premium. Then this set of collapsible silicone foldable water bottles would work well for you. Would not take up much space in your suitcase at all. And you will be receiving a set of two.
You will want to bring a backpack or daypack with you to store snacks, your water bottle, phone, extra clothes, etc.. This foldable water-resistant backpack would be great. It is very affordable and is available in many color options for you to choose from. The fact that it folds down into a zippered pouch will make it easy to pack.
Perhaps you need a more substantial backpack for your international travel. This antitheft backpack has a charging port, is water-resistant and can comfortably carry up to a 15.6″ laptop. It comes in a range of colors to choose from and it is inexpensive as well.
International travel can be very stressful. Read how to pack lightly here when you travel to remain organized and lessen your stress.
You will be walking more than usual during your trip to Paris.  A sturdy and comfortable pair of walking shoes is a must-have. These waterproof all-season shoes are extremely affordable and yet fashionable.
Mostly everyone is familiar with the Skechers brand, and these Air Run high fashion sneakers come in a lot of colors to match your outfits and are still affordable.
You may be visiting Paris warmer weather and you may want a pair of sandals to wear exploring.  I highly recommend these Vionics adjustable strap orthotic sandals.
I have several pairs of these exact Vionic sandals in several colors that I bring with me *everywhere* I travel. They are very comfortable. I also sometimes bring along my Vionic Tides flip flops. The toe post is so comfortable which makes wearing these super comfortable.
Bring a lightweight scarf or shawl. Scarves and shawls are very popular in Europe and Paris is no different. Both men and women wear scarves, decoratively and as a layering piece to keep warm.
This cotton unisex lightweight scarf is versatile and can be worn in any season. I like this colorful oversized scarf too. So many colors to select from!
And here's another option to consider: this lightweight sunscreen shawl scarf would do double duty to protect you from the sun in the warmer seasons as well as being a fashion accessory layering piece. This Coolibar sunscreen scarf has USB 50+ protection from the sun's rays & comes in great colors.
We all need to protect our eyes from the sun's harmful UVA/UVB rays. These unisex polarized sunglasses come in a lot of lens colors and frame designs and are extremely affordable too.
If you are fond of the aviator-style of sunglasses these polarized aviators may interest you. I like polarized sunglasses because they remove the glare off the water and help you to see things more clearly. This will be very helpful in Paris.
Don't forget to bring along a universal power adapter on your 5 days in Paris.  This worldwide power plug is a great example and will charge your phone at the end of your busy days.
And this world traveler adapter kit can charge several devices at the same time. This is what you will need when there are several people traveling in your group, or if you bring several electronic devices on your trip that require charging at the same time.
If you are in need of new luggage, this expandable soft side spinner luggage is affordable and comes in lots of colors. If you like hard-sided better, then you may favor this hard-sided luggage set better.
Both sets come with TSA approved zippers locks and 8 wheels per piece. Either will be great for the plane or train or even your car depending on how you plan to travel to France.
Here I have listed for you 12 gardens and parks in Paris for your enjoyment. Let me know if you visit any of them on your next trip to Paris! If you have any other suggestions please leave them in the comment section below!
Please be advised that Linda On the Run is an affiliate in the Amazon Services LLC Associates Program, designed to provide a means for sites to earn fees by advertising and linking to Amazon.com
This post contains Get Your Guide affiliate links as well.