Are you planning to visit the Cliffs of Moher Ireland? You will find plenty of information on the web about planning a trip to Ireland in general and the Cliffs of Moher specifically.
However, most of that information focuses on what you should do. This guide is different. This is going to tell you what you should AVOID when planning your visit to the Cliffs of Moher Ireland.
I have visited the Cliffs of Moher and that has given me first-hand knowledge of the things to avoid when planning and visiting one of Ireland's most popular attractions.
If you are flying into Ireland, read my suggestions on how to avoid getting sick on a plane. And refer to 7 tips for surviving long haul flights.
I do not want you to make the same mistake(s) that my family and I have in the past. So here are a few things to keep in mind when you are preparing for your trip to the Cliffs of Moher Ireland.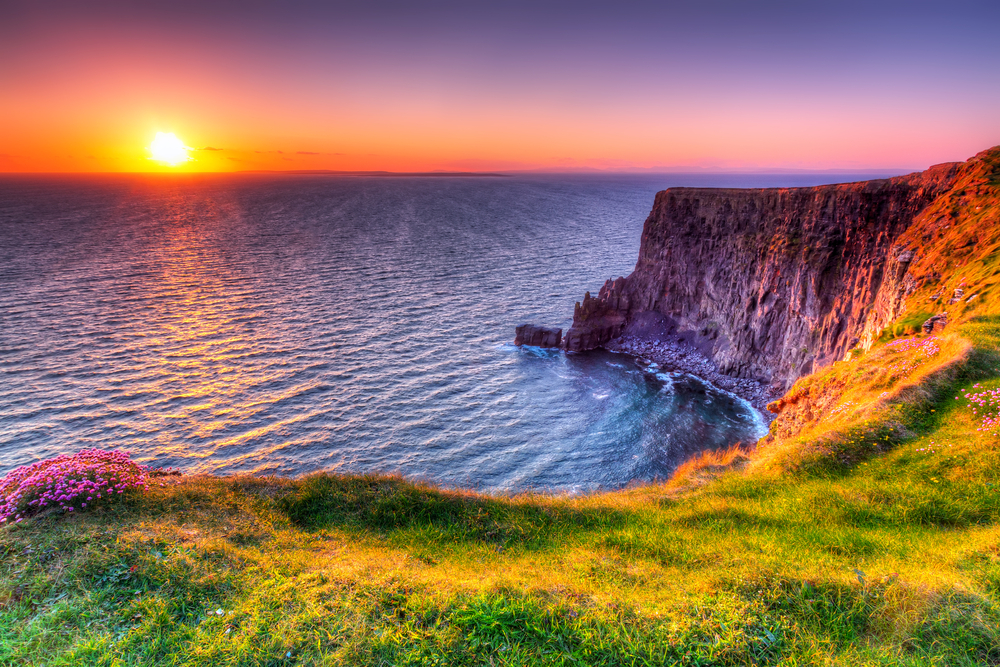 Spectacular sunset at the Cliffs of Moher
8 Big Mistakes To Avoid At The Cliffs Of Moher Ireland
Mistake 1: Only Considering A Tour Group Instead Of Exploring The Cliffs Of Moher On Your Own
Do not think you must hire a tour company or private guide to take you to the Cliffs of Moher and narrate along the way.
The local guides are wonderful, but not necessary for the Cliffs of Moher. A bit of research, and reading this article, will be all the planning necessary to have a wonderful time at the Cliffs of Moher Ireland.
If you travel there on your own, you can wander and meander the Cliffs of Moher to your heart's content.
You can hike, have refreshments in the visitor center and spend as much time as you please there. There will be no time limits due to being on someone else's time schedule.
If this is your first time visiting The Emerald Isle, read my 15 things to know before traveling to Ireland.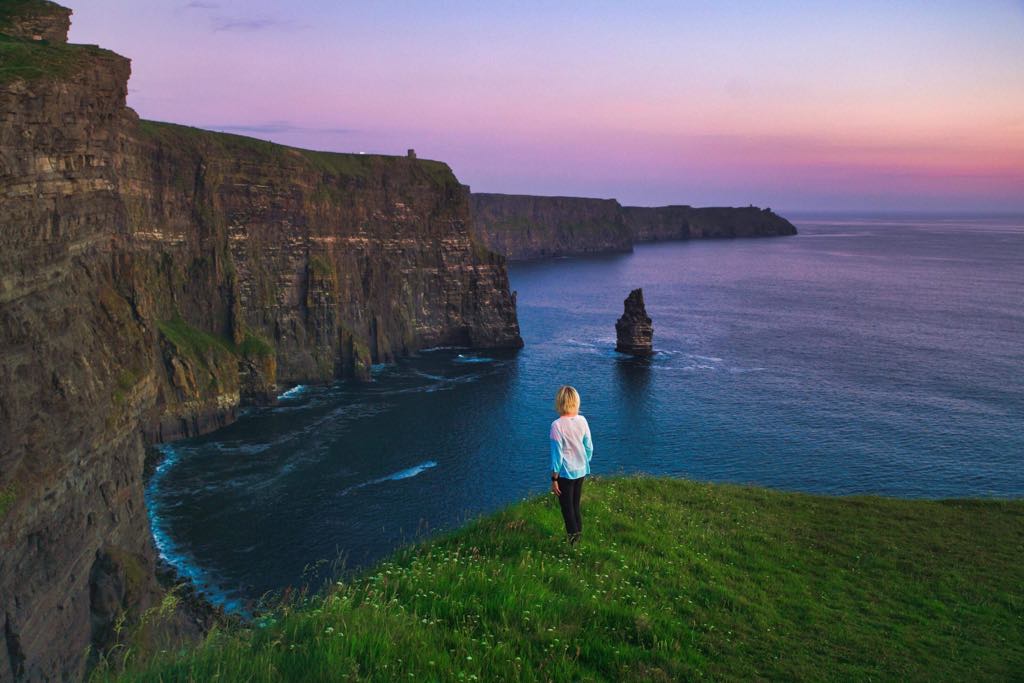 Me during sunset at the Cliffs of Moher Ireland
Read next: The Ultimate 3 days in Dublin Itinerary
Mistake 2: Spending Too Long At The Visitor Center
The Cliffs of Moher Visitor Experience is built into the side of a hill. You will notice it upon your arrival at the Cliffs on your right-hand side.
It houses exhibits, two cafes, a first aid station and a place for you to store your oversized and/or heavy luggage.
It is very easy to linger in this state-of-the-art environmentally sensitive visitor center. The interpretive presentations cover the history and geology of the cliffs.
There are also exhibits explaining about the local animals and plant species who inhabit the area.
If you need refreshments or snacks there are two restaurants available to choose from at the visitor center. If you require physical aid, stop at the first aid station.
Do not plan to carry your large or heavy bag when exploring the cliffs, leave it in the care of the visitor center.
The Cliffs of Moher are an accessible attraction for everyone.
However, if you find yourself having an off day, or you are feeling tired, or you do not feel like you can walk the day of your visit, wheelchairs are available at the visitor center, so take advantage.
Tickets here: Cliffs of Moher: Visitor Experience Ticket
Tickets here: From Doolin: Cliffs of Moher Cruise
Tickets here: Cliffs of Moher 1-Hour Cruise from Doolin
The 8 Euro admission per adult covers your parking fee, admission to the visitor center, and the Atlantic Edge multimedia exhibits. With a small portion going towards safety and upkeep of the Cliffs of Moher. Children under 16 are free.
There is always lots to do and lots of options at the Cliffs of Moher Visitor Experience Center. All the exhibits are very interesting. However, plan on scheduling your time wisely so you avoid spending too much time at the visitor center.
Read Next: 7 Day Ireland Itinerary You Should Follow
Number 3: Not Using The Bathroom At The Visitor Center Before You Venture Out
You definitely do not want to make the mistake of not using the restrooms at the visitor center before you head on out to explore the Cliffs of Moher.
It is a nice long walk just to get to the Cliffs of Moher Ireland. Did you know the Cliffs of Moher rise seven hundred feet high reaching for the sky and hug the Atlantic Ocean for an impressive five miles? That is quite a vast expanse of land to explore.
You will have no access to restrooms once you leave the parking lot/visitor center area, and it is a bit of a walk back. So make sure you and everyone in your party use the bathroom before you head on out to explore the Cliffs of Moher Ireland.
Read Next: 10 Things To Do When Visiting Dingle Ireland
Number 4: Spending Too Little Time At The Cliffs Of Moher
You will certainly want to schedule a good bit of time out of your day to explore and enjoy the Cliffs of Moher Ireland. I would suggest a minimum of two to three hours.
The Cliffs of Moher are one of the most popular tourist attractions in all of Ireland and worthy of your attention. The views are spectacular and you will want to linger.
And there is much to do and see and learn at the Cliffs of Moher Visitor Experience. Do not rush yourself. Give yourself plenty of time to explore and learn.
The O'Brian Lookout is a great way to get a bird's eye view of the magnificent vistas to be seen at the Cliffs of Moher Ireland.
And, sunset is an especially wonderful time to be at the Cliffs of Moher. Can you even imagine how beautiful it is?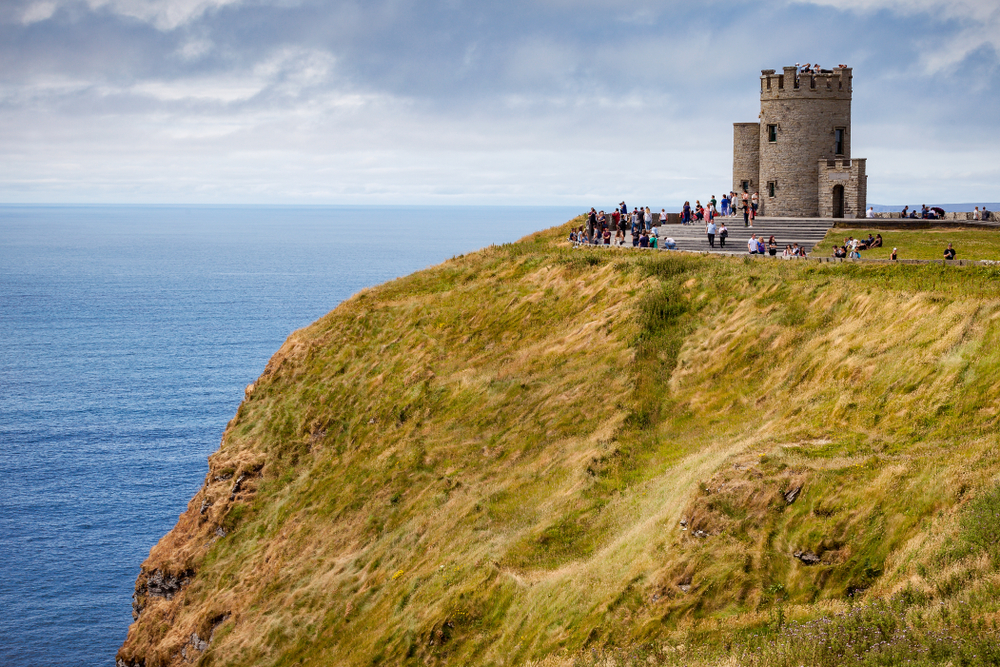 O'Brien's Lookout is a popular spot at the Cliffs of Moher Ireland
Read Next: 10 Things To Know Before Kissing The Blarney Stone
Number 5: Not Bringing And Wearing Bug Spray At The Cliffs Of Moher Ireland
More likely than not, you will experience unwelcome guests in the form of pesky bugs and mosquitos during your visit to the Cliffs of Moher.
Vast expanses of farmlands containing lots and lots of cows or goats or sheep neighbor the Cliffs of Moher. Insects are naturally drawn to farm animals and they find their way to the human visitors at the Cliffs of Moher.
So, for a pleasant and insect free visit to the Cliffs of Moher, plan on bringing and applying insect repellent.
Read Next: Things To Do In Dublin For Two Days You Must Know About!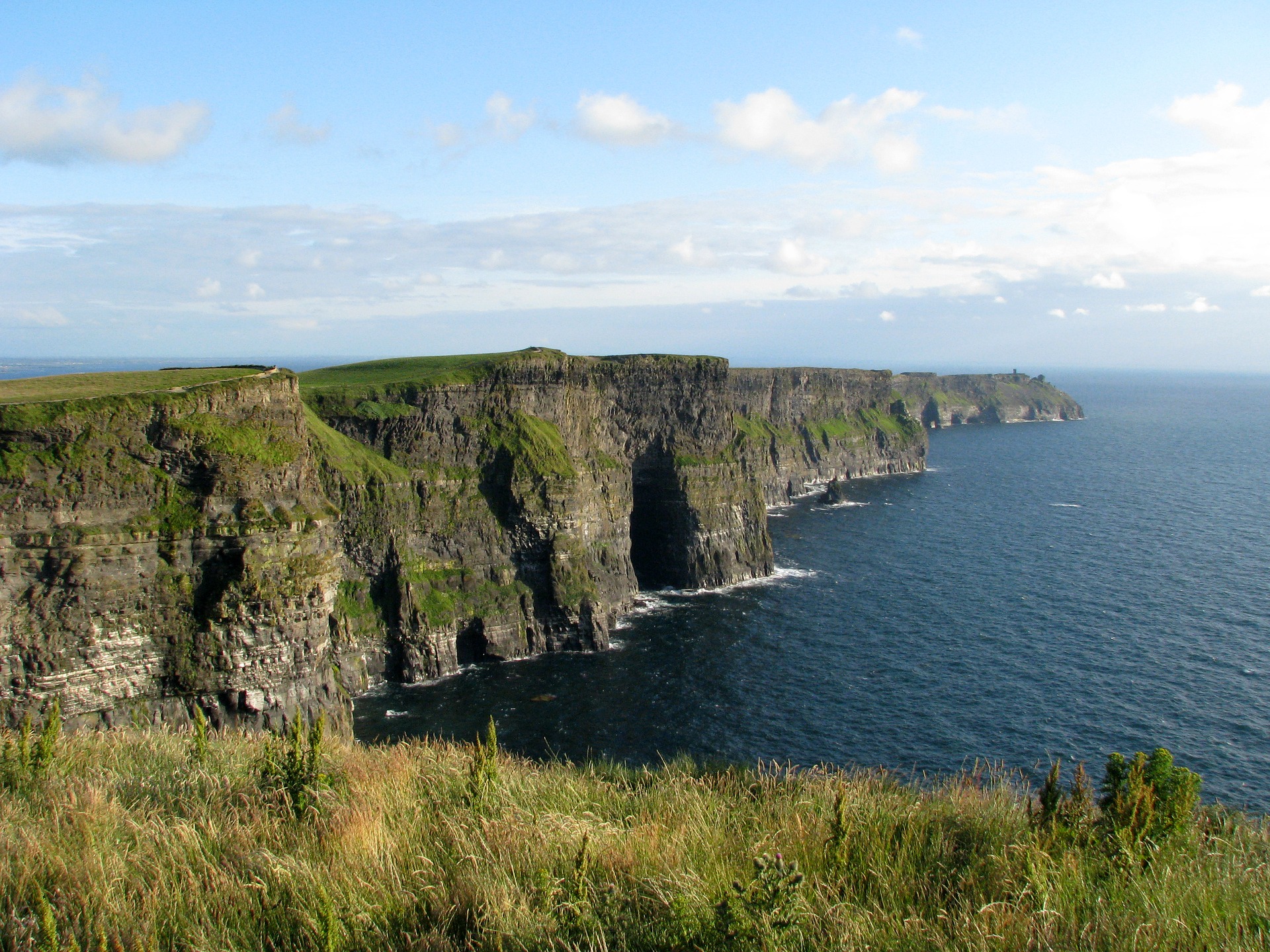 The stunning Cliffs of Moher Ireland on a bright sunny day.
Number 6: Standing Or Sitting Too Close To The Edge
It is natural to want to capture that perfect and memorable photograph when you are away on vacation. However, it is a huge mistake to sit or stand or even walk too close to the edge of the Cliffs of Moher.
Tickets here: Cliffs of Moher 1-Hour Cruise from Doolin
Remember it is 700 feet down to the Atlantic Ocean at the bottom! And it is mostly a very steep drop all the way down. Every season tourists die because they ventured too close to the edge of the cliffs of Moher Ireland.
Do not be that tourist.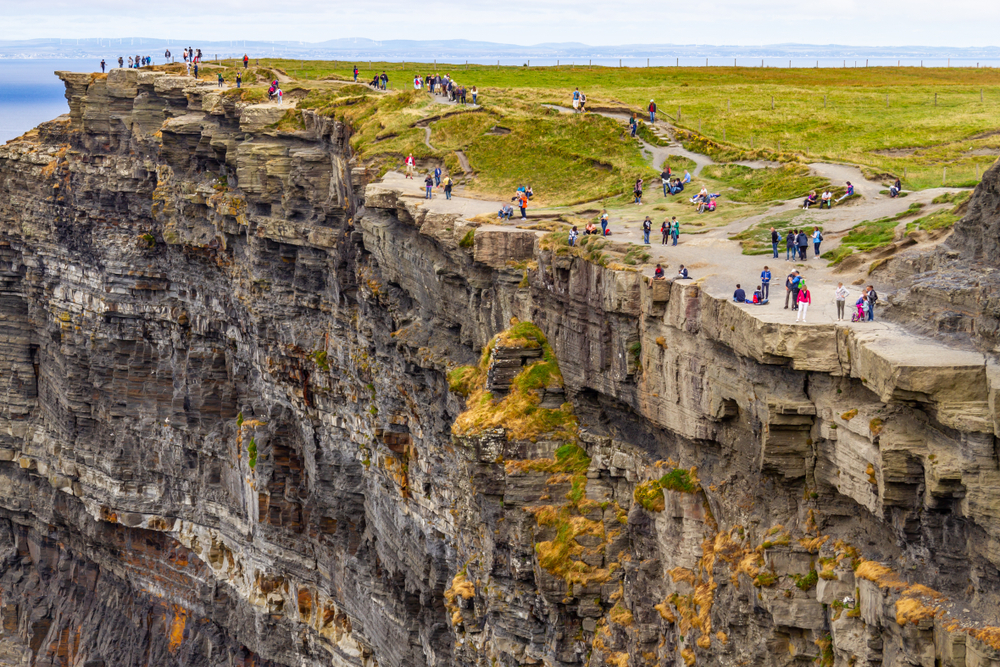 Be careful when exploring the trails at the Cliffs of Moher Ireland.
Read Next: Charming Things To Do In Killarney That You Do Not Want To Miss
Number 7: Completely Dismissing The Cliffs To Doolin Coastal Trail
The Doolin Coastal Trail is a spectacular 8 kilometer (less than five miles) hike that lies between the Cliffs of Moher Ireland and Doolin.
The scenery is so stunning it will be worth any effort it would take you and your companions. On one side is the incomparable bucolic Irish countryside with its green rolling hills.
On the other side are the stunning vistas of the Atlantic Ocean and the Aran Islands out in the distance.
Read next: My experience with Europcar rental
There is so much beauty to discover at the Cliffs of Moher Ireland
Read Next: 17 Fun Things To Do In Doolin Ireland
Number 8: Not Wearing Proper Clothing When Visiting The Cliffs Of Moher
As silly as this tip sounds, do not shrug it off. The weather at the Cliffs of Moher Ireland can change in an instant.
One evening my family went to visit the Cliffs of Moher and the weather was chilly, cloudy and very buggy. (No they did not have bug repellant with them. That was their big mistake!)
The next afternoon when I went with them it was very warm and cloudless. You may visit when it is raining and blustery.
You want to check the weather forecast so you can be prepared for any weather conditions.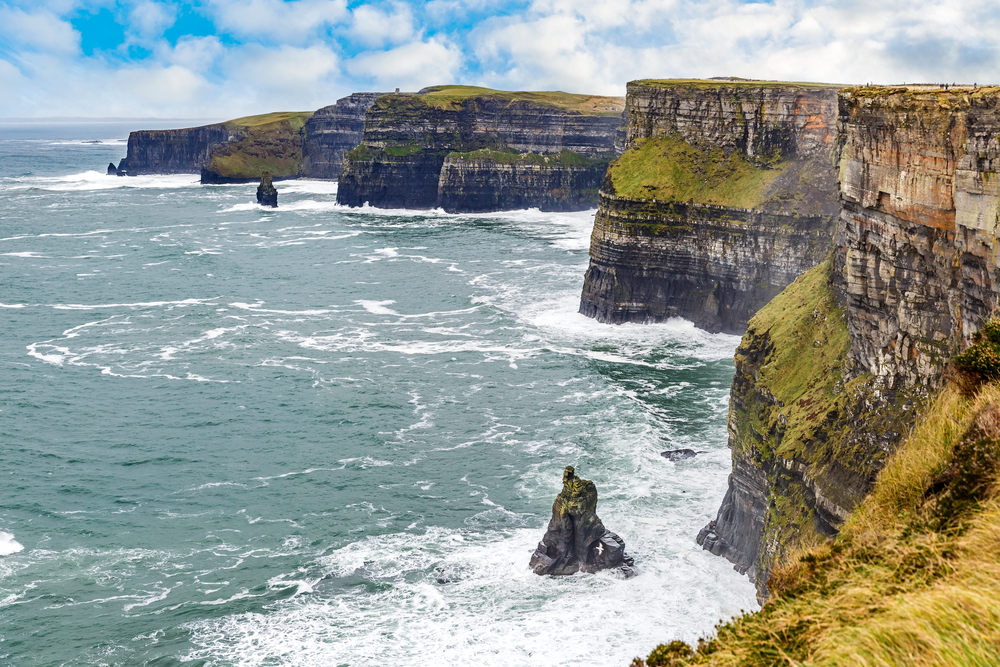 Packing Tips for Your Trip To The Cliffs Of Moher
I think these useful packing tips will enhance your trip to Ireland, and the Cliffs of Moher. And will help you remain organized while there. Read my tips on how to pack lightly for additional packing suggestions.
Make sure to remain hydrated during your trip to the Cliffs of Moher Ireland. Bring along your own non-disposable water bottle and make sure to fill it at the visitor center before you begin your explorations.
Staying hydrated will give you more energy and help you remain well to battle any germs you will undoubtedly encounter on your trip.
My family and I would never leave on any trip without our filtered Bobble water bottle. It is the perfect size to fit into a pocket or backpack. It is small enough not to be bulky or heavy.
And the replaceable charcoal filter ensures clean healthy water all the time. If you are traveling to Ireland and the Cliffs of Moher perhaps something more packable for your suitcase would be better.
These foldable food-grade silicone water bottles are super lightweight and fold into almost nothing.
A concealed travel pouch may be one of the most important items you bring during your visit to Ireland.
This unisex RFID blocking concealed travel pouch is lightweight and comes in several colors. It has lots of organization to give you peace of mind. You can keep your most valuable documents safe and secure next to your body.
If you have a pouch already you may not want to or need to invest in a new one, like me. If it does not come with the RFID protection, these RFID sleeves would be handy to prevent identity theft.
This configuration comes with enough passport and credit card sleeves that the entire family would be protected. They are slim too, so they will easily fit into your current pouch or wallet.
Don't forget to bring along a universal power adapter on your trip to Ireland. This worldwide power plug is a great example and will charge your phone at the end of your busy days.
And this world traveler adapter kit can charge several devices at the same time. This is what you will need when there are several people traveling in your group, or if you bring several electronic devices on your trip that require charging at the same time.
If you are planning on taking a lot of pictures with your phone you will definitely want to consider an external charging battery. This Anker high-speed phone charging battery is the exact one I carry with me on all of my trips.
It can be used on a variety of phones, not just an iPhone like I have. And wow is it fast! I like that it holds its charging capabilities for several uses so I do not have to worry about it while out and about.
And if I forget to recharge it at night, it will still be good to go the next day.
My daughter gifted me with this FugeTek Selfie Stick and Tripod for my birthday. It has Bloothtooth connectivity so it is very easy to use. It is made of durable aluminum and is very lightweight and easy to carry. I love mine and I think you will enjoy it too!
You will want to have a backpack/daypack with you for extra necessities. Maybe you like to carry your own snacks. An extra sweater or jersey is always a good idea should it suddenly become chilly. And of course, you will want a place for your phone charger and techy accessories.
This ultra-lightweight daypack is a great one to consider. It is lightweight and folds up into its own little pouch to tuck into a suitcase or drawer when not in use. It comes in many cool colors too.
This large capacity hiking daypack has a larger capacity if you are traveling with family or children. It is water-resistant and it also folds down when not in use.
I was never a fan of packing cubes until I tried them out! Now I am sold. These Bagail packing cubes are the exact ones I use whenever I travel. I cannot believe how much more organized I am now! And I never leave without them anymore.
Sturdy shoes are a must because you will be walking a lot! After my broken ankle, I have come to realize just how important the proper footwear is for our feet.
I like these Skechers Go Joy Walking Shoes. They are affordable, come in cool colors, and are slip-on. No laces to tie!
If you want to kick it up a notch for some longer exploratory walks or hikes, like the Doolin Coastal Trail, these Merrell Women's Edge hikers are great. They are lightweight, yet would be sturdy for the uneven terrain of the coastal trail. I like the color options too.
Bring a lightweight scarf or shawl. Scarves and shawls are very popular in Europe and Ireland is no different. Both men and women wear scarves, decoratively, and as a layering piece to keep warm.
This cotton unisex lightweight scarf is versatile and can be worn in any season. I like this colorful oversized scarf too. So many colors to select from!
And here's another option to consider: this lightweight sunscreen shawl scarf would do double duty to protect you from the sun in the warmer seasons as well as being a fashion accessory layering piece.
This Coolibar sunscreen scarf has USB 50+ protection from the sun's rays & comes in great colors.
A windproof water-resistant jacket is a good idea to bring along. I am all about lightweight and foldable and this quick dry hooded anorak is both.
It is inexpensive and comes in a wide variety of colors to choose from. This Columbia full zip soft fleece jacket will keep you warm on chilly days, and this waterproof rain jacket will keep you dry on wet and windy days.
If you are traveling during the colder months of the year this mighty light hooded jacket will keep you warm. I personally have one very similar to this and it travels very well because it is so lightweight.
It will keep you warm due to its onmi-heat insulation. I like that it is reasonably priced and comes in lots of colors to select from.
Do not forget the pest repellant like my family did on their visit to Cliffs of Moher Ireland. Those pesky flies and mosquitos really ruined the visit for them.
This highly popular premium insect repellent lotion would be easy to pack and does not contain DEET. If you think a spray is more convenient, this premium insect repellent spray might work for you.
These unisex adult/child DEET-free pest repellent bracelets are a good option to consider.
You will want to have along a pair of sunglasses to protect you from the sun's harmful UVA/UVB rays. These trendy unisex sunglasses protect you from the UVA/UVB damaging rays but are also polarized to protect you from the glare of the sun.
This configuration provides you with three pairs of UVA/UVB protective sunglasses that are suitable for women, men, and children.
And finally, it is prudent to bring along head covering. Here is a unisex wide-brimmed waterproof hat. It is packable and comes in a few colors to choose from.
If a baseball-style cap is more to your liking this unisex sun protective cap is for you. It boasts of UPV 50+ sun protection, comes in many colors, and folds up into its own pouch. That will make it easy for packing for sure!
If you are in need of new luggage, this expandable soft side spinner luggage is affordable and comes in lots of colors. If you like hard-sided better, then you may favor this hard-sided luggage set better.
Both sets come with TSA approved zippers locks and 8 wheels per piece. Either will be great for the plane or train or even your car depending on how you plan on traveling to Russia.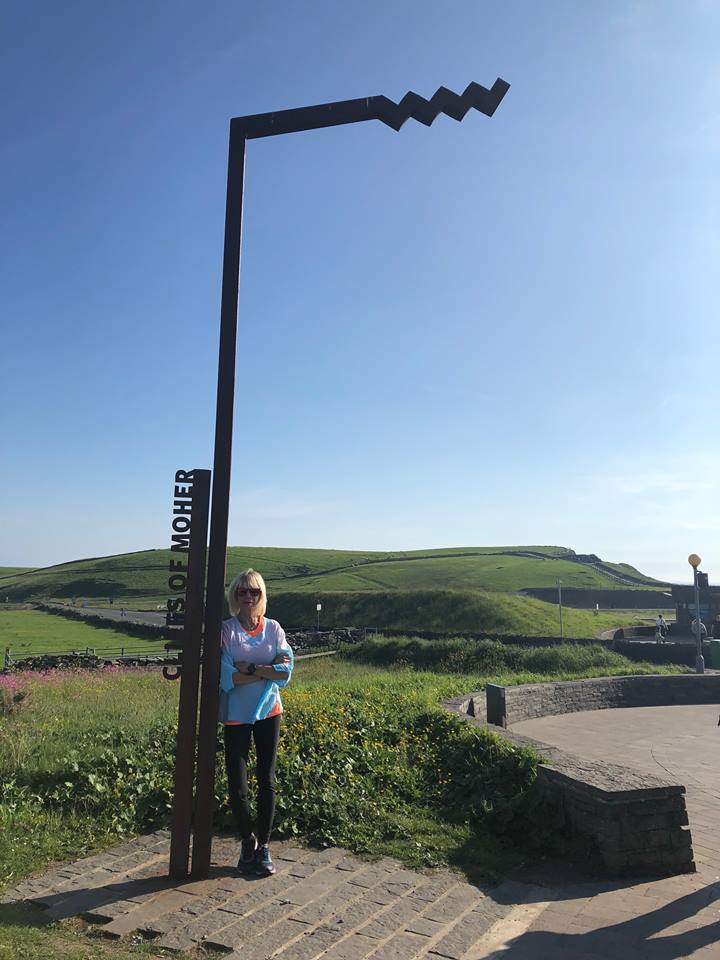 You will want to get a picture of yourself like a did upon arrival at the Cliffs of Moher Ireland.
I truly hope that now that you know these 8 big mistakes that are commonly made by tourists visiting the Cliff of Moher Ireland your visit will be much more relaxed and enjoyable.
Have you ever visited the Cliffs of Moher? What tips do you have for other tourists or visitors that they should avoid when they visit?
Linda On The Run is a participant in the Amazon Services LLC Associates Program, an affiliate program designed to provide a means for sites to earn fees by advertising and linking to Amazon.com
There are also Get Your Guide affiliate links within this post as well.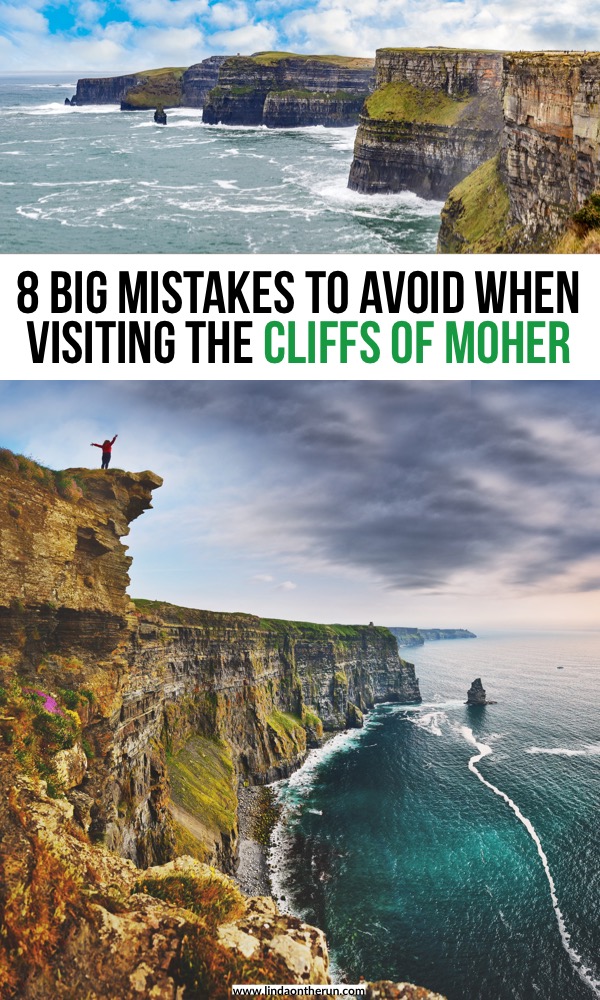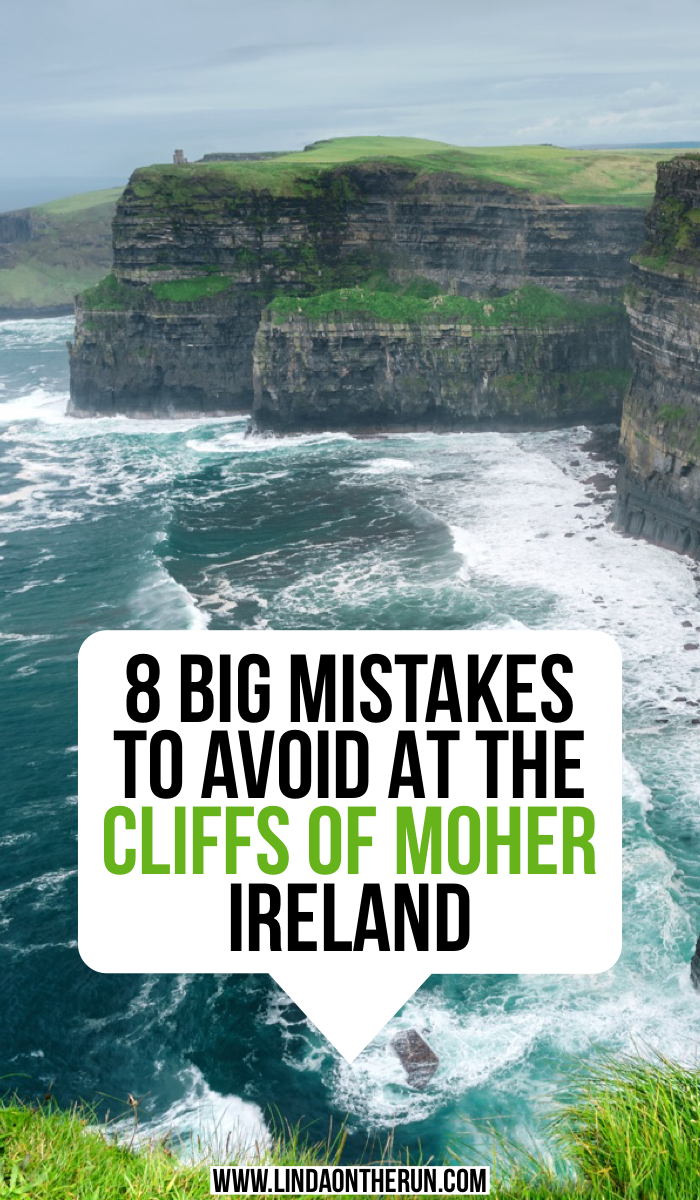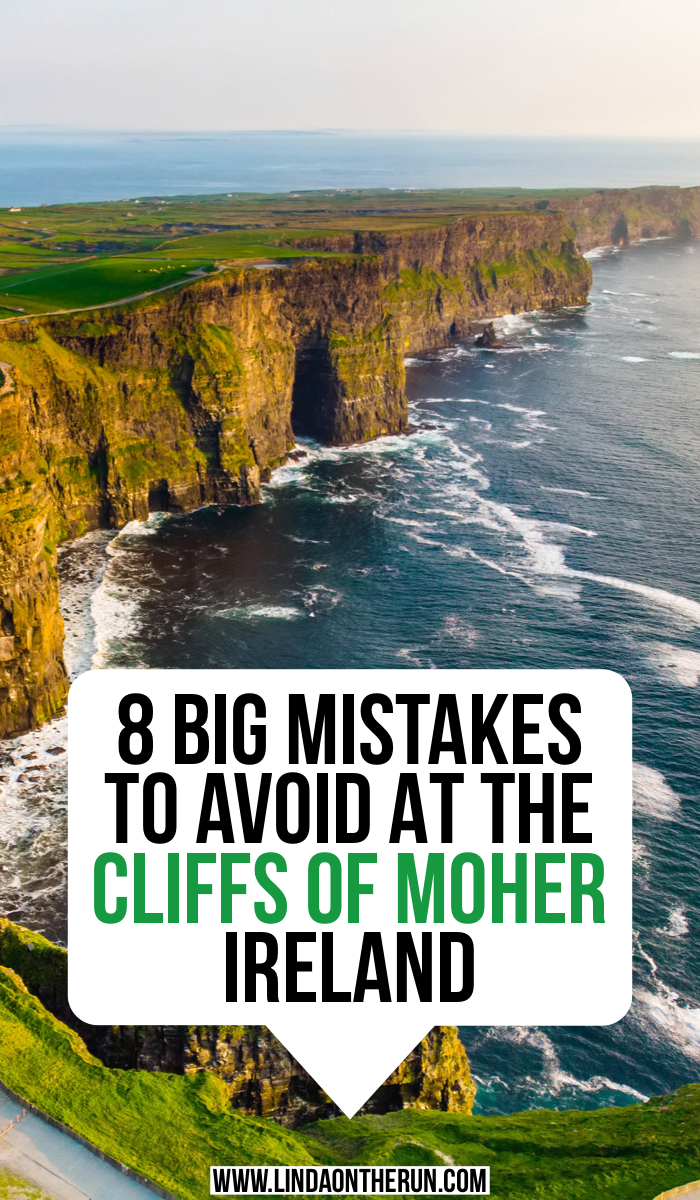 alt="8 Big Mistakes To Avoid At The Cliffs Of Moher Ireland" width="700″ height="1200″>