There are many advantages to visiting Alaska in the winter, including cheaper prices, fewer crowds, and amazing outdoor recreation and wildlife viewing opportunities.
In winter, the Final Frontier becomes a beautiful, snowy wonderland and at night the northern lights dance across the sky.
You will not want to miss the chance to explore nature during an Alaska winter! Spot moose among snow-covered trees and ski down powdery slopes.
If you visit Alaska in December, you will love the Christmas lights and festivities too.
Keep reading to learn why winter might be the best time to go to Alaska!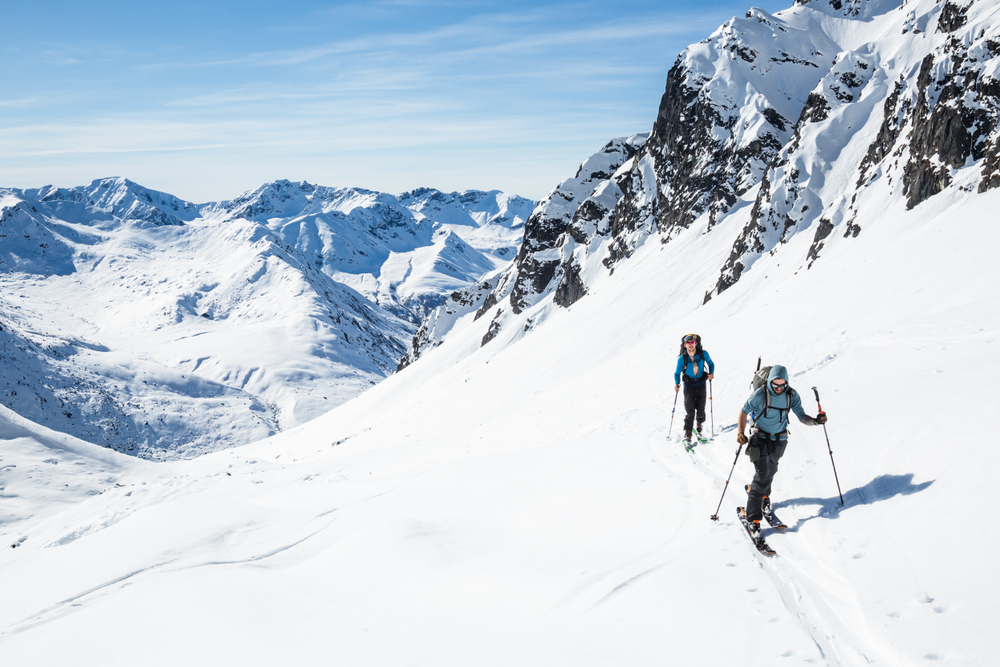 9 Things to Know Before Traveling to Alaska in Winter
It is a Great Time to See the Northern Lights
One of the top reasons people visit Alaska in winter is for the chance to see the northern lights or aurora borealis. This colorful natural phenomenon is on many bucket lists.
The northern lights are visible in Alaska from September through mid-April but you need the right conditions to spot them. It might take a few nights to see the lights well.
You need a clear sky far from any light pollution caused by big cities. Plan to be out from 10 pm to 2 am preferably on a night with no moon.
The best place to see the northern lights in Alaska is near Fairbanks. Since the town is located just under the auroral oval, it is in a prime location.
Fairbanks really is where to travel in winter for the northern lights! Other things to do in Fairbanks in winter include the Aurora Ice Museum and Chena Hot Springs.
For your best chance of seeing the northern lights in Alaska, consider booking a tour with an expert guide.
Book Here: From Fairbanks: Arctic Circle Northern Lights Full-Day Trip
Where to Stay in Fairbanks:
Affordable: Pike's Waterfront Lodge. Check Rates: Booking.com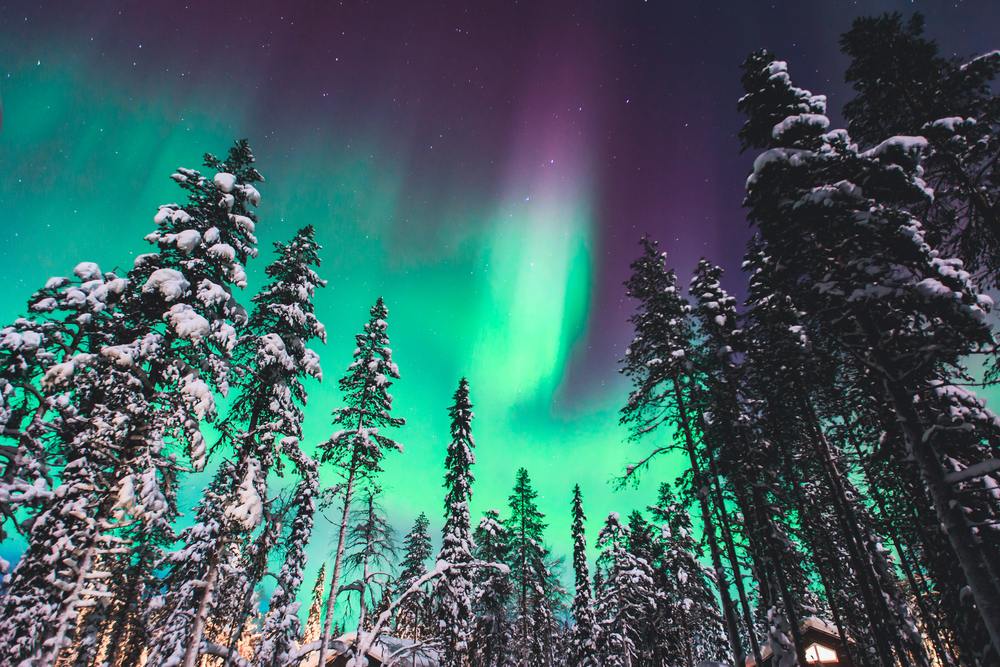 The Temperature and Weather Vary By Region
If you plan on traveling to Alaska in winter, you are in for a real treat!
When people think of an Alaska winter, they imagine snow, ice, and cold!
However, Alaska's winter temperatures and weather vary depending on the region you visit. Some parts are not any colder than northern states in the lower 48.
Snowfall varies greatly even within each region. Across the state, the annual average snowfall ranges anywhere from 35 inches to about 650 inches. Valdez is the snowiest area.
No matter which area you plan on exploring, you will want to pack warm clothes with plenty of layers. Be ready for changing Alaska winter temperatures.
Southcentral Region
Southcentral Alaska, including Anchorage, Homer, and Seward, is one of the most popular parts of the state to visit in winter. There are many things to do in Anchorage!
The average high temp here is around 20 degrees Fahrenheit while the average low is about 10 F. It can dip down to 0 degrees F.
Southeast/Inside Passage Region
In the Southeast region, you will find Juneau, Glacier Bay National Park, and Ketchikan. It is warmer here and this coastal area sees the least snowfall.
The average high temps range from 30 to 40 F. The lows are around 20 to 30 F.
Southwest Region
In the Southwest, you can explore Kodiak Island and Lake Clark National Park. The weather here is influenced by the ocean and it can be windy.
The winter average high is around 30 F and the lows range from 5 F to the mid-20s F.
Interior Region
Of course, as you move farther north, it gets colder. The Interior region encompasses Fairbanks and Denali National Park. These are some of the best places to visit in Alaska!
In Fairbanks, expect the highs to decrease from about 10 F in November to hovering around 0 F in December and January. It then slowly increases to the low-20s F in April.
The lows range from -5 F to -20 F over the course of the season. Rarely, temps can drop to as low as -60 F.
It is a little warmer in Denali ranging from 9 F to 25 F as the average high. The lows range from around -10 F to 0 F. It can drop to -40 F.
Far North Region
Most likely, you will not be visiting the remote Far North section of Alaska during winter. This region mostly lies above the Arctic Circle and is freezing cold.
While it will reach just above 0 F at the bookends of the season, the majority of winter is anywhere from -5 to -30 F on average. It is stormy with high winds.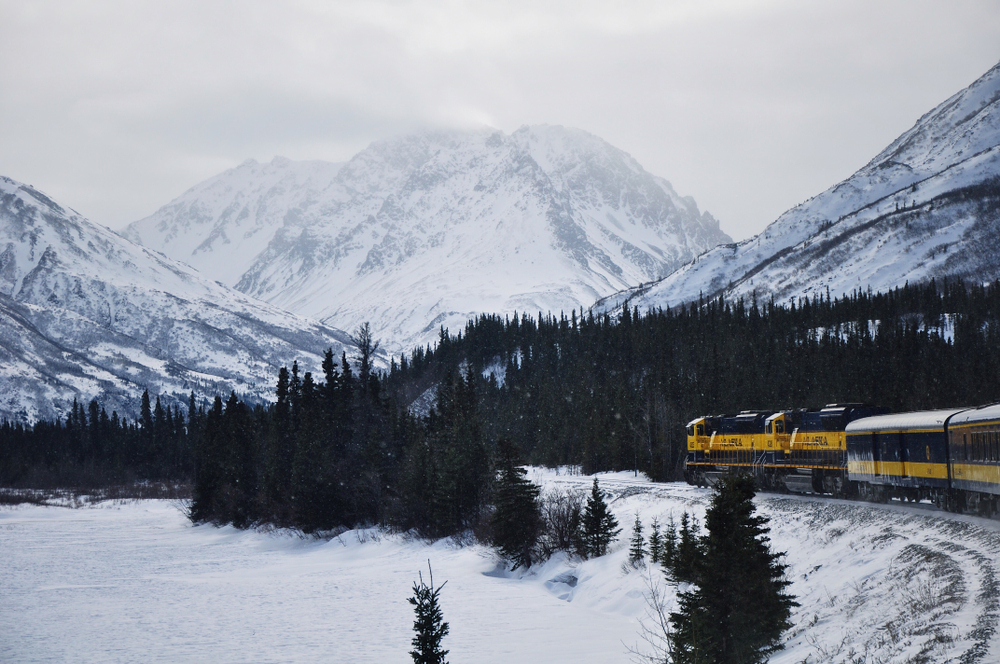 There is Not a Lot of Daylight
Like the temperature, daylight during winter in Alaska varies by region. There is less light the farther north you go. The shortest day of the year is the Winter Solstice on December 21.
On the solstice, Juneau has 6 hours and 22 minutes of light. Anchorage has 5 hours and 28 minutes of light. Up in Fairbanks, there is only 3 hours and 42 minutes of daylight.
North of the Arctic Circle, there is no daylight for days to months at a time.
After the solstice, the light gradually increases each day. If you want the most daylight during your trip, plan to visit at the beginning or end of the season.
Even though there is not a lot of daylight, there are plenty of things to do in Alaska after dark.
Spend time stargazing, searching for the northern lights, going night skiing, cozying up around a fire, or grabbing drinks at a bar.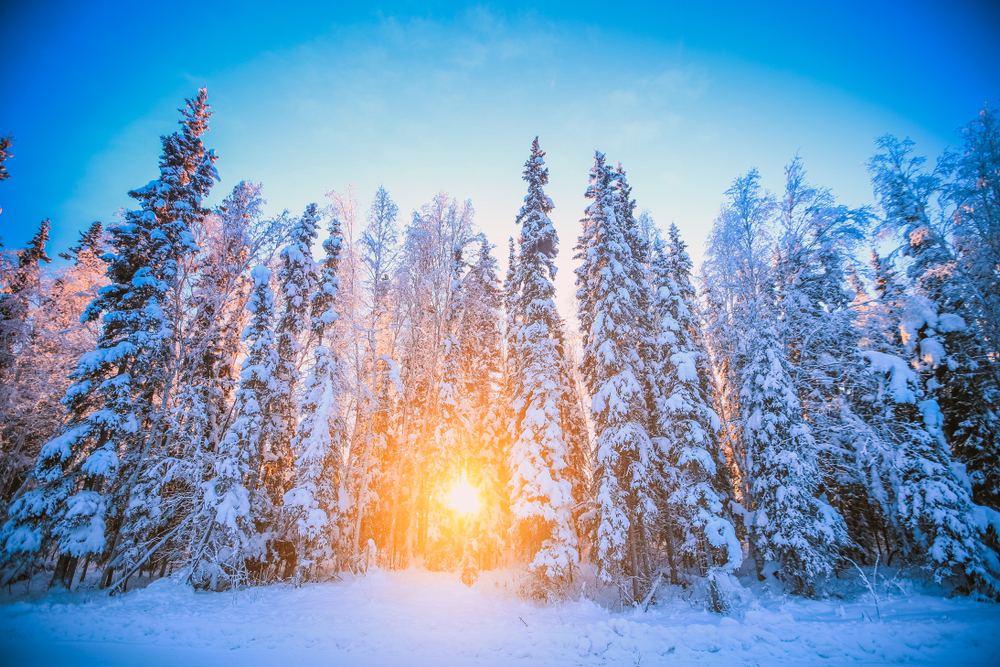 Winter in Alaska is a Cheaper Time to Visit
If you are on a budget, it is good to know that winter in Alaska is one of the cheapest times to visit. Compared to summer, winter is the off-season with overall low prices.
Most hotels and car rentals are cheaper so you can save money. However, some major hotels and ski resorts can be just as expensive as summer.
Many activities and tours are also about the same price as high season but there are some deals.
Flight prices can vary so keep an eye out for lower fares and book in advance. Being flexible with your travel dates is important too.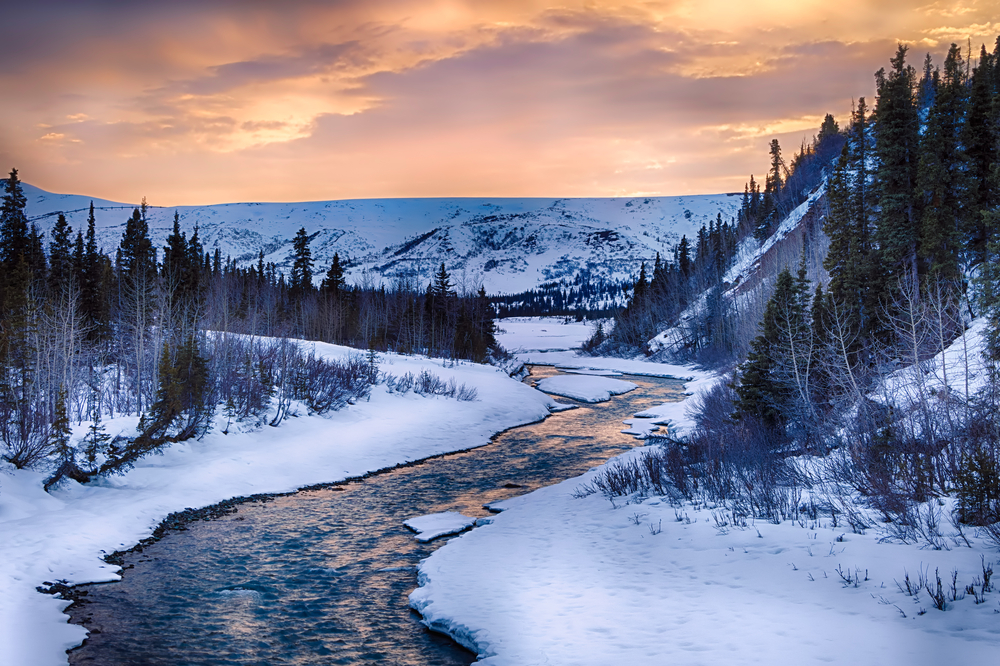 It is Easy to Get Around
If you are worried about driving in Alaska during winter, there is nothing to fear! While the roads see their fair share of snow and ice, main highways and roads are quickly cleared and kept in good condition.
Renting a car is the best way to explore Alaska since it gives you more freedom. You can keep your own schedule and go wherever you want.
Rent an all-wheel or 4-wheel drive vehicle when you travel in winter. Check road conditions before you head out.
Rural and mountain roads are not as well kept up during winter and can be more difficult to traverse.
Even if you choose not to drive, there are plenty of easy ways to get around. Buses, ferries, airplanes, and taxis are available.
The Alaska Railroad offers train services that connect many cities such as Anchorage, Talkeetna, and Fairbanks. It also offers activity packages such as aurora viewing.
Another way to get around is by booking tours. Let a guide do the driving while you learn about and enjoy the sights.
To get to Alaska in the first place, flying is the best option any time of the year.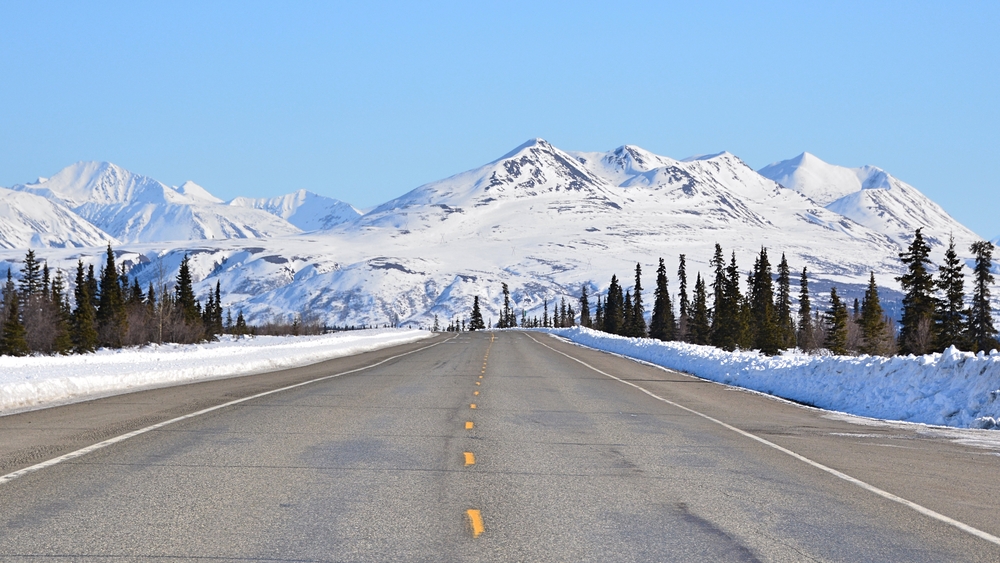 There Are No Cruises and Less Crowds During Winter In Alaska
Alaska's cruise season is May through September so by winter there are no giant ships to be found at ports. No cruises mean the tourist crowds are dramatically reduced.
Mingle with the locals and walk city streets with fewer people. You'll love the peace of popular nature spots without the noise and bustling of summer crowds.
Many attractions in Alaska are still open through winter as are numerous restaurants, bars, and shops.
Keep in mind that some winter events, such as the Iditarod Trail Sled Dog Race, draw people in. Check local events before booking your trip.
Where to Stay in Anchorage:
Mid-Range: Aloft Anchorage. Check Rates: Booking.com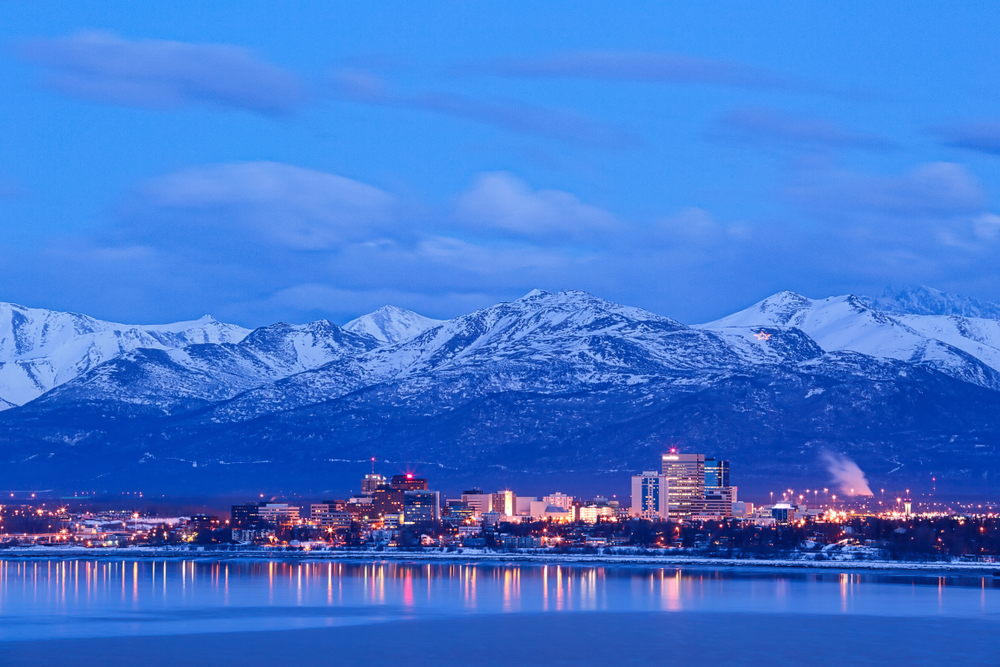 Winter is a Good Time for Wildlife Viewing
Alaska is known for its amazing wildlife and winter provides ample chances to spot animals in snowy landscapes. With less vegetation, animals are easier to spot and footprints can be seen in the snow.
Moose move south in winter and commonly pop up in the city of Anchorage.
Some good places near Anchorage to see these massive animals include Chugach State Park and the Palmer Hay Flats State Game Refuge.
In November, the world's largest concentration of bald eagles can be found on the shores of the Chilkat River near Haines. Over 3,000 eagles gather to eat salmon.
To get to Haines, you can fly or take a ferry from Juneau. You will not want to pass up on one of the best places to visit in Alaska for wildlife!
Other wildlife to keep an eye out for include Dall sheep, mountain goats, ravens, owls, harbor seals, wolves, and more!
Do not plan on seeing bears during winter in Alaska. They begin hibernating by late November and do not emerge until late March or early April.
Most whale species have migrated away from Alaska by November and they do not return until March. Orcas can be sighted year-round, especially in bays and inlets, but are rare.
Where to Stay in Juneau:
Luxury: Silverbow Inn & Suites. Check Rates: Booking.com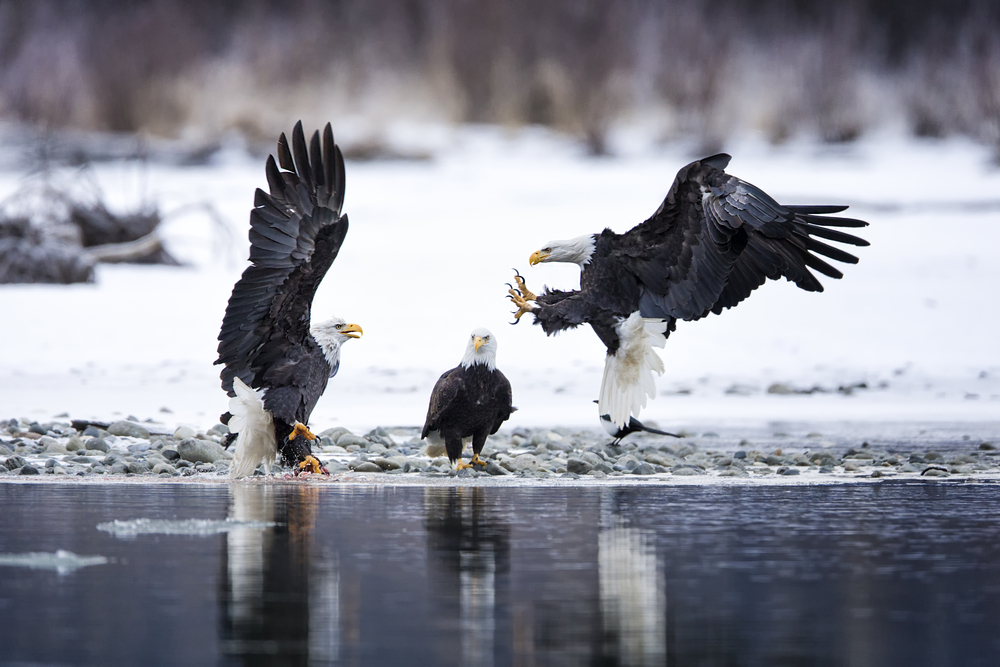 National Parks Can Be Limited During Winter in Alaska
Some of the best places in Alaska to visit in winter are the many national parks. Many of the parks are open during the winter months, but there is limited access and reduced services.
In Denali National Park, train and bus services are only open from mid-May through mid-September. You can drive private vehicles, but after snow falls, the road is only plowed until Mile 3.
Denali winter activities include stopping by the Murie Science and Learning Center, cross-country skiing, snow-shoeing, viewing the northern lights, and attending the Denali Winterfest in February.
In Kenai Fjords National Park, the visitor centers are closed in winter and the road to Exit Glacier is left unplowed. You can still reach the glacier by cross-country skis or snowmobile but it will be covered in snow.
A variety of Alaska winter tours of the park are offered by Adventure Sixty North. These include kayaking and snowmobiling. There is also a shuttle, which is great for family winter vacations in Alaska!
If you are looking for a true Alaska winter adventure, head to Wrangell-St. Elias National Park. However the roads are not maintained, there are no services, and the visitor centers are closed.
You can go snowmobiling as well as cross-country skiing or snowshoeing on trails. All equipment must be brought with you as there is nowhere to rent anything.
You have to visit national parks in Alaska during your trip!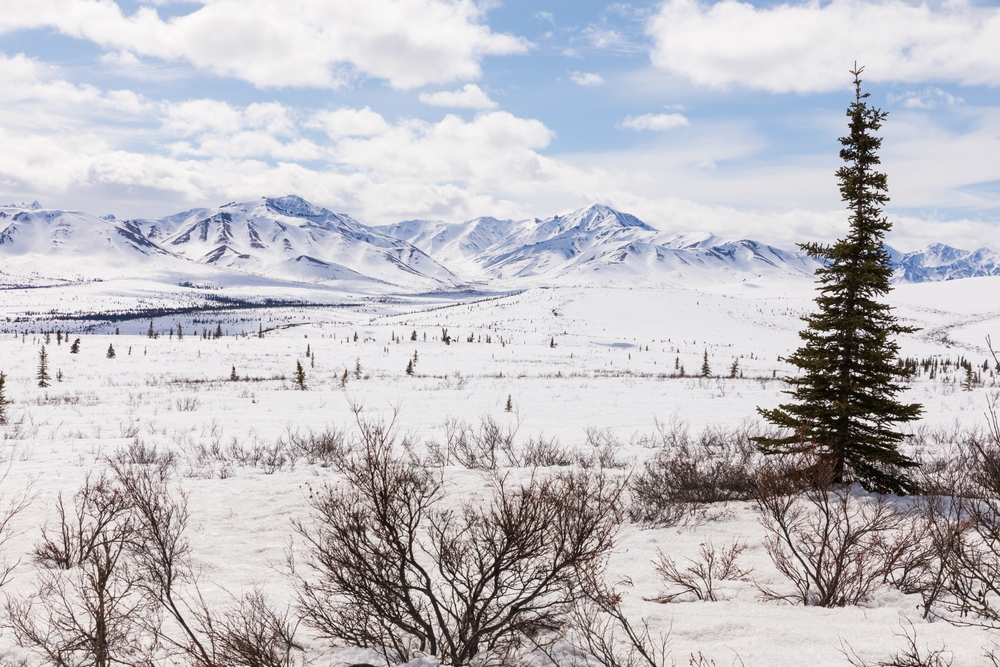 Winter In Alaska Is An Amazing Time For Winter Sports
If you are a winter sports enthusiast, Alaska is one of the best winter vacations in the US!
For downhill skiing, plan on visiting the slopes at Alyeska Resort about an hour from Anchorage.
This top ski destination sits in the Chugach Mountains and has the "best view of any U.S. ski resort" according to Conde Nast Traveler.
There are 1,610 skiable acres with 76 runs and trails. Beginners can take a lesson while experts will want to test out the longest continuous double black diamond run in North America.
If you have ever wanted to try heli-skiing, you'll have the chance too. Ride a helicopter to higher elevations to experience fresh, untouched snow.
The Alyeska Resort is also one of the best places to stay in Alaska. Amenities include a saltwater pool, a world-class Nordic spa, multiple restaurants, and incredible, cozy rooms.
Other places to visit in Alaska for skiing and snowboarding include Eaglecrest Ski Area, Skeetawk Ski Area, and Moose Mountain Ski Resort.
Ice skating is also a fun, family-friendly winter activity in Alaska. Imagine skating on a gorgeous, frozen lake surrounded by snowy mountains.
Check out Eklutna Lake Ice Skating, A.R.C. Lake Park, and Adventure Ice Skating at Potter Marsh.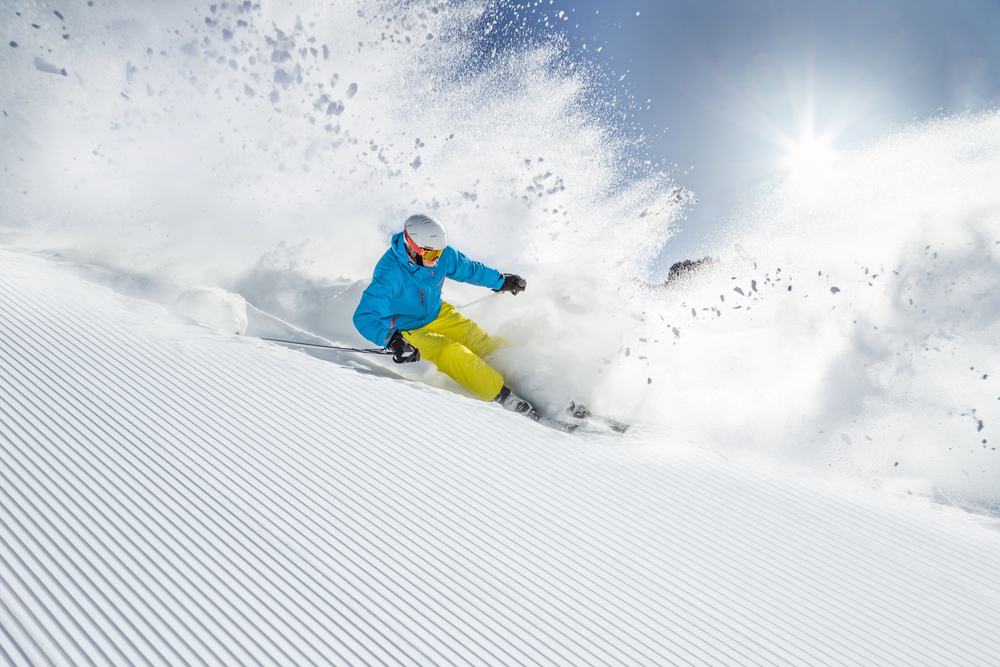 Packing List When Visiting Alaska In Winter
If you will be traveling, either by plane or by car to Alaska, here are some tips on how to pack lightly.
A concealed travel pouch may be one of the most important items you bring along when vacationing during winter in Alaska.
It is always important to protect your personal information. Identity thieves are everywhere.
This unisex RFID-blocking concealed travel pouch is lightweight and comes in several colors. It has lots of organization to give you peace of mind.
You can place it under your clothes next to your body to carry your ID safely.
If you have a pouch already that does not come with RFID protection, as I do, these RFID sleeves are the perfect solution.
This configuration comes with enough credit card sleeves that the entire family would be protected. They are slim too, so they will easily fit into your pouch or wallet.
If you are planning on taking a lot of pictures with your phone you will definitely want to consider an external charging battery.
This Anker high-speed phone charging battery is the exact one I carry with me on all of my trips.
It can be used on a variety of phones, not just an iPhone as I have. And wow is it fast!
My daughter gifted me with this FugeTek selfie stick and tripod setup for my birthday. I absolutely love it! It is made of lightweight aluminum and so easy to use.
It has Bluetooth connectivity and is a breeze to use for taking photos during your London activities.
You will want to bring your own refillable water bottle with you.
I never leave home on a trip without my Bobble filtration bottle. The 18.5-ounce size is perfect for hiking and it fits nicely in the pocket of a backpack.
The replaceable carbon filter ensures clean drinking water when you want it.
Then this collapsible silicone foldable water bottle would work well for you. Would not take up much space at all.
You will want a backpack or daypack with you to store snacks, your water bottle, phone, extra clothes, etc… No matter the time of day or evening.
This foldable water-resistant backpack would be great.
It is very affordable and is available in many color options for you to choose from. The fact that it folds down into a zippered pouch will make it easy to pack.
—
Alaska is sure to be one of the best winter vacations you'll ever take! Fill your Alaska itinerary will skiing, wildlife viewing, northern lights, and riding trains.
Do you think winter is the best time to go to Alaska for your needs?