Are you looking for things to do in Killarney, Ireland while you are visiting for the first time?
Killarney is located at the northern end of the Ring Of Kerry. It is the perfect place to stay if you are hoping to explore the Ring Of Kerry/Wild Atlantic Way and the surrounding area.
I spent time in Killarney. Located in County Kerry, I fell absolutely and madly in love with it and all it has to offer!
If you are flying into Ireland, read my tips on How To Avoid Getting Sick On A Plane.
There are so many things to do in Killarney that you will have to narrow it down to a few of the best choices for your first trip! Whatever interests you, you will be able to find while you are in Killarney.
Charming Things To Do In Killarney For First Time Visitors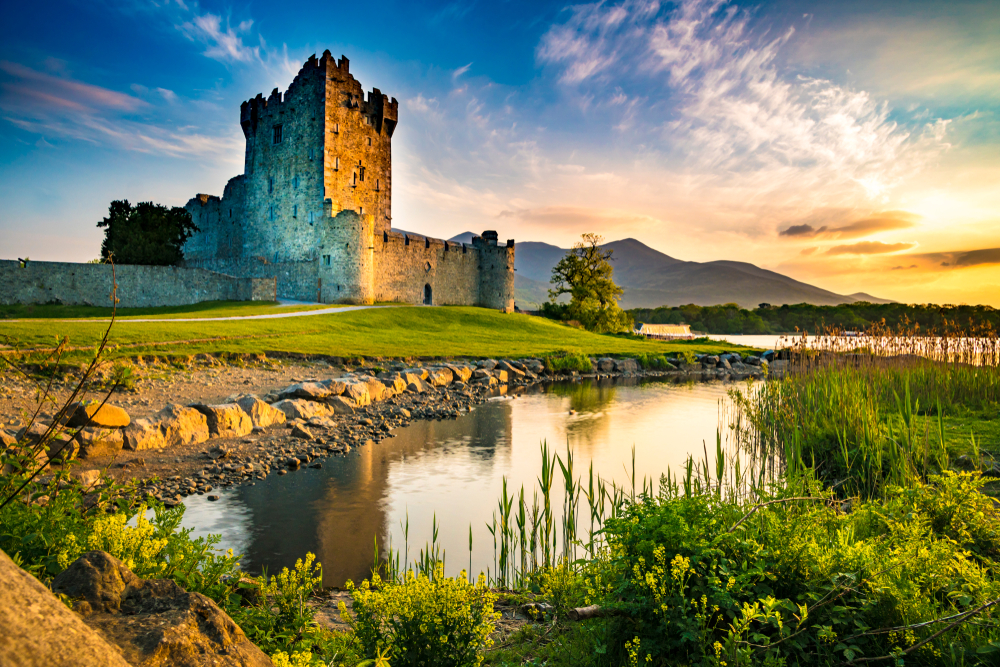 First Time Visitors Should Begin By Exploring Killarney National Park
Hugging Killarney is some of the most gorgeous landscapes I've ever seen and seeing it must be on your list of things to do in Killarney.
The mountains reach down to the three lakes collectively known as the Lakes of Killarney, (Lough Leane, Muckross Lake, and Upper Lake) forming beautiful and memorable vistas.
Look here: 1-Hour Lakes of Killarney: Boat Cruise
Look here: Gap of Dunloe Tour by Foot & Boat
Lush green forests and waterfalls add to the charm of the countryside and are one of the perfect things to pursue in Killarney if you love the outdoors.
When out exploring the Killarney National Park in your car, there are plenty of places to pull over and admire the views.
If you are on a long haul flight into Ireland read 7 Tips For Surviving Long International Flights
Or explore some new irresistible location! Some specific places to visit in Killarney National Park include Killarney House and Gardens, the Muckross House, and Torc Waterfall.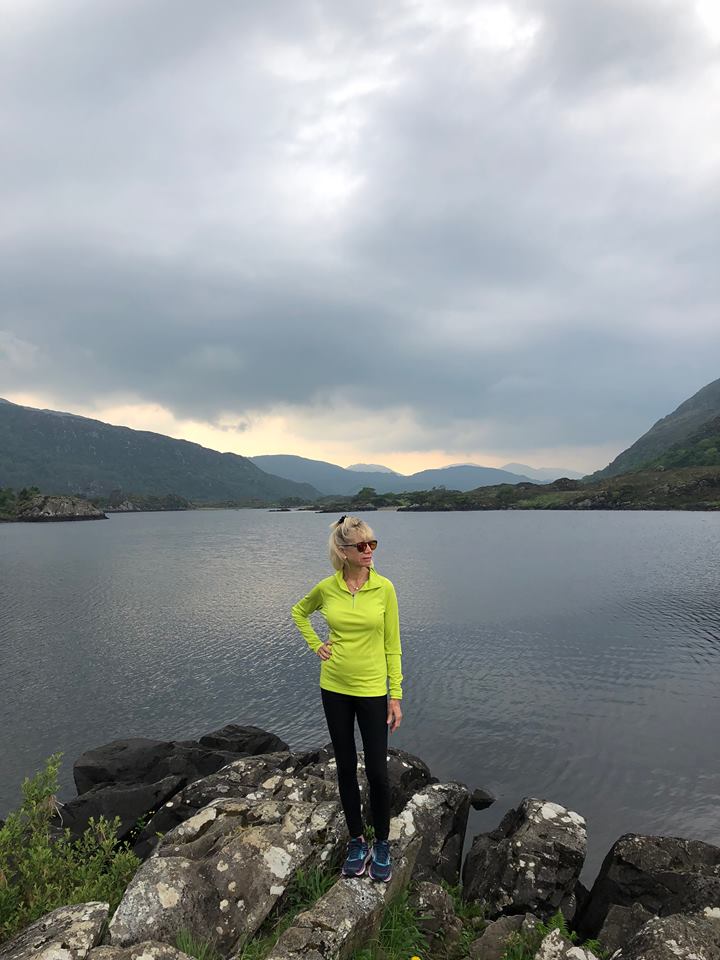 READ NEXT to help with your Ireland planning:
The Ultimate One Day In Dublin Itinerary You Should Follow
The Ultimate 3 Days in Dublin Itinerary
10 Things To Know Before Kissing The Blarney Stone
The Ultimate 7 Day Ireland Itinerary
17 Fun Things To Do In Doolin Ireland
Top 10 Things To Do In Dingle On Your First Visit
Fantastic 2 Day Dublin Itinerary
Visit Killarney House & Gardens – the Gateway to Killarney National Park.
Located in Killarney City, Killarney House & Gardens is a pedestrian-friendly landmark.
I discovered this gem while out on a morning run. It should definitely be on your list of things to do in Killarney. It is located where Killarney City and Killarney National Park meet.
There is no cost to enter, and once I passed through the gates onto the property, the noises and hustle-bustle of the city melted away.
Before me was the very vintage and restored Killarney House, with its lush and impeccably manicured gardens.
Tours of Killarney House are available, again for free. Unfortunately, I was not appropriately dressed for a tour of the historically correct restoration house.
I was, however, able to take advantage of a myriad of running/walking/biking trails in Killarney Gardens.
The grounds were meticulously cared for, and the flowers were all bursting into bloom. Killarney House is one of the perfect places to visit in Killarney if you love gardens and history.
The mountains of Killarney National Park filled the background reaching up to touch the sky which made for a scenic and memorable run I won't soon forget.
Place Killarney House and Gardens at the top of your things to do in Killarney!
Look here: Ring of Kerry Full-Day Tour from Killarney
Look here: From Killarney: Day Trip to Dingle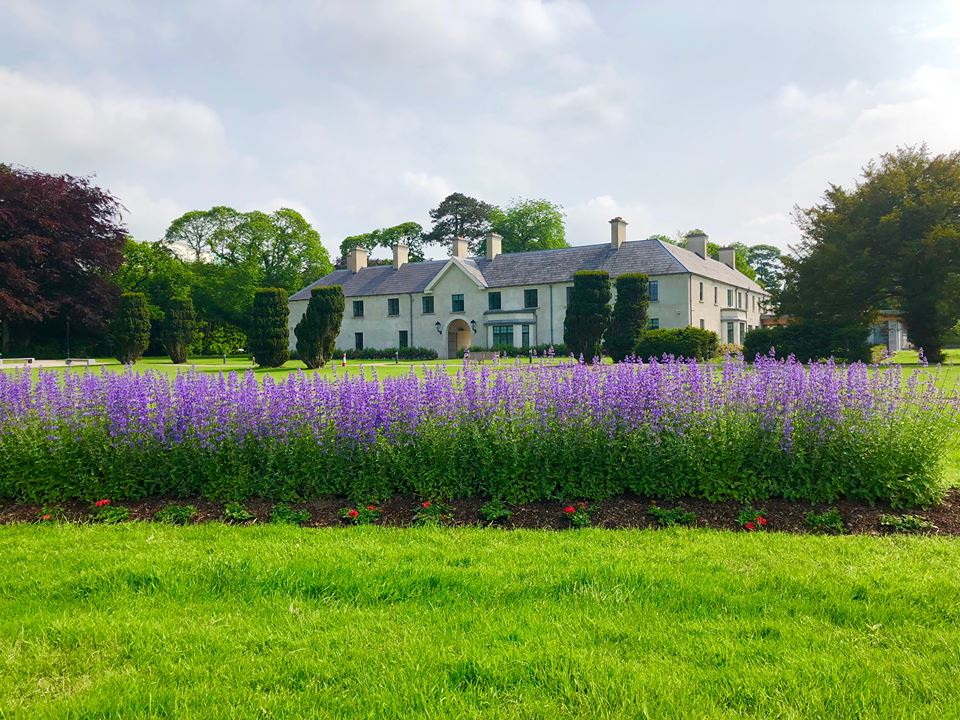 Adjacent to Killarney National Park Is Ross Castle a must-see!
Ross Castle is a 15th-century tower house, situated on Lough Leane, one of the 3 Lakes of Killarney.
It is only a few blocks away from Killarney House and Gardens. Easily walkable and one of the things to do in Killarney that will interest you. There is a fee to enter, but it comes with a guided tour.
The view out to the lake is majestic, and there are regularly scheduled boat tours to Inisfallen Island, home of a monastery.
Ross Castle is so easy to access and a wonderful quick stop during your first trip to Killarney and one of the best things to do in Ireland!
Look here: Killarney 2–Hour Kayaking and Ross Castle Tour
Look here: 1-Hour Lakes of Killarney: Boat Cruise
Explore the mystical Innisfallen Island.
The Innisfallen Monastery, founded in the 600s is located on Innisfallen Island. Full of Irish history, you can get to the island by taking a guided kayak tour, or a short boat ride.
The island is full of Irish history and the Annals of Innisfallen were written there. On a clear day, you might even see one of the island's native red deer.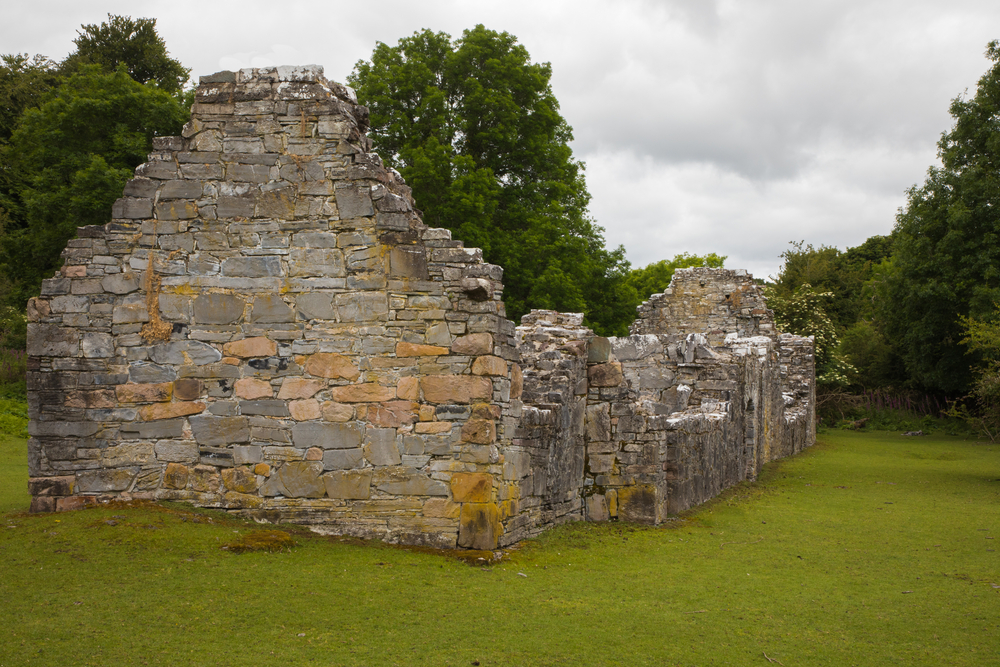 Ruins of Innisfallen Island's Monastery
Muckross House & Gardens Should Be On Your List
Muckross House is located 6 km (3.7mi) from Killarney City and one of the more popular things to do in Killarney.
It is a 19th-century Victorian mansion located in Killarney National Park. It is on Muckross Lake, one of Killarney's three lakes.
Muckross House & Gardens is open every day except during the Christmas season and does get very busy.
When we visited, it was quite crowded, so plan plenty of time to visit. A guided tour of the house is included with your admission and lasts about an hour.
The Muckross Gardens and Muckross Traditional Farms are free to wander about as is the adjacent Killarney National Park with its breathtaking vistas across Muckross Lake to the mountains!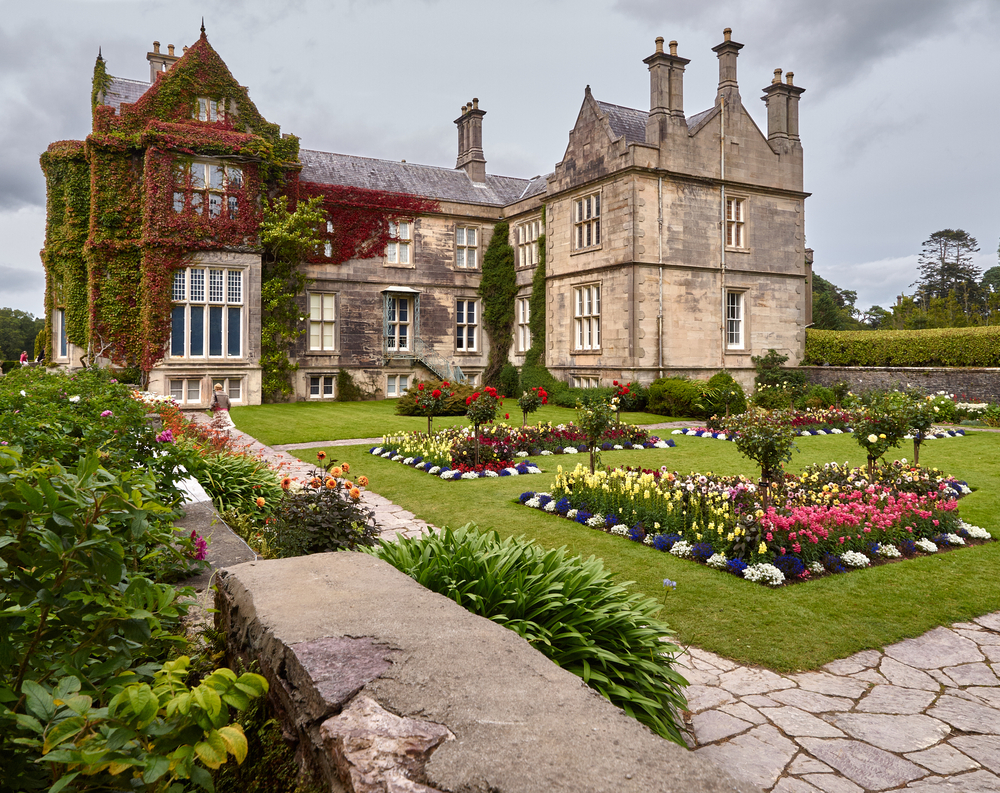 Muckross House and Gardens
Walk/Hike/Run/Bike Muckross Lake
Looking to stretch your legs a bit? Why not see spectacular scenery at the same time? One of the things to do in Killarney is to spend time at Muckross Lake on one of the myriads of trails.
One popular trail in Killarney National Park takes you on a loop around the lake. It is 6mi/10K long and an easy trail. The recommended time to complete it is about 2 hours.
Guided bike and walking tours are available.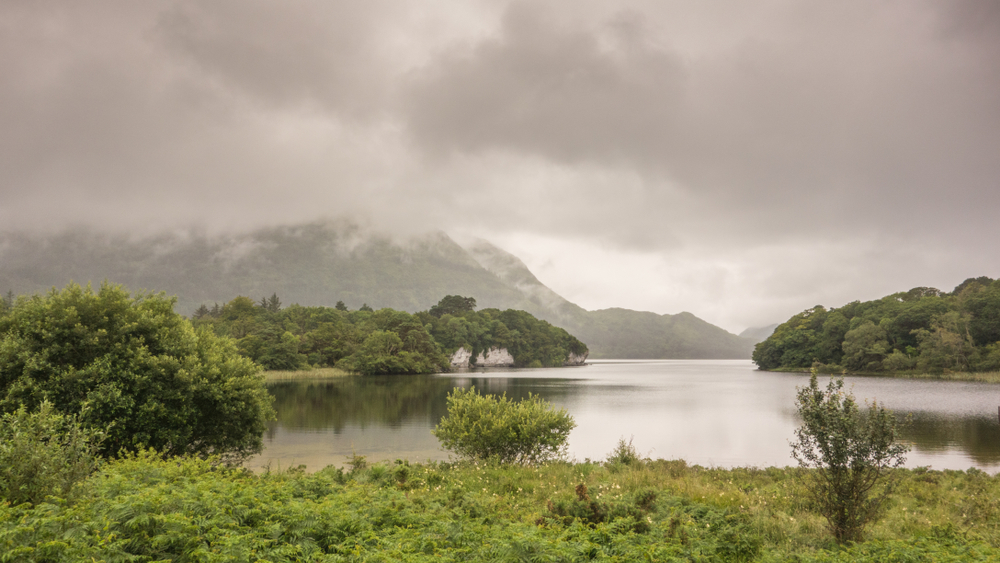 Visiting Killarney Must Include Torc Waterfall.
Torc Waterfall is beautiful and located 2.5k (little over a mile) away from Muckross House and Gardens, and 7km (little over 4 miles) from Killarney City.
There's plenty of parking and signage make it easy to find and it's a popular tourist destination so make sure it is on your list of things to do in Killarney.
Look here: From Killarney: 'Ring of Kerry' Mountain Road 1-Day Bus Tour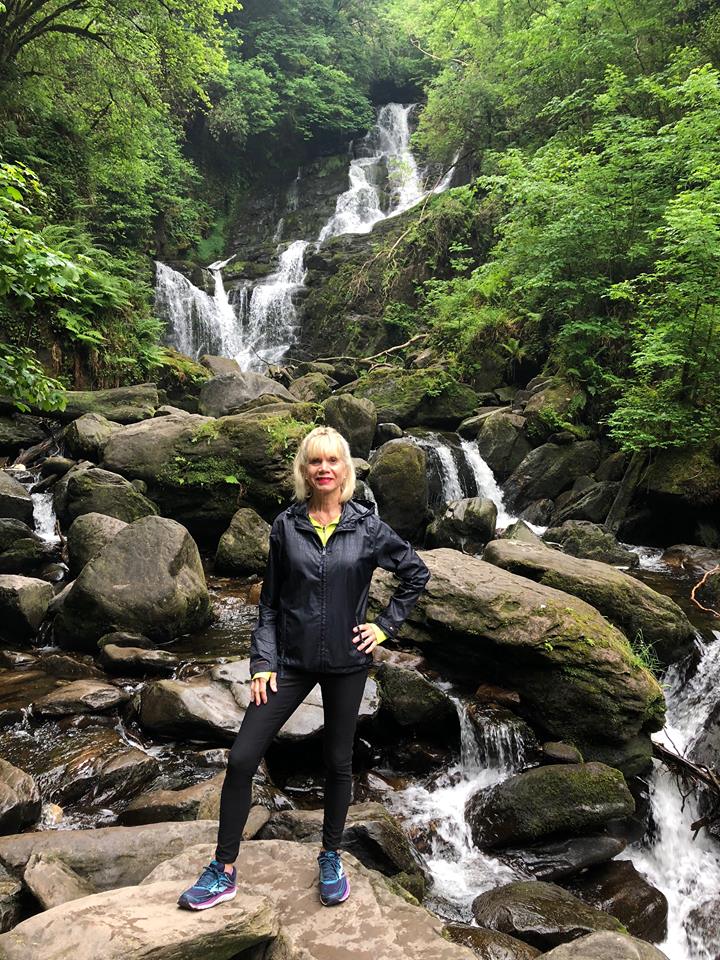 Look here: Killarney: Full-Day Dingle & Slea Head Day Tour
Hike the 'Cardiac Steps" Of Torc Mountain
If you are an avid hiker You may want to climb to the top of Torc Mountain to see the source of the Torc Waterfall. With a name like Cardiac Steps, only the fittest should take on this challenge.
I did climb partway up to view the waterfalls from a different perspective but did not venture the entire way.
Or How About A Round Of Golf?
Perhaps hiking, biking, or running are not your thing, but golf is! Well, you are in luck! Killarney boasts various golf courses for you to choose from, in all kinds of configurations.
First, decide the location. Lakeside? Woodland? And then course length: 9, 18, or 36 holes. Killarney has them all. What a wonderful way to spend the day or afternoon.
If you are traveling alone, read my Travel Tips For Solo Travelers.
Explore Killarney's Lakes
Getting out on the water can be healthy for the soul! You can explore the Killarney Lakes with several scenic tours. Lough Leane is Killarney's largest lake and cruises set sail from several locations.
You will see the quaint and historic Denis Cottage, dating back to the 1700s, on Muckross Lake. Today it is used as a cute tea house. Here you can see the Old Weir Bridge and the Meeting of the Waters.
Tickets here: Ring of Kerry: Lakes of Killarney Scenic Coach Tour
Tickets here: Gap of Dunloe & Lakes of Killlarney Boat Tour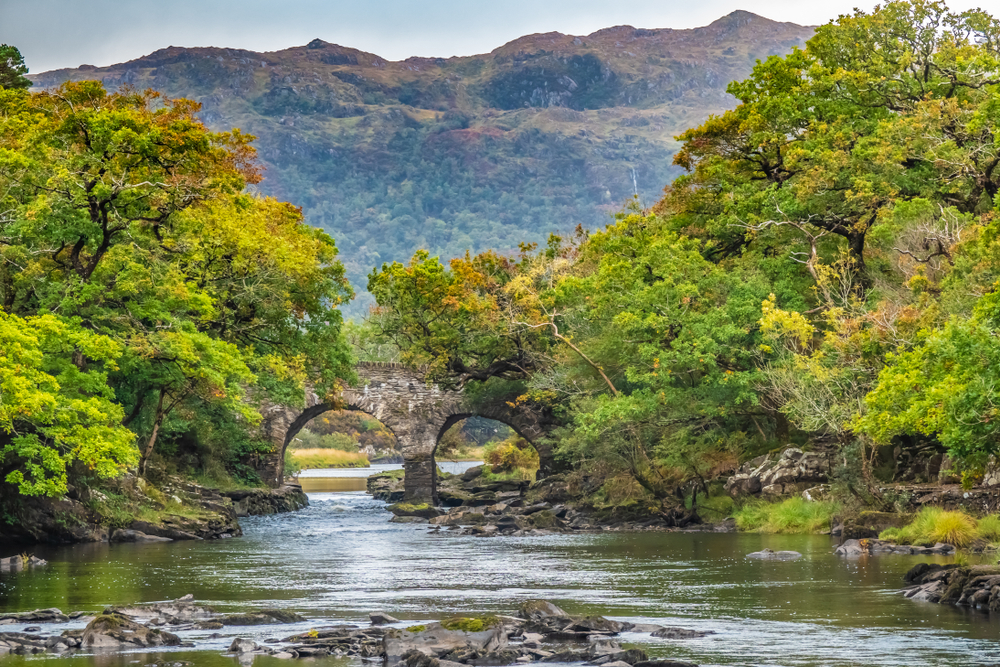 The Old Weir Bridge at the Meeting of the Waters.
Ladies View Overlooking The Lakes Of Killarney Is Worth The Effort
Adding "Ladies View" to your itinerary of things to do in Killarney is worth the 12 mile trip from Killarney City, along N71, through the Killarney National Park.
First of all, the epic views of the lush forests and the Lakes of Killarney accompany you all along your way.
There are ample locations to pull your vehicle over and take pictures and/or gaze at the views.
Ladies View is named for Queen Victoria's ladies-in-waiting who were themselves very impressed by the view when taken there during a visit in the 1860s.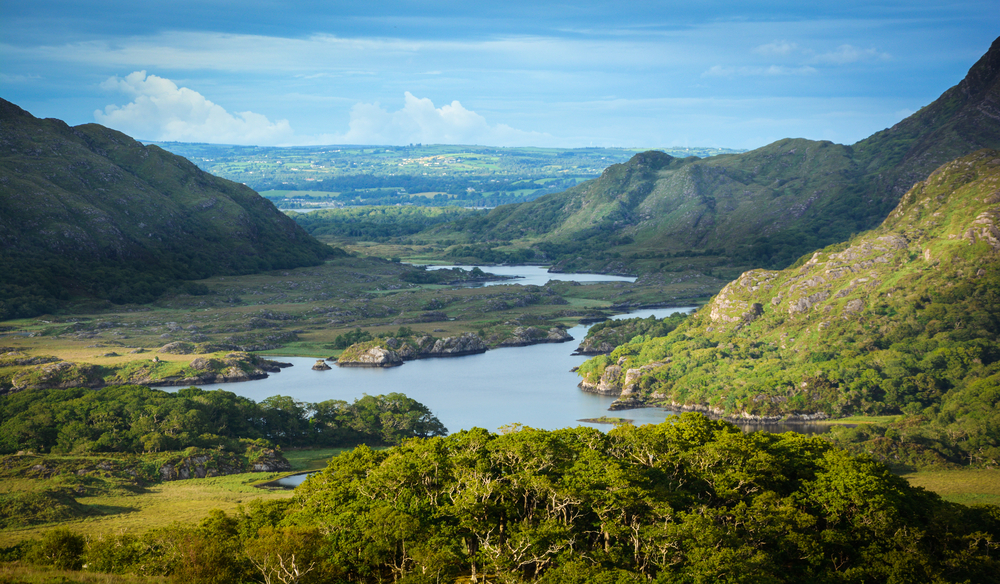 Visit The Gap Of Dunloe For Epic Views
One of Killarney's most popular tourist destinations due to its jaw-dropping scenery is the Gap of Dunloe!
It is a very narrow mountain pass that separates two mountain ranges in County Kerry, not far from Killarney. It is definitely worth the drive.
Glacially formed over 25,000 years ago, the Gap runs north-south and is accessible on a narrow public road. There are mountains, beautiful lakes, and epic sunrises/sunsets to be seen.
Tickets here: Gap of Dunloe: Guided Boat, and Bus Tour
Tickets here: Gap of Dunloe Tour by Foot & Boat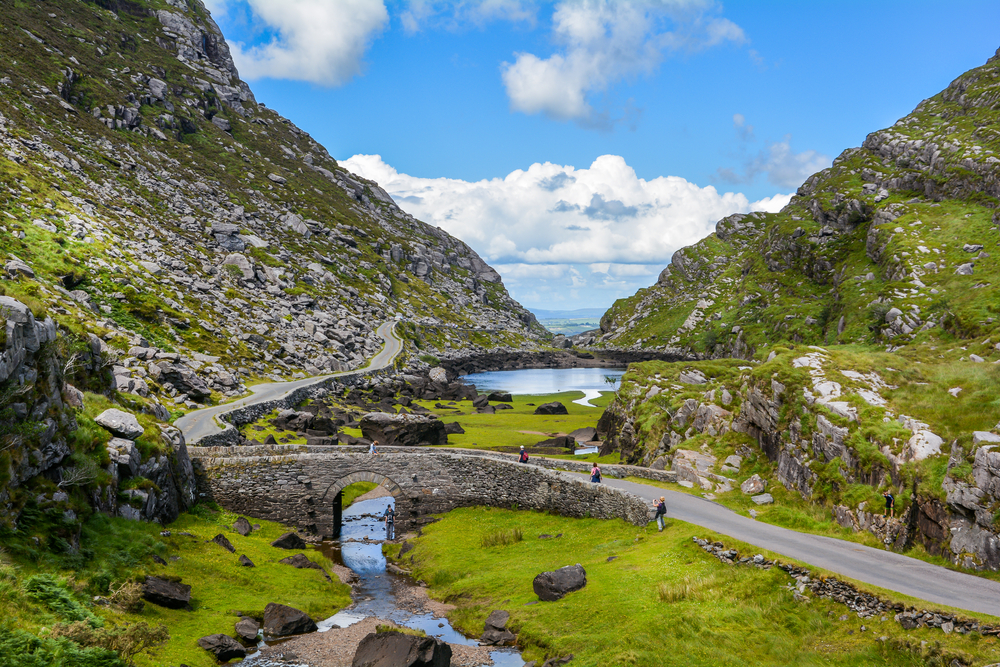 Killarney City Offers Many Options: Lodging, Shopping, Food, Sights To Explore!
After spending time exploring Killarney National Park soaking up nature, there are plenty of things to do in Killarney City.
When you are finished with your daytime sightseeing adventures evening adventures begin. Killarney City is filled with all the hustle and bustle of any large Irish city.
I stayed at The Brehon Hotel, a four-star rated hotel. It was wonderfully located about one mile from the epicenter of Killarney Center, (about a fifteen-minute walk)
As a runner, I appreciated the close proximity to everything. I was able to get a few miles run in every morning, touring the city and seeing the sights!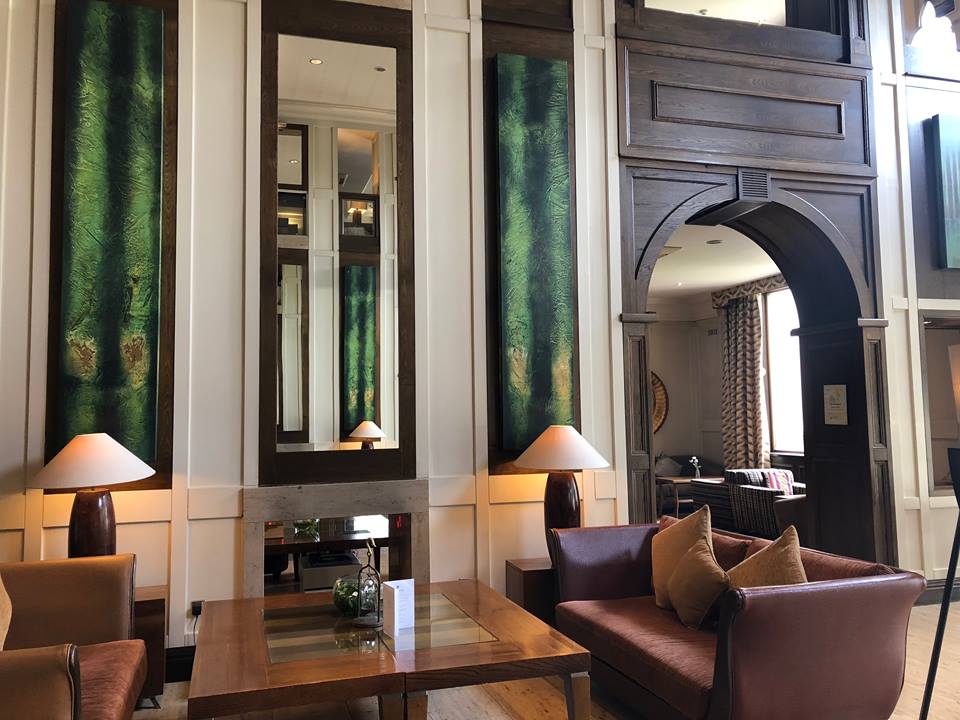 The comfortable and inviting lobby of The Brehon Hotel in Killarney.
My room was contemporary and ultra-comfortable. Every conceivable luxury I could possibly need was waiting and ready for me.
My room was located where I could see the green of Killarney National Park across the street.
We spent an afternoon at the deluxe Brehon Hotel & Angsana Spa, a luxurious indulgence! The pool was fashioned with a Greek influence.
The accompanying sauna and steam rooms were exactly what was needed to melt away my tiredness and sore muscles.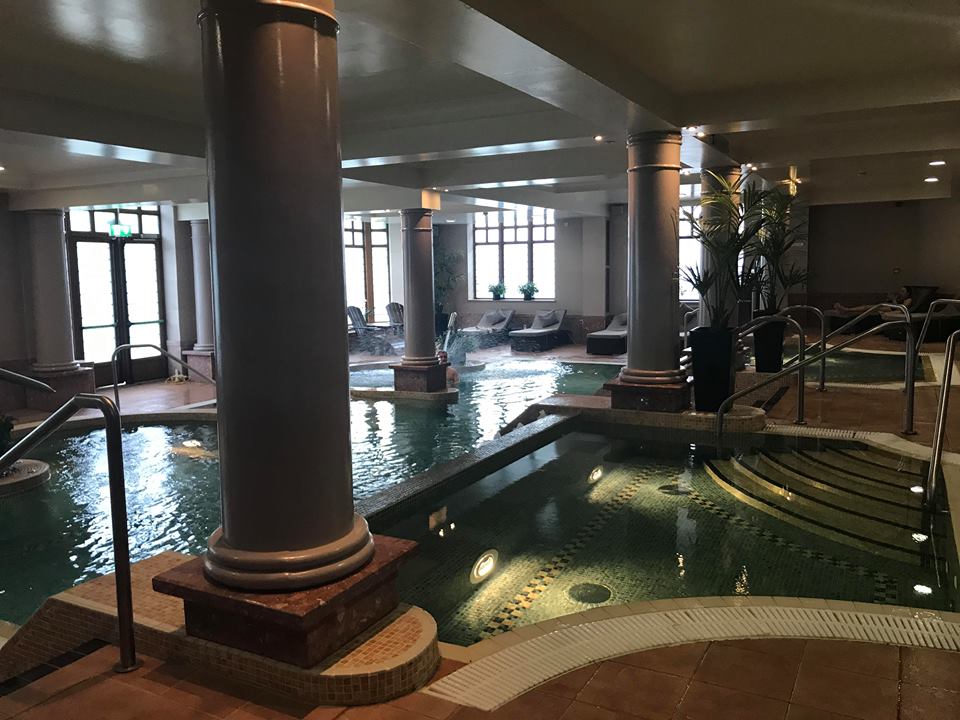 The magnificent Greek-inspired Angsana Spa at the Brehon Hotel.
I truly feel The Brehon Hotel & Angsana Spa definitely lived up to its prestigious four-star rating.
I suggest adding it to your things to do in Killarney list, whether staying there as a guest or stopping by for a visit to be pampered at the Angsana Spa.
One Of The Best Things To Do In Killarney City Is Shopping!
Killarney City Center is a very lively place with shops, restaurants, pubs, and ice cream parlors all sharing the same space!
Shopping ranges from mass-produced Irish souvenirs to hand-knit Aran sweaters. Some cheap. Some very expensive.
The fun part is walking shop to shop, comparing merchandise, quality, and value.
Several large knitwear stores were competing for tourist euros selling Aran knit sweaters, vests, gloves, etc.. both hand-knit and loom knit.
Irish department stores dot the retail landscape as well and offer an alternative to the Irish souvenir.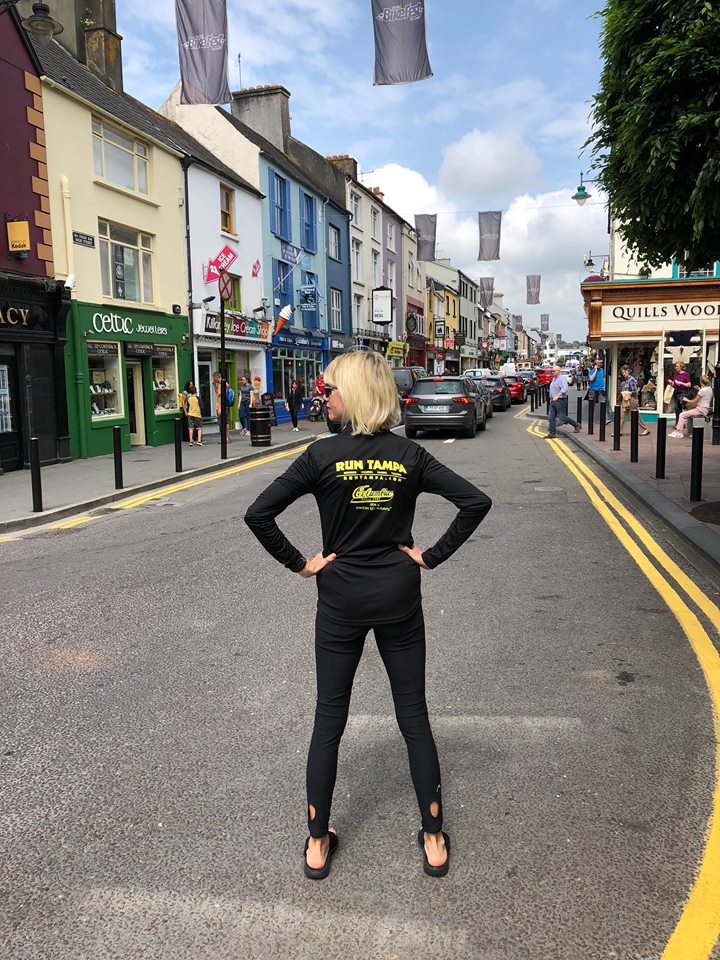 While spending two evenings in Killarney City, (after touring the sights of Killarney National Park), I enjoyed the local "entertainment."
Often people set up shop on the sidewalk and proceeded to sing, dance, tell jokes and simply make merry to entertain the tourists and perhaps make some money from said-tourists.
There was a formal ticketed concert at a nearby church downtown. After it was completed, the choir assembled in the center of Killarney and sang for those of us who happened to be there.
What a very unexpected surprise!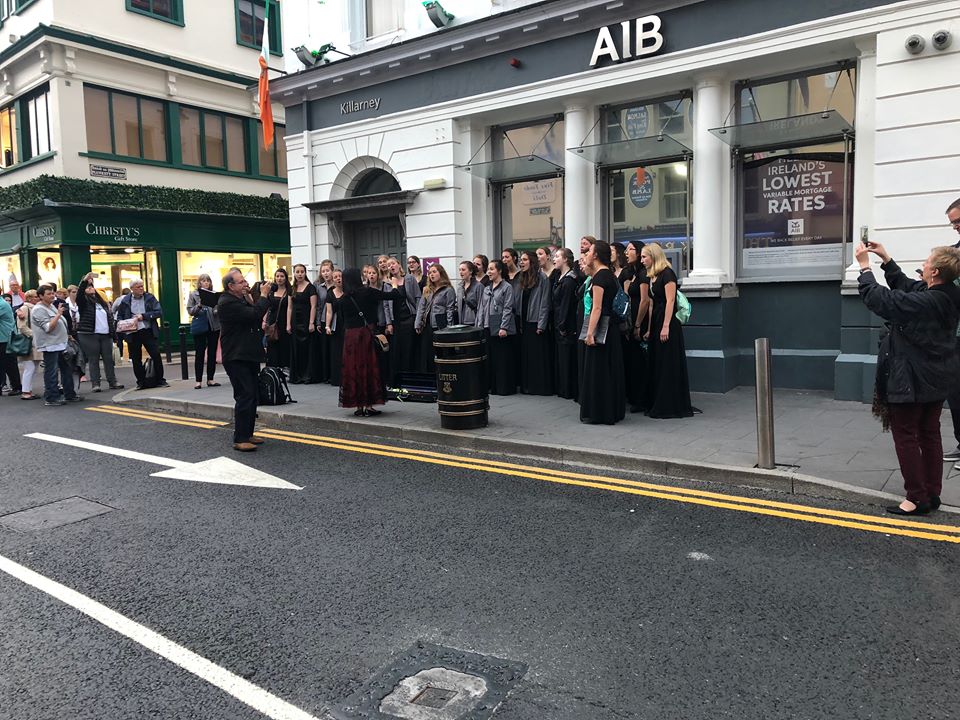 Put Eating Out On Your Things To Do In Killarney List!
Killarney is a foodies paradise. Any kind of food you can think of is represented in Killarney. And every style of eatery you can imagine is represented. From casual to elegant!
Being, vegan, I was worried about finding a place that would have options for me among the steak and seafood restaurants and pubs.
But, I was very surprised and pleased to find a variety of places that catered to people with food preferences.
We All Scream For Ice Cream!
The Irish really love their ice cream, and there are several shops in Killarney City.
The vegan gelato was scrumptious and made for the perfect ending after dinner. Do plan on getting ice cream or gelato when considering things to do in Killarney.
Make Time For Trad Irish Music At The Pubs
Killarney has the atmosphere or vibe you are looking for when it comes to a pub or cocktail! Ranging from modern trendy-style bars to the casual craft brewery, there's an option for everyone.
And most of them play authentic traditional Irish music to accompany your meal and drink!
Visit Sites In Killarney City
Besides eating and shopping in Killarney City, there are several local places of interest to add to your things to do in Killarney wish list. The first is St. Mary's Roman Catholic Cathedral.
The church is just a few minute's walk from the Killarney City Center and is worth a visit.
It's a massive church that towers above the other local buildings, so you won't have any difficulty finding it. I walked to it and took a self-guided tour once inside.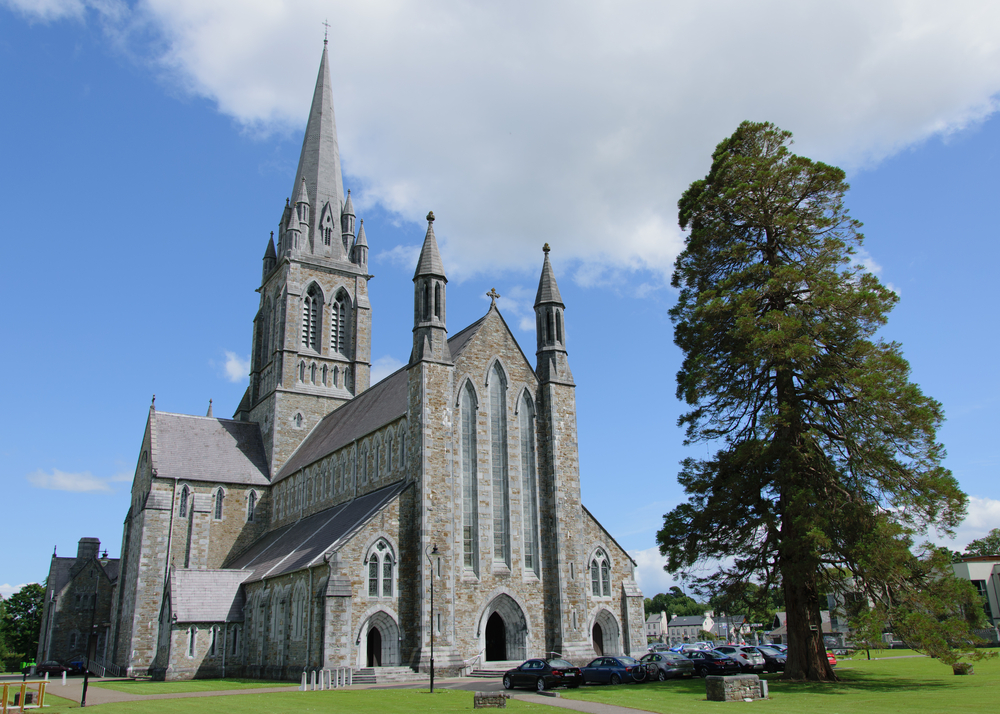 Lovely St. Mary's Roman Catholic Cathedral in Killarney City.
Adjacent to one of the side entrances to Killarney House and Gardens, just about a block or so from St. Mary's Cathedral, stands the memorial statue of the Irish Roman Catholic priest, Monsignor Hugh O'Flaherty.
He earned the nickname the "Scarlet Pimpernel of the Vatican," because he was continually able to evade the snares of the German Gestapo in Rome.
Through his "Rome Escape Line" he was instrumental in saving 6,500 Allied POW escapees and Jews and avoid certain death if captured by the Gestapo.
After the war, he cared for the German and Italian POWs to make certain they also were treated humanely. He received many awards for his heroic deeds, from many countries.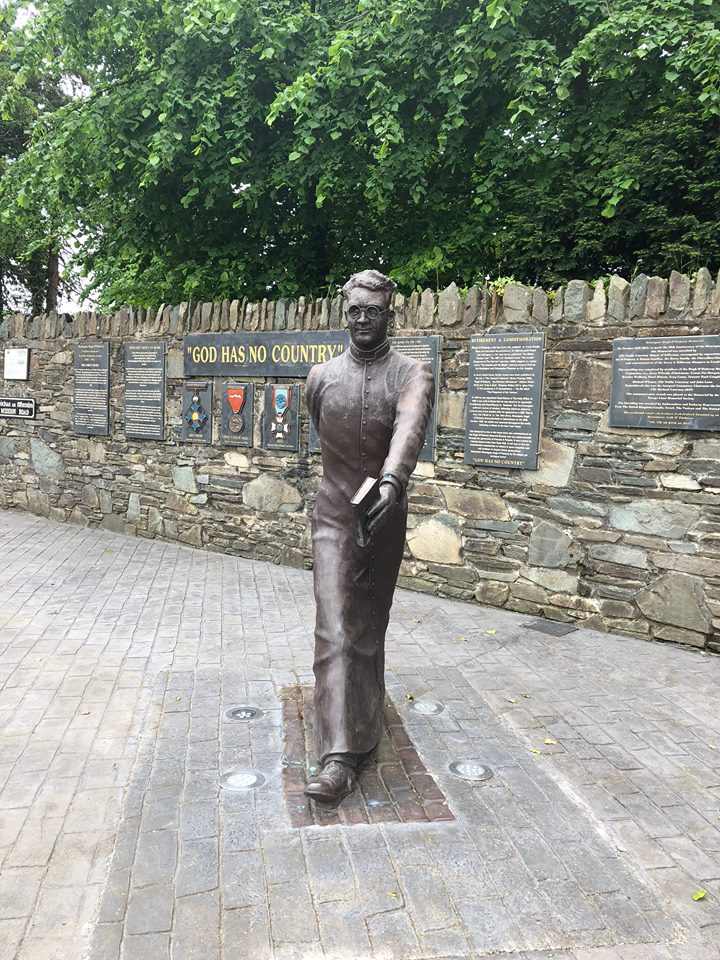 Monsignor Hugh O'Flaherty, who saved over 6,500 Allied POW and Jewish escapees from the Gestapo via his "Rome Escape Line."
Do Not Miss Spectacular Sites Near Killarney
Perhaps you are driving yourself, like my family and I did or maybe you prefer taking tours. Either way, do not miss out on the absolutely spectacular beauty that is Ireland and is located near Killarney.
Look here: From Killarney: 'Ring of Kerry' Mountain Road 1-Day Bus Tour
Look here: Ring of Kerry Full-Day Tour from Killarney
Look here: Dingle & Slea Head Peninsula Day Tour
Packing Tips For Your Trip to Ireland
Read these travel tips next:
I think that using these useful packing tips will enhance your trip to Ireland and help you remain organized while there.
Read my tips on how to pack lightly for your trip to Ireland.
A concealed travel pouch may be one of the most important items you bring during your visit to Ireland. This unisex RFID blocking concealed travel pouch is lightweight and comes in several colors.
It has lots of organization to give you peace of mind. You can keep your most valuable documents safe and secure next to your body.
If you have a pouch already you may not want to or need to invest in a new one, like me. If it does not come with the RFID protection, these RFID sleeves would be handy to prevent identity theft.
This configuration comes with enough passport and credit card sleeves that the entire family would be protected. They are slim too, so they will easily fit into your current pouch or wallet.
Don't forget to bring along a universal power adapter on your trip to Ireland. This worldwide power plug is a great example and will charge your phone at the end of your busy days. And this world traveler adapter kit can charge several devices at the same time.
This is what you will need when there are several people traveling in your group, or if you bring several electronic devices on your trip that require charging at the same time.
If you are planning on taking a lot of pictures with your phone you will definitely want to consider an external charging battery. This Anker high-speed phone charging battery is the exact one I carry with me on all of my trips. It can be used on a variety of phones, not just an iPhone like I have.
And wow is it fast! I like that it holds its charging capabilities for several uses so I do not have to worry about it while out and about. And if I forget to recharge it at night, it will still be good to go the next day.
My daughter gifted me with this FugeTek Selfie Stick and Tripod for my birthday. It has Bloothtooth connectivity so it is very easy to use. It is made of durable aluminum and is very lightweight and easy to carry. I love mine and I think you will enjoy it too!
Hydration is so important. You want to remain hydrated to support your immune system which in turn will be stronger to fight off any germs you will encounter during your travels. You will want to bring your own refillable water bottle with you. I never leave home on a trip without my Bobble filtration bottle.
The 18.5-ounce size is perfect for travel and it will fit nicely in the pocket of a backpack or your purse. Also when filled with water, it is not too heavy to carry.
And the Bobble carbon filter ensures fresh clean water whenever and wherever you fill the Bobble. You can find filter replacements here.
Perhaps you are traveling a long distance and packing space is a premium. Then this set of collapsible silicone foldable water bottles would work well for you. Would not take up much space in your suitcase at all. And you will be receiving a set of two.
You will want to bring a backpack or daypack with you to store snacks, your water bottle, phone, extra clothes, etc.. This foldable water-resistant backpack would be great.
It is very affordable and is available in many color options for you to choose from. The fact that it folds down into a zippered pouch will make it easy to pack.
Perhaps you need a more substantial backpack for your international travel. This antitheft backpack has a charging port, is water-resistant and can comfortably carry up to a 15.6″ laptop.
It comes in a range of colors to choose from and it is inexpensive as well.
You will be walking more than usual when visiting Ireland. A sturdy and comfortable pair of walking shoes is a must-have. These waterproof all-season shoes are extremely affordable and yet fashionable.
Mostly everyone is familiar with the Skechers brand, and these Air Run high fashion sneakers come in a lot of colors to match your outfits and are still affordable.
You may be visiting Ireland in warmer weather, and you may want a pair of sandals to wear exploring. I highly recommend these Vionics adjustable strap orthotic sandals.
I have several pairs of these exact Vionic sandals in several colors that I bring with me *everywhere* I travel.
They are very comfortable. I also sometimes bring along my Vionic Tides flip flops. The toe post is so comfortable which makes wearing these super comfortable.
Bring a lightweight scarf or shawl. Scarves and shawls are very popular in Europe, And Ireland is no exception.
Both men and women wear scarves, both decoratively and as a layering piece to keep warm. This cotton unisex lightweight scarf is versatile and can be worn in any season.
And here's another option to consider: this lightweight sunscreen shawl scarf would do double dutyto protect you from the sun in the warmer seasons as well as being a fashion accessory layering piece.
We all need to protect our eyes from the sun's harmful UVA/UVB rays. These unisex polarized sunglasses come in a lot of lens colors and frame designs and are extremely affordable too.
If you are fond of the aviator-style of sunglasses these polarized aviators may interest you. I like polarized sunglasses because they remove the glare and help you to see things more clearly.
This will be very helpful in Ireland.
If you are in need of new luggage, this expandable soft side spinner luggage is affordable and comes in lots of colors. If you like hard-sided better, then you may favor this hard-sided luggage set better.
Both sets come with TSA approved zippers locks and 8 wheels per piece. Either will be great for the plane or train or even your car depending on how you plan to travel to Italy.
I was never a fan of packing cubes until I tried them out! Now I am sold. These Bagail packing cubes are the exact ones I use whenever I travel. I cannot believe how much more organized I am now!
Killarney is a fascinating city located in County Kerry, in southwest Ireland.
There are things to do in Killarney to please everyone's tastes and interests.
From the epic vistas located in Killarney National Park to world-class shopping, fantastic restaurants, and unexpected surprises around almost any bend in the road!
Have you visited Killarney, Ireland? If you have, what is your favorite memory?
Linda On the Run is a participant in the Amazon Services LLC Associates Program, designed to provide a means to earn fees by advertising and linking to Amazon.com
Other affiliate links for Get Your Guide are included here as well.
Pin this post: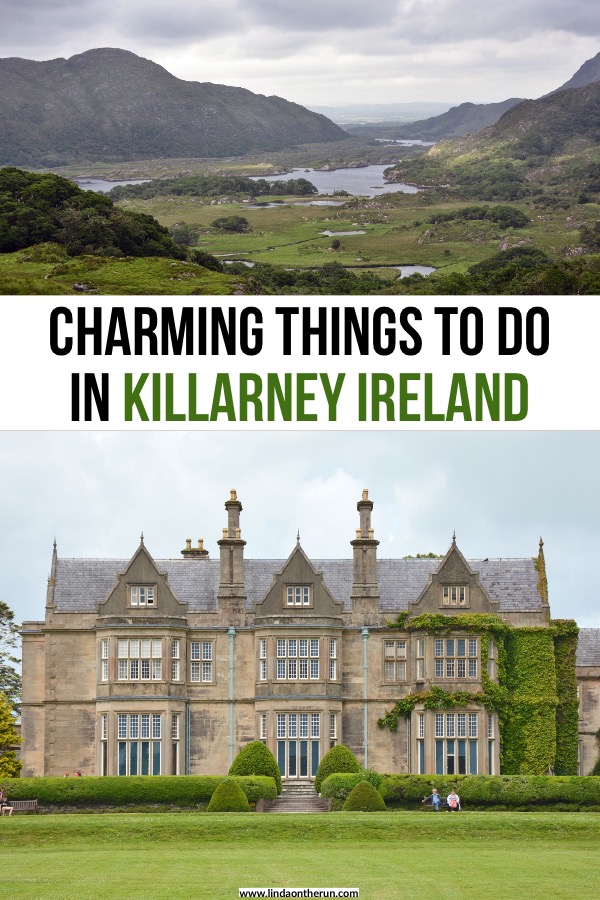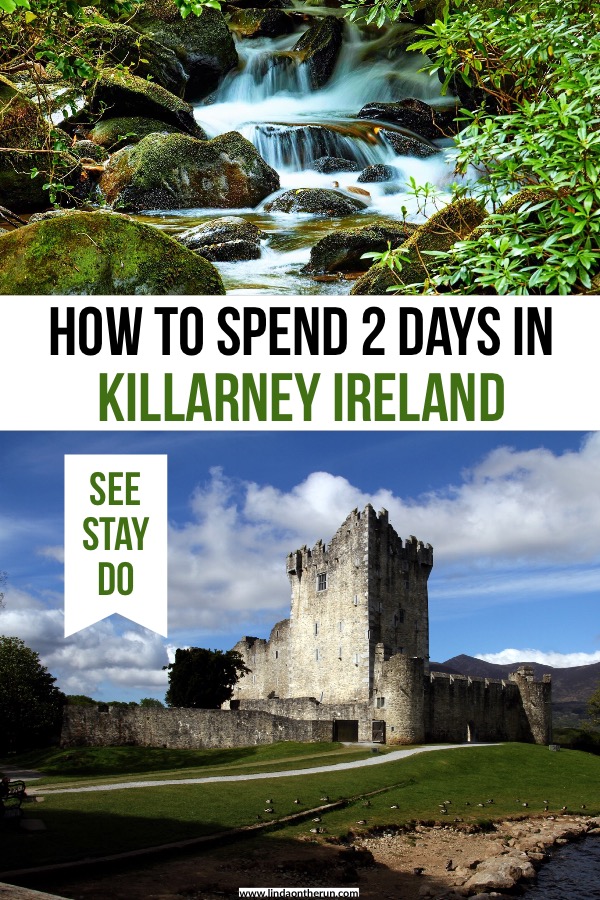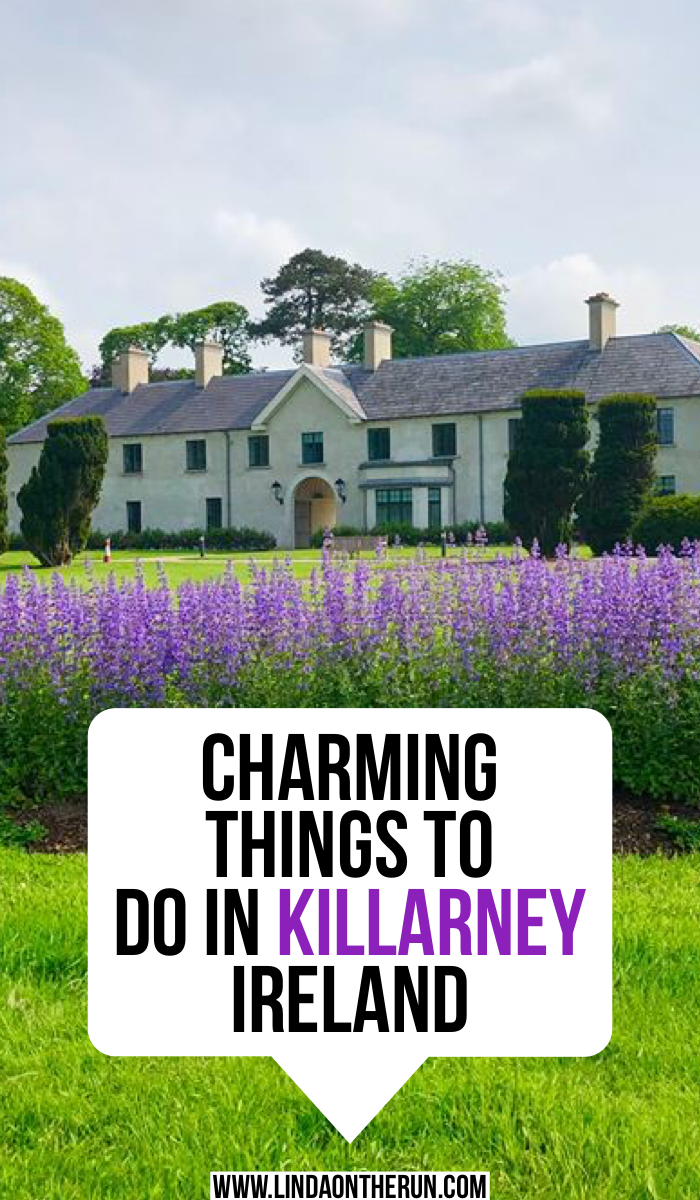 Disclaimer: this post was written in partnership with the Destination Killarney Tourism Board, and all opinions expressed here are my own.