Are you looking for interesting and unique things to do in Killarney, Ireland while you are visiting for the first time? Killarney is located at the northern end of the Ring Of Kerry so it is the perfect place to stay if you are hoping to drive the Ring Of Kerry/Wild Atlantic Way or explore the surrounding area. I recently spent time in Killarney, located in County Kerry, and fell absolutely and madly in love with it and all it has to offer!
There are so many things to do in Killarney that you will have to narrow it down to a few of the best choices for your first trip! Whatever interests you, you will be able to find while you are in Killarney.
Charming Things To Do In Killarney For First Time Visitors
First Time Visitors Looking For Things To Do In Killarney Should Begin By Exploring Killarney National Park
Hugging Killarney is some of the most gorgeous landscape I've ever seen and seeing it must be on your list of things to do in Killarney. The mountains reach down to the three lakes collectively known as the Lakes of Killarney, (Lough Leane, Muckross Lake, and Upper Lake) forming beautiful and memorable vistas.
Lush green forests and waterfalls add to the charm of the countryside and are one of the perfect things to pursue in Killarney if you love the outdoors. When out exploring the Killarney National Park in your car, there are plenty of places to pull over and admire the views, or explore some new irresistible location! Some specific places to visit in Killarney National Park include Killarney House and Gardens, the Muckross House, and Torc Waterfall.
Start your list of things to do in Killarney at Killarney House & Gardens – the Gateway to Killarney National Park.
Located in Killarney City, Killarney House & Gardens is a pedestrian-friendly landmark. I discovered this gem while out on a morning run and it should definitely be on your list of things to do in Killarney. It is located where Killarney City and Killarney National Park meet. There is no cost to enter, and once I passed through the gates onto the property, the noises and hustle bustle of the city melted away.
Before me was the very vintage and restored Killarney House, with its lush and impeccably manicured gardens. Tours of Killarney House are available, again for free, but I was not appropriately dressed for a tour of the historically correct restoration house. I was, however, able to take advantage of a myriad of running/walking/biking trails in Killarney Gardens.
The grounds were meticulously cared for, and the flowers were all bursting into bloom which makes Killarney House one of the perfect places to visit in Killarney if you love gardens and history. The mountains of Killarney National Park filled the background reaching up to touch the sky which made for a scenic and memorable run I won't soon forget. Place Killarney House and Gardens at the top of your things to do in Killarney!
Adjacent to Killarney National Park Is Ross Castle a must-see of things to do in Killarney!
Ross Castle is a 15th-century tower house, situated on Lough Leane, one of the 3 Lakes of Killarney. It is only a few blocks away from Killarney House and Gardens, easily walkable and one of the things to do in Killarney that will interest you. There is a fee to enter, but it comes with a guided tour. The view out to the lake is majestic, and there are regularly scheduled boat tours to Inisfallen Island, home of a monastery. Ross Castle is so easy to access and a wonderful quick stop during your first trip to Killarney!
Muckross House & Gardens Should Be On Your List Of Things To Do in Killarney
Muckross House is located 6 km (3.7mi) from Killarney City and one of the more popular things to do in Killarney. It is a 19th-century Victorian mansion located in Killarney National Park, on Muckross Lake, one of Killarney's three lakes. Muckross House & Gardens is open every day except during Christmas season and does get very busy.
When we visited, it was quite crowded, so plan plenty of time to visit. A guided tour of the house is included with your admission and lasts about an hour. The Muckross Gardens and Muckross Traditional Farms are free to wander about as is the adjacent Killarney National Park with its breathtaking vistas across Muckross Lake to the mountains!
Things to do in Killarney Must Include Torc Waterfall.
Torc Waterfall is beautiful and located 2.5k (little over a mile) away from Muckross House and Gardens, and 7km (little over 4 miles) from Killarney City. There's plenty of parking and signage make it easy to find and it's a popular tourist destination so make sure it is on your list of things to do in Killarney. Torc Waterfall is at the base of Torc Mountain, and it is an easy 200ft walk to view it. If you are an avid hiker there are several longer and more difficult hikes available which will take you to the top of Torc Mountain.
Ladies View Overlooking The Lakes Of Killarney Is Worth Adding To Your Things To Do In Killarney Itinerary.
Adding "Ladies View" to your itinerary of things to do in Killarney is worth the 12 mile trip from Killarney City, along N71, through the Killarney National Park. First of all, the epic views of the lush forests and the Lakes of Killarney accompany you all along your way. There are ample locations to pull your vehicle over and take pictures and/or gaze at the views. Ladies View is named for Queen Victoria's ladies-in-waiting who were themselves very impressed by the view when taken there during a visit in the 1860s.
Killarney City Offers Many Options: Lodging, Shopping, Food, Sights To Explore!
After spending time exploring Killarney National Park soaking up nature, there are plenty of things to do Killarney City when you are finished with your daytime sightseeing adventures. Killarney City is filled with all the hustle and bustle of any large Irish city.
I stayed at The Brehon Hotel, a four-star rated hotel. It was wonderfully located about one mile from the epicenter of Killarney Center, (about a fifteen-minute walk), and as a runner, I appreciated the close proximity to everything. I was able to get a few miles run in every morning, touring the city and seeing the sights!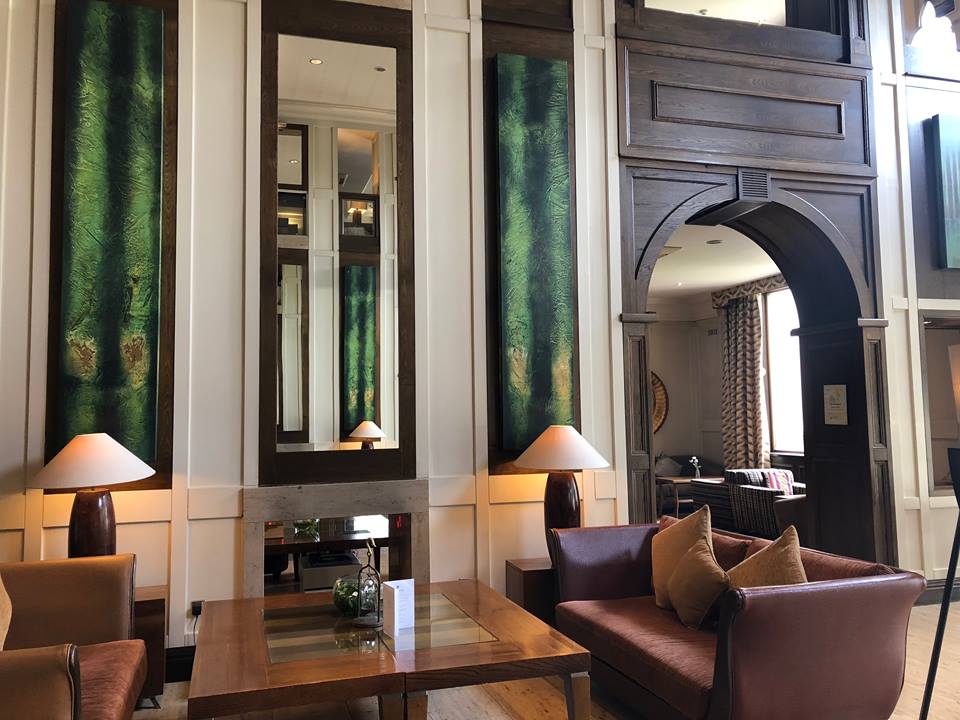 The comfortable and inviting lobby of The Brehon Hotel in Killarney.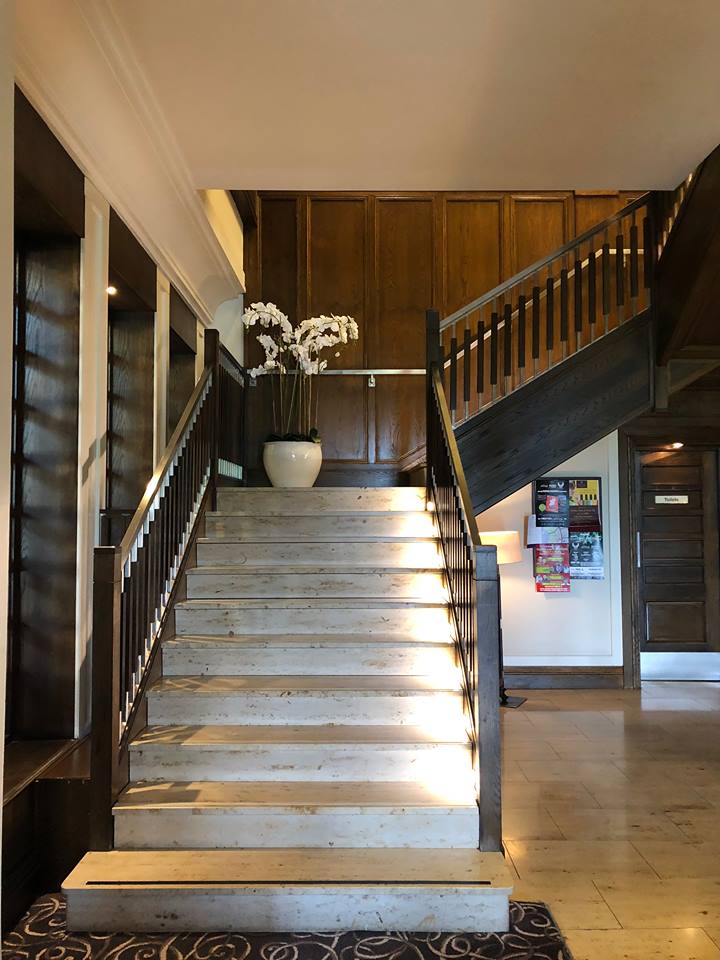 The Brehon lobby steps. There was a sign informing guests it takes 66 calories to use the steps instead of an elevator. My room was on the fourth floor. I used up a lot of calories. Thank you Brehon Hotel for the encouragement!
My room was contemporary and ultra-comfortable. Every conceivable luxury I could possibly need was waiting and ready for me. My room was located where I could see the green of Killarney National Park across the street and the INEC convention center located next to the hotel. Parking was a breeze as there were plenty of parking spaces behind the hotel, even though it was very crowded.
We spent an afternoon at the deluxe Brehon Hotel & Angsana Spa, a luxurious indulgence! The pool was fashioned with a Greek influence and the accompanying sauna and steam rooms were exactly what was needed to melt away my tiredness and sore muscles. Angsana Spa offers a wide range of treatments and massages, but I spent my time in the pool and detoxing in the steam room and sauna. I personally identified with the Angsana Spa's belief that we must live life spontaneously, be in the moment, and savor time as it happens.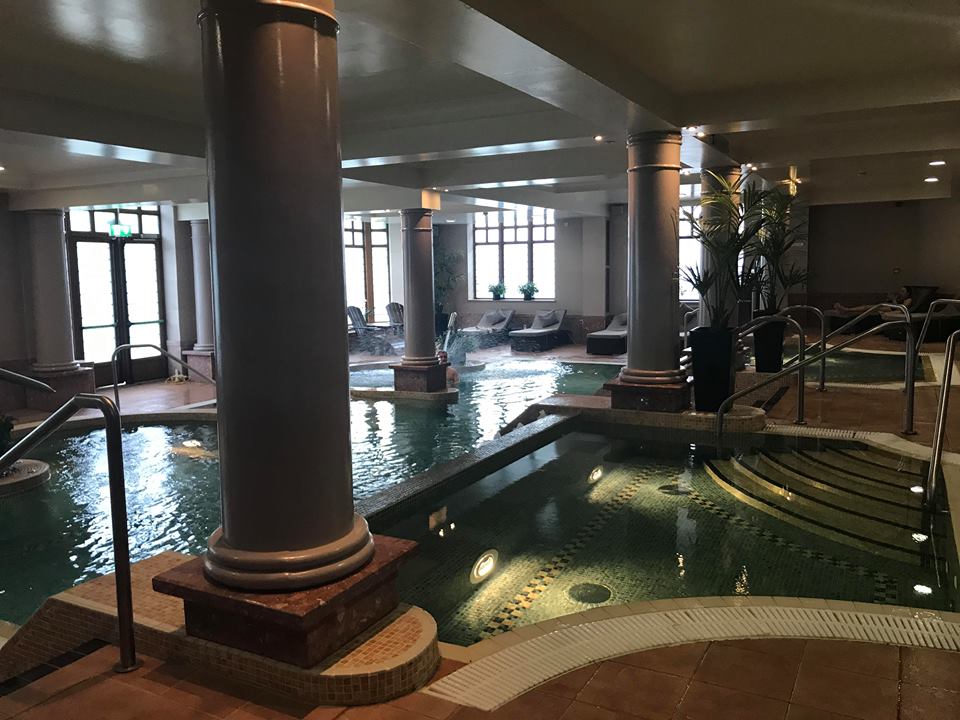 The magnificent Greek-inspired Angsana Spa at the Brehon Hotel.
Breakfast was included with my stay and the options were endless. Many hot entrees were available, as were hot/cold cereals, fresh fruits, and pastries. The setting for breakfast was as grand as the meal and the food itself was fantastic. I truly feel The Brehon Hotel & Angsana Spa definitely lived up to its prestigious four-star rating and must be added to your things to do in Killarney list, whether staying there as a guest or being stopping by for a visit to be pampered at the Angsana Spa.
One Of The Best Things To Do In Killarney City Is Shopping!
Killarney City Center is a very lively place with shops, restaurants, pubs, and ice cream parlors all sharing the same space! Shopping ranges from mass-produced Irish souvenirs to hand-knit Aran sweaters. Some cheap. Some very expensive. The fun part is walking shop to shop, comparing merchandise, quality, and value. Several large knitwear stores were competing for tourist euros selling Aran knit sweaters, vests, gloves etc.. both hand knit and loom knit. Irish department stores dot the retail landscape as well and offer an alternative to the Irish souvenir.
While spending two evenings in Killarney City, (after touring the sights of Killarney National Park), I enjoyed the local "entertainment," those who set up shop on the sidewalk and proceeded to sing, dance, tell jokes and simply make merry to entertain the tourists and perhaps make some money from said-tourists. There was a formal ticketed concert at a nearby church downtown, and after it was completed, the choir assembled in the center of Killarney and sang for those of us who happened to be there. What a very unexpected surprise!
Put Eating Out On Your Things To Do In Killarney List!
Killarney is a foodies paradise. Any kind of food you can think of is represented in Killarney. Being vegan, I was a bit worried about finding a place that would have options for me, among all the steak and seafood restaurants and pubs. I was very pleased when we chose Khao Asian Street Food on the first night. It was super busy, but the service was great, the food super delicious.
The second evening that I ventured into town for dinner after exploring Killarney National Park, it much later in the evening and I did not want to spend much time looking around for a restaurant. I chose Milano Pizza and I was very pleased I did. It was a smartly decorated contemporary restaurant. They had several vegan options and even offered vegan cheese! So it was pizza for me. I was so glad I ordered pizza there because it was really delicious.
The Irish really love their ice cream, and there were several shops in Killarney City and I indulged both nights. The vegan gelato was scrumptious and made for the perfect ending both evenings. Do plan on getting ice cream or gelato when considering things to do in Killarney.
Put Visit Sites In Killarney City On Your Things To Do In Killarney Itinerary.
Besides eating and shopping in Killarney City, there are several local places of interest to add to your things to do in Killarney wish list. The first is St. Mary's Roman Catholic Cathedral. The church is just a few minutes walk from the Killarney City Center, and is worth a visit. It's a massive church that towers above the other local buildings, so you won't have any difficulty finding it. I walked to it and took a self-guided tour once inside.
Lovely inside of St. Mary's Roman Catholic Cathedral in Killarney City.
Adjacent to one of the side entrances to Killarney House and Gardens, just about a block or so from St. Mary's Cathedral, stands the memorial statue of the Irish Roman Catholic priest, Monsignor Hugh O'Flaherty. He earned the nickname the "Scarlet Pimpernel of the Vatican," because he was continually able to evade the snares of the German Gestapo in Rome. Through his "Rome Escape Line" he was instrumental in saving 6,500 Allied POW escapees and Jews avoid certain death if captured by the Gestapo. After the war, he cared for the German and Italian POWs to make certain they also were treated humanely. He received many awards for his heroic deeds, from many countries.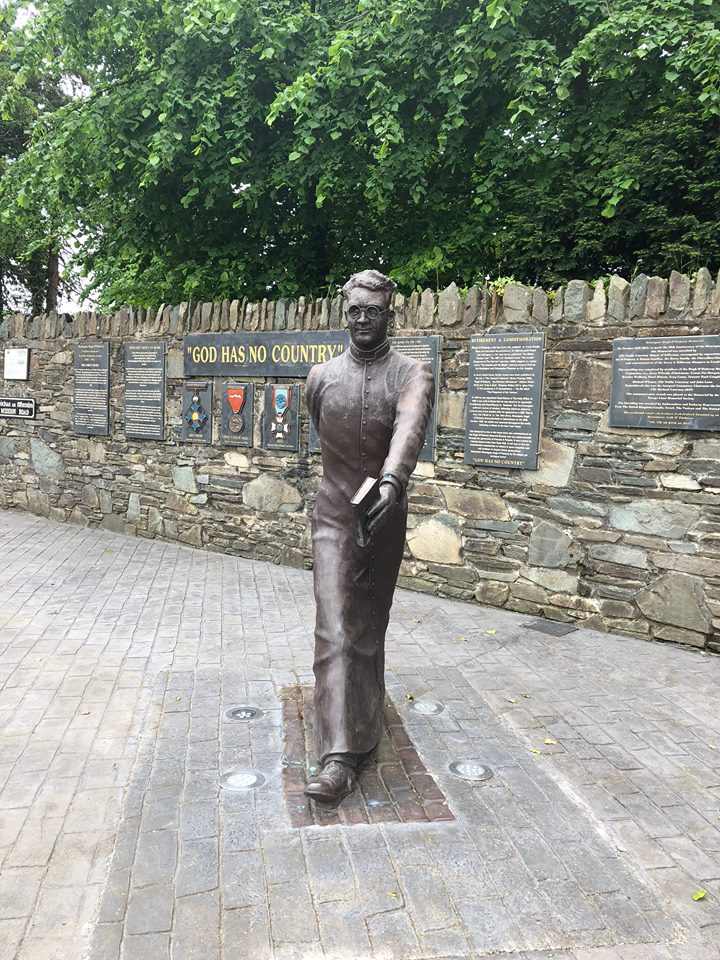 Monsignor Hugh O'Flaherty, who saved over 6,500 Allied POW and Jewish escapees from the Gestapo via his "Rome Escape Line."
READ NEXT
10 Things To Know Before Kissing The Blarney Stone
The Ultimate 7 Day Ireland Itinerary
7 Fun Things To Do In Doolin Ireland
Top 10 Things To Do In Dingle On Your First Visit
Fantastic 2 Day Dublin Itinerary
How To Pack Lightly Using Only A Carry On
Travel Tips For Solo Travelers
7 Tips For Surviving Long International Flights
How To Avoid Getting Sick On A Plane
Killarney is a fascinating city located in County Kerry, in southwest Ireland. There are things to do in Killarney to please everyone's tastes and interests, from the epic vistas located in Killarney National Park to world-class shopping, fantastic restaurants, and unexpected surprises around almost any bend in the road!
Have you visited Killarney, Ireland? If you have, what is your favorite memory?
Pin this post: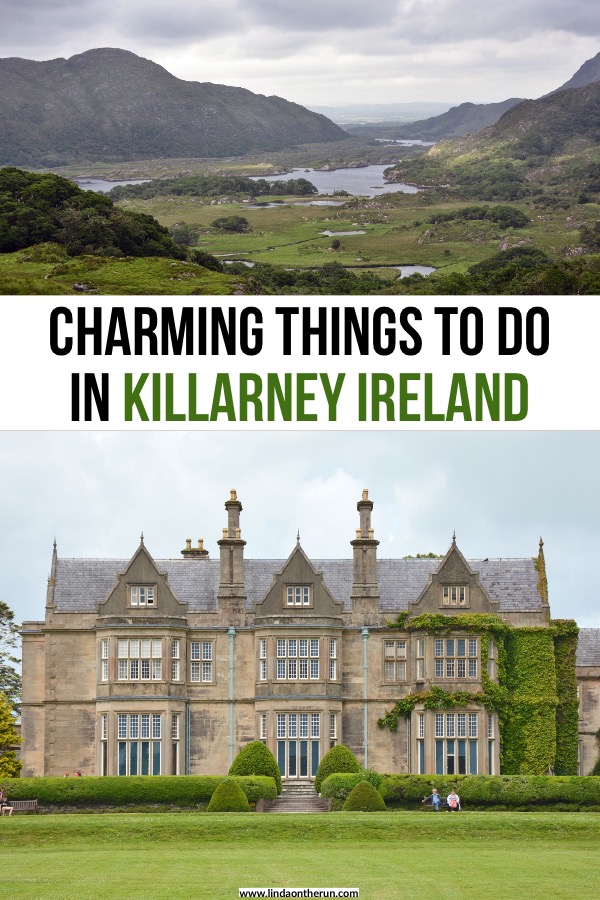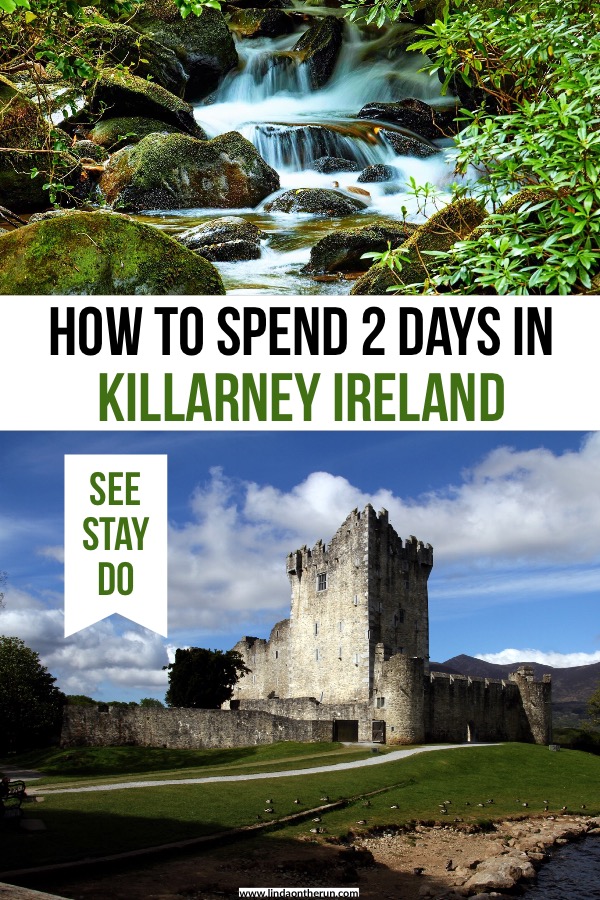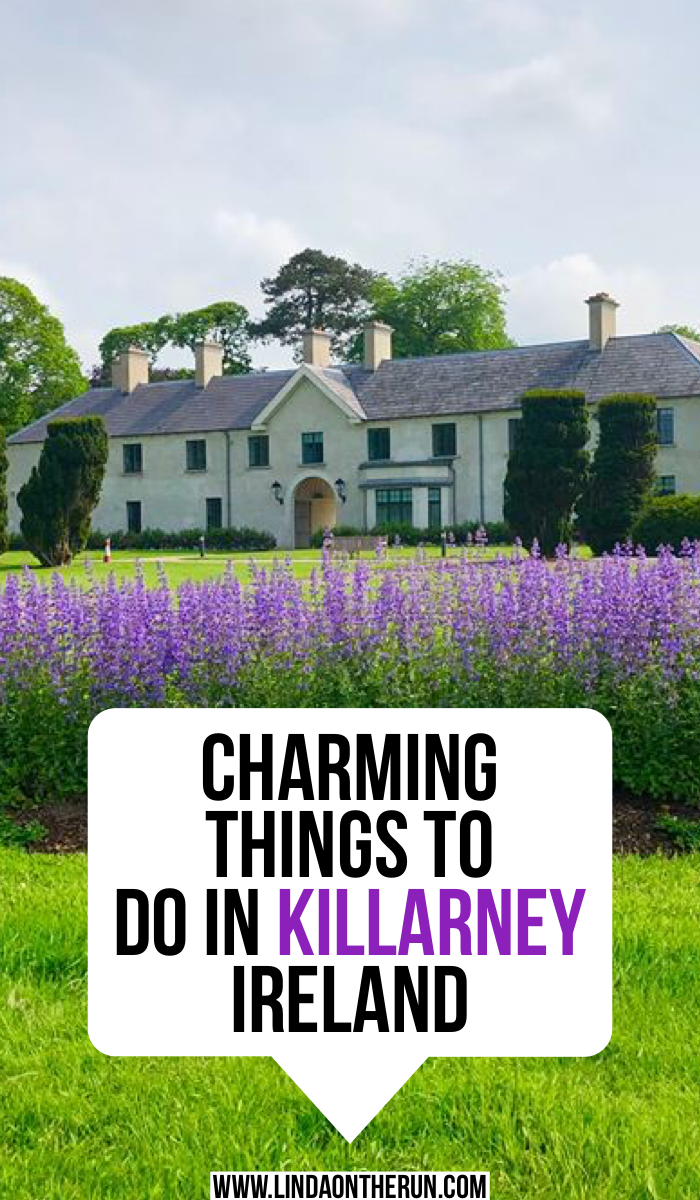 Disclaimer: this post was written in partnership with the Destination Killarney Tourism Board, and all opinions expressed here are my own.