Are you heading to the City of Light soon? Are you vegan and worried about how being vegan in Paris will be?
There are so many things to do in Paris and being vegan in Paris is easier than you think!
Well, you have come to the right place for reassurance and information because I am vegan and have visited Paris several times.
Here you will find budget-pleasing and affordable tips on how you can easily remain vegan in Paris during your visit there.
5 Things To Know About Eating Vegan In Paris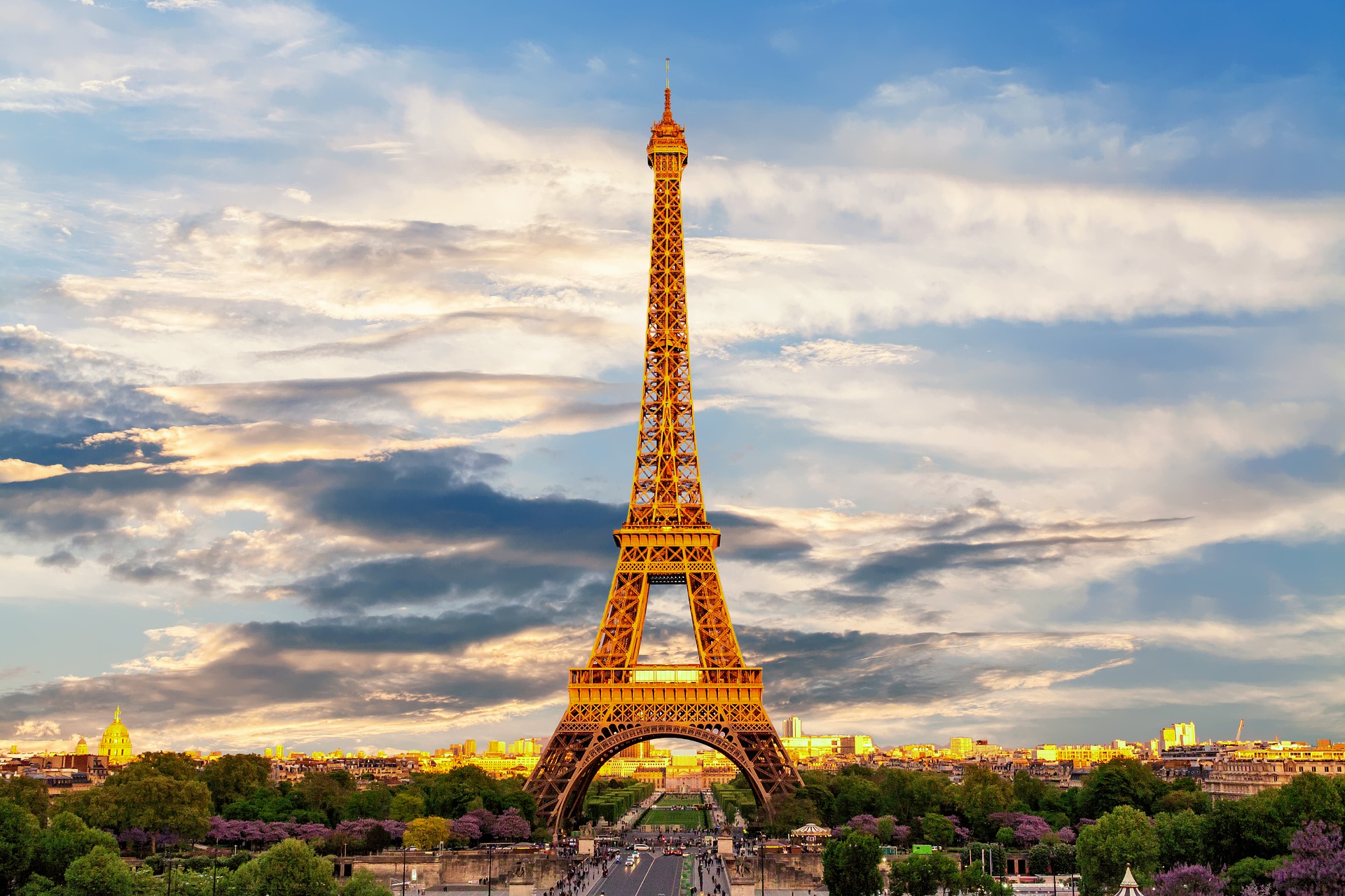 1) Being Vegan In Paris Is Easy When You Make Good Use Of Parisian Grocery Stores
Depending on your goals and length of stay in Paris, frequenting the Parisian grocery stores ensures being vegan in Paris is an easy task.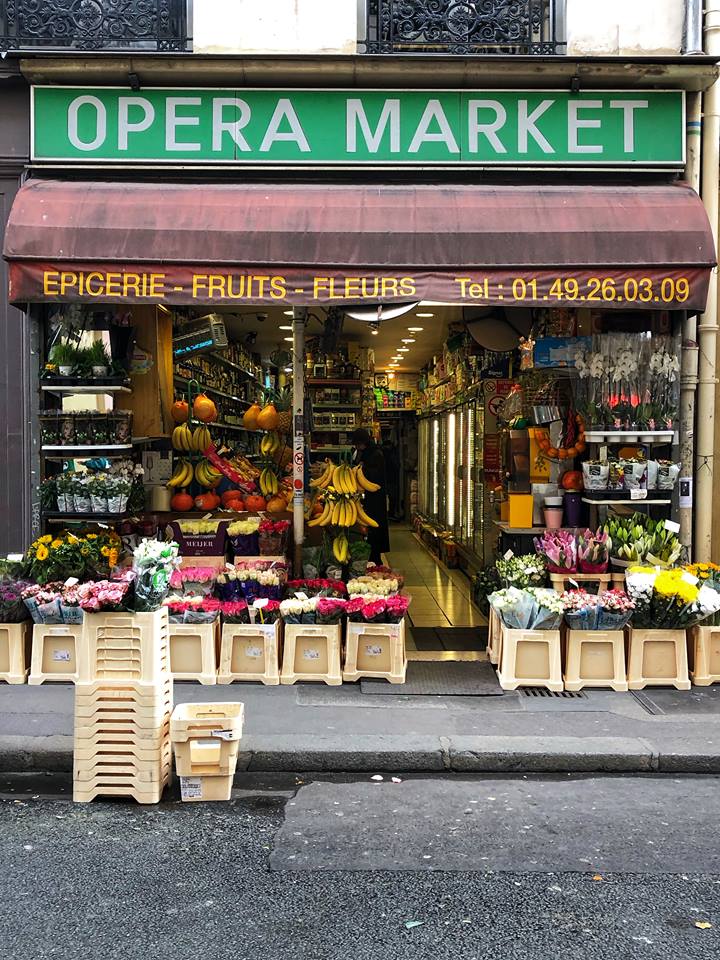 Outdoor markets such as this one make it effortless to be vegan in Paris.
Sure everyone wants to sit in a French cafe or outside in their front patio watching the world stroll by, eating delectable French food. You will certainly want to research vegan restaurants in Paris as there are many recommendations.
My goal here is to give you options to make it very easy for you to remain vegan in Paris and are kind to your budget.
There are locally-owned grocery stores on just about every Parisian block. And Fran Prix is a chain store that is everywhere you will be going around town. Your accommodations will dictate what vegan items you are able to buy.
If you are in an Air B&B with a kitchen, you can get just about anything. If you are in a hotel, with a little refrigerator in your room, you are fortunate, and also have great options.
If no refrigerator is available to you, that is OK because there still is a lot you can buy and easily remain vegan in Paris.
While you are planning your vegan in Paris trip, here are a few more posts to read later:
7 Things To Know Before Your First Time In Paris
The Ultimate 4 Days In Paris Itinerary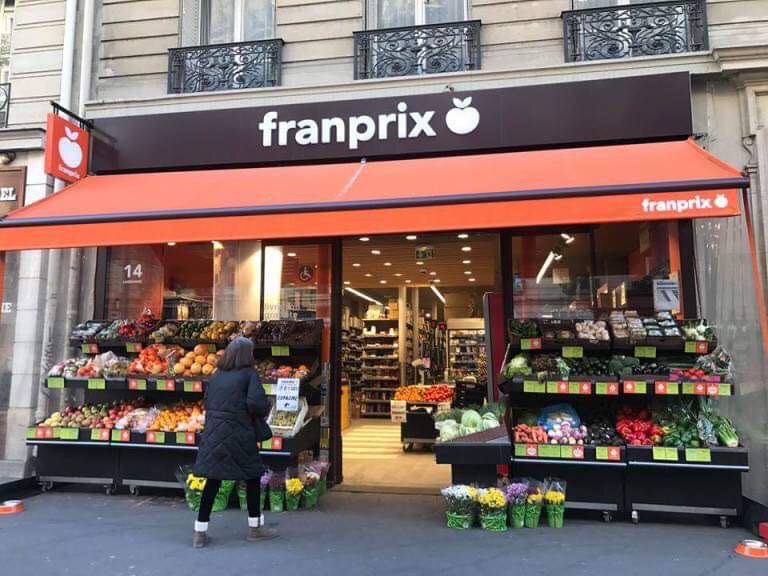 Fran Prix grocery stores make it easy to be vegan in Paris.
Bananas, cereal, yogurt, and plant-based milk are ingredients that make for a great breakfast to begin your day and make being vegan in Paris easy and affordable.
As a vegan in Paris, you are already aware you must never leave home (or in this case, your hotel/Air B&B etc..) without healthy vegan options to eat. At the grocery store or local market, you can stock up on French bread, snacks, drinks, plant milk, and fruits and veggies. When you leave for your day around town, bring food reinforcements.
Of course, we all are aware of just how important it is to stay hydrated especially when traveling. To remain eco-friendly, bring along a nondisposable water bottle. One that filters the water you will be drinking if possible.
This 4 stage filtered water bottle is reasonably priced and comes in some cool colors to choose from. This Escape glass filtered water is a bit more pricey but is made of glass instead of plastic, if that concerns you and also comes in a wide variety of colors.
On your day trip, along with your reusable water bottle, bring along sandwiches, snacks, and fruit. Apples and oranges are sturdy fruits that can handle being tossed around all day in a purse or backpack and help nourish you as a vegan in Paris.
If you are one that does not travel with a backpack, this lightweight foldable travel backpack would be perfect for you as a vegan in Paris.
It folds up for packing in your luggage and is lightweight for when you tote it full of vegan goodies around Paris. Comes in yummy colors too.
You have to bring your own grocery sacks when you go grocery shopping in Europe, and Paris is no exception. Of course, you may use your backpack, but I like to have dedicated reusable bags for shopping.
These reusable grocery sacks are foldable and would take no room at all in your suitcase. They come in multiples and in very cool colors too.
Going out to eat at Parisian restaurants for all your meals can be a huge budget buster, so consider making dinner when you get back after a long day of sightseeing.
Pasta with veggies and plant-based veggie burgers on a vegan bun are some suggestions that do not take a lot of time to prepare and make being vegan in Paris so easy.
This way you can save your travel money for paying for entry into one of Paris's many interesting attractions.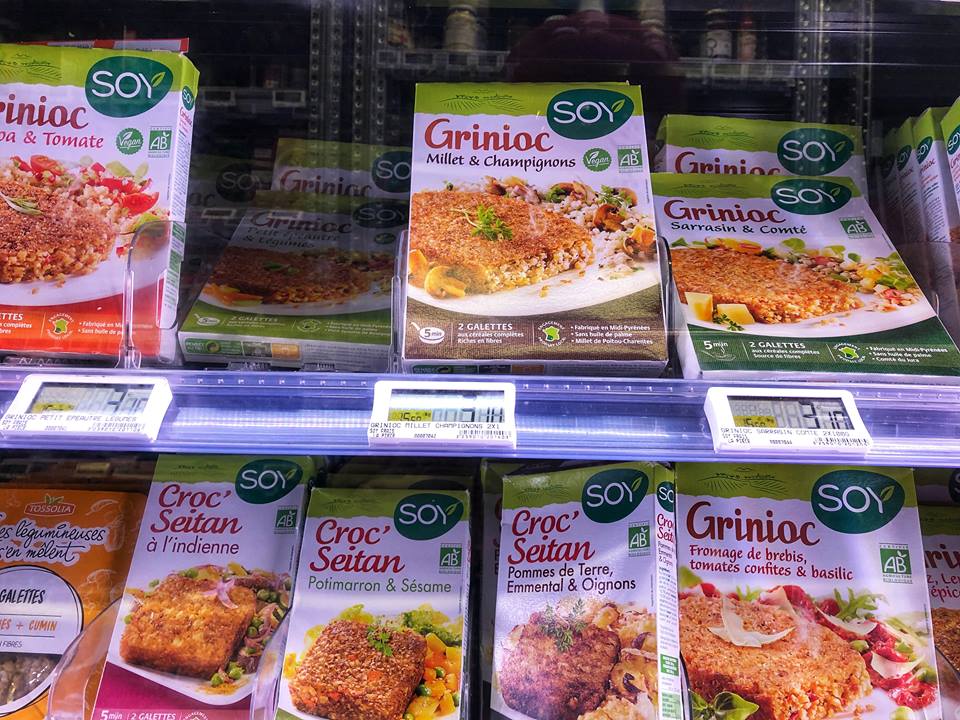 Here are some of the vegan options in the Fran Prix frozen foods section that will entice you as a vegan in Paris.
2) Do Not Hesitate To Ask A Cafe To Veganize Food Options For You
When you are out and about and find that perfect French bistro that entices you, do not be intimidated (because it is French!) to speak to the wait staff, or even the chef to veganize an entree for you.
Any establishment worth their weight wants to please their clientele, and none want an unhappy customer.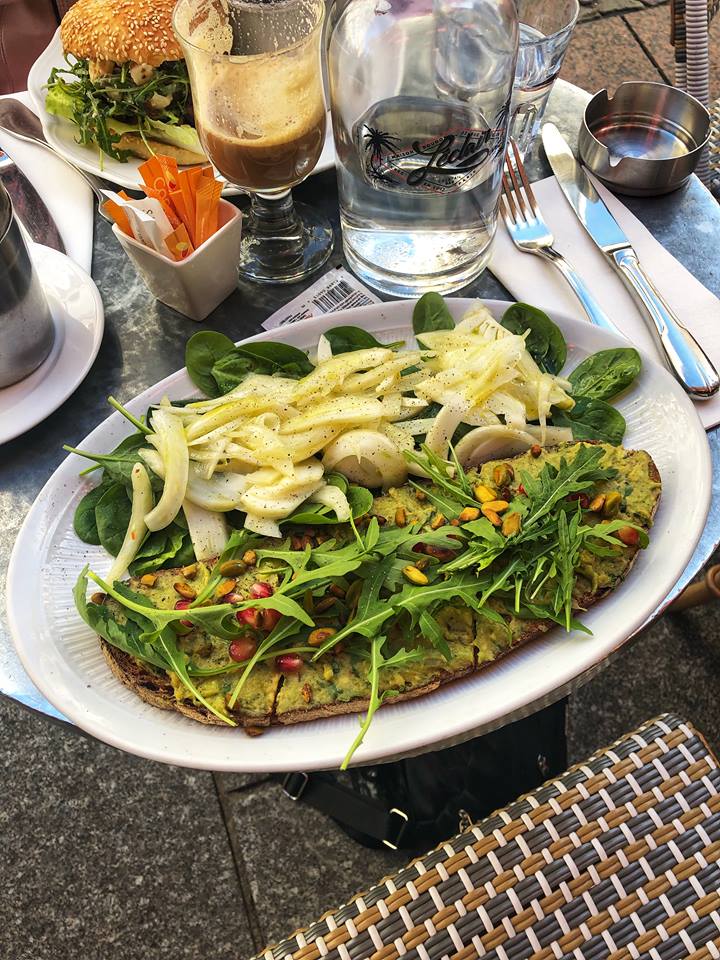 This entree of avocado toast and onion side salad was made vegan for me upon my request.
These days, being plant-based is more widely recognized and accepted than it ever has been.
And for the most part, there should be a food option or two for you to choose from just about everywhere you decide to dine at. That will make being vegan in Paris very easy for you.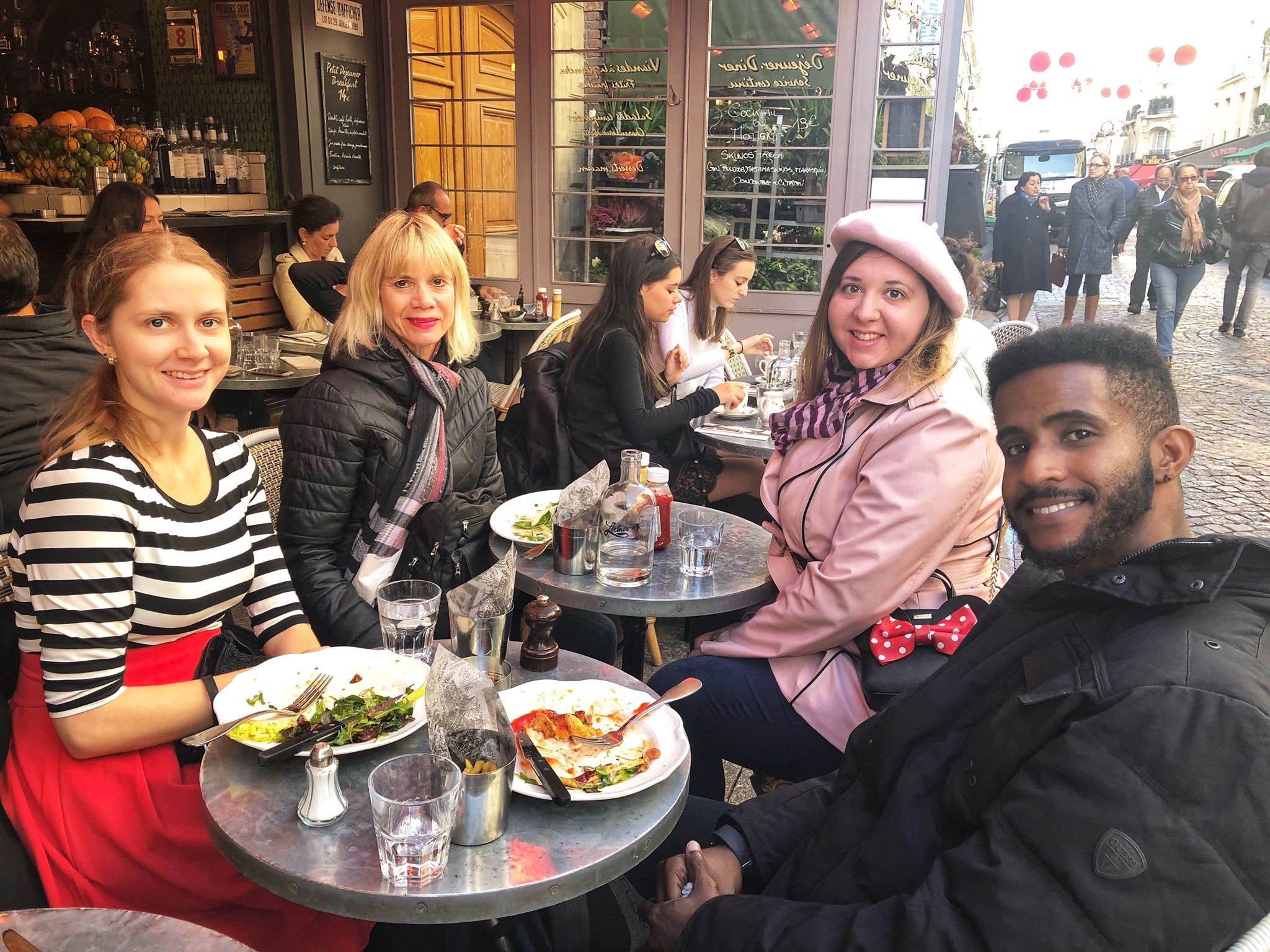 My family: 1 vegan, 2 vegetarians, 1 omnivore, enjoying lunch outdoors at a French bistro.
3) Fast Food Restaurants Make It Easy To Stay Vegan In Paris Offering Vegan Options
Paris has a wide variety of food to offer a hungry tourist, especially when it comes to fast food restaurants which will aid in making it easy for you to be vegan in Paris.
You will recognize the major chains. Do not be leery to investigate them all, even ones you would not frequent back at home, because in Paris, even the chain restaurants offer vegan options.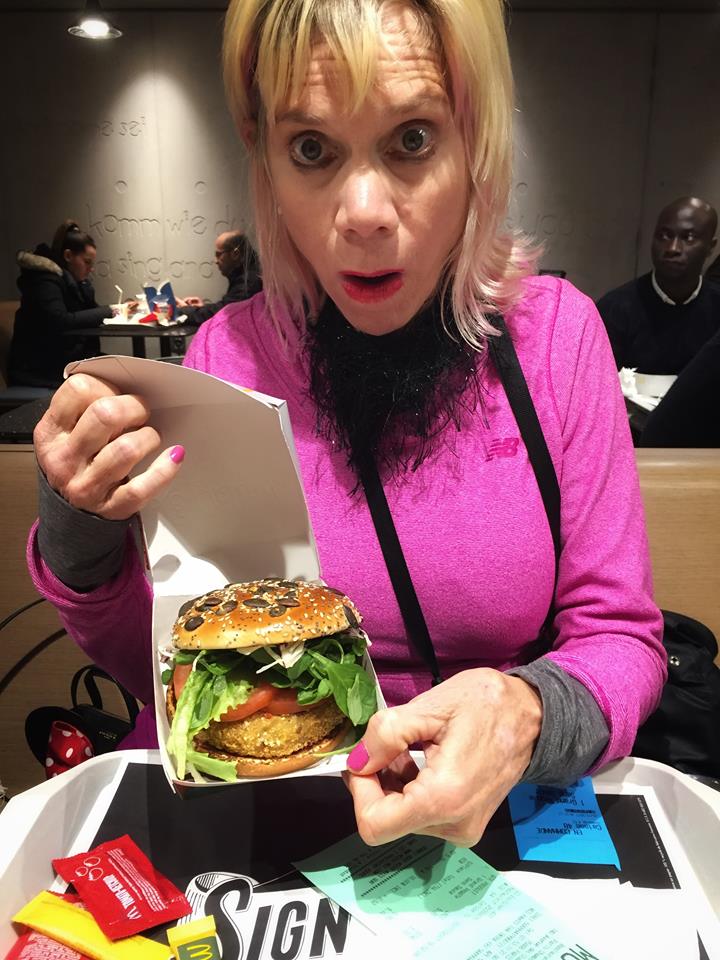 Imagine my surprise when I discovered McDonald's in Paris offered vegan options which made it delicious for me to be vegan in Paris.
If you do not ordinarily frequent fast food establishments when you are at home, you may want to consider it as a vegan in Paris.
If you are traveling with family, or in a group, the majority often dictates where to eat. Rest assured being vegan in Paris is a lot less difficult because you can find vegan options everywhere.
4) You Can Visit Gelato Shops In Paris For Delicious Vegan Gelato
Besides French pastries, the French make some wicked good gelato! And while most French pastries are off limits to anyone wishing to remain vegan in Paris, rejoice because there is vegan gelato.
And vegan sorbet. And they are all yummy. My fave is chocolate gelato. It is a bit more difficult to find as not all shops have vegan chocolate gelato, but when you do find some, you will be rewarded with such luscious deliciousness.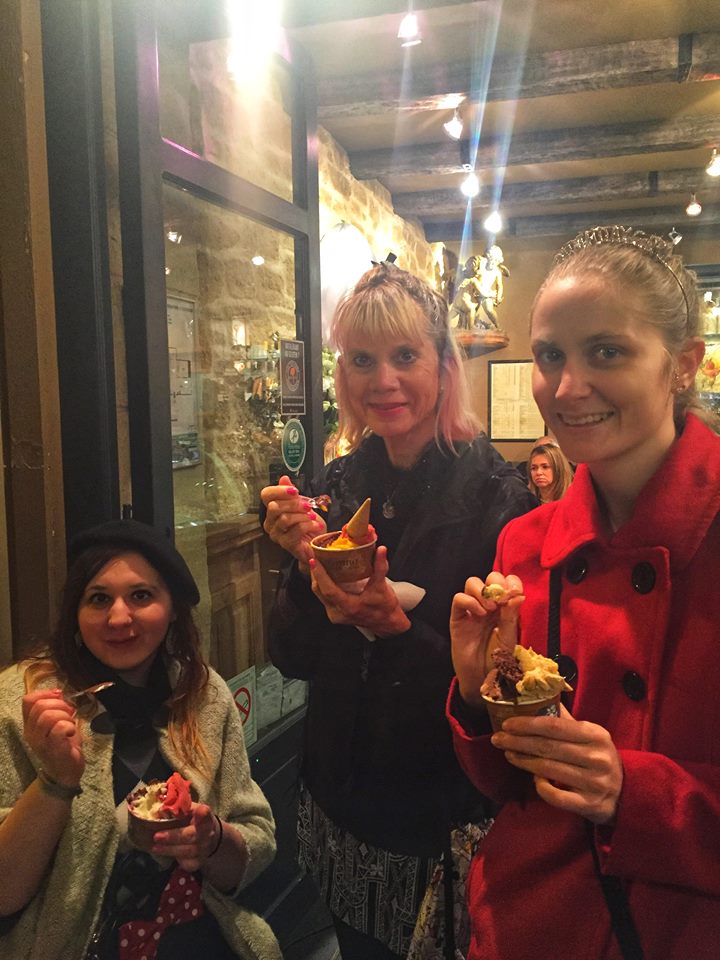 Here I am, a vegan in Paris, enjoying vegan gelato and sorbet with my two daughters.
5) As A Vegan In Paris Plan To Travel Out Of Your Neighborhood For A Specific Vegan Restaurant (It Is Worth It!)
Depending on what district you are staying in during your time in Paris, and also depending on your vegan in Paris foodie desires, plan on traveling out of your neighborhood to reach your vegan nirvana.
During our last trip to Paris, our little group of four (1 vegan, 2 vegetarians, 1 omnivore) decided on a vegan Asian restaurant.
It was a ways away from our Air B&B and included a metro ride and a few-blocks-long walk once we arrived in the restaurant's neighborhood.
Vegan restaurants in Paris are trendy and popular so plan on waiting in a long line for a seat if you arrive during the busy time of day. Fortunately, we got there right when the restaurant opened and we were seated promptly.
By the time we left, there was a waiting line of hungry customers and the restaurant was full.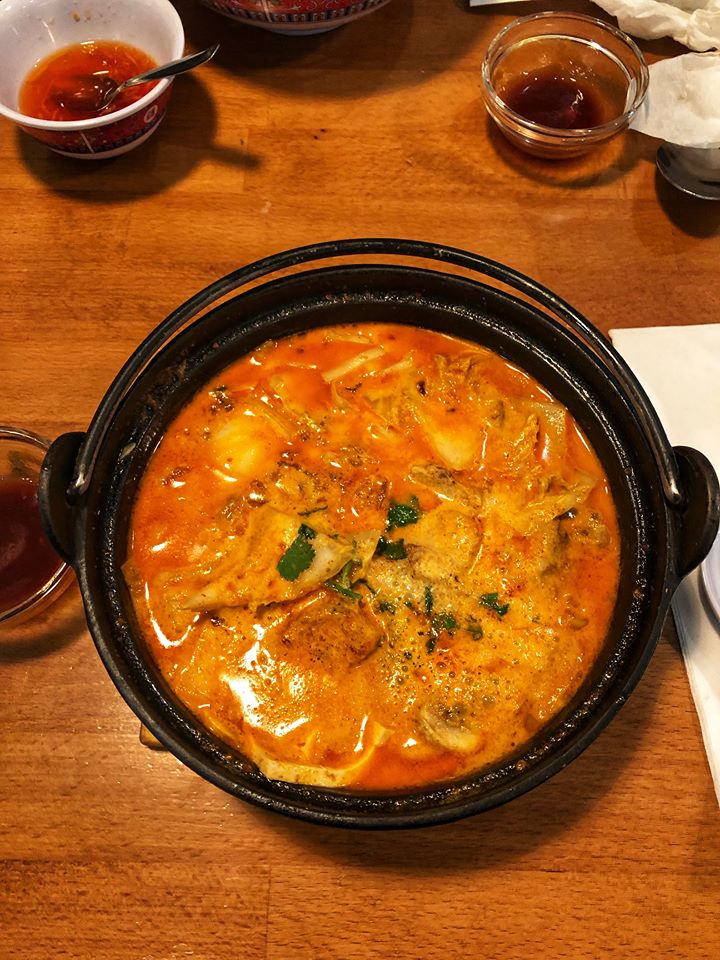 On a cold evening, this vegan in Paris had piping hot vegan satay at the popular Tien Hiang vegan Asian restaurant.
Paris Packing Tips
Using these useful packing tips will enhance any stay in Paris.
Read How To Pack Lightlyfor my packing tips.
A concealed travel pouch may be one of the most important items you bring to Europe.
(Please refer to my explanation below about how my family was robbed during our last trip to Paris and while it is so important to protect yourself and your belongings!).
This unisex RFID blocking concealed travel pouch is lightweight and comes in several colors. It has lots of organization to give you peace of mind.
If you have a pouch already that does not come with the RFID protection, these RFID sleeves would be a solution.
This configuration comes with enough passport and credit card sleeves that the entire family would be protected. They are slim too, so they will easily fit into your pouch or wallet.
I was never a fan of packing cubes until I tried them out! Now I am sold.
These Bagail packing cubes are the exact ones I use whenever I travel. I cannot believe how much more organized I am now! And I never leave without them anymore.
Don't forget to bring along a universal power adapter on your 2 days in Prague. This worldwide power plug is a great example and will charge your phone at the end of your busy days.
And this world traveler adapter kit can charge several devices at the same time. This is what you will need when there are several people traveling in your group, or if you bring several electronic devices on your trip that require charging at the same time.
If you are planning on taking a lot of pictures with your phone (like we did!) you will definitely want to consider an external charging battery.
This Anker high-speed phone charging battery is the exact one I carry with me on all of my trips.
It can be used on a variety of phones, not just an iPhone like I have. And wow is it fast! I like that it holds its charging capabilities for several uses so I do not have to worry about it while out and about. A
nd if I forget to recharge it at night, it will still be good to go the next day.
My daughter gifted me with this FugeTek selfie stick and tripod for my birthday. It is made of lightweight aluminum and is Bluetooth enabled.
It connects with my phone easily and it is actually very simple to take group photos or selfies with the remote control. I think it would be a great item to add to your Paris packing list.
Hydration is so important. You want to remain hydrated to support your immune system which in turn will be stronger to fight off any germs you will encounter during your travels. You will want to bring your own refillable water bottle with you.
I never leave home on a trip without my Bobble filtration bottle. the 18.5-ounce size is perfect for travel and it fits nicely in the pocket of a backpack or your purse.
Also when filled with water, it is not too heavy to carry. And the charcoal filter ensures fresh clean water whenever you fill the Bobble. You can find filter replacements here. 
You will want a backpack or daypack with you to store snacks, your water bottle, phone, extra clothes, etc. while you are exploring Paris.
This foldable water-resistant backpack would be great. It is very affordable and is available in many color options for you to choose from. The fact that it folds down into a zippered pouch will make it easy to pack.
Perhaps you need a more substantial backpack for your international travel. This antitheft backpack has a charging port, is water-resistant and can comfortably carry up to a 15.6″ laptop.
You will be walking more than usual during your 2 days in Paris itinerary. A sturdy and comfortable walking shoes are a must-have, especially because there are a lot of cobblestoned streets.
These waterproof all-season shoes are extremely affordable and yet fashionable. Mostly everyone is familiar with the Skechers brand, and these Air Run high fashion sneakers come in a lot of colors to match your outfits and are still affordable.
If you are visiting Paris in warmer weather, maybe you want a pair of sandals to wear to dinner or to the local cafe, I highly recommend these Vionics adjustable strap orthotic sandals.
I have several pairs of Vionics that I bring with me *everywhere* I travel. They are very comfortable.
Bring a lightweight scarf or shawl. Scarves and shawls are very popular in Europe and Paris is no exception. Both men and women wear scarves, both decoratively and as a layering piece to keep warm.
This cotton unisex lightweight scarf is versatile and can be worn in any season. And here's another option to consider:
this lightweight sunscreen shawl scarf would do double duty to protect you from the Czech sun should you spend 2 days in Prague in the warmer seasons as well as being a fashion accessory layering piece.
We all need to protect our eyes from the sun's harmful UVA/UVB rays. These unisex polarized sunglasses come in a lot of lens colors and frame designs and are extremely affordable too.
If you are fond of the aviator-style of sunglasses these polarized aviators may interest you.
If you are in need of new luggage to travel to France, this expandable soft side spinner luggage is affordable and comes in lots of colors.
If you like hard-sided better, then you may favor this hard-sided luggage set better. Both sets come with TSA locks and 8 wheels per piece.
If you are a vegan and are planning a trip to Paris, I know these 5 tips will help you stay vegan in Paris.
Restaurants will be flexible with their serving options, stores and markets will have snack foods and fruits and drinks for you, and vegan restaurants are around if you look for them and make plans to travel to them.
Are you vegan and been to Paris, or have you traveled to Paris with a vegan? What additional tips do you have to offer? Please leave in the comments sections below.
Linda On the Run is a participant in the Amazon Services LLC Associates Program, an affiliate program designed to provide a means for sites to earn advertising fees by advertising and linking to Amazon.com