Looking for the best day trips from Paris by train? You have come to the right place. I love Paris so much. And exploring what is beyond her is exciting as well.
There are so many fun things to do in Paris, but there's nothing wrong with exploring a bit outside her city walls!
Will this be your first time in Paris? Read these 7 things to know about Paris before your trip.
Depending on the amount of time you will be in France, it will depend on which and how many day trips from Paris you will want to take.
I have listed many options for Paris day trips according to the time it takes to travel by car and/or by train to different destinations. Hopefully, this will greatly aid in you your planning. And allow you the opportunity to take as many Paris day trips as possible!
If you are flying into Paris to begin your holiday, read how to avoid getting sick on a plane for tips on remaining healthy! And 7 tips for surviving a long flight.
15 Best Day Trips From Paris
The Best Day Trips From Paris In Under One Hour
The Palace And Gardens Of Versaille
Arguably one of the most popular Paris day trips is a definite consideration.
Located just 12 miles (20 km) from the center of Paris, this destination is easily reachable. It will take you about one hour when traveling by train. And if you have your own vehicle, you can reach it within 45 minutes, depending on traffic, of course.
The Palace of Versailles is the second-most visited attraction in this region of France, ahead of the Eiffel Tower and eclipsed by the Louvre Museum.
Designated a UNESCO World Heritage site, due to its historical significance and beauty, it is also a French historical museum.
Read my 5 days in Paris Itinerary for tips and suggestions about what to do in Paris.
Versailles was considered the main royal residence of French Kings from 1682 until 1789. During and after the French Revolution many of the palace's furnishings were lost or stolen. Thankfully, many of the items have been restored and returned. And portions of the palace rooms are updated and restored as well.
Noted places for your consideration are the Hall of Mirrors, Royal Opera, and the opulent Gardens of Versailles.
Tickets here: Versailles Palace & Gardens: Ticket, Audio Guide & Transfer
Tickets here: Ultimate Versailles: Skip-the-Line Guided Tour
Tickets here: Paris: Full-Day Small Group Excursion to Versailles
Tickets here: Versailles Palace and Garden Tour Skip-the-Line Small Group
Tickets here: Versailles Palace & Gardens Timed Ticket with Audio Guide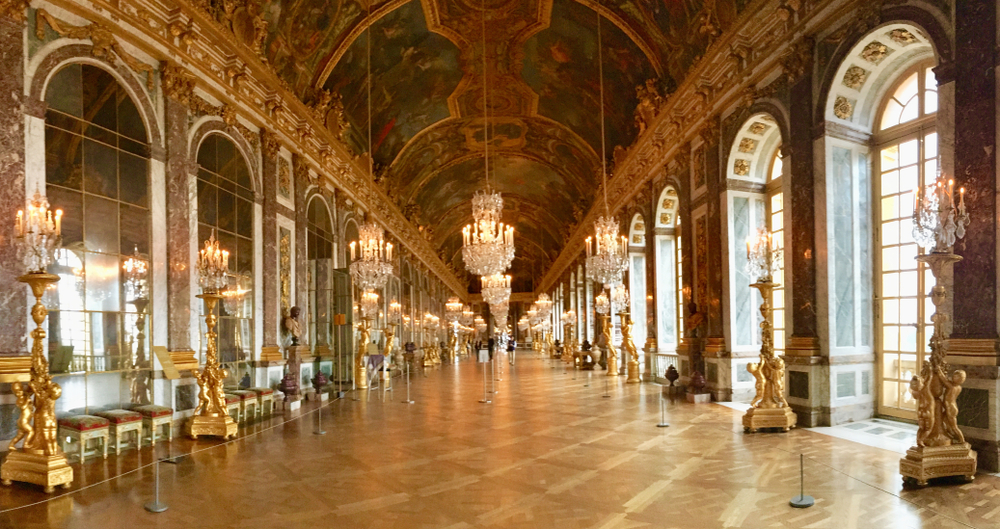 Disneyland Paris
Located 20 miles (32 km) east of Paris city center, Disneyland Paris is a must-see for any Disney fanatic. Disneyland Paris is one of the best day trips from Paris. It was the second Disney-related park to open outside of the United States.
By its 25th anniversary, it was the most-visited theme park in Europe.
Read about 10 unusual things to do in Paris that are not the Eiffel Tower.
If you plan to visit this mega-entertainment complex, there are two theme parks, Disneyland Park, and Studios Park, and a dizzying array of shopping and dining options. And a golf course as well.
Driving your own vehicle from Paris' city center will take about 30 minutes. Train travel is just about one hour. Have fun!
Tickets Here: Disneyland Paris 1-Day Ticket
Tickets Here: Disneyland Paris Multi-Day Entrance Ticket
Tickets here: Paris: Full-Day Tour from Disneyland with Eiffel Tower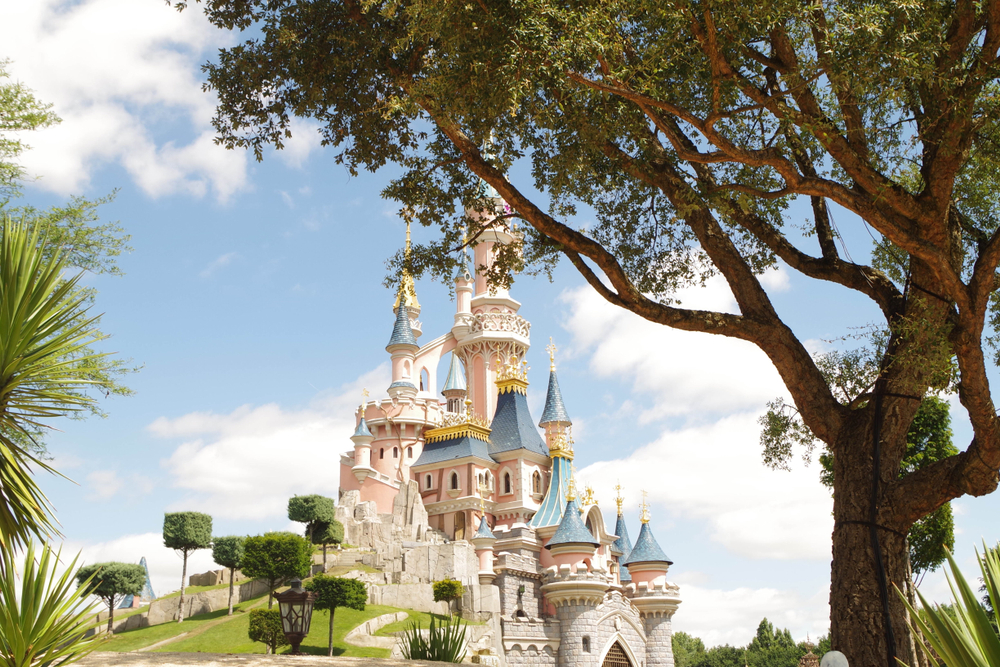 Fontainbleau
This small city, just south of Paris is a perfect Paris day trips because of its close proximity. It can be reached by car in one hour, and by train in 40 minutes.
Its most famous landmark is the extremely opulent Chateau de Fontainbleau. Parts of the palace, built for French Royalty, dates back to the 1100s! And it is as exquisite on the inside as it is on the outside.
Read about how to spend 2 days in Paris here.
The horseshoe staircase entry greets you as you enter. The castle is full of history and intrigue as you can imagine. You can see the room where Napolean signed his abdication letter. And Marie Antoinette's boudoir.
Not quite as popular as Versaille, the palace usually has less tourists around.
Tickets here: From Paris: Chateau de Fontainebleau & Vaux-Le-Vicomte Tour
Tickets here: Fontainebleau & Vaux-le-Vicomte Châteaux Day Tour from Paris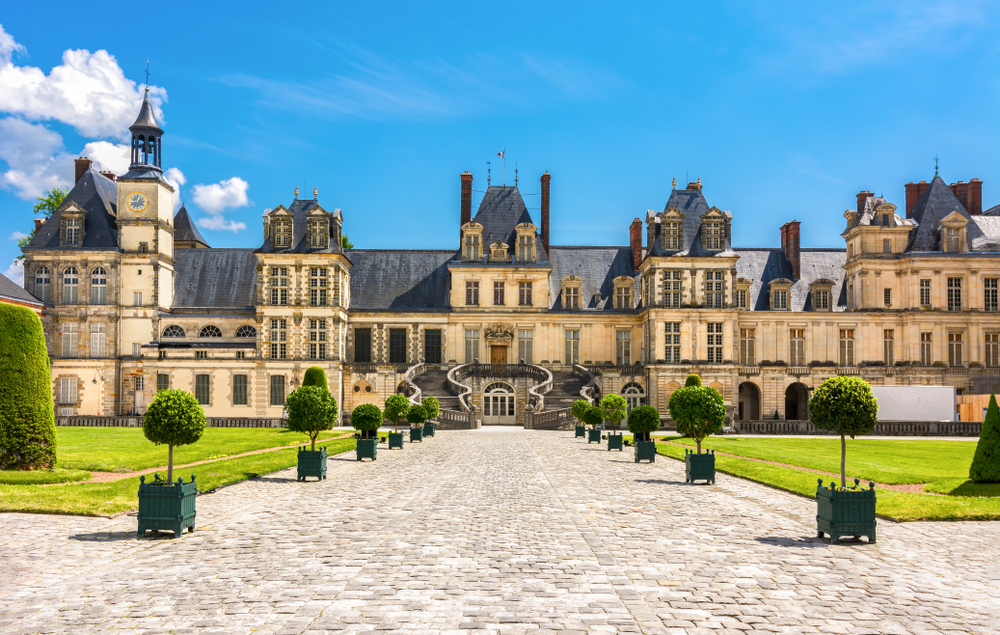 Chateau de Vaux-le-Vicomte
Looking for a place with history and intrigue? Look no further than Chateau de Vaux-le-Vicomte.
Located less than one hour by car or trail, this French Baroque chateau is about 34 miles southeast of Paris and makes for one of the best day trips from Paris!
Chateau de Vaux-le-Vicomte is the largest private French chateau, at over 1,000 acres including its lavish gardens. The entire estate his now a French historical monument.
Read here about the best views in Paris you do not want to miss during your visit.
The history is interesting as the estate itself. Considered lavish and dazzling at the time, the French King had the owner arrested and imprisoned as he thought the magnificent estate was financed with misappropriated French funds. (Which was not true.)
The king then seized or purchased items from the estate, and hired the artists who designed it to draft plans for a much larger and much grander project: Versailles Palace and Gardens!
The opulent Baroque estate is definitely worth being added as one of your Paris day trips.
Tickets here: Paris: An Evening at Vaux-le-Vicomte Palace with Dinner
Tickets here: From Paris: Chateau de Fontainebleau & Vaux-Le-Vicomte Tour
Tickets here: Fontainebleau & Vaux-le-Vicomte Châteaux Day Tour from Paris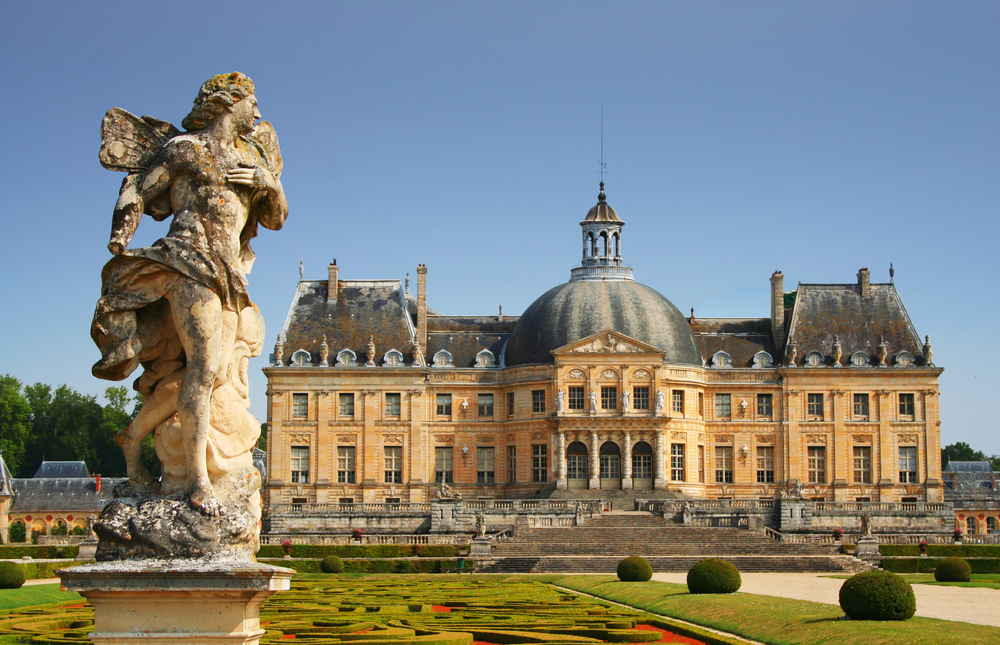 Parc Asterix
This amusement park, full of roller coasters, is based on the French comic books called Asterix. It is very popular attracting over 2 million visitors every year.
Located only 22 miles north of Paris, consider this as one of your Paris day trips if you are traveling with children, or simply looking for a fun day to relax with your family.
Read about the prettiest bridges in Paris here!
If themed roller coasters and lots of them to choose from, river rafting and extra special fun during the holidays throughout the year interests you, then this amusement park is one of the best day trips from Paris for you to consider! Have fun!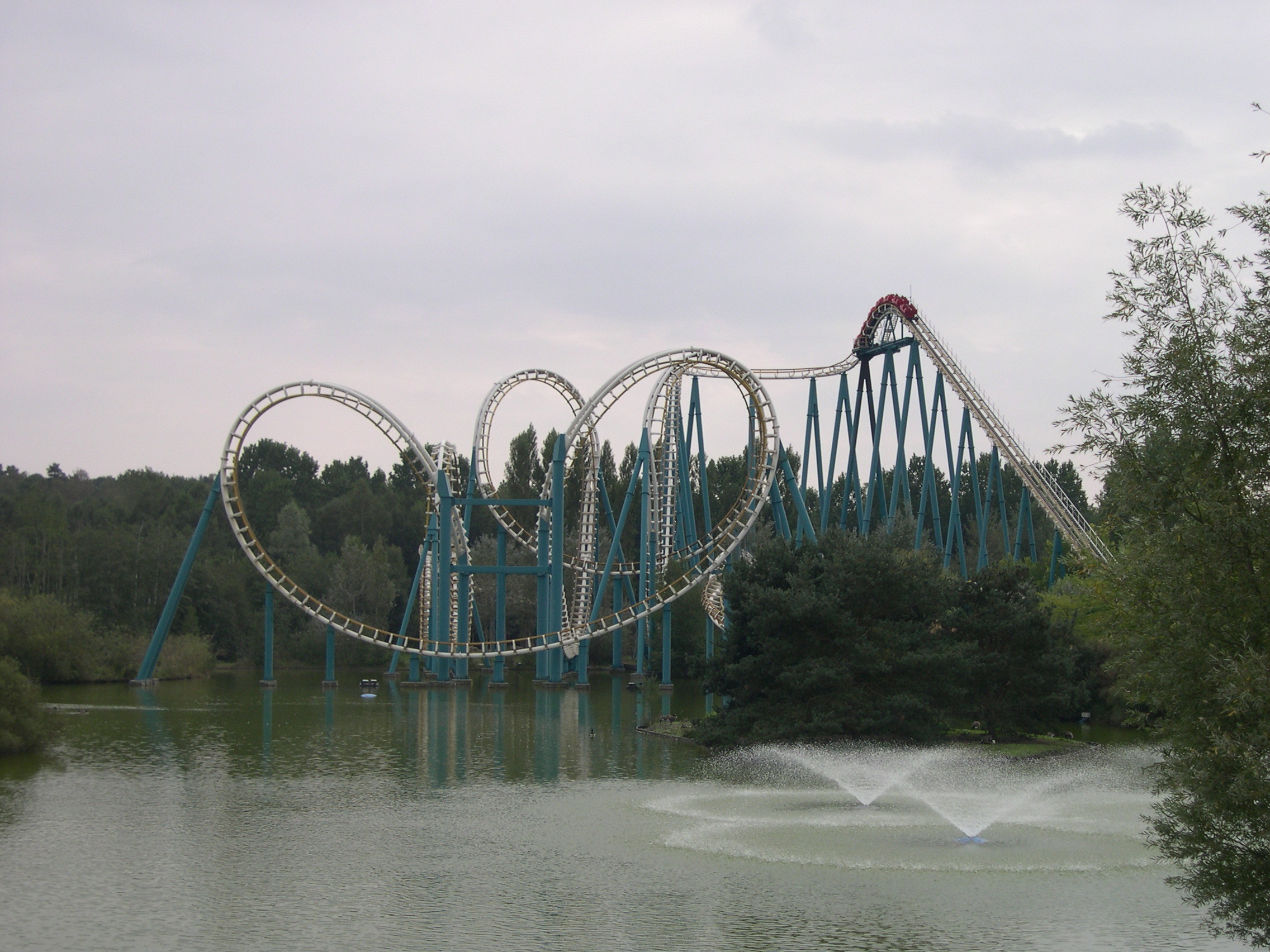 Historic and picturesque Senlis would be another wonderful Paris day trips. Conveniently located just 27 miles north of Paris, it is less than an hour drive by car, and a quick train ride away.
Full of royal history and charm, the Senlis Roman Catholic Cathedral is one of the main attractions in this lovely town. This Gothic church, and French national monument, constructed during the Middle Ages, has huge tall spires that can readily be seen far into the countryside.
Read about the prettiest parks and gardens in Paris here.
Discover some more of Senlis' historical past by visiting its royal castle, cobblestone streets and museums. With a story that began in the over 2000 years ago, Senlis is really like taking a step back in time and discovering days gone by.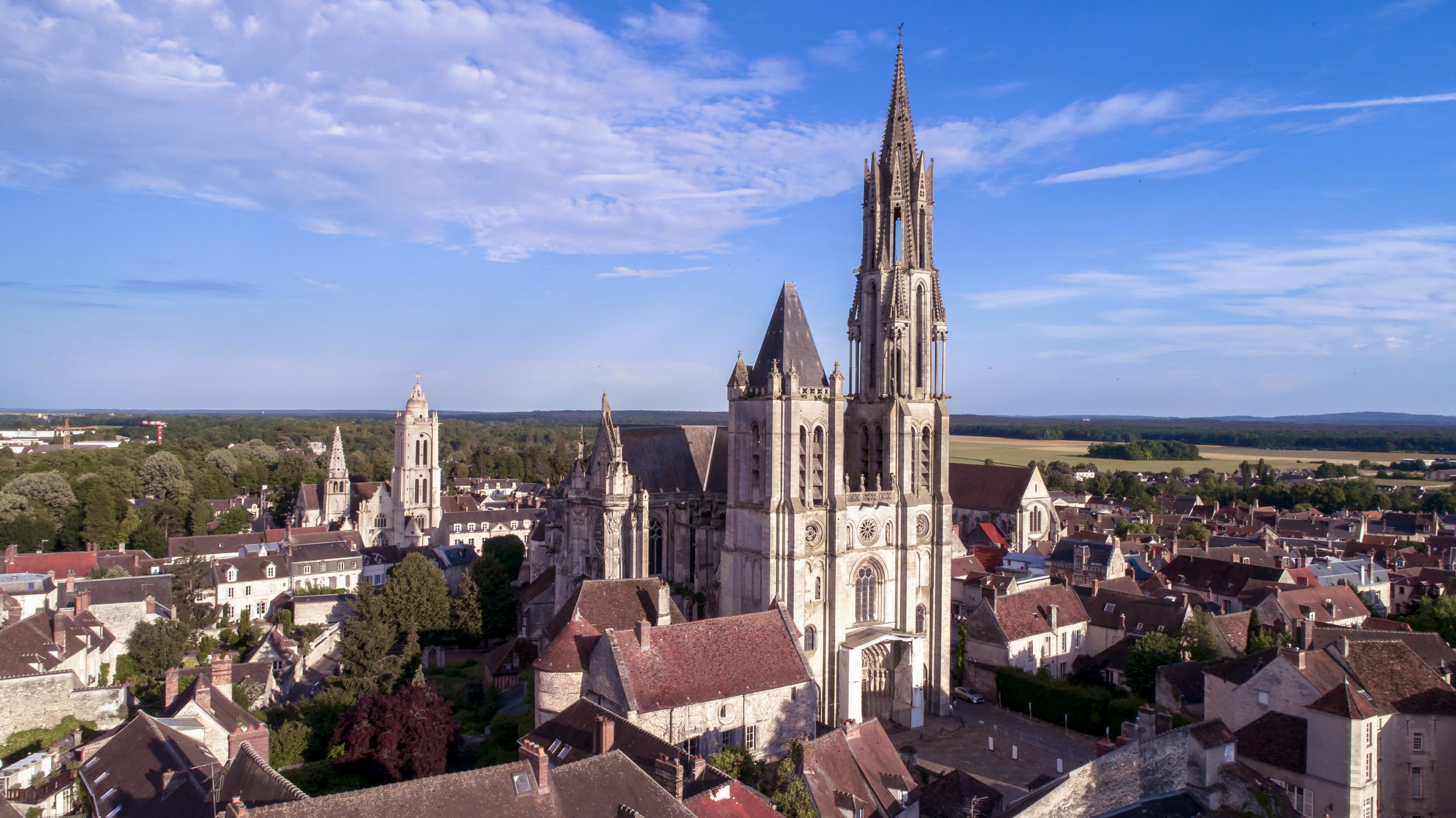 Best Day Trips From Paris Between One To Two Hours
Giverny And Claude Monet's Garden
Claude Monet, who founded the Impressionist movement (my favorite!) lived in Giverney for over forty-three years. Until his death in the 1920s.
His famous home and spectacular gardens are where he produced his most famous water lily paintings.
His garden, and his house, and his village of Giverny are still very popular with artists and the not so artsy from all over the world. Especially in the spring and summer when all the flowers are in bloom.
Read about how to spend 4 days in Paris here.
An hour's drive from Paris by car, Giverny is located in northern France, in the province of Normandy. There you will also find the Museum of Impressionism, which presents the history of the impressionism movement.
Cafe's, castles and restaurants with periods of decoration can be found in Giverny.
Tickets here: Giverny & Monet's Garden by Train
Tickets here: Half-Day Trip to Giverny from Paris
Tickets here: Giverny: Monet's Garden Half-Day Tour from Paris
Tickets here: Giverny: Monet's House and Gardens Skip-the-Line Tour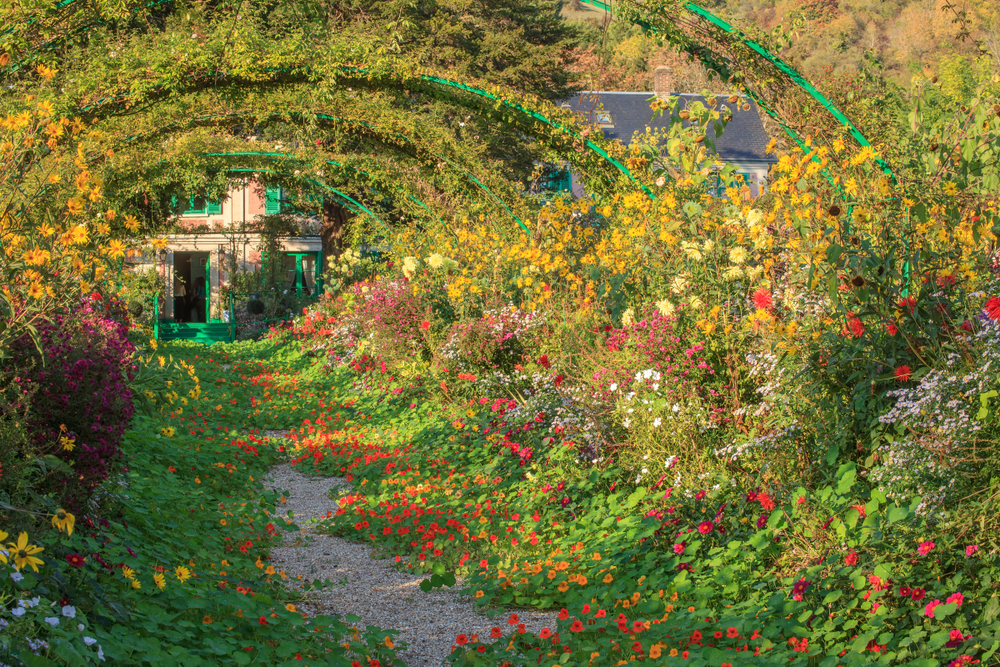 Reims For The Champagne
Reims, is the unofficial capital of the champagne wine-growing region in France. Many of the world-renowned champagne houses are headquartered in this region. They offer cellar tours and tastings.
Located just 80 miles from Paris, Reims will be one of the most delicious Paris day trips you will take!
Look here for tips on what to do in Paris for 3 days.
The French Gothic Cathedral Notre Dame in Reims hosted the coronations of the French monarchy for over one thousand years. This is why Reims is still referred to as the "Coronation City." Many believe it rivals and even surpasses Notre Dame du Paris!
Reims is both the capital of the Champagne region of France and is rich in history and pagentry as well!
Look here: From Paris: Champagne Region Day Tour by Minibus
Look here: From Reims: Exclusive Tour to Moet et Chandon & Taittinger
Look here: Reims: Full-Day Moët's Vineyard & Family Winery Group Tour
Look here: Reims/Epernay: Guided Champagne-Making Experience
Look here: Reims and Champagne Tasting Full-Day Tour from Paris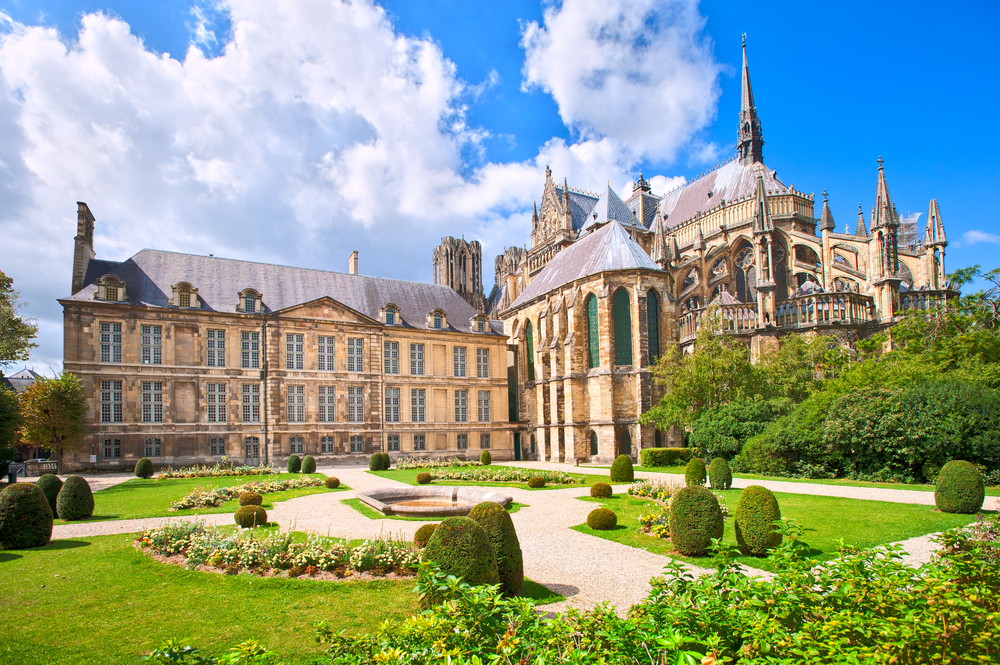 In Epernay It Is All About The Champagne
The lovely little town of Epernay is for anyone who loves champagne. The world-renowned French wine and champagne house, Moet & Chandon, the makers of Dom Perignon can be found here. You can take a guided tour of the winery and sip the finished product!
Afterwards take a stroll along the Avenue de Champagne in the center of Epernay for a perfect French lunch and discover the other champagne houses in town.
Located less than two hours from Paris, by car or train, touring the champagne houses and testing champagne all afternoon, makes visiting Epernay one of the best day trips from Paris!
Tickets here: From Paris: Day Trip to Champagne
Tickets here: Visit of Epernay & Multiple Champagne Tastings in a Vineyard
Tickets here: Epernay: Mercier Champagne Cellar Visit with Tastings
Tickets here: From Paris: Small-Group Moët & Chandon Champagne Tour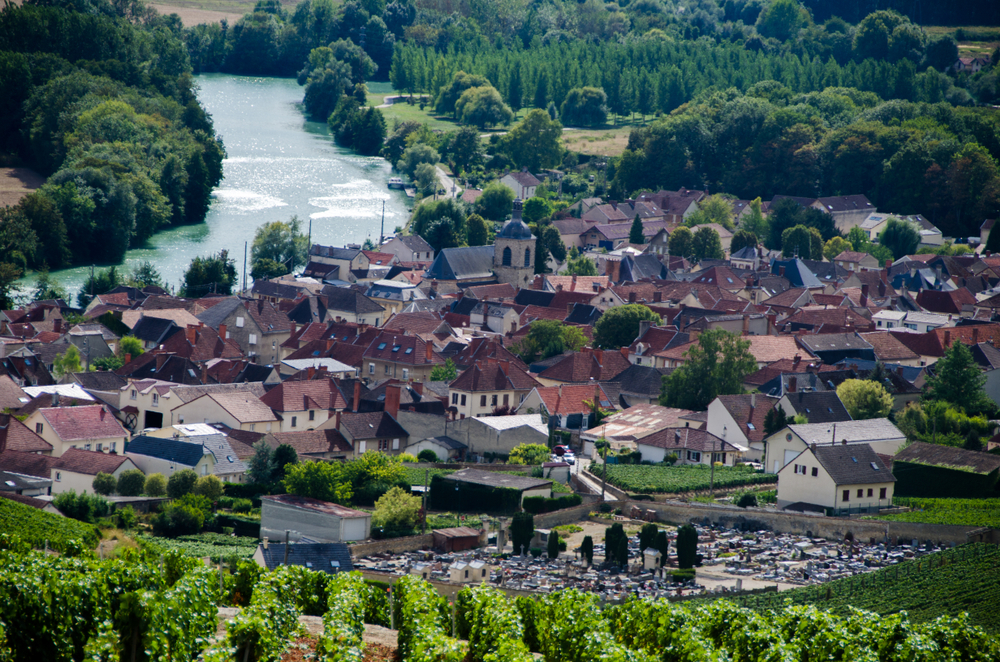 Chantilly
This quaint historic French town is located about one hour northeast of Paris. A trip by car or train takes anywhere from 50 minutes to one hour to travel the 24 miles (39 km.)
Once there you step back into French history and have plenty of options to choose from. Surrounded by the Chantilly Forest, 11,000 people inhabit Chantilly.
The main attraction is the Chateau de Chantilly, a medieval Renaissance castle from the seventeenth century. Comprised of two main parts, and romantic yet tumultuous history. The estate offers princely suites.
There is a large collection of paintings from masters such as Botticelli and Raphael.The elaborate French-style gardens span 284 acres and are magnificent. The horse stables house a museum dedicated to horses.
Located next to the stables is the Church of Notre-Dame du Chantilly. Protected as one of France's Historical Monuments, this architectural masterpiece of the late 1600s deserves your attention.
If the first thing you thought of was lace when you read the word Chantilly, you are not alone. Chantilly lace, including its signature black and unique pattern, is different and you can learn about it at the museum in town.
Did you know that sweetened whipped cream as we know it, originated in Chantilly? Make sure to take a minute to indulge while you are in town!
Chantilly has a lot for you to explore and is one of the best day trips from Paris.
Tickets here: Chateau of Chantilly: Skip-the-Line Ticket
Tickets here: Great Stables of Prince de Conde & Palace Chantilly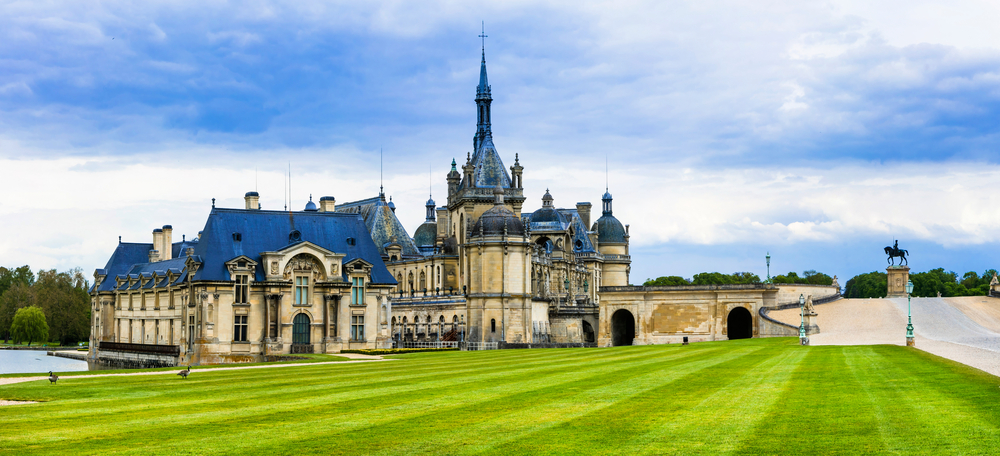 Loire Valley
Located in Central France, the Loire Valley is considered the Garden of France. Because of its great amount of vineyards, orchards and vegetable fields. As if this is not tempting enough, the Loire Valley is heavenly if you happen to be a castle lover!
The Loire Valley is about 300 square miles and was designated a UNESCO World Heritage Site in 2000. You can reach this region by driving or by the metro. A car drive will be a pinch over two hours. The metro will be less time at about 1 to 1.5 hours.
One very popular castle to search out is Chateau Chambord (the inspiration for the Beauty and the Beast castle) or Chateau Chenonceau (from the movie Ever After.)
You will discover wineries throughout the region to explore that would be a lovely spot for lunch or dinner. Visiting Loire Valley is one of the best day trips from Paris!
Tickets here: From Paris: Day Tour of Loire Castles with Lunch
Tickets Here: From Paris: Da Vinci Tour of the Loire Valley
Tickets here: Paris: Loire Valley Chambord Castle, Wine Tasting & Lunch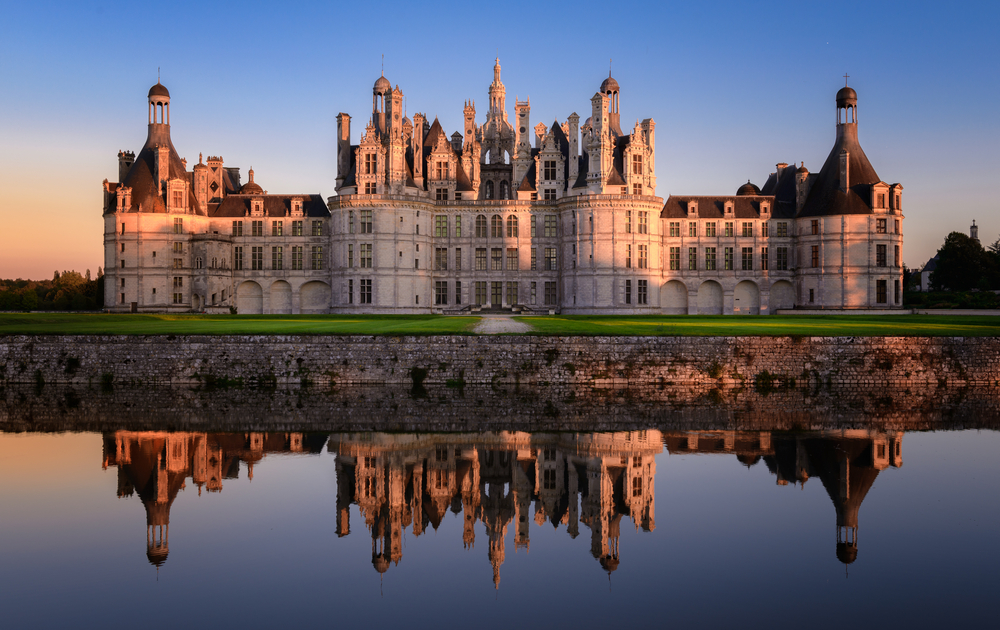 Chartres
The city of Chartres is one of the easier day trips from Paris. Located a little over 50 miles southwest of Paris, you can easily get there in about ninety minutes.
The city is mainly known for its world-famous cathedral. Constructed in the 1200s, this Gothic-inspired cathedral is in a rare form of preservation. And its original Chartres-blue stained glass windows remain intact!
On touring this medieval cathedral you will see a remnant of the Blessed Virgin Mary's veil on display. Afterwards, you can walk the labyrinth in the nave, still popular with visitors.
The Bishop's Palace Garden is a beautiful space and nearby is a cafe for lunch or a glass of wine.
"Chartres en Luminerie" takes place between April and October after sunset. It is a light show on the exterior of the church and is stunning.
Due to its close proximity to Paris, visiting Chartres is one of the most convenient day trips from Paris.
Tickets here: Chartres Cathedral and Old Town: 6-Hour Tour from Paris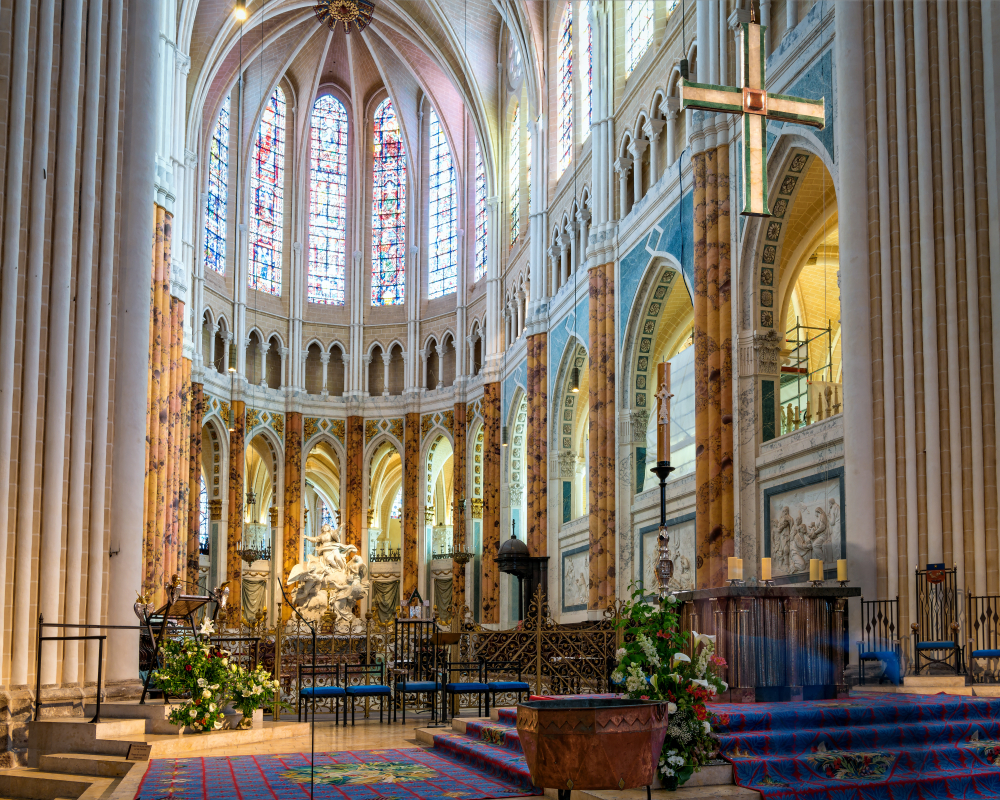 Best Day Trips From Paris Over Two Hours
Mont-Saint Michele
Saint Michael's Mount, as it is called in English, is literally an island, dictated and determined by the tides. It is located about a half-mile off of France's northwestern coast and comprises about 17 acres in size.
This very popular cultural site is one of France's most visited. There are currently about 44 inhabitants on the island, including the monks and nuns of the Abby.
Please be careful to consider the tides. How you arrive on the island depends greatly on that. Also, you do not want to be left stranded on the islands by an incoming high tide.
There are many options on the island, and a fair warning: there are lots of stairs. It is not the best option for the infirm or anyone with accessibility challenges.
The Mont St Michel Abbey is located on the island and an essential part of the experience of the island. Once used as a prison, today monks and inhabit it. While visiting the island is free, there is a modest admission fee into the abbey.
The entire area, Mont Saint-Michel and its bay are listed on UNESCO's list of World Heritage Sites. The abbey is a French Historical Monument since the 1800s.
Driving or taking the metro are around 4 hours each way. This is one of the best day trips from Paris and is very doable. Be prepared for it to take your entire day.
Tickets here: From Paris: Full-Day Mont Saint-Michel Guided Tour
Tickets here: Mont-Saint-Michel Abbey Ticket & Self-Guided Tour
Tickets here: Mont Saint Michel: Guided Hiking Tour in the Bay
Tickets here: Day Trip to Mont-Saint-Michel from Paris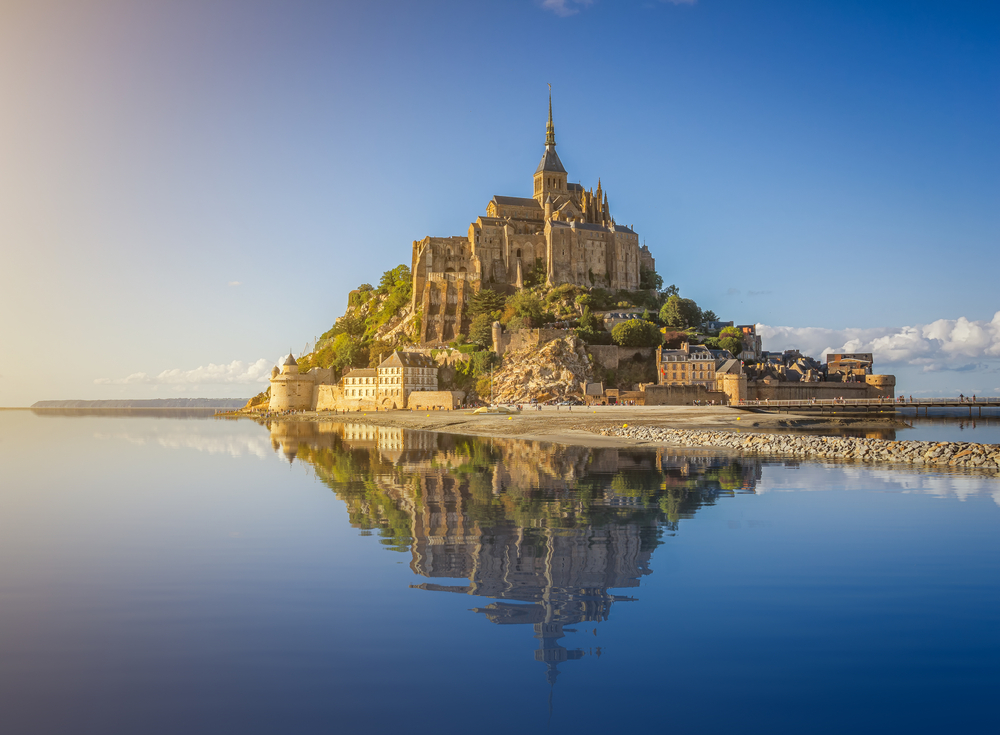 London, England
If you are only in Europe for a short amount of time, why not visit London? Travel could not be easier. If this is your first time in London read my 7 things to know about London before your London trip.
A plane flight of a bit over one hour or a train ride of a bit over two hours is all it takes. My family and I made the trip and it was fantastic, on the Eurostar. However, do your research and depending on your time and budget, you will make the best choice for you.
Read my Paris London itinerary if you will be spending the majority of your time between these two European capital cities.
London is a dazzling city, and the capital and largest city of Great Britain. Loaded with "best of" accolades London is a fantastic choice for one of your Paris day trips!
If you are looking for ideas when you are in London, read about 14 unusual things to do in London, hidden gems in London not to miss whilst you are there, beautiful places in London to visit, and how to spend 24 hours in London.
There are castles, royalty, UNESCO World Heritage Sites and the Greenwich Prime Meridian. It is 0 degrees longitude and begins dividing the earth east-west, as the equator does north-south. (How cool is that?)
If you fall in love with London as I have, read how to spend a week in London here.
London has lots of historic places you are familiar with without even researching, such as Harrods Department Store, London Bridge, Big Ben, and Kensington Palace to name a few.
If you have a short time in Europe, do not miss out on visiting London!
Tickets here: Full-Day Trip from Paris to London by Eurostar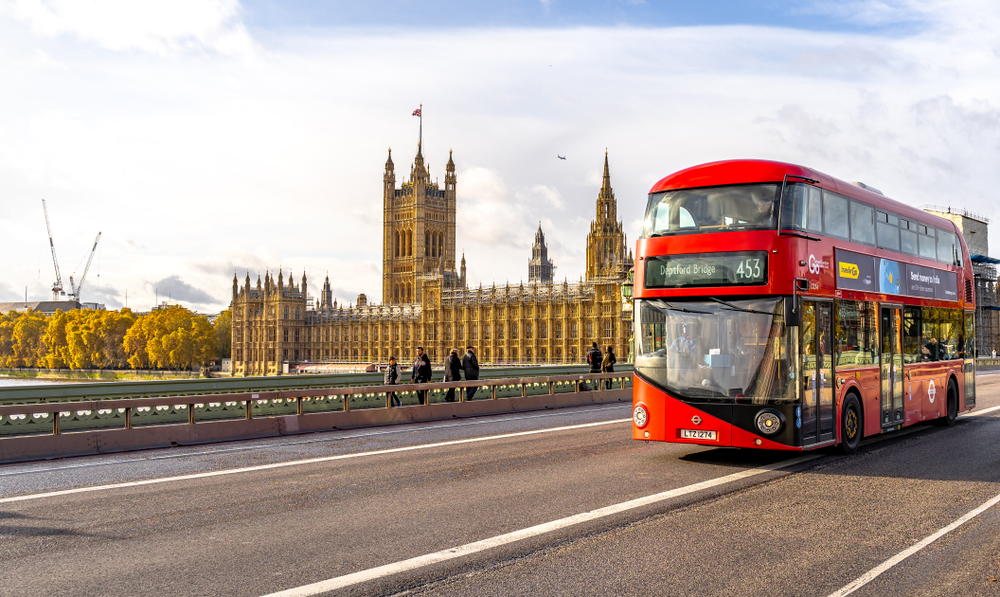 Brussels, Belgium
How about visiting two European capital cities in one day?
Brussels, Belgium is located about 190 miles from Paris, and is an easily doable Paris day trip either by car or train.
Located on the River Seine, today Brussels is an international city widely recognized as a major hub of international politics. Also known for its global gastronomy vibe, it also has architectural and historical landmarks, and some are UNESCO designated.
Some locations to search out in this cosmopolitan city are the Grand Place, the central square of Brussels. Here you will find the city's Town Hall and the King's House.
In the center of Brussels look for Manneken Pis a bronze statue of a young boy urinating into the basin of the fountain. It is said to be the symbol of the people of Brussel's sense of humor and independent thinking! It is but a five minutes walk from Grand Place.
Look for the spherical Atomium, first created for the 1958 Brussel's World Expo where it was the main pavilion and symbol. Today it is part of a museum complex. There is an ornate opera house, The Royal Theatre of La Monnaie, and Museums of Art and History.
There are so many options to make Brussels, Belgium one of the best day trips from Paris.
Tickets here: Brussels Atomium Admission Ticket
Tickets here: Brussels: 3-Hour Private Personalized Walking Tour
Tickets here: Brussels: Private Tour of the Upper and Lower City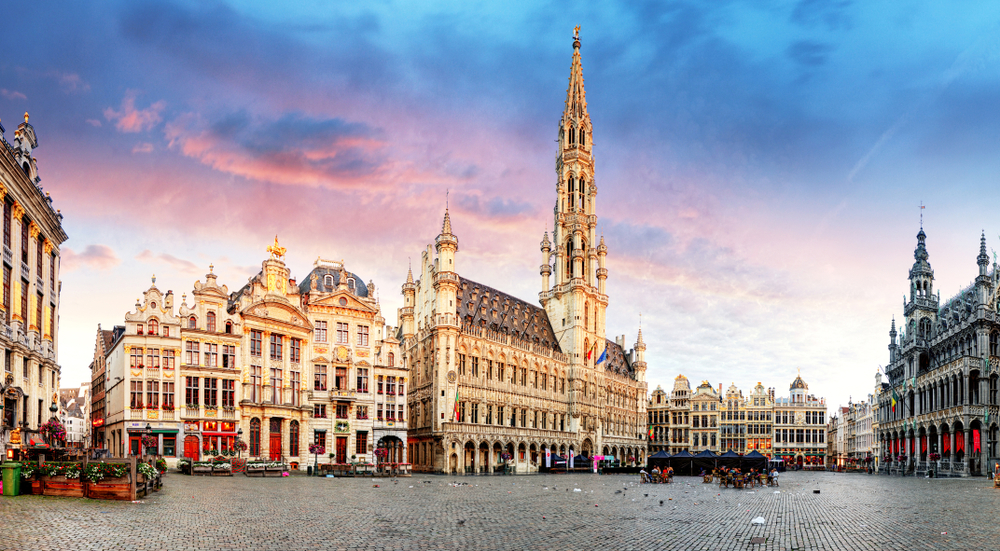 Alsace
Is Alsace French or German?
Alsace is a region in northeastern France that borders Germany and Switzerland. The border has changed over the years alternating between French and German control.
So, Alsace has both heavy German and French tendencies.
The food and the wines have both cultures reflected in them. And the Alsace region is the major beer-producing region in France.
Picturesque villages, castles, and churches all draw visitors from all across the world.
The Alsace region in France is located 295 miles from Paris. It is about a 3.5 hour train ride or a 5 hour car ride. While this is certainly a doable Paris day trips, plan for it to be a long day!
Look here: Strasbourg: Old District Guided Walking Tour
Look here: Alsace: Full-Day Wine Tasting Tour
Look here: Alsace: Alsatian Wine-tasting Tour and Lunch
Packing Tips For Your Best Day Trips From Paris
I think that using these useful packing tips will enhance your trip to Paris and help you remain organized while there. Especially on all of the Paris day trips you will be taking!
A concealed travel pouch may be one of the most important items you bring with you on your visit to Paris. This unisex RFID blocking concealed travel pouch is lightweight and comes in several colors. It has lots of organization to give you peace of mind. You can keep your most valuable documents safe and secure next to your body.
If you have a pouch already you may not want to or need to invest in a new one. If it does not come with the RFID protection, these RFID sleeves would be handy to prevent identity theft.
This configuration comes with enough passport and credit card sleeves that the entire family would be protected. They are slim too, so they will easily fit into your current pouch or wallet. These are the kind my family and I use not only when traveling but at home as well.
If you are planning on taking a lot of pictures with your phone you will definitely want to consider an external charging battery. This Anker high-speed phone charging battery is the exact one I carry with me on all of my trips.
It can be used on a variety of phones, not just an iPhone like I have. And wow is it fast! I like that it holds its charging capabilities for several uses so I do not have to worry about it while out and about. And if I forget to recharge it at night, it will still be good to go the next day.
My daughter gifted me with this FugeTek Selfie Stick and Tripod for my birthday. It has Bloothtooth connectivity so it is very easy to use. It is made of durable aluminum and is very lightweight and easy to carry. I love mine and I think you will enjoy it too!
I was never a fan of packing cubes until I tried them out! Now I am sold. These Bagail packing cubes are the exact ones I use whenever I travel. I cannot believe how much more organized I am now! And I never leave without them anymore.
Hydration is so important. You want to remain hydrated to support your immune system which in turn will be stronger to fight off any germs you will encounter during your 5 days in Paris. You will want to bring your own refillable water bottle with you.
I never leave home on a trip without my Bobble filtration bottle. The 18.5-ounce size is perfect for travel and it will fit nicely in the pocket of a backpack or your purse. Also when filled with water, it is not too heavy to carry. And the Bobble carbon filter ensures fresh clean water whenever and wherever you fill the Bobble. You can find filter replacements here.
Perhaps you are traveling a long distance and packing space is a premium. Then this set of collapsible silicone foldable water bottles would work well for you. Would not take up much space in your suitcase at all. And you will be receiving a set of two.
You will want to bring a backpack or daypack with you to store snacks, your water bottle, phone, extra clothes, etc.. This foldable water-resistant backpack would be great. It is very affordable and is available in many color options for you to choose from. The fact that it folds down into a zippered pouch will make it easy to pack.
Perhaps you need a more substantial backpack for your international travel. This antitheft backpack has a charging port, is water-resistant and can comfortably carry up to a 15.6″ laptop. It comes in a range of colors to choose from and it is inexpensive as well.
You will be walking more than usual during your 5 days in Paris. A sturdy and comfortable pair of walking shoes is a must-have. These waterproof all-season shoes are extremely affordable and yet fashionable.
Mostly everyone is familiar with the Skechers brand, and these Air Run high fashion sneakers come in a lot of colors to match your outfits and are still affordable.
You may be visiting Paris warmer weather and you may want a pair of sandals to wear exploring. I highly recommend these Vionics adjustable strap orthotic sandals.
I have several pairs of these exact Vionic sandals in several colors that I bring with me *everywhere* I travel. They are very comfortable. I also sometimes bring along my Vionic Tides flip flops. The toe post is so comfortable which makes wearing these super comfortable.
Bring a lightweight scarf or shawl. Scarves and shawls are very popular in Europe and Paris is no different. Both men and women wear scarves, decoratively and as a layering piece to keep warm.
This cotton unisex lightweight scarf is versatile and can be worn in any season. I like this colorful oversized scarf too. So many colors to select from!
And here's another option to consider: this lightweight sunscreen shawl scarf would do double duty to protect you from the sun in the warmer seasons as well as being a fashion accessory layering piece. This Coolibar sunscreen scarf has USB 50+ protection from the sun's rays & comes in great colors.
We all need to protect our eyes from the sun's harmful UVA/UVB rays. These unisex polarized sunglasses come in a lot of lens colors and frame designs and are extremely affordable too.
If you are fond of the aviator-style of sunglasses these polarized aviators may interest you. I like polarized sunglasses because they remove the glare off the water and help you to see things more clearly. This will be very helpful in Paris.
Don't forget to bring along a universal power adapter on your 5 days in Paris. This worldwide power plug is a great example and will charge your phone at the end of your busy days.
And this world traveler adapter kit can charge several devices at the same time. This is what you will need when there are several people traveling in your group, or if you bring several electronic devices on your trip that require charging at the same time.
If you are in need of new luggage, this expandable soft side spinner luggage is affordable and comes in lots of colors. If you like hard-sided better, then you may favor this hard-sided luggage set better.
Both sets come with TSA approved zippers locks and 8 wheels per piece. Either will be great for the plane or train or even your car depending on how you plan to travel to France.
Here I have listed fifteen of the most interesting, exciting, delicious, and best day trips from Paris. I hope you have the most magical trip possible!
Linda On the Run is a participant in the Amazon Services LLC Associates Program, designed to provide a means to earn fees by advertising and linking to Amazon.com
Other affiliate links for Get Your Guide are included here as well to help you plan and organize your trip.