Looking to explore Exit Glacier Alaska? If it's not on your list of things to do when you visit Alaska,  it should be! Alaska is one of my all-time favorite travel destinations because is so remote and stunningly beautiful.
It offers awe-inspiring vistas ranging from the sea to mountains thrusting their summits so high you would think they might even reach heaven!
Exit Glacier is conveniently accessible and a very popular destination in the Kenai Fjords National Park.
Exit Glacier pours over from the Harding Icefield, (one of 35 glaciers that do) and got its name because it was used as the 'exit' in the first recorded crossing of the Harding Icefield back in 1968.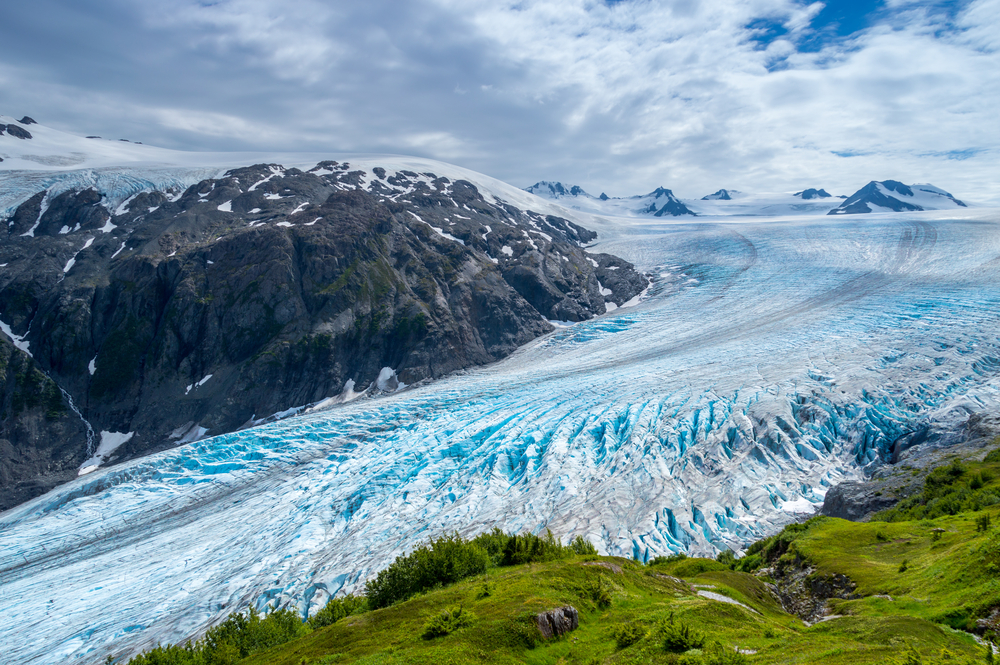 15 Things To Know Before Visiting Exit Glacier Alaska 
1) Exit Glacier and the Harding Icefield Are Conveniently Located And Easy To Get To
Exit Glacier Alaska is considered a "drive-up" glacier and one of the most popular visited Alaskan glaciers due to the convenience of getting to it. While this glacier is open all year round, the road usually closes to cars once the November snows arrive.
However, you can also travel to Exit Glacier by snowmachine, dog sled or cross-country skis if you plan to be in Alaska during the offseason. Look for Alaska tips here if this will be your first time visiting.
Exit Glacier is located 3.7 miles north of  Seward, Alaska and 125 miles south of  Anchorage, Alaska off of the Seward Highway. It is situated at the end of Exit Glacier Road.
There is a clearly marked sign signaling the turnoff from Seward  Highway.  Exit Glacier Road is about 8 miles long with the glacier and the Exit Glacier Nature Center at the end.
You can take advantage of the shuttle from Seward, Alaska, to visit Exit Glacier.  This is especially convenient if you arrive in Seward via a cruise ship.
The shuttles leave every hour from downtown Seward, and is about a 15 minute trip along the Resurrection River, through scenic Kenai Fjords National Park until you reach the parking lot of Exit Glacier.
READ NEXT
Alaska Cruise Packing List For Any Time Of Year
How To Avoid Getting Sick While Flying To Your Alaska Trip
7 Stops To Include For The Perfect Alaska Itinerary
5 Unique Things To Do In Homer
7 Tips For Surviving A Long Haul Flight
Travel Tips For Solo Travelers Heading To Alaska
Once you arrive at the parking lot,  you will have many exciting decisions to make about how to spend your time at Exit Glacier Alaska.
When you exit your shuttle bus, your trip back to Seward from the glacier will have already been scheduled.
There is no cell service at Exit Glacier, so keep an eye on the time, either using your watch or cell phone, as you will not be able to call the shuttle company.
Look here: Seward: Self-Guided Audio Tour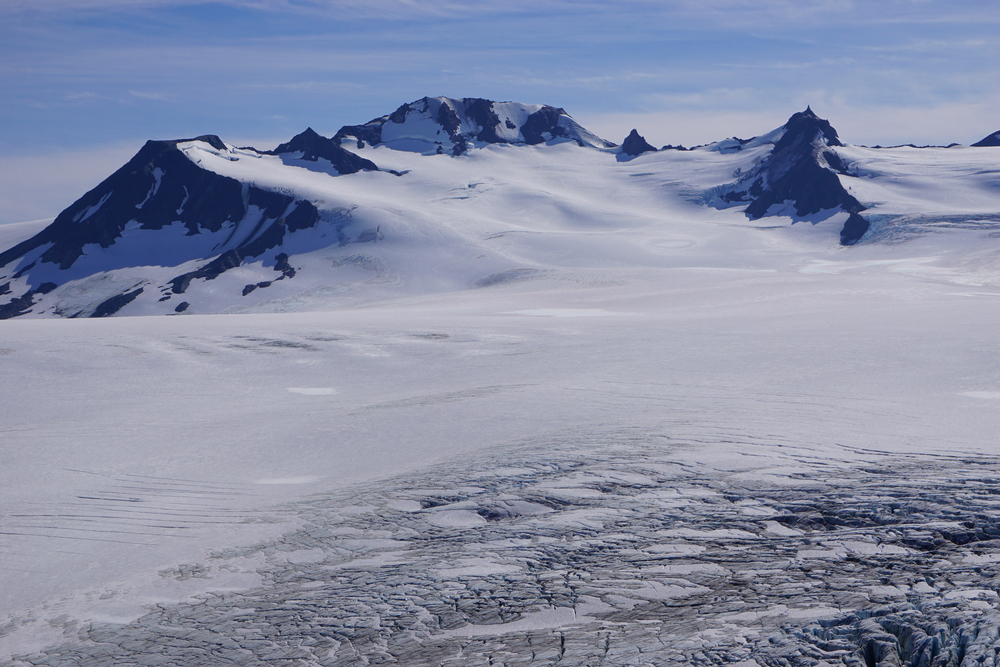 2) Make Exit Glacier Nature Center Your First Stop Upon Arrival
The Exit Glacier Nature Center is adjacent to the parking lot. You will want to visit it first to learn about the local area and glacier hikes available to you and general information about the Exit Glacier.
The Exit Glacier Nature Center is open from Memorial Day weekend to the Monday of Labor Day weekend. There are exhibits about the Exit Glacier area, and rangers are available to answer your questions about which hike is best for you.
There is also a bookstore as well in case you want to take home a little memory of your trip.
Sometimes during the summer months, the Exit Glacier Alaska parking in the lot will be full, especially in the afternoon hours when the glacier is most crowded, making parking difficult.
So please take this into consideration when you plan your visit to the glacier and the Exit Glacier Nature Center.
Look here: Seward: Kenai Fjords National Park 6-Hour Cruise
 3) The Bathrooms At Exit Glacier Nature Center Are Surprisingly Clean
You will notice the flush toilets at the Exit Glacier Nature Center when you first approach, in the warmer months.  Don't wait until you are on an Exit Glacier hike to think about using the bathroom!
The flush toilets located right next to the Exit Glacier Nature Center are available during the summer season from Memorial  Day weekend to Labor Day weekend. In the offseason, pit toilets are used.
Remember, there are no bathrooms on any Exit Glacier hike, so please make sure you use the bathrooms before you venture on your explorations, walks or hikes of Exit Glacier!
Look here: Seward: Kenai Fjords National Park 7.5-Hour Cruise
4) Fill Up Your Water Bottles Before Your Hike
You can fill up your nondisposable reusable water bottle you brought with you near the restrooms. There is a water fountain, and there is even a water bottle filling station.
If you left your reusable water bottle in your room or at home, the Exit Glacier Nature enter sells them for your convenience.
If you are looking for accommodations as you plan your Alaska itinerary, read about the best Alaska Airbnbs.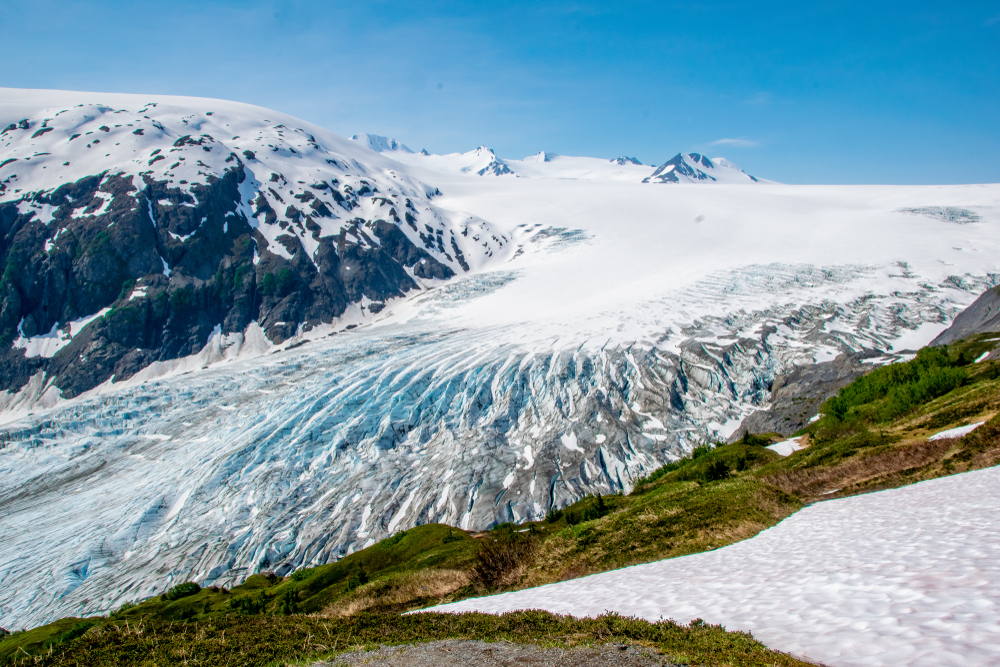 5) Picnic Tables Are Available For Resting And Snacking
Exit Glacier is such a lovely area. And it is a great idea to begin or end your visit with a snack or meal. Picnic tables are located right next to the parking lot.
These resealable silicone sandwich/snack bags are leakproof are a great and easy way to transport food safely if you plan to picnic during your visit to Exit Glacier Alaska.
If you are thinking of bringing something more substantial with you, for a post-hike meal, these collapsible food storage containers are a wise decision. Either of these choices folds flat for transportation and would fit easily in your carry-aboard luggage. Or not take much room if you are road tripping Alaska.
6) Exit Glacier Alaska Is A Visible Reminder Of Glacial Recession.
We are all aware of global warming. Climate change used to be something we were concerned about "in the future."
However, now we have undeniable scientific evidence that the earth's climate is warming. Now. Exit Glacier Alaska is a visible and tangible and stark representation of the effects of global warming.
Exit Glacier has been receding at a rate of approximately 162 feet a year since 2010. More recently, Exit Glacier shrunk 262 feet from the fall of 2015 to the fall of 2016.
When you begin your Exit Glacier hike, you will see that markers are strategically placed demonstrating where Exit Glacier once was during different years in the past.
Before it receded to its current location, Exit Glacier Alaska is believed to have originally reached all the way to Seward, Alaska, 8 miles away.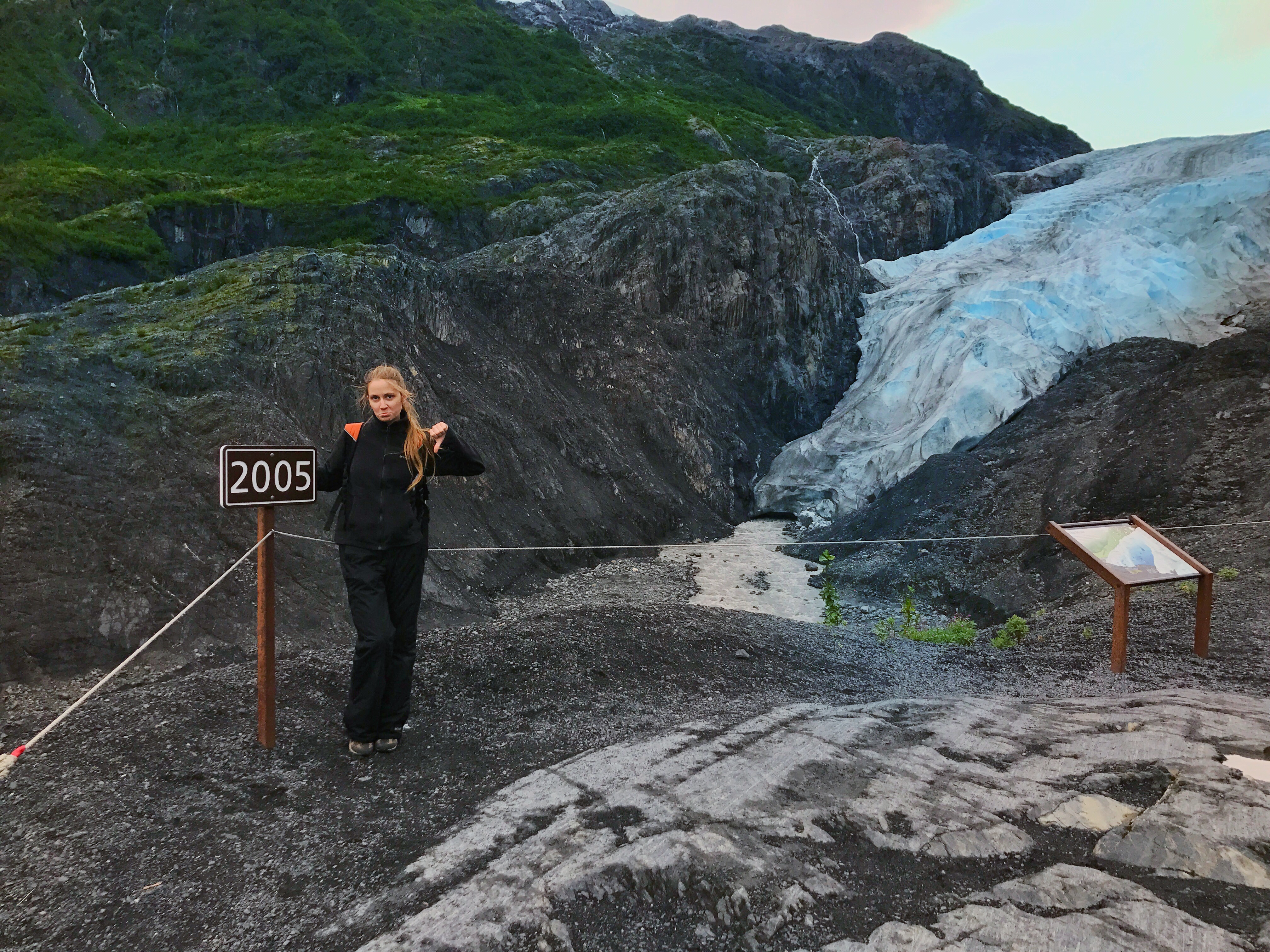 A recent picture of my daughter Victoria, from Follow Me Away, showing her disappointment and displeasure about just how far Exit Glacier Alaska had receded since her last visit in 2005. 
7) There Is An Exit Glacier Hike That Is Perfect For Everyone
Of course, a walk or hike to see Exit Glacier up close and personal is probably what brought you to Exit Glacier in the first place. You won't be disappointed because you have several options to choose from to achieve your goal.
You will want to start off your visit by stopping by the Exit Glacier Nature Center. There you will find all the information you need to plan your day and decide what kind of adventure is best for you and your party.
No matter which hikes you and your family select, you won't be disappointed. Exit Glacier Alaska is one of those attractions you do not want to miss out on.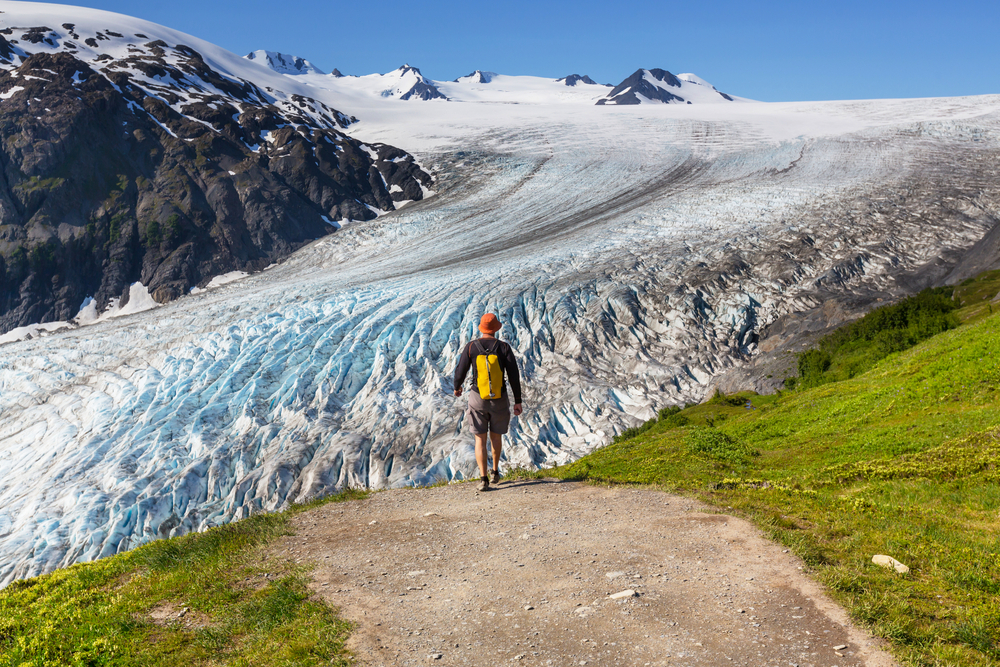 8) The Edge Of The Glacier Trail
Also known at the "Lower Trail,"  here you will see Exit Glacier as it flows down from the Harding Icefield. It is a mainly flat paved trail that leads you to glorious views of Exit Glacier Alaska. It is about a twenty-minute walk from the Exit Glacier Nature Center.
You will feel like you are walking through a forest, and then you will find yourself strolling alongside a gravel river bar. A sure sign of glacial recession.
It is along this trail you will notice the markers signaling the glacial melting that I previously referred to,  over the past 120 years.
If you are tech-savvy, you can listen to a self-guided tour on the Alaska App described and explained by an Alaskan Park Ranger.
You will be able to get some great pictures of the glacial ice on this easy hike. And this trail is wheelchair and stroller accessible.
9) The Harding Icefield Trail Is A More Strenuous Hike
Nine miles round trip from the Exit Glacier Nature Center, this strenuous hike is not for the faint of heart.
It is considered a challenging day hike and mainly suitable for the physically well-prepared. It climbs in elevation one thousand feet per mile the first four miles!
No special equipment is necessary, but a hiking pole would certainly help.
Make sure to check the weather conditions for the day you choose to hike online and/or with the rangers on site. Packing nutrition and extra layers of clothing is a must.
If you are not physically able, or you just do not have the time to devote to the entire hike, climbing partway will still afford you panoramic views of the several hundred square feet Harding glacier!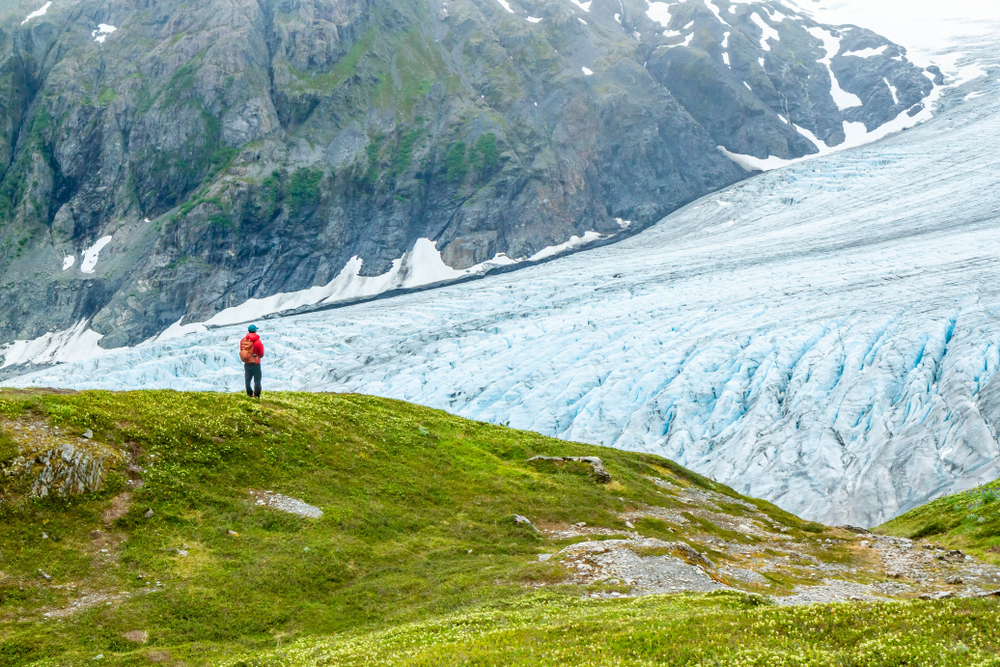 10) Take A Ranger Led Walk
During the summer season, a variety of ranger-led walks take place during the day. Check the Exit Glacier Alaska website to obtain the latest schedules.
The rangers will narrate, explaining about the flora and fauna as you proceed. And point out about the glacial melting.
You can accompany a ranger on the trail to Glacier View Lookout for pictures, and onto Glacier Overlook.
Rangers also lead hikes to Marmot Meadows with is a stop along the strenuous Harding Icefield Trail that takes about three hours to cover almost three miles round trip.
Meet the ranger at the Exit Glacier Nature Center for any of the ranger-led activities.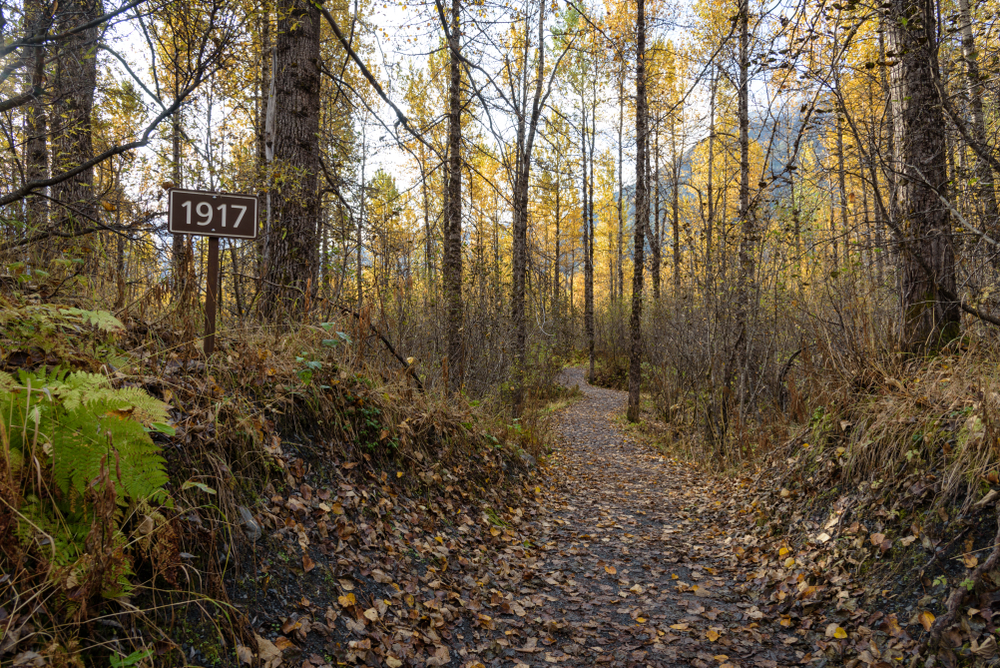 11) The Children Can Earn A Junior Ranger Badge
Children ager 4 through 12 (and any interested adults as well!) are able to learn about Exit Glacier Alaska and local wildlife in a fun and unique way and be rewarded as well.
Stop into the Exit Glacier visitor center and obtain an Adventure Guide for each child participating. It is a smallish booklet with activities for the children to complete, based on their ages.
After completing the listed activities, children turn in their booklets to a volunteer or ranger on duty, who reviews their work. And then awards them with their honorary Junior Ranger Badge.
Sometimes they make a huge deal out of it, and always it is a special achievement for the child! Well worth it, and I highly recommend it!
No matter which hikes you and your family select, you won't be disappointed. Exit Glacier Alaska is one of those attractions you do not want to miss out on.
12) Attend A Ranger-Led Pavilion Talk
Informative presentations are given every day by a ranger at the pavilion located down the trail from the Exit Glacier Nature Center.
These talks last about twenty minutes. They focus on the local animals that inhabit the area, or the rich history of the area.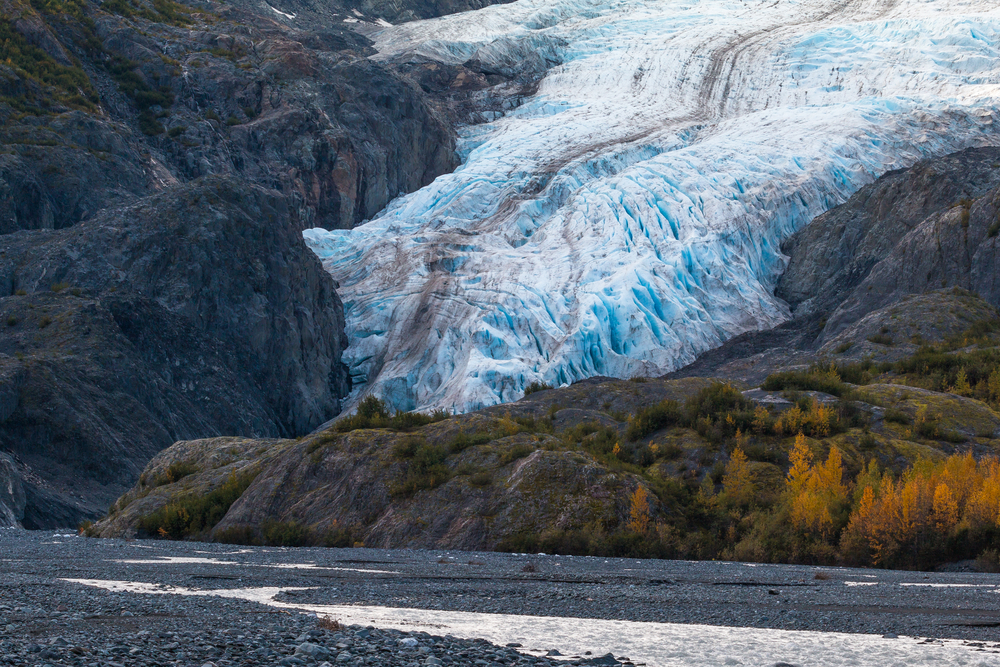 13) The Best Time Of Year To Visit Exit Glacier Alaska
The peak months to visit Exit Glacier Alaska are June, July, and August. The temperatures at Exit Glacier during the summer are approximately in the 70sF during the daytime and down to the 40sF at night.
These mild summertime temperatures make for a wonderful time to visit. That being said, the Exit Glacier weather is still very difficult to predict and can change very quickly.
During the shoulder season in May and September, there are reduced services, so it is best to research what is available the time of year you are planning your trip to Alaska, specifically to visit Exit Glacier.
Snow begins to fall in this part of Alaska by mid-November and can last until early May. Roads are closed and there are minimal, if any, services available.
You can get to Exit Glacier via snowmobiling, but the Exit Glacier Nature Center closes Labor Day weekend and remains closed until late May.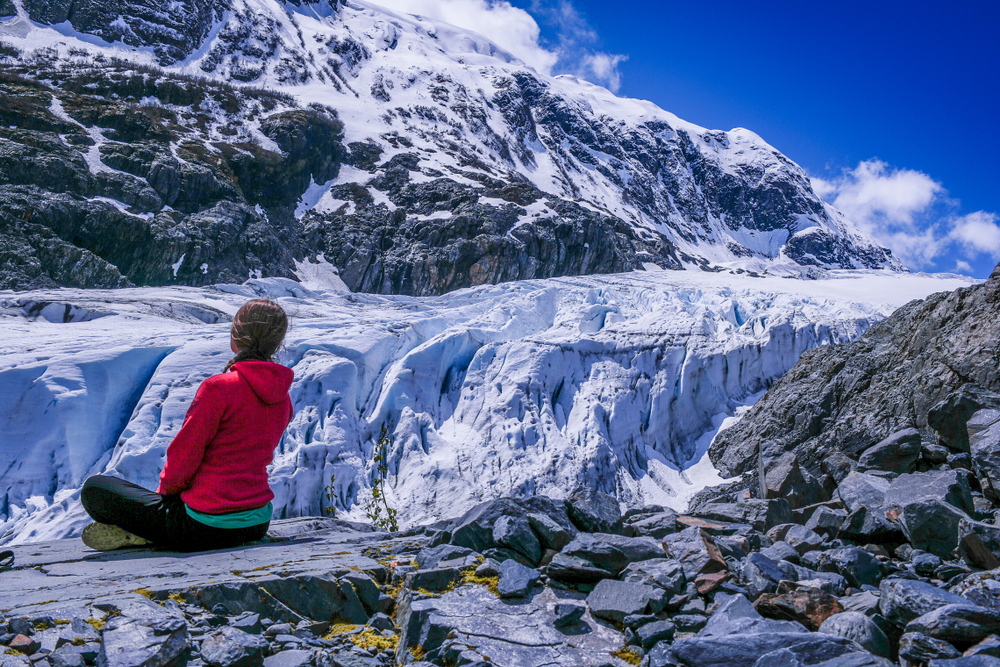 14) Packing Tips For Your Trip To Alaska
I think that using these useful packing tips will enhance your trip to  Alaska and help you remain organized while there. Here are some tips on how to pack lightly for your Alaskan adventure as well.
A concealed travel pouch may be one of the most important items you bring during your visit to the towns and glaciers in Alaska. This unisex RFID blocking concealed travel pouch is lightweight and comes in several colors.
It has lots of organization to give you peace of mind. You can keep your most valuable documents safe and secure next to your body.
If you have a pouch already you may not want to or need to invest in a new one, like me. If it does not come with the RFID protection, these RFID sleeves would be handy to prevent identity theft.
This configuration comes with enough passport and credit card sleeves that the entire family would be protected. They are slim too, so they will easily fit into your current pouch or wallet.
If you are planning on taking a lot of pictures with your phone you will definitely want to consider an external charging battery. This Anker high-speed phone charging battery is the exact one I carry with me on all of my trips. It can be used on a variety of phones, not just an iPhone like I have.
And wow is it fast! I like that it holds its charging capabilities for several uses so I do not have to worry about it while out and about. And if I forget to recharge it at night, it will still be good to go the next day.
My daughter gifted me with this FugeTek Selfie Stick and Tripod for my birthday. It has Bloothtooth connectivity so it is very easy to use. It is made of durable aluminum and is very lightweight and easy to carry. I love mine and I think you will enjoy it too!
You will want to consider a waterproof case for your cell phone for your Alaska trip, and this premium universal waterproof cell phone case is a great choice. Not only is it affordable, but it is also dustproof, snowproof and shockproof as well!
I was never a fan of packing cubes until I tried them out! Now I am sold. These Bagail packing cubes are the exact ones I use whenever I travel. I cannot believe how much more organized I am now!
I always use luggage locks when I travel. These TSA-approved luggage locks are affordable and come in many colors and combination choices. Unless I am at a place with access to a lockable safe, I always lock my luggage!
Hydration is so important.  You want to remain hydrated to support your immune system which in turn will be stronger to fight off any germs you will encounter during your travels.  You will want to bring your own refillable water bottle with you.
I never leave home on a trip without my Bobble filtration bottle. The 18.5-ounce size is perfect for travel and it will fit nicely in the pocket of a backpack or your purse. Also when filled with water, it is not too heavy to carry.
And the Bobble carbon filter ensures fresh clean water whenever and wherever you fill the Bobble. You can find filter replacements here. 
Perhaps you are traveling a long distance and packing space is a premium. Then this set of collapsible silicone foldable water bottles would work well for you. Would not take up much space in your suitcase at all. And you will be receiving a set of two.
You will want to bring a non-disposable water bottle along with you during your exploration of Exit Glacier Alaska. This roll-up leakproof foldable water bottle is lightweight and perfect to pack in your luggage or daypack when you are not using it.
This collapsible water bottle is another great option that comes in many colors to choose from and literally folds down to almost nothing.
Don't forget to bring along a universal power adapter on your trip to see the pretty towns in Alaska.  This worldwide power plug is a great example and will charge your phone at the end of your busy days.
And this world traveler adapter kit can charge several devices at the same time.
This is what you will need when there are several people traveling in your group, or if you bring several electronic devices on your trip that require charging at the same time.
For any hiking, good sturdy closed-toed shoes are a must. These Dakota Drifter waterproof trail shoes make a great choice. They are priced modestly and being waterproof that is important.
If you are looking for something a bit less expensive because you aren't interested in doing any strenuous hiking, these men's Adidas Rockadia Trail runners are inexpensive and available in many colors and sizes.
If offseason is when you will be visiting Alaska, you will definitely require a winter coat that can stand up to Alaska's legendary cold temperatures. I wear a Columbia winter jacket with the Onmi-Heat lining, similar to this Columbia 3 in 1 full-length jacket.
With all the options of this jacket, you will certainly have all the choices you will need to keep warm under lots of weather conditions. To keep your head warm, this Columbia beanie hat with microfiber will do the trick! It comes in great colors and it is not that expensive.
Lastly, these thermarator gloves for your hands will keep your fingers warm during any harsh or cold weather you encounter.
The weather must be considered when taking any hike, but much more seriously in Alaska. Rain gear is essential. This unisex adult raincoat/waterproof poncho has its own carrying case and can even be used as a picnic mat or tablecloth as well, making it very versatile.
If you are looking for a jacket instead, this unisex easy carry wind and rain poncho coat is lightweight and will offer great protection against any sudden rain showers you would experience.
This set of women's thermal fleece-lined long underwear and this set of men's thermal long johns set would both be great base layers to insulate you if you need the additional layer of protection.
To protect your head and face, this unisex wide-brimmed waterproof and packable hat would suffice, no matter how long of a hike you would be taking.
You will want to bring a backpack or daypack with you to store snacks, your water bottle, phone, extra clothes, etc.. This foldable water-resistant backpack would be great. It is very affordable and is available in many color options for you to choose from. The fact that it folds down into a zippered pouch will make it easy to pack.
Perhaps you need a more substantial backpack for your international travel. This antitheft backpack has a charging port, is water-resistant and can comfortably carry up to a 15.6″ laptop. It comes in a range of colors to choose from and it is inexpensive as well.
You will be walking more than usual when visiting Alaska. A sturdy and comfortable pair of walking shoes is a must-have. These waterproof all-season shoes are extremely affordable and yet fashionable.  Mostly everyone is familiar with the Skechers brand, and these Air Run high fashion sneakers come in a lot of colors to match your outfits and are still affordable.
And let us not forget the beach shoes for Alaska's pebbly beaches. These quick dry slip on aqua shoes are a great selection. They come in a ton of bright colors for men, women, and children.
You may be visiting Alaska in warmer weather, and you may want a pair of sandals to wear exploring.  I highly recommend these Vionics adjustable strap orthotic sandals. I have several pairs of these exact Vionic sandals in several colors that I bring with me *everywhere* I travel.
Bring a lightweight scarf or shawl. Both men and women wear scarves, both decoratively and as a layering piece to keep warm. This cotton unisex lightweight scarf is versatile and can be worn in any season. And here's another option to consider:
this lightweight sunscreen shawl scarf would do double duty to protect you from the sun in the warmer seasons as well as being a fashion accessory layering piece.
We all need to protect our eyes from the sun's harmful UVA/UVB rays. These unisex polarized sunglasses come in a lot of lens colors and frame designs and are extremely affordable too.
If you are fond of the aviator-style of sunglasses these polarized aviators may interest you. I like polarized sunglasses because they remove the glare off the water and help you to see things more clearly.
Protect your head and face from the sun. Yes, those harmful UVA and UVB rays will still reach you when you are in Alaska. A unisex wide-brimmed waterproof hat would be a great idea to bring along for protection.
And it is foldable as well, which will help with your packing. This unisex quick dry baseball cap will also give you the protection you need, comes in lots of colors and is very cheap.
If you are in need of new luggage, this expandable soft side spinner luggage is affordable and comes in lots of colors. If you like hard-sided better, then you may favor this hard-sided luggage set better.
Both sets come with TSA approved zippers locks and 8 wheels per piece. Either will be great for the plane or train or even your car depending on how you plan to travel to Alaska.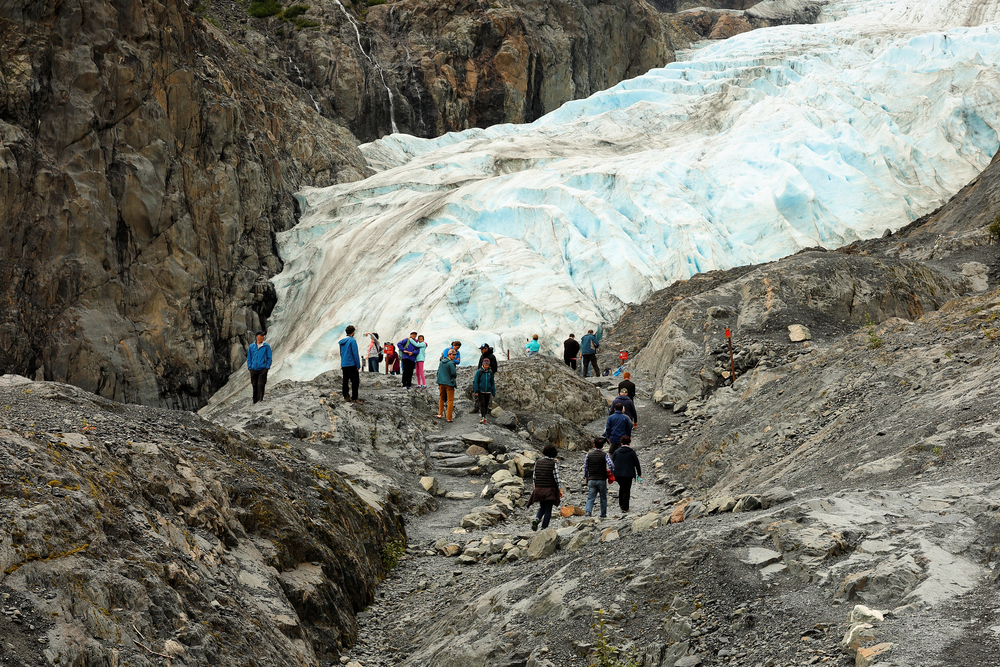 15) Safety Tips For When You Visit Exit Glacier Alaska
You will want to stop at the Exit Glacier Nature Center upon your arrival. The rangers will be able to answer any questions you may have.
Make sure you check on the day's current weather forecast. Weather in Alaska is very unpredictable and can change in a moment. You will want the most updated weather conditions to learn if there are any advisories or closures the day you plan to hike.
Notify someone about your plans for the day. Ideally, a family member or friend not traveling with you to Exit Glacier should be aware of your plans just in case the weather turns bad or your hike takes longer than anticipated.
That way someone will be able to notify the authorities just in case. Remember, there is no cell service at or on Exit Glacier.
Bring along plenty of water. Hydration is the most important thing when out in nature. Drink often during your visit to Exit Glacier while on your hike. Remember, if you are thirsty, you are already dehydrated!
If you are planning a longer hike, carry along quick and easy snacks. Stay away from salty snacks. They will simply increase your thirst. Some unsalted raw nuts and sturdy fruit, like an apple or orange will suffice. Make sure you leave no trace.
Exit Glacier, Alaska is a conveniently located very popular destination for anyone visiting Alaska because it is very easy for you to see the glacier up close.
Any stroll or hike you select will reward you with spectacular views of Exit Glacier.
This glacier is also a stark and visible reminder of global warming. As you stroll you will notice the signs pointing out where Exit Glacier was at different years in the past.
Have you been to Alaska? Did you visit Exit Glacier?  Please share in the comments below your favorite memory of Exit Glacier Alaska.
Linda On the Run is a participant in the Amazon Services LLC Associates Program, a program designed to provide a means to earn fees by advertising and linking to Amazon.com
There are Get Your Guide affiliate links as well included in this article.