Looking to explore Exit Glacier Alaska? If it's not on your list of things to do when you visit Alaska, it should be! Alaska is one of my all-time favorite travel destinations because is so remote and stunningly beautiful. It offers awe-inspiring vistas ranging from the sea to mountains thrusting their summits so high you would think they might even reach heaven!
Exit Glacier is conveniently accessible and a very popular destination in the Kenai Fjords National Park. Exit Glacier pours over from the Harding Icefield, (one of 35 glaciers that do) and got its name because it was used as the 'exit' in the first recorded crossing of the Harding Icefield back in 1968
Linda On the Run is a participant in the Amazon Services LLC Associates Program, an affiliate program designed to provide a means for sites to earn advertising fees by advertising and linking to Amazon.com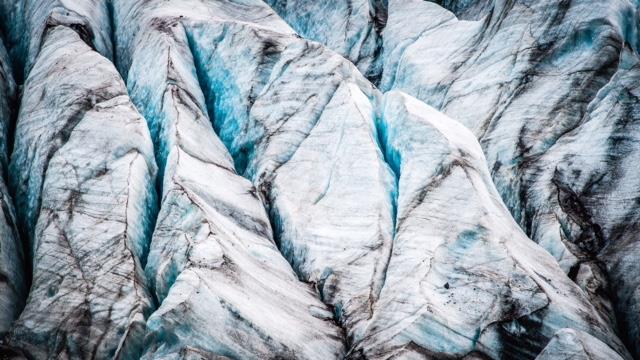 5 Things To Know Before Visiting Exit Glacier Alaska
1) Exit Glacier and the Harding Icefield Are Conveniently Located And Easy To Get To
Exit Glacier is considered a "drive up" glacier and one of the most popular visited Alaskan glaciers due to the convenience of getting to it. While this glacier is open all year round, the road usually closes to cars once the November snows arrive. However, you can also travel to Exit Glacier by snow machine, dog sled or cross-country skis if you plan to be in Alaska during the offseason.
If offseason is when you will be visiting Alaska, you will definitely require a winter coat that can stand up to Alaska's legendary cold temperatures. I wear a Columbia winter jacket with the Onmi-Heat lining, similar to this Columbia 3 in 1 full-length jacket, and with all the options of this jacket, you will certainly have all the choices you will need to keep warm under lots of weather conditions. To keep your head warm, this Columbia beanie hat with microfiber will do the trick! It comes in great colors and it is not that expensive. Lastly, these thermarator gloves for your hands will keep your fingers warm during any harsh or cold weather you encounter.
Exit Glacier is located 3.7 miles north of Seward, Alaska and 125 miles south of Anchorage, Alaska off of the Seward Highway. It is situated at the end of Exit Glacier Road. There is a clearly marked sign signaling the turnoff from Seward Highway. Exit Glacier Road is about 8 miles long with the glacier and the Exit Glacier Nature Center at the end.
You can take advantage of the shuttle from Seward, Alaska, to visit Exit Glacier. This is especially convenient if you arrive in Seward via a cruise ship. The shuttles leave every hour from downtown Seward, and is about a 15 minute trip along the Resurrection River, through scenic Kenai Fjords National Park until you reach the parking lot of Exit Glacier.
READ NEXT
13 Picturesque Towns In Alaska
Alaska Cruise Packing List For Any Time Of Year
How To Pack Lightly For Your Alaska Trip
How To Avoid Getting Sick While Flying To Your Alaska Trip
9 Things To Know Before Traveling To Alaska
7 Stops To Include For The Perfect Alaska Itinerary
5 Unique Things To Do In Homer
7 Tips For Surviving A Long Haul Flight
Travel Tips For Solo Travelers Heading To Alaska
Once you arrive at the parking lot, you will have many exciting decisions to make about how to spend your time at Exit Glacier Alaska.
When you exit your shuttle bus, your trip back to Seward from the glacier will have already been scheduled. There is no cell service at Exit Glacier, so keep an eye on the time, either using your watch or cell phone, as you will not be able to call the shuttle company.
You will want to consider a waterproof case for your cell phone for your Alaska trip, and this premium universal waterproof cell phone case is a great choice. Not only is it affordable, but it is also dustproof, snowproof and shockproof as well!
Having a daypack, or a backpack is a really great idea when you are visiting Alaska's beautiful scenery. You will want to bring snacks, an extra sweater, and some water along with you. This classic backpack is a wonderful selection. Not only is it cheap, but it also comes in lots of fun colors, and it is lightweight as well.
If you are traveling to Alaska via an airplane, you might want to bring along a foldable backpack/daypack like this packable water-resistant foldable backpack. It folds up nicely into its own little carry container, it very lightweight and can easily be stored in your carry on luggage. It is really inexpensive and comes in every color of the rainbow!
Read next: How To Pack Lightly Using Only A Bring On Board Carry On Suitcase!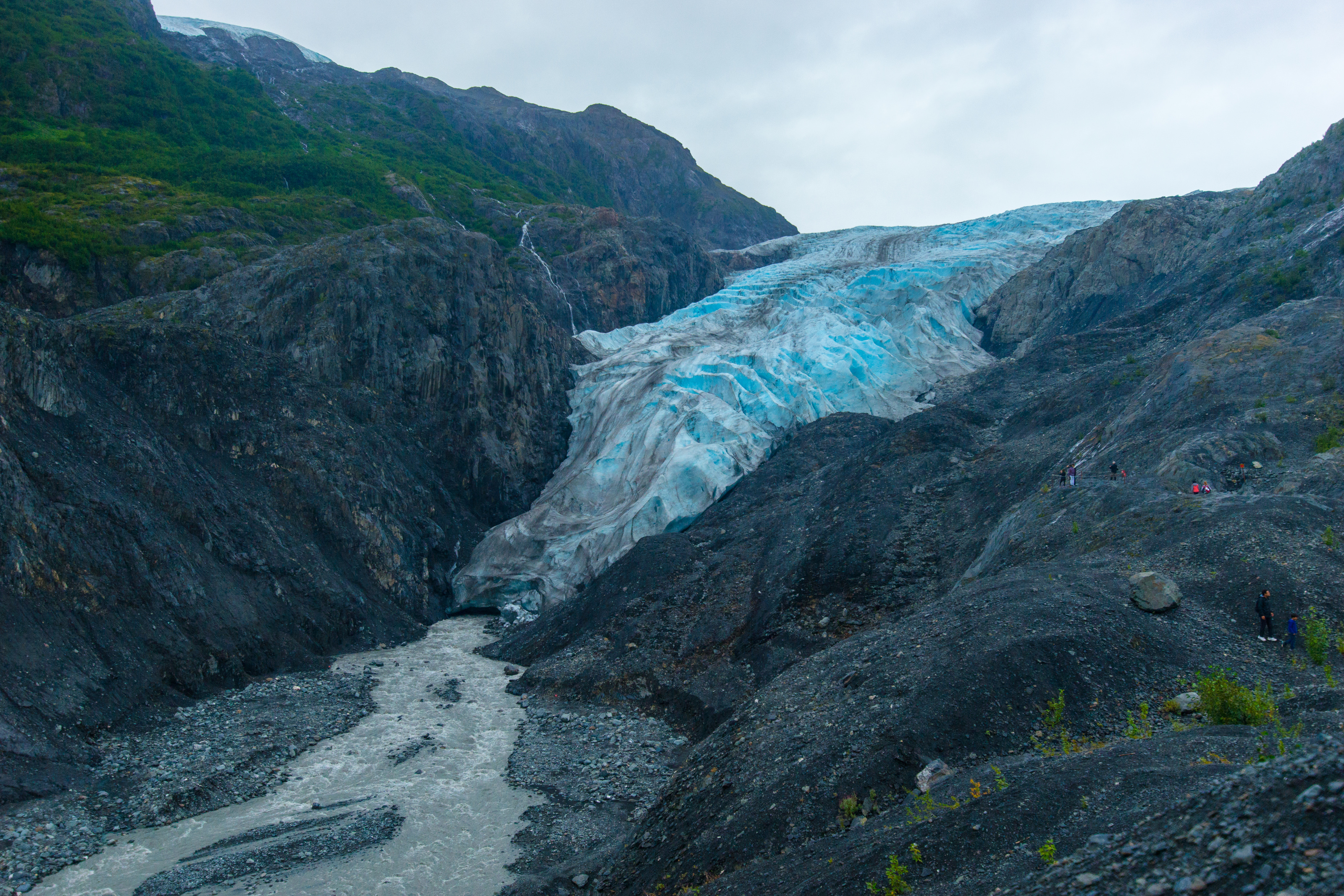 2) Make Exit Glacier Nature Center Your First Stop Upon Arrival
The Exit Glacier Nature Center is adjacent to the parking lot. You will want to visit it first to learn about the local area and glacier hikes available to you and general information about the Exit Glacier.
The Exit Glacier Nature Center is open from Memorial Day weekend to the Monday of Labor Day weekend. There are exhibits about the Exit Glacier area, and rangers are available to answer your questions about which hike is best for you. There is also a bookstore as well in case you want to take home a little memory of your trip.
You will want to bring a non-disposable water bottle along with you during your exploration of Exit Glacier. This roll-up leakproof foldable water bottle is lightweight and perfect to pack in your luggage or daypack when you are not using it. This collapsible water bottle is another great option that comes in many colors to choose from and literally folds down to almost nothing.
Sometimes during the summer months, the Exit Glacier Alaska parking in the lot will be full, especially in the afternoon hours when the glacier is most crowded, making parking difficult. So please take this into consideration when you plan your visit to the glacier and the Exit Glacier Nature Center.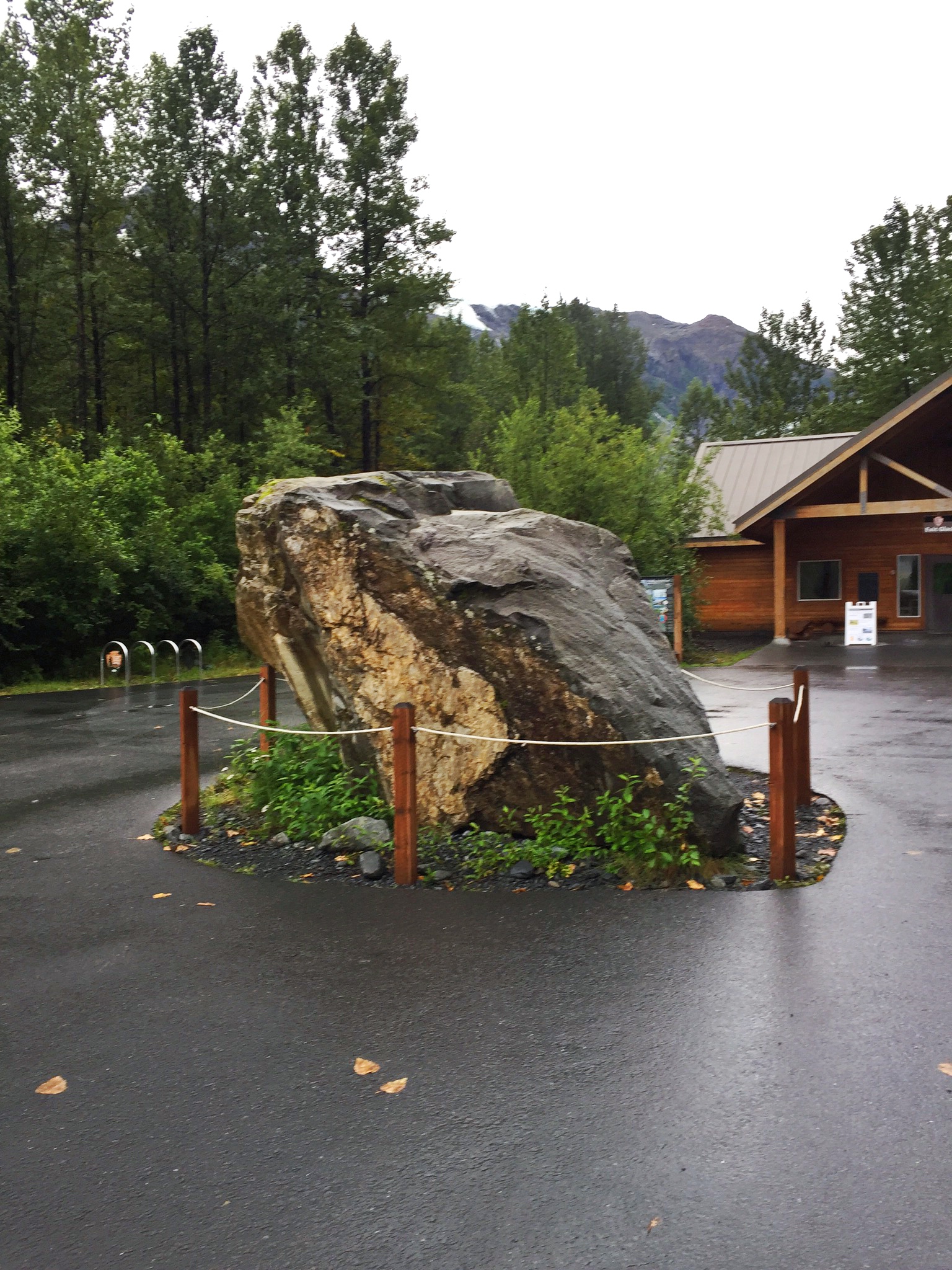 This glacial remnant welcomes you to the Exit Glacier Nature Center and is a visual reminder of
Exit Glacier's recession.
3) The Bathrooms At Exit Glacier Nature Center Are Surprisingly Clean
You will notice the flush toilets at the Exit Glacier Nature Center when you first approach, in the warmer months. Don't wait until you are on an Exit Glacier hike to think about using the bathroom!
The flush toilets located right next to the Exit Glacier Nature Center are available during the summer season from Memorial Day weekend to Labor Day weekend. In the offseason, pit toilets are used.
You can fill up the nondisposable reusable water you brought with you near the restrooms. There is a water fountain, and there is even a water bottle filling station. If you left your reusable water bottle in your room or at home, the Exit Glacier Nature enter sells them for your convenience.
Exit Glacier is such a lovely area that it is a great idea to begin or end your visit with a snack or meal. Picnic tables are located right next to the parking lot. These resealable silicone sandwich/snack bags are leakproof are a great and easy way to transport food safely if you plan to picnic during your visit at Exit Glacier Alaska. If you are thinking of bringing something more substantial with you, for a post-hike meal, these collapsible food storage containers are a wise decision. Either of these choices folds flat for transportation and would fit easily in your carry-aboard luggage.
Remember, there are no bathrooms on any Exit Glacier hike, so please make sure you use the bathrooms before you venture on your explorations, walks or hikes of Exit Glacier!
4) Exit Glacier Alaska Is A Visible Reminder Of Glacial Recession.
We are all aware of global warming. Climate change used to be something we were concerned about "in the future." However, now we have undeniable scientific evidence that the earth's climate is warming. Now. Exit Glacier Alaska is a visible and tangible and stark representation of the effects of global warming.
Exit Glacier has been receding at a rate of approximately 162 feet a year since 2010. More recently, Exit Glacier shrunk 262 feet from fall of 2015 to the fall of 2016. When you begin your Exit Glacier hike, you will see that markers are strategically placed demonstrating where Exit Glacier once was during different years in the past. Before it receded to its current location, Exit Glacier Alaska is believed to have originally reached all the way to Seward, Alaska, 8 miles away.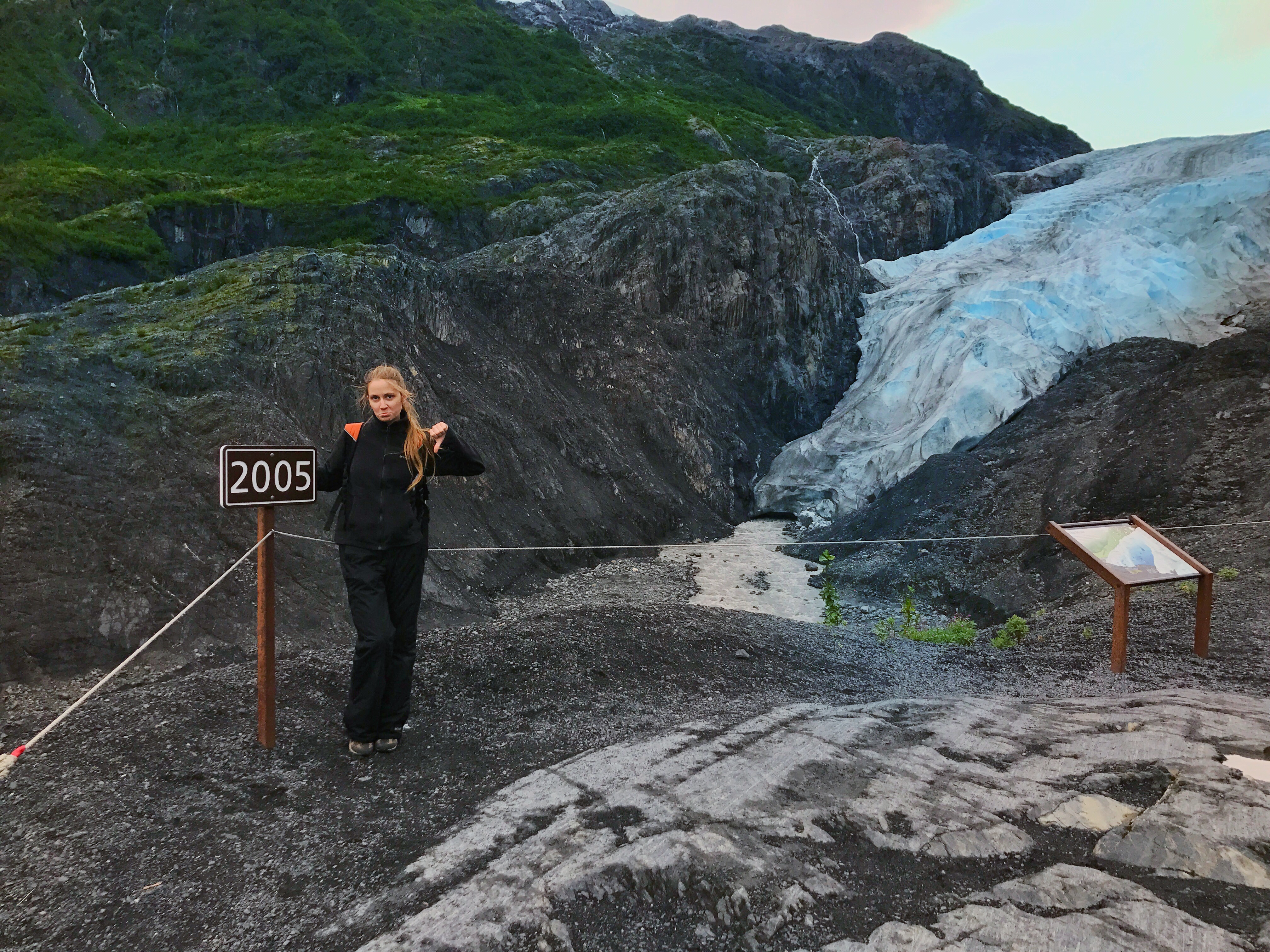 A recent picture of my daughter Victoria, showing her disappointment about just how far Exit Glacier had receded since her last visit in 2005.
5) There Is An Exit Glacier Hike That Is Perfect For Everyone
Of course, a walk or hike to see to see Exit Glacier up close and personal is probably what brought you to Exit Glacier in the first place. You won't be disappointed because you have several options to choose from to achieve your goal.
You will want to start off your visit by stopping by the Exit Glacier Nature Center. There you will find all the information you need to plan your day and decide what kind of adventure is best for you and your party.
Secondly, you will decide if you want to venture out on your own or participate in a ranger-led hike or adventure.
You may opt for one of the informative ranger presentations which last about 20 minutes and are at the Exit Glacier pavilion. A ranger will share information about a variety of topics like the animals or vegetation that call Exit Glacier Alaska their home.
You may want to accompany a ranger to Glacier Overlook, a hike which lasts about 90 minutes and will take you out to view Exit Glacier. The road is wheelchair and stroller accessible and the view is so totally worth it. If you decided to stroll to the glacier view lookout on your own, it is about a 15 to 20 minute walk each way, and is one mile round trip.
Rangers also lead hikers to Marmot Meadows, which is a lovely stop along the very much longer Harding Icefield Trail, that provides outstanding viewing of Exit Glacier. this ranger-led hike takes about 3 hours and is 2.8 miles round trip. This hike is considered strenuous, so you've got to be in pretty great condition to consider it. Good hiking shoes, food, water and rain gear are mandatory.
For any hiking, good sturdy closed-toed shoes are a must. These Dakota Drifter waterproof trail shoes make a great choice. They are priced modestly and being waterproof that is important. If you are looking for something a bit less expensive because you aren't interested in doing any strenuous hiking, these men's Adidas Rockadia Trail runners are inexpensive and available in many colors and sizes.
Quick snacks that can be easily and cleanly eaten while out on the trail (leave no trace, remember?) and give you a nutritional boost, are a necessity. These Dole almond clusters would be a great choice. Any sturdy fruit, such as apples or oranges will be great to put in your day bag as a snack during your hike. The Venture Pal packable hiking backpack is inexpensive and lightweight and folds up so it won't take much room in your luggage.
A nondisposable water bottle is indispensable during a hike of any duration. Here's a vacuum insulated doubled walled stainless steel reusable water bottle which would be useful during your entire stay in Alaska, not only at Exit Glacier. It is reasonably priced and comes in a wide variety of colors. If you are looking for a nondisposable water bottle that would filter your water as well, this Brita premium filtering water bottle is just the answer. It is inexpensive and comes in tons of cool colors.
The weather must be considered when taking any hike, but much more seriously in Alaska. Rain gear is essential. This unisex adult raincoat/waterproof poncho has its own carrying case and can even be used as a picnic mat or tablecloth as well, making it very versatile. If you are looking for a jacket instead, this unisex easy carry wind and rain poncho coat is lightweight and will offer great protection against any sudden rain showers you would experience.
The Harding Icefield Trail is an 8.2-mile round trip hike and considered strenuous. There is an elevation gain of approximately 1000 feet every mile. Checking the weather before you head out is of the utmost importance, as it is very unpredictable the higher you climb! Along with the gear we've already gone through, warm clothes, sunglasses, and sunscreen are all also highly recommended.
This set of women's thermal fleece-lined long underwear and this set of men's thermal long johns set would both be great base layers to insulate you if you need the additional layer of protection.
To protect your head and face, this unisex wide-brimmed waterproof and packable hat would suffice, no matter how long of a hike you would be taking.
No matter which hikes you and your family select, you won't be disappointed. Exit Glacier Alaska is one of those attractions you do not want to miss out on.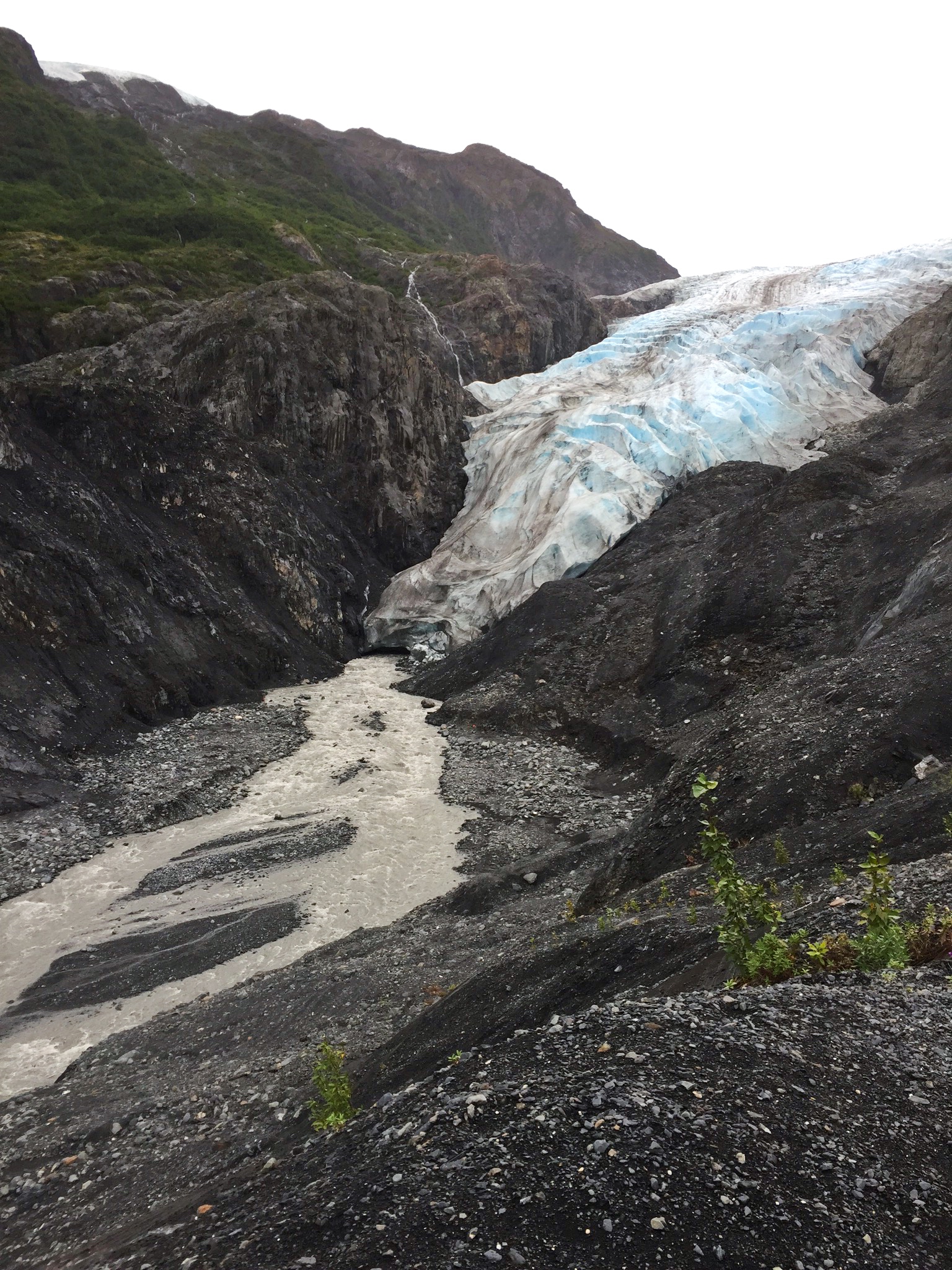 Exit Glacier Alaska as it spills down from the Harding Icefield.
The Best Time Of Year To Visit Exit Glacier
The peak months to visit Exit Glacier Alaska are June, July, and August. The temperatures at Exit Glacier during the summer are approximately in the 70sF during the daytime and down to the 40sF at night. These mild summertime temperatures make for a wonderful time to visit. That being said, the Exit Glacier weather is still very difficult to predict and can change very quickly.
During the shoulder season in May and September, there are reduced services, so it is best to research what is available the time of year you are planning your trip to Alaska, specifically to visit Exit Glacier.
Snow begins to fall in this part of Alaska by mid-November and can last until early May. Roads are closed and there are minimal, if any, services available. You can get to Exit Glacier via snowmobiling, but the Exit Glacier Nature Center closes Labor Day weekend and remains closed until late May.
Packing Tips For Your Visit To Exit Glacier
Whether you arrive at Exit Glacier Alaska by your vehicle (your own car, camper van, or RV) or by a taxi or shuttle bus, there are some very basic things you want to bring with you.
Make certain you have enough water for everyone in your group. Hydration is very important for everyone at all times. At the Exit Glacier Nature Center, you will find bottled water for sale. If you need to refill your non-disposable water bottle you have with you, there is a water fountain, and refilling station, during the warmer months, for your convenience. This "uberBottle" nondisposable water container comes in several sizes to choose from, is BPA free and has a convenient carry handle.
You want to wear sturdy closed toe shoes. These Skechers Flex Appeal sneakers come in lots of colors and are relatively cheap. These men's Skechers Go Walk Max are a great choice as well.
Protect your head and face from the sun. Yes, those harmful UVA and UVB rays will still reach you when you are in Alaska. A unisex wide-brimmed waterproof hat would be a great idea to bring along for protection. And it is foldable as well, which will help with your packing. This unisex quick dry baseball cap will also give you the protection you need, comes in lots of colors and is very cheap.
These oversized classic polarized sunglasses for women offer 100% UV protection and would be ideal for a stroll or hike at Exit Glacier Alaska. I like these unisex wraparound polarized glasses. You can select different lens colors, and they are inexpensive. If you already wear glasses, these unisex wraparound glasses have UV protection and would slide right over your lenses.
Safety Tips For When You Visit Exit Glacier Alaska
You will want to stop at the Exit Glacier Nature Center upon your arrival. The rangers will be able to answer any questions you may have.
Make sure you check on the day's current weather forecast. Weather in Alaska is very unpredictable and can change in a moment. You will want the most updated weather conditions to learn if there are any advisories or closures the day you plan to hike.
Notify someone your plans for the day. Ideally, a family member or friend not traveling with you to Exit Glacier should be aware of your plans just in case the weather turns bad or your hike takes longer than anticipated. That way someone will be able to notify the authorities just in case. Remember, there is no cell service at or on Exit Glacier.
Bring along plenty of water. Hydration is the most important thing when out in nature. Drink often during your visit to Exit Glacier while on your hike. Remember, if you are thirsty, you are already dehydrated!
If you are planning a longer hike, carry along quick and easy snacks. Stay away from salty snacks. They will simply increase your thirst. Some unsalted raw nuts and sturdy fruit, like an apple or orange will suffice. Make sure you leave no trace.
Exit Glacier, Alaska is a conveniently located very popular destination for anyone visiting Alaska because it is very easy for you to see the glacier up close. Any stroll or hike you select will reward you with spectacular views of Exit Glacier. This glacier is also a stark and visible reminder of global warming. As you stroll you will notice the signs pointing out where Exit Glacier was at different years in the past.
Pictures in this article are from my family and my trip to Exit Glacier in 2017. We were really shocked and stunned when we viewed first-hand how far the glacier had receded since our last visit in 2005.
Have you been to Alaska? Did you visit Exit Glacier? Please share in the comments below your favorite memory of Exit Glacier Alaska.
Linda On the Run is a participant in the Amazon Services LLC Associates Program, an affiliate program designed to provide a means for sites to earn advertising fees by advertising and linking to Amazon.com