Looking to explore Exit Glacier in Alaska? If it's not on your list of things to do when you visit Alaska, it should be! Alaska is one of my all-time favorite travel destinations because is so remote and stunningly beautiful. It offers awe-inspiring vistas ranging from the sea to mountains thrusting their summits so high you would think they might even reach heaven! Exit Glacier is conveniently accessible and a very popular destination in the Kenai Fjords National Park. Exit Glacier pours over from the Harding Icefield, (one of 35 glaciers that do) and got its name because it was used as the 'exit' in the first recorded crossing of the Harding Icefield back in 1968.
5 Things To Know Before Visiting Exit Glacier Alaska 
1) Exit Glacier and the Harding Icefield Are Conveniently Located And Easy To Get To
Exit Glacier is considered a "drive up" glacier and one of the most popular visited Alaskan glaciers due to the convenience of getting to it. While this glacier is open all year round, the road usually closes to cars once the November snows arrive. However, you can also travel to Exit Glacier by snow machine, dog sled or cross-country skis if you plan to be in Alaska during the offseason. Exit Glacier is located 3.7 miles north of  Seward, Alaska and 125 miles south of  Anchorage, Alaska off of the Seward Highway. It is located is at the end of Exit Glacier Road. There is a clearly marked sign signaling the turnoff from Seward  Highway.  Exit Glacier Road is about 8 miles long with the glacier and the Exit Glacier Nature Center at the end.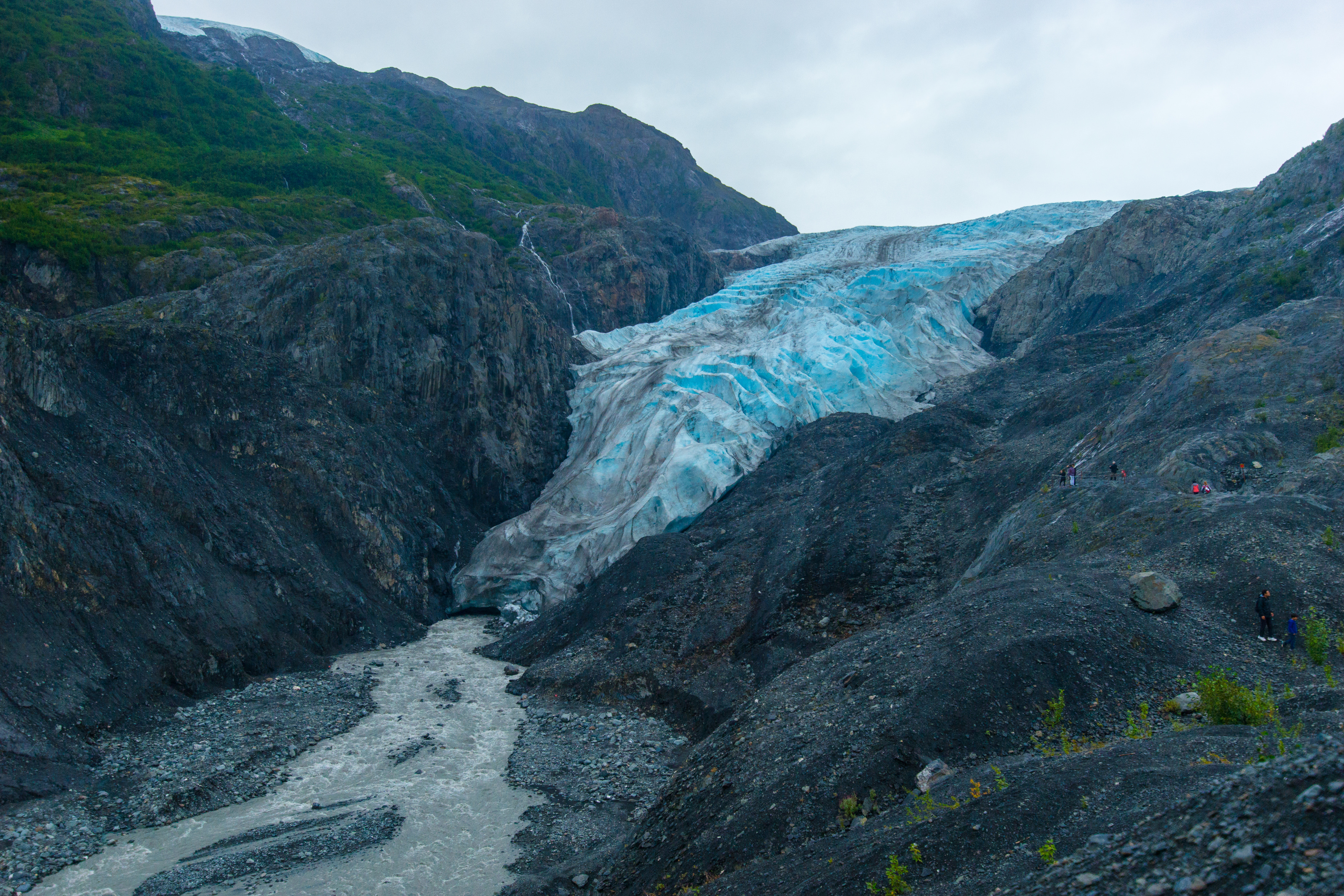 2) Make Exit Glacier Nature Center Your First Stop Upon Arrival
The Exit Glacier Nature Center is adjacent to the parking lot. You will want to visit it first to learn about the local area and Exit Glacier hikes available to you. The Exit Glacier Nature Center is open from Memorial Day weekend to the Monday of Labor Day weekend. There are exhibits about the Exit Glacier area, and rangers are available to answer your questions about which Exit Glacier hike is best for you. There is also a bookstore as well in case you want to take home a little memory of your trip. Sometimes during the summer months parking can be difficult, especially between the hours of 10 am to 3 pm. So please take this into consideration when planning to visit Exit Glacier and the Exit Glacier Visitor Center.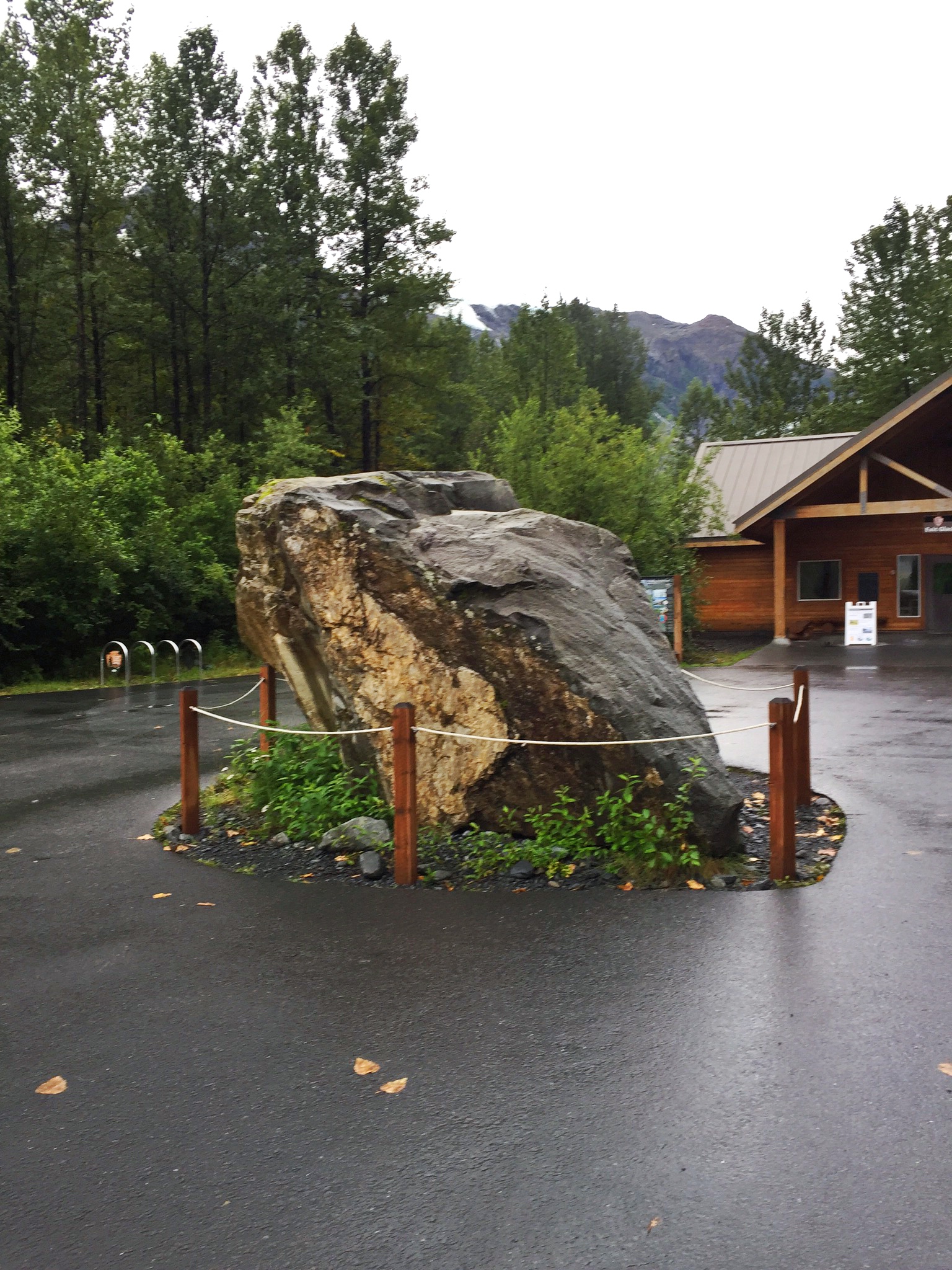 3) The Bathrooms At Exit Glacier Nature Center Are Surprisingly Clean
Don't wait until you are on an Exit Glacier hike before you use the bathroom! There are flush toilets available right next to the Exit Glacier Nature Center during the summer season from Memorial  Day weekend to Labor Day weekend. In the offseason, pit toilets are used. Clean potable water is found at the restroom site, at water fountains and they even have a water bottle filling station! If you want to buy a reusable water bottle, you can get one at the Exit Glacier Nature Center. Also, when its time for lunch or a quick snack, you will find picnic tables located next to the parking lot. There are no bathrooms on any Exit Glacier hikes so make sure to use the facilities before you begin any hikes or walks!
4) Exit Glacier Alaska Is A Visible Reminder Of Glacial Recession.
We are all aware of global warming. Exit Glacier Alaska is a visible and tangible and stark representation of the effects of global warming. Exit Glacier has been receding at a rate of approximately 162 feet a year since 2010. More recently, Exit Glacier shrunk 262 feet from fall of 2015 to the fall of 2016! When you begin your Exit Glacier hike, you will see that markers are strategically placed demonstrating where Exit Glacier once was at different years in the past. Before it receded to its current location, Exit Glacier Alaska is believed to have originally reached all the way to Seward, Alaska, 8 miles away!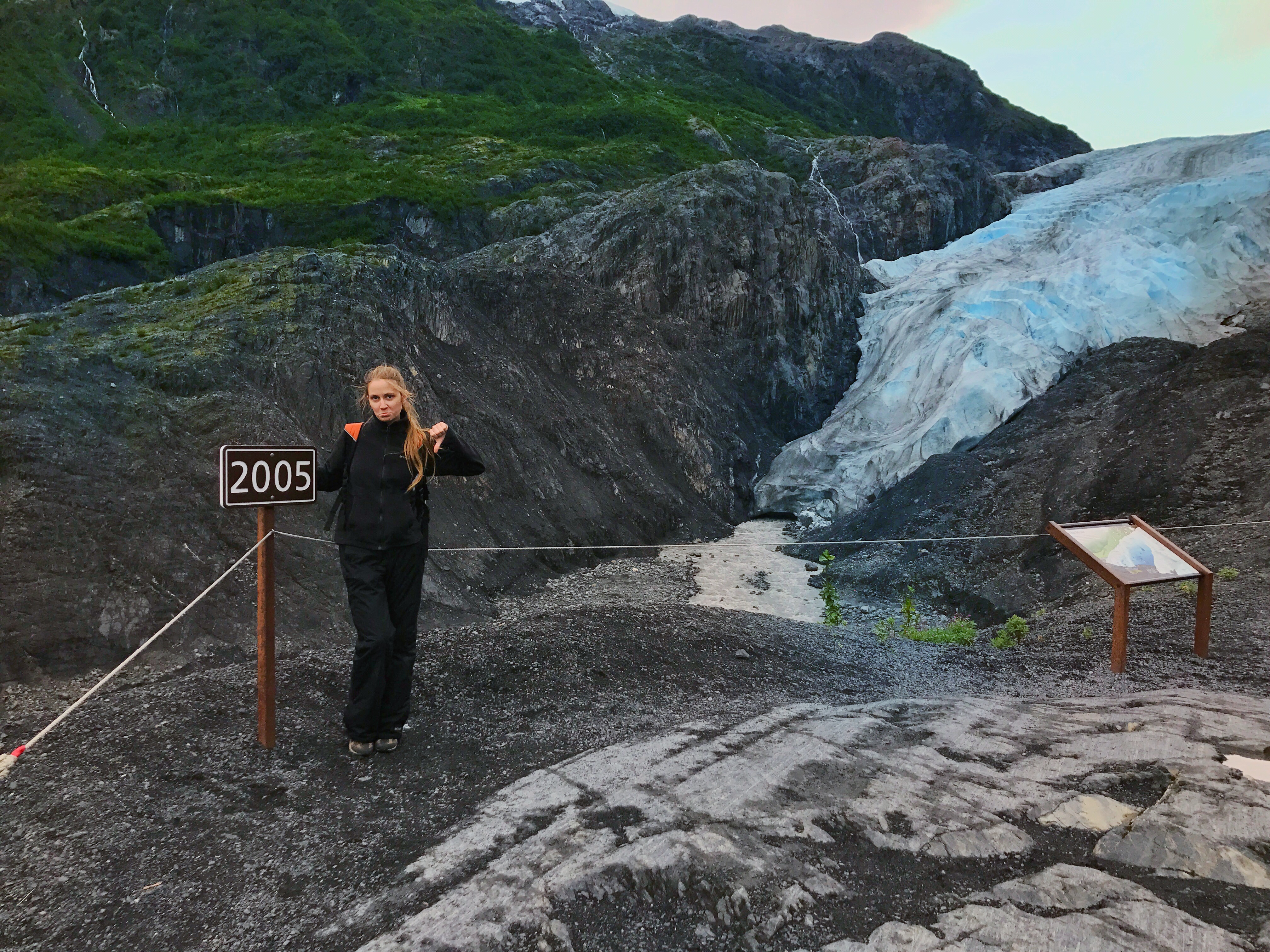 5) There Is An Exit Glacier Hike That Is Perfect For Everyone
Of course, a walk or hike to see to see Exit Glacier up close and personal is probably what brought you to Exit Glacier in the first place! You won't be disappointed because you have several options to choose from to achieve your goal! You will start off by bearing left at the Exit Glacier Nature Center and follow the paved trail for a nice 15 to 20 minute walk to view Exit Glacier. Your walk will be flat and you will go through the forest, and along the Exit Glacier's gravel river bar. This path is accessible for wheelchairs and strollers. You will reach a point where you will be rewarded with a view of the glacier as it tumbles down from the Harding Ice Field!
The path will eventually loop around and return to the Exit Glacier Nature Center. You may also choose to continue on to see the glacier from another point of view. If you decide to climb any elevation at all, it is best to NOT take a stroller as many people end up leaving strollers on the side of the trail because they were ill-prepared! There are also informative ranger-led walks scheduled periodically throughout the day as well. If you are super adventurous and looking for a challenge, you may consider hiking the Harding Icefield Trail. You will climb 3,500 feet in 4.2 miles. It is 9 miles round trip from the Exit Glacier Nature Center and is considered a strenuous day hike but one that will reward you with awe-inspiring vistas of the 700 square mile Harding Icefield.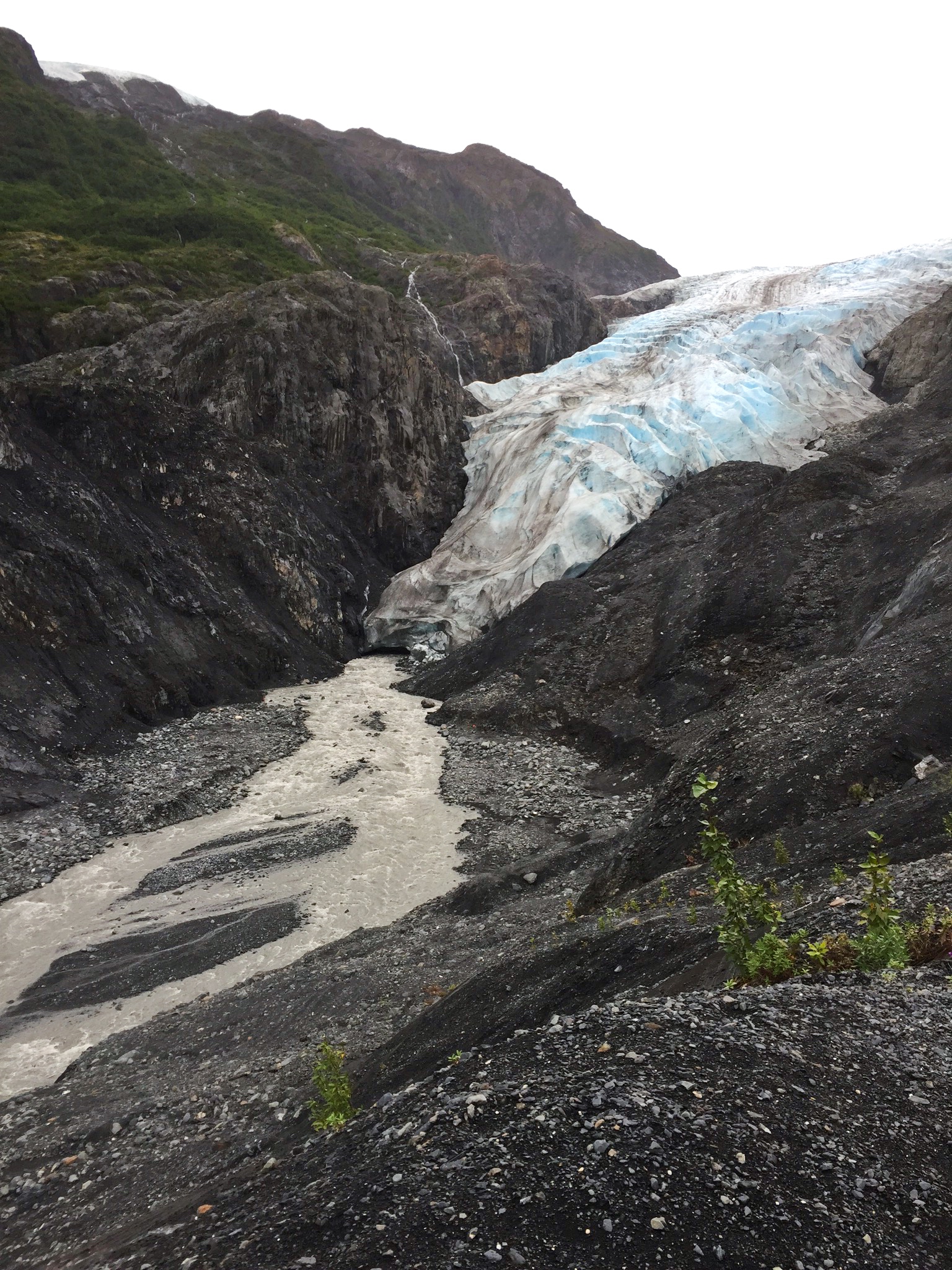 Exit Glacier, Alaska is a conveniently located very popular destination for anyone visiting Alaska who wants to see first hand the tangible results of global warming and be able to stroll or hike to be rewarded with gorgeous vistas of the Exit Glacier. Pictures included in this blog post are from our third visit to the glacier, August 2017. We were stunned and shocked when we saw how far the glacier had receded since our last visit!
Where is your most favorite to visit? Please share in the comments below.