Are you looking for things to do in Anchorage?
Planning a road trip to Alaska and wondering about things to see in Anchorage?
You have definitely come to the right place. I love Alaska and have road-tripped there several times.
If this is your first time visiting Alaska, read my 9 things to know before traveling to Alaska.
The mountains.  The sea. Anchorage has it all. It is Alaska's largest city. And while you might think so, Anchorage is not the political capital of Alaska. It is, however, the economic capital and filled with big-city amenities.
Located in the south-central part of Alaska, on Cook Inlet, Anchorage is also the gateway to nearby wilderness and mountain areas.
Here you will find 21 of my favorite things to do in Anchorage.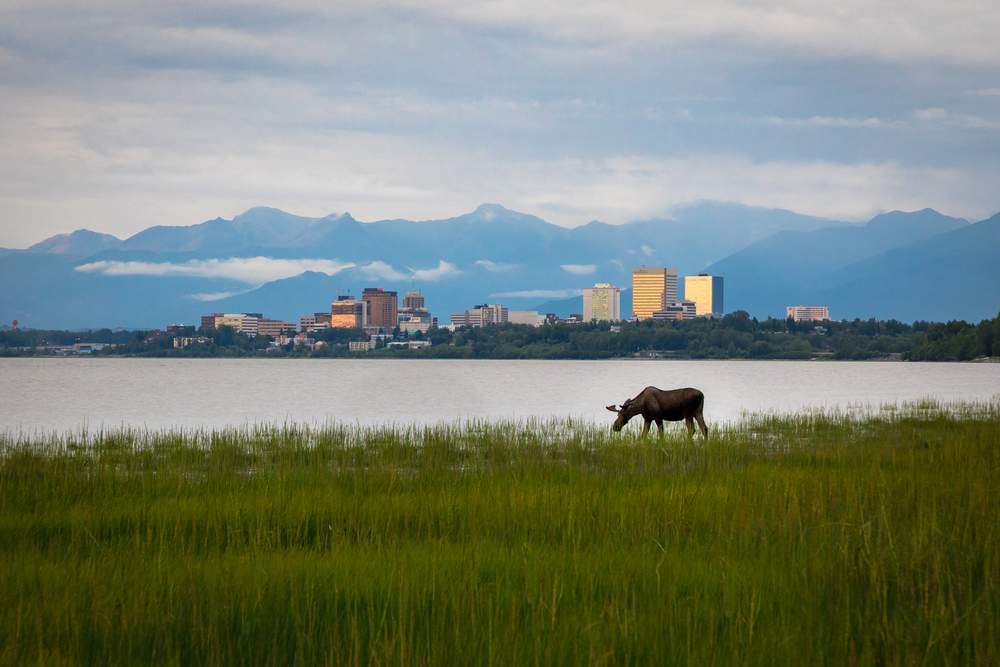 21 Best Things To Do In Anchorage
 Stop At The Visitor Information Center In Downtown Anchorage
Downtown Anchorage Alaska is very easy to navigate as it is set up on a grid system.
The Visitor Information Center is a neat looking log cabin building with a sod roof. It is located at 4th Avenue and F Street. 
To assist you, they have a lot of information about Anchorage specifically, and Alaska in general.
You can pick up maps and brochures to aid you on your quest to find fun things to do in Anchorage.
If you are flying into Alaska, read here about  How To Avoid Getting Sick On A Plane.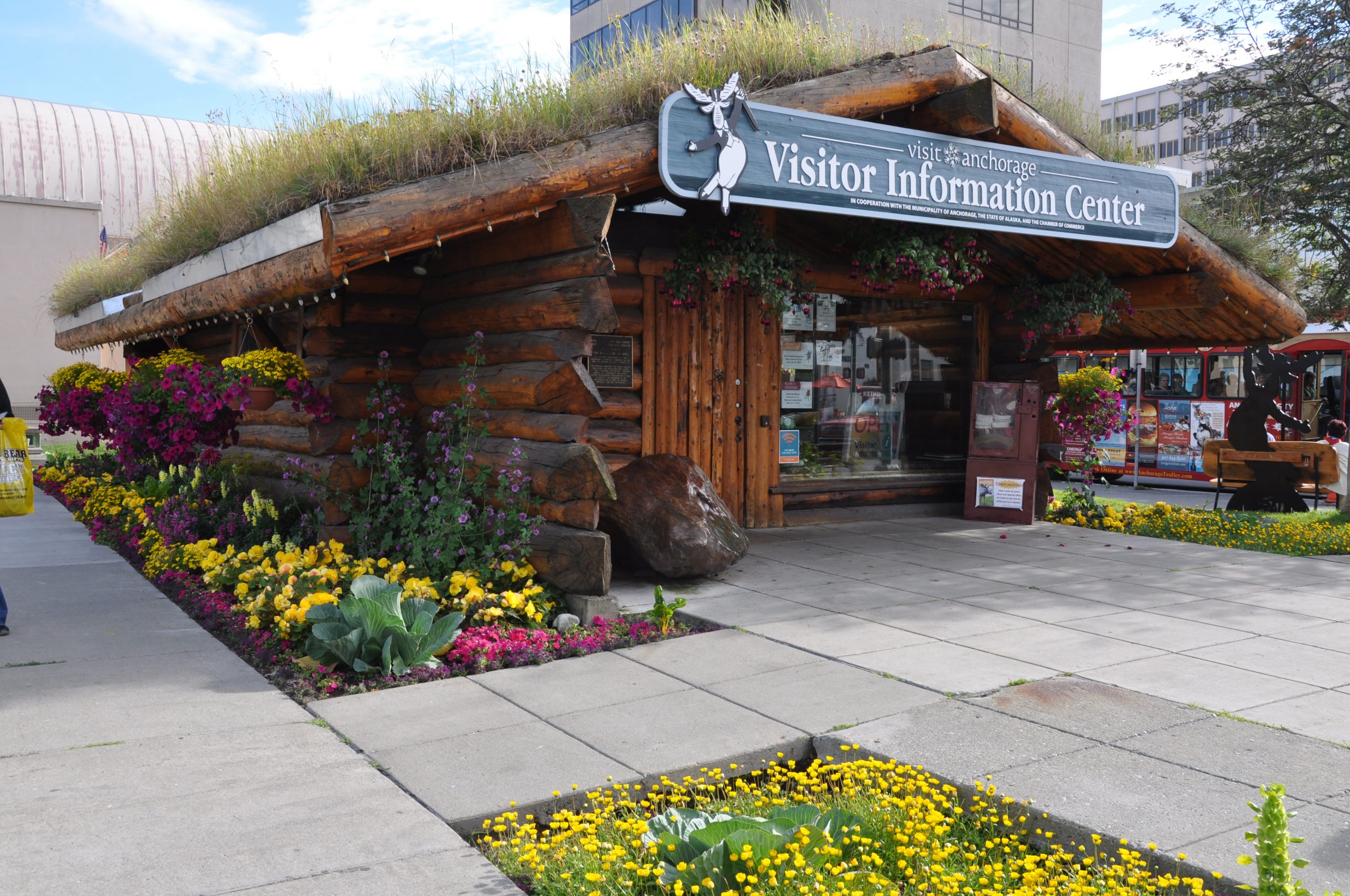 Plan To Walk Around Downtown Anchorage
If you have some time, you will definitely want to walk around in downtown Anchorage.
If you are visiting in the summer, the blooming flowers everywhere are so cheerful.
There are many restaurants and shopping opportunities for you as well.
 7 Tips On How To Survive Long Flights will help you if you have a long flight getting to Anchorage.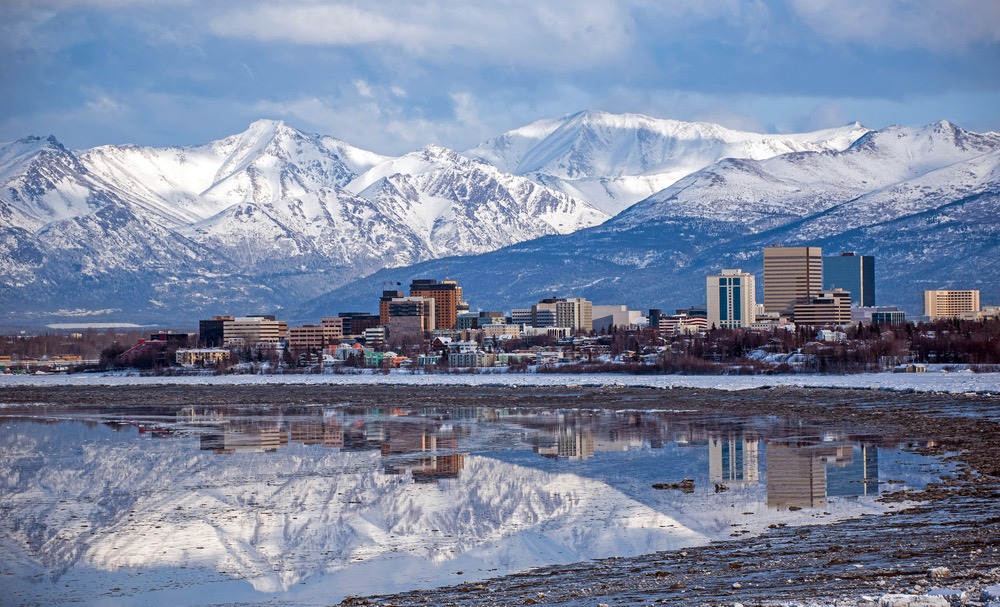 Take A Tour Aboard The Anchorage Trolley
What better way to learn about Anchorage Alaska than by taking a charming ride on one of its historic trolley cars?
On the scenic 15-mile tour, your guide will explain Anchorage's historic past and its present.
The fully narrated trolley tours will take you to interesting sites along the way.
And maybe even point out a moose or two!
As a bonus, you will receive a coupon booklet you can use at various businesses in downtown Anchorage within steps of the trolley stop.
If you are looking for accommodations as you plan your Alaska itinerary, read about the best Alaska Airbnbs.
Look here: Anchorage: 1-Hour Trolley Tour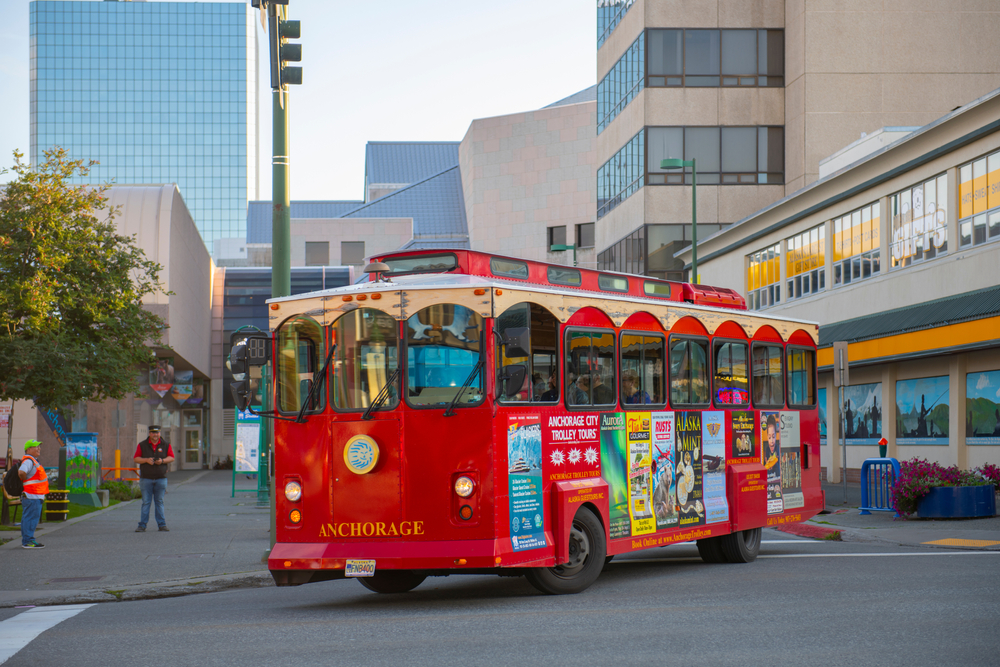 Run, Walk, Or Bike The Tony Knowles Coastal Trail
The Tony Knowles Coastal Trail begins in downtown Anchorage. It runs for eleven miles and ends in Kincaid Park.
I ran the Coastal Trail several times and even participated in a 5K road race on it.
The views are stunning as you travel along the water with the mountains in the background.
Highlighted as one of the most beautiful coastal trails in the United States, it is Anchorage's most popular trail.
Read next: Seven stops to include on your perfect Alaska itinerary as you begin to plan your dream trip of traveling to Alaska.
Read next: 11 Gorgeous Stops on the Seward Highway from Anchorage to Seward.
Birdwatching, looking for wild animals, and searching for Denali, in addition to biking, walking, or running,  makes visiting the Coastal Trail one of the best things to do in Anchorage.
Visit Earthquake Park To Learn About Anchorage's 1964 Earthquake
In 1964 Anchorage Alaska experienced an earthquake that measured 9.2 on the Richter scale. It lasted an unbelievable four minutes long.
One of the most devastating things to happen was that an entire coastal neighborhood slid into the ocean.
This catastrophic event is commemorated in Earthquake Park.
There you will find signs that explain the tragic earthquake and how it affected Anchorage and surrounding areas.
This 134-acre park is a splendid place to sit and relax, especially if you are visiting it from the Coastal Trail.
You will be generously rewarded with panoramic views in every direction that you look!
Look here: Anchorage: Coastal Trail 3-Hour City Bike Tour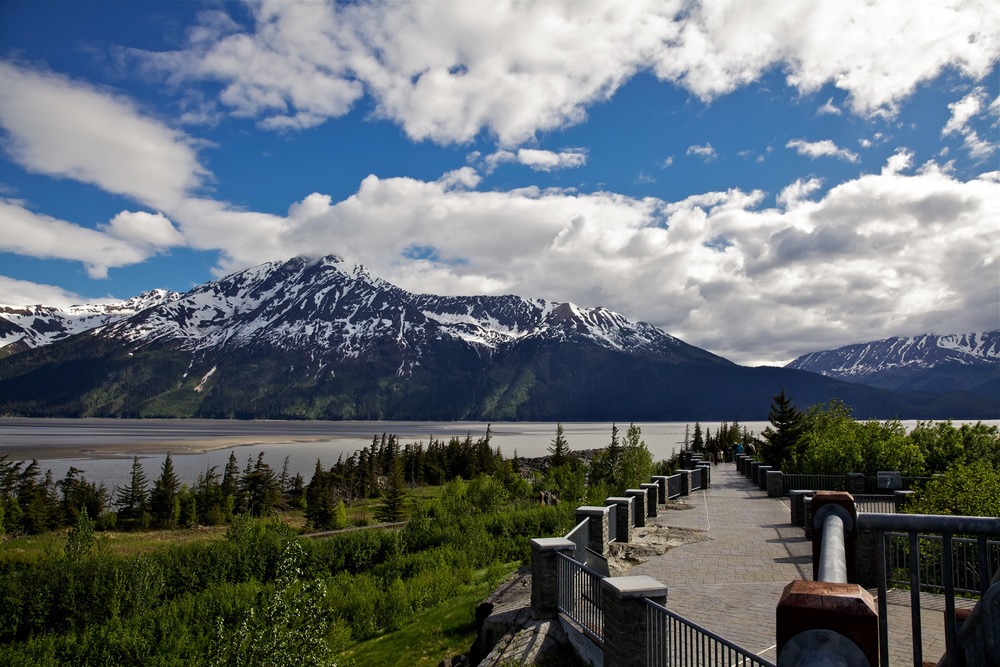 Learn About Native Culture At The Alaska Native Heritage Center
One of the educational things to do in Anchorage, for children and adults is by visiting the Alaska Native Heritage Center.
This living history museum offers truly unique opportunities to learn about Alaska's indigenous people's cultures.
This is really one of the very best history museums in the US!
You will have an opportunity to walk through 10,000 years of native Alaskan culture. Learn happens through art exhibitions, games, dances, and even movies.
YOu will be able to stroll through six authentically-restored Native village sites. There are representatives of each of the six cultures represented at each village to teach and answer your questions.
Read Next:The Perfect Packing List For Your Alaska Cruise
Read Next: 13 Most Picturesque Alaska Towns You Do Not Want To Miss!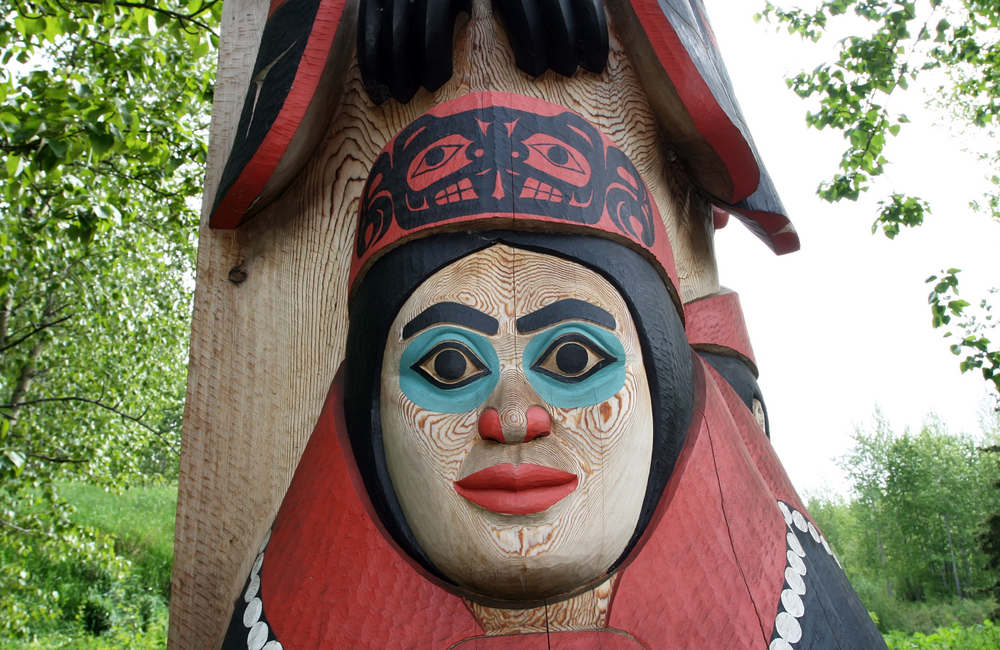 The Anchorage Museum
Conveniently located in downtown Anchorage, the Anchorage Museum is the largest museum in Alaska.
Housed in an impressively-looking contemporary glass building, the museum tells the stories of Alaska.
Here you will be able to discover Alaska and the Arctic through science.
The museum offers interactive exhibits utilizing technology and artwork.
Here as well you will learn about the native culture through the museum's art gallery, highlighting the mediums of sculpture, photography, and video.
Each in its own unique way offers varied interpretations of both Alaska's land and her people.
The Anchorage Museum is one of the best things to do in Anchorage.
Read next:20 Unique Things To Do In Homer Alaska. Do not miss Homer when in Alaska. It is my fave Alaskan City with a very eclectic vibe.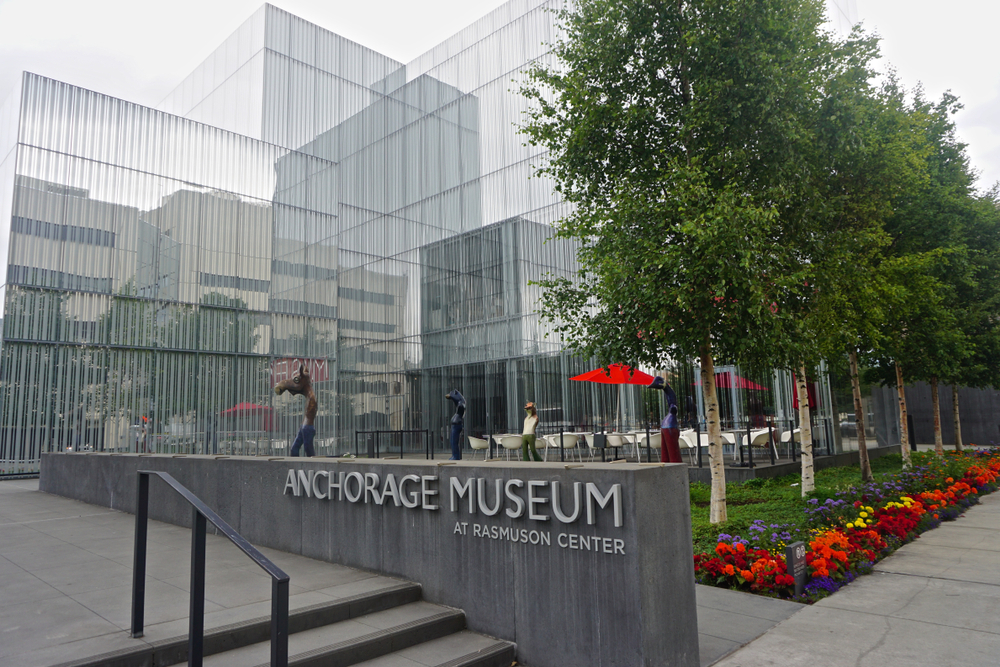 Elderberry Park Is A Great Place For A Picnic
If you are spending the day in downtown Anchorage, Elderberry Park is the perfect location to stop for a rest and rehydrate.
Located close to downtown there is a playground for the children and killer views for the adults.
This tiny Anchorage Alaska park sits next to the Alaska Railroad. If a train passes by, the conductors are known to blow their whistle and give a wave.
Read about Alaska's towns and villages here while you are planning your itinerary.
The park is a very popular gathering space in the evenings to watch an epic Alaskan sunset.
Look here: From Anchorage: Matanuska Glacier Full-Day Tour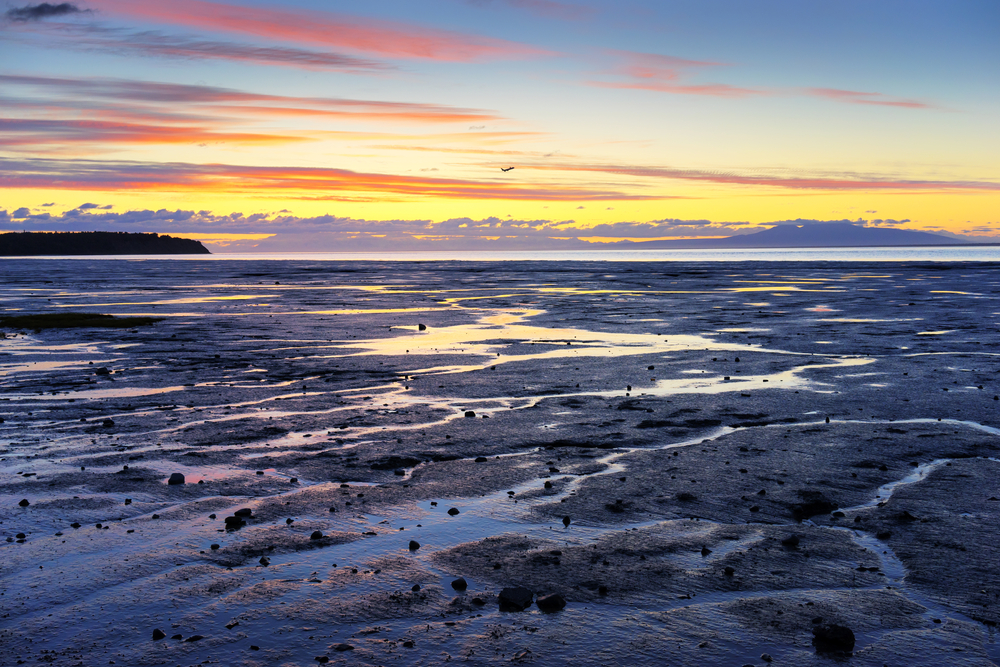 Visit The Oscar Anderson House Museum
This historical museum is in Elderberry Park. Not far from downtown Anchorage.
Oscar Anderson was one of the early settlers of Anchorage and as such, had first-hand participation in how Anchorage developed.
Anderson lived in this wood-frame house until his death in the mid-1970s.
The structure was remodeled shortly thereafter and restored to its early 1900s appearance.
Read next: 15 things to know about Exit Glacier. Do not miss visiting and seeing Exit Glacier up close and personal. It is located a few miles north of Seward.
Read Next:7 Things To Know About Seward And Why You Must Visit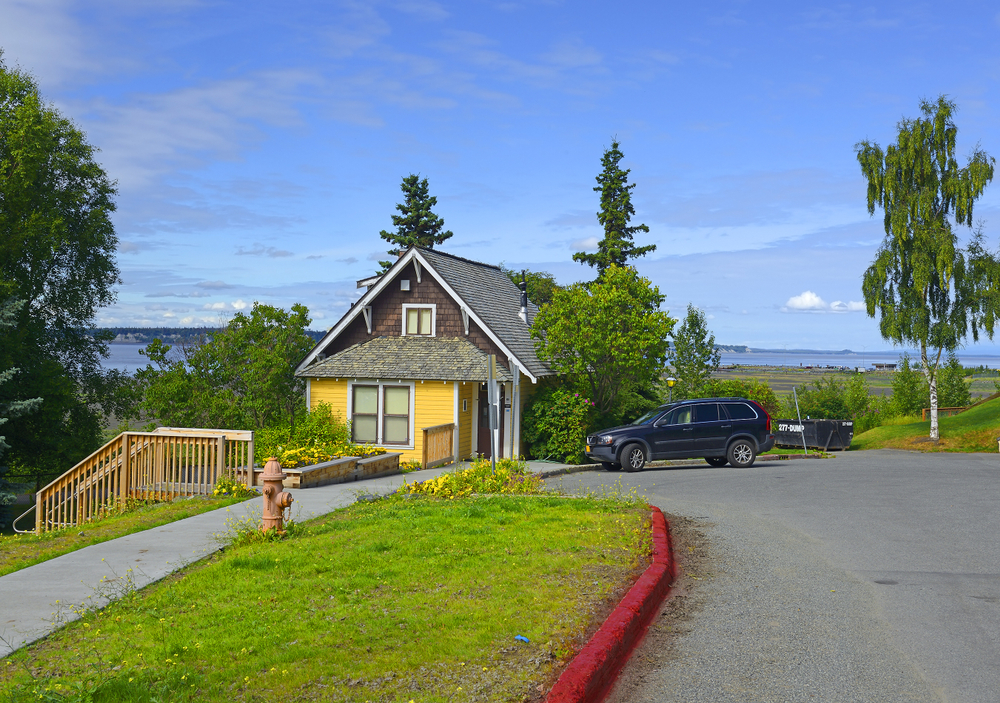 Visit Delaney Park Strip
Conveniently located in downtown Anchorage, this one block wide by eleven blocks long area is the oldest park in Anchorage Alaska.
It has served Anchorage in a variety of ways throughout the years, from being an airstrip to a gold course.
These days this outdoor space is used for community events, a variety of sports, and year-round festivals.
Look here: From Anchorage: Glacier and Wildlife Full-Day Tour
Make Anchorage Market  A Downtown Anchorage Destination
One of the most entertaining things to do in Anchorage Alaska is to visit the Anchorage Market.
There you will find over 300 vendors selling their wares on two acres of land in downtown Anchorage.
Open on Saturdays and Sundays, you will find farm-fresh produce and enticing things from around the world.
For hand-crafted Alaskan souvenirs, this is the place for the best selections and prices. And do not forget to haggle!
Read next: My Travel Tips For Solo Travelers for inspiration.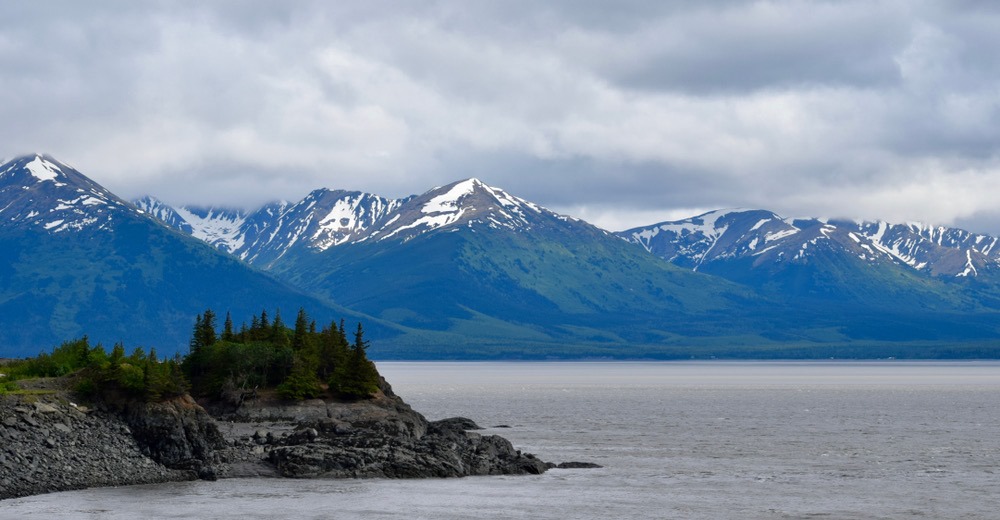 Look For Moose In Anchorage! 
Anchorage Alaska is both ruggedly cosmopolitan and ruggedly wild at the same time. Both co-exist.
And searching for moose is one of the most fun things to do in Anchorage and a great reason why Anchorage should be on your USA bucket list!
Moose are most active in the early morning and early evening. During the day they tend to spend their time in shady, marsh forested areas.
Always keep an eye out for moose when around Anchorage Alaska. You have a great chance at seeing one when driving around town, or while on a sightseeing tour.
Get great packing tips here: How To Pack Lightly For Your Alaska Trip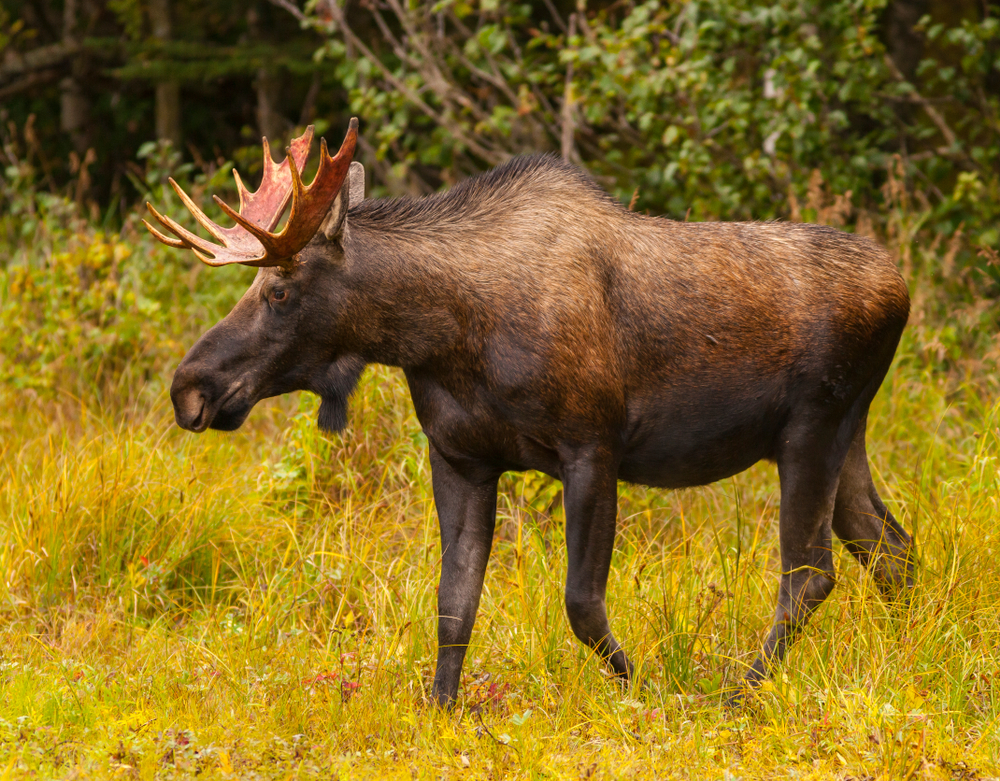 Stock Up On Supplies While In Anchorage Alaska
If you are road-tripping Alaska, stocking up on your supplies while you are visiting Anchorage is one of the wisest things to do.
Over 300,000 people live in Anchorage, and they have just about any conceivable "big box" store you can imagine.
Walmart, Home Depot, and Costco are all great options for refilling your supply list!
Look here: Anchorage Small-Group City Highlights Tour
Kincaid Park Has A Lot To Offer
This 1,500-acre park is a short drive from downtown Alaska.
It offers a myriad of outdoor sports that is sure to please anyone looking for things to do in Anchorage.
From stunning panoramic views of Denali and Cook Inlet to over 40 miles of trails to hike, bike, or run, Kincaid Park is a mecca for outdoor enthusiasts.
This is a great place to view moose and black bears. Along the coast, you may see bald eagles soaring high overhead.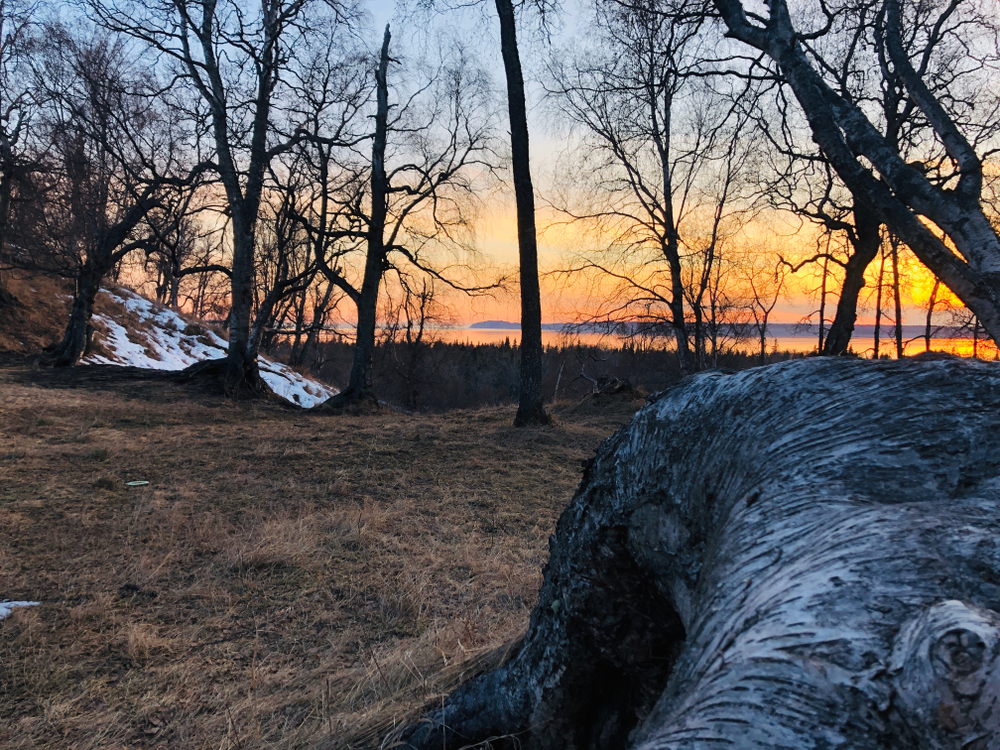 Visit Anchorage's Sandy Beach
If you feel up for a hike with great rewards at the end of it, then the moderate two-mile hike from Kincaid Park to Kincaid Beach if for you.
Once there, behind you will be very tall bluffs, and in front of you the vastness of Cook Inlet.
The water will be too chilly for all but the bravest of souls, but suitable for long walks along this big, sandy beach.
Be careful when wading out into the mudflats as the tides of Cook Inlet change dramatically, and extremely quickly.
Having a bonfire, a picnic along the shore, or just beachcombing, are all fantastic things to do in Anchorage on Kincaid Beach.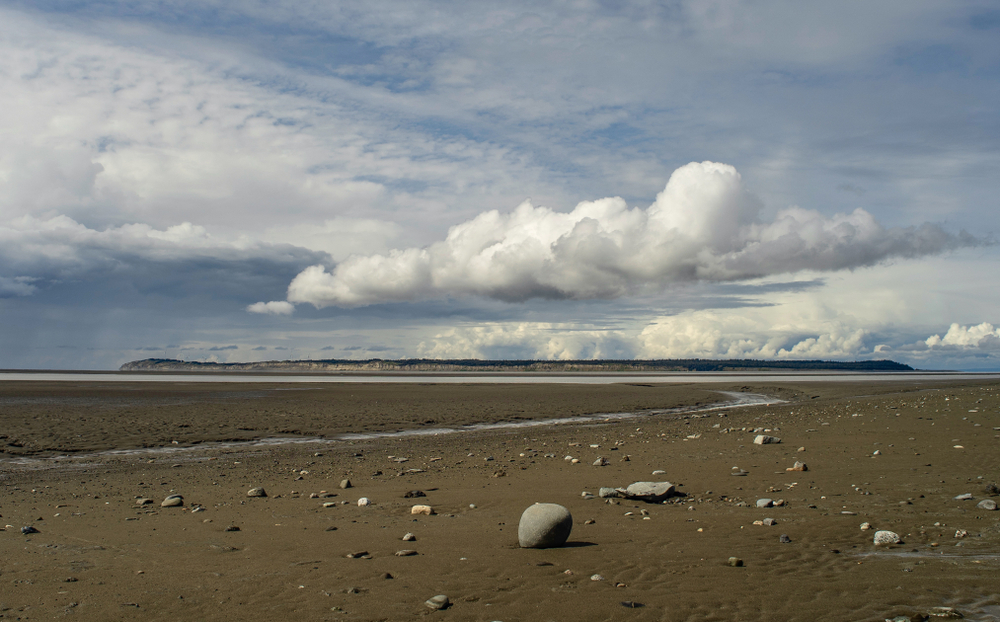 Scramble Up And Down A Sand Dune
A humongous sand dune juts up into the trees of Kincaid Park.
Looming more than 40 feet above the ground, there is fun to be had at the dune!
Climbing up, sliding down, digging holes in its sand, or sitting at the top enjoying the panorama of the surrounding mountains and oceans are all grand options.
Fun for kids and kids-at-heart, visiting the Kincaid Sand Dune is one of the really fun things to do in Anchorage.
Taste True Wilderness at Far North Bicentennial Park
At over 4,000 acres visiting Far North Bicentennial Park is indeed one of the wild things to do in Anchorage.
Head's up- the bears own this park in the summer. Heed warning signs, make noise when visiting, and carry bear spray!
There are five major trails and two minor trails to explore ranging from easy to rugged.
All trails are multi-use. The park is open year-round for all outdoor enthusiasts.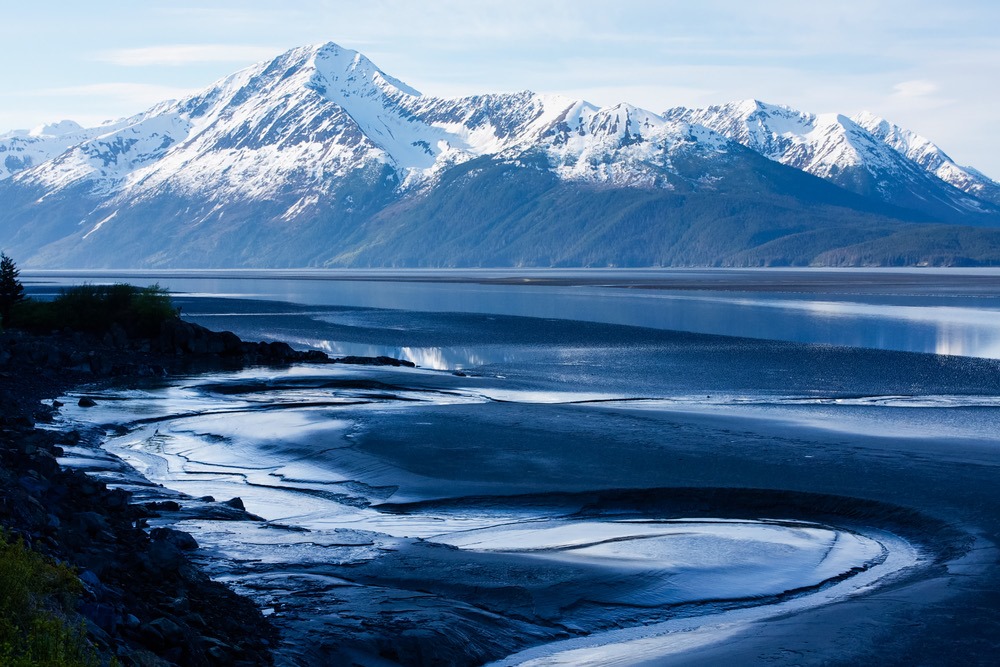 Get Tranquil At The Alaska Botanical Gardens
This 110-acre botanical garden is located inside the Far North Bicentennial Park.
Here you will step into a lush wonderland and be surprised at just what can flourish in Alaska's harsh weather.
The Alaska Botanical Gardens is considered a living museum and was established in 1993. A modest admission fee is charged to aid in its upkeep.
Open year-round, peak season is in July. But the gardens are blooming from early June until late September.
There is a one-mile trail that meanders through the gardens, and a one-half mile paved loop that is stroller and wheelchair accessible.
You can walk through the rock garden, herb garden and learn about Alaskan history when visiting the Alaska Heritage Garden.  Plants grown here are donated to local food banks.
Learning about what actually thrives in Alaska is one of the best things to do in Anchorage.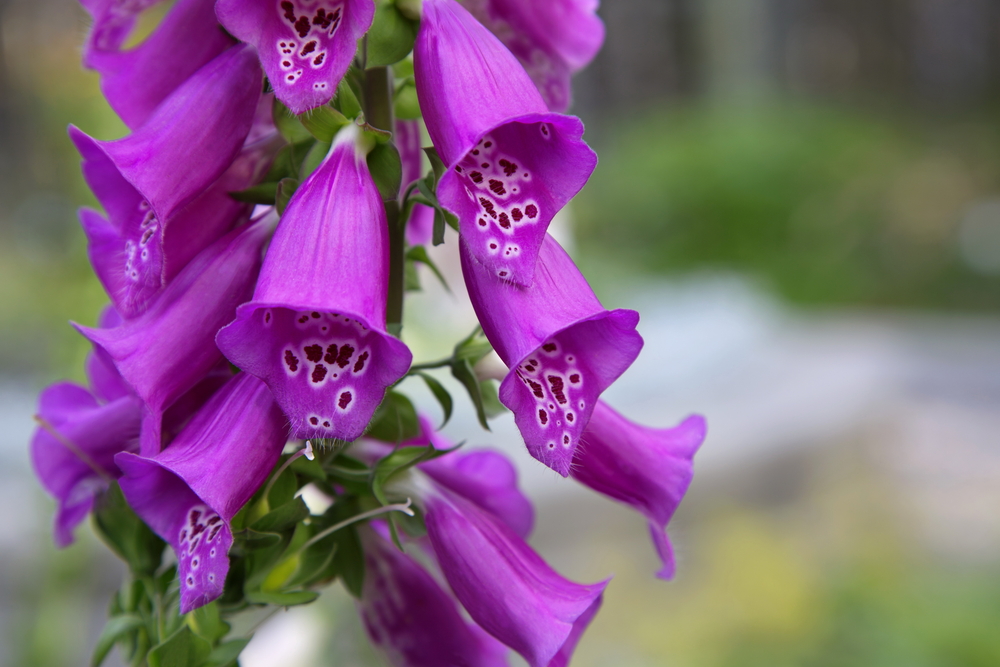 Visit Lake Hood Floatplane Base
It has been said more people in Alaska own floatplanes than cars!
That said, owners of planes can wait several years to have a spot for their plane at the Lake Hood Floatplane Base.
Walking Lake Hood and Lake Spenard in Anchorage will give you the thrill of seeing the brightly colored floatplanes take off and land.
Lake Hood is home to two hundred floatplane takeoffs/landings a day, earning it the designation as the largest and busiest seaplane base in the world.
You have the option of a one hour or a two-hour hike, whichever fits into your time schedule.
Do not miss out on one of the most exciting things to do in Anchorage Alaska.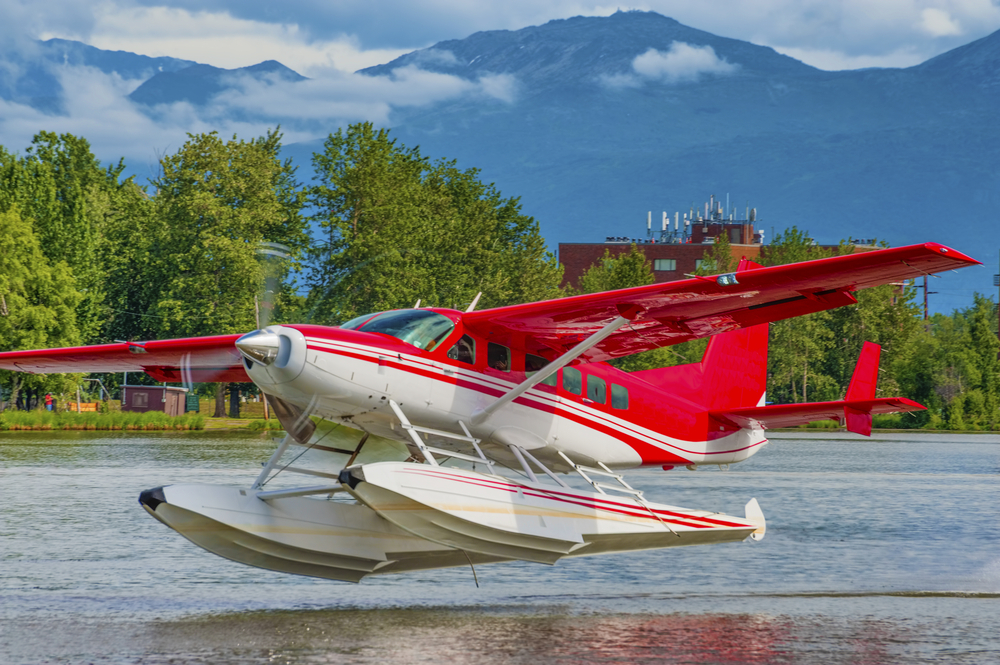 Take A Tropical Vacation At Mann Leiser Memorial Greenhouse
It is always summer at the Mann Leiser Memorial Greenhouse.
The greenhouse is named after Mann Leiser, who is considered the 'father' of Anchorage's beautification program using colorful flowers in planters all over town.
Once inside the solar-heated solarium, you will hear the birds singing and take in all the tropical sensations!
Landscaped gardens and Koi fish swimming in pools set the ambiance.
The greenhouse houses hundreds of plants from across the globe.
Information is provided if you are interested in taking a self-guided tour.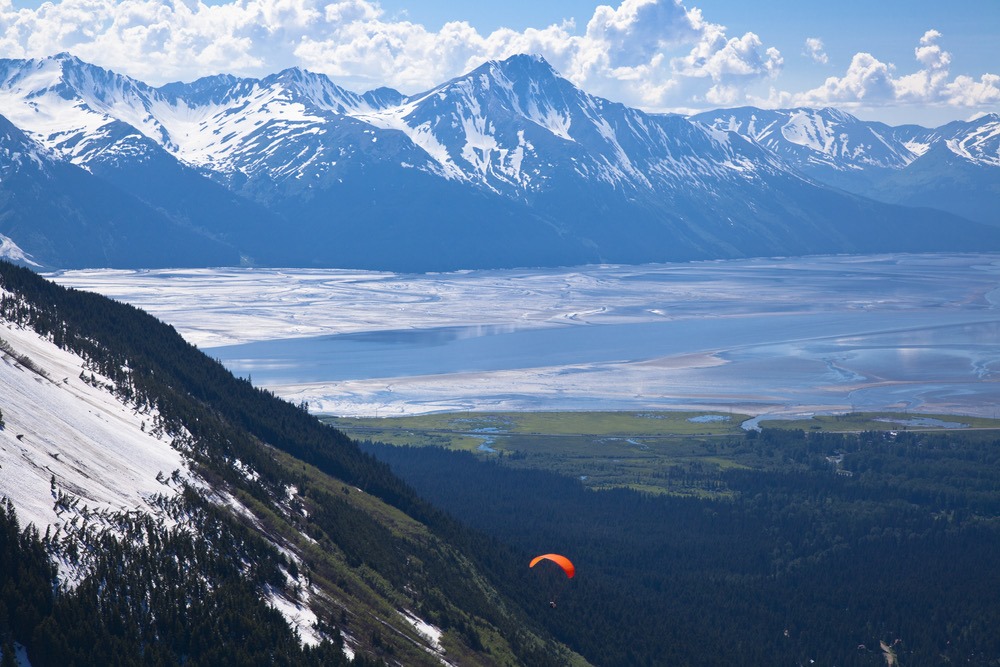 Enjoy the Northern Lights Or The Midnight Sun
Depending on the season of the year that you travel to Anchorage Alaska, you are definitely in for a treat.
From late September through to early April it is possible, with research and planning, to view the spectacular Aurora Borealis.
(My last trip to Anchorage Alaska was in September and I was extremely fortunate to see this natural phenomenon.)
During the summer, the Midnight Sun reigns supreme. Be prepared for almost 24 hours full of sun at the height of the summer. Before and after the Solstice, the sun dips to the horizon and then raises again.
The Northern Lights and Midnight Sun natural phenomenons are the most amazing things to see in Anchorage Alaska!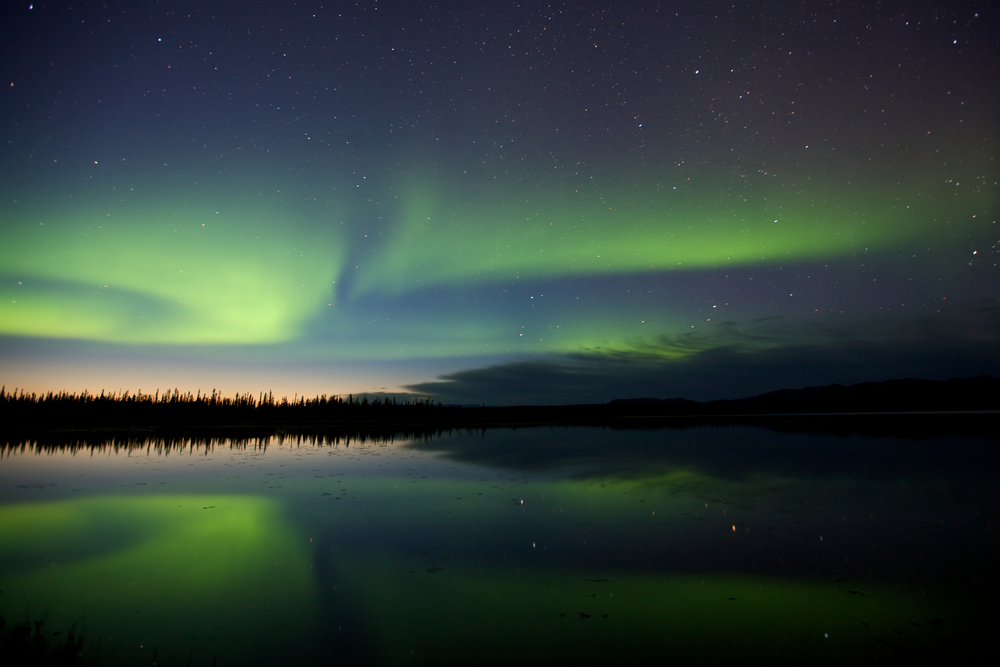 Packing Tips for Traveling To Alaska
I hope  these useful packing suggestions will help keep you organized when in Alaska:
These packing tips will help you stay organized when you begin packing for Alaska: How To Pack Lightly For Your Alaska Trip 
A concealed travel pouch may be one of the most important items you bring with you on your Alaska journey. This unisex RFID blocking concealed travel pouch is lightweight and comes in several colors.
It has lots of organization to give you peace of mind. You can keep your most valuable documents safe and secure next to your body.
If you have a pouch already you may not want to or need to invest in a new one, like me. If it does not come with the RFID protection, these RFID sleeves would be handy to prevent identity theft.
This configuration comes with enough passport and credit card sleeves that the entire family would be protected. They are slim too, so they will easily fit into your current pouch or wallet.
These are the kind my family and I use not only when traveling but at home as well.
f you are planning on taking a lot of pictures with your phone you will definitely want to consider an external charging battery.
This Anker high-speed phone charging battery is the exact one I carry with me on all of my trips. It can be used on a variety of phones, not just an iPhone like I have.
And wow is it fast! I like that it holds its charging capabilities for several uses so I do not have to worry about it while out and about. And if I forget to recharge it at night, it will still be good to go the next day.
My daughter gifted me this FugeTek Selfie Stick and Tripod for my birthday. It has Bloothtooth connectivity so it is very easy to use.
It is made of durable aluminum and is very lightweight and easy to carry. I love mine and I think you will enjoy it too!
I was never a fan of packing cubes until I tried them out! Now I am sold. These Bagail packing cubes are the exact ones I use whenever I travel.
I cannot believe how much more organized I am now! And I never leave without them anymore.
You will want to make sure to stay hydrated during your entire trip. Bring your own water bottle and refilling it often will help you.
Staying hydrated will give you more energy and boost your immune system which will help you fight off any germs which you will encounter while exploring all the things to do in Anchorage.
I never leave for any trip without bringing my Bobble filtered water bottle. I find it is a great size to fit into a backpack or tuck into my pocket. It is small enough that it does not add appreciable weight or bulk.
It is BPA free and its replaceable filter ensures safe water to drink whenever and wherever it is filled up.
A backpack is important to have when traveling to Alaska. Especially on days when you are hiking or taking a tour, you will want a place to store your water bottle, snacks, your phone charger etc.
This Columbia Northport backpack is affordable and comes in several colors to select from.
And this packable durable travel backpack is another great option when traveling to Alaska because it folds into a little pouch which would help when packing.
Perhaps you are traveling a long distance and packing space is a premium. Then this set of collapsible silicone foldable water bottles would work well for you.
Would not take up much space in your suitcase at all. And you will be receiving a set of two.
You will want to bring a backpack or daypack with you to store snacks, your water bottle, phone, extra clothes, etc.. This foldable water-resistant backpack would be great.
It is very affordable and is available in many color options for you to choose from. The fact that it folds down into a zippered pouch will make it easy to pack.
Perhaps you need a more substantial backpack for international travel. This antitheft backpack has a charging port, is water-resistant and can comfortably carry up to a 15.6″ laptop.
It comes in a range of colors to choose from and it is inexpensive as well.
You will be walking more than usual while in Alaska. A sturdy and comfortable pair of walking shoes is a must-have. These waterproof all-season shoes are extremely affordable and yet fashionable.
Mostly everyone is familiar with the Skechers brand, and these Air Run high fashion sneakers come in a lot of colors to match your outfits and are still affordable.
You may be visiting Alaska in warmer weather as I did, and you may want a pair of sandals to wear exploring.
I highly recommend these Vionics adjustable strap orthotic sandals. I have several pairs of these exact Vionic sandals in several colors that I bring with me *everywhere* I travel.
They are very comfortable. I also sometimes bring along my Vionic Tides flip flops. The toe post is so comfortable which makes wearing these super comfortable.
Bring a lightweight scarf or shawl. Scarves and shawls are very popular.  Both men and women wear scarves, both decoratively and as a layering piece to keep warm.
This cotton unisex lightweight scarf is versatile and can be worn in any season.
I like this colorful oversized scarf too. So many colors to select from! And here's another option to consider: this lightweight sunscreen shawl scarf would do double duty to protect you from the sun in the warmer seasons as well as being a fashion accessory layering piece.
This Coolibar sunscreen scarf has USB 50+ protection from the sun's rays & comes in great colors.
If you are in need of new luggage, this expandable soft side spinner luggage is affordable and comes in lots of colors. If you like hard-sided better, then you may favor this hard-sided luggage set better.
Both sets come with TSA approved zippers locks and 8 wheels per piece. Either will be great for the plane or train or even your car depending on how you plan to travel to Alaska.
You will want a waterproof jacket/windbreaker when visiting all the Anchorage attractions. It is cool in the evenings most everywhere in Alaska, depending on when to are traveling to Alaska or the tours you select.
A waterproof jacket, like this Columbia women's waterproof one, would be perfect for any conditions you encounter when exploring all the things to do in Anchorage.
Here is a less expensive option, the Cheering lightweight waterproof windbreaker. It comes in several colors too.
You will want to protect your eyes from the glaring sun so when visiting all the anchorage attractions, bring along a pair of sunglasses with you.
These polarized vintage round sunglasses also offer UVA/UVB protection. the polarized lenses will decrease or eliminate any glare.
Mirrored lenses are very trendy and these unisex polarized mirrored sunglasses also protect from the sun's harmful UVA and UVB rays. They are inexpensive and come in some really cool lense options.
You may want to bring along some gloves. Depending on the time of year you are traveling to Alaska, the evenings can be a bit chilly.
And if you are doing any tour excursions on the waters of Alaska the air temperature is much cooler. These unisex thermal gloves are lightweight and have an elastic cuff that will keep the fingers warm.
A hat is another option to consider when traveling to Alaska. This unisex skully beanie is soft and stretchy and comes in many many colors to choose from and will keep your head warm.
If you are looking for sun protection, this unisex foldable quick dry sun-protective baseball cap is a great choice. It is affordable and comes in many colors.
Here I have listed my favorite 21 things to do in Anchorage. I hope they help you when you are assembling your list of things to do in Anchorage.
There are really so many things to do in Anchorage, especially if you visit Alaska in September.