Are you looking for the best bars in Shoreditch, London? You are in the right place.
There are so many fun things to do in London and visiting Shoreditch should be one of them!
I will walk you through the best Shoreditch bars and tell you everything you need to know about the nightlife in this area.
Planning your trip to London last minute?
Make sure to book ahead! Hotels and tours often sell out the closer you get to your trip. Here are our top pics for London!
Top Experiences and Tours In London:
Best London Hotels:
Whether you are looking for the best clubs in Shoreditch or a sports bar in Shoreditch I have covered them all. And we can't forget about the Shoreditch pubs which are plentiful.
If you are not familiar with Shoreditch it's a trendy hip area in East London. It's an eclectic place known mostly for its street art and nightlife.
Once a run-down neighborhood the last 20 years have seen this area grow in popularity. It is now the area to be in London.
Things to do in Shoreditch are plenty but make sure you visit some of the bars, clubs, and pubs as they are brilliant.
A visit to this area should be high on your list of things to do in London.
So are you ready to see which bars in Shoreditch I have chosen for you? Grab a drink, pull up a chair, and let me walk through some of the best bars in Shoreditch.
If this is your first time in London here are some things to know before you visit.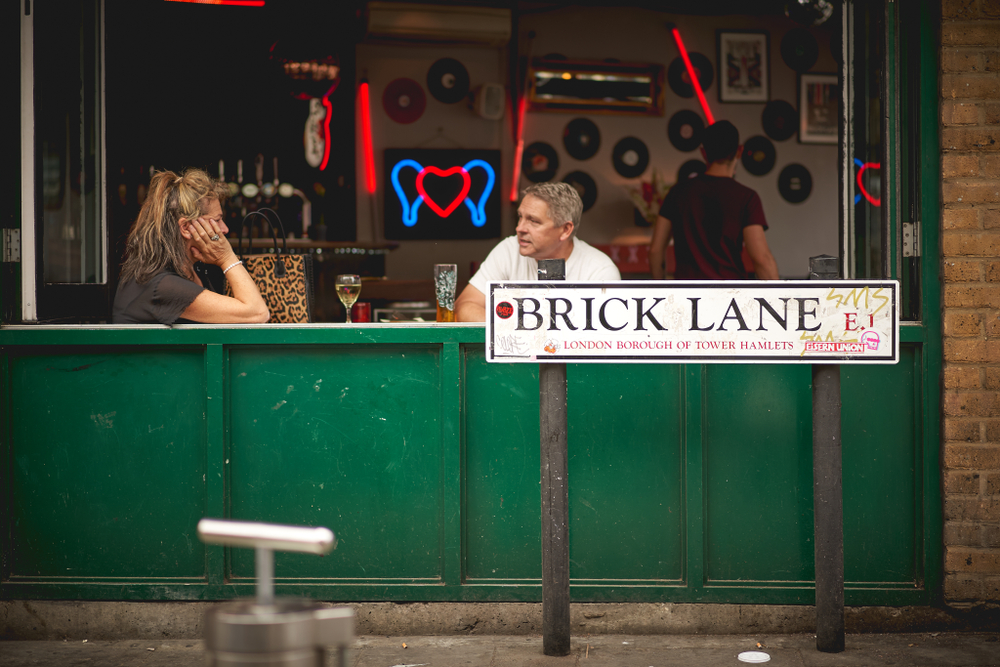 15 Best Clubs And Bars In Shoreditch For A Night Out
London Cocktail Club
With split-level booths, retro leather racing seats, and pink neon this is one of the bars on Brick Lane that really stands out. This cocktail bar in Shoreditch neighbors Box Park and is easy to get to.
Happy hours here run 7 days a week with 2 cocktails for $$14.00 which is a real steal in these parts. They also run a 00s throwback bottomless brunch on Saturday which is fun.
You will also find cocktail masterclasses and a karaoke room. The cocktail menu is fun and a little bit cheeky.
The way they split cocktails into groups here makes it easy to pick one you will love.
Open until midnight this is a really fun Shoreditch bar, a great place for a night with friends. Happy hour Shoreditch is brilliant here.
Golden Bee Is One Of The Best Cocktail Bars In Shoreditch
If you are looking for cocktail bars in Shoreditch this is one of the very best. Here they have three floors of space and one of the best rooftops in London.
Just seconds away from Old Street Tube station, the location is perfect for a late-night dash to the last tube.
The rooftop is open all season with fire pits and blankets for those cold evenings. Every Friday and Saturday this Shoreditch bar takes on a club mode with live DJs and late opening.
The ambiance and atmosphere here are perfect for those who still want to party but want something a bit more refined. You can book VIP for the roof terrace if you can afford it do it.
They do serve food here with items such as sushi platters and pizza and the cocktail menu is split into cocktails and spirits. The cocktail menu isn't huge but the rum collection is impressive.
When it comes to Old Street bars this is one of the best.
Some of the best rooftop bars in London are located in Shoreditch!
Night Jar
If partying isn't your thing and you prefer things a little more low-key this is the best Shoreditch bar for you. Think speakeasy jazz bar kind of vibes.
Here there is a touch of old-school glamour served with a side of cocktails and a sprinkle of live music.
Absolutely perfect for a romantic date night in London and one of the things to do in Shoreditch.
The cocktails here are a work of art. Cocktails come with flowers, candy floss, chocolate chess pieces, and a host of other surprises. It's a lesson in the art and joy of drinking.
This Shoreditch bar is more of an experience that happens to you. It's delightful, alluring, and immersive and one for your list.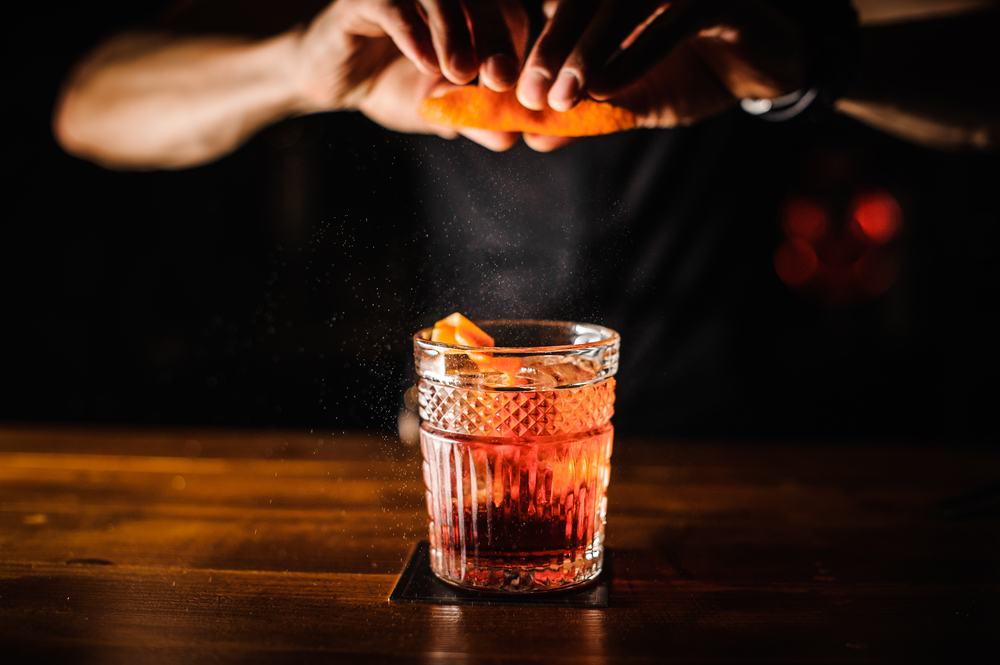 Ballie Ballerson
This is one of the best Shoreditch bars if you are looking for something a little different. Here they mix a cocktail bar with a ball pit.
Yes, you can have adult-sized ball pit fun while also drinking and dancing the night away. It's a blast.
The cocktails are on point, the music is always pumping and the Instagram-worthy shots are just waiting to happen.
If you can it's best to pre-book tickets or book a VIP table but you can just walk in too. This is a nightclub in Shoreditch with a difference.
Light Bar
This Shoreditch bar is set in an old Victorian power station built in 1893 which adds a certain charm to this place which I love.
Think vast space, industrial chic, and light streaming through windows, it's so Shoreditch.
This is an iconic building and an iconic Shoreditch bar. The building was one Great Eastern Electric Light Generating Station and this is the only remaining power station of its type in the UK.
The bar was one of the original bars that made Shoreditch famous. The original bar closed in 2014 and it reopened in April 2021 to what you see today.
Built across three floors they offer food using seasonal produce from local suppliers and a small but perfectly formed cocktail list.
Peanut butter pork belly skewers, Spicy scotch eggs, Cucumber + wasabi cream rolls, and Cheeseburger spring rolls are all things on the food menu.
This is one of the Shoreditch bars with a roof terrace that is all season. It has a retractable canopy and firepit for the winter.
They open late Thursday to Saturday so if you fancy drinking until 2 am you can.
If you want a piece of Shoreditch history this is the place to come. One of the best bars in Shoreditch for sure.
Boundary Rooftop
One of the best rooftop bars in Shoreditch The Boundary is a stylish bar that is the perfect Instagram photo spot.
It's in the heart of Shoreditch and has great views and a laid-back atmosphere.
You can sit inside or outside but if the weather is great the outside area is perfect. Lights and well place plants and foliage give this place an intimate feel.
The food here is seasonal and French inspired and the drinks list is impressive with cocktails based on the seven deadly sins.
You can reserve for the restaurant but the terrace works on a first come first served basis so keep this in mind.
This is one of the cool bars in Shoreditch that I feel everyone needs to visit.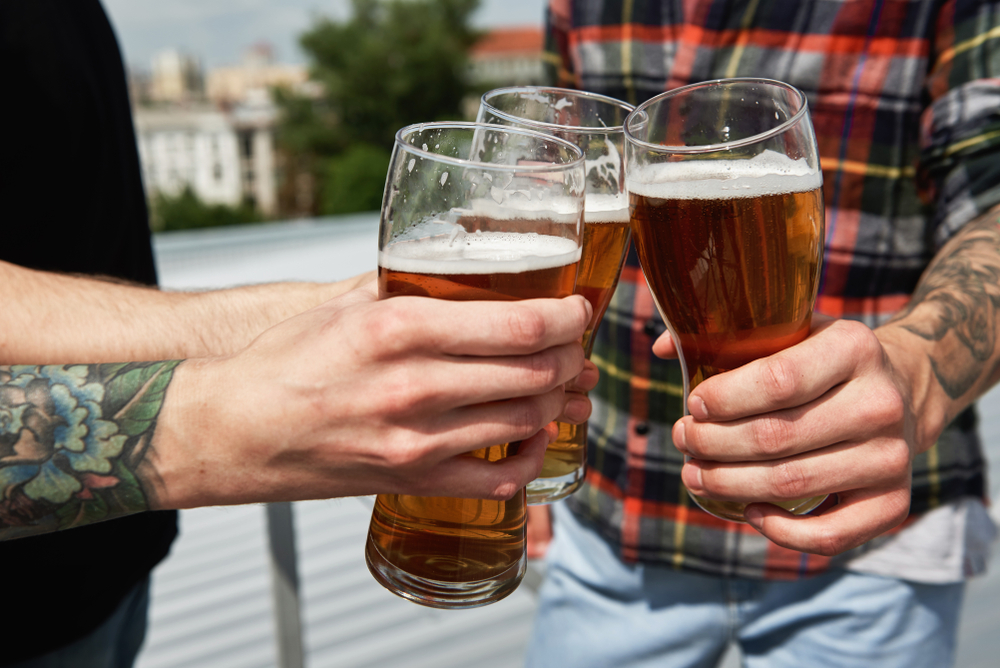 Matchbox
If you are looking for a sports bar in Shoreditch then Matchbox is for you. It's a cocktail bar that brings sports events and late-night dancing together for lots of fun.
There are 15, 55 inch TVs across two floors so you are never far from the action. If you get hungry food is available that will complement a cold beer or a delicious cocktail.
This is one of the best Shoreditch bars for a night out with your friends.
The Fox
Most agree that The Fox is one the best pubs in Shoreditch It's a relaxed setting that serves adventurous food and an extensive range of exciting brews.
Affectionally referred to as 'The pub on the corner, where everybody goes' it's a great English pub to stop for a bite and a pint.
It's a traditional East-end corner pub that provides everything you need while taking in the Shoreditch Sights. One of the east London bars that is worth a visit.
Brick Lane Tap Room
If you are looking for bars on Brick Lane then the Brick Lane Tap Room is perfect for you. This place celebrates all that's great about beer.
The ales, lagers, and stouts are always changing and are always handpicked by the team, and delicious. This is all served alongside some great bar food.
This Shoreditch pub is on Dray Walk, just a few minutes from Shoreditch High Street in the heart of the Brick Lane area.
If you love a good beer craft or draught beer this is the best Shoreditch bar for to.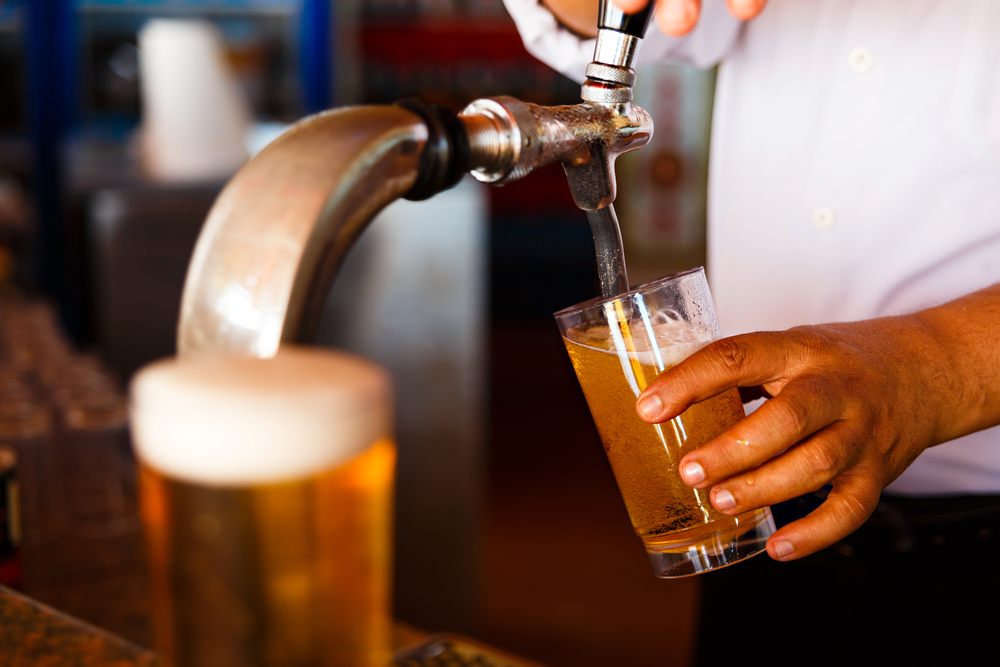 Bounce, Old Street, Is One Of The Coolest Bars In Shoreditch
If you are looking for cool bars in Shoreditch this is one of the more unusual Old Street bars. It's a ping pong bar so you can enjoy a drink, some food, and a game of ping pong.
But it's not just ping pong they also have high-tech interactive Wonderball games tables, beer pong, and shuffleboard.
It's located on Old Street right in the heart of Shoreditch and makes a great afternoon or evening out.
Under 18's are allowed in before 6 pm if accompanied by an adult. They also have a great bottomless brunch here at the weekend.
This is one of the east London bars that offers something a little different.
Queen of Hoxton Is One Of The Best Clubs In Shoreditch
Here Shoreditch nightlife comes neatly packaged. The Queen of Hoxton has a little bit of everything. It's a pub, nightclub, venue, art gallery, and much more rolled into one.
And the best bit is it's one of the best rooftop bars in Shoreditch. In fact, it has one of the best rooftop terraces in east London.
There is regular live music and DJs here and it's one of the best Shoreditch bars.
You will find neon signs, light installations, imaginative cocktails, and a whole host of funky stuff.
Neon-lit window seats, a throne hideaway, and a light-tiled dancefloor all await you. Choose the part of this place that suits your vibe and party away.
This place is always buzzing and is one of the best bars in Shoreditch.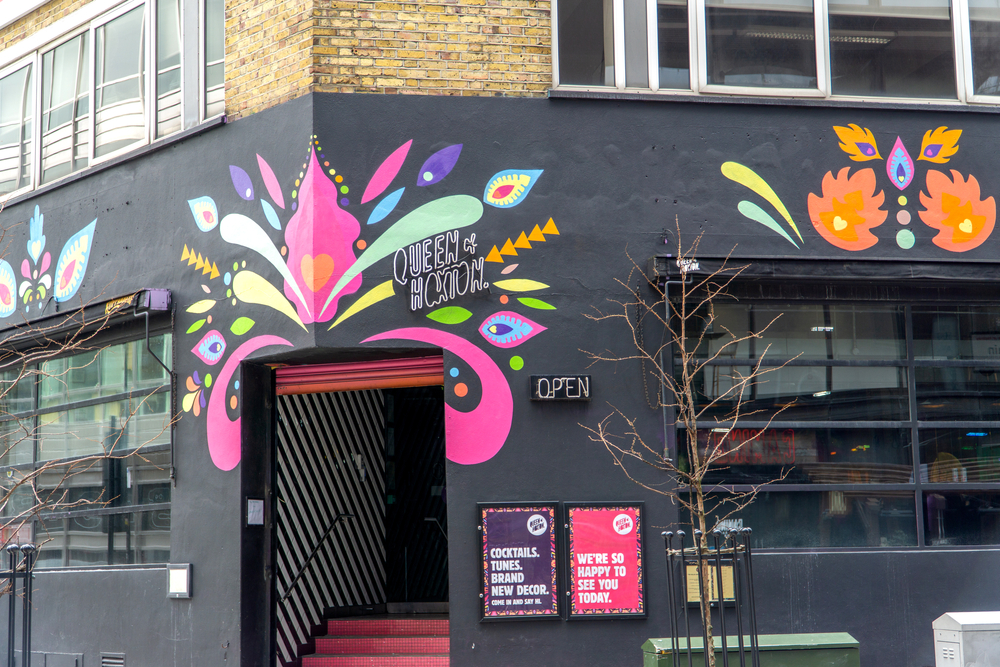 Dirty Dicks
If you are looking for a more low-key Shoreditch bar Dirty Dicks is just a stone's throw from Shoreditch and offers a completely different vibe.
This is a local pub in the heart of the city and is the perfect place to get a traditional Sunday Roast with all the trimmings.
This pub has been serving ale since the 1800's so the history here is palpable.
From Fish and Chips to Sunday Lunch to ale everything about this place is quintessentially English. If you are in Shoreditch and fancy just getting away for something very very English then this is it.
It's the best pub in Shoreditch for a real English feel.
Visiting here is one of the best things to do in Shoreditch,
Trapeze
If you are feeling energetic how about a circus theme venue? At the heart of the hip and trendy Shoreditch scene is a bar like no other.
On the ground floor is a spectacular party with creative cocktails, food, music, and entertainment. Expect circus performers and the like.
Here you sit in carousel booths beneath hanging trapeze bars. Everywhere you look here there is something to see. It's one of the most unique Shoreditch bars.
Downstairs in one of the best clubs in Shoreditch with world-famous DJs pumping our beats. This is one of the more unusual places for clubbing in Shoreditch.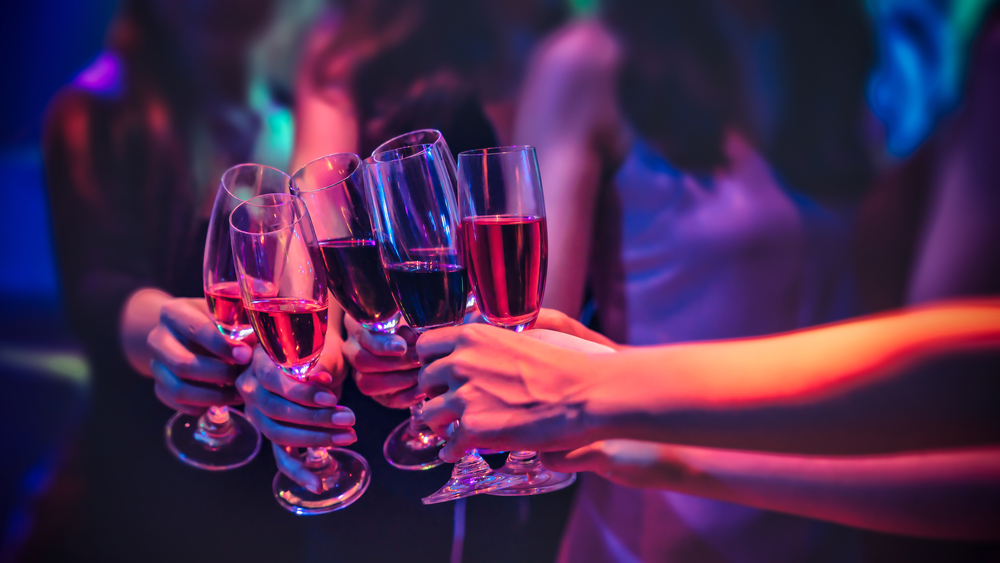 One Of The Best Clubs In Shoreditch For Dancing Is Trafik
If you are looking for a lively bar where you can dance the night away then this is it. It always draws in the crowd and there is always something going on. This is Shoreditch nightlife at its best.
There are two floors, extensive seating, and dance floors as well as a great sound system. This is a place for real music lovers.
They have some great happy hour Shorditch deals if you want to arrive early. This is one of the clubs in Shoreditch for all the party aminals among you.
XOYO Is For Clubbing In Shoreditch
Most agree that when it comes to the best clubs in Shoreditch XOXO tops the list. It's something of an institution in East London, one of those places that everybody knows about.
They have live bands and DJs covering all musical tastes so just check what is on when you are there. There is something for everyone here.
This Shoreditch club is also really close to Old Steet station making getting home in the early hour easier.
Saturday nights are the go-to evening with Pleasurehood bringing you the finest DJs for a night of excess. This is the nightclub in Shoreditch everyone wants to be at.
If you can book a VIP area as it will avoid any queuing. This is clubbing in Shoreditch at its best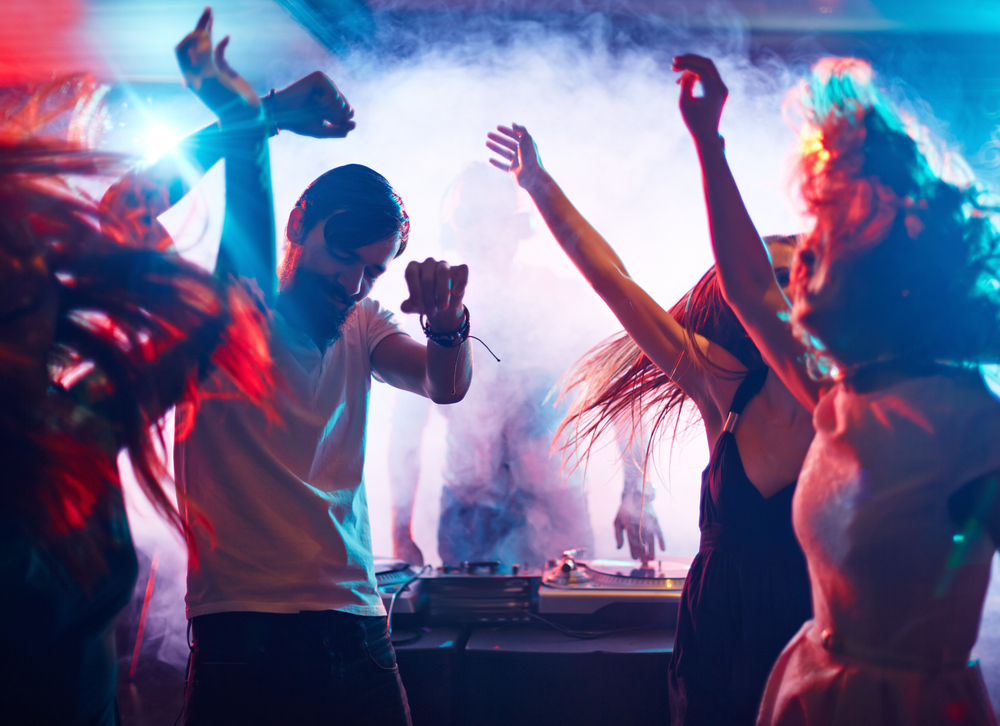 Packing List When Visiting Clubs And Bars In Shoreditch
If you will be traveling, either by plane or by car to London, here are some tips on how to pack lightly.
A concealed travel pouch may be one of the most important items you bring along when in some of the fun bars in Shoreditch.
It is always important to protect your personal information. Identity thieves are everywhere.
This unisex RFID-blocking concealed travel pouch is lightweight and comes in several colors. It has lots of organization to give you peace of mind.
You can place it under your clothes next to your body to carry your ID safely.
If you have a pouch already that does not come with RFID protection, as I do, these RFID sleeves are the perfect solution.
This configuration comes with enough credit card sleeves that the entire family would be protected. They are slim too, so they will easily fit into your pouch or wallet.
If you are planning on taking a lot of pictures with your phone you will definitely want to consider an external charging battery.
This Anker high-speed phone charging battery is the exact one I carry with me on all of my trips.
It can be used on a variety of phones, not just an iPhone like I have. And wow is it fast!
My daughter gifted me with this FugeTek selfie stick and tripod setup for my birthday. I absolutely love it! It is made of lightweight aluminum and so easy to use.
It has Bluetooth connectivity and is a breeze to use for taking photos.
You will want to bring your own refillable water bottle with you.
I never leave home on a trip without my Bobble filtration bottle. The 18.5-ounce size is perfect for hiking and it fits nicely in the pocket of a backpack.
This replaceable carbon filter ensures clean water when you want it.
Then this collapsible silicone foldable water bottle would work well for you. Would not take up much space at all.
You will want a backpack or daypack with you to store snacks, your water bottle, phone, extra clothes, etc… No matter the time of day or evening.
This foldable water-resistant backpack would be great.
It is very affordable and is available in many color options for you to choose from. The fact that it folds down into a zippered pouch will make it easy to pack.
—
As you can see when it comes to the best bars in Shoreditch, there are so many to choose from. This is only the start of what this amazing area has to offer the late-night reveler.
Whether you choose one of the rooftop bars in Shoreditch or one of the Shoreditch clubs to spend the evening I know you will have a great time.
The bars in Shoreditch are something else. Have the best time and I can't wait to hear all about your experience.
There are so many beautiful places in London to visit I hope you have a great time.