Are you wondering where to go camping in Alaska? You are in the right place.
In this article, I will walk you through some of the best Alaska campgrounds and tell you all you need to know about camping in this incredible state.
Alaska is for me a little slice of heaven. With the mountains, the lakes, and the picturesque Alaskan towns it is a stunning state.
Campgrounds in Alaska are plentiful and varied and there will be a camping option to suit everyone.
Whether you are looking for Kenai Peninsula campgrounds or fancy going glamping in Alaska I've covered them all.
A lot of these campsites are in the most beautiful places in Alaska with incredible scenery just outside your tent door. There is nothing to compare to Alaska camping.
So pull up a chair, grab yourself a drink, and let me walk you through camping in Alaska. And if this is your first trip here are 9 Things To Know Before Traveling To Alaska.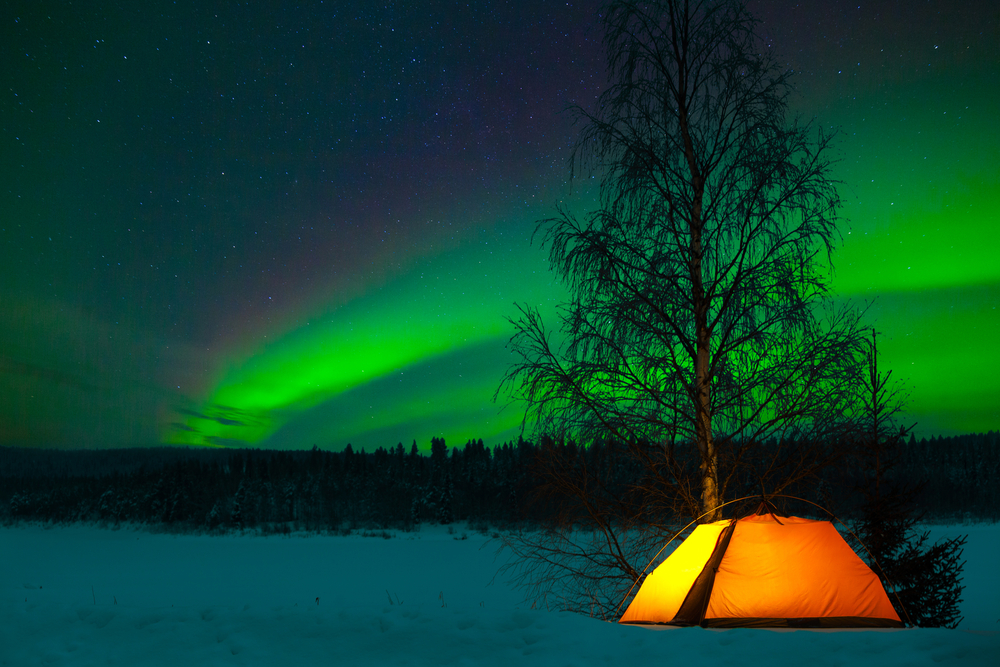 15 Best Places For Camping In Alaska
Heritage RV Park – Homer
If you are looking for camping in Homer then Heritage RV Park might be perfect for you. This is one of the RV parks in Alaska with something for everyone.
Surrounded by ocean, mountains, glaciers, and beaches the location couldn't be more stunning.
You have direct access to the beach and if you are lucky you might see the otters and seals who play there regularly.
This is one of the full hookup campgrounds and the beachfront, fields and fishing hole sites also have firepits.
The common building has a lookout verandah as well as a coffee bar and all the amenities you might need.
This is a safe site with a 24 hr staffed office and perfect for families. It is also close to shops and boat charters if you fancy going on an Alaskan cruise.
RV camping in Alaska doesn't get much better than this. This is the perfect campground to explore all the things to do in Homer.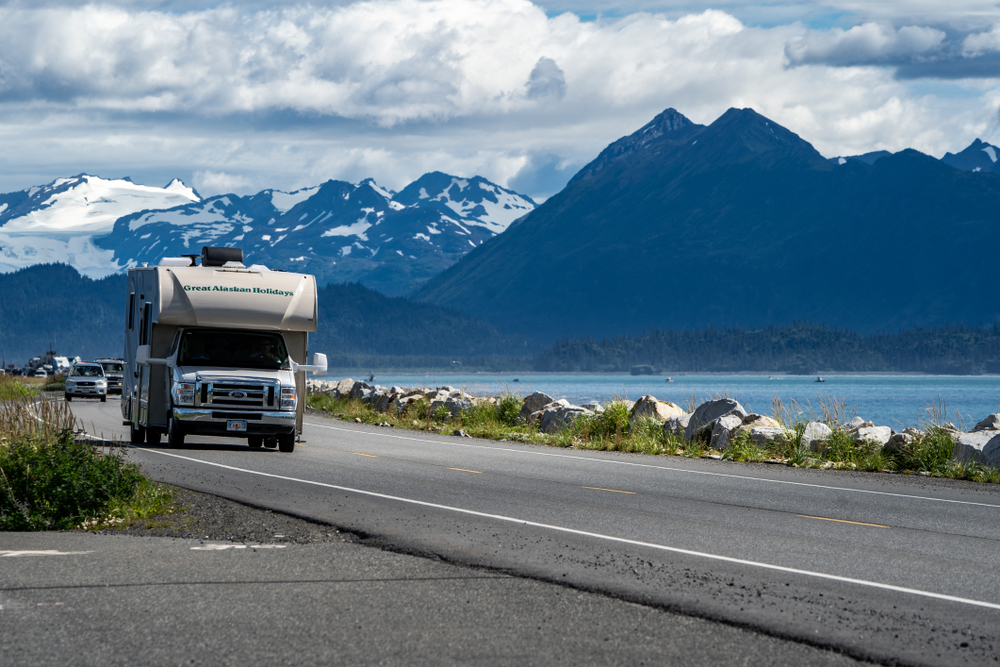 Borealis Basecamp
Glamping in Alaska doesn't get much better than this. A trip to Borealis Basecamp is one of the coolest things to do in Alaska.
25 miles from Fairbanks set in 100 acres of pristine boreal forest Alaska camping here involves being immersed in the wilderness while surrounded by luxury.
Alaskan road trips are the best and a great way to see the incredible scenery this state has to offer. And camping or boondocking in Alaska makes this trip more affordable for all.
Northern light viewing happens from your own clear roof dome tent referred to as an igloo. Watch the stars from your luxurious bed all warm and cozy under the covers.
You can also stay in Borealis Basecamp Cubes with heated decks, a rainfall shower, king sized bed, and floor and ceiling windows.
While here you can go on helicopter tours, dog sled rides, or explore the forest on foot. When you get back, a sauna and beautiful food served in the yurt restaurant await.
If you are after a romantic Alaskan holiday or just want your camping experience to be extra special this is the place.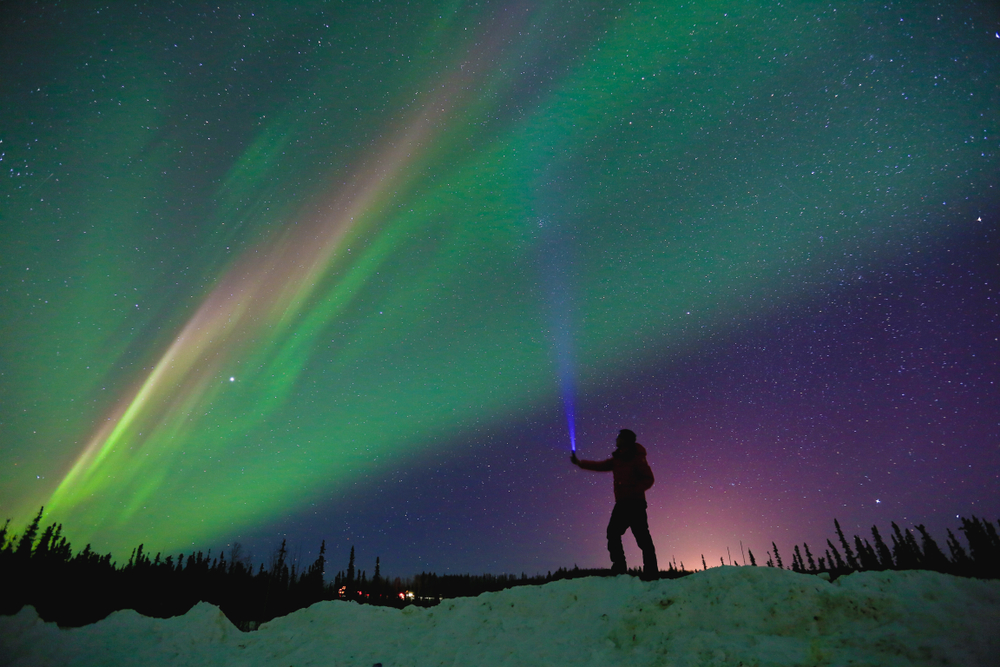 Riverfront Yurt
Glamping in Alaska doesn't get much better than this Riverside Yurt. Here you in 26 acres of private land on the Knik River.
The views of Pioneer Peak are amazing and you can see bears, moose, sheep, and goats if you bring binoculars. If you love hiking and outdoor pursuits this is one of the campsites in Alaska for you.
This is tent camping in Alaska with a side of luxury. You have a queen bed a private patio, a shared backyard and a waterfront location.
If you are looking for something a little more peaceful and quiet yet still with everything you need this is it. This site is about a 45-minute drive from Anchorage.
If you are visiting Alaska as part of a cruise, here is the perfect Alaska cruise packing list to lessen your packing stress!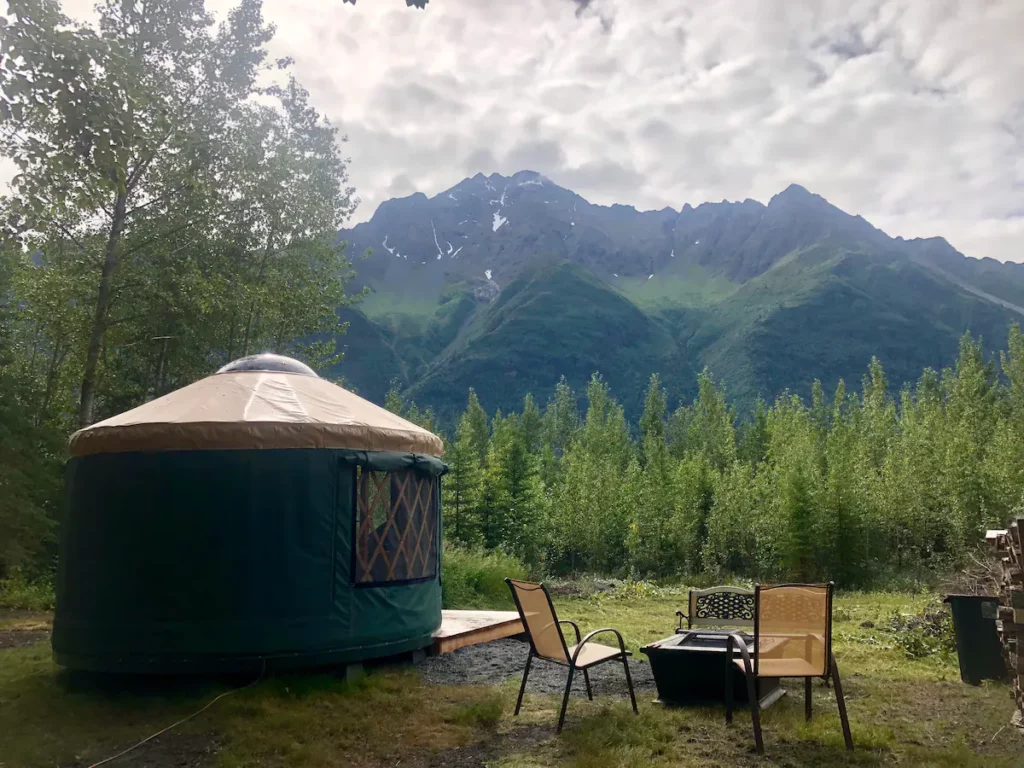 Seward KOA Journey
Seward camping doesn't get much better than it does here. Not only is this campsite set in one of the most beautiful places in Alaska but it's great for families.
On the Resurrection River about 10 minutes from Seward there is everything you need here for whatever kind of vacation you want.
Do not miss out on visiting Exit Glacier right outside of Seward. It is one of the most popular attractions in Alaska.
This is one of the Alaska RV parks that has everything you need. From hot showers to an ice-cold beer you can get it all here. There is even a coffee cart, games room, and children's playground.
This is one of those RV campsites for people who love the great outdoors but also want all of the modern amenities.
Here are 11 Things To Know Before Visiting Seward Alaska.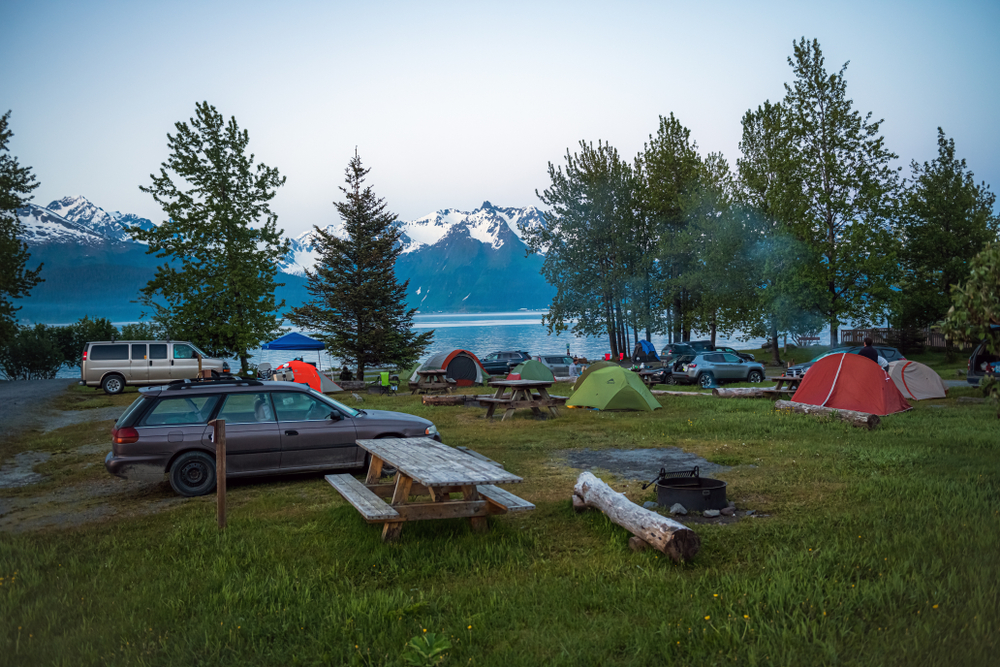 Homer Spit campground
If you are looking for Homer Spit campgrounds then this site is perfect for you. They have campsites for motor homes and also Alaska tent camping for those backpacking around Alaska.
It's a full hookup campground and the site has everything you could need including hot showers and laundry facilities.
This Homer Spit campground has views of Kachemak Bay and the mountains beyond. You can stay on the beachfront, on sites where you can see the beach, or on interior sites which are cheaper.
This is one of the RV campgrounds with an incredible view.
Campgrounds in Homer don't get much better than this and it's one of the best Campgrounds and RV parks in the area.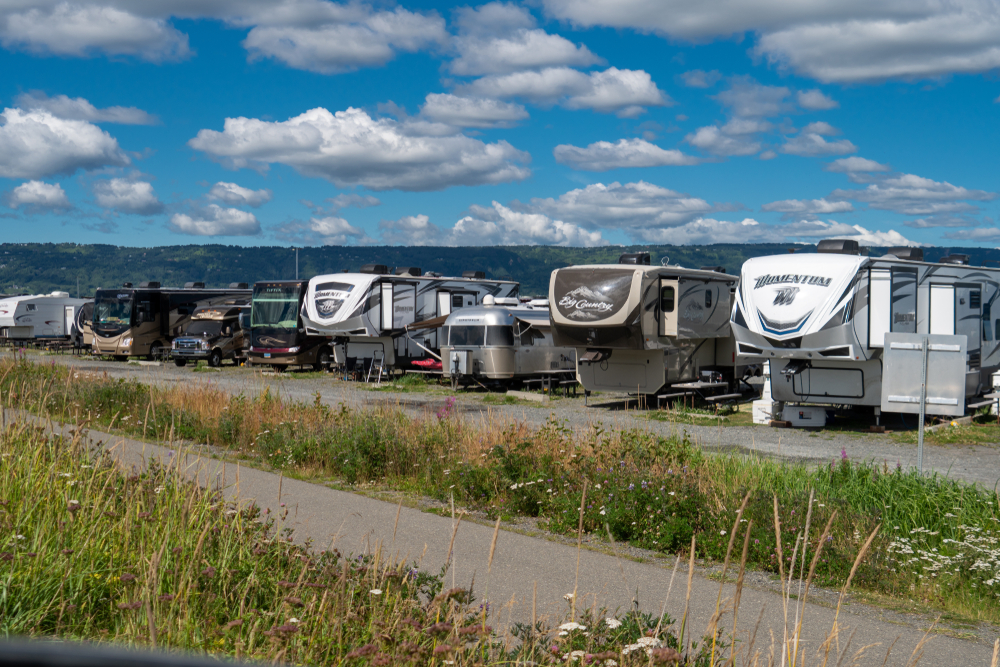 Boondocking Camping In Alaska
Boondocking or dispersed camping as it can be known is camping outside of a designated campground, on lands that are managed for this purpose.
It's camping where you have access to no amenities.
This is camping in Alaska off the grid and a lot of the state is open to boondocking. One of the best sites that people seem to love is the Susitna River with many places to park along the river.
Galbraith Lakes which sits just above the Brooks Range in Alaska's North Slope region is also popular.
Tangle Lakes Campground is also a good option but contains a very long gravel road and Deadman Lake Campground is one of the boondocking sites that has amenities.
And the best thing about boondocking is that it is free.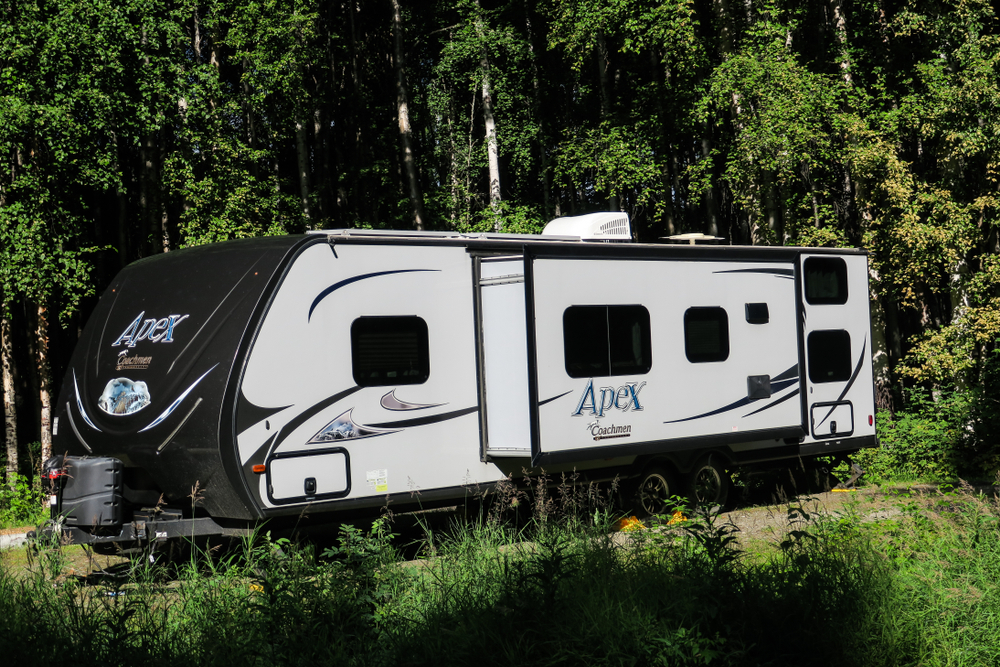 Alpenglow Luxury Campsite
Alpenglow Luxury Campsite is an Alaska camping experience like no other.
This deluxe tent glamping site offers you tents with huge beds and private covered decks. When it comes to campgrounds in Alaska, this one is rather special.
Here it's all about privacy and tranquillity and handmade cedar hot tubs. You also get fresh coffee and a light breakfast in the morning.
You can choose from the mountain tent which is located on a small hill with an incredible view, a forest tent with woodland views or for the ultimate adventure choose the Glacier Tent.
Here you take a helicopter to a remote glacier location for a night of luxury glamping.
There is a communal area with a fire pit and showers with transparent ceilings which is where the hot tub is located.
If you are looking for a romantic getaway or the ultimate Alaskan experience this is one of the Alaska campgrounds for you.
Campsites in Alaska don't get better than this one.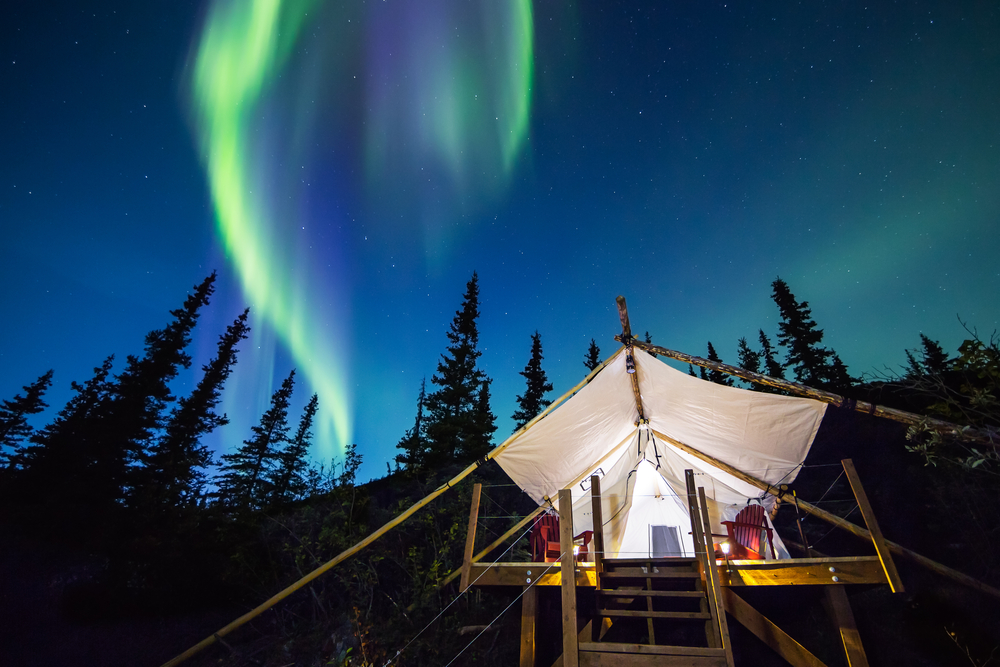 Valdez KOA Journey
For Valdez camping head to Valdez KOA Journey. This is one of the RV parks in Alaska that makes a great base for exploring the area.
It's close to town and also close to the pristine wilderness, you get the best of both worlds here. 18 acres of the great outdoors await you here with hiking and ATV trails.
There is also a lovely stream flowing through the campground.
There are RV sites with full hookups, a grassy tent area, and cabins.
The site also has everything you need for a great stay. Including a camp store a children's playground, and apparently the fastest WiFi in Alaska.
RV camping in Alaska here is accessible, family-friendly, and offers you a little bit of everything.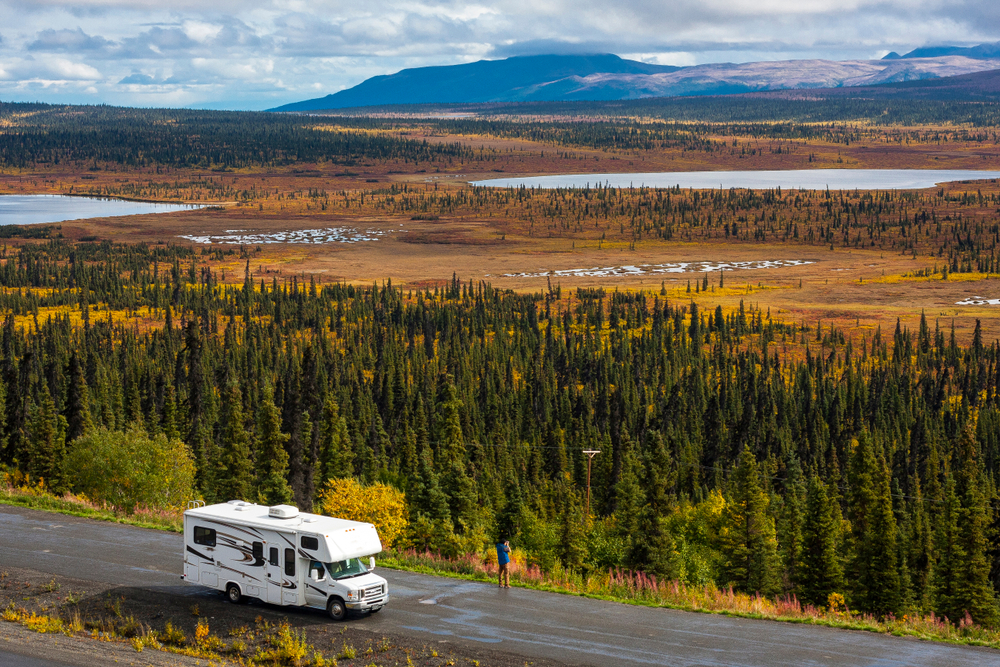 Eagle River Campground
If you are looking for Anchorage campgrounds then Eagle River Campground is 12 miles north of the city. Part of Chugach State Park it's a beautiful location with great facilities.
It is located along the Eagle River and about 5 minutes from Downtown Eagle River. This is one of the Anchorage RV parks with picnic tables and fire pits at each site.
There are nearly 60 sites here with 10 reserved for overflow. As with all RV parks in Anchorage make a reservation if you can as campsites are on a first come first served basis.
There are so many things to do in Anchorage so plan on stopping here for a few days.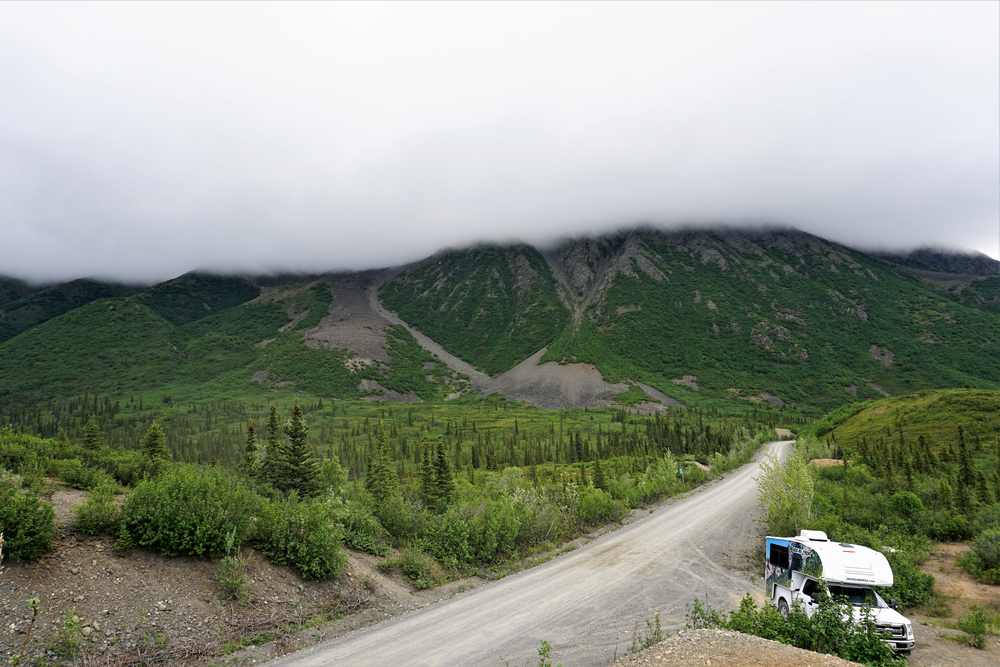 River's Edge Resort RV Park
River's Edge Resort RV Park offers some of the best Fairbanks camping. You will find it hard to find a better site nearby.
This is one of the Alaska RV parks that is located on the banks of the river. Here the river is the Chena River which is stunning.
When it comes to RV campsites this one has a lot to offer. There are two on-site restaurants and a bar picnic area by the river.
The site is large and the sites spacious with hook-up and super hook-up available.
This is one of the campsites for motor homes that should be high on your list.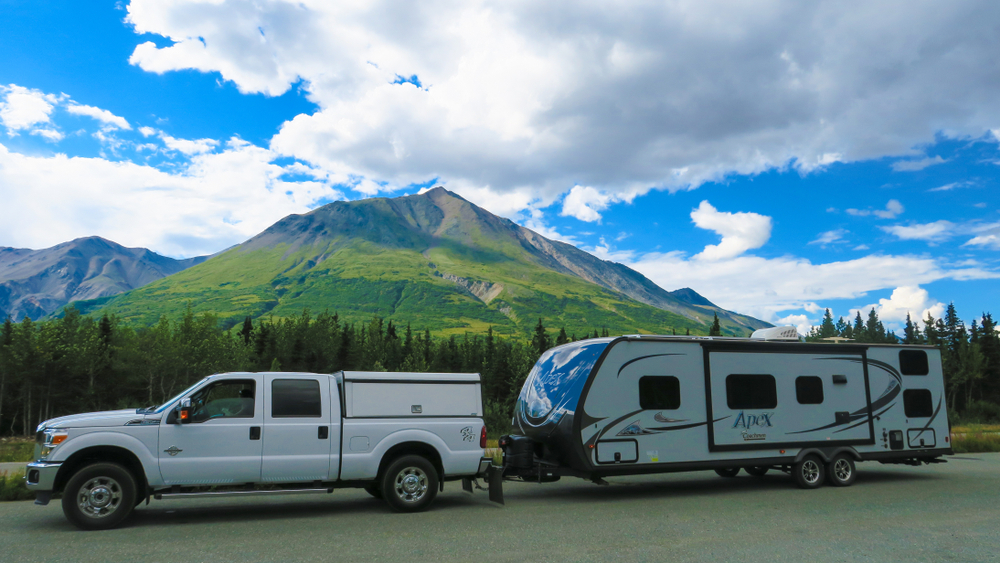 Lower Skilak Lake Campground
This is one of the Kenai Peninsula campgrounds and best of all it's free. It works on a first come first served basis and there are only 14 sites so arrive early.
This is one of the campgrounds and RV parks that is by the water and the area is stunning. It's pretty basic with no hookup but there are tables, firepits, and a boat launch.
The site is located in a small cove along the north side of the lake with a gravel road leading to it. RV campgrounds like this are hard to find and you must give this one a try.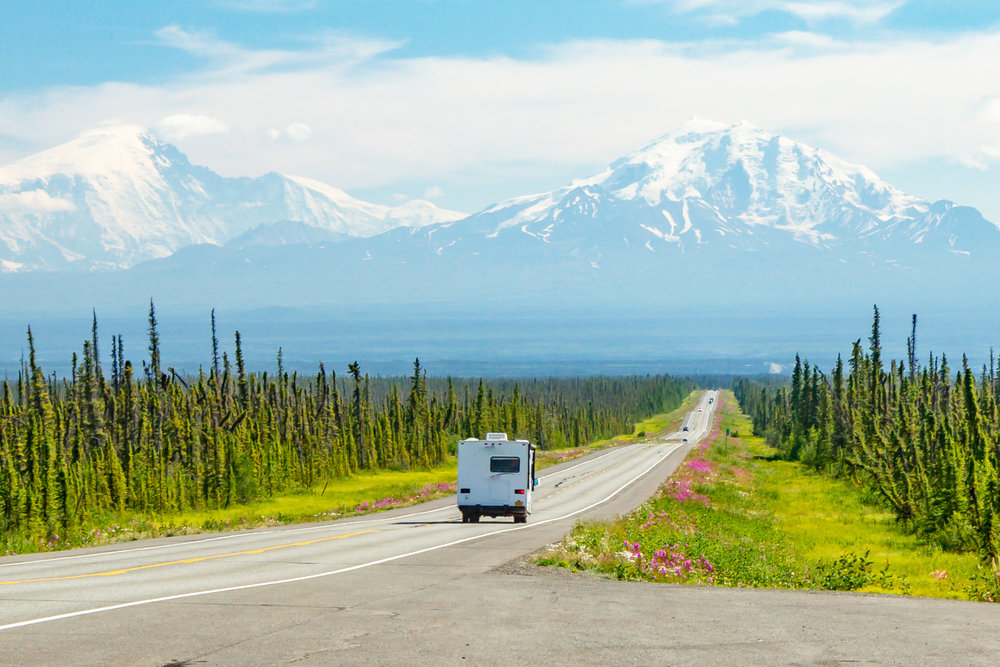 Upper Lake Trail Pull-Out For Dry Camping In Alaska
If you are looking for some off-grid camping in Alaska then this might be just what you are looking for.
Located in Chugach National Forest just off State Highway 9 you might be surprised by how beautiful this pull-off site is.
The pull-out is on the shore of Moose Lake surrounded by wilderness and mountains. There are no hook-ups, no set sights, and no amenities but believe me, it is worth it.
Here you are among nature either in your tent or RV. This is what campsites in Alaska look like in your dreams.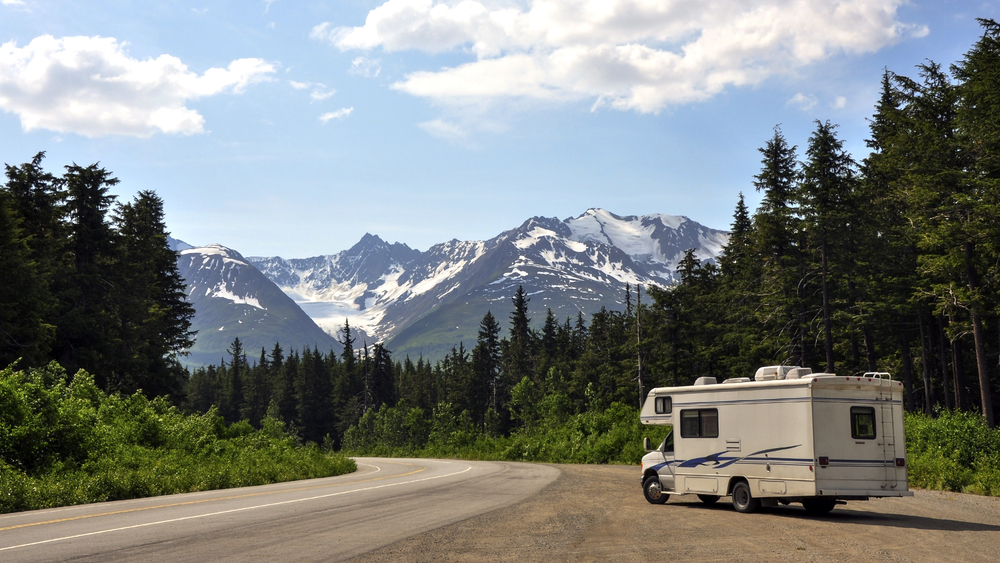 Eklutna Lake Campground
In Chugach State Park this Anchorage campground is set alongside a sprawling 7-mile lake and is beautiful. Here, beauty and outdoor activities go hand in hand.
37 miles outside of Anchorage it's one of the biggest in the area with over 60 sites available. The site is perfect for tent camping as there are no hookups at all.
Picnic tables, latrines, water, and firepits are on site and you can stay up to 15 consecutive nights.
This is a perfect tent camping in Alaska.
Some of the best views on earth are on the drive from Anchorage to Seward.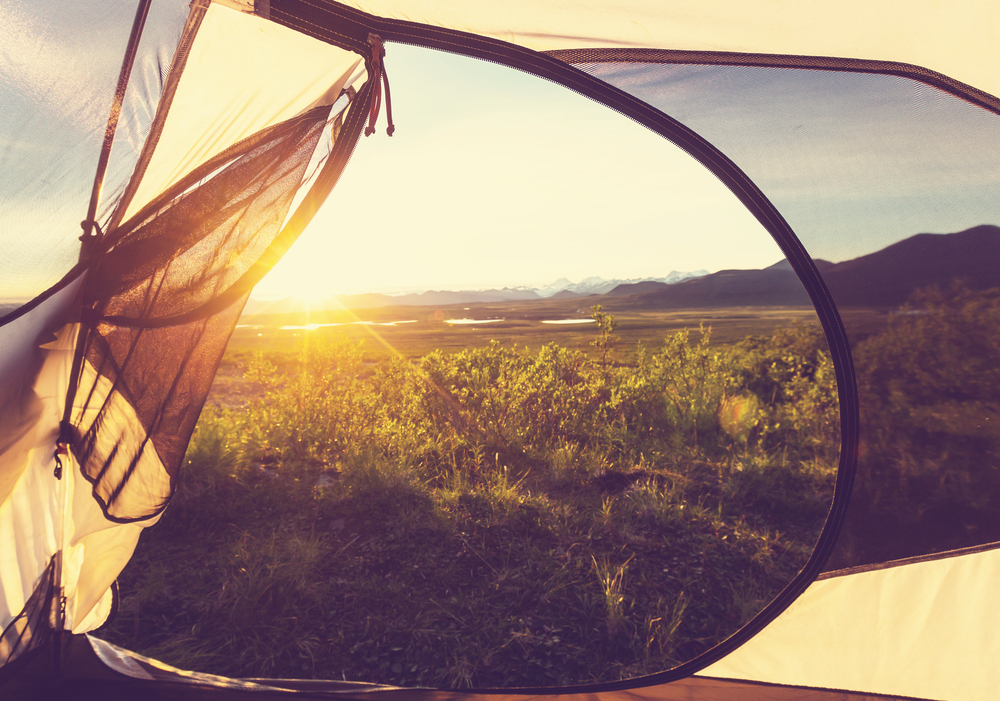 Brushkana Creek Campground
Next to the beautiful Brushkana Creek, this is one of the best sites for camping in Denali, Alaska. It's a primitive campground but incredibly beautiful.
This Denali, Alaska campground is perfect for tents and small RVs and it works on a first come first served basis with only 22 sites so get here early.
The location is scenic and the area around is a great place to explore. There are no hookups and few amenities here though so keep that in mind.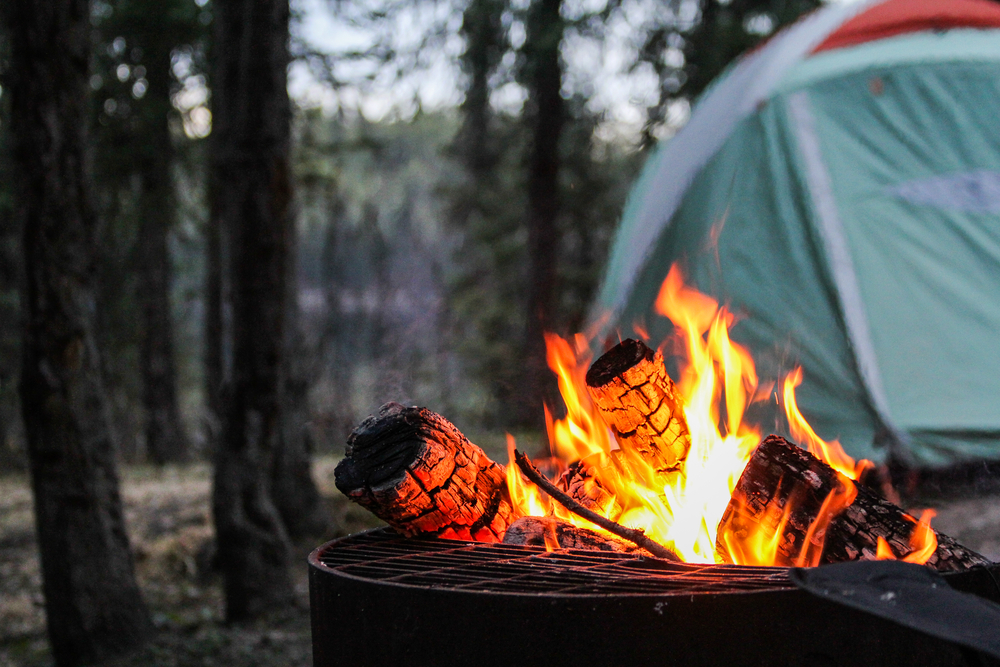 Aniakchak National Monument And Preserve For Camping in Alaska
If you are an experienced backpacker and want to do some off-grid camping in Alaska this is the spot.
It's a remote location with no cell phone reception or rangers so you are 100% on your own here.
There are no designated campsites. It's all primitive here just you and nature. You are exposed to the elements as there isn't much-sheltered ground here.
However, saying all that, if you are willing and able this is a real experience. It's a beautiful location and you are likely to be on your own.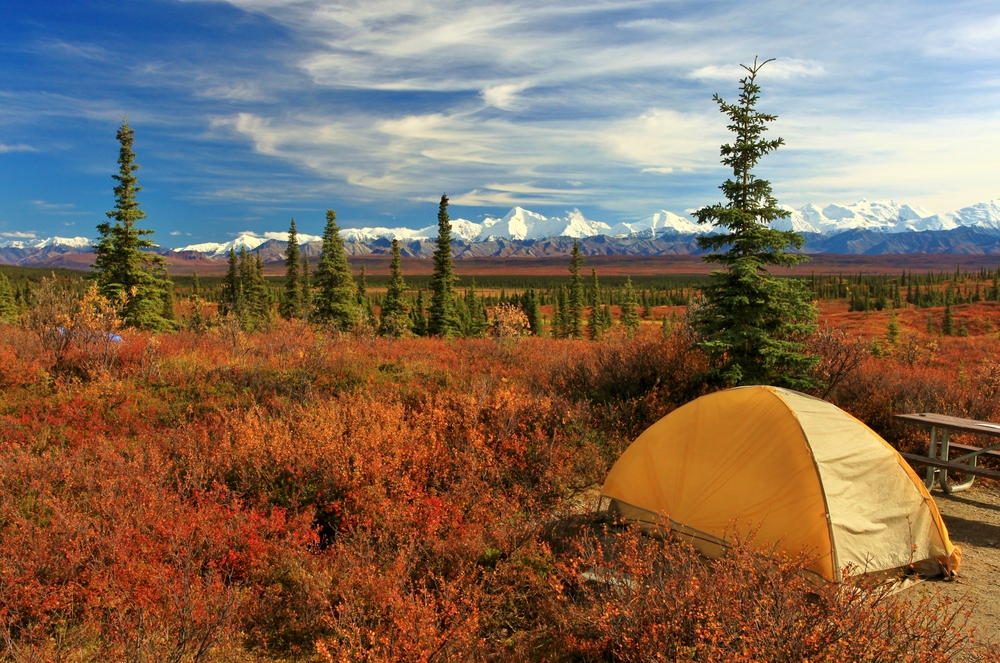 Packing List For Camping In Alaska
If you will be traveling, either by plane or by car to Alaska, here are some tips on how to pack lightly.
A concealed travel pouch may be one of the most important items you bring along when camping in Alaska.
It is always important to protect your personal information. Identity thieves are everywhere.
This unisex RFID-blocking concealed travel pouch is lightweight and comes in several colors. It has lots of organization to give you peace of mind.
You can place it under your clothes next to your body to carry your ID safely.
If you have a pouch already that does not come with RFID protection, as I do, these RFID sleeves are the perfect solution.
This configuration comes with enough credit card sleeves that the entire family would be protected. They are slim too, so they will easily fit into your pouch or wallet.
If you are planning on taking a lot of pictures with your phone you will definitely want to consider an external charging battery.
This Anker high-speed phone charging battery is the exact one I carry with me on all of my trips.
It can be used on a variety of phones, not just an iPhone like I have. And wow is it fast!
My daughter gifted me with this FugeTek selfie stick and tripod setup for my birthday. I absolutely love it! It is made of lightweight aluminum and so easy to use.
It has Bluetooth connectivity and is a breeze to use for taking photos.
You will want to bring your own refillable water bottle with you.
I never leave home on a trip without my Bobble filtration bottle. The 18.5-ounce size is perfect for hiking and it fits nicely in the pocket of a backpack.
Then this collapsible silicone foldable water bottle would work well for you. Would not take up much space at all.
You will want a backpack or daypack with you to store snacks, your water bottle, phone, extra clothes, etc… No matter the time of day or evening.
This foldable water-resistant backpack would be great.
It is very affordable and is available in many color options for you to choose from. The fact that it folds down into a zippered pouch will make it easy to pack.
—
As you can see when it comes to camping in Alaska the options are endless. This list is only a start but I hope it makes your decision-making a bit easier.
Whether you are looking for Anchorage campgrounds, camping in Seward, or off-grid camping in Alaska. I wish you the best on your Alaskan vacation. Please come back and tell me all about it.