Are you looking for things to do in Shoreditch, London? You are in the right place.
There are so many fun things to do in London and visiting Shoreditch should be One of them.
In this article, I will walk you through all the activities in Shoreditch and tell you all the things to do in East London.
Shoreditch is within the London Borough of Hackney in east London. It's a built-up Inner city area with the nearest tube station being Old Street or Liverpool, both about a 10-minute walk away.
Shoreditch is an eclectic, trendy hip, and creative part of London.
It's a vibrant location with some of the best Street Art in London. A lot of creative agencies and tech startups make this place their base.
There is a Shoreditch vibe that is hard to replicate and isn't found anywhere else. It's a far cry from the run-down neighborhood it was 20 years ago.
It's an area you need to experience and should be on your London Tourist Itinerary.
Through the art, the markets, the food, and the many bars Shoreditch sort of happens to you and you just go along for the ride.
When it comes to what to do in Shoreditch hold on to your hats as this will be a wild ride.
Shoreditch London offers some of the more unique experiences, forget stuffy museums and chain restaurants this place has a style all of its own.
So grab a cocktail, pull up a chair, and let me walk you through the best things to do in Shoreditch.
I'll walk you through the bars on Brick Lane, the markets in Shoreditch, Shoreditch activities, and Shoreditch pubs.
If this is your first time in London here are some things to know before you visit.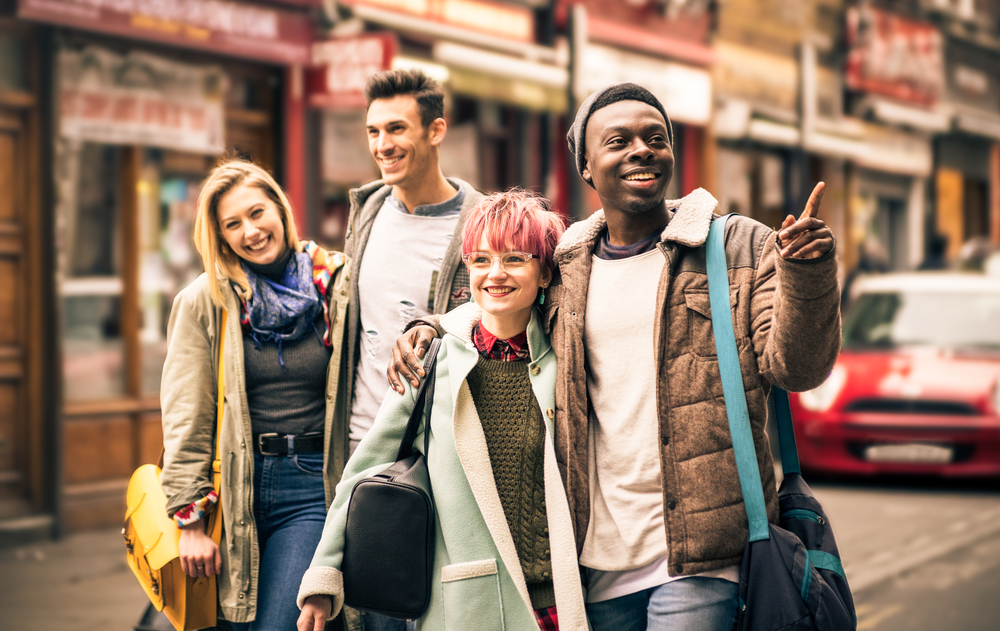 15 Best Things To Do In Shoreditch For Your Bucket List
Marvel At The Street Art
Forget about what to do in Shoreditch this is one of the things to do in London. Shoreditch and street art just go hand in hand, everywhere you go you will find incredible art.
You could spend hours just walking around the streets staring at the walls in awe. It is the best place in London to see street art at its best.
Down every alley, around every corner, on hoardings, on buildings everywhere there is art. Now obviously the very nature of street art means it's always changing.
There is street art by Banksy, Roa, Ben Eine, Ronzo, Wrdsmth, Stik, and Shepard Fairey to name but a few. You can just walk around or get a guided tour.
Take your camera but if you want a selfie in front of one of these masterpieces you better get out early as it gets busy. This is the best thing to do in Shoreditch for sure.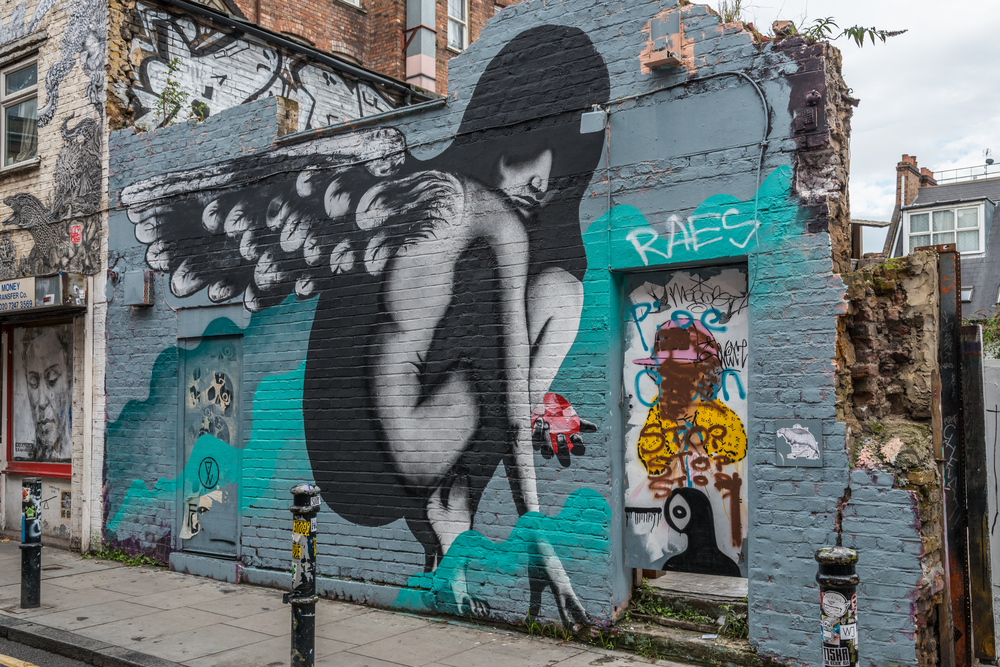 Head To The Lady Dinah's Cat Emporium
Established in 2013 this wonderful cat cafe cares about the cats as much as it does the people who visit. The cats at Lady Dinah's Cat Emporium are all content and live in the shop.
The cats have plenty of places to hide if they wish and plenty of places to interact. The space is split into two areas, a downstairs basement forest and an upstairs tearoom with the cats wandering between the two.
The cats are monitored by cat behavioral experts on a regular basis and if they are not happy they are fostered out. You are told to just let the cats approach you and not hunt them down.
Having a cream tea in London with the cats here is something rather special, a very laid-back chilled-out affair with feline friends joining you as they wish.
If you love cats this is definitely one of the attractions in Shoreditch that you will want to experience.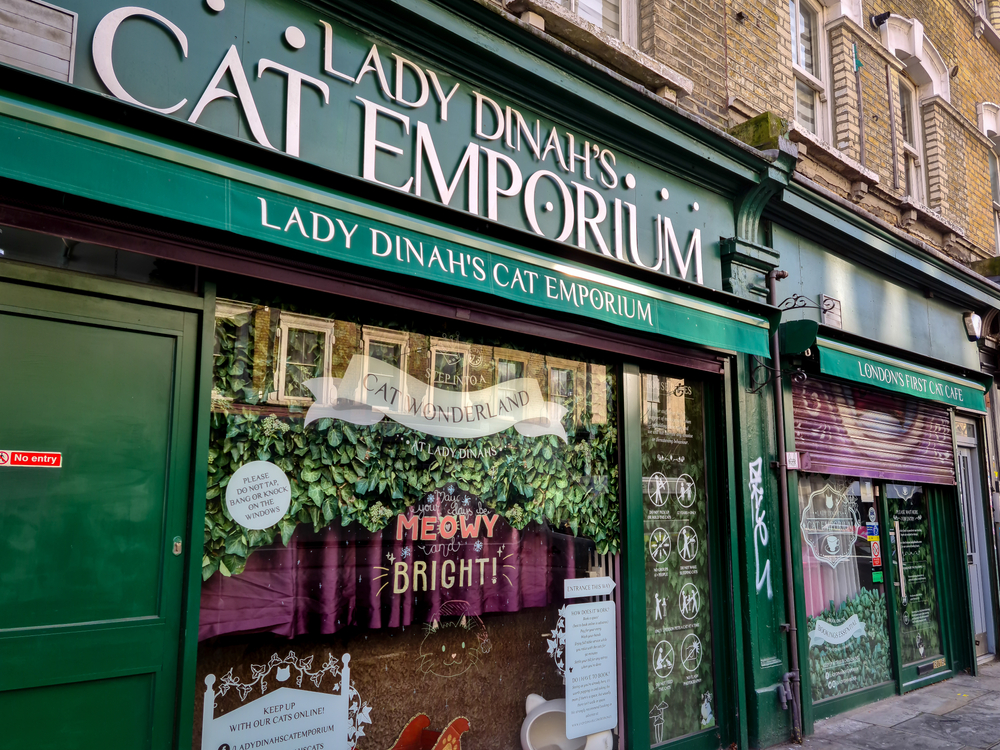 Be A Big Child At Ballie Ballerson
If you fancy being childlike for a while then how about a ball pit cocktail bar? Yes, you heard me right, only in Shoreditch could something like this come together.
With giant ball pits, nostalgic cocktails, and music this is guaranteed fun. Ballie Ballerson is a place like no other and you will get some fantastic pictures for Instagram.
Open most evenings you can just walk into the bar, reserve a VIP table or pre-book ball pit tickets. This is one of the things to do in London.
This is one of the best bars in Shoreditch.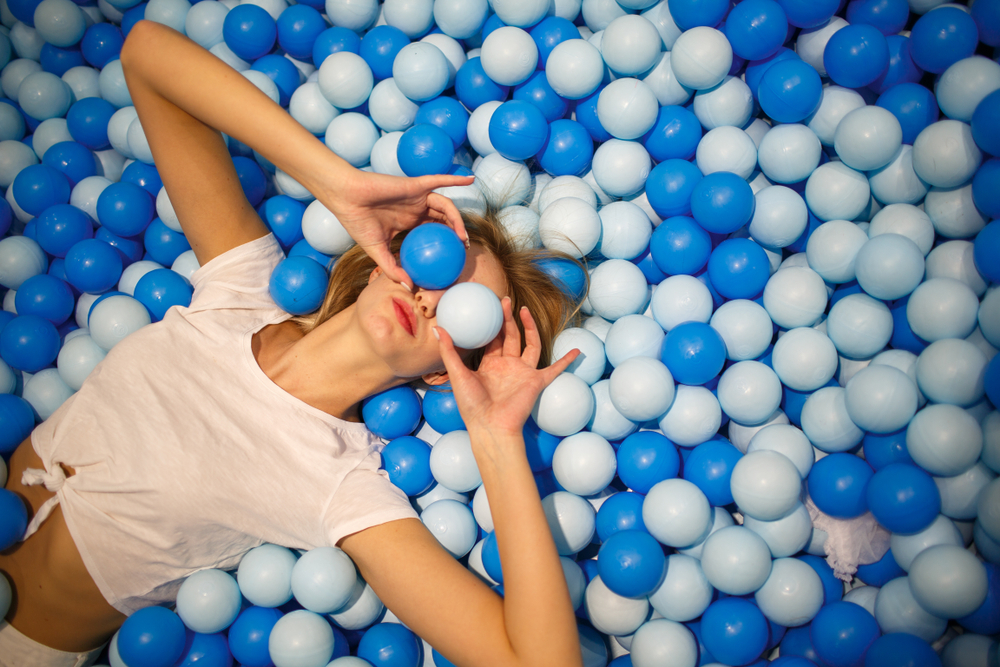 Play Bingo Like Never Before
You might have played bingo before but you have not played bingo like this. Hijingo is a multi-sensory bingo experience.
Here they combine live entertainment, stadium-grade lighting, groundbreaking sonic effects, and mind-blowing motion graphics to create bingo as you have never seen it before.
This is a Shoreditch bar you won't want to miss.
You enter through the Lucky Cat Bar where you have pre-show drinks before the show starts.
They have a bottomless brunch on the weekend and other events taking place so see what is on when you are there.
Here you buy packages, most include 90-120 minutes of bingo play so see which package suits you and make sure you book before you go.
This is one of the unique things to do in Shoreditch London.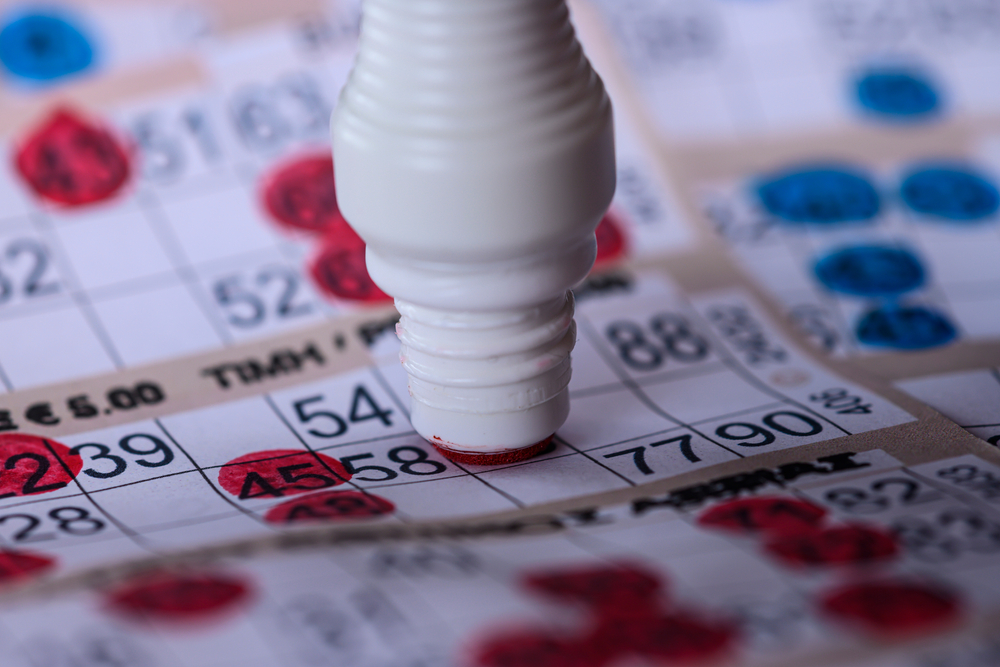 Have A Curry
Brick Lane, Shoreditch is known for two things: bagels (mentioned below) and curry.
For those reading, this who are not English and may be confused, English people love curry, In fact, the English national dish is Chicken Tikka Masala.
At one point Brick Lane was amassed with curry houses and while numbers are dwindling and the curry scene isn't as hot as it once was it's still thriving.
Brick Lane Shoreditch is the place to get a great curry.
Having a curry in one of these places is definitely something to do in Shoreditch Brick Lane.
Down this half-mile stretch of road, there are approximately 23 curry houses, at one point there were over 60.
They are all very similar and sell similar items so just pick which one feels right for you. Most agree Sheba, Cinnamon, or Aladin are the best options.
These curry houses are pretty much open at all hours and you are unlikely to need a reservation so just turn up and see what takes your fancy.
These curry houses are some of the best places to eat in Shoreditch.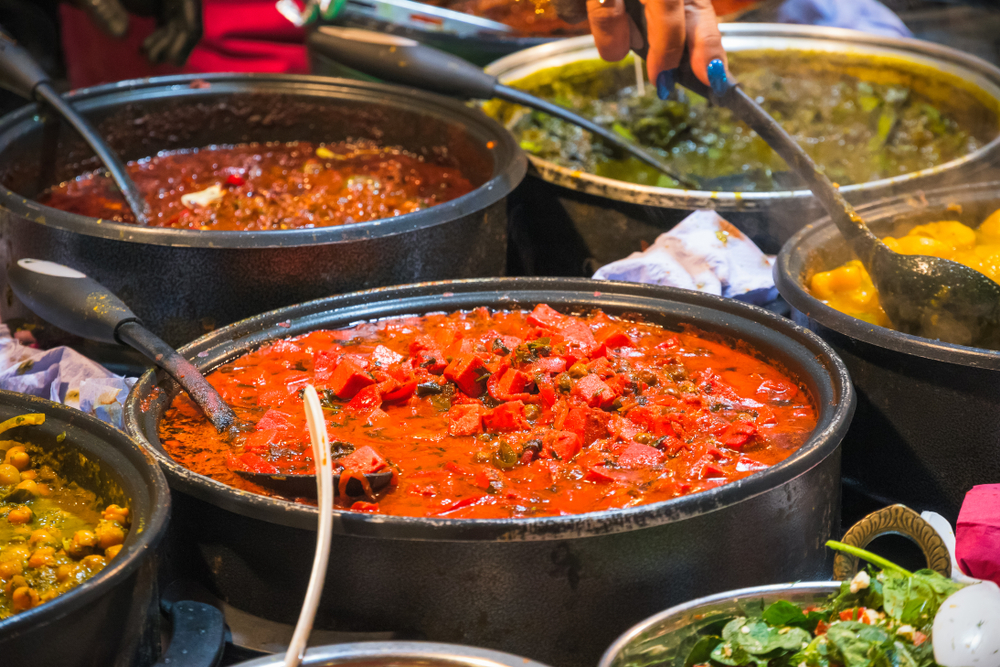 Play Shuffleboard
Shoreditch has the only UK venue that offers both table and lane shuffle. What is shuffleboard I hear you ask?
Well, it's a game in which players use cues to push weighted discs, gliding down a narrow court or a small tabletop. it's kind of similar to ten-pin bowling and curling mixed into one.
The roots of this game go back ages. It was played on the Titanic and Henry VIII is said to have banned it.
The London Shuffle Club is the place to have a go and see if you have a latent talent for this game. Shuffle is played in two teams each team contains 2-8 players.
You book a lane or table. Pubs in Shoreditch don't get much better than this.
You get to play while enjoying food and drink. They do also offer fantastic London bottomless brunches. It's a really fun thing to do especially if the weather outside isn't great.
The London Shuffle Club is one of the best and most fun Shoreditch bars.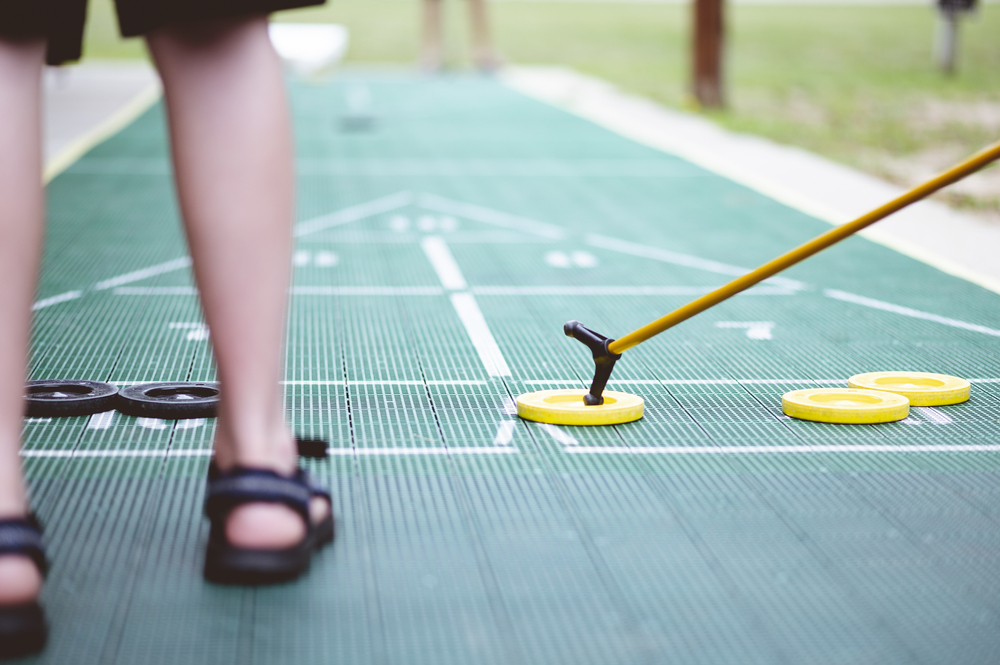 Eat One Of London's Famous Bagels
One of the things to do in east London is to head to the Beigel Bake on Brick Lane. Brick Lane is pretty famous for its Bagels and this is the place that started it all.
Founded in 1855 this bagel shop has provided delicious-tasting bagels to locals and tourists alike.
From humble beginnings, Beigel Bake is now a three-story operation. About 3000 bagels are produced here daily.
People come back here again and again because the bagels are delicious. They come straight out of the kitchen and onto the shelf and there is often a queue out the door.
The most popular is the cream cheese and salmon but they come in many options with the rainbow bagels being very popular.
However you like your bagel, this is the place to come and it is one of the best places to eat in Shoreditch.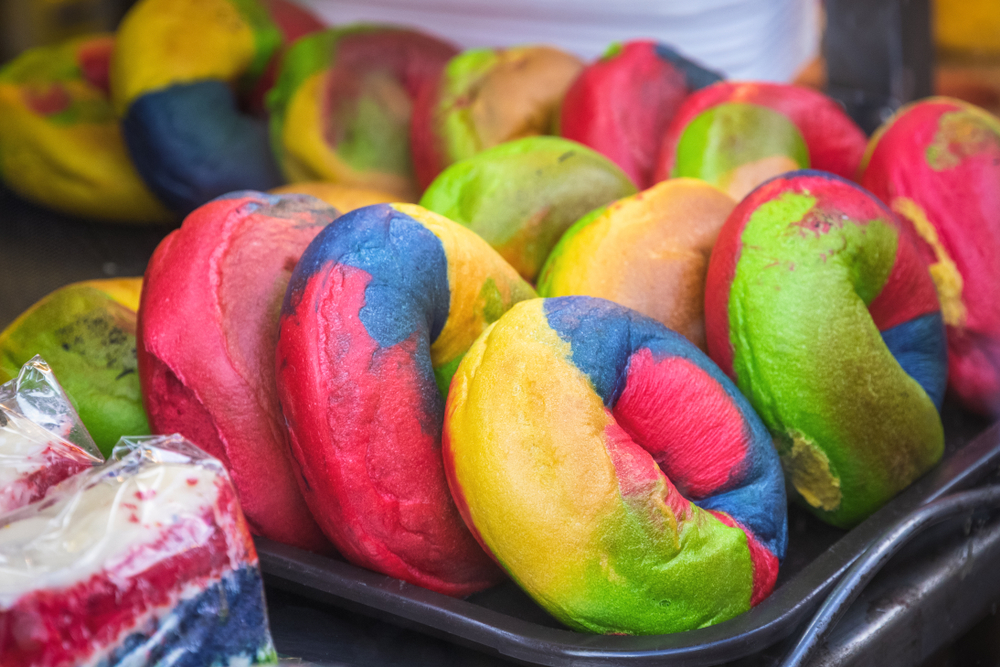 Wonder Around The Museum Of Home
While Shoreditch is not known for its museums there is one and it's really worth a visit. The Museum Of Home explores the concept of homes from 1600 to the present day.
It's free to visit and you don't have to book just check the opening hours.
Currently, there are exhibitions on disability and the home, how home gardens help your mental health, the power of song, and exploring the roles of children in the home.
There are also numerous exhibits that track the changing home through the years. They also have a large selection of articles relating to the home, past and present.
The purpose of this museum is to have us think about the way we live and have lives so we can all live better together.
It's a really interesting way to spend a rainy afternoon. A visit here is one of the attractions in Shoreditch for those who love things a bit quieter.
Go To A Tiny Cinema
In Shoreditch, there is a tiny cinema seating just 40. Just off Brick Lane, Close Up presents films that have shaped art, film, and history. It's one of the only cinemas that still show film reel-to-reel.
It's an intimate space with an air of nostalgia that's hard to beat. You can hire the cinema out for private hire too.
It's situated behind a cafe so don't be confused when you show up. Take a look at the program and see if anything is on while you are there.
This is one of the things to do near Shoreditch Brick Lane.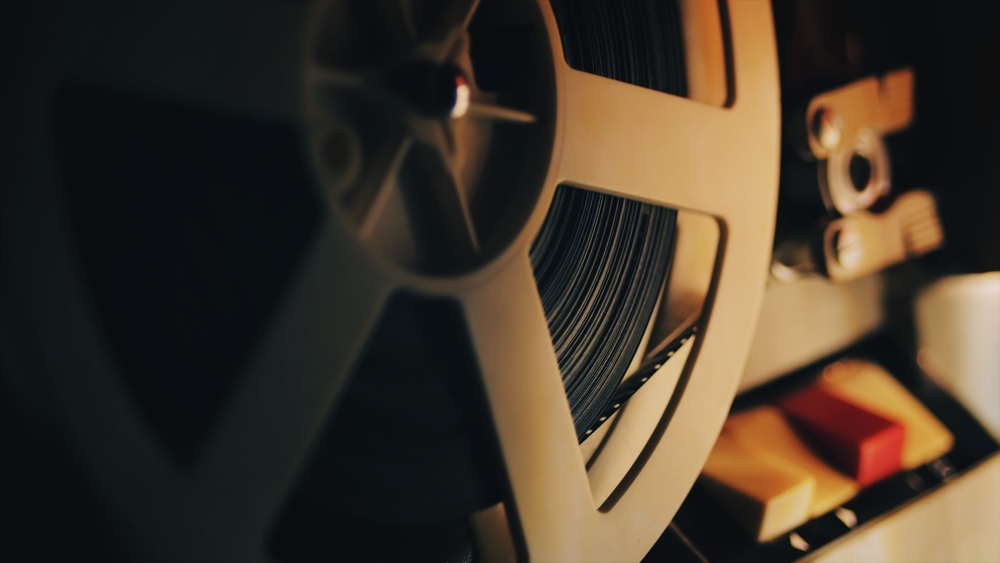 Visit An Art Gallery
While Shoreditch is known for its street art it is also an area packed with art galleries. You will find small independent galleries and spaces selling and displaying every kind of art you can think of.
Perhaps the most notable is Iniva (Institute of International Visual Arts). With an ever-changing and evolving offering the art here represents the social and political impact of globalization.
The art here turns the notion of diversity and difference on its head encouraging debate about the politics of race, class, and gender.
The artists they work with are predominantly British-born and British-based visual artists of African and Asian descent.
Have a look at the program when you are visiting and see what is on and what art is up for display. A thing to do in Shoreditch for those that love all kinds of art.
Walk Through A House Stuck In Time
The Dennis Severs' House is one of the Shoreditch activities most will find interesting. If you love all things old, unusual, and eccentric this is the place for you.
In 1979 Dennis Severs came to Spitalfields and started to renovate a derelict house. He didn't just renovate it he reconfigured it and brought it back to life.
The house tells the story of an imaginary Huguenot family who has lived there since 1724. The house becomes a stage to tell a made-up story staged as if they just left one day.
You will need to book a reservation to enter and the tours are staggered but it is so fascinating.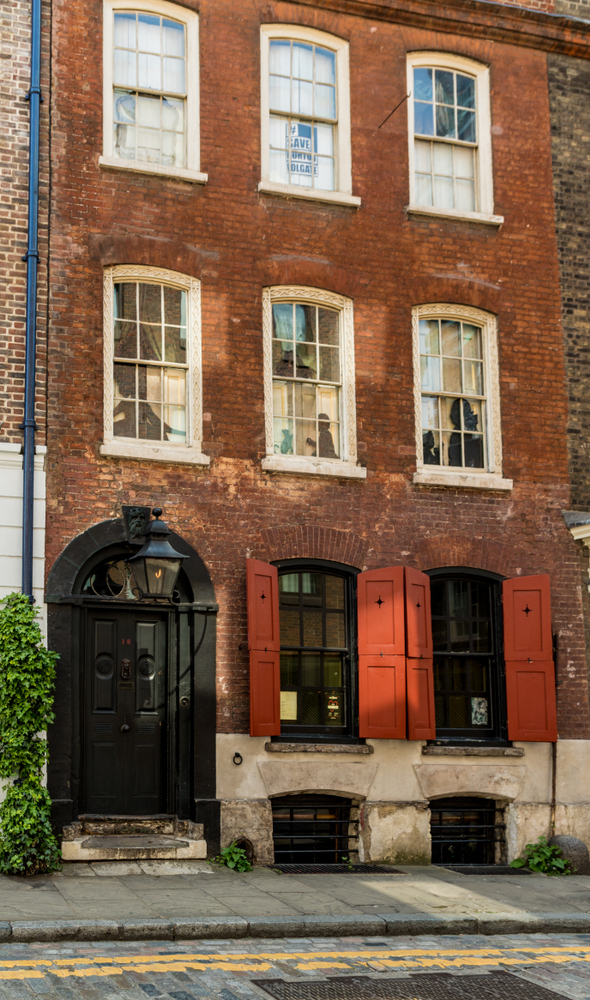 One Of The Best Things To Do In Shoreditch Is To Party All Night
While my clubbing days might be over I'm told that late-night clubbing is all the rage in these parts. Shoreditch comes alive at night and nowhere is this more evident than the late-night clubs.
From basement-style dens to warehouse parties anything goes here. There are circus-themed venues to tiki cocktail hangouts and everything in between.
The clubs and pubs in Shoreditch really are something.
XOYO is one of the most popular and The Queen of Hoxton always gets good reviews. The Glory, The Book Club, and The Old Blue Last are places people also rave about.
If clubbing is your thing then Shoreditch, London is the place for you.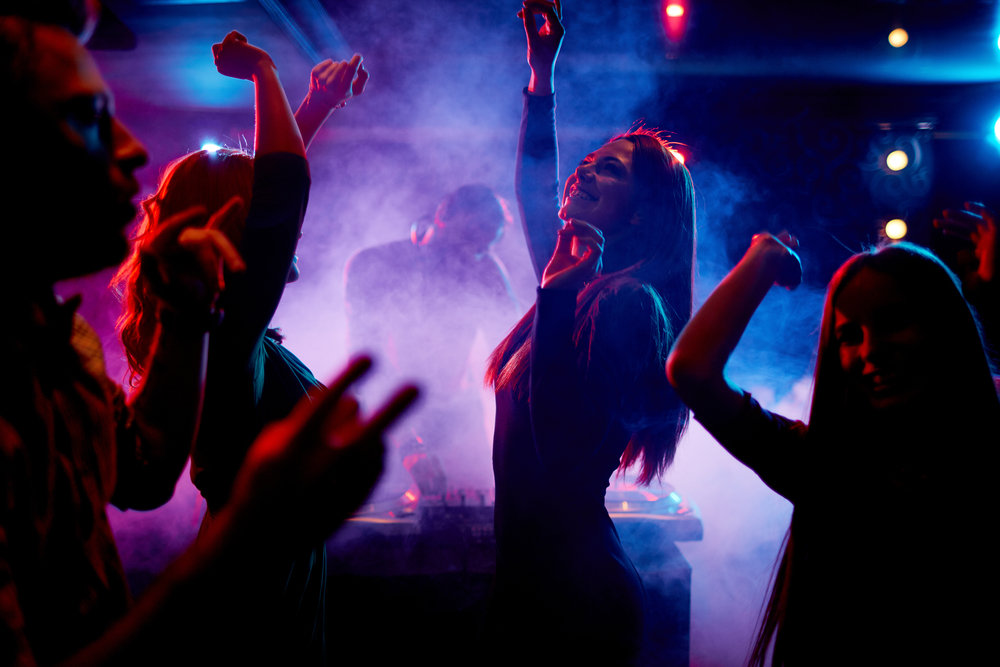 Sample The Food Stalls
Shoreditch is well known for its pop-up shops and street food markets. Whatever food you love chances are you will find it in Shoreditch.
What's available changes frequently so just walk around and see what is on offer from the many stalls and takeaway shops.
You will find vegan fare, steaming hot coffee, doughnuts, fried chicken, you name it Shoreditch has it.
La La Land is a great place for street food in the evening and Boxpark has some great options. Urban Food Fest also opens in spring.
The Upmarket Food Hall accommodates 40 of the most eclectic street food traders and is open on the weekend. It's an event in Shoreditch you don't want to miss.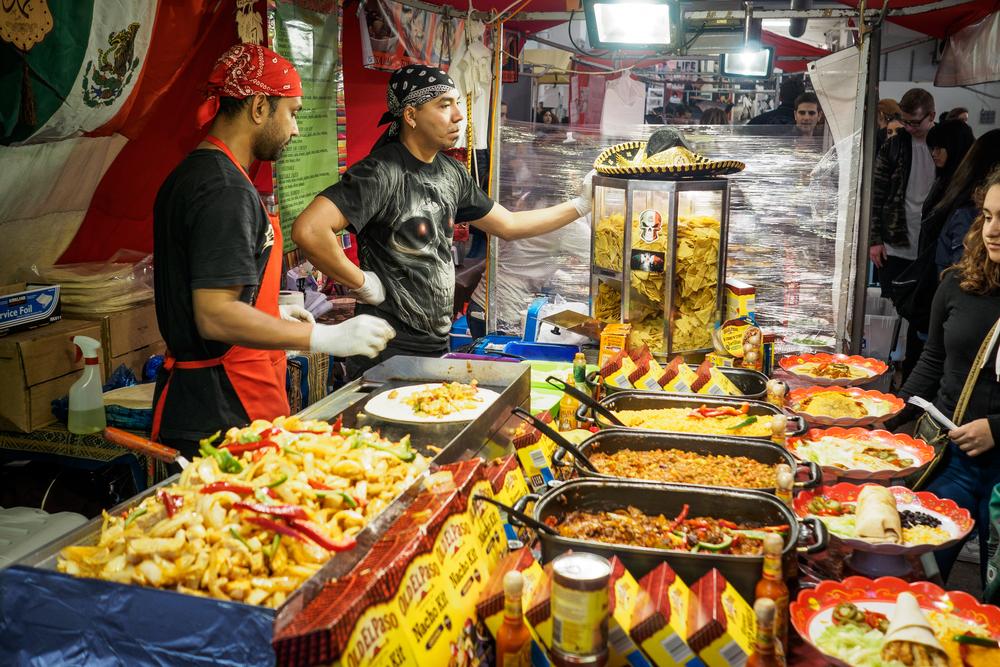 Exploring The Markets Is One Of The Best Things To Do In Shoreditch
Having a mooch around the markets in Shoreditch is definitely something you want to do if you have the time.
You never know what gem you might find. Shopping in Shoreditch is a great experience.
Most agree that the best market in this area is Brick Lane Market. Open on Saturdays and Sundays you can't miss it as it takes up a large area.
The market is full of bric-a-brac, antiques, kitsch collectibles, and a host of other things.
The Truman Brewery Sunday Upmarket, The Backyard Market at Old Truman Brewery, and the underground Brick Lane Vintage Market are also worth a visit.
Old Spitalfields market just on the outskirts of Shoreditch is also worth a visit. And each Sunday Columbia Road bursts into color as the Columbia Road Flower Market springs into life.
Exploring a Shoreditch market is a great way to spend some time.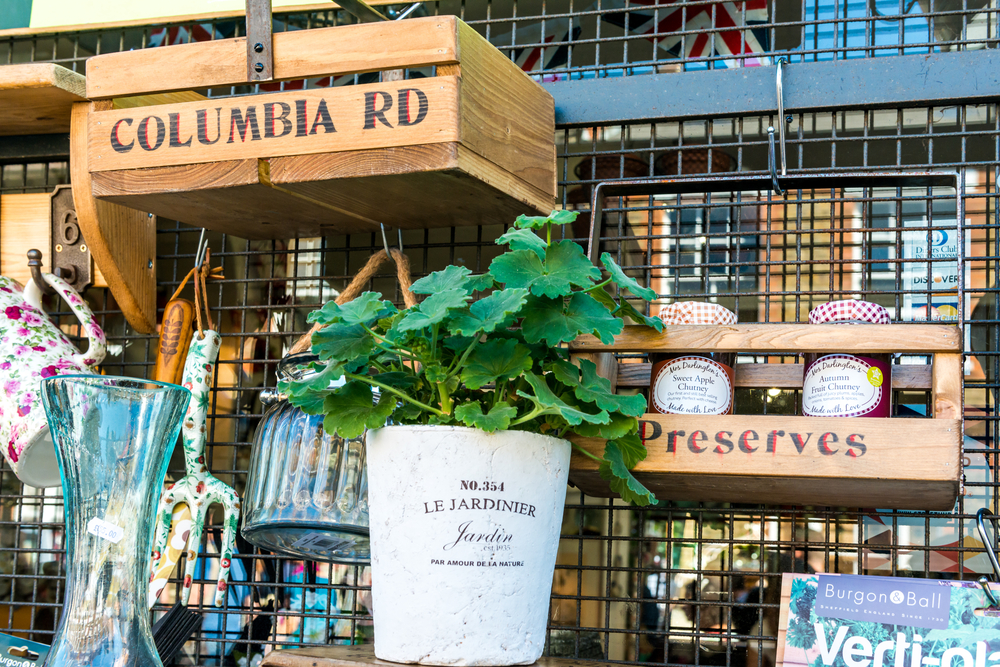 Listen To Live Music Is One Of The Fun Things To Do In Shoreditch
If you love live music then Village Underground is one of the attractions in Shoreditch you need to visit.
There is something pretty much going on all the time here so check and see who is playing when you are there.
For me, there couldn't be a venue that sums up Shoreditch more than this. It's a renovated coal house with tube carriages perched on top and street art on the outside. You can't miss this place.
It calls itself part creative community and part arts venue and it puts on everything from concerts to exhibitions to live art to club nights.
Creativity and culture come together here to form something quite unique.
Here they are committed to introducing the next generation of talent to the world so expect diverse and electric acts. If you are looking for Shoreditch events this is where to come.
Check what is one while you are there and book something that you'll enjoy, you won't regret it.
This is one of the things to do in Shoreditch for those who love attending live events. Shoreditch bars really do come in all shapes and sizes.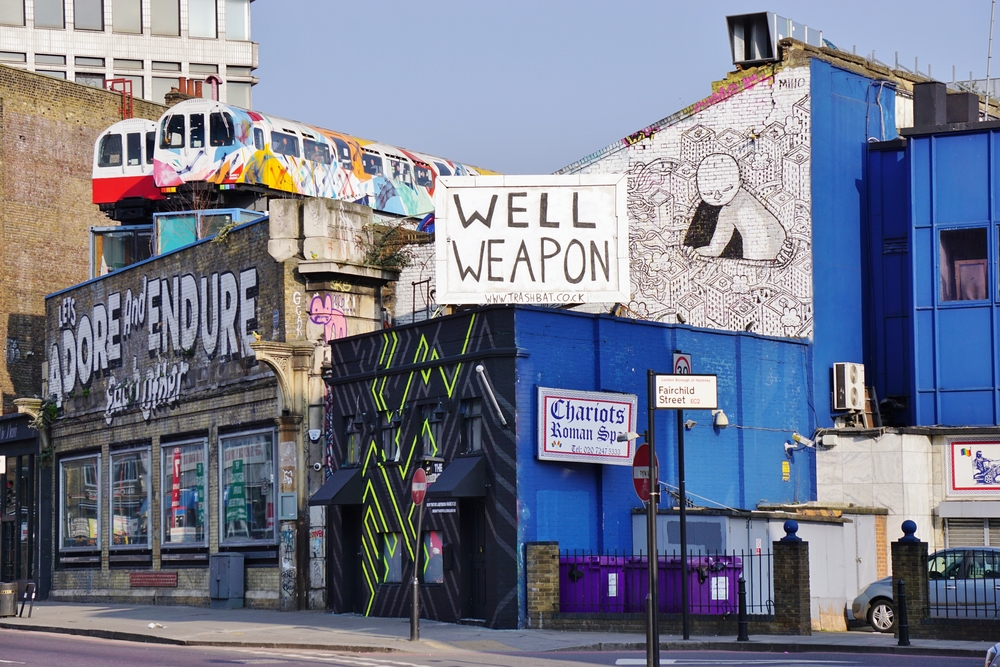 Packing List When Looking For Things To Do In Shoreditch London
If you will be traveling, either by plane or by car to London, here are some tips on how to pack lightly.
A concealed travel pouch may be one of the most important items you bring along when attending events in Shoreditch.
It is always important to protect your personal information. Identity thieves are everywhere.
This unisex RFID-blocking concealed travel pouch is lightweight and comes in several colors. It has lots of organization to give you peace of mind.
You can place it under your clothes next to your body to carry your ID safely.
If you have a pouch already that does not come with RFID protection, as I do, these RFID sleeves are the perfect solution.
This configuration comes with enough credit card sleeves that the entire family would be protected. They are slim too, so they will easily fit into your pouch or wallet.
If you are planning on taking a lot of pictures with your phone you will definitely want to consider an external charging battery.
This Anker high-speed phone charging battery is the exact one I carry with me on all of my trips.
It can be used on a variety of phones, not just an iPhone like I have. And wow is it fast!
My daughter gifted me with this FugeTek selfie stick and tripod setup for my birthday. I absolutely love it! It is made of lightweight aluminum and so easy to use.
It has Bluetooth connectivity and is a breeze to use for taking photos during your Shoreditch axtivities.
You will want to bring your own refillable water bottle with you.
I never leave home on a trip without my Bobble filtration bottle. The 18.5-ounce size is perfect for hiking and it fits nicely in the pocket of a backpack.
This replaceable carbon filter ensures fresh drinking water when you want it.
Then this collapsible silicone foldable water bottle would work well for you. Would not take up much space at all.
You will want a backpack or daypack with you to store snacks, your water bottle, phone, extra clothes, etc… No matter the time of day or evening.
This foldable water-resistant backpack would be great.
It is very affordable and is available in many color options for you to choose from. The fact that it folds down into a zippered pouch will make it easy to pack.
—
As you can see when it comes to things to do in Shoreditch there are so many interesting and unique options.
Whether you explore the Shoreditch markets or the bars of Brick Lane I know you will have an amazing time. The shopping in Shoreditch is amazing and the Shoreditch pubs are always fun.
I hope you have a fabulous time and I can't wait to hear all about it.