Are you looking for the best markets in London? You are in the right place.
In this article, I will walk you through some of the London markets and show you which ones to visit. From the famous markets in London to some of the lesser known, I have covered them all.
There are so many things to do in London and visiting one of these historical markets is a great way to spend a morning or afternoon.
Planning your trip to London last minute?
Make sure to book ahead! Hotels and tours often sell out the closer you get to your trip. Here are our top pics for London!
Top Experiences and Tours In London:
Best London Hotels:
From Covent Garden to Spitalfields the street markets in London offer something different.
Whether you are taking a whirlwind trip to this amazing city or plan to stay longer make sure you pop in to see at least one of these London markets.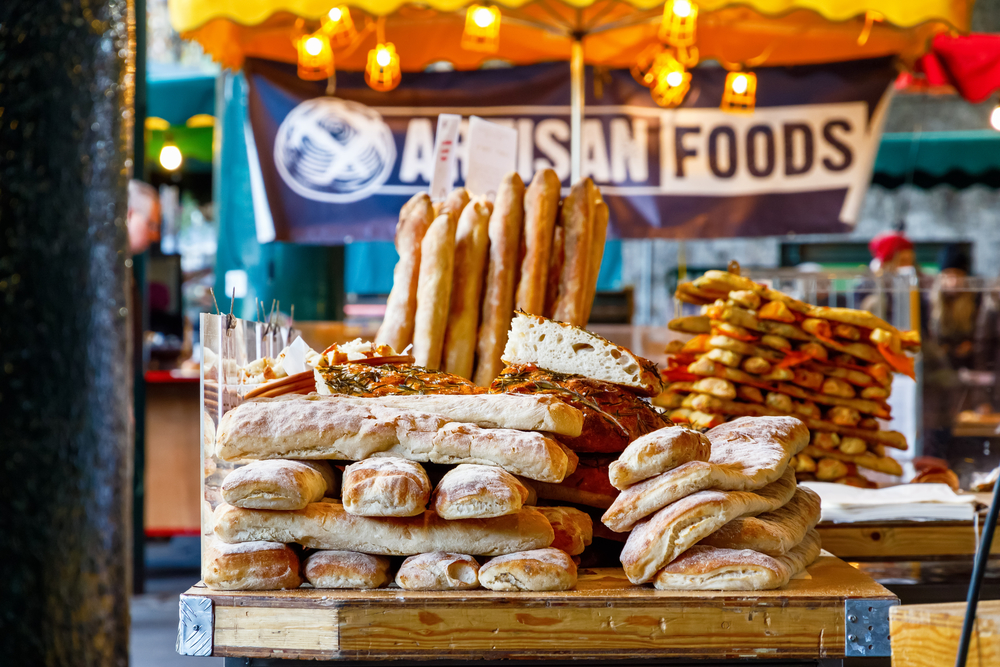 Best Markets In London: 15 You Must Visit
Walthamstow Market For Great Streat Shopping
If you want to do some London street shopping then how about an extraordinary 1km-long marketplace that offers a diverse range of goods and an unrivaled shopping experience?
Walthamstow Market, known as the longest outdoor market in Europe, is situated in the London Borough of Waltham Forest and a visit here is a must.
Whether you're searching for fresh produce, household essentials, or fashionable attire, this market has it all.
Saturdays are particularly vibrant, as additional traders join the fray, offering unique antiques, tantalizing street food, and beautifully crafted handmade goods.
To ensure you don't miss out, it's advisable to arrive early, as some traders wrap up their stalls before closing time.
Sundays bring a delightful change of pace, as the market transforms into a farmers' haven from 10 am to 2 pm. Indulge in the finest organic eggs, artisanal cheeses, cooked sausages, and seasonal fresh game.
It's a haven for food enthusiasts seeking quality and flavor. It's one of the best Sunday markets in London.
Walthamstow Market truly encapsulates the vibrant spirit of this dynamic borough. It is one of the best markets in London if you want to get a feel for something truly authentic.
If you are looking for London markets on Saturday head here.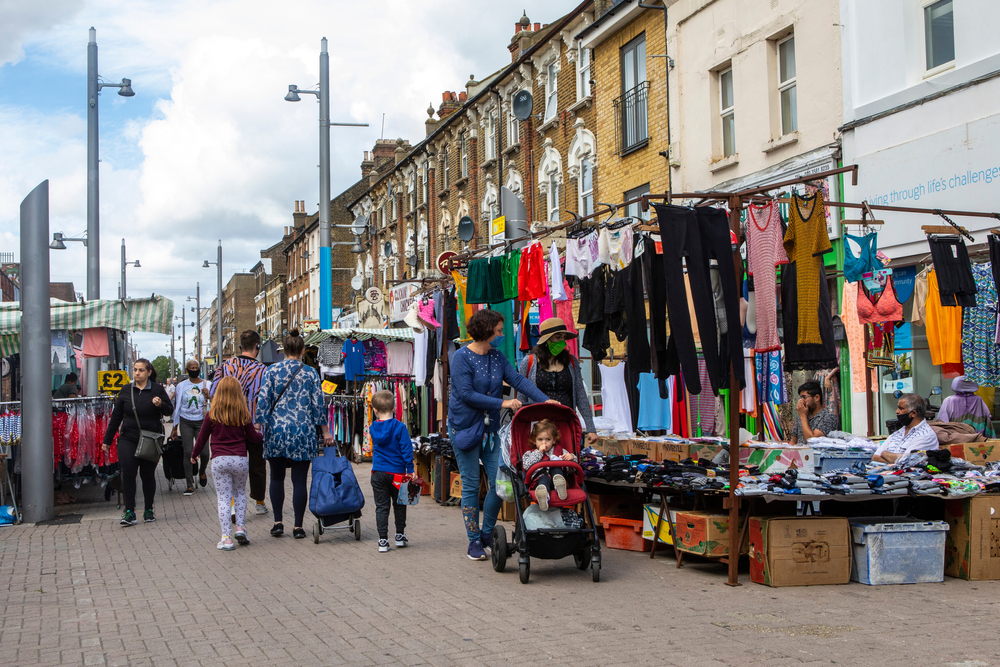 Camden Market For Great Clothes
Most will agree that there are so many things to do in Camden. It has the best market in London!
This vibrant hub is not merely a single market but a combination of five distinct quarters adorning the stretch between Camden Town and Chalk Farm.
Each one holds its own allure, even the smaller gem like Inverness Street Market with its unique charms.
However, if time permits for just a couple of visits, I feel Camden Lock Market and Camden Stables Market should take precedence.
Camden Lock Market combines independent artisans with a delightful street food market by the water's edge. Camden Stables Market is where you go for something eccentric and different.
Of all the markets in London, this is one of the most well-known and people have been shopping here for decades to find that unique clothing item. It is one of the best clothes markets in London.
It does get busy though so if you can avoid the weekend I would. This is one of the best vintage markets in London.
The restaurants in Camden are great if you want to check out some of them all.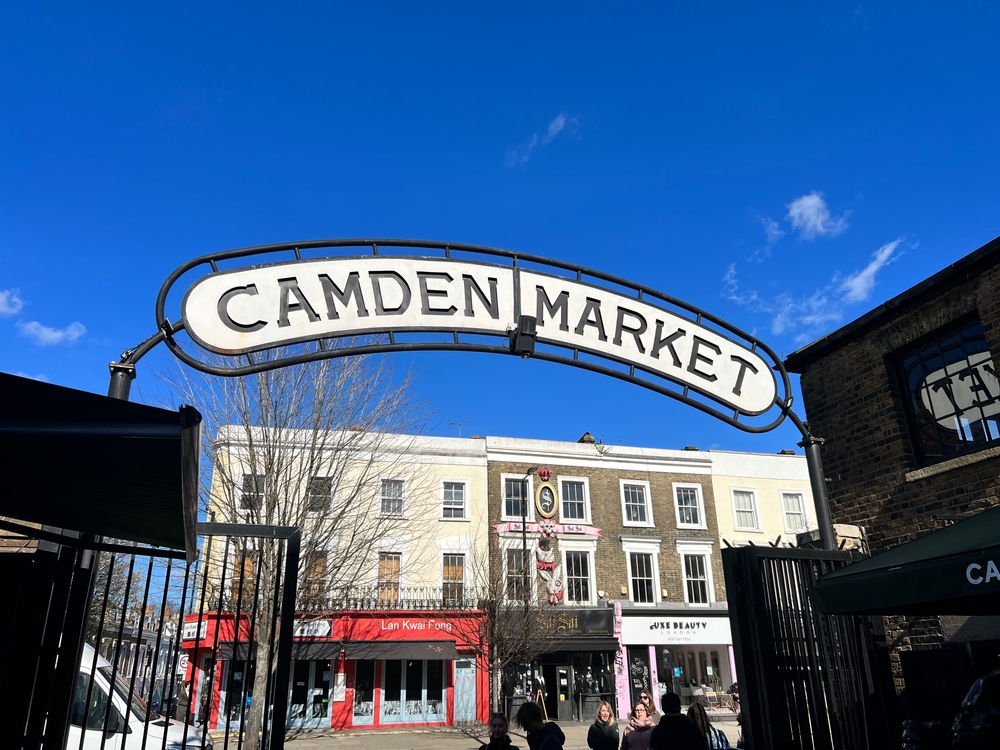 Borough Market London For Food And Charm
London street shopping does not get much better than it does here. As London's oldest market, it continues to thrive and holds the esteemed title of the city's most renowned food market.
From fragrant, freshly-baked bread to fishmongers and cheesemongers, and vibrant organic vegetable grocers, the offerings here are endless.
For a diverse range of street food dishes, venture to Borough Market Kitchen located at the market's rear.
Located near London Bridge it's a little slice of culinary heaven among all the London sightseeing. It is also one of the more beautiful markets in London and can be on the expensive side.
However, it's charming and one of the best markets in London.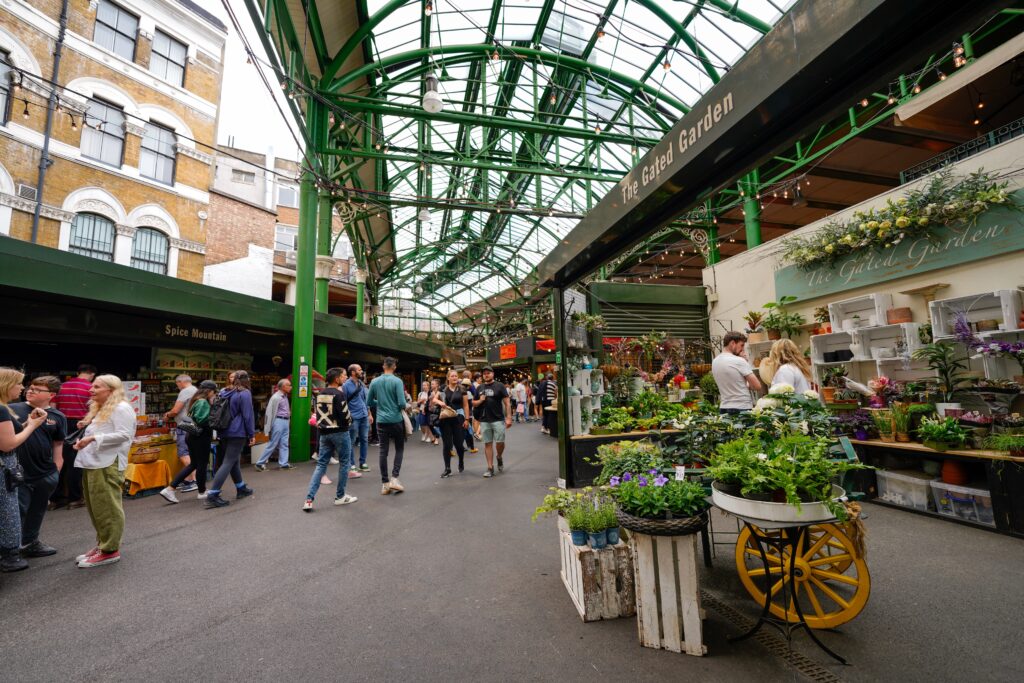 Brixton Market For Culture
Over the past decade, Brixton Village and Market Row have gone through a lot of changes. It is now a vibrant mix of stalls, and shops, representing an authentic slice of South London.
Here you'll find a fusion of cultures. Jerk chicken stalls mingle with West Indian produce and upscale cheese shops, creating a unique tapestry of flavors and experiences.
As you explore the outdoor market along Electric Avenue, you'll encounter a diverse range of traders offering an abundance of goods, encompassing everything you can imagine and even a few surprises.
Here there are indoor and outdoor markets that both cater to a wide range of interests. There is a certain energy to Brixton that is hard to find elsewhere.
Here culture, culinary, and vibrancy all come together to form something very special.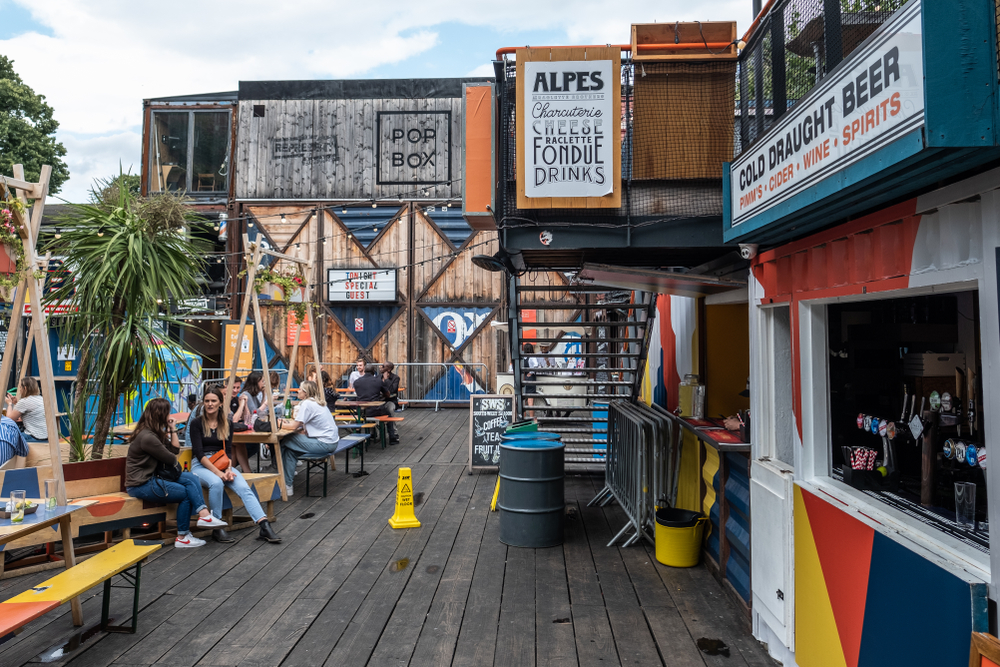 Broadway Market London For A Bit Of Everything
This street market is situated in Hackney, North London. There are over 70 shops, cafés, restaurants here, and stalls that sell everything you can imagine.
The market is on an East End street between the Regent's Canal and London Fields. The street is part of the old "Porter's Path" and has been in use since Roman Times. The nearest tube is Bethnal Green.
This is one of the London markets on Saturday. It is part food market, part farmers' market, part clothing market, and part craft market.
This market has also been featured in a lot of films such as Buster and is said to be the inspiration for Eastenders. If you are after an authentic experience then this is one of the best east London markets.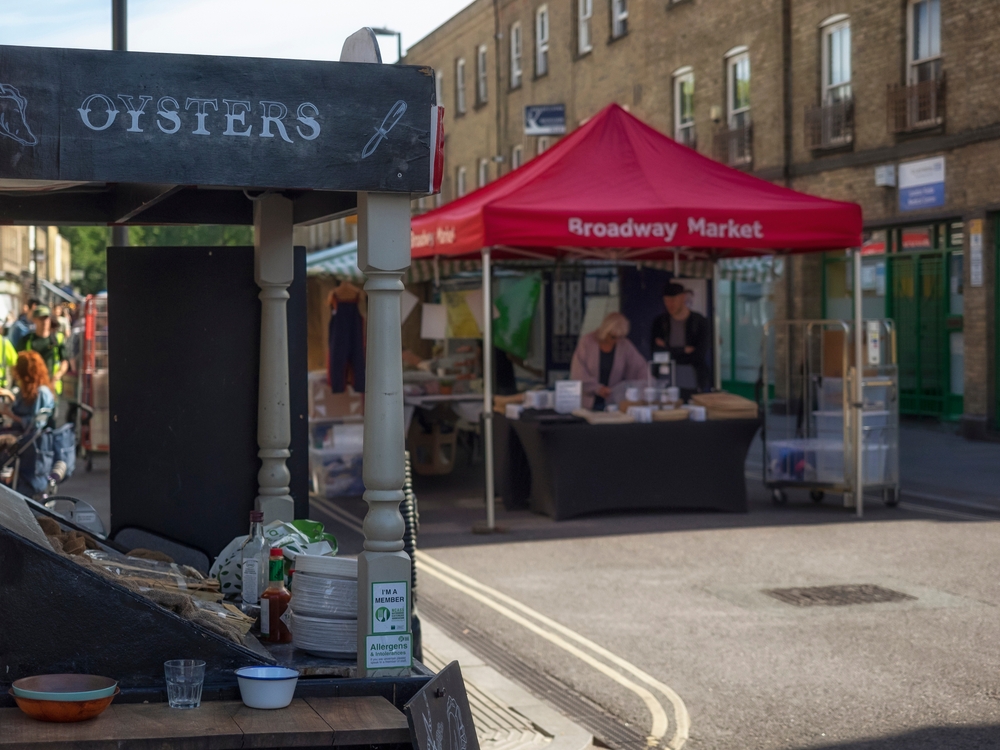 Portobello Market London For An Iconic Location
Sometimes called Notting Hill Market this is one of the most famous markets in London.
Nestled in the coveted neighborhood of Notting Hill, the Portobello Road market is the world's largest antique market and has a charm all of its own. London street markets don't get more iconic than this one.
Stretching along the meandering path of Portobello Road, the market comprises five interconnected sections, each catering to different interests.
From fresh produce to clothing, second-hand goods, household items, a flea market, and a treasure trove of antiques, there's something for everyone.
On Saturdays, the antique section truly takes center stage, solidifying Portobello's reputation as one of London's must-visit Saturday markets. The market is not open on Sunday
This is one of the best markets in London.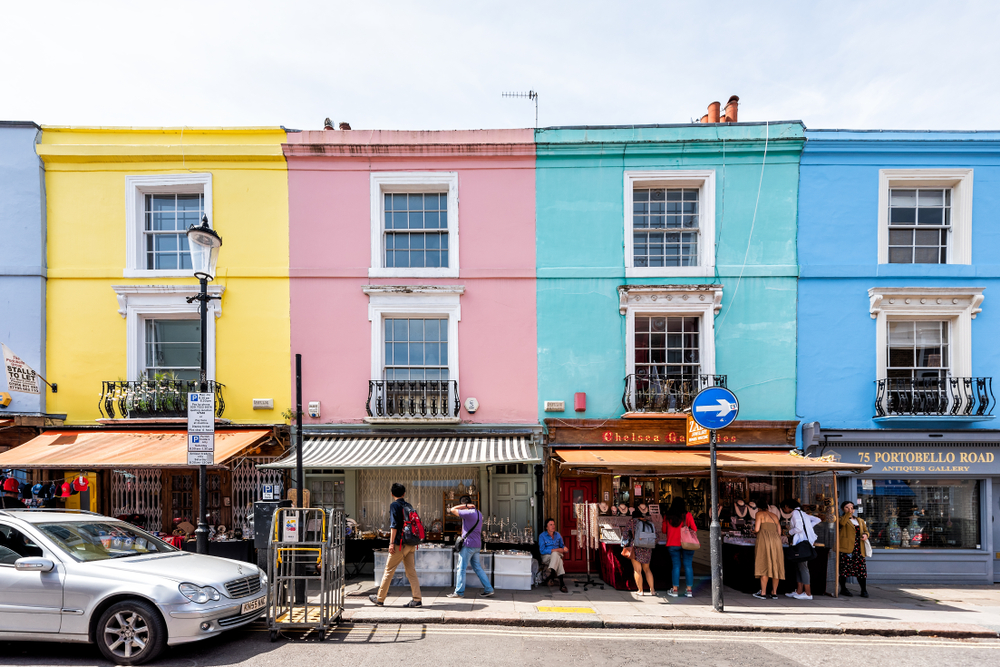 London Bridge Christmas Market For Shopping Near The Sights
If you are looking for a London Christmas market then head to Christmas by the River at London's Tower Bridge.
Here you will find traditional themed wood cabins, captivating lighting fixtures, and an exceptional selection of traders offering a delightful array of goods.
Spanning from Tower Bridge to Hays Galleria, the market has truly unique products to create a magical experience. These products are among all the festive spirit and Christmas fare you could ask for.
This is the best Christmas market in London and is in one of the most beautiful locations.
Christmas in London is just phenomenal.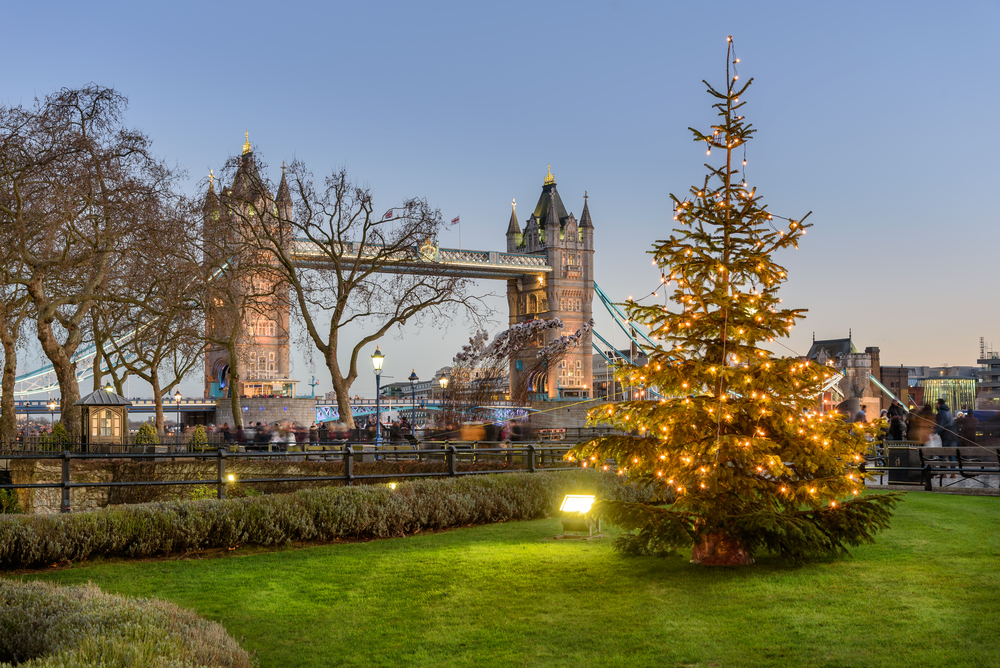 Southbank Christmas Market To Embrace The Winter Season
Considered by most to be the best Christmas market in London the Southbank Winter Festival is an annual event that embraces the winter season.
Here you will find festive decorations, live music, delectable food, bustling markets, and an array of activities for the whole family.
The Southbank Christmas Market is situated on the picturesque south bank of the River Thames, Southbank.
It's set among iconic landmarks such as the London Eye, the Royal Festival Hall, and the National Theatre.
This is one of the few outdoor markets in the heart of London, that offers traditional Alpine-style wooden chalets, enticing street food stalls, and lively entertainment.
Whatever Christmas treats and delights you want you can probably find them here.
If you are looking for a London Christmas market this one might just be perfect.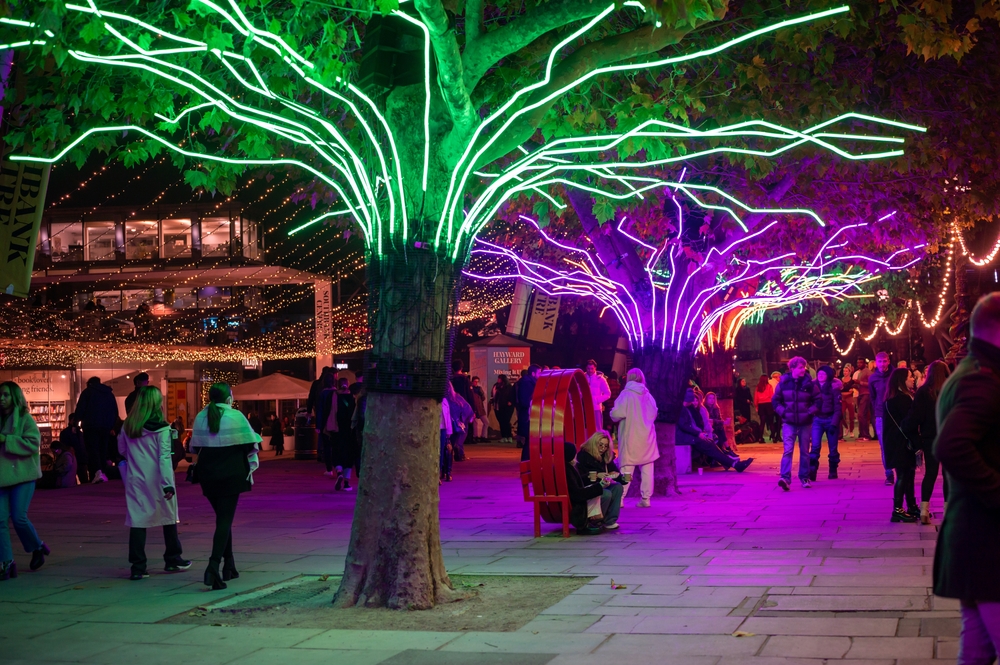 Covent Garden Market For A High-End Market
One of the famous markets in London, Covent Garden has a lot to offer. It might not be what you think of as a traditional market but nevertheless, it is worth a visit.
If you attend during the weekend you'll stumble upon independent shops and quirky treasures and the Apple Market comes alive. You will find independent traders serving everything from jewelry to artwork.
Covent Garden Market is part of a larger shopping and entertainment district that caters to absolutely everything you could ever want.
There are so many great restaurants in Covent Garden and Covent Garden bars that it's an area well worth exploring.
London markets don't get much more aesthetic than here. It holds a unique charm and effortlessly blends history with shopping. Oh and keep an eye out for the street performers as they are incredible.
This is one of the best London markets.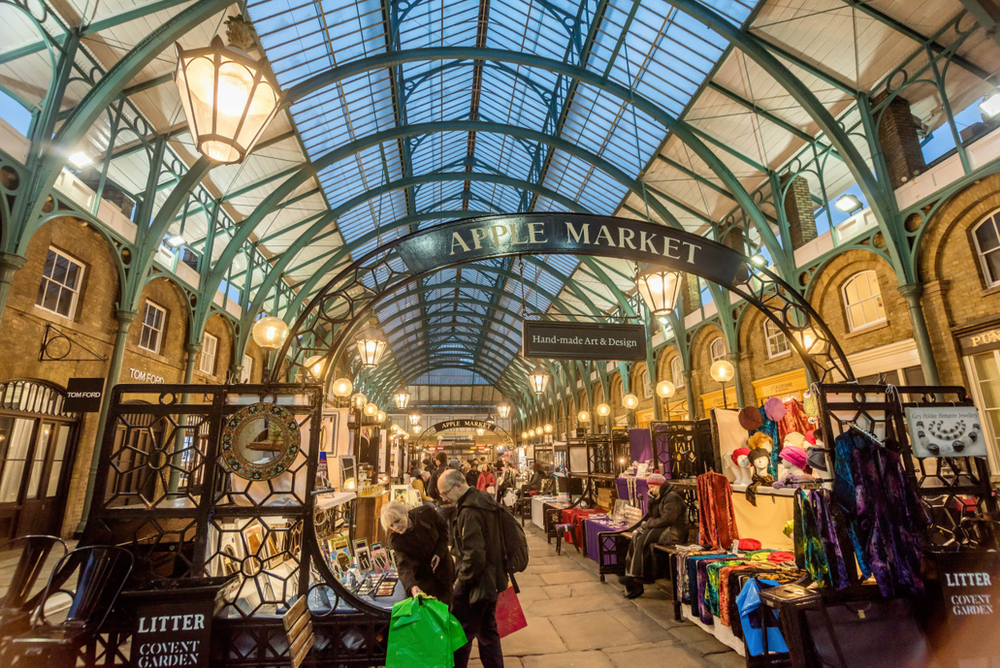 Spitalfields Market London For Great Antiques
Spitalfields is one of the most famous markets in London. Moments away from Liverpool Street Station it is a vibrant destination. This Victorian market is open every day and always offers something different.
Thursday is the Old Spitalfields Antique Market which is always wonderful. And while the shopping treasures found here are excellent the food is even better.
This is one of the best vintage markets in London.
It is one of the trendiest covered markets in London with a vibrant atmosphere. Here shopping and gastronomy come together to form something rather special.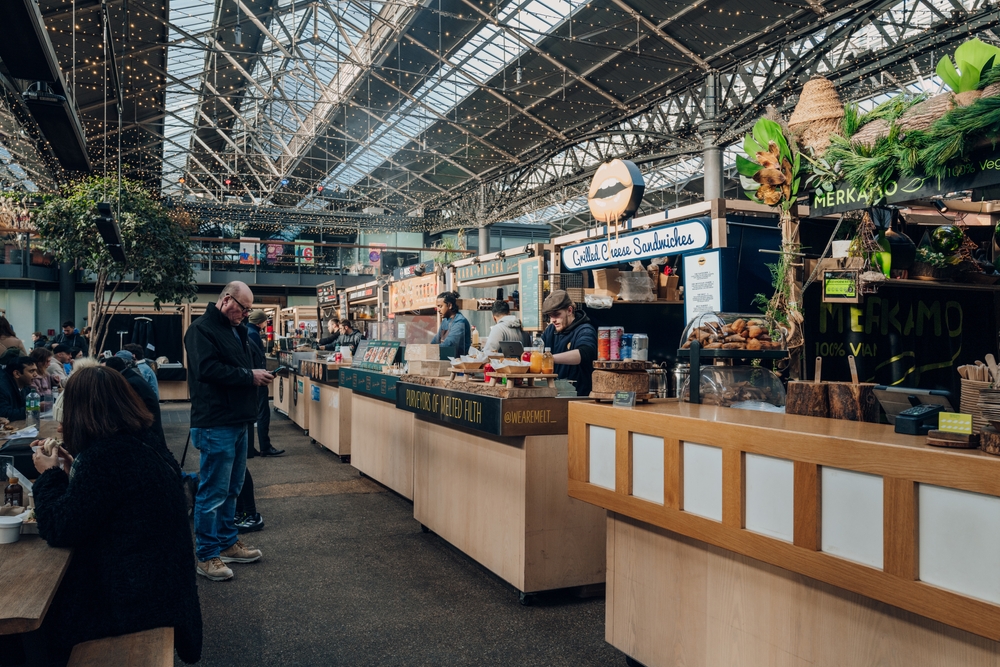 Columbia Road Market For Flowers
This London Sunday market has become an essential destination in London. Locals and tourists both love this market and people talk about it very fondly.
There is something very special about this market. Many of the traders have graced its stalls for decades. This is a market where everyone seems warm and friendly. It's a vibrant market that smells divine.
If you want to miss the crowds arrive early and if you want a bargain go later in the afternoon.
Whether you're a flower enthusiast, a plant lover, or simply seeking a memorable experience, this market is sure to captivate your senses and leave you with cherished memories.
Definitely one of the best Sunday markets in London.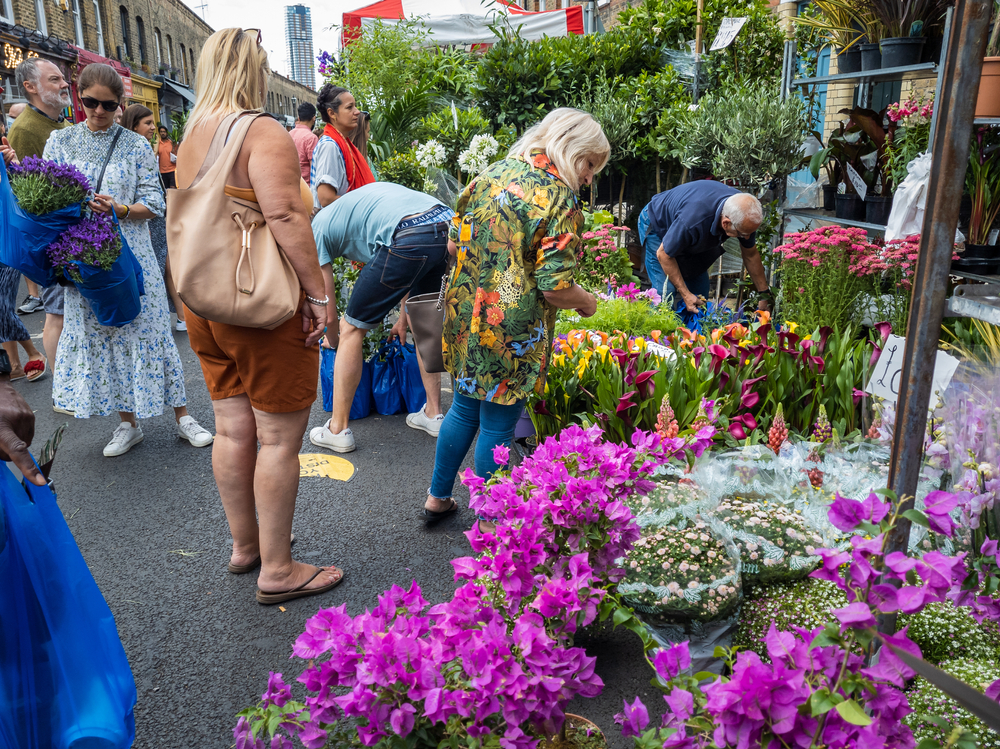 Brick Lane Market For Diverse Produce And Products
Brick Lane Market is always vibrant but it truly comes alive on Sundays. Here you will find a tapestry of diverse markets offering clothing, handmade items, household goods, and vibrant food.
This is one of those Sunday London markets that have markets with markets.
If you explore further you will find the Sunday Upmarket, where talented designers showcase exquisite jewelry and accessories.
And the Boiler House Food Hall, where you can embark on a culinary journey around the globe.
Find vintage finds in the Tea Rooms and the Backyard Market is also worth exploring as is The Old Truman Brewery.
This is one of the best markets in London.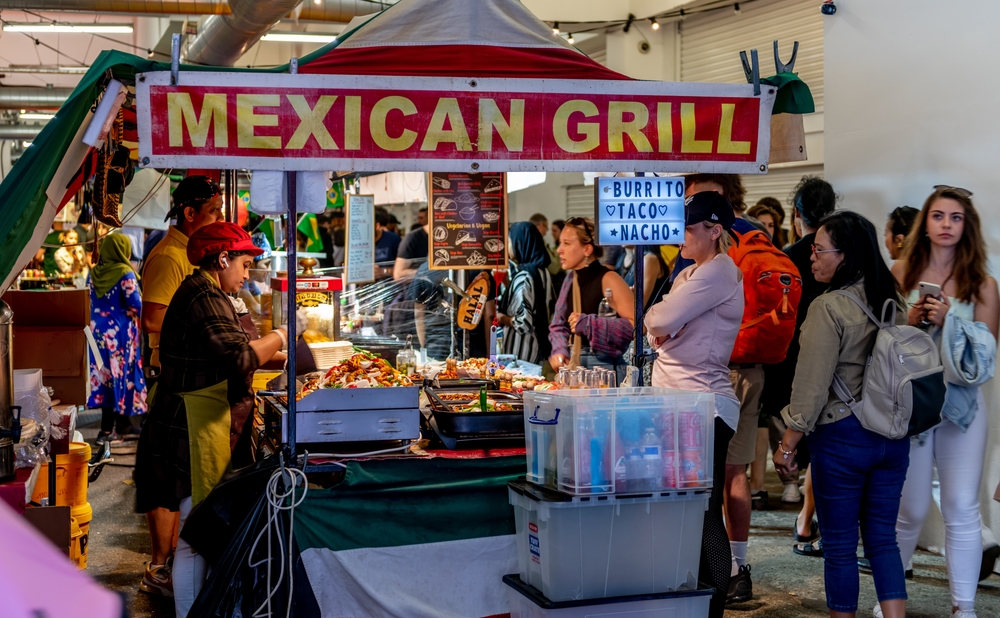 Petticoat Lane Market For Fashion And Textiles
This is one of the east London markets that I highly recommend you visit. It's a vibrant market featuring clothing, fabrics, accessories, and homewares.
It's a wonderful market for fashion and textiles and of course street food. It is one of the city's oldest and most renowned markets.
Petticoat Lane Market is not actually on Petticoat Lane.
This street was first known as Hogs Lane and then became Petticoat Lane which the Victorians thought was too racy and changed it to Middlesex St. The name of the market stuck though.
You can find everything imaginable, from designer clothing to perishable goods, bric-a-brac, and various electronic items.
Whether you're looking for a bargain or simply enjoy browsing. This is one of the best clothes markets in London.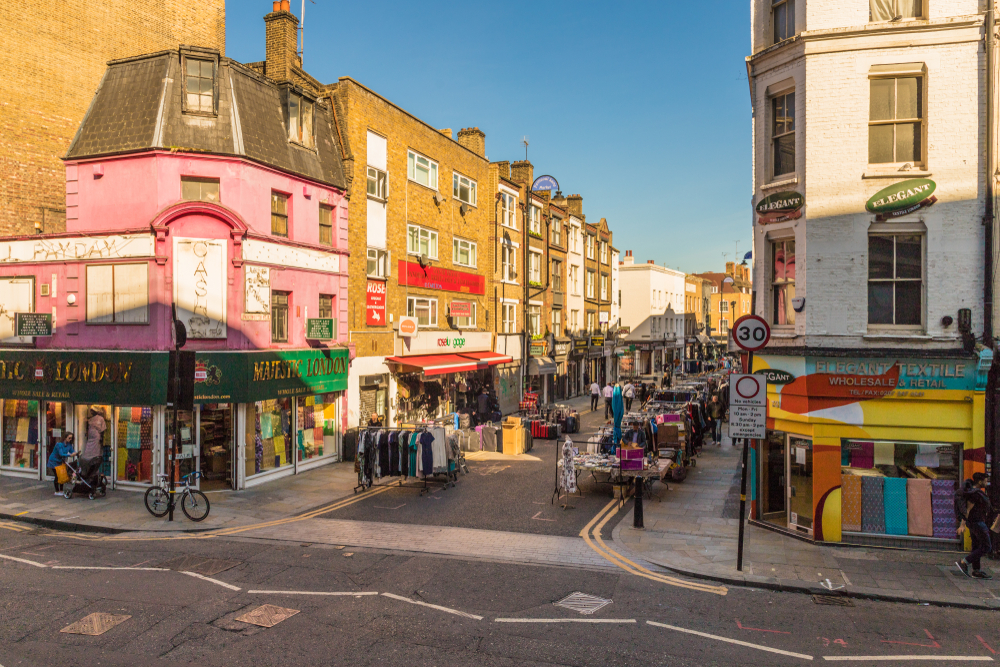 Greenwich Market For A Bit Of Everything
Greenwich's charming eighteenth-century indoor market is a true treasure trove, offering a delightful assortment of goods that cater to every taste.
From mouth-watering food stalls to antiques, clothing, and bric-a-brac, this market offers a little bit of everything.
This is one of those markets that demand to be explored with intriguing nooks and crannies. It's the place where you will find that 'perfect thing you never knew you needed'.
Nestled within the world-famous neighborhood of Greenwich in Southeast London, this market is an essential addition to your London itinerary.
This is one of the best markets in London.
If you are in the Greenwich area here is a list of things to do in Greenwich.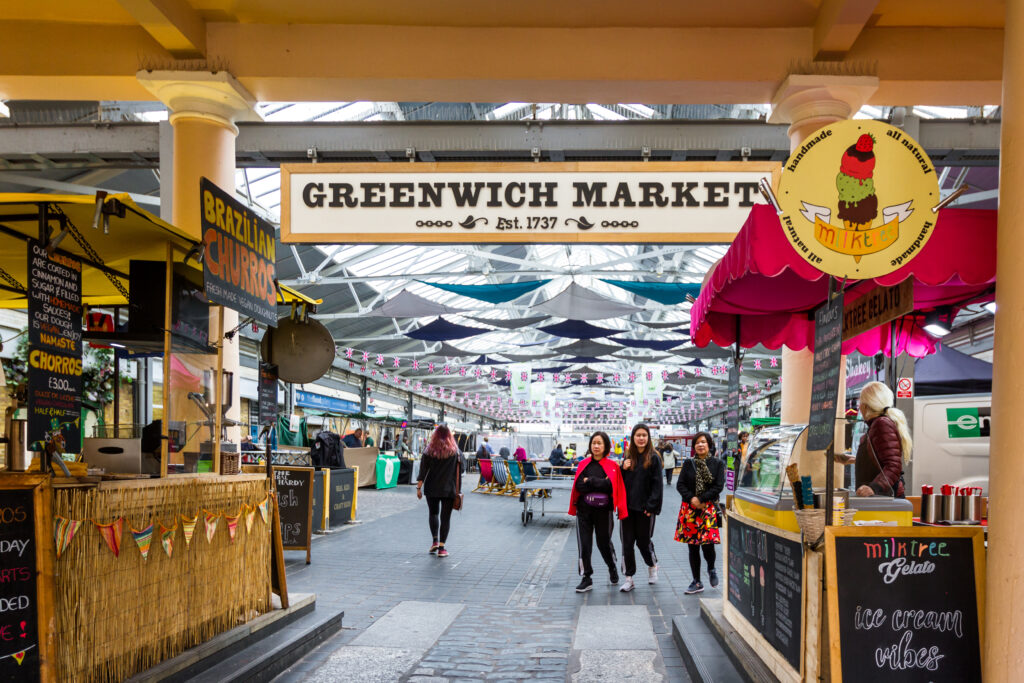 Seven Dials Market For The Best Food
When it comes to food markets in London, the options are abundant, but there's one you shouldn't miss: Seven Dials Market. This laid-back place offers some of the best food.
At Seven Dials Market, the focus is on unpretentious, finger-licking goodness. Here you will find some of the best fast food from around the world. They even have a revolving cheese bar.
During the summer, it's the perfect spot to unwind, savoring an ice-cold cocktail and delectable nibbles in the open air. Here you will find a welcoming atmosphere, great flavors, and an array of delightful food.
This is one of the best London street markets.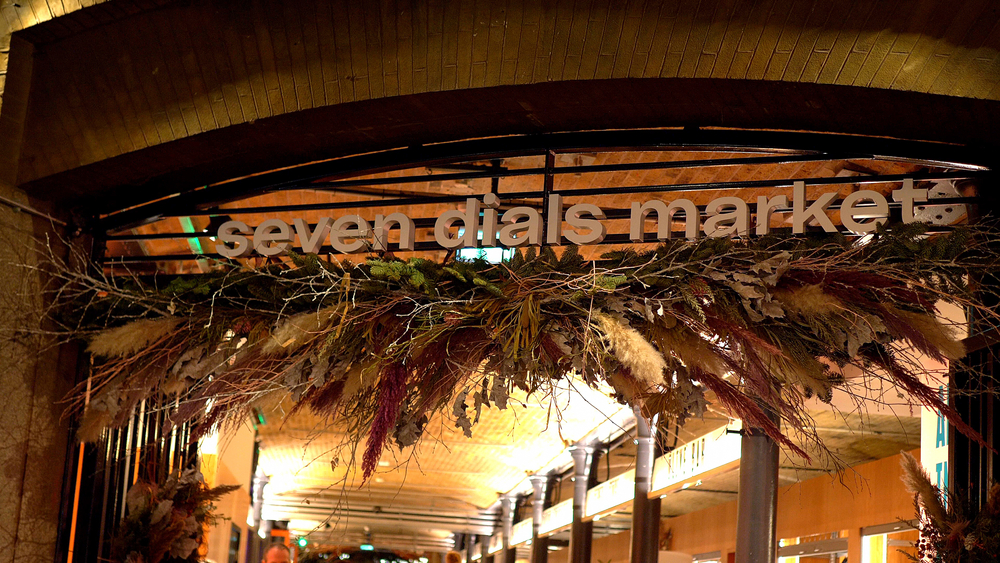 Packing List When Visiting The Best Bars In London
If you will be traveling, either by plane or by car to London, here are some tips on how to pack lightly.
A concealed travel pouch may be one of the most important items you bring along when searching for t he best markets in London.
It is always important to protect your personal information. Identity thieves are everywhere.
This unisex RFID-blocking concealed travel pouch is lightweight and comes in several colors. It has lots of organization to give you peace of mind.
You can place it under your clothes next to your body to carry your ID safely.
If you have a pouch already that does not come with RFID protection, as I do, these RFID sleeves are the perfect solution.
This configuration comes with enough credit card sleeves that the entire family would be protected. They are slim too, so they will easily fit into your pouch or wallet.
If you are planning on taking a lot of pictures with your phone you will definitely want to consider an external charging battery.
This Anker high-speed phone charging battery is the exact one I carry with me on all of my trips.
It can be used on a variety of phones, not just an iPhone as I have. And wow is it fast!
My daughter gifted me with this FugeTek selfie stick and tripod setup for my birthday. I absolutely love it! It is made of lightweight aluminum and so easy to use.
It has Bluetooth connectivity and is a breeze to use for taking photos during your London activities.
You will want to bring your own refillable water bottle with you.
I never leave home on a trip without my Bobble filtration bottle. The 18.5-ounce size is perfect for hiking and it fits nicely in the pocket of a backpack.
The replaceable carbon filter ensures clean drinking water when you want it.
Then this collapsible silicone foldable water bottle would work well for you. Would not take up much space at all.
You will want a backpack or daypack with you to store snacks, your water bottle, phone, extra clothes, etc… No matter the time of day or evening.
This foldable water-resistant backpack would be great.
As you can see when it comes to the best markets in London there are so many to choose from. London markets are plentiful and I feel everyone should visit just one as they really are an experience.
Whether you choose Covent Garden or one of the lesser-known markets I know you will have an amazing time. London street markets are amazing and I hope you have a great time visiting.
There are so many hidden gems in London to explore. Why not start with these London markets!?