Interested in seeing the prettiest bridges in Paris?
Maybe you are planning a visit to Paris and have heard of the legendary opulence and beauty of the Parisian bridges. I love Paris and her bridges. Sometimes they are a destination in and of themselves, for their stunning beauty and their iconic views!
That being said, perhaps you wish to take that perfect photo as a souvenir, or Instagram picture. Please be warned,  all beautiful locations in Paris get very crowded, and these iconic bridges are no different. Plan on arriving very early, possibly at sunrise, for that perfect snap.
Here I am going to share with you eight of my favorite bridges in Paris with you. I hope you enjoy visiting them as much as I do!
If you are in the planning stages of your trip to Paris, here are some great posts for you to read later:
10 Unusual Things To Do In Paris (Not The Eiffel Tower!)
The Ultimate 4 Days in Paris Itinerary
The Ultimate 2 Days In Paris Itinerary
7 Things You Want To Know Before Your First Trip To Paris
5 Things To Know About Eating Healthy In Paris
The Ultimate 5 Days In Paris Itinerary You MUST Steal!
8 Prettiest Bridges In Paris
There are thirty-seven bridges in Paris crisscrossing the River Seine. Of those 37, three are pedestrian-only, and 2 are for railway traffic. Each has a very interesting history and offers up unique and breathtaking views of the best Paris has to offer!
1) Pont Alexander III
One of the most opulent, if not THE most opulent bridges in Paris is the Ponte Alexander III. It connects the 7th and 8th Districts of Paris.
Since 1975 the Pont Alexander has been registered as a French historical monument.
Art Noveau lamps, cherubs and nymphs make up the bridge, and its views of the Eiffel Tower, the River Seine, and Les Invalides cannot be beaten. On either end acting as counterweights are the extravagant golden-winged horsemen.
This is a very popular location for picture taking for tourists and locals alike. As already advised, go very early in the morning before the crowds arrive!
Look here: Paris Museum Pass: 2, 4, or 6 Days
Look here: Eiffel Tower: Second Floor Priority Access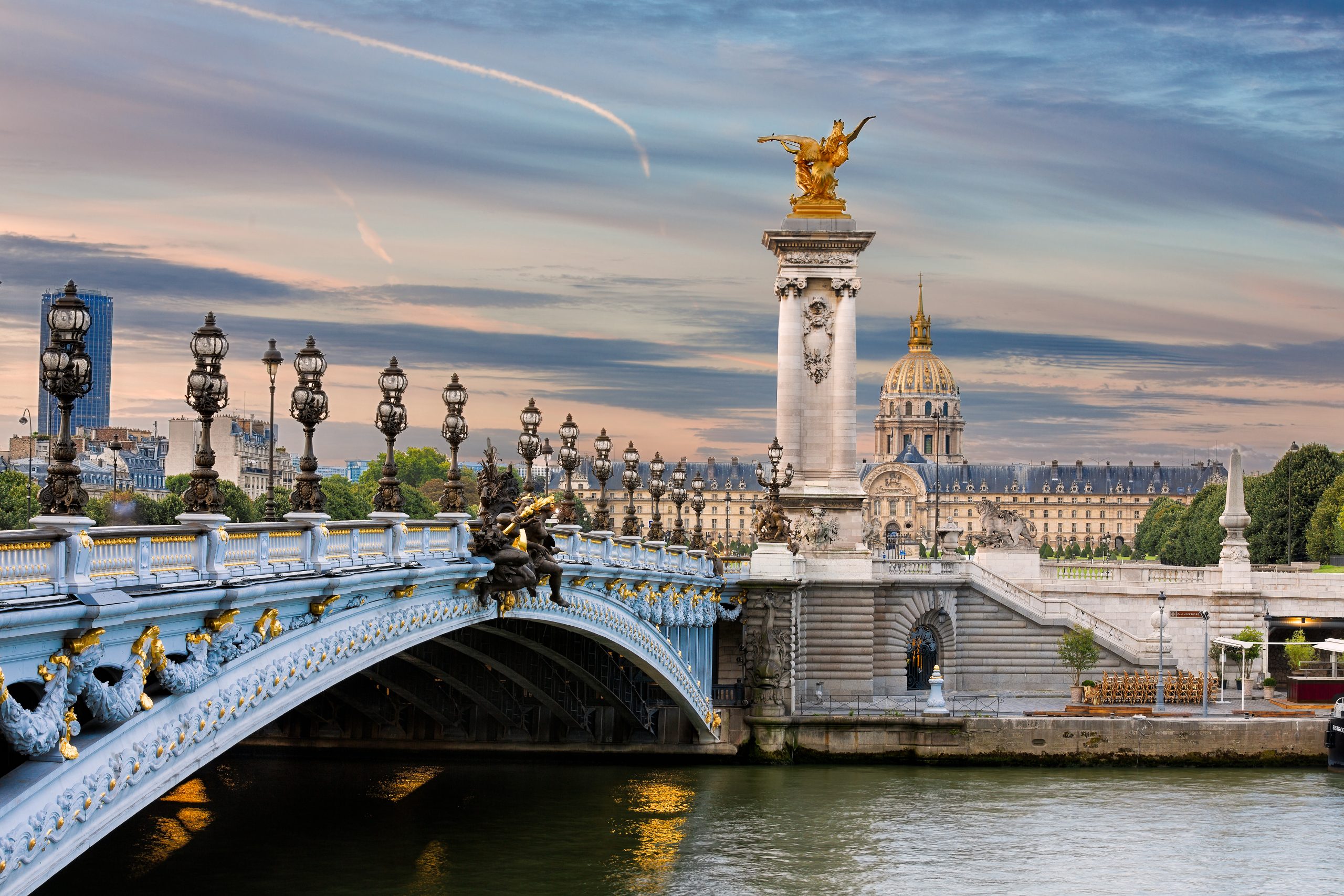 The ornate Pont Alexander Bridge at first daylight is one of the most gorgeous bridges in Paris!
2) Pont des Arts
You may know the Pont des Arts as the "love lock bridge." However, all those locks were so heavy that they were damaging the bridge and were removed in 2015. Now the bridge has glass paneling instead giving it a more modern look.
This pedestrian bridge has very unique views and artists frequent it often. It links the main square of the Palais de Louvre with the Institute de France connecting the first and seventh districts of Paris. Ponts des Arts is one of the loveliest bridges in Paris.
Louvre tickets here: Priority Entrance with Audio Guide
Look here: Louvre Museum Timed-Entrance Ticket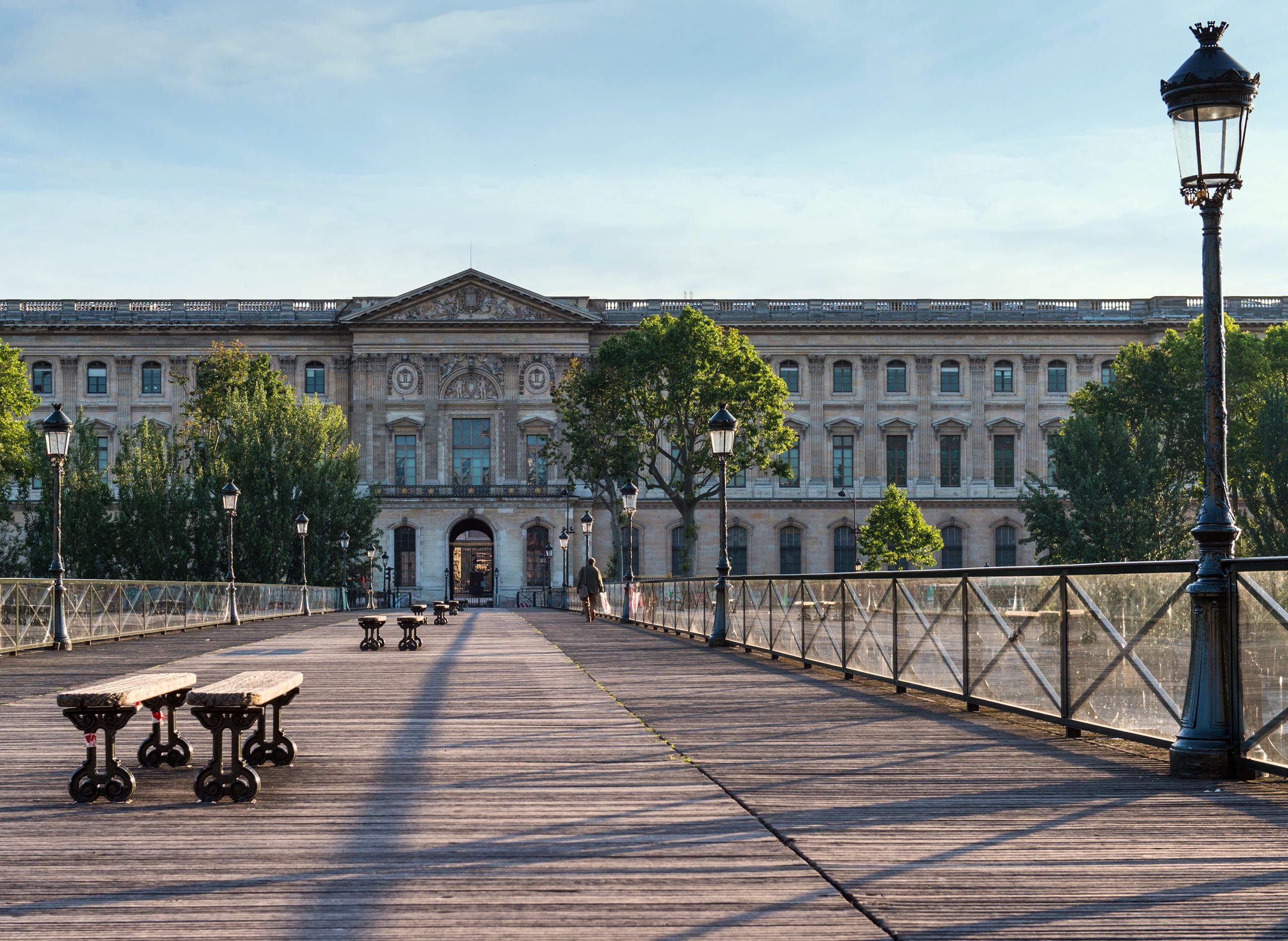 The charming pedestrian bridge, Pont des Arts, after all the locks have been removed.
3) Pont Neuf
This is considered the oldest bridge in Paris. Construction began in the 1500s!
Built using old-world Roman architecture,  The bridge has many arches, and has two separate spans. One span has five arches and leads to Ile de la Cite. The other span has seven arches and it leads to the right bank of the Seine from the island.
Recognized as a French historic monument since 1889, Pont Neuf Bridge is still standing when others are not.
Look here: Paris: 1-Hour Illuminations River Cruise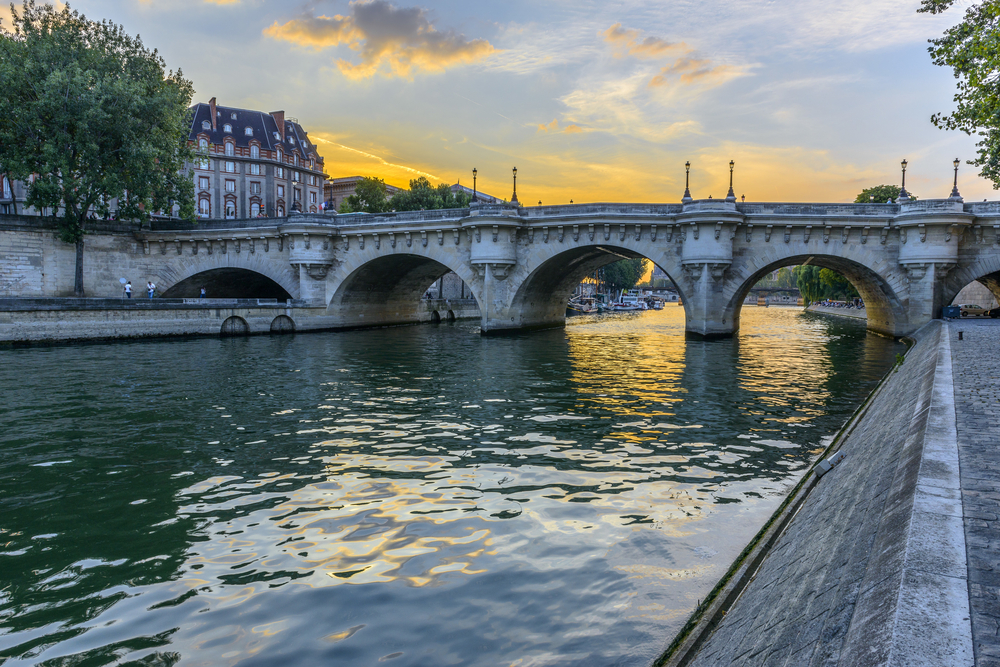 Pont Neuf at sunrise with its lovely arches, one of the charming bridges in Paris.
4) Bir Hakeim Bridge
Located in the sixteenth arrondissement, Bir Hakeim Bridge is named after a French battle fought in Libya in the 1940s.
This bridge is unusual as it has two levels: one is for pedestrians and vehicles to use. The level above it is for the Peris metro.
There are stone monuments representing science, labor, electricity, and commerce.
Other commemorations can be seen all along the bridge to French battles and the military who fought them.
Look here: Musée d'Orsay Reserved Access 1-Day Admission Ticket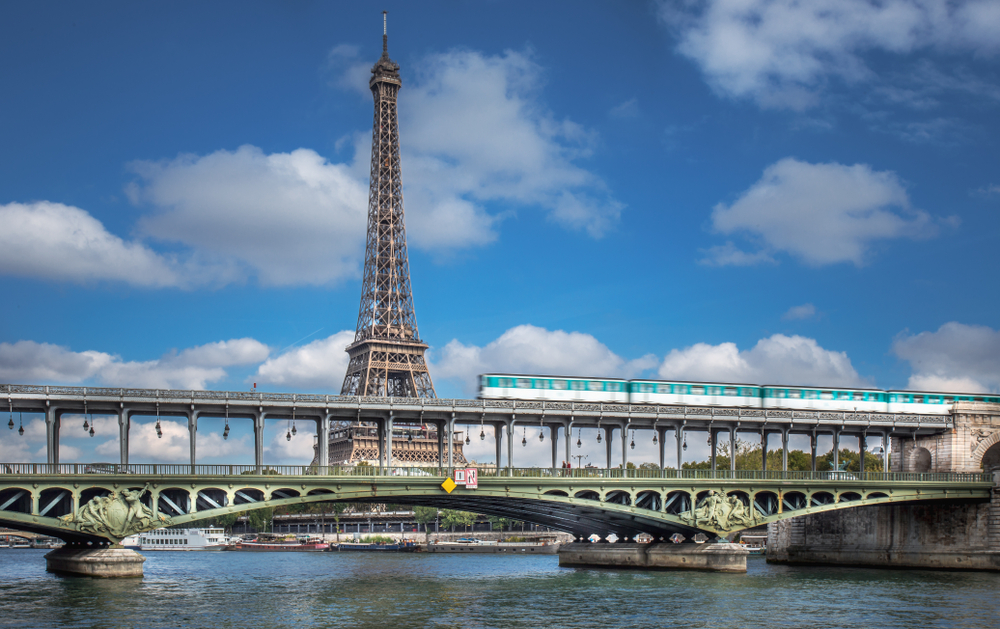 Not only is Bir-Hakeim Bridge unusual with its two levels, but it also has marvelous views of the River Seine and the Eiffel Tower.
Tickets here: Paris: 2-5 Day Passlib with Public Transportation and Cruise
5) Pont du Carrousel
Spanning the River Seine and connecting the 1st arrondissement to the 7th, is the Pond du Carrousel and one of the lovliest bridges in Paris.
What makes this bridge remarkable is its view of the Palais de Louvre and its iconic pyramid entrance.
Re-engineered and reinforced several times, this bridge with its lovely arches is certainly not to be missed.
Look here: Sainte-Chapelle & Conciergerie Combined Skip-the-Line Ticket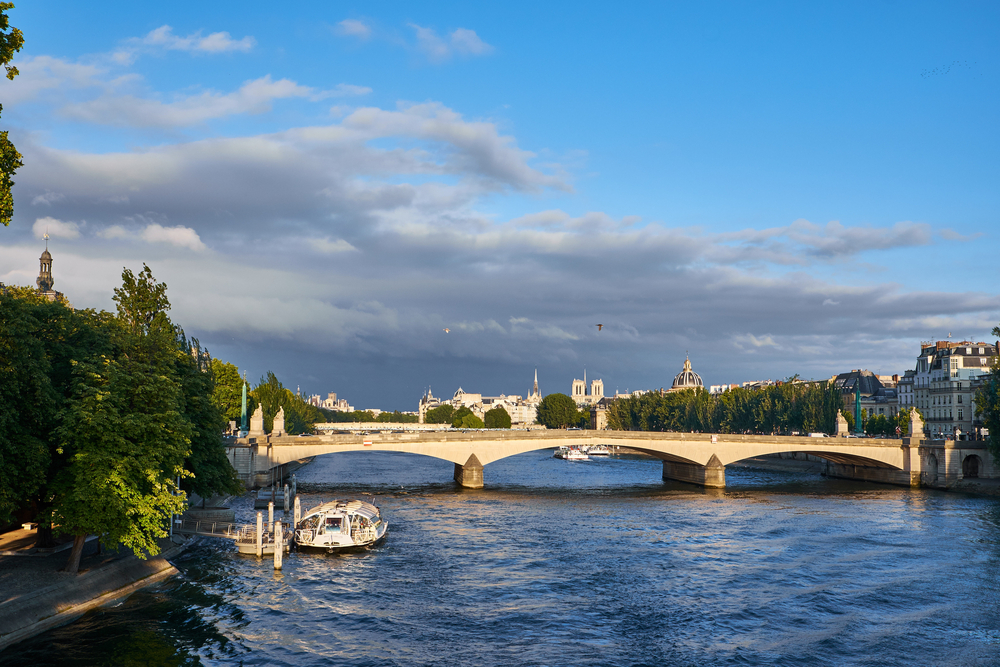 The graceful arches of the Pont de Carrousel.
6) Pont d'lena
Pont d'lena connects the Eiffel Tower on the Left Bank to the Trocadero Palace on the Right Bank.
Commissioned by Napolean I and upgraded by the French government in the 1930s, in time for the upcoming World's Fair. This bridge is always busy with the hoards of tourists and locals alike.
Walking across this bridge provides the most spectacular views in all of Paris of the River Seine. As well as the Eiffel Tower. And the Trocadero Palace and its lovely fountains and gardens.
Admire the ornate streetlamps, elaborate statues, and beautiful arches of Pont d'lena. It is no wonder this bridge has been on the French historic monument since 1975 and one of the more captivating bridges in Paris.
Tickets here: Paris City Pass: Free Admission and Travelcard
Tickets here: Eiffel Tower Priority Access with Summit Access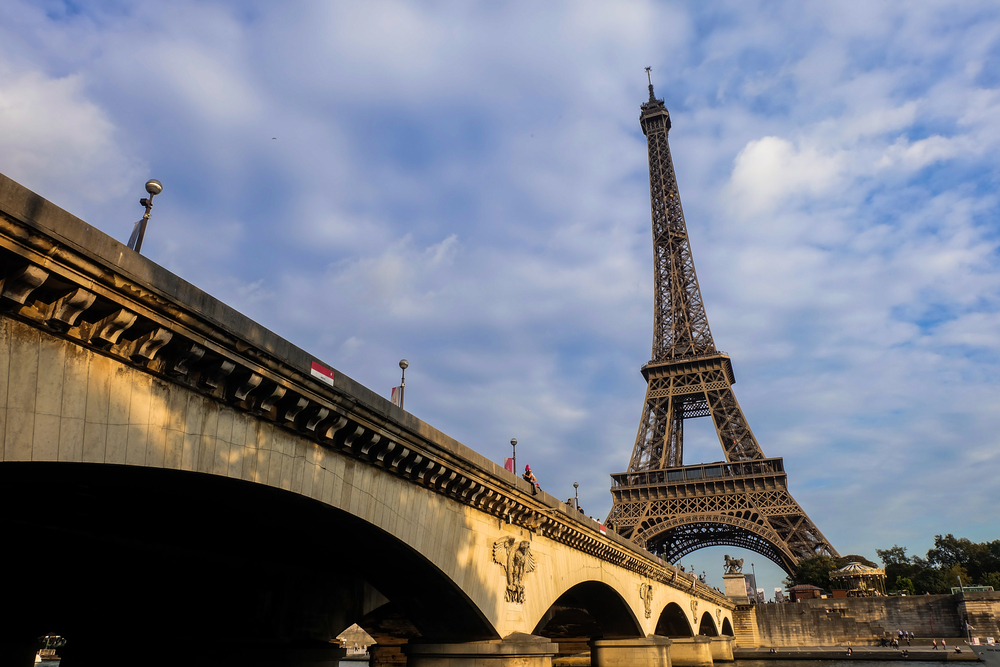 The historic Pont d'lena leading to the Eiffel Tower. 
Look here: Paris: Eiffel Tower, Dinner & Seine River Cruise
Look here: Paris: Seine River Hop-On Hop-Off Sightseeing Cruise
7) Pont de la Concorde
Spanning the River Seine and located next to the elaborate Pont Alexander III is the Pont de la Concorde. This historical bridge has five stone arches and connects the National Assembly building with the Place de la Concorde.
Upgraded and widened in the 1930s, Pont de la Concorde kept its original charm and feel even with the changes. There are wide walkways on the bridge. You will feel safe walking, biking or scootering across Pont de la  Concorde.
Tickets here: Paris Highlights 3-Hour Bike Tour
Tickets here: Paris: 1-hour River Seine Cruise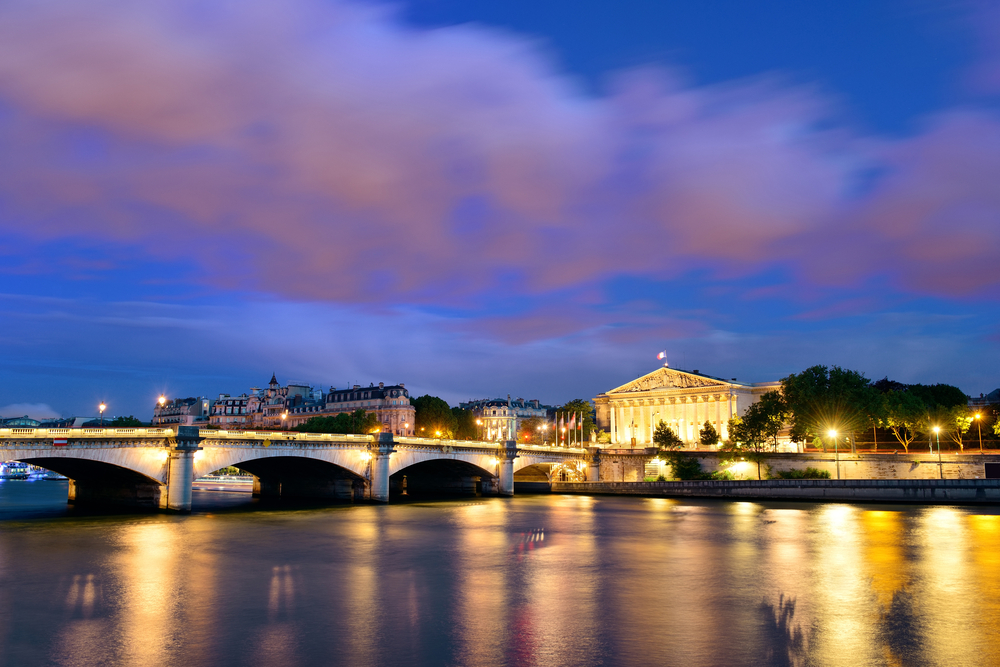 Illuminated Pont de la Concorde leading to the National Assembly is one of the historic bridges in Paris.
8) Passerelle Debilly
A pedestrian-only footbridge, Passerella Debilly spans the Seine River and is located near the Eiffel Tower. It was built to handle visitors to the 1900 World's Fair in Paris,
What makes this arched structure one of the prettiest bridges in Paris is how dark green ceramic tiles are used to suggest waves of water!
Interesting fact: after the Berlin Wall fell in 1989, it was discovered that Passerelle Debilly was a meeting location for East German agents during the Cold War.
Look here: Paris: Eiffel Tower Priority Ticket, Seine & City Tour
Look here: 1, 2, or 3-Day Hop-on Hop-off Ticket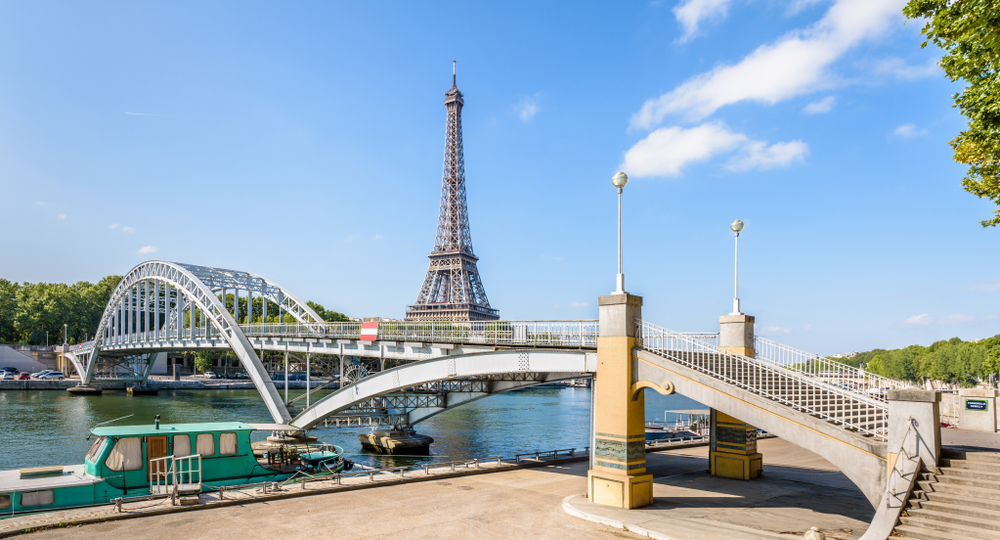 Passerelle Debilly with its stunning views of the Seine River and the Eiffel Tower. One of the most captivating bridges in Paris!
Packing Tips For Your Trip To Paris
Here are a few items I always bring with me when I travel that I think will make your trip to see all the bridges in Paris safer and more enjoyable:
A concealed travel pouch may be one of the most important items you bring with you on your visit to Paris.  This unisex RFID blocking concealed travel pouch is lightweight and comes in several colors.
It has lots of organization to give you peace of mind. You can keep your most valuable documents safe and secure next to your body.
If you have a pouch already you may not want to or need to invest in a new one. If it does not come with the RFID protection, these RFID sleeves would be handy to prevent identity theft.
This configuration comes with enough passport and credit card sleeves that the entire family would be protected. They are slim too, so they will easily fit into your current pouch or wallet. These are the kind my family and I use not only when traveling but at home as well.
If you are planning on taking a lot of pictures with your phone you will definitely want to consider an external charging battery. This Anker high-speed phone charging battery is the exact one I carry with me on all of my trips.
It can be used on a variety of phones, not just an iPhone like I have. And wow is it fast! I like that it holds its charging capabilities for several uses so I do not have to worry about it while out and about. And if I forget to recharge it at night, it will still be good to go the next day.
My daughter gifted me with this FugeTek Selfie Stick and Tripod for my birthday. It has Bloothtooth connectivity so it is very easy to use. It is made of durable aluminum and is very lightweight and easy to carry. I love mine and I think you will enjoy it too!
I was never a fan of packing cubes until I tried them out! Now I am sold. These Bagail packing cubes are the exact ones I use whenever I travel. I cannot believe how much more organized I am now! And I never leave without them anymore.
I am a big fan of locking my luggage too. These TSA compatible durable luggage locks have easy to read numbers and are easy to set. I lock my checked bag if I have one. I always lock my carry on as well. Especially on a long international flight where I might be napping.
I also lock the luggage I leave behind when I am out sightseeing on a trip. Whether I am at an Air BB or a hotel, I want to keep my valuables as secure as possible if a room safe is not available.
Don't forget to bring along a universal power adapter on your trip to Paris.  This worldwide power plug is a great example and will charge your phone at the end of your busy days.
And this world traveler adapter kit can charge several devices at the same time. This is what you will need when there are several people traveling in your group, or if you bring several electronic devices on your trip that require charging at the same time.
How To Get Around While Looking For The  Prettiest Bridges In Paris
The metro train system is very extensive in Paris, and probably the best transportation option you have. It's fast, it's cheap. And it arrives and departs frequently. You can purchase tickets at every station and a bundle of ten tickets costs less than a single ticket.
As I mentioned above, the metro is not an option for the wheelchair-bound. Nor for those unable to walk long distances or climb up and down stairs frequently and frequently.
There are also city buses and trains to consider when planning how to see the best views in Paris And you always have the option to get a taxi or hire an Uber driver.
Of course, if you drove to Paris using your own personal automobile, that is always an option for you, but beware, the streets of Paris are very crowded.
Walking is always an option as well. Be sure to wear a pair of sturdy walking shoes.
Quick Tips For Your Paris Trip
Here are some quick tips and tricks, combined with the ones above, which will make your time looking for the best views in Paris more enjoyable.
Remember, always stay hydrated! Bring a reusable water bottle and refill it often. You will be taking care of your health, and saving numerous disposable water bottles from being sent to the landfill.
Do not worry about the language barrier. I know only a very few basic French words and had absolutely NO difficulties when I visited Paris. The French people in Paris know a few English words and you will be able to communicate enough to make your wishes known.
You can even use a translator app on your phone to assist with your communications. My family and I use Google Translate.
Call your credit card company and verify if your credit card does or does not have foreign transaction fees attached to it. If it does, inquire about applying for a credit card that does not charge you a small fee every time you use it when out of your home country.
When you visit an ATM in Paris, make sure it is in the same network with your bank so you are not charged transaction fees every time you withdraw cash. Also, consider withdrawing larger amounts of cash, in order to limit the transaction fees.
Buy advanced tickets to attractions whenever possible. First off, usually tickets purchased in advance online are often less expensive.
Secondly, when you purchase tickets for the monuments and museums that have the best views in Paris you will have a schedule planned out and more able to pace yourself when you know the plans for every day of your trip.
Please be advised that Linda On the Run is an affiliate in the Amazon Services LLC Associates Program, designed to provide a means for sites to earn fees by advertising and linking to Amazon.com
This post contains Get Your Guide affiliate links as well.
Here I have listed 8 of my favorite prettiest bridges in Paris. I hope you are able to see as many of them as possible as you explore Paris and her history.