Do you plan to kiss the Blarney Stone during your next trip to Ireland? Are you looking for information to help you plan your visit to Blarney Castle to kiss the Blarney Stone? Well, look no farther, because, on my last trip to Ireland, I had the unforgettable experience of visiting Blarney to kiss the Blarney Stone.
Did you know that after you do kiss the Blarney Stone, also referred to as the Stone of Eloquence, legend has it you will be bestowed with the gift of gab, and people have been visiting Blarney for over 200 years to kiss the Blarney Stone. Kissing the Blarney Stone was a dream of mine and one of my two top priorities for my trip to Ireland. I want to share my incredible experiences with you so you will be better prepared than I was when you kiss the Blarney Stone!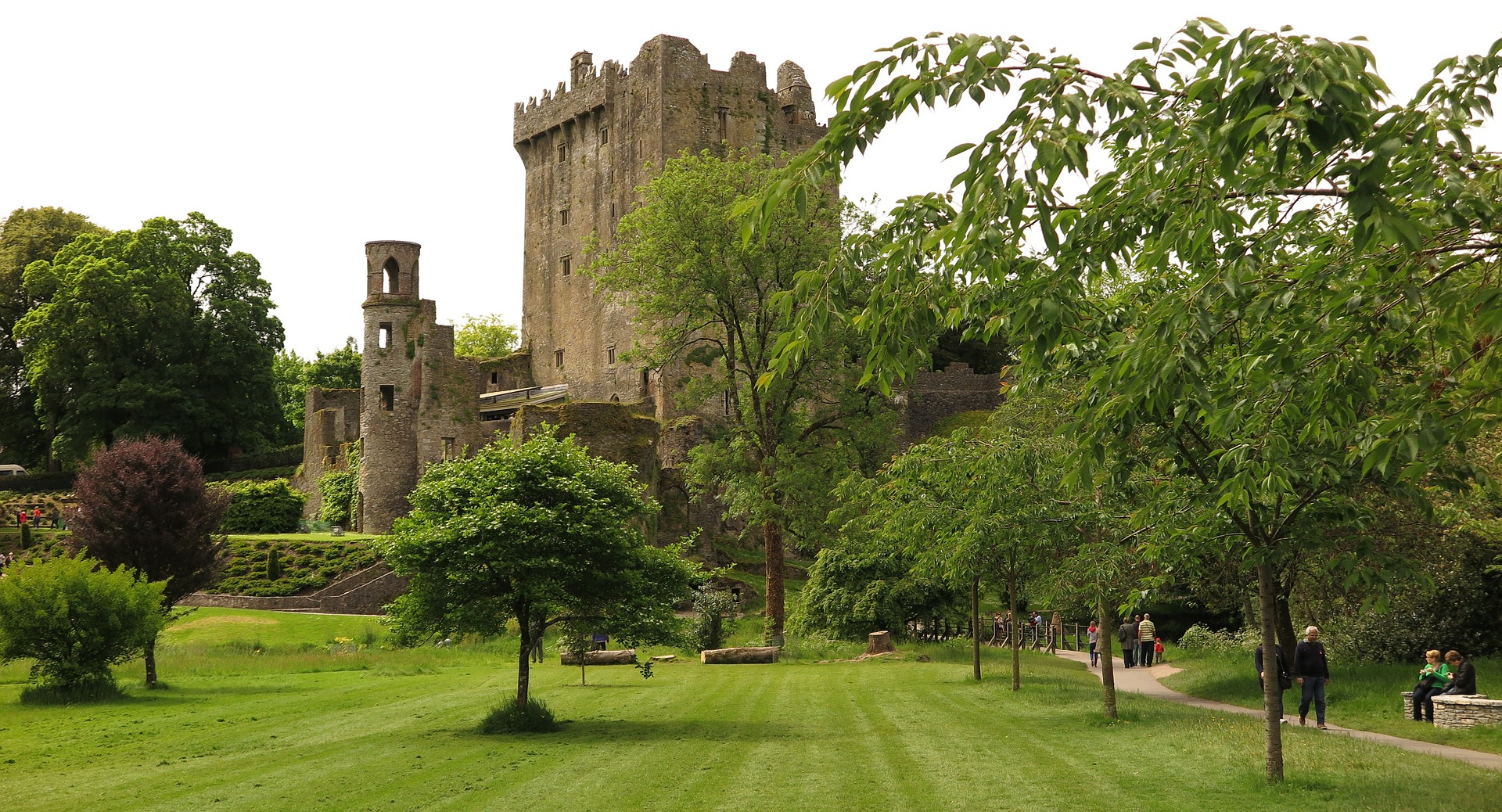 The very lovely and legendary Blarney Castle, home of the Blarney Stone.
10 Things To Know Before You Kiss The Blarney Stone
Plan To Spend A Lot Of Time At Blarney Castle
This would be my number one recommendation and tip. Set aside a large portion of your travel day to spend at Blarney Castle, because there is a LOT MORE to do than just kiss the Blarney Stone!
Set on sixty acres, Blarney Castle's grounds are nothing short of stunning. There are gardens to explore, walks to take, and streams to rest near. You will want to have ample time to wander the grounds and see as much as possible while you are there visiting.
Unfortunately, this was not my experience. I was not aware of the beautiful property that the Blarney Castle was nestled in, and the rich history there to discover and felt rushed and a bit disappointed when my family and I left because we did not budget enough time. Please do not make our mistake!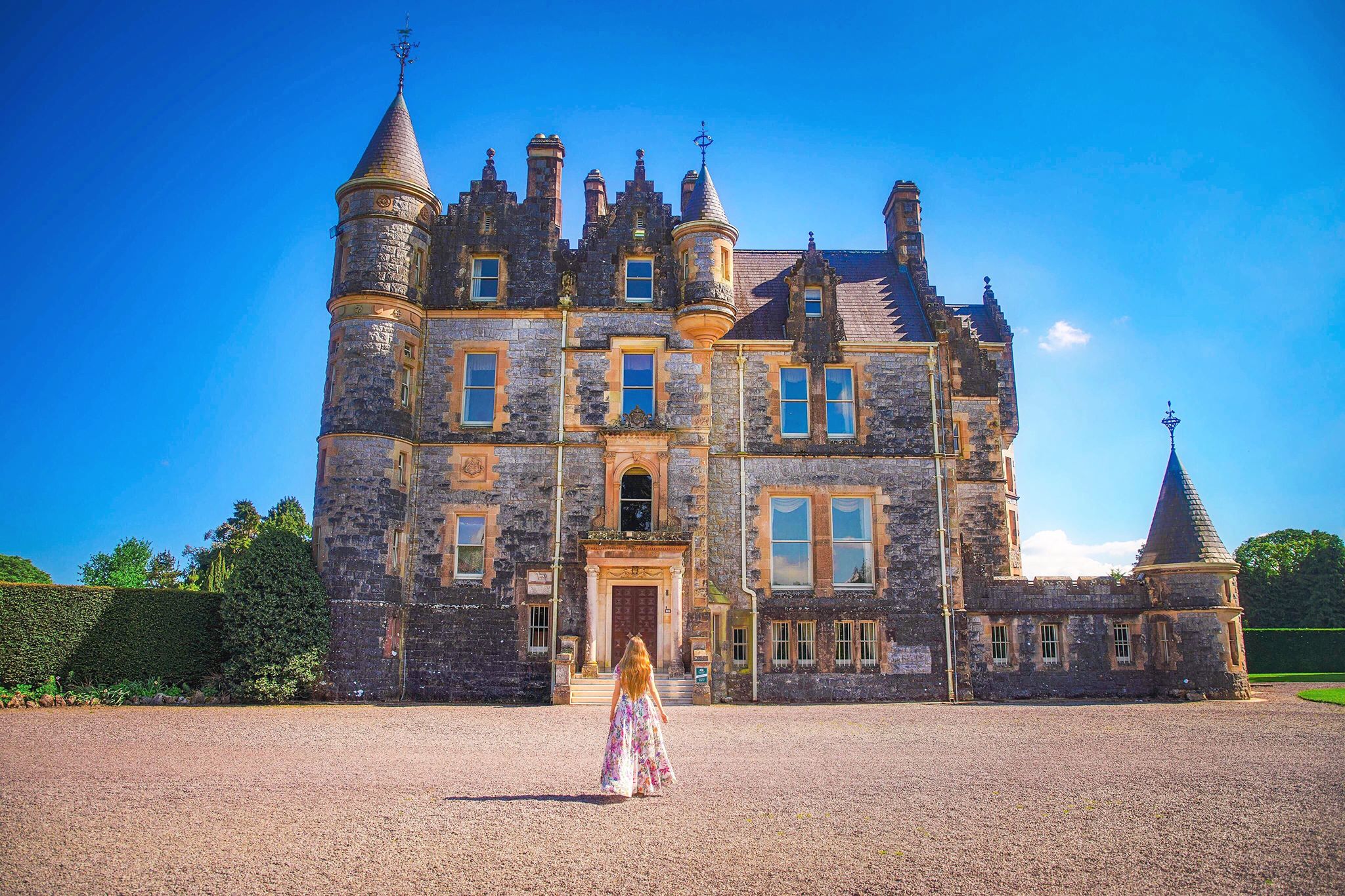 Here is my daughter Victoria, heading up to explore the Blarney Castle manor house. There is so much to explore, so make sure to budget enough time.
READ NEXT
Charming Things To Do In Killarney
The Ultimate 7 Day Ireland Itinerary
7 Fun Things To Do In Doolin Ireland
Top 10 Things To Do In Dingle On Your First Visit
Fantastic 2 Day Dublin Itinerary
How To Pack Lightly Using Only A Carry On
Travel Tips For Solo Travelers
7 Tips For Surviving Long International Flights
How To Avoid Getting Sick On A Plane
Park In Blarney City For FreeTo Save On Parking Fees
Blarney Castle is located in the charming town of Blarney, about 5 miles outside of Cork, Ireland. You will be charged a parking fee if you park on the grounds of the Blarney Castle. If you so desire, you can park in the city of Blarney itself, a mere block or two away, and it will be free. It was a crowded afternoon when I visited Blarney Castle with my family, and we were still able to find a parking spot about one block away.
Save Time And Money By Purchasing Admission Tickets Online Beforehand
There is an admission fee to enter Blarney Castle and the accompanying grounds. We definitely would have saved time if we had already bought our admission tickets instead of having to wait in the line to get them upon arrival. And of course, we could have saved money too, for getting them online saves money.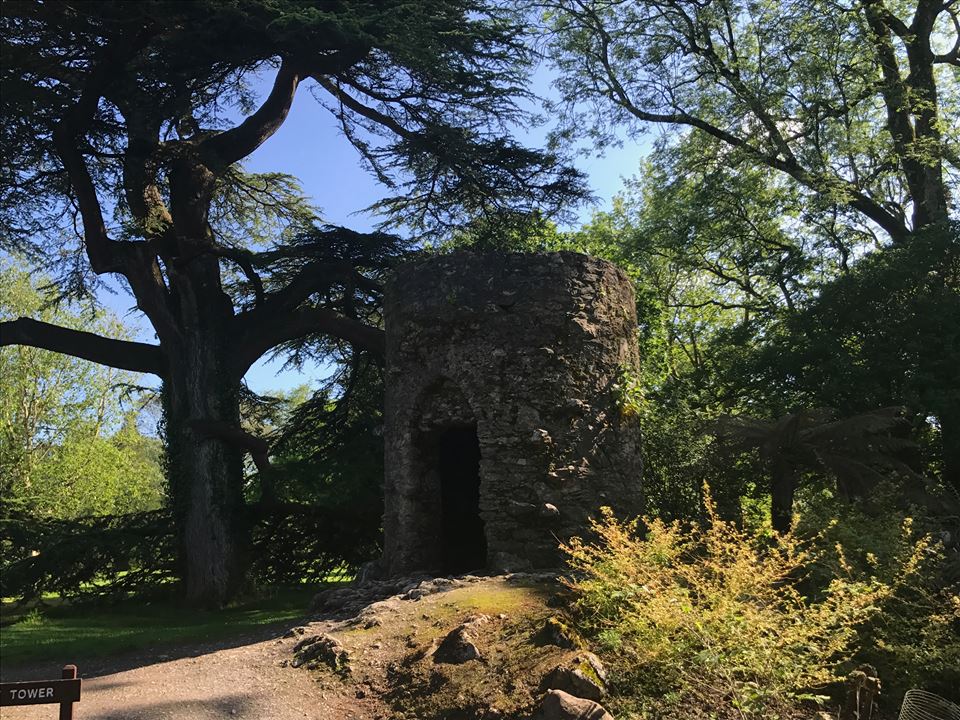 There is always something new to discover on the grounds of the Blarney Castle.
Kiss The Blarney Stone In The Early Morning Or Late Afternoon
Upon our midmorning arrival, my family and I headed straight for the Blarney Castle to fulfill our dream to kiss the Blarney Stone. That turned out to be an unfortunate decision for us because the line was extremely long and it took a very long time for us to get to the stone.
A few hours later, as we wandered and explored the grounds of the Blarney Castle, we noticed there was NO LINE at all. So, please learn from our mistake, meander around the grounds, and enjoy all the gardens and streams, and kiss the Blarney Stone a bit later on in the day.
You will also have better success and skip the long line to kiss the Blarney Stone if you arrive early in the morning before the crowds arrive.
To Kiss The Blarney Stone You Must Climb A Narrow Tunnel With A Winding Staircase
Please advised, it is no small task to actually get to the top of the Castle to kiss the Blarney Stone. You will have to climb a somewhat steep winding staircase to get there. I know of no accommodations for the disabled or those in a wheelchair.
Along the staircase, as you are climbing to the to top, there are magnificent and spectacular views of the Blarney grounds and the adjacent Irish countryside that will take your breath away. Have your camera or cell phone ready to capture some of the most memorable Irish vistas around.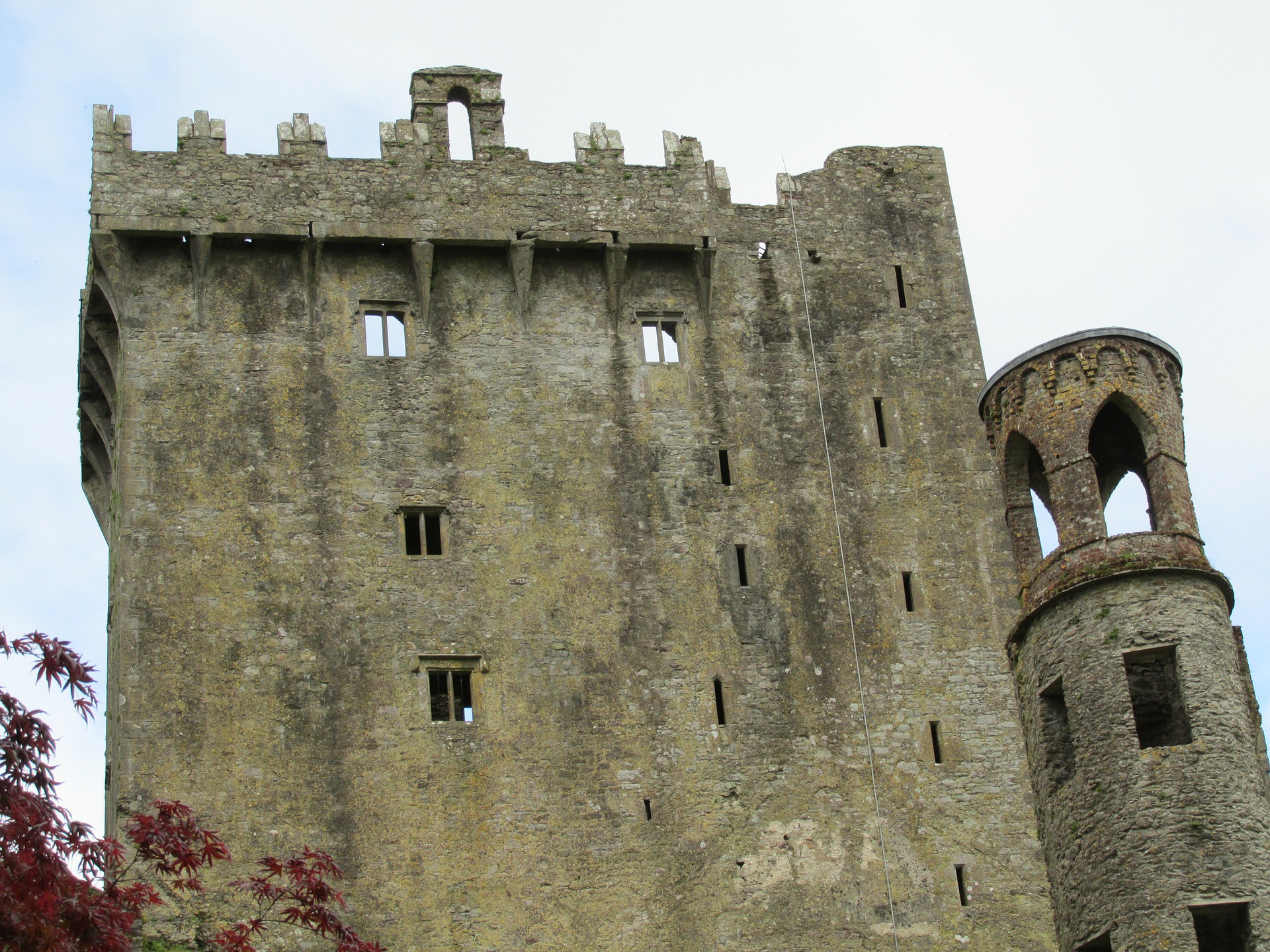 An outside view of Blarney Castle. You will climb a steep winding staircase to get to the top to kiss the Blarney Stone.
Once On Top Of Blarney Castle, The Views Are Gorgeous
Soon enough, you will emerge from the winding staircase to the openness and vastness of the rooftop of the Blarney Castle. You will still have a short walk of about 50 paces until you get to the stone. Use that time to look at the absolutely stunning scenery of Ireland that is all around you while you get palpably excited that your turn to kiss the Blarney Stone is near.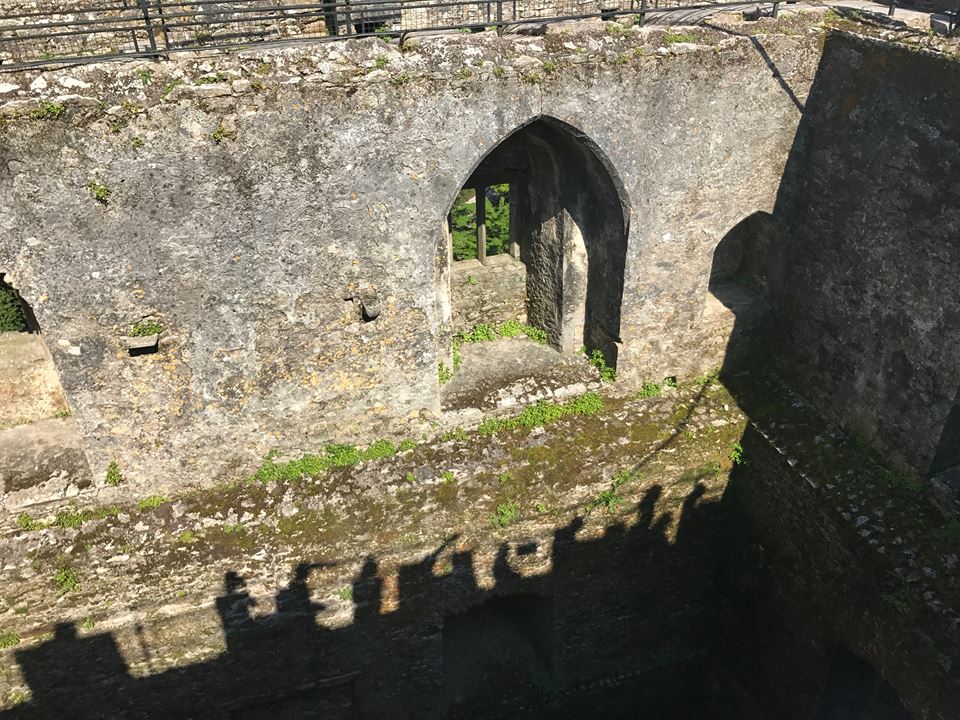 Picture taken atop Blarney Castle. Shadows are people waiting in line to kiss the Blarney Stone.
You Kiss The Blarney Stone On Your Back And Upsidedown
So, finally, it is your turn to kiss the Blarney Stone. Do not worry one bit, as there are several assistants there to help you. First off, give your camera to your family or one of the Blarney assistants, because you do not want to let this moment you have been waiting for go by without documentation.
The assistants will help you to sit down first of all. Take your time. They are there to help you and keep you safe. It will be a touch intimidating I know. I was a wee bit overwhelmed myself, but do not give up. You can do it!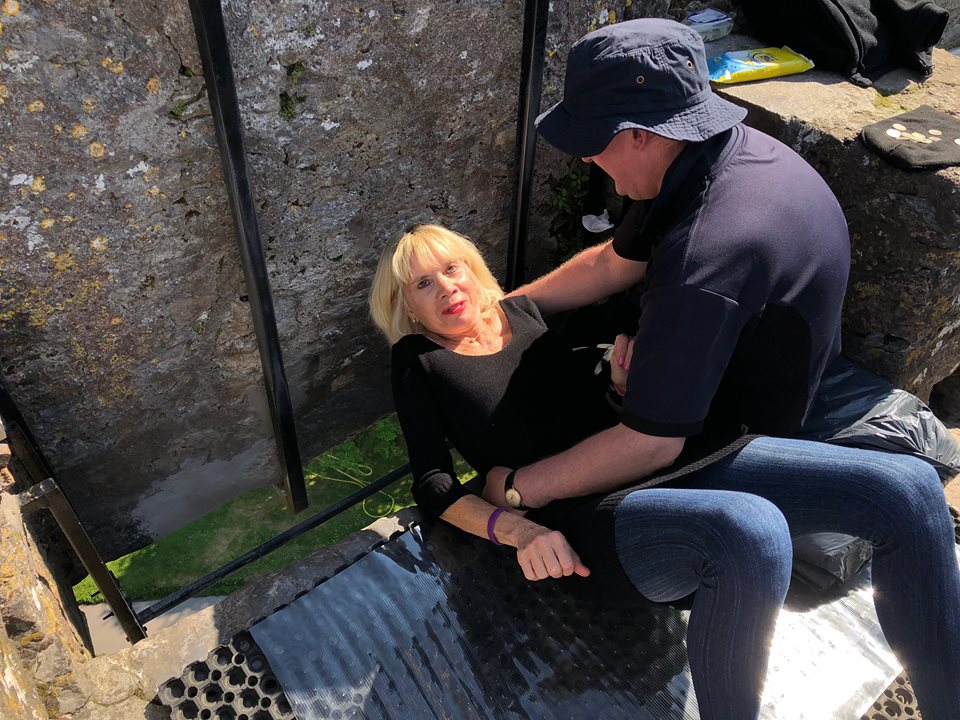 Here I am getting into position to kiss the Blarney Stone. There is an assistant to help me. I am happy my family got this picture of me. I look so overwhelmed.
Next, you will lie down and resituate your body closer to the ledge where the Blarney Stone is. Ask the helpers exactly which stone is the Blarney Stone, so you know where to put your head and neck. The assistants will give you guidance and help.
And then finally, tilt your head back, and kiss the Blarney Stone to never be lost for words again in your life. At least that's what the legend promises. Your family will be snapping pictures of you and you will enjoy them all afterward.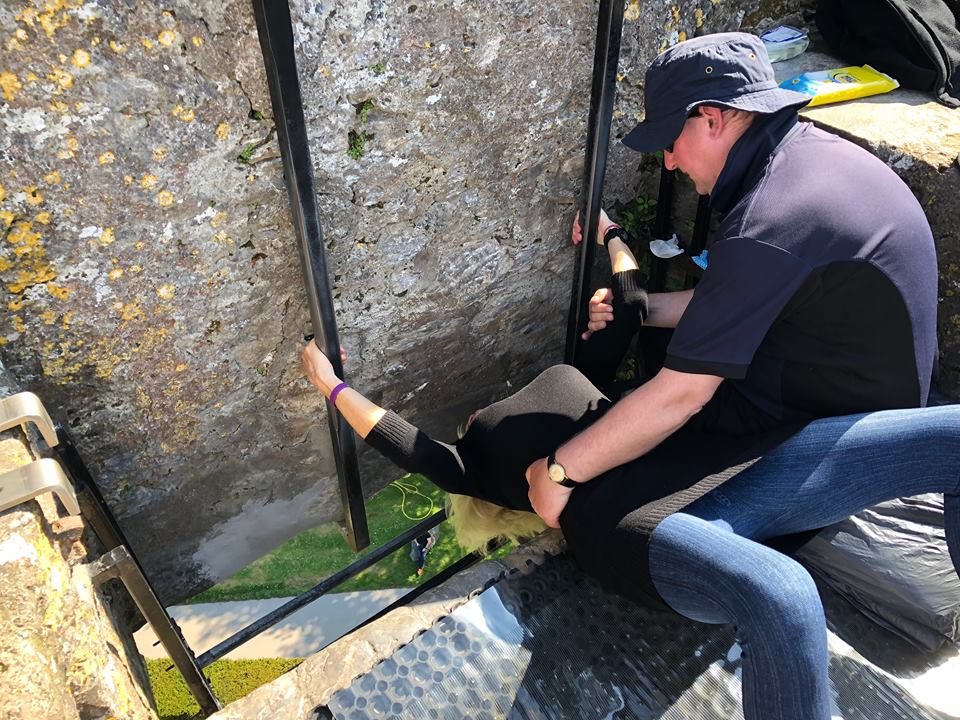 Here I am backward with my head upside down, to kiss the Blarney Stone, a dream-come-true for me. You can see the antimicrobial wipes in the upper right corner of this picture. They will swipe the stone if you ask.
The assistants will complete their jobs by helping you first sit up, then finally stand up and help you move along as they prepare for the next person.
The Blarney Stone Will Be Wiped Clean If You Ask
Please know that those working so diligently right at the Blarney Stone to make sure you have a wonderful experience when you kiss the Blarney Stone will wipe it clean with an antimicrobial wipe before you kiss it if you request.
I brought my own wipes with me, but they declined and used their own to swipe right before it was my turn to kiss the Blarney Stone.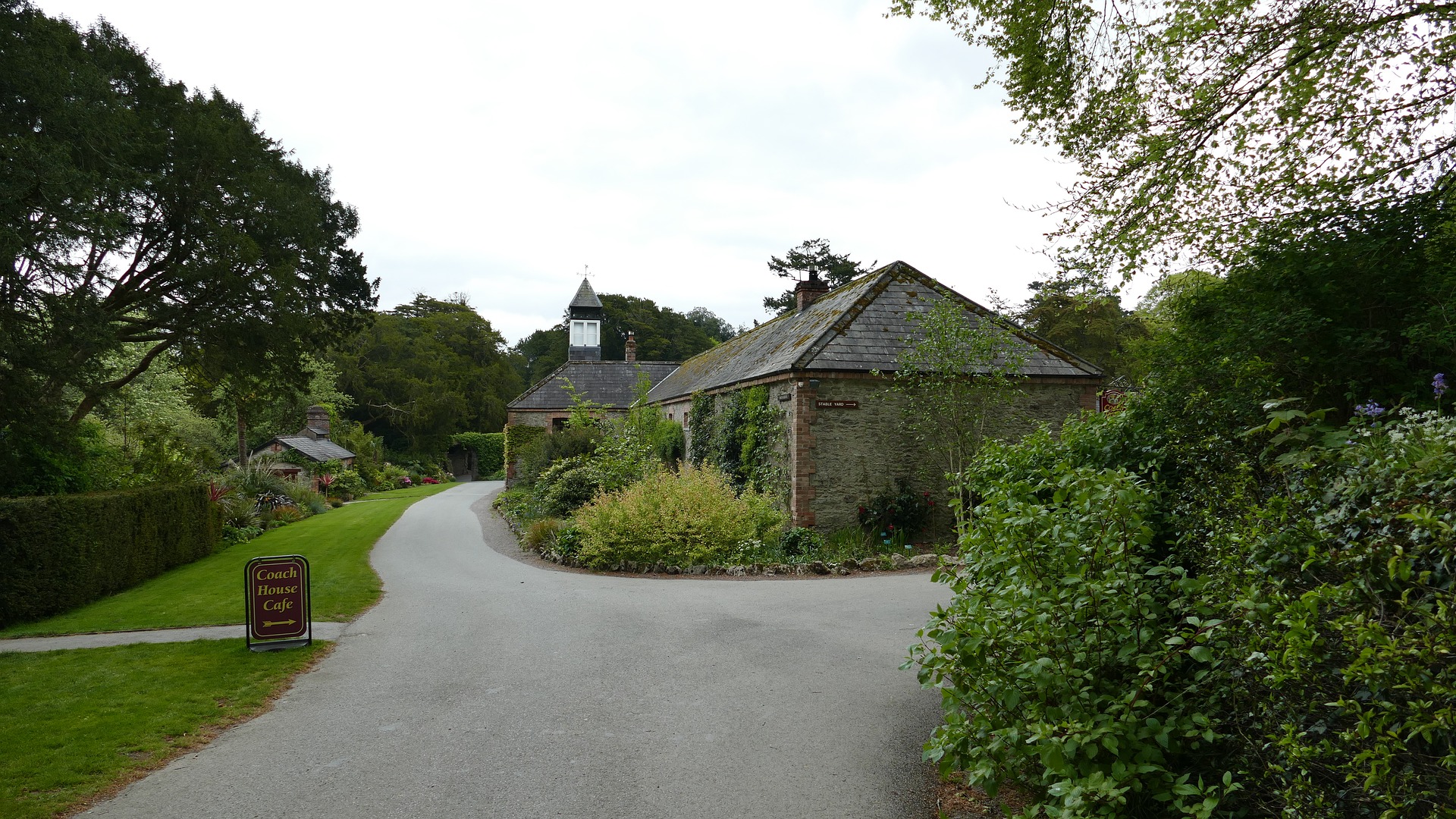 The lovely grounds of Blarney Castle estate.
Visit The Stable Yard Cafe For A Bite To Eat Or Drink
You will probably want to stop and rest during your meandering of the Blarney Castle grounds sometime during your visit there. The Stable Yard Cafe is the place to go. Located in an old stable near the manorhouse, the cafe has its own interesting history to share with you.
Snacks and drinks and light meals are available for you to enjoy.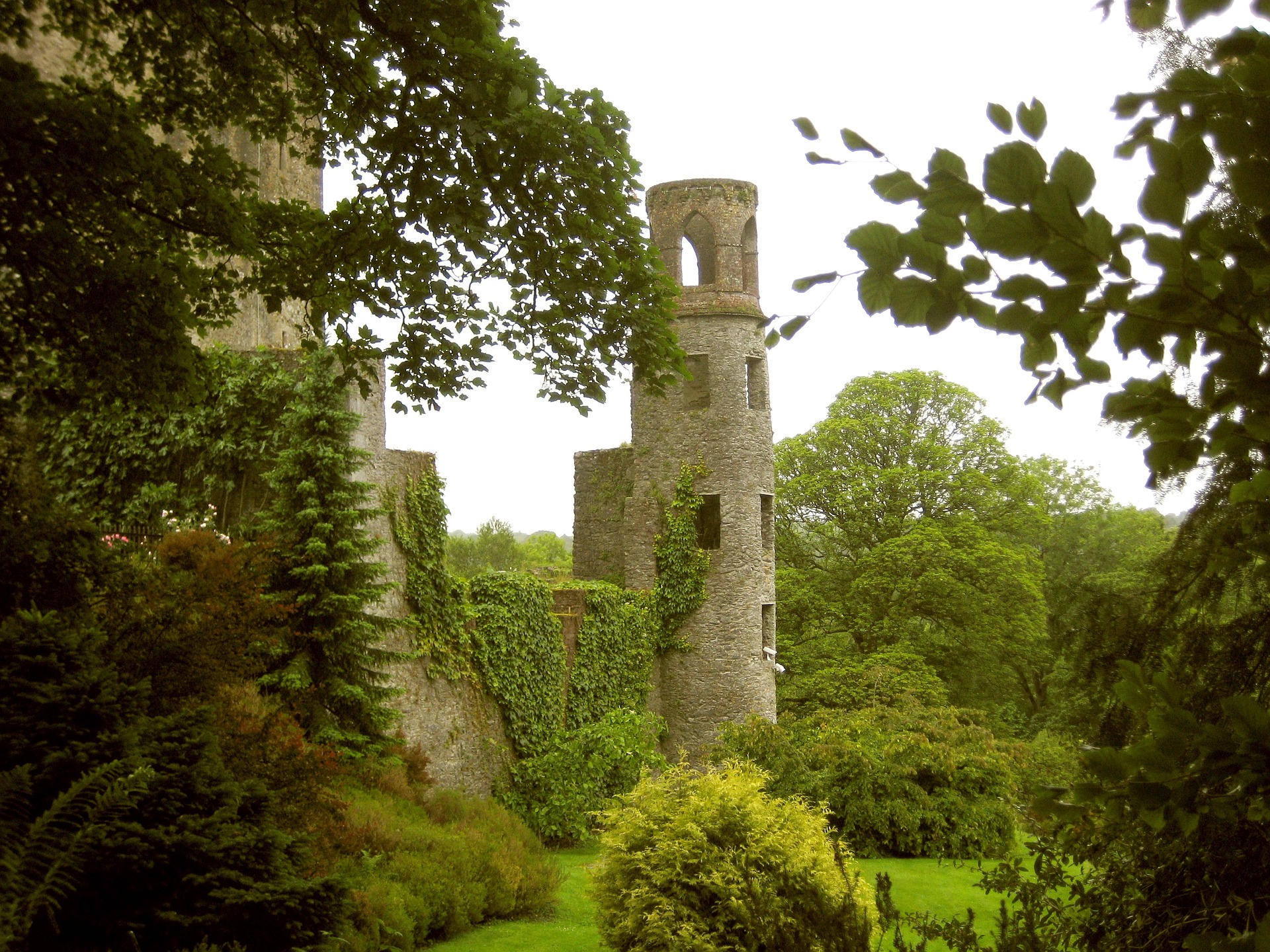 The lush grounds of the Blarney Castle estate.
A Stop At The Blarney Castle Shop Is Great For Souvenirs And Postcards
Located on your way out, with exceptionally charming associates, the Blarney Castle Shop is your last place to visit to cap off the eventful day you kiss the Blarney Stone.
You will find postcards galore for family back home, lots of quirky and interesting items for guys and gals, and many options for souvenirs and mementos to remember your visit to kiss the Blarney Stone and wandering the gardens and streams of the Blarney Castle.
To kiss the Blarney Stone for the gift of the gab is an unforgettable and very unique experience. I hope you use my tips above to have a great and leisurely experience as you plan your trip to kiss the Blarney Stone.
Have you ever been to Ireland and made the trip to Blarney to kiss the Blarney Stone? How was your experience? Please leave a comment below to share your experience. Do you now speak eloquently with the gift of gab?
Pin this post: