If you are traveling to Paris with kids, there are plenty of fun attractions to keep the whole family entertained!
Things to do in Paris for families include pretty parks, cool museums, fun rides, and so much more! You do not have to worry about anyone saying they are bored in this amazing city!
Planning your trip to Paris France last minute?
Make sure to book ahead! Hotels and tours usually sell out the closer you get to your trip. Here are our top selections for Paris!
Top Experiences and Tours in Paris France:
Top Hotels In Paris France:
While most Paris attractions can be enjoyed with kids, this list focuses on activities that are especially kid-friendly no matter their age.
Get ready to make life-long memories with your kids! They will never forget eating croissants under the Eiffel Tower.
Check out my complete 5 days in Paris itinerary to help you plan your Paris family vacation.
Now, let's look at the top fun things to do in Paris with kids!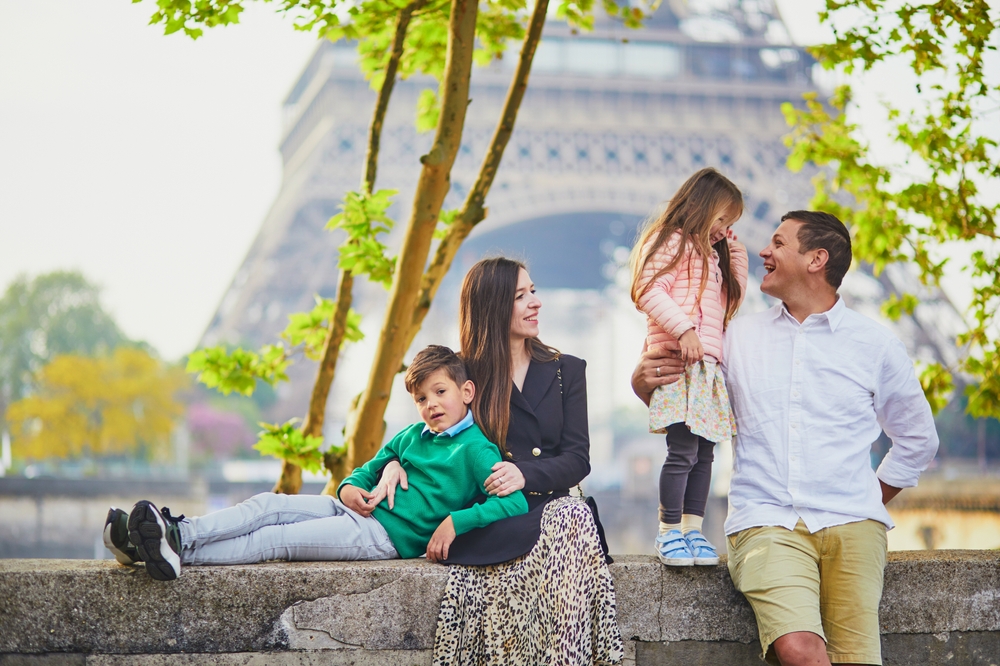 Paris with Kids: 15 Best Things Not to Miss
Explore the Jardin du Luxembourg
The Jardin du Luxembourg is the perfect place in Paris to let the kids run around and burn off some energy in a beautiful 57-acre garden.
This park offers so many fun family activities in Paris including marionette shows, tennis courts, and a carousel.
Make sure to head to the Grand Basin for one of the most fun kids' activities. Rent a wooden sailboat and give the kids a chance to push it through the water with a stick.
The park also has one of the best playgrounds in Paris. With wooded accents, the fenced playground blends into the surrounding trees.
Kids will have fun digging in the sand, climbing in forts, speeding down the zipline, and more. If you visit Paris with a toddler, this is the top place to go!
Jardin du Luxembourg is a great place to rest during your Paris trip as well. Find a seat near one of the fountains or statues and relax as you people-watch or picnic.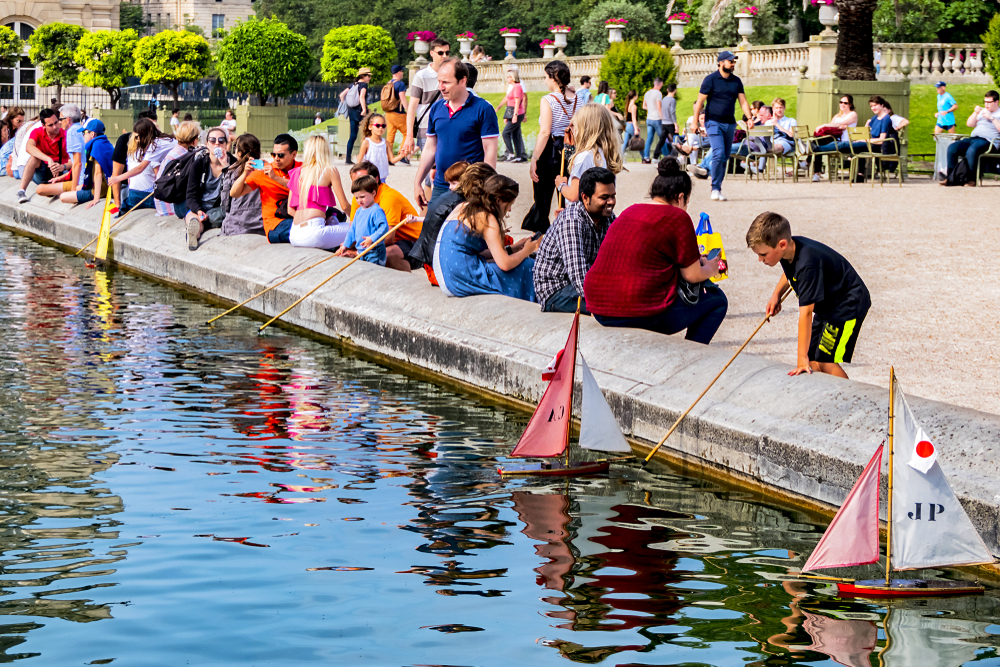 Have Fun at Disneyland Paris
Disneyland Paris is one of the best day trips from Paris for families with kids of all ages. It is an easy 40-minute ride on the RER A train from the city to the park.
Similar to Magic Kingdom at Disney World in Florida, you will find many classic rides like It's a Small World, Big Thunder Mountain, and Mad Hatter's Tea Cups.
There are also rides exclusive to this park such as Alice's Curious Labyrinth and Casey Jr's Circus Train.
The central feature is Sleeping Beauty's Castle. Make sure to explore underneath to find a dragon!
Since this is a Disney park, there are also many shops, restaurants, parades, and shows. For special events, visit during Halloween or Christmas.
If you have time, you can also hop over to Walt Disney Studios Park which is based on Hollywood Studios.
Book Here: Paris: Disneyland 1-Day Ticket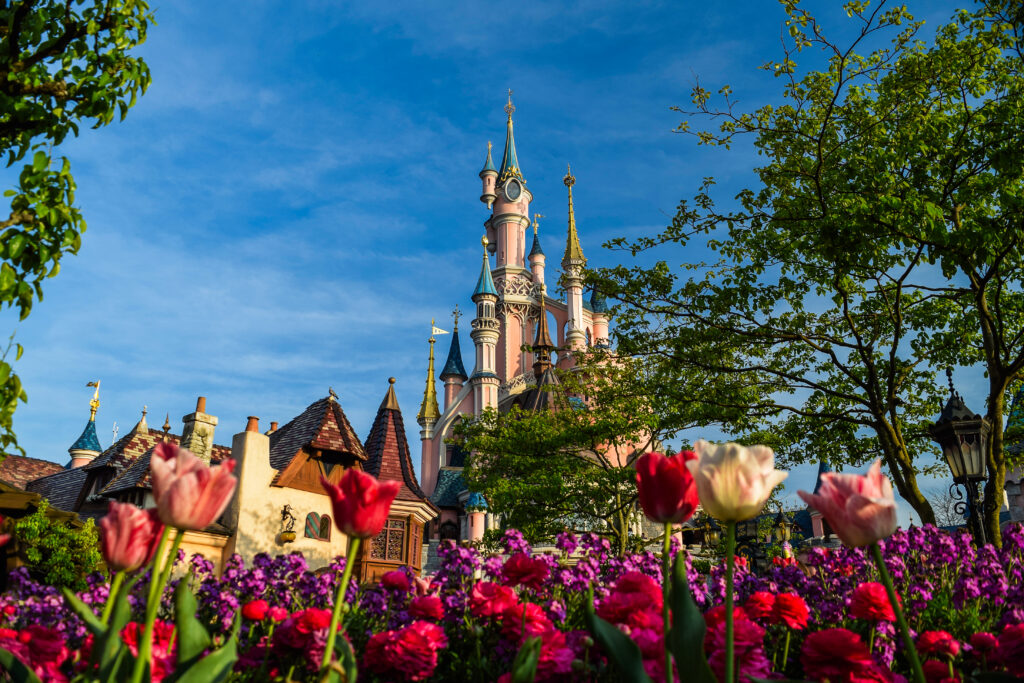 Take a Seine River Cruise
A Seine River cruise is always a fun option for a Paris trip. This is a great way to see the city with young kids who might not be up for walking all over Paris.
Sit back and relax as you listen to the informative narration and spot sights like the Eiffel Tower, Notre Dame, and Musée d'Orsay. Admire the beautiful bridges too.
Along with regular sightseeing cruises which are usually an hour, longer lunch and dinner cruises are available as well.
The hop-on hop-off boats are another option if you want to stop and see certain family attractions in Paris close up. There are 24-hour and 48-hour passes that make traveling via the river easy.
Book Here: Paris: Day or Sunset Cruise with Drink, Ice Cream, or Dessert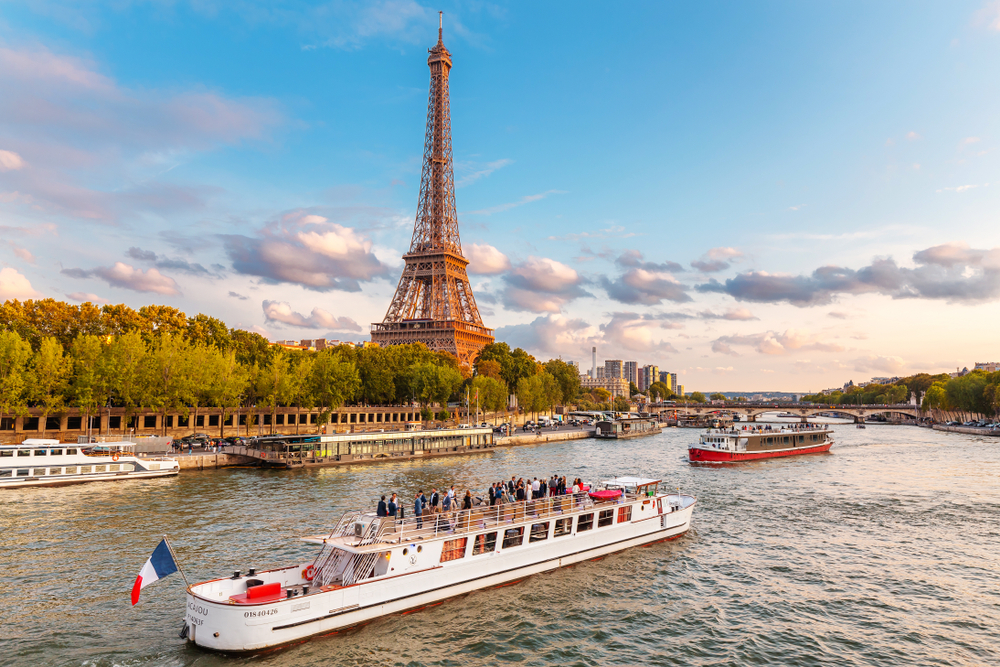 Enjoy a Picnic Under the Eiffel Tower
Of course, you cannot bring the kids to Paris without showing them the Eiffel Tower!
You can head to the top of the iconic tower for some of the best views in Paris. However, depending on the age of your kids, it might be easier to stick to the ground.
Pack a picnic to enjoy under the landmark. You can easily make your own charcuterie board with fresh French bread and tasty cheeses and meats bought from local shops.
Eat your meal while the kids run around the green lawns of Champ de Mars. Young children will also love riding the nearby Carousel of the Eiffel Tower which overlooks the river.
Stay until after dark to see the Eiffel Tower light up and sparkle.
No matter how you choose to experience the Eiffel Tower with kids, you will have a fantastic time.
Book Here: Paris: Eiffel Tower Entry Ticket with Optional Summit Access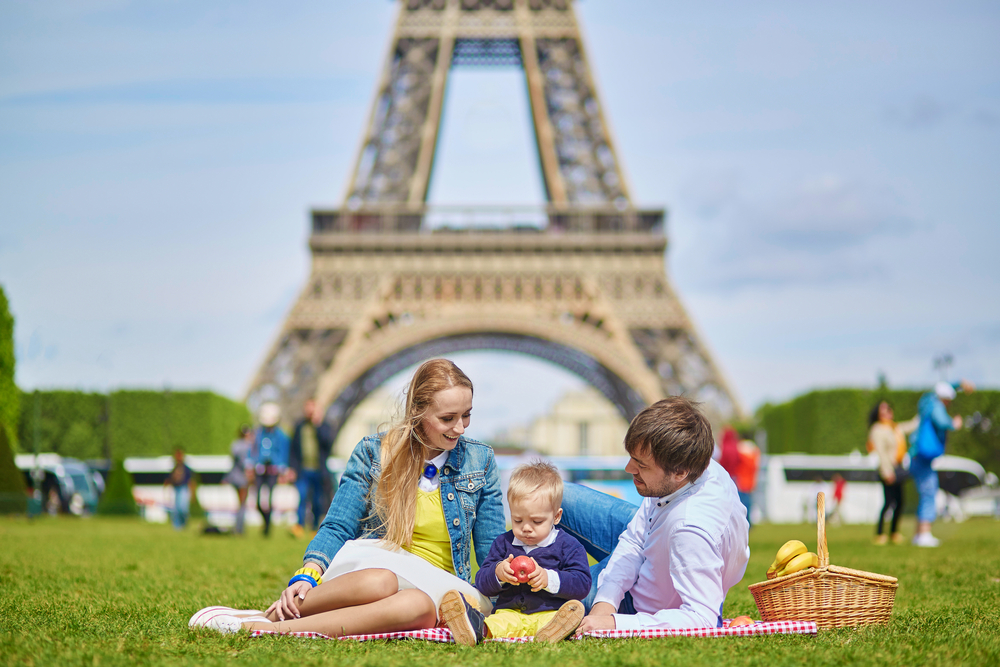 Play at the Jardin des Tuileries
The Jardin des Tuileries next to the Louvre Museum is another great park to visit when you come to Paris with your family.
While walking on the grass is not allowed, there are plenty of other things to do in this flower and statue-filled park to entertain kids.
The Jardin des Tuileries Carousel is one of the most beautiful carousels in Paris with amazing details and painted scenes along the top. It is the perfect spot to snap photos of your kids smiling!
There is also a playground in the park where children can burn off some energy as they climb, slide, seesaw, and jump. There is also an in-ground trampoline park.
In summer, there is also a fun fair with a Ferris wheel, games, and cotton candy.
December family holidays to Paris would not be complete without visiting the Jardin des Tuileries Christmas Market. This is a great place to pick up gifts or try tasty treats.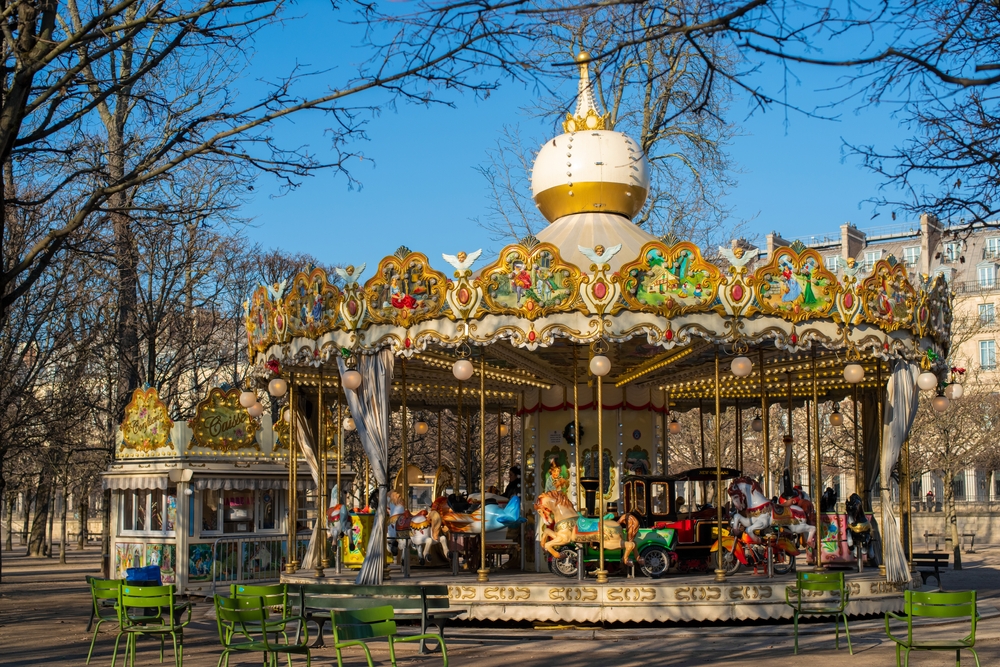 Take a French Cooking Class
Book a cooking class to immerse yourself in the French culture. This is a fun, hands-on activity that kids and adults can enjoy together.
From pastries to macarons to chocolates, there are so many classes to pick from that will satisfy your sweet tooth all while learning a new skill.
You will love the chance to eat treats you made with your own hands!
A cooking class with your family in Paris is the type of experience you will always remember from your trip because it is so unique and interactive.
Book Here: Paris: Macaron Class at Galeries Lafayette
Book Here: 2-Hour French Pastry Cooking Class in Paris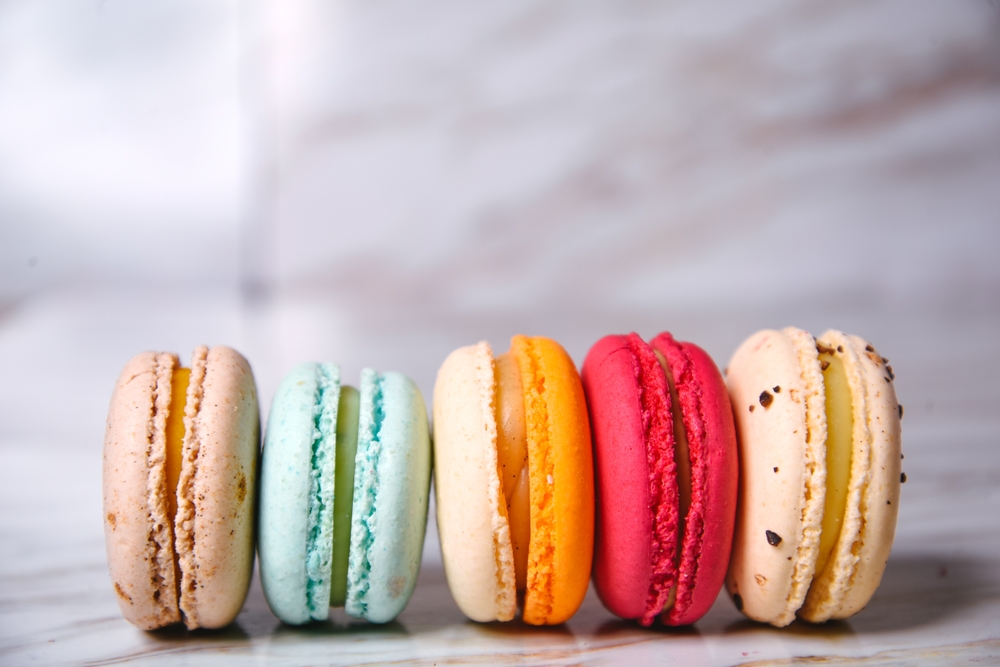 Learn at the National Museum of Natural History
Housed in multiple buildings in the Jardin des Plantes, the National Museum of Natural History is one of the best places to visit in Paris for kids with inquisitive minds.
There are so many interesting exhibits that will keep both kids and adults engaged.
The Gallery of Evolution showcases the biodiversity of animal life with a collection of 7,000 taxidermied animals and skeletons. You will learn all about evolution, genetics, and conservation.
There is also a Children's Gallery where learning is more hands-on with interactive games.
The Paleontology and Comparative Anatomy Gallery is perfect for anyone interested in fossils, dinosaurs, and animal anatomy.
There are thousands of skeletons of all sorts of animals including the extinct Steller's sea cow and marsupial wolf. On the paleontology floor, you can step back millions of years to see the fossils of dinosaurs and ancient plants.
You can also visit the Geology and Mineralogy Gallery which features giant gemstones, meteorites, and rare jewels.
The Jardin des Plantes' Ménagerie opened in 1794 and today features a research center and a conservatory for endangered species.
Learn about conservation as you view threatened animals such as orangutans, Seychelles turtles, and Malayan tapirs.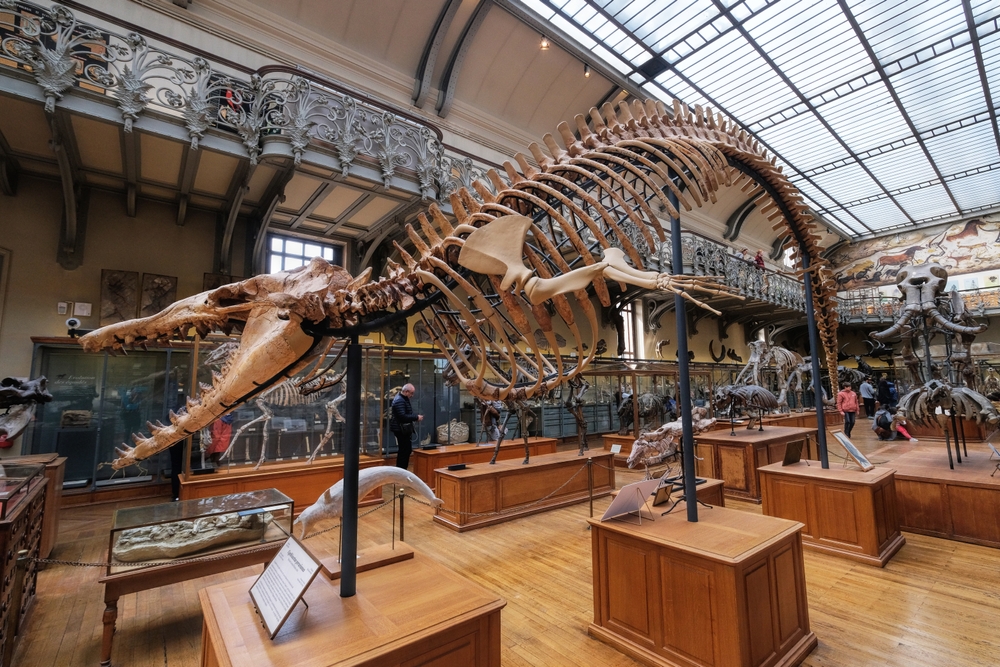 Visit the Centre Pompidou
The Centre Pompidou houses the National Museum of Modern Art in an interesting building with exterior escalators and tubing.
You will find works by Pablo Picasso, Henri Matisse, Andy Warhol, and others. Everyone will be amazed by the colorful and unique paintings, sculptures, photography, and films.
The Children's Gallery and Children's Studio are a great way to introduce young ones to the world of art. Families will be able to experiment and be creative in a fun space.
If you bring teenagers to Paris, Studio 13/16 offers hands-on experiences and workshops with artists. All aspects of art are explored including visual arts, dance, music, film, fashion, and more.
The museum also hosts a number of family events in Paris throughout the year for all ages.
Do not forget to check out the building's amazing Paris view!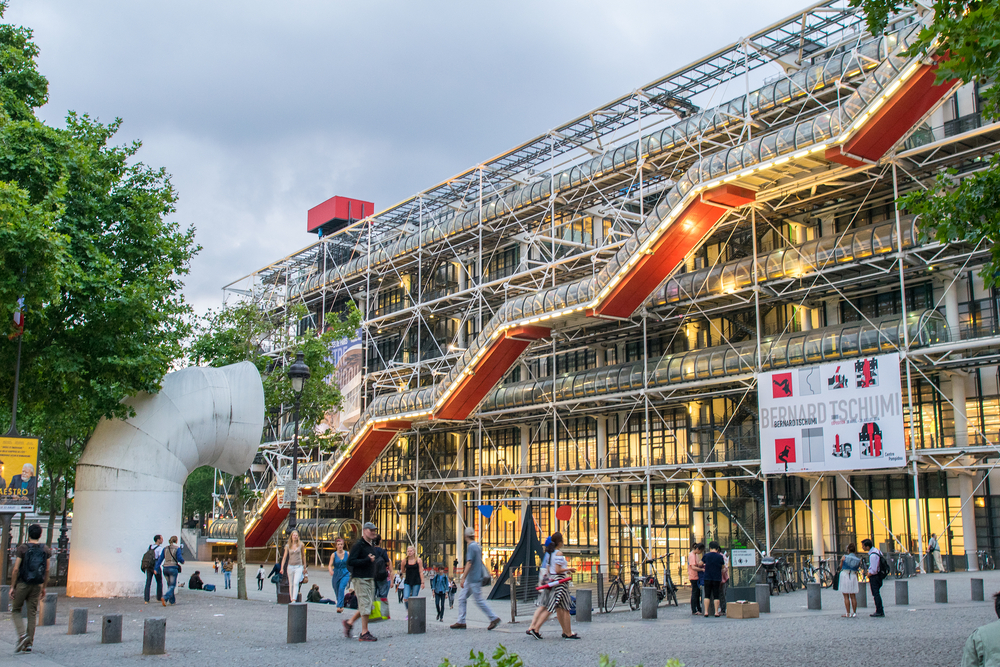 Check Out Parc des Buttes-Chaumont
If you travel to Paris with family, you will want a place to escape the crowds and noise of the city.
Parc des Buttes-Chaumont is the perfect spot to relax in nature. This is one of the largest green spaces in the city at about 61 acres. The scenic hills provide great views across the city.
There are many cool features to discover including the Temple de la Sibylle, a grotto with a waterfall, a lake, and a historic suspension bridge that was designed by Gustave Eiffel.
Kids will also enjoy the marionette theaters and playgrounds in Paris.
For family restaurants in Paris, there are a few options in the park and nearby.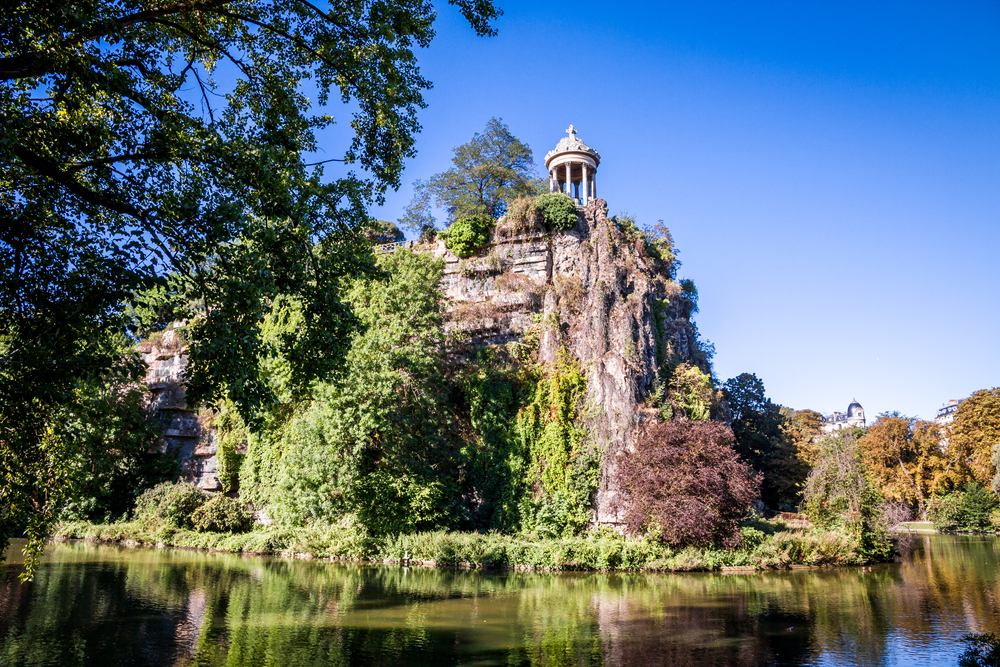 Visit the Cité des Sciences et de l'Industrie
Just north of the Parc des Buttes-Chaumont is another park called La Villette. Along with many music venues, this park is known for the Cité des Sciences et de l'Industrie, or City of Science and Industry.
The science museum draws you in with the giant metal ball that sits outside.
Inside, you will find exhibits on a number of topics ranging from the human brain, sound, space, genetics, mathematics, and more. There is also a planetarium and an aquarium.
The children's exhibitions make this museum one of the best things to do in Paris with kids. There are two, one for ages 2 to 7 and one for ages 5 to 12.
Through interactive activities, kids will test their cognitive skills in fun ways. There are mirrors, water games, a garden, a TV studio, and more to check out.
Book Here: Paris: City of Science and Industry Museum Entry Ticket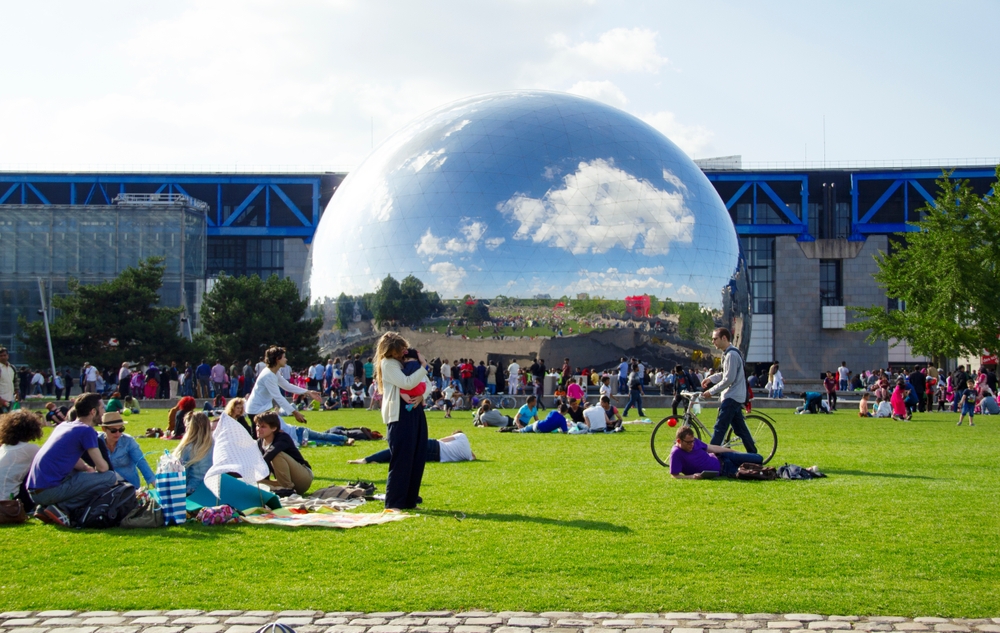 Take Pictures at the Musée Grévin
Musée Grévin is a wax museum similar to Madame Tussauds which dates back to 1882.
The whole family will have a blast posing with all sorts of celebrities, political figures, sports stars, and cartoon characters.
The realistic representations of King Charles III, Leonardo DiCaprio, Marilyn Monroe, Charlie Chaplin, Christian Dior, George Clooney, and others are sure to wow kids and parents alike.
You can get up close and personal for the perfect selfies and family photos to share on social media.
Book Here: Paris: Grévin Wax Museum Ticket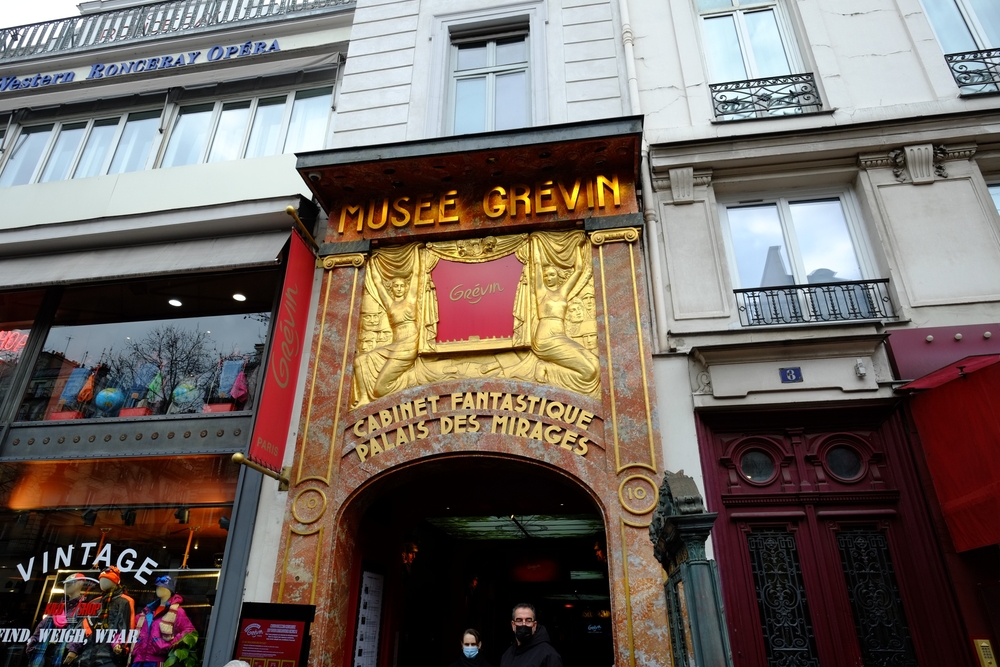 Get Thrills at Parc Astérix
Parc Astérix is another theme park to visit near Paris with children. It is just over an hour away by public transportation.
The park is based on the French comic book series Asterix which was first published in 1959. The story follows Gaulish warriors as they fight the Romans.
There are rides for all ages including many roller coasters if you are looking for a thrill. There are many water rides too which is perfect in the summer.
Other activities include meeting the comic book characters and watching fun shows full of humor and stunts.
In between all the fun attractions, take time to eat and shop.
The park also has some of the best family-friendly Paris hotels. There are three options that are all very cute with a rustic style and are within walking distance of the park.
Book Here: Paris: Parc Astérix Full-Day Entrance Ticket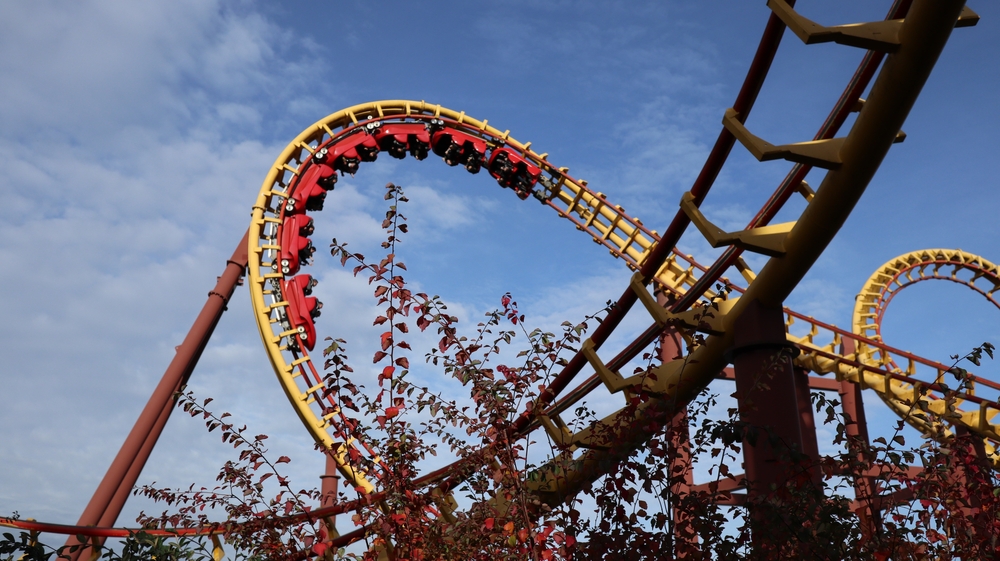 When In Paris With Kids Feel Awed At The Atelier des Lumières
The Atelier des Lumières combines 140 video projectors and a spatial sound system to create an amazing, immersive experience.
With paintings displayed on the floors, ceilings, and 33-foot-tall walls, you will be completely enveloped by moving art by an assortment of artists including Marc Chagall, Vincent van Gogh, and Gustav Klimt.
The bright colors and abstract paintings paired with music will mesmerize children and parents as they walk through the amazing space.
This is another cool place to get photos of your kids, too!
You need to add this to your 3 days in Paris itinerary for your family trip!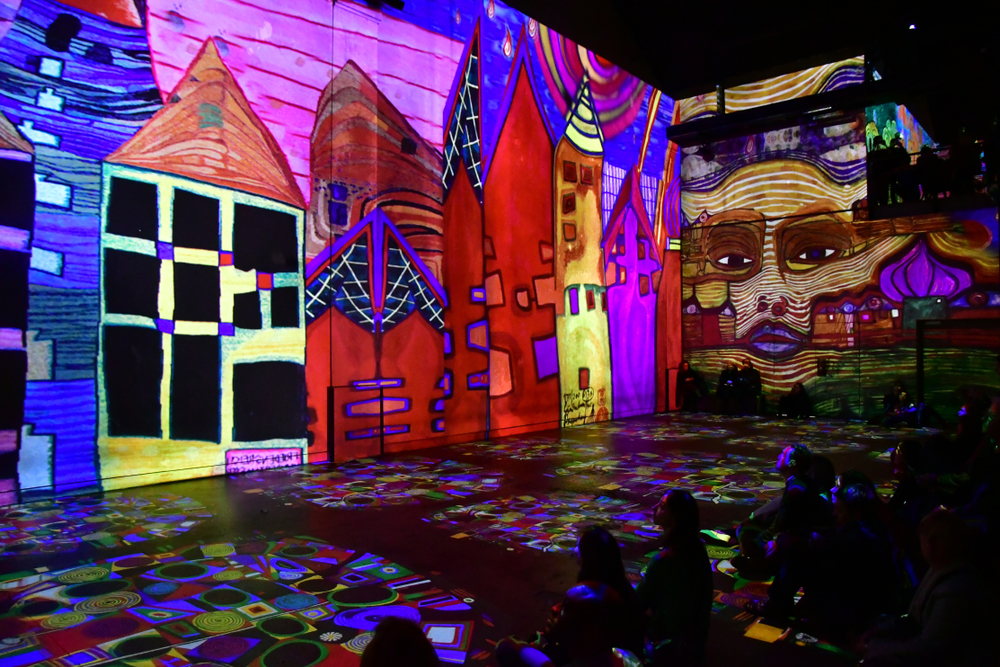 Admire the Views at Sacré Coeur When In Paris With Kids
The beautiful, white Sacré Coeur Basilica stands high above all of Paris in Montmartre. Whether you climb to the top of the church or stand at the base, your breath will be taken away by the views.
Try to arrive early to avoid the crowds!
Make sure to ride the Montmartre funicular to save yourself from climbing up and down hundreds of steps. This will be fun for the kids too since it is a unique form of transportation.
Set below the basilica is yet another of the pretty carousels in Paris! Even if the kids are tired of riding carousels by now, it makes the perfect backdrop for a postcard-worthy photo with Sacré Coeur behind it.
While in Montmartre, you should also walk over to Place du Tertre. In this square, you will find artists displaying their work and have the chance to get your picture drawn.
Book Here: Paris: Montmartre Walking Tour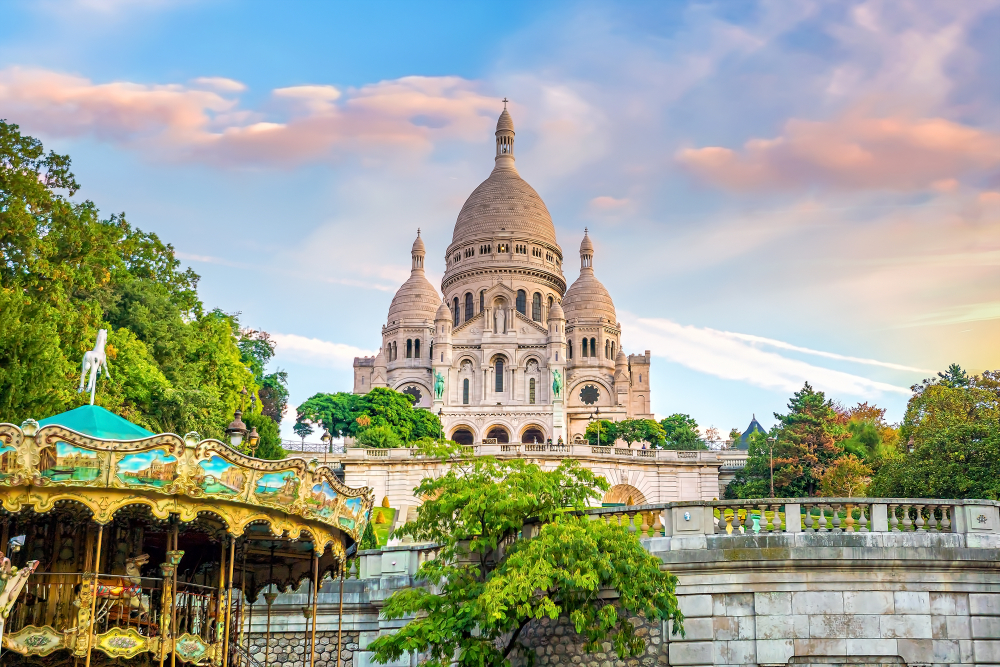 Discover Art at the Louvre Museum
The Louvre is the most famous art museum in Paris, displaying about 35,000 works of art at a time.
Some of the most well-known pieces include the Mona Lisa, The Winged Victory of Samothrace, The Venus de Milo, and Liberty Leading the People.
There are extensive collections of Islamic art, Egyptian antiquities, Near Eastern antiquities, decorative art, paintings, sculptures, and more.
While it is impossible to fully explore the entire palace turned museum in one day, the Louvre offers the chance for parents to introduce their kids to art throughout history and different cultures.
The best part, the Louvre is free to those under 18! Make sure to get tickets ahead of time to save time.
Of course, you will have to snap some Paris family vacation photos in front of the giant glass pyramid that sits above the museum's entrance.
Book Here: Paris: Louvre Museum Timed-Entrance Ticket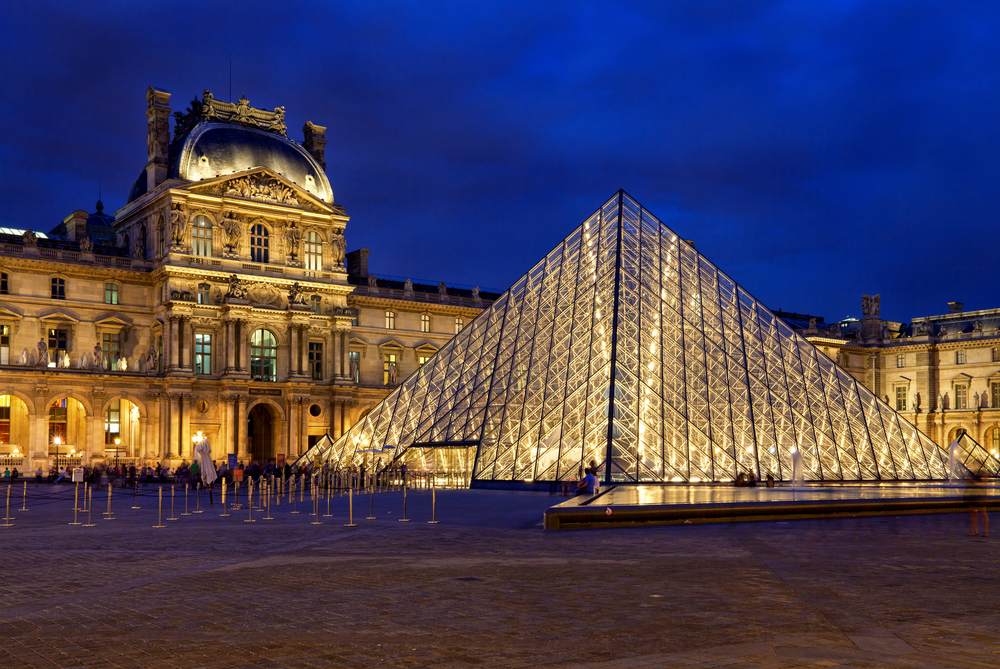 Where to Stay in Paris With Kids
Les Jardins Du Luxembour Is One Of The Best Hotels In Paris
Les Jardins Du Luxembourg is the best hotel for families in Paris near the Jardin du Luxembourg. Since it is a short walk from the park, kids can easily get fresh air and the chance to burn some energy.
The rooms here are nice and big with family suites and apartments available.
An airport shuttle, room service, a 24-hour front desk, and free WiFi make this a family-friendly place to stay in Paris. Rooms also include free toiletries, hairdryers, flat-screen TVs, and coffeemakers.
Check Rates: Booking.com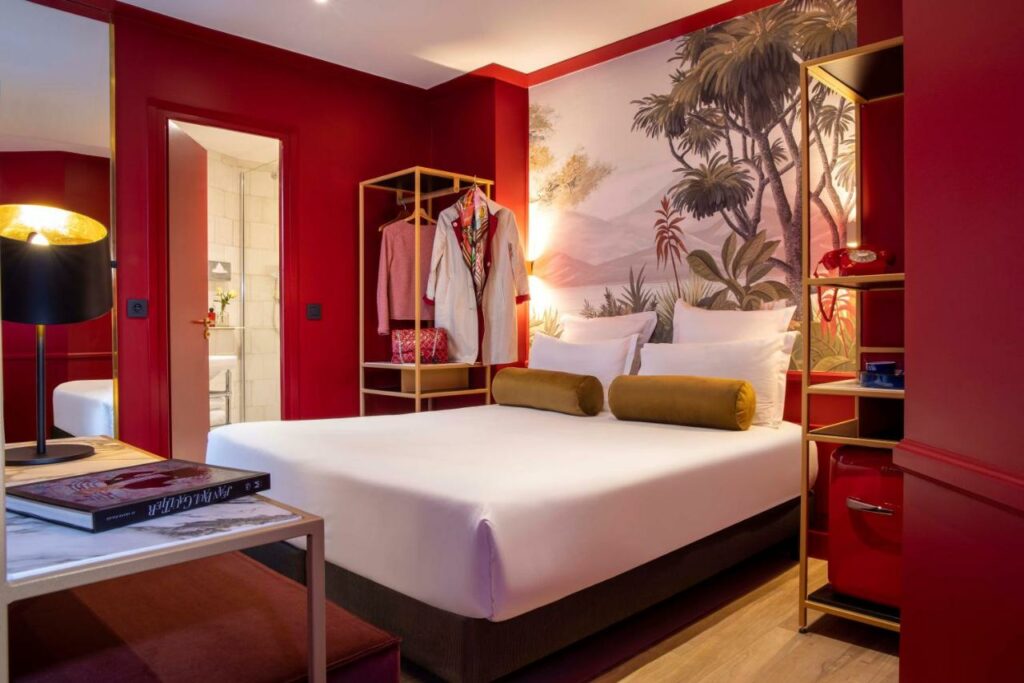 Résidence Charles Floquet Is One Of The Charming Apartments In Paris
Staying in an apartment is a great idea when visiting Paris with children so you can have a larger space to spread out and a kitchen where you can do your own cooking.
Résidence Charles Floquet offers many elegant apartments and a couple even have views of the Eiffel Tower which is only a couple minute's walk from the historic building.
The balconies, fireplaces, and high ceilings will make you feel right at home. Other amenities include a washing machine and dryer, free WiFi, a satellite TV, and a breakfast kit on request.
Check Rates: Booking.com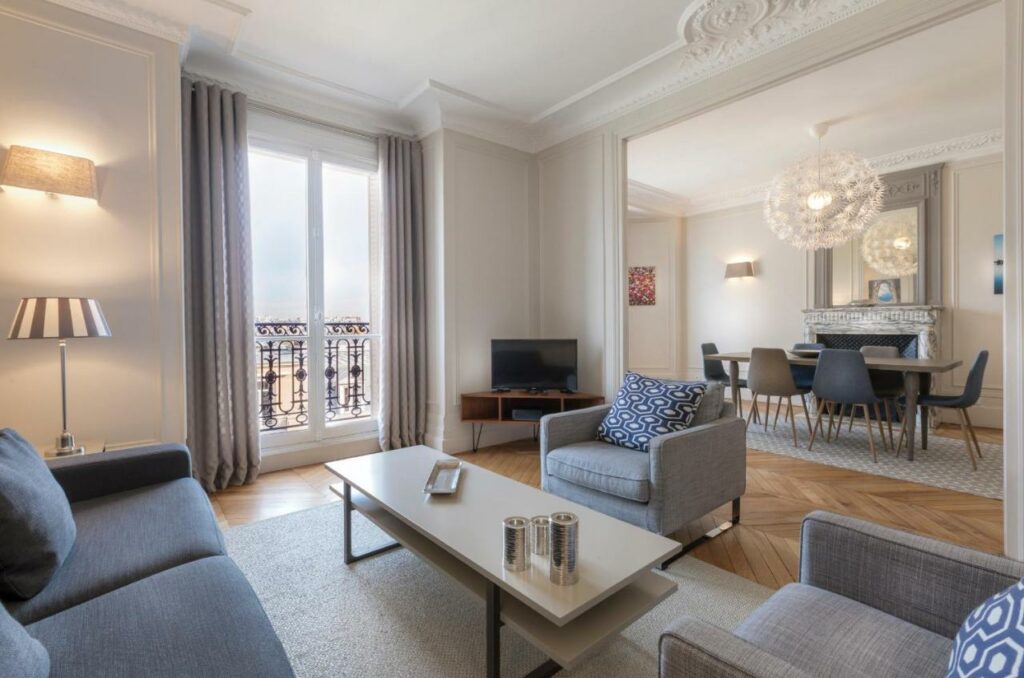 Hôtel Monsieur Aristide
One of the best boutique hotels in Paris, the Hôtel Monsieur Aristide is located in the Montmartre district and offers big suites and apartments perfect for a family.
The property includes a garden, a restaurant, and a bar. There is also a 24-hour front desk, concierge service, room service, an airport shuttle, and a buffet breakfast.
Rooms include free WiFi, air-conditioning, and flat-screen TVs. Some rooms also have a balcony.
Check Rates: Booking.com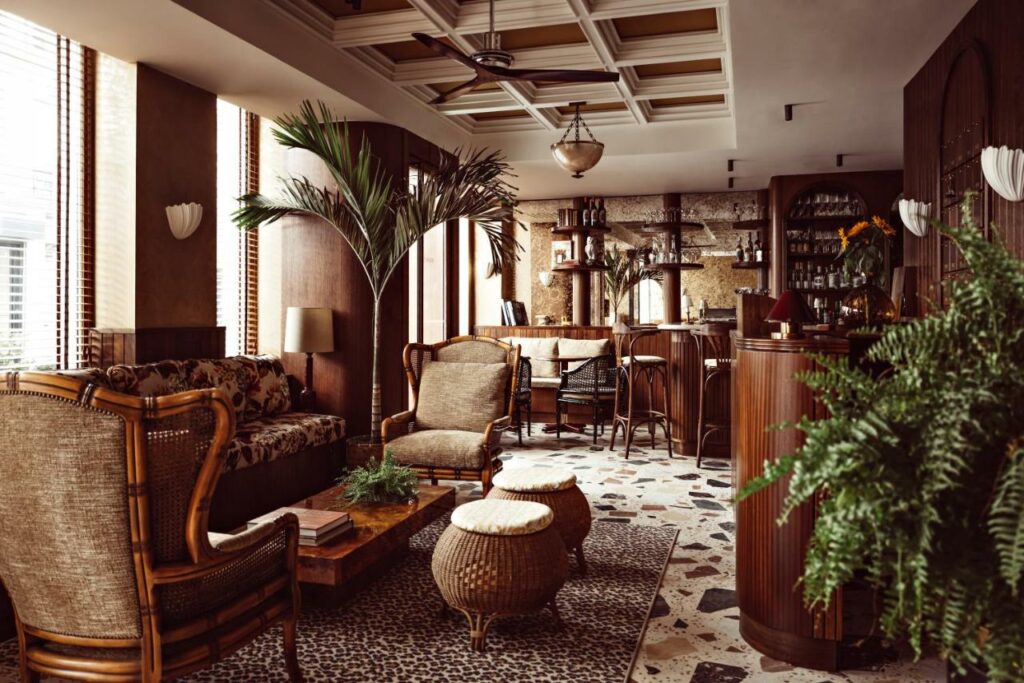 Packing Tips For Visiting Paris With Kids
Using these useful packing tips will enhance your experiences while hopefully keeping you organized while visiting Paris with kids..
You will want to remain healthy while you travel to Paris and pack lightly to make your travels easier.
A concealed travel pouch may be one of the most important items you bring with you on your Paris trip
This unisex RFID-blocking concealed travel pouch is lightweight and comes in several colors.
It has lots of organization to give you peace of mind. You can keep your most valuable documents safe and secure next to your body.
If you have a pouch already, you may not want to or need to invest in a new one, like me. If it does not come with RFID protection, these RFID sleeves would be handy to prevent identity theft.
This configuration comes with enough passport and credit card sleeves that the entire family would be protected.
They are slim too, so they will easily fit into your current pouch or wallet. These are the kind my family and I use not only when traveling but at home as well.
If you are planning on taking a lot of pictures with your phone you will definitely want to consider an external charging battery.
This Anker high-speed phone charging battery is the exact one I carry with me on all of my trips. It can be used on a variety of phones, not just an iPhone like I have.
And wow is it fast! I like that it holds its charging capabilities for several uses so I do not have to worry about it while out and about. And if I forget to recharge it at night, it will still be good to go the next day.
My daughter gifted me with this FugeTek Selfie Stick and Tripod for my birthday. It has Bloothtooth connectivity so it is very easy to use. It is made of durable aluminum and is very lightweight and easy to carry.
I was never a fan of packing cubes until I tried them out! Now I am sold. These Bagail packing cubes are the exact ones I use whenever I travel.
Don't forget to bring along a universal power adapter on your trip to London, this worldwide power plug is a great example and will charge your phone at the end of your busy days.
And this world traveler adapter kit can charge several devices at the same time.
Hydration is so important. You want to remain hydrated to support your immune system which in turn will be stronger to fight off any germs you will encounter during your travels.
You will want to bring your own refillable water bottle with you.
I never leave home on a trip without my Bobble filtration bottle. The 18.5-ounce size is perfect for travel and it fits nicely in the pocket of a backpack or your purse. Also when filled with water, it is not too heavy to carry.
And the replaceable carbon filter ensures fresh clean water whenever you fill the Bobble.
Perhaps you are traveling a long distance and packing space is at a premium. Then this collapsible silicone foldable water bottle would work well for you.
Would not take up much space in your suitcase at all.
You will want a backpack or daypack with you to store snacks, your water bottle, phone, extra clothes, etc. This foldable water-resistant backpack would be great.
It is very affordable and is available in many color options for you to choose from. The fact that it folds down into a zippered pouch will make it easy to pack.
Perhaps you need a more substantial backpack for your international travel. This antitheft backpack has a charging port, is water-resistant, and can comfortably carry up to a 15.6″ laptop.
You will be walking more than usual. Sturdy and comfortable walking shoes are a must-have. These waterproof all-season shoes are extremely affordable yet fashionable.
Mostly everyone is familiar with the Skechers brand, and these Air Run high fashion sneakers come in a lot of colors to match your outfits and are still affordable.
If you are visiting London in warmer weather, maybe you want a pair of sandals to wear to dinner or to the local cafe, I highly recommend these Vionics adjustable strap orthotic sandals.
I have several pairs of Vionics that I bring with me *everywhere* I travel. They are very comfortable and have orthotic footbeds that cradle and support your feet.
Bring a lightweight scarf or shawl. Scarves and shawls are very popular in Europe and London is no exception. Both men and women wear scarves, both decoratively and as a layering piece to keep warm.
This cotton unisex lightweight scarf is versatile and can be worn in any season. And here's another option to consider:
this lightweight sunscreen shawl scarf would do double duty to protect you from the British sun should you visit London in the warmer seasons as well as being a fashion accessory layering piece.
We all need to protect our eyes from the sun's harmful UVA/UVB rays. These unisex polarized sunglasses come in a lot of lens colors and frame designs and are extremely affordable too.
If you are fond of the aviator-style of sunglasses these polarized aviators may interest you and add a bit of glamour. If you are in need of new luggage, this expandable soft side spinner luggage is affordable and comes in lots of colors.
If you like hard-sided better, then you may favor this hard-sided luggage set better. Both sets come with TSA locks and 8 wheels per piece.
—
Now you know what to do in Paris with kids for an excellent vacation to the French capital! Have fun!
Next, check out the best rooftop bars in Paris!