Are you looking for rooftop bars in Paris? You are in the right place.
In this article, I will walk you through the best rooftop bars in Paris and tell you how to get the best view. Paris bars really are phenomenal and these are some of the finest.
There is so much to see and do in Paris.
Planning your trip to Paris France last minute?
Make sure to book ahead! Hotels and tours usually sell out the closer you get to your trip. Here are our top selections for Paris!
Top Experiences and Tours in Paris France:
Top Hotels In Paris France:
It is an incredible city known for its stunning architecture, world-class cuisine, parks and gardens, and romantic atmosphere.
And one of the best ways to experience the City of Lights is from above, on a rooftop bar with a panoramic view of the city.
From the Eiffel Tower to Montmartre, Paris offers plenty of stunning vistas to enjoy while sipping a cocktail or glass of wine.
Some of these bars in Paris provide great views of the Eiffel Tower others offer less familiar but equally pleasing views.
One thing is for sure they are all stunning and have that je ne sais quoi that Paris is known for.
In this article, we'll explore 10 of the best rooftop bars in Paris, each with its unique features and offerings. This is just a start when it comes to bars with stunning views of the rooftops in Paris there are plenty.
So pull up a chair, grab a drink, and let's have drinks in Paris. Mines an Expresso Martini thank you for asking.
If this is your first trip to Paris here are some things to know before you visit.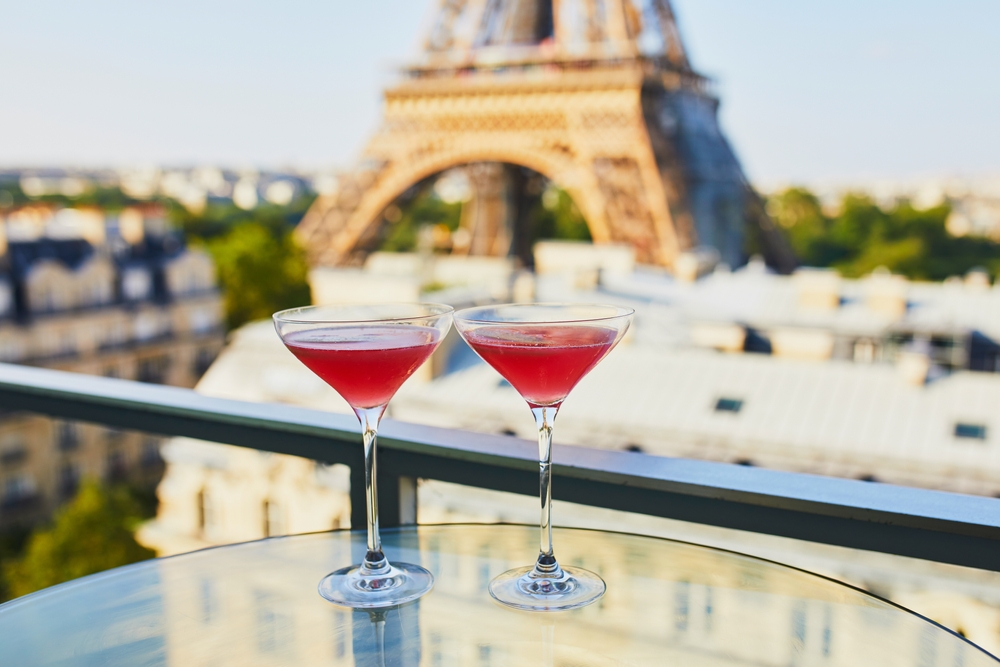 10 Rooftop Bars In Paris With The Best Views
Créatures Paris
On the 8th floor of the Galeries Lafayette department store Créatures Paris is a unique rooftop bar with a focus on sustainability and organic products.
The menu is 100% vegetarian, the furniture eclectic and up-cycled and it's just super cool.
The impressive view is a 360° view over Paris rooftops. You can see the Eiffel Tower in the distance and the Opera House within close range.
The drinks menu features organic cocktails made with fresh fruits and herbs, as well as a selection of French wines.
Try the Green Mojito, made with organic rum, lime, and mint, or the Créatures Spritz, a refreshing mix of Prosecco, elderflower, and grapefruit.
This is the perfect bar rooftop in Paris to spend an afternoon or a romantic evening with a partner. Paris views don't get much better than this.
Skybar Paris
One of the best bars in Paris is Skybar, it is the highest open-air bar in Paris. It sits 115 meters above the city on the 32nd floor of the Pullman Paris Montparnasse.
Skybar Paris offers a breathtaking view of the city. From here, you can see the Eiffel Tower, the Arc de Triomphe, and the Seine River.
It's modern, sleek, and intimate and was inspired by the famous sky bars found in Asia.
The menu is Asian Fusion and the cocktails are interesting and unusual.
If you are looking for rooftop bars in Paris then Skybar really does have the best view. When it comes to Paris cocktail bars you really need to head for heights to visit here.
From here you get one of the best views in Paris.
Book Now And Stay At The Pullman Paris Montparnasse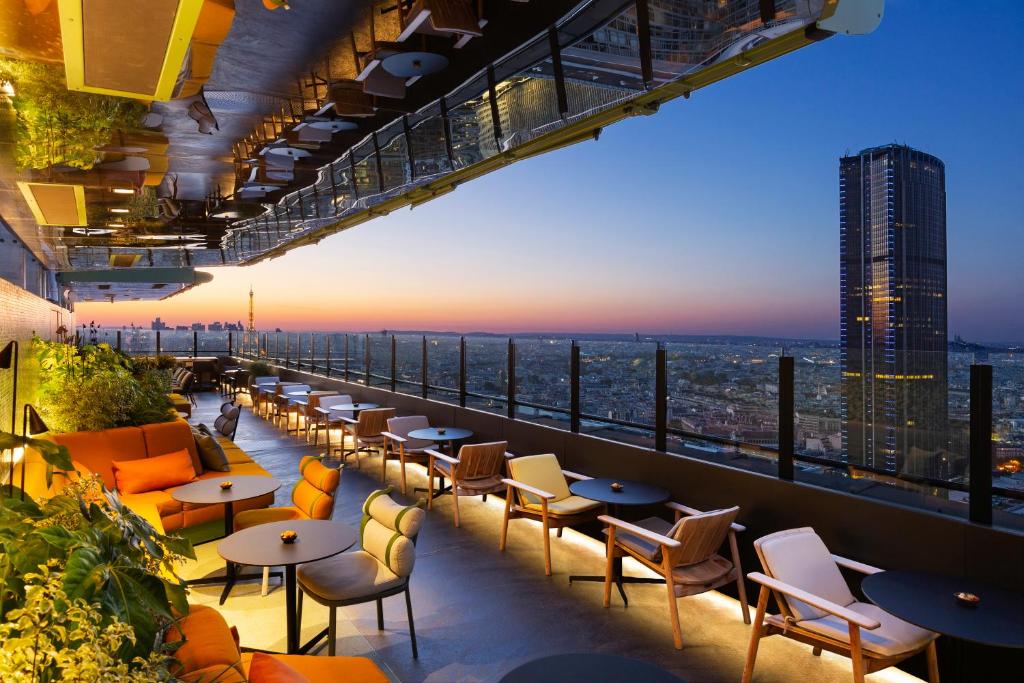 Hotel Rochechouart Rooftop Bar
This Paris cocktail bar is 9th floor of the Rochechouart Hotel and is known as just The Rooftop Bar.
It's a lush bar and here you sit in stylish surroundings in what only can be described as a hanging garden. This is a beautiful bar rooftop in Paris.
The view is amazing 360° views across Paris, including the close-by Sacré-Coeur and Montmartre rooftops.
The menu is well-considered, the cocktails impressive, the decor delightful and the views stunning. What more do you need?
There is something about this Paris rooftop bar that just feels, well, very Parisian. This is one of the best bars in Paris and one of the best views in Paris.
Book Hotel Rochechouart For Your Paris Stay
Il Volo Bar Rooftop Paris
When it comes to cool bars this one really is a great one to visit.
IlVolo means 'the flight' and this Paris cocktail bar sits in what looks like a metal nest on the rooftop of the Novotel Paris Vaugirard Montparnasse.
The view here is of the Effiel Tower and the street below. The bar has a chic, modern design with comfortable seating and a relaxed atmosphere.
The cocktails are from Matthias Giroud and the food is Mediterranean tapas style from Italian chef Denny Imbroisi.
The signature cocktail the 'Nest of Paris' contains hay-infused Tanqueray gin, elderflower liqueur, and Hysope cucumber tonic water.
This is one of the best cocktail bars in Paris with some interesting concoctions and a view to die for. Make sure you pay this place a visit. This is one of the best Paris lounges.
Book To Stay At The Novotel Paris Vaugirard Montparnasse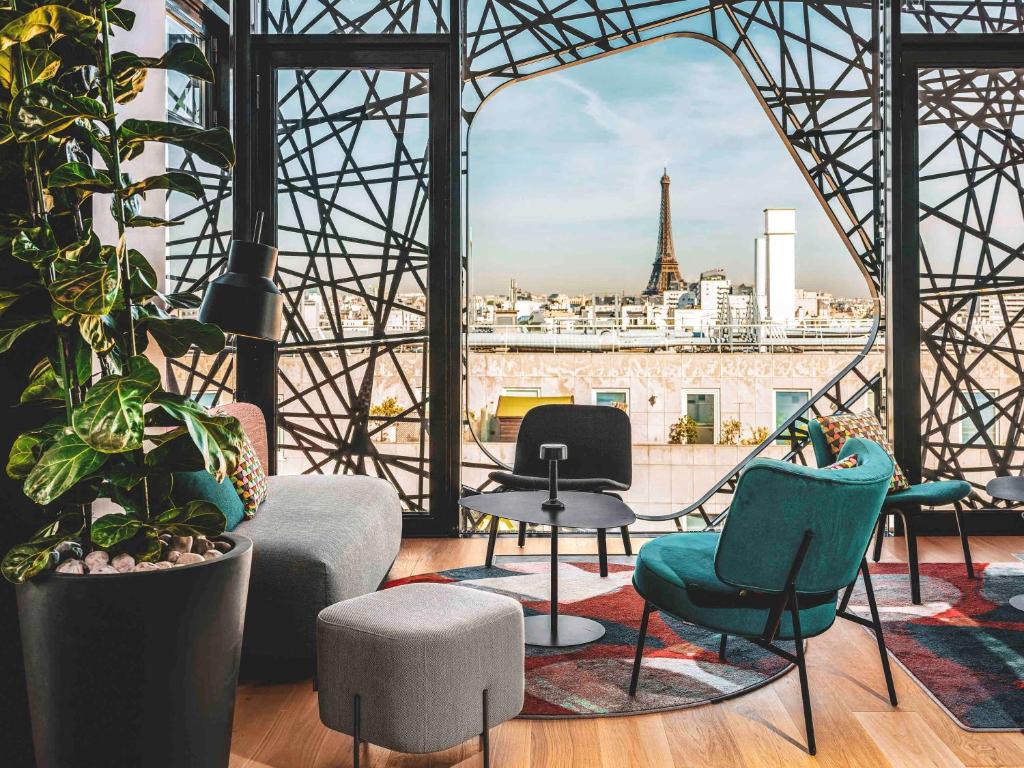 Bar Terrass Paris
How about a rooftop bar at the top of an art deco hotel? I have you covered.
On the 7th Story of the Terrass Hotel, this bar has a chic, modern design with comfortable seating and a relaxed atmosphere.
The view is of most of the city with Sacré-Coeur and the Butte Montmartre just behind you.
This upmarket rooftop in Paris has it all with some great signature cocktails. If you are looking to have drinks in Paris and want something extra special this is it. This is one of the best bars in Montmartre.
Book To Stay In The Terrass Hotel
Séquoia at the Kimpton St. Honoré
If you are looking for the perfect bar rooftop in Paris you may have found it.
Located on the rooftop of the Kimpton St. Honoré hotel, Séquoia offers a stunning view of the Paris rooftops. In fact, you can see nearly every major monument from this bar.
The bar is quite small and intimate and it is the perfect place for Paris drinks with a significant other. The cocktails are amazing, the staff friendly and the view top-notch.
When it comes to rooftop Paris bars this one is stylish with a black and white theme punctuated with greenery. It is modern yet cozy and the sunsets from here are just perfect.
This is one of the best cocktail bars in Paris for a romantic date or a special evening with a friend. Paris lounges don't get much better than this.
Book Your Room At Kimpton – St Honoré Paris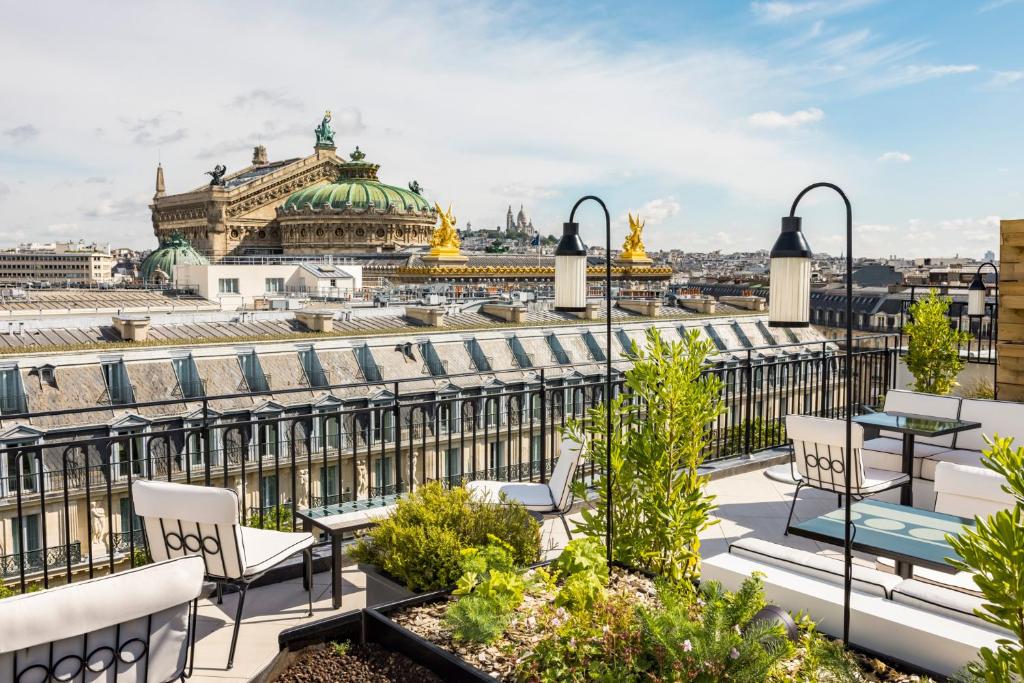 Bar le Perchoir Is One Of The Popular Rooftop Bars In Paris
When it comes to cool bars in Paris Bar le Perchoir is one of the most popular.
On the 7th floor of an old industrial building close to the Ménilmontant metro station, this rooftop bar is chic in a boho kind of way and very popular with a younger crowd.
It has a laid-back atmosphere more so than some of the other Paris cocktail bars and is perfect for drinks with friends.
The 360-degree view is over the Paris skyline and is perfect at sunset. It also has heaters and a retractable roof so it's perfect all year round.
If you are looking for rooftop bars in Paris that are vibrant and trendy then this is the one for you. As Paris lounges go this one is rather perfect.
One Of The Most Unique Rooftop Bars In Paris Is Kitchen Garden Rooftop at Brach
if you are looking for Paris bars that offer something different then head to The Brach Hotel. On the roof, you will find an urban garden complete with a henhouse and an incredible bar.
The view is a 360° view of the Paris skyline with an emphasis on the Eiffel Tower.
The cocktails are organic and made with fresh fruits and herbs and the decor is rustic with a somewhat homely feel. It's just like sitting in your own garden here.
There is also a Norwegian Bath here. It's weird, wonderful, and kind of awesome. This is one of the best bars in Paris if you are looking for something a little different.
This bar rooftop in Paris is well worth a visit and very unique.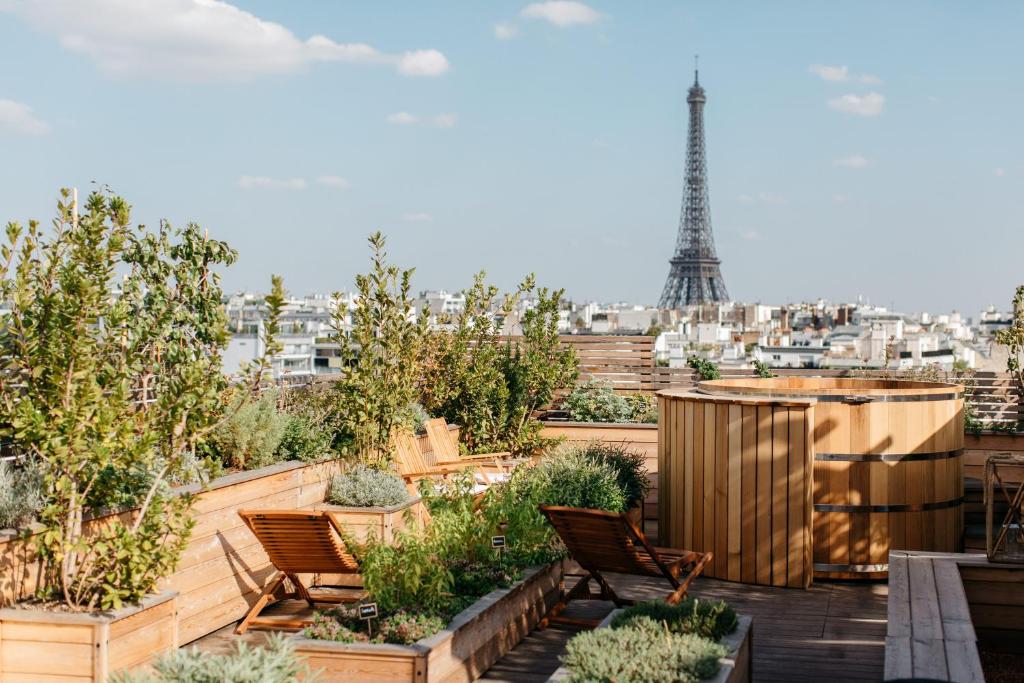 The Shed at the Hôtel des Grands Boulevards Is One Of The Best Rooftop Bars in Paris
If you are looking for Paris lounges that are off the tourist trap and offer something more relaxed this is it. This rustic rooftop cocktail bar is very chilled and perfect for a relaxing evening.
On top of the Hotel des Grands Boulevards, this small terrace looks more like a garden than a bar but it is never the less special.
The view doesn't have any landmarks as such just a charming view over rooftops in Paris.
The cabana rooftop bar is the focal point and you enjoy your cocktails from red and pink sofas. It's all very chill and civilized and perfect for a Paris drinks away from all the hustle and bustle.
When it comes to a bar lounge in Paris this one is perfect for a low-key evening. The rooftop Paris sunset here is also amazing.
Book A Room At Hotel des Grands Boulevards
Eiffel Tower Champagne Bar
For the best Paris views and a truly unforgettable experience, head to the Champagne Bar on the top floor of the Eiffel Tower.
From here, you can enjoy a panoramic view of Paris while sipping on a glass of champagne.
At a height of over 900 feet, and a breathtaking 360° view of Paris this is one of the highest and best rooftop bars in Paris.
The bar is open during the Tower's opening times and is located on the top level and opens onto the outside.
To visit the bar you will need a ticket with lift access to the top. This is one of the unmissable experiences in Paris so don't miss it. No one could argue that here you get the best views of Paris.
Book Your Eiffel Tower Ticket Now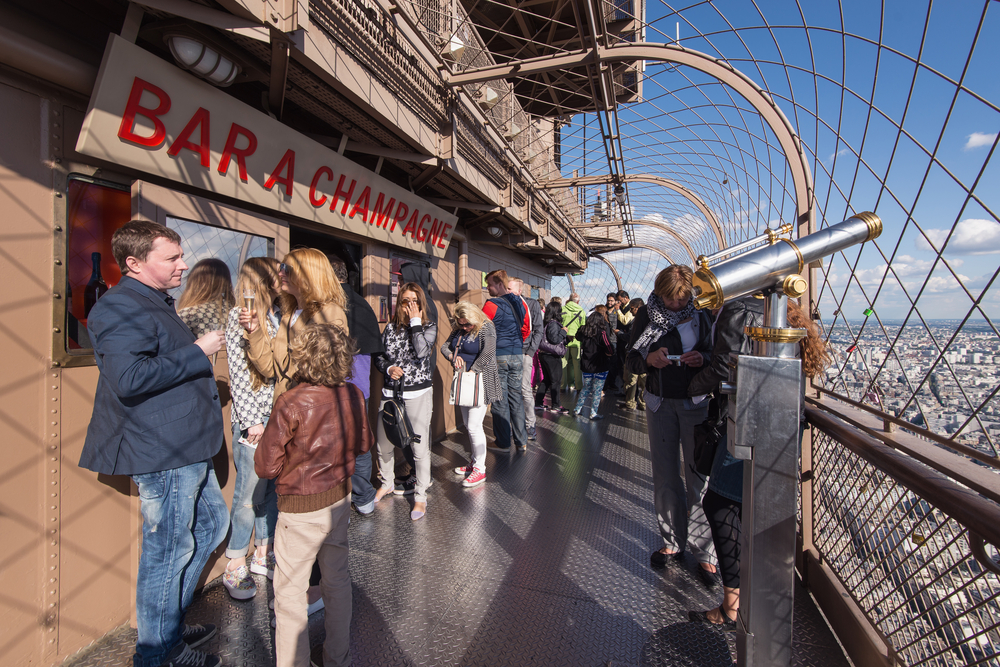 Packing Tips For Visiting Rooftop Bars in Paris
Using these useful packing tips will enhance your experiences while hopefully keeping you organized while exploring the best Paris rooftop bars.
You will want to remain healthy while you travel to Paris and pack lightly to make your travels easier.
A concealed travel pouch may be one of the most important items you bring with you on your Paris trip
This unisex RFID-blocking concealed travel pouch is lightweight and comes in several colors.
It has lots of organization to give you peace of mind. You can keep your most valuable documents safe and secure next to your body.
If you have a pouch already, you may not want to or need to invest in a new one, like me. If it does not come with RFID protection, these RFID sleeves would be handy to prevent identity theft.
This configuration comes with enough passport and credit card sleeves that the entire family would be protected.
They are slim too, so they will easily fit into your current pouch or wallet. These are the kind my family and I use not only when traveling but at home as well.
If you are planning on taking a lot of pictures with your phone you will definitely want to consider an external charging battery.
This Anker high-speed phone charging battery is the exact one I carry with me on all of my trips. It can be used on a variety of phones, not just an iPhone like I have.
And wow is it fast! I like that it holds its charging capabilities for several uses so I do not have to worry about it while out and about. And if I forget to recharge it at night, it will still be good to go the next day.
My daughter gifted me with this FugeTek Selfie Stick and Tripod for my birthday. It has Bloothtooth connectivity so it is very easy to use. It is made of durable aluminum and is very lightweight and easy to carry.
I was never a fan of packing cubes until I tried them out! Now I am sold. These Bagail packing cubes are the exact ones I use whenever I travel.
Don't forget to bring along a universal power adapter on your trip to London, this worldwide power plug is a great example and will charge your phone at the end of your busy days.
And this world traveler adapter kit can charge several devices at the same time.
Hydration is so important. You want to remain hydrated to support your immune system which in turn will be stronger to fight off any germs you will encounter during your travels.
You will want to bring your own refillable water bottle with you.
I never leave home on a trip without my Bobble filtration bottle. The 18.5-ounce size is perfect for travel and it fits nicely in the pocket of a backpack or your purse. Also when filled with water, it is not too heavy to carry.
And the replaceable carbon filter ensures fresh clean water whenever you fill the Bobble.
Perhaps you are traveling a long distance and packing space is at a premium. Then this collapsible silicone foldable water bottle would work well for you.
Would not take up much space in your suitcase at all.
You will want a backpack or daypack with you to store snacks, your water bottle, phone, extra clothes, etc. This foldable water-resistant backpack would be great.
It is very affordable and is available in many color options for you to choose from. The fact that it folds down into a zippered pouch will make it easy to pack.
Perhaps you need a more substantial backpack for your international travel. This antitheft backpack has a charging port, is water-resistant, and can comfortably carry up to a 15.6″ laptop.
You will be walking more than usual. Sturdy and comfortable walking shoes are a must-have. These waterproof all-season shoes are extremely affordable yet fashionable.
Mostly everyone is familiar with the Skechers brand, and these Air Run high fashion sneakers come in a lot of colors to match your outfits and are still affordable.
If you are visiting London in warmer weather, maybe you want a pair of sandals to wear to dinner or to the local cafe, I highly recommend these Vionics adjustable strap orthotic sandals.
I have several pairs of Vionics that I bring with me *everywhere* I travel. They are very comfortable and have orthotic footbeds that cradle and support your feet.
Bring a lightweight scarf or shawl. Scarves and shawls are very popular in Europe and London is no exception. Both men and women wear scarves, both decoratively and as a layering piece to keep warm.
This cotton unisex lightweight scarf is versatile and can be worn in any season. And here's another option to consider:
this lightweight sunscreen shawl scarf would do double duty to protect you from the British sun should you visit London in the warmer seasons as well as being a fashion accessory layering piece.
We all need to protect our eyes from the sun's harmful UVA/UVB rays. These unisex polarized sunglasses come in a lot of lens colors and frame designs and are extremely affordable too.
If you are fond of the aviator-style of sunglasses these polarized aviators may interest you and add a bit of glamour. If you are in need of new luggage, this expandable soft side spinner luggage is affordable and comes in lots of colors.
If you like hard-sided better, then you may favor this hard-sided luggage set better. Both sets come with TSA locks and 8 wheels per piece.
—
As you can see when it comes to rooftop bars in Paris there are so many to choose from. Whether you want something high-class or casual I have tried to include a good selection.
These bars offer some of the best views in Paris and all have something unique and different to offer.
There is nothing like sipping a cocktail while enjoying a view of one of the best cities in the world. Whichever of these bars in Paris you choose I know you will have a great time.
Have a wonderful time in my favorite European city. Oh and if you are looking for the best photography spots here are some of the most Instagrammable spots in Paris.