Are you looking for the perfect Paris Instagram spots?
I absolutely adore Paris. It is so charming, unique, and captivating. There are so many wonderful things to do in Paris!
Planning your trip to Paris France last minute?
Make sure to book ahead! Hotels and tours usually sell out the closer you get to your trip. Here are our top selections for Paris!
Top Experiences and Tours in Paris France:
Top Hotels In Paris France:
Seems every corner of every street has magical spaces that hold the best Paris Instagram spots.
Here I will list my 35 personal favorite Paris Instagram spots. I will give additional advice and the location for each.
Read how to avoid getting sick on a plane if you are flying into Paris and are looking for tips on remaining healthy to enjoy your holiday.
If you are flying a long distance while traveling to Paris, read my 7 tips for surviving long haul flights.
I hope you love "the City of Light" as much as I do. And that these 35 Instagrammable places in Paris will give you lots of memorable photos as you use one of the best blogging cameras on the market today.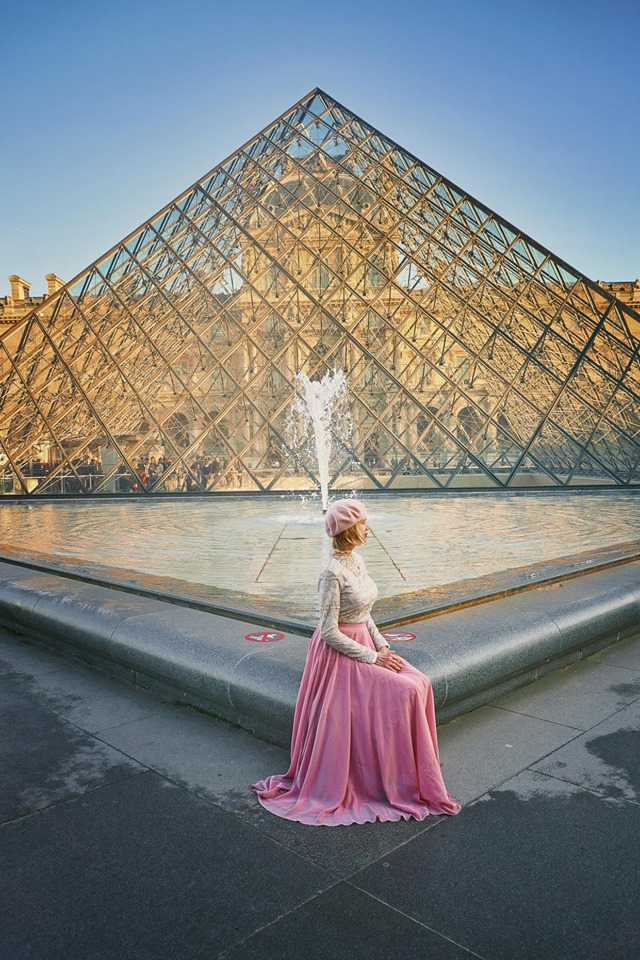 35 Best Paris Instagram Spots
Undoubtedly the most popular attraction Paris has to offer is the iconic Eiffel Tower.
This is why I believe it is one of the most Instagrammable places in Paris. And you should not leave Paris without grabbing a few Insta-worthy pictures.
There is no incorrect location, or outfit to wear to snap the perfect memory.
One thing that is absolutely necessary, if you do not want hordes of people in your photos, is to arrive at your preferred location before sunrise.
The Eiffel Tower From The Top Of The Trocadero
The Trocadero Palace is located on the Right Bank of the River Seine. It offers the most magnificent views of the Eiffel Tower.
This photograph was taken from the top level of the Trocadero right at sunrise. You will notice there are already people milling around.
Read my 18 things to know before your first time in Paris for advice before you start your planning!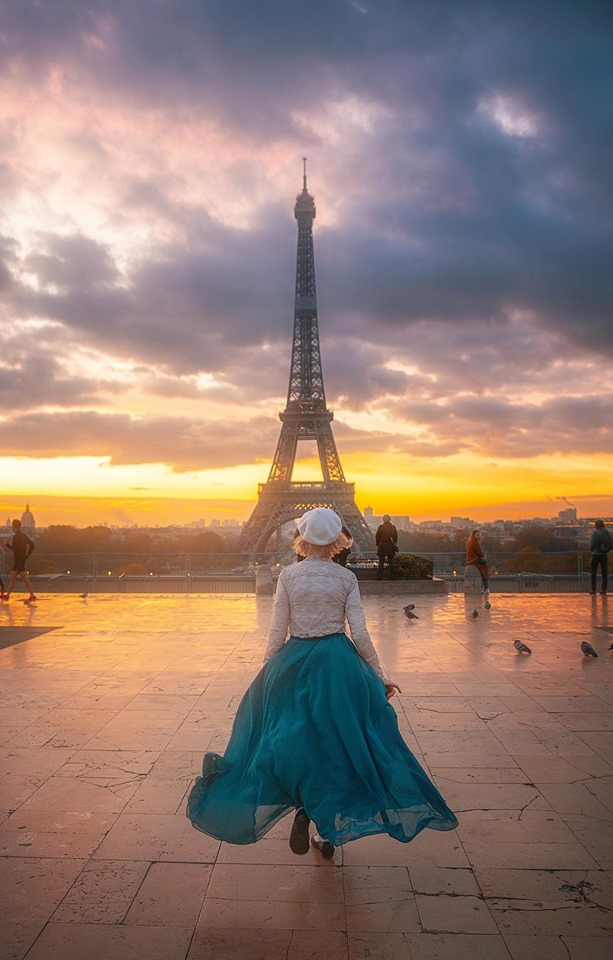 The Eiffel Tower From The Right Side of The Trocadero
Taken as the sun rose, in this shot, I am sitting on a ledge on the right side of the Trocadero Palace looking towards the Eiffel Tower.
I am serious when I advise getting to your desired destination before the sun rises so you can select your spot. You can see how many people have already gathered.
Look at this 4 days in Paris itinerary for tips on how to schedule your time in Paris.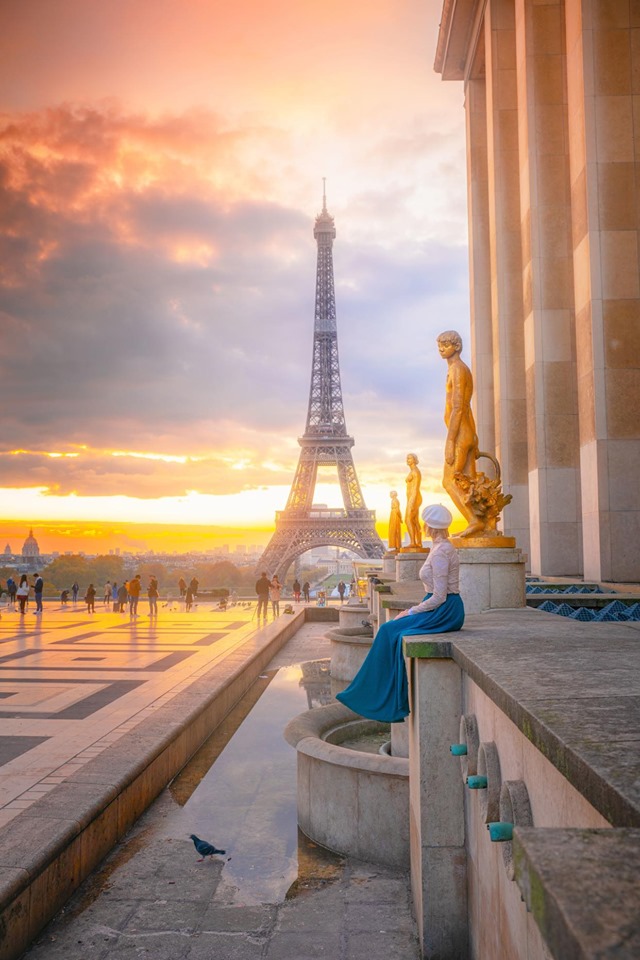 The Eiffel Tower From Midway At The Trocadero Palace
This ledge is located on the left side of the Trocadero Palace midway.
Be careful when positioning yourself on this ledge. It is a steep drop down to the cement ground.
The best views in Paris will offer you unforgettable Paris Instagram spots!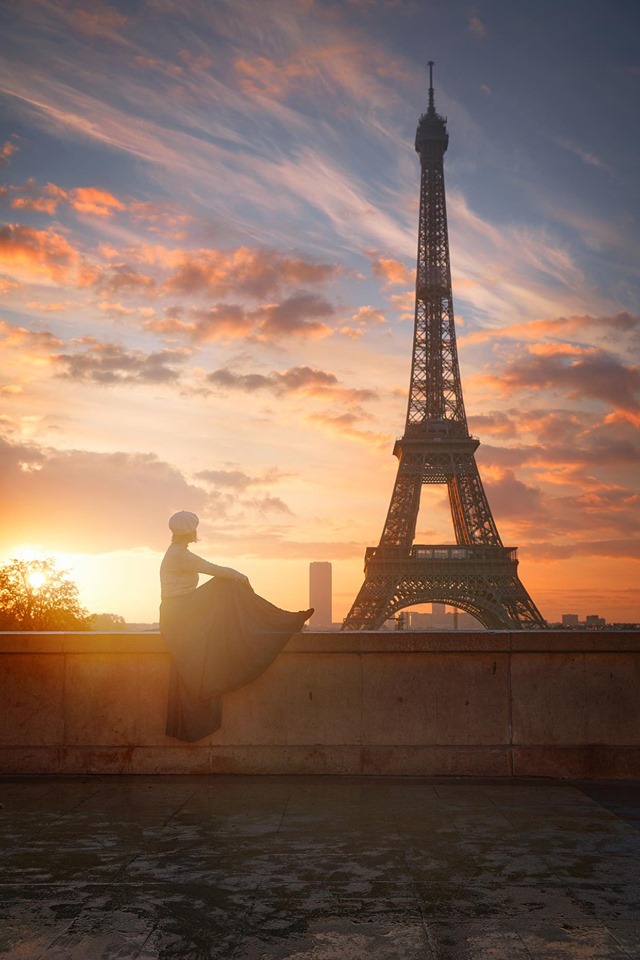 If you will be spending a longer time in Paris, you should look at my 5 days in Paris itinerary.
The Eiffel Tower From The Trocadero Ground Level
This picture was taken just as the sun rose.
I am strolling down the right lane in the front of the Trocadero Palace heading towards the Eiffel Tower.
This photograph is not a smartphone option. This was taken with a 70-200 lense.
You will want your photographer to be situated on the right side of the upper level of the Trocadero.
If you only have 2 days in Paris my itinerary will assist you with your planning.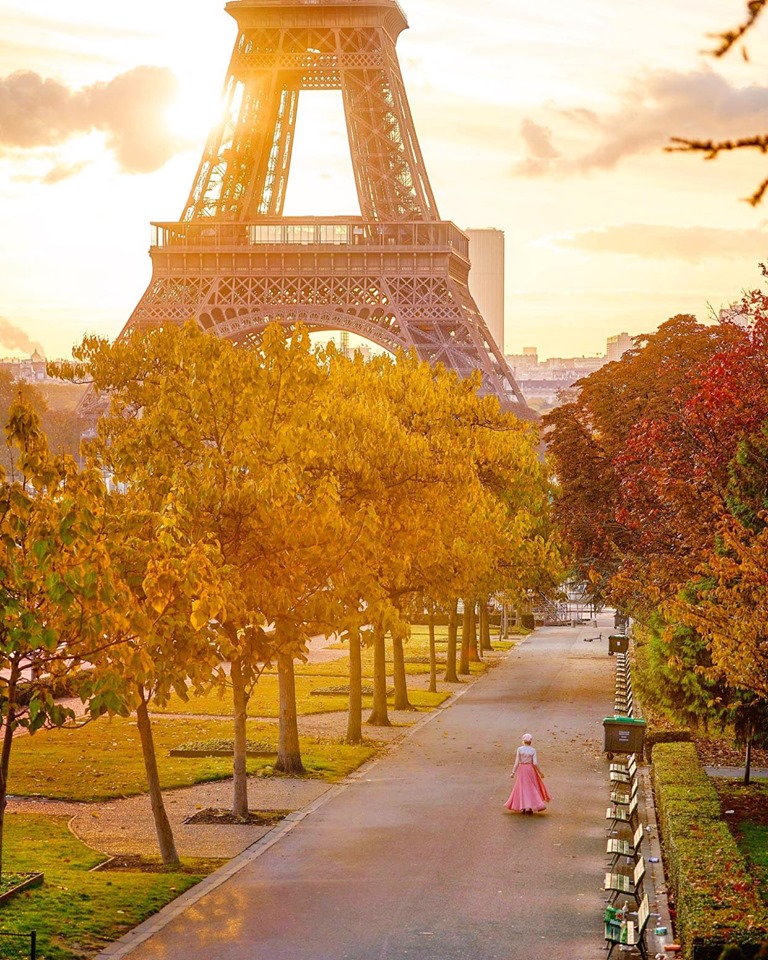 The Eiffel Tower From The Steps Of The Trocadero
This picture was captured in the afternoon at the Trocadero Palace.
Visiting the Trocadero provides a ton of Instagrammable places in Paris to get fabulous photos with the Eiffel Tower.
In this picture, I am standing on the steps of the Trocadero on the right side of the building. Steps are also available on the left side as well. Select which side is the least busy.
You do not have to worry too much about crowds because it is a tight shot. You can plan to capture a shot from this location at just about any time of the day.
Keep an eye on the weather, and the clouds, though.
The prettiest bridges in Paris offer spectacular inspiration.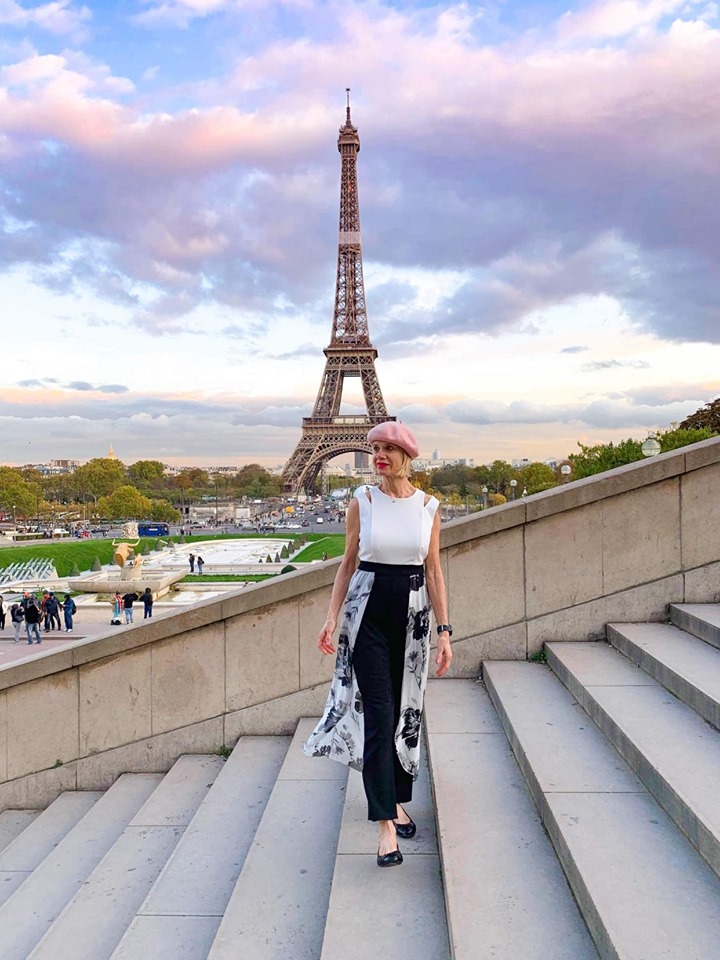 Eiffel Tower From Au Canon
All views of the Eiffel Tower are spectacular.
This one was taken at the cafe Au Canon. It is located on Rue Dominique, not far from Invalides.
Remember to keep a keen eye out for the cars on the street!
This is really one of the coolest Paris Instagram spots.

The Eiffel Tower From Avenue Rapp
Located in the seventh arrondissement on Avenue Rapp, is Square Rapp.
A tiny and quirky enclave Square Rapp is one of the most iconic Paris Instagram spots.
Be mindful and quiet here as this is a quiet neighborhood.

Rue Cremieux
Located in the twelfth arrondissement, Rue Cremieux is a one-block pedestrian-friendly street.
It has quaint houses with brightly colored fronts.
It is insanely popular with social media photographers and the general public. Thus, the privacy of the inhabitants is often violated.
Do not climb up the steps of any individual home, or peep through the windows.
Please act as if this is your neighborhood. Many who visit this street do not.
If you are looking for options of things to do read my tips on 10 unusual things to do in Paris.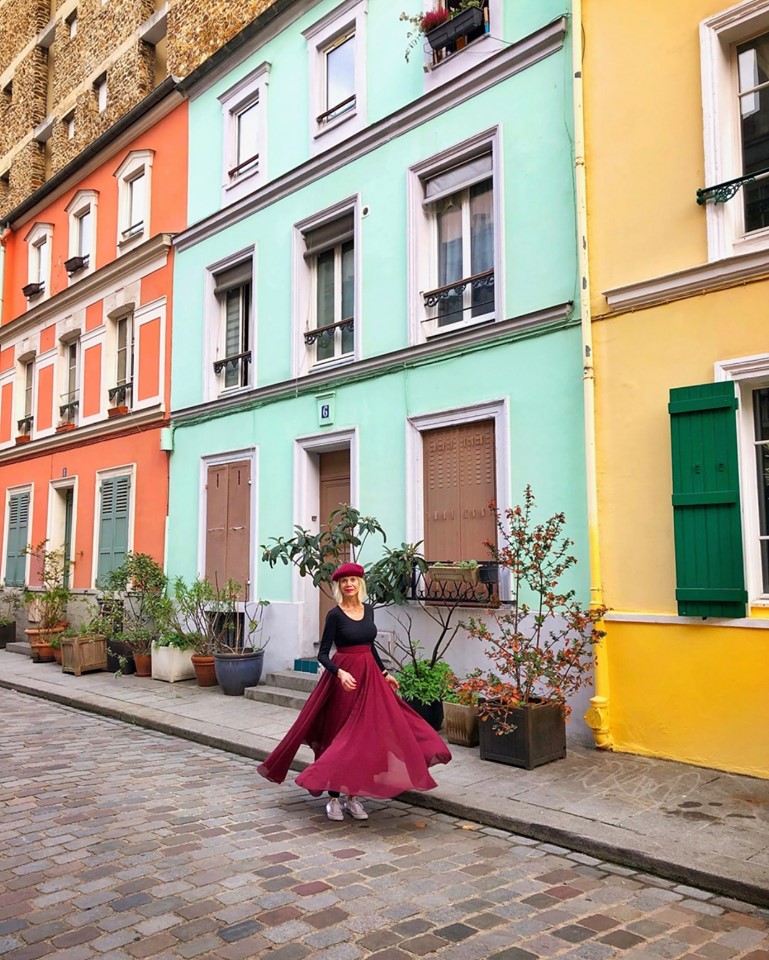 The Louvre Pyramids Highlighting the Louvre Palace Building
The Louvre Museum is housed inside of the Louvre Palace.
It is the most visited art museum in the entire world. Located in Paris' first arrondissement this is one of the most Instagrammable places in Paris!
Same advice, plan to arrive at the Louvre entrance, where the pyramids are, at dawn.
This picture was captured very early in the morning before the Louvre Museum opened.
This option is mirrored on the opposite side of the courtyard. Select the one you find that is less crowded.
3 days in Paris is just about the perfect amount of time to see what Paris has to offer!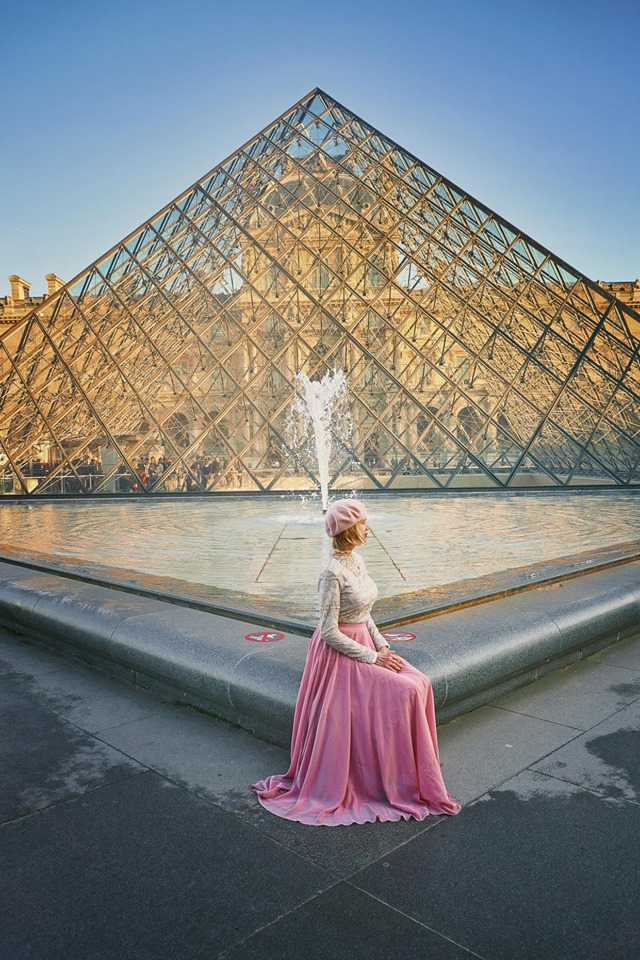 Same location. Same photoshoot. Same clothes!
Use your artistic imagination when at any of your Instagrammable places in Paris.
Do not hesitate to take photos at the same Paris Instagram spot in different positions.
Paris has so many pretty gardens and parks for you to explore for an Insta-worthy picture!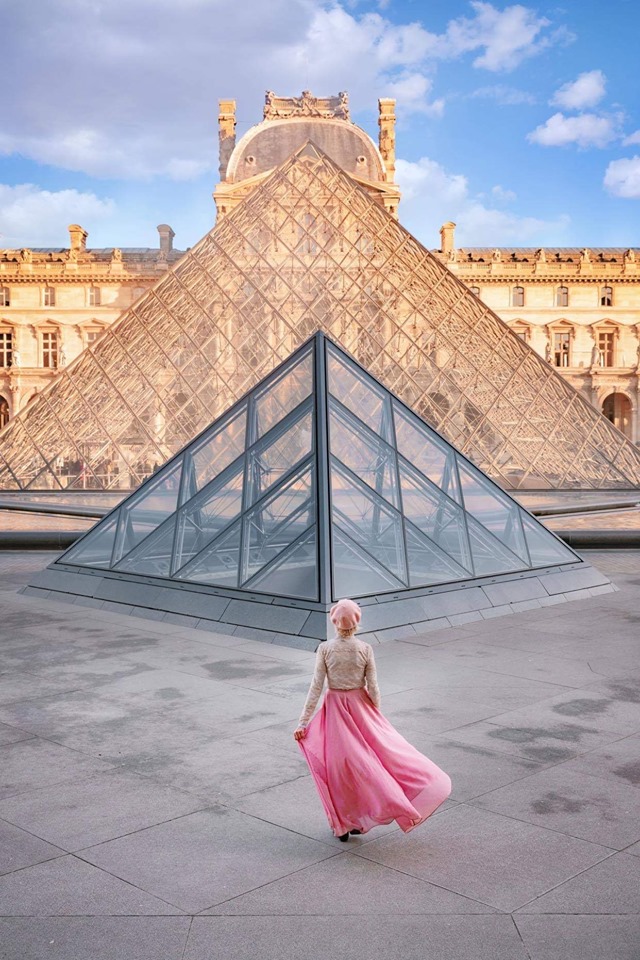 The Louvre Palace From The Alcoves
There is just no shortage of locations within the Louvre courtyard.
This photo was taken in the alcove adjacent to the courtyard.
If you are considering visiting London and Paris in the same trip, my London Paris itinerary offers lots of tips to help you planning.

At The Arc de Triomple du Carrousel
Did you know that there are three "Arch of Triumphs" in Paris?
Located in the Place du Carrousel is the Arc de Triomphe du Carrousel.
The Place du Carrousel is a large public square located in the open end of the courtyard of the Louvre Palace.
This location is one of the neatest Paris Instagram spots.
Read about 15 day trips from Paris you should investigate!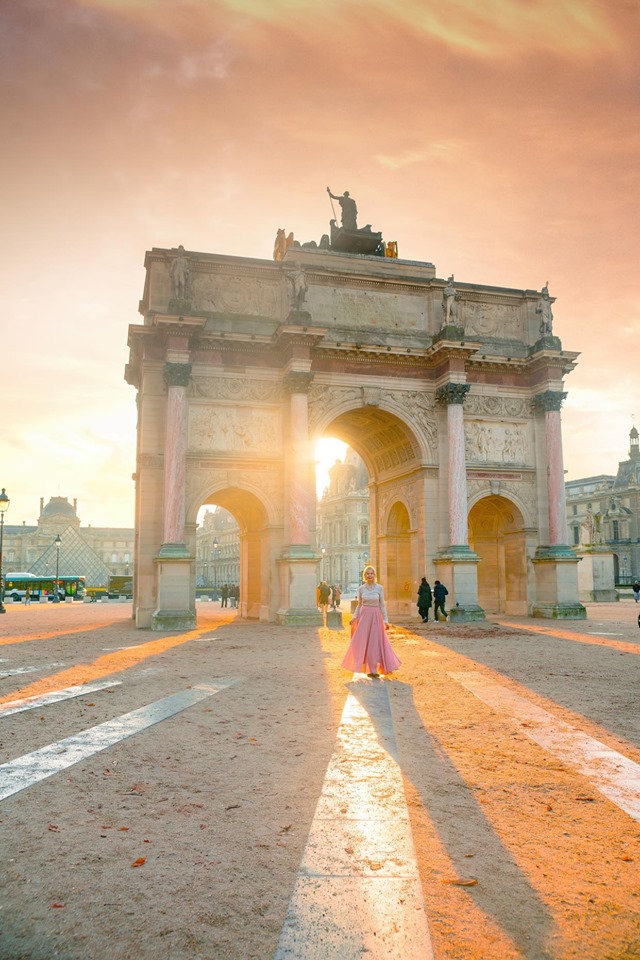 The Louvre Palace Courtyard
This picture was snapped at night during a rainstorm.
It was taken on a whim. Because the light posts were so bright against the dreary night.
Use your imagination, day and night, when searching for the coolest Instagram places in Paris.
Are you vegan and worried about options in Paris? Read what you need to know about eating in Paris.
;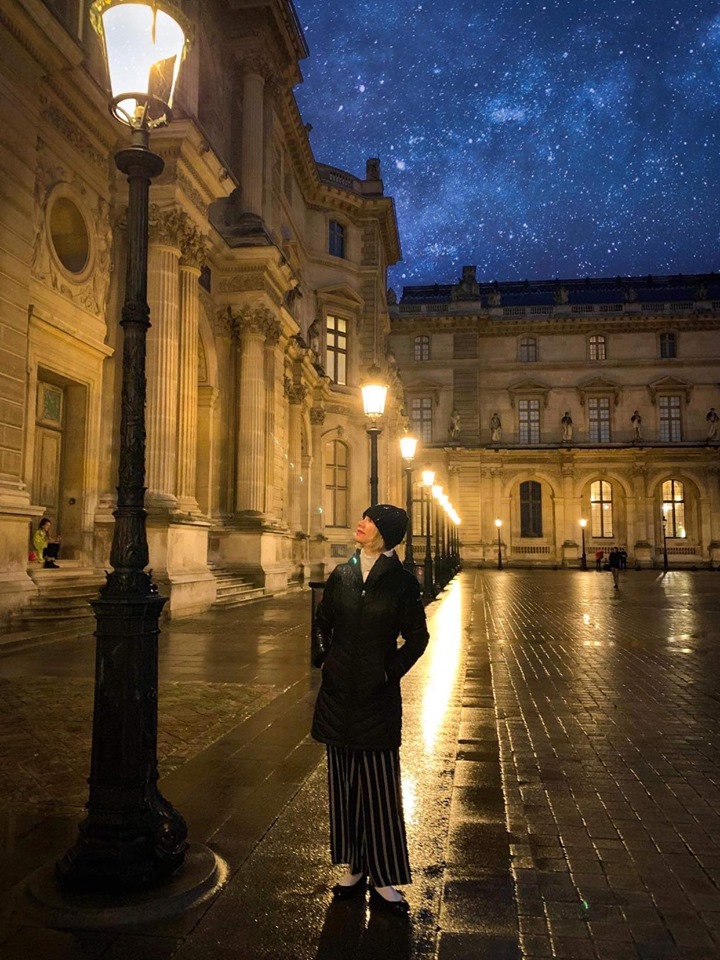 On The Glass Walk In The Main Glass Dome Of Galleries Lafayette
If you have not visited Galleries Lafayette, you are in for an opulent treat.
Located in Paris' 9th arrondissement, it is in the art deco glass dome in the main store where you will find the Glass Walk.
You must head up to the third floor to find the Glass Walk.
It is 52 feet above the floor and juts out almost 30 feet. And the view of the metal and stained glass windows are definite picture-worthy!
A security guard permits small groups only to enter. And then keep track of the amount of time the group is allowed to remain on the glass walk.
This is an extremely short period of time. So have your camera and strategy ready for when it is your turn!
The earlier you arrive at the store, the better.

The Rooftop Terrace At The Galleries Lafayette (View One)
Located on the seventh floor of the main building of the Galleries Lafayette complex, you will find a hidden gem of Paris!
It is the most impressive panoramic views of Paris! It is one of the best Paris Instagram spots.
It was modestly busy the afternoon we visited. But everyone was patient and took turns.
Look closely at the photo to notice there is a thick glass wall for protection!
The first view is of the opulent Paris Opera house behind me.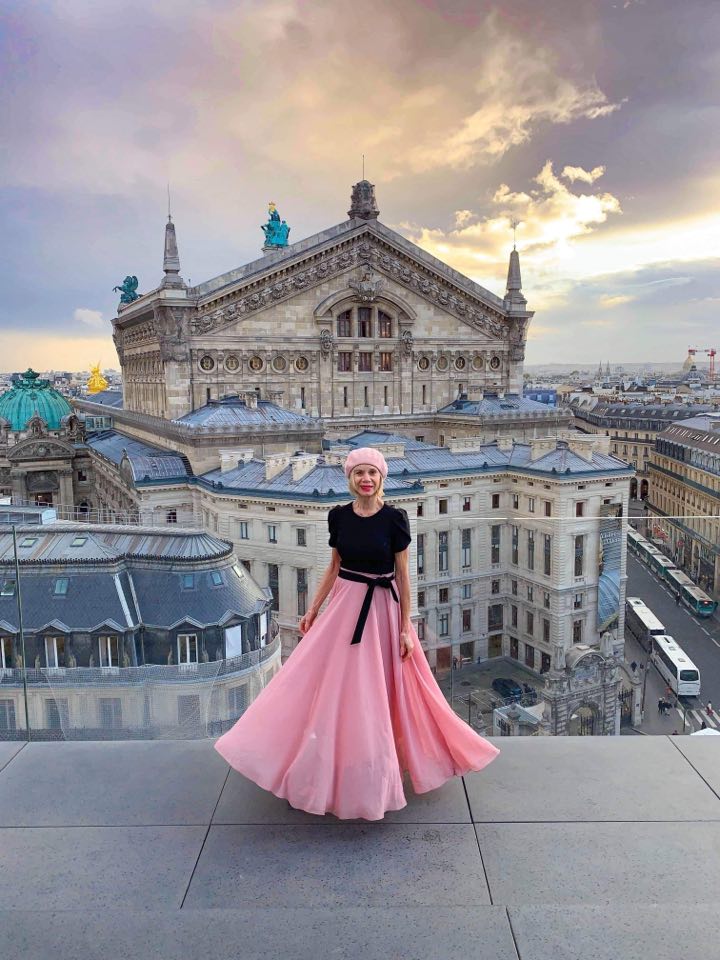 The Rooftop Terrace At The Galleries Lafayette (View Two)
By simply repositioning yourself on the 7th-floor rooftop terrace of the Galleries Lafayette, you will be able to capture another spectacular panoramic shot of Paris.
This view showcases the Eiffel Tower.
Remember to be patient, wait for a turn. Don't take too long.

Le Consulat In The Montmartre District Of Paris
When visiting Paris, do not miss the Montmartre neighborhood.
It is in the 18th arrondissement in the northern part of Paris. And the hilly part of the city on the Right Bank of the River Seine.
It is an artsy enclave for artists and one of the most interesting Instagrammable places in Paris.
You will be treated to a myriad of eclectic streets teeming with cafes and shops.
See out Le Consulat for an Insta-worthy photograph.

Sacre Coure Basilica In Montmartre
Most people do not realize that the rear of the Sacre Couer Basilica is as photogenic as the front.
And way less crowded. This shot of Victoria from Follow Me Away (my daughter) was taken on an especially busy Saturday afternoon.
As you can see, there is no one at the rear of the basilica. And the photo is still stunning.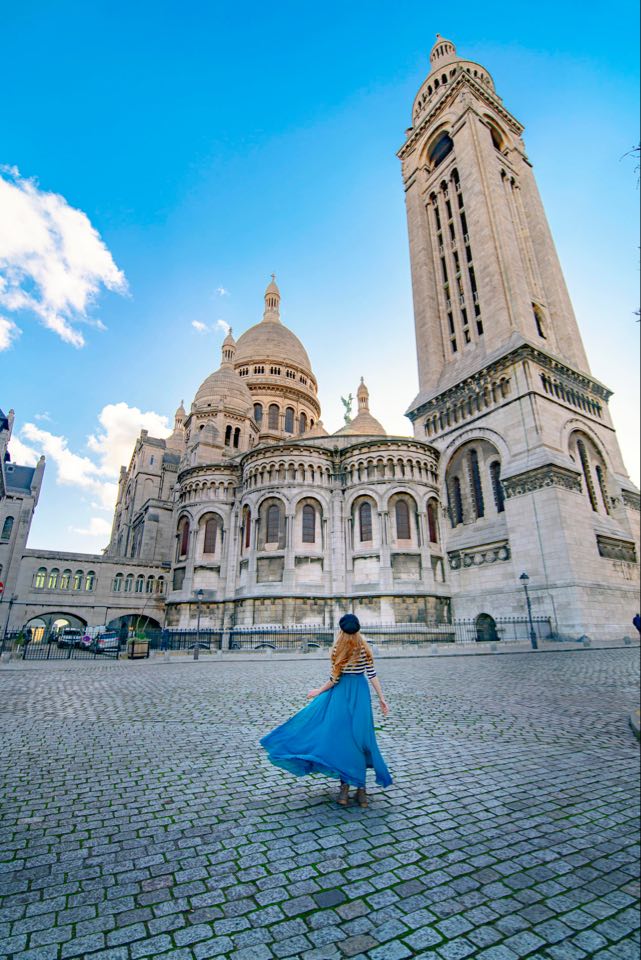 The Iconic Moulin Rouge
Located at the bottom of Montmartre hill you will find the world-famous Moulin Rouge.
Legendary singers and dancers have performed here over the decades.
I have never visited this location where it was not extremely crowded with people and cars.
Be patient until your turn comes and you will get that Insta-worthy snap.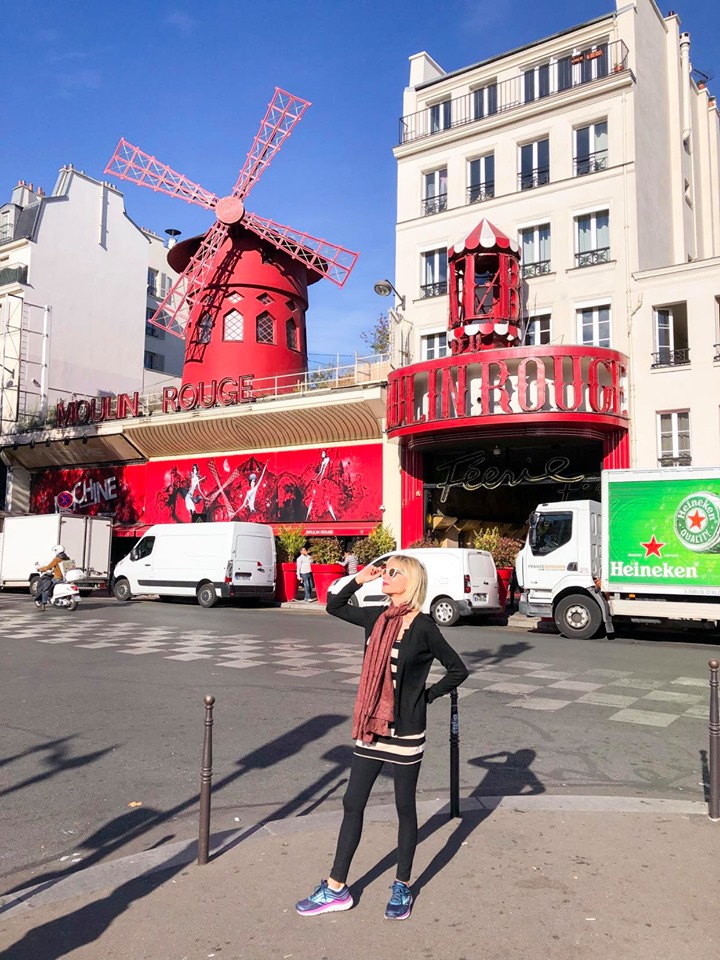 Rue Galand Is The Ultimate Picturesque Paris Street
Located in the 5th arrondissement, Rue Galand is the quintessential Paris Street.
Located a quick stroll from the famous Notre Dame Cathedral, Rue Galand is one of the most Instagrammable locations in Paris.

The Odette Pastry Shop
Also located on Rue Galand is the charming bakery named Odette.
It makes for a lovely photo and is one of the most delicious Paris Instagram spots.
Make sure to stop in for their delicious cream puffs before of after your picture-taking!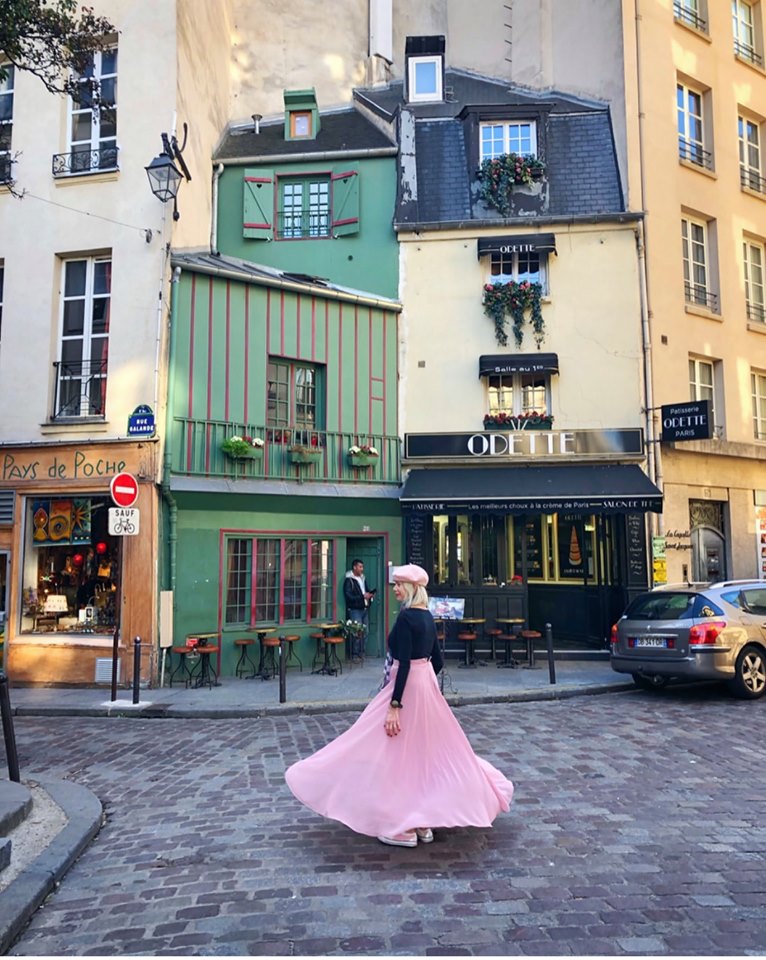 Shakespeare And Company Bookstore Is A Unique Paris Instagram Spot
Located literally steps away from the iconic Odette Pastry Shop is the independent bookstore and cafe Shakespeare and Company.
Situated on rue de la Bucherie, it is also only steps away from the magnificent Notre Dame Cathedral.
It is very crowded most of the day. But worthy of a photograph, indeed.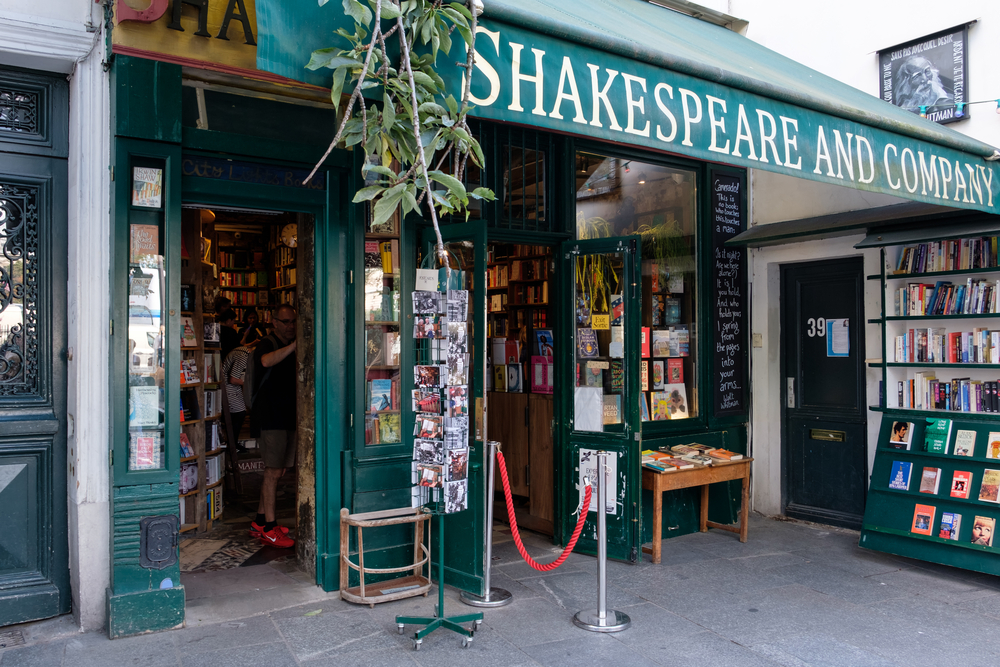 Notre Dame Cathedral
Due to the devastating fire to the world's most famous cathedral, influencers are using their creativity to find locations where damage to the church is least noticeable.
To reach the location in this snap, you will cross under Place du Petite Pont, on the right side of the River Seine. Walk along until you reach a point that you like.
Understandably, this is one of the most popular Instagrammable places in Paris.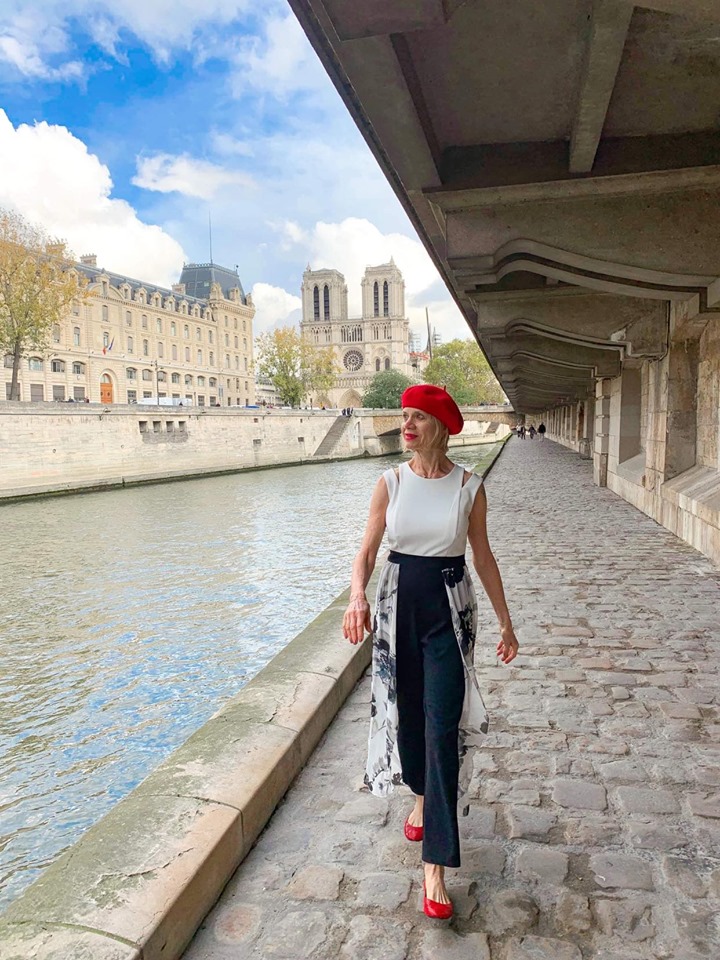 The Gold Room In The Paris Opera House
There is really no location in Paris quite as sumptuous as the Gold Room in the Paris Opera House.
This is a location where you want to arrive at least 15 minutes before the building opens.
Check online for times which will depend on the time of year and day you want to visit.
We were first in line and after us were hoards of tourists dropped off by tour busses.
There is a modest fee to enter, but I believe it is worth it to see such opulence.
It is frowned upon to bring lots and lots of equipment and changes of clothes into the opera house.
So when entering do not let on that you are there (mostly) for the photographs. For there is also lots to see and lots to learn.
Once you pass security, walk as fast as quickly as possible upstairs to the Gold Room. And be wowed!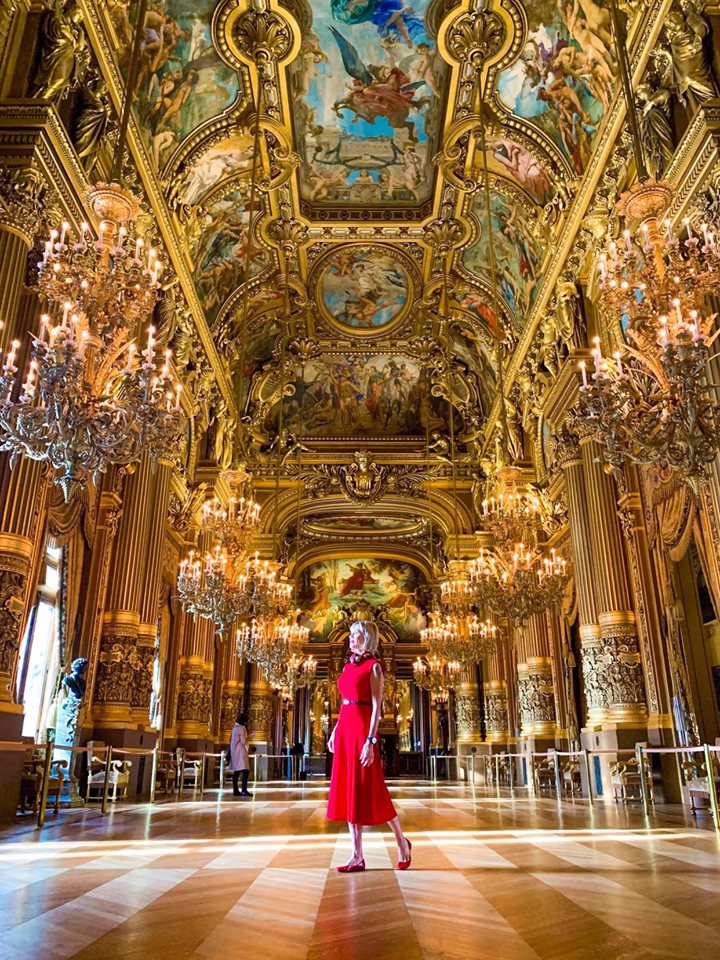 The Exterior of the Paris Opera House
If you are on a budget or simply have no time or desire to enter the Paris Opera House, the exterior offers so many options.
And sometimes Insta photographs can have a bit of whimsy too!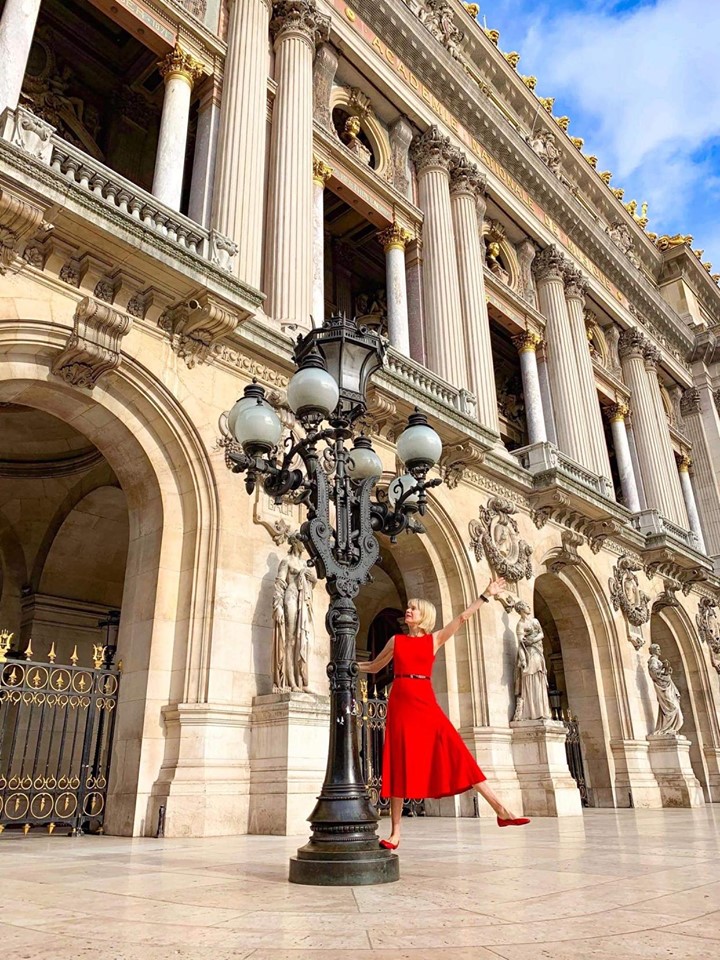 The Franklin D Roosevelt Metro Station
I will admit, just about ALL of the metro stations make stunning Paris Instagram spots.
Especially the Franklin D Roosevelt Station.
Located along the Rue de Champs-Elysees, this makes for a stunning Insta-worthy capture.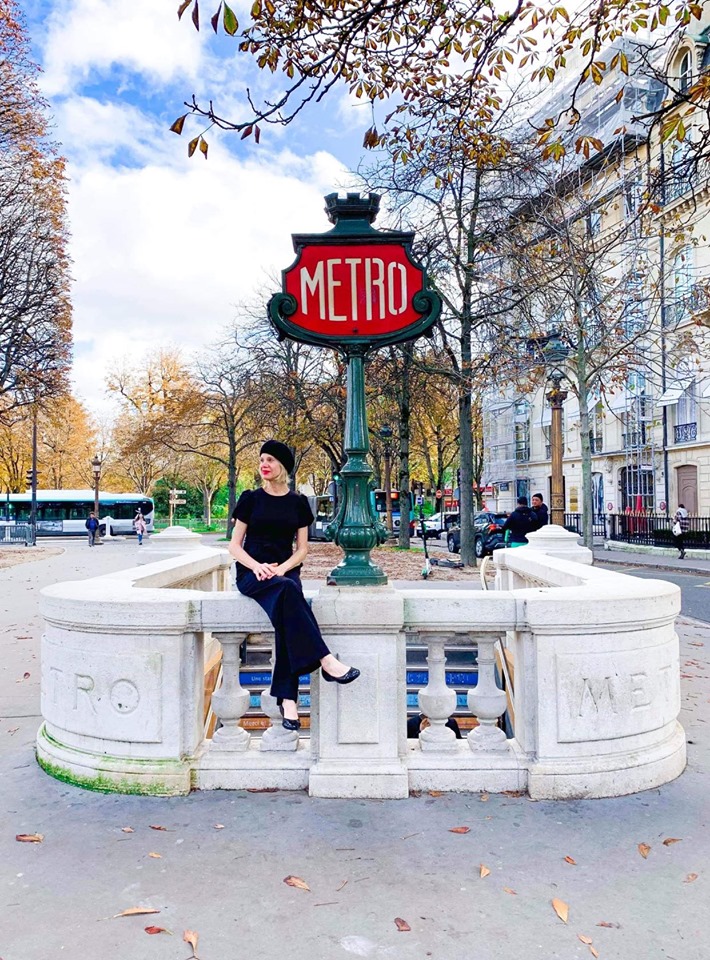 Lamarck – Caulaincourt Metro Station In Montmartre
Lamarck – Caulaincourt is a Paris metro station in the Montmartre neighborhood. It is located in the 18th arrondissement of the city.
When you exit, you turn around and you will find the double stairs which will bring you up to the top of Montmartre.
My photographer stood at the top of the stairway to capture this picture.
But you can easily do the reverse with the photographer at the bottom.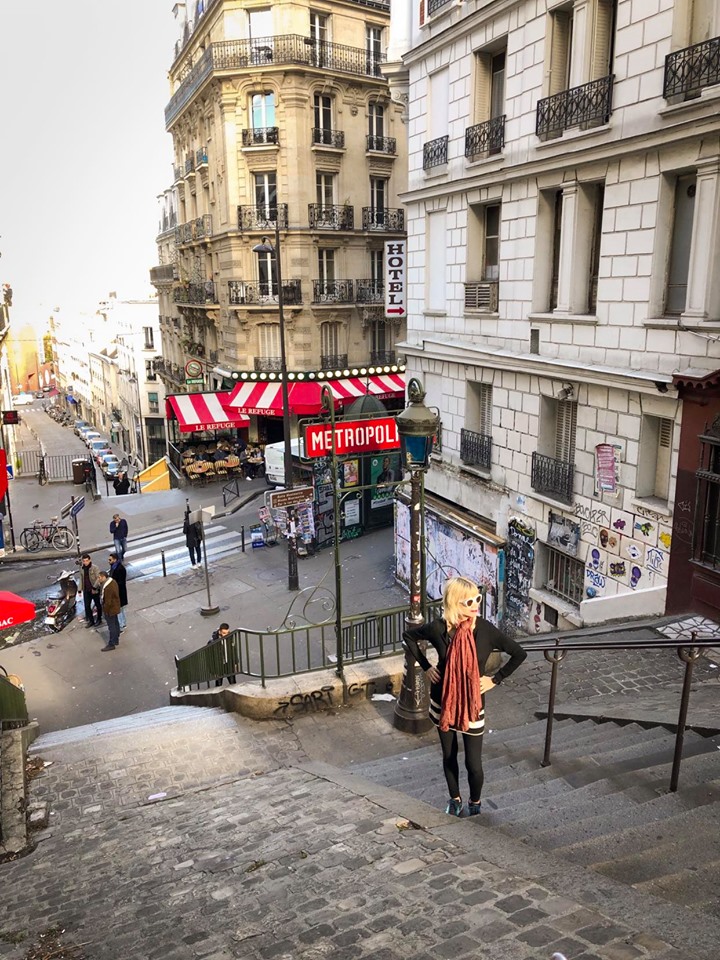 One Of The Coolest Instagram Spots in Paris Is A Charming Bookstore With Pigs And Books In Its Window
Located in the Galeries Vivienne in the second arrondissement is a little bookstore that has the most charming display window.
It is one of Paris' most charming Instagram spots.
I had to wait a few minutes for this snap. But is not that the case at most popular locations?
To find this exact window, you will exit the Galeries Vivienne on Rue Vivienne, and turn to the right.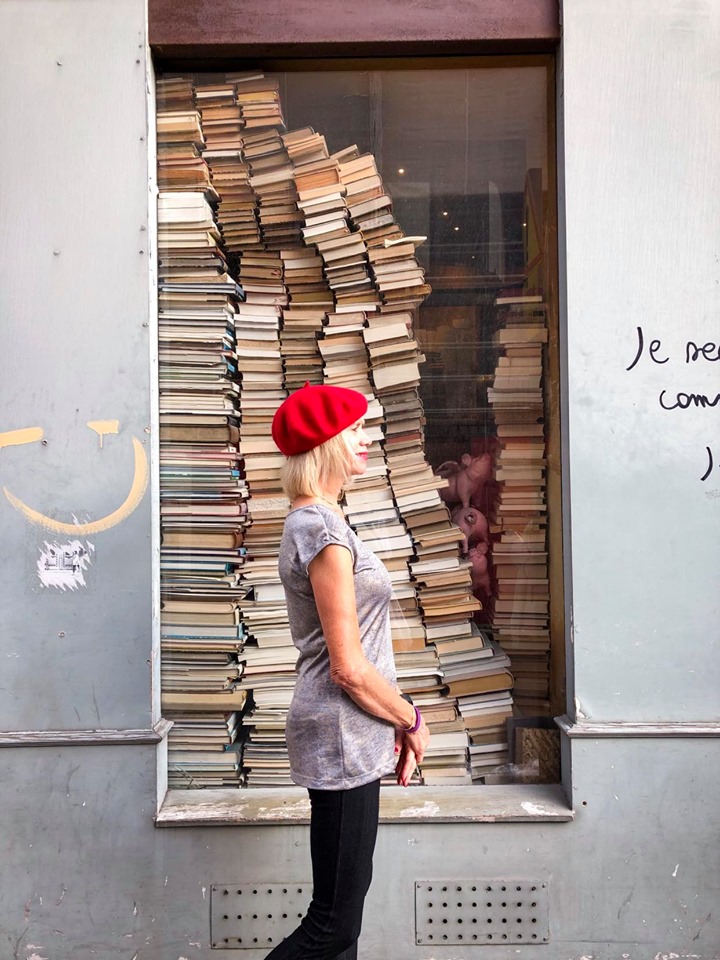 Inside the Hidden Passages Of Galeries Vivienne You Will Discover Many Paris Instagram Spots
The Hidden Passages of Galeries Vivienne are truly hidden gems of Paris.
Located in the second arrondissement not far from Palais Royale, Galeries Viviene is one of Paris' most iconic covered passages.
There is a wide variety of eclectic shops, cafes, bookstores to grab your interest.
Built in the 1800s, there are double mosaic floors, and glass roofs that allow the light to flood in.
This iconic location if one of the finest Paris Instagram spots.

One Of The Best Paris Instagram Spots Is Au Vieux Pairs D'Arcole
Located literally a few steps from Notre Dame, on Rue Chanoiesse, is located the cute restaurant Au Vieux Paris D'Arcole.
This picture was taken on a sunny Saturday afternoon. And I did have to wait for my turn.
The owners of the restaurant do not mind if you stop and snap a picture.
Matter of fact, the inside is just lovely as well. And you are free to walk through and look around.
But the food is delicious. So maybe you just might want to indulge.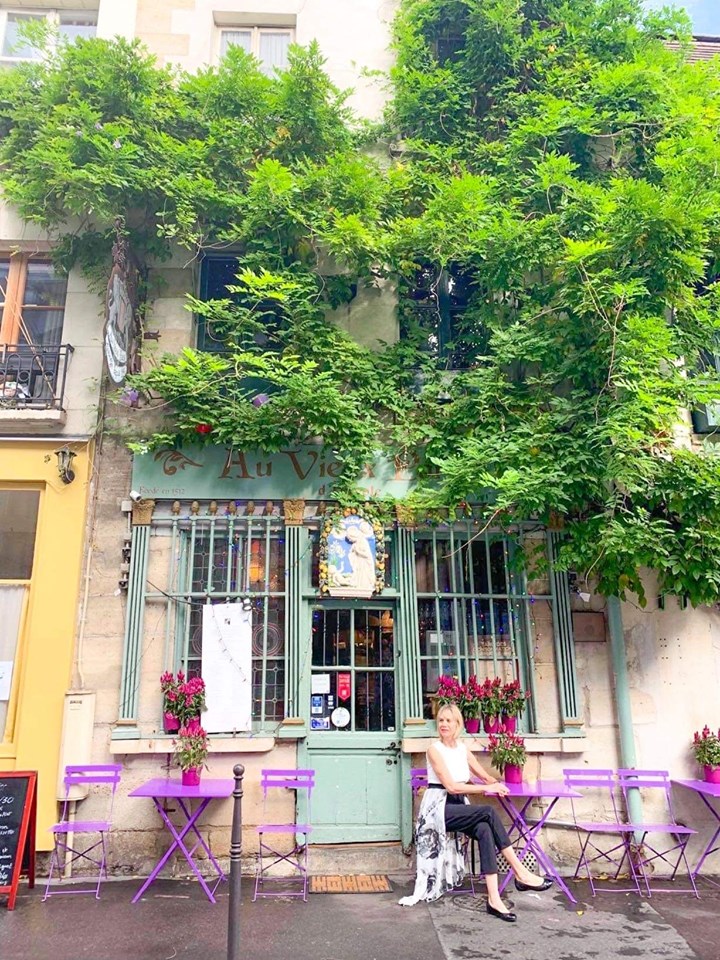 The Arc de Triomphe
It was a split-second miracle. It looks like it was not very crowded when it reality it was insanely busy!
The Arc de Triomphe de I'Etoile is one of the most iconic monuments in Paris. It is located on the western end of Champs-Elysees, in Place Charles de Gaulle.
For this particular shot, you must literally stand in a line with others and wait your turn patiently. In the middle of the street.
There must have been 10 in front of my family and me the day we were there. And 10 behind us.
That is why when it is your turn you have literally one minute. So be ready when it is your turn.
We realized that the front and the rear of this monument are basically indistinguishable. So instead of waiting in a long line, simply walk to the other side of the square. Snap a picture where there are NO people waiting!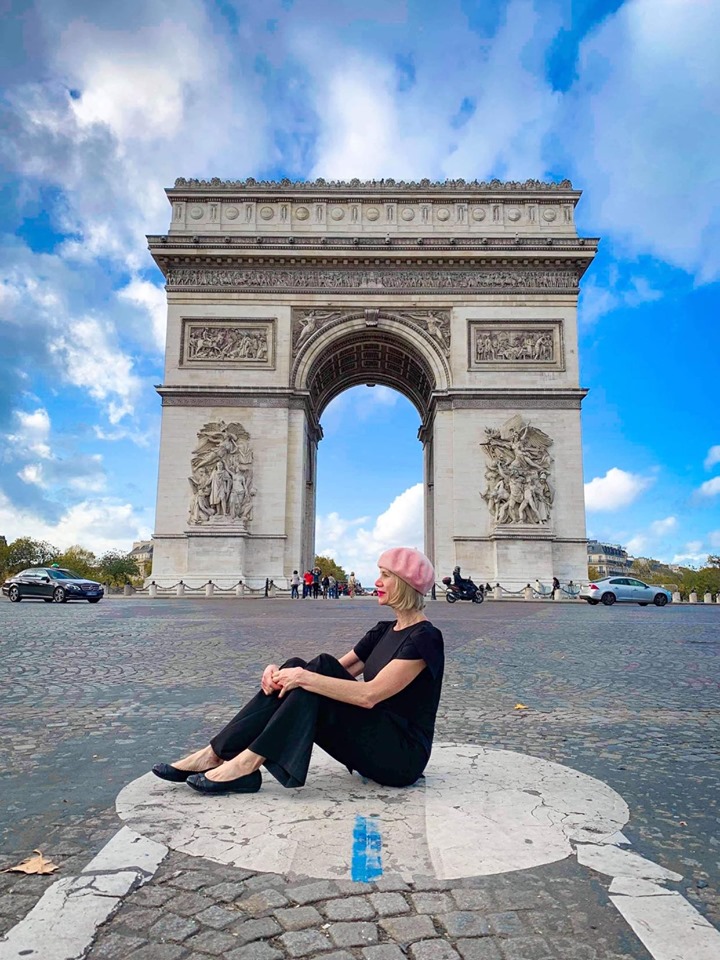 The Arc de Triomphe Side View Is A Very Spectacular Paris IG Spot
The Arc de Triomphe sits at the center of twelve radiating Parisian avenues. Much like a star with its radiating light.
Walking around the Place Charles de Gaulle where it is located, will bring multiple locations to your attention that will be worthy Paris Instagram spots!

The Glass Clock At The Musee D' Orsay
I admit the Musee D'Orsay is my favorite museum in Paris. It is much smaller than the Louvre Museum.
Located on the Left Bank of the River Seine, it is within walking distance of the Louvre Museum.
It is located in the former train station, Gare D'Orsay. There is an admission fee, but I believe it is worth it. Especially if you are fond of French art.
There are two iconic glass clocks located on the second floor. One is located within the museum's restaurant. You must purchase something to access the glass clock located there.
Along the same wall, but on the other end of the building is the second glass clock. Understandably it is extremely busy.
You probably have to wait a while for your turn. And you will literally only have a few seconds up in front of the clock.
The stunning glass clock at the Musee D'Orsay is one of the best Instagrammable places in Paris.
I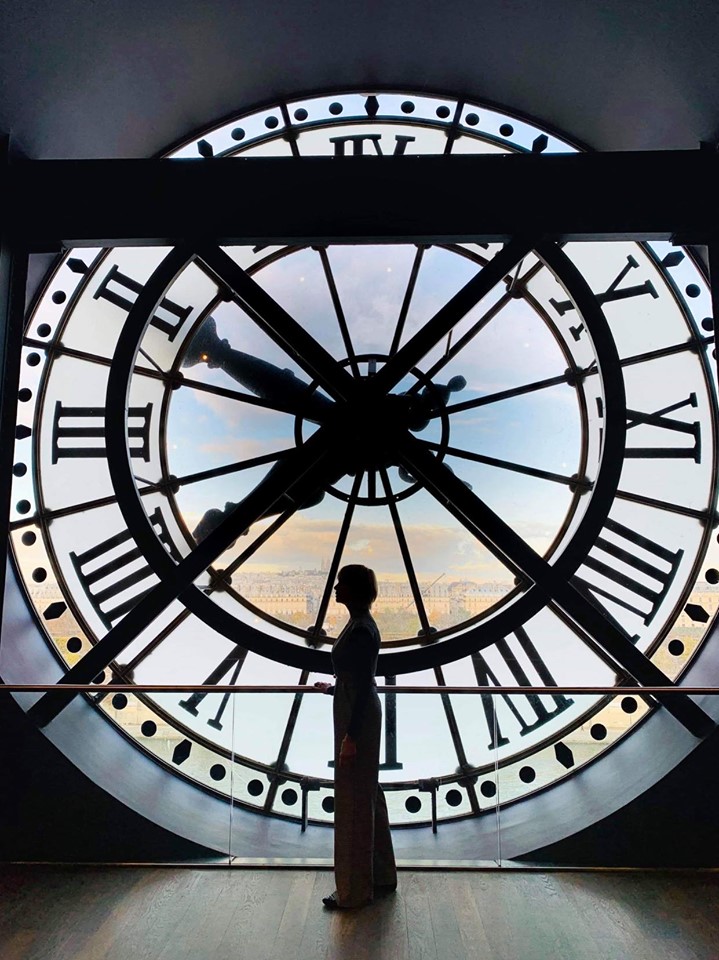 Jardin des Tuileries Is One Of The Most Romantic Instagram Spots In Paris
Situated between the Louvre Museum and the Palace de la Concord is the beautiful Jardin des Tuileries.
It is a lovely respite for tourists and locals in the hugely cosmopolitan city of Paris.
This photograph was snapped in the autumn when I was visiting Paris and the leaves were bursting into autumn colors.
Whatever season you visit Paris will dictate the leaves in your own picture!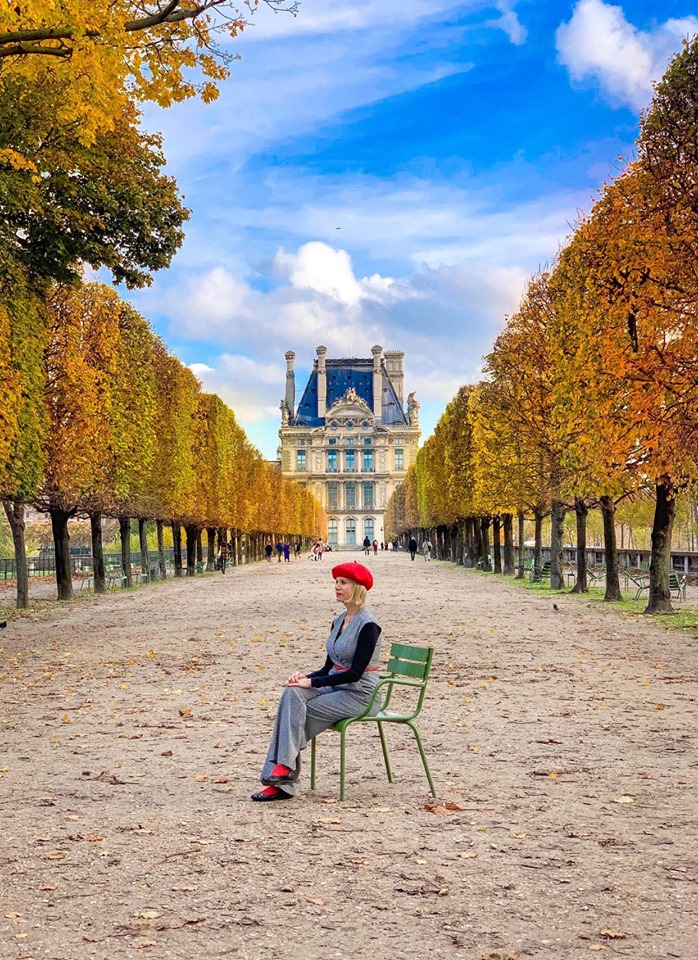 The Courtyard Of The Palais Royale
Located within steps of the Palais de Louvre, is the Palais Royale.
While it is no longer open to the public, the Royal Palace courtyard is.
It is one of the best Instagrammable places in Paris because of its whimsy!
It is full of black and white striped columns of various heights.
Do not miss out on snapping a picture here.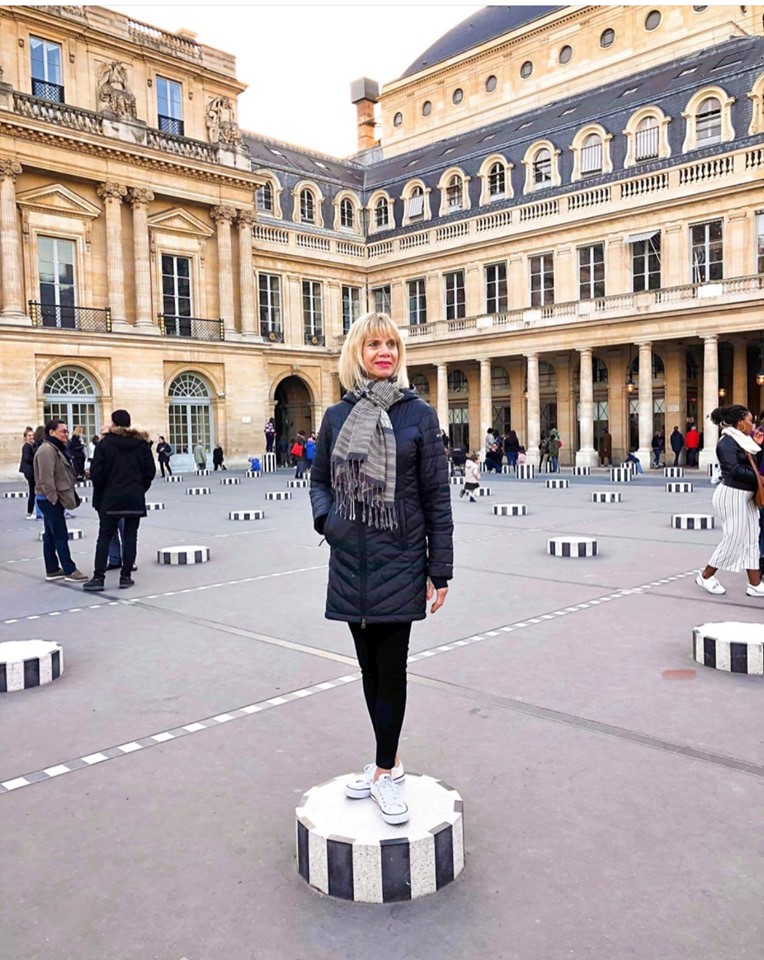 The Gardens Of The Palais Royal Is One Of The Best Paris Instagram Spots
Located directly adjacent to the courtyard, are the gardens of the palace.
I visited in the winter, so it was pretty bare. But other seasons offer beautiful landscapes, such as blooming flowers in spring. Or the brilliantly colored leaves of autumn.

Paris Packing List When visiting Paris France
Using these useful packing tips will enhance any stay in Paris.
Read How To Pack Lightly for my packing tips.
A concealed travel pouch may be one of the most important items you bring to Europe.
(Please refer to my explanation below about how my family was robbed during our last trip to Paris and while it is so important to protect yourself and your belongings!).
This unisex RFID blocking concealed travel pouch is lightweight and comes in several colors. It has lots of organization to give you peace of mind.
If you have a pouch already that does not come with the RFID protection, these RFID sleeves would be a solution.
This configuration comes with enough passport and credit card sleeves that the entire family would be protected. They are slim too, so they will easily fit into your pouch or wallet.
I was never a fan of packing cubes until I tried them out! Now I am sold.
These Bagail packing cubes are the exact ones I use whenever I travel. I cannot believe how much more organized I am now! And I never leave without them anymore.
Don't forget to bring along a universal power adapter on your 2 days in Prague. This worldwide power plug is a great example and will charge your phone at the end of your busy days.
And this world traveler adapter kit can charge several devices at the same time. This is what you will need when there are several people traveling in your group, or if you bring several electronic devices on your trip that require charging at the same time.
If you are planning on taking a lot of pictures with your phone (like we did!) you will definitely want to consider an external charging battery.
This Anker high-speed phone charging battery is the exact one I carry with me on all of my trips.
It can be used on a variety of phones, not just an iPhone like I have. And wow is it fast! I like that it holds its charging capabilities for several uses so I do not have to worry about it while out and about.
And if I forget to recharge it at night, it will still be good to go the next day.
My daughter gifted me with this FugeTek selfie stick and tripod for my birthday. It is made of lightweight aluminum and is Bluetooth enabled.
It connects with my phone easily and it is actually very simple to take group photos or selfies with the remote control. I think it would be a great item to add to your Paris packing list.
Hydration is so important. You want to remain hydrated to support your immune system which in turn will be stronger to fight off any germs you will encounter during your travels.
You will want to bring your own refillable water bottle with you.
I never leave home on a trip without my Bobble filtration bottle. the 18.5-ounce size is perfect for travel and it fits nicely in the pocket of a backpack or your purse.
Also when filled with water, it is not too heavy to carry. And the replaceable carbon filter ensures fresh clean water whenever you fill the Bobble.
You will want a backpack or daypack with you to store snacks, your water bottle, phone, extra clothes, etc. while you are exploring Paris.
This foldable water-resistant backpack would be great. It is very affordable and is available in many color options for you to choose from. The fact that it folds down into a zippered pouch will make it easy to pack.
Perhaps you need a more substantial backpack for your international travel. This antitheft backpack has a charging port, is water-resistant and can comfortably carry up to a 15.6″ laptop.
You will be walking more than usual during your 2 days in Paris itinerary. A sturdy and comfortable walking shoes are a must-have, especially because there are a lot of cobblestoned streets.
These waterproof all-season shoes are extremely affordable and yet fashionable. Mostly everyone is familiar with the Skechers brand, and these Air Run high fashion sneakers come in a lot of colors to match your outfits and are still affordable.
If you are visiting Paris in warmer weather, maybe you want a pair of sandals to wear to dinner or to the local cafe, I highly recommend these Vionics adjustable strap orthotic sandals.
I have several pairs of Vionics that I bring with me *everywhere* I travel. They are very comfortable.
Bring a lightweight scarf or shawl. Scarves and shawls are very popular in Europe and Paris is no exception. Both men and women wear scarves, both decoratively and as a layering piece to keep warm.
This cotton unisex lightweight scarf is versatile and can be worn in any season. And here's another option to consider:
this lightweight sunscreen shawl scarf would do double duty to protect you from the French sun!
We all need to protect our eyes from the sun's harmful UVA/UVB rays. These unisex polarized sunglasses come in a lot of lens colors and frame designs and are extremely affordable too.
If you are fond of the aviator-style of sunglasses these polarized aviators may interest you.
If you are in need of new luggage to travel to France, this expandable soft side spinner luggage is affordable and comes in lots of colors.
If you like hard-sided better, then you may favor this hard-sided luggage set better. Both sets come with TSA locks and 8 wheels per piece.
If you are a vegan and are planning a trip to Paris, I know these 5 tips will help you stay vegan in Paris.
Restaurants will be flexible with their serving options, stores and markets will have snack foods and fruits and drinks for you, and vegan restaurants are around if you look for them and make plans to travel to them.
Linda On the Run is a participant in the Amazon Services LLC Associates Program, an affiliate program designed to provide a means for sites to earn advertising fees by advertising and linking to Amazon.com