Are you looking for information about Seward Alaska? Are you in the planning stages of a dream trip to Alaska, either by cruising or road tripping? Well, look no further, because I love Alaska, and have been to Seward Alaska several times. The mountains, the glaciers, the wildlife! Seward has it all. Here I will tell you 7 things to know before visiting Seward Alaska.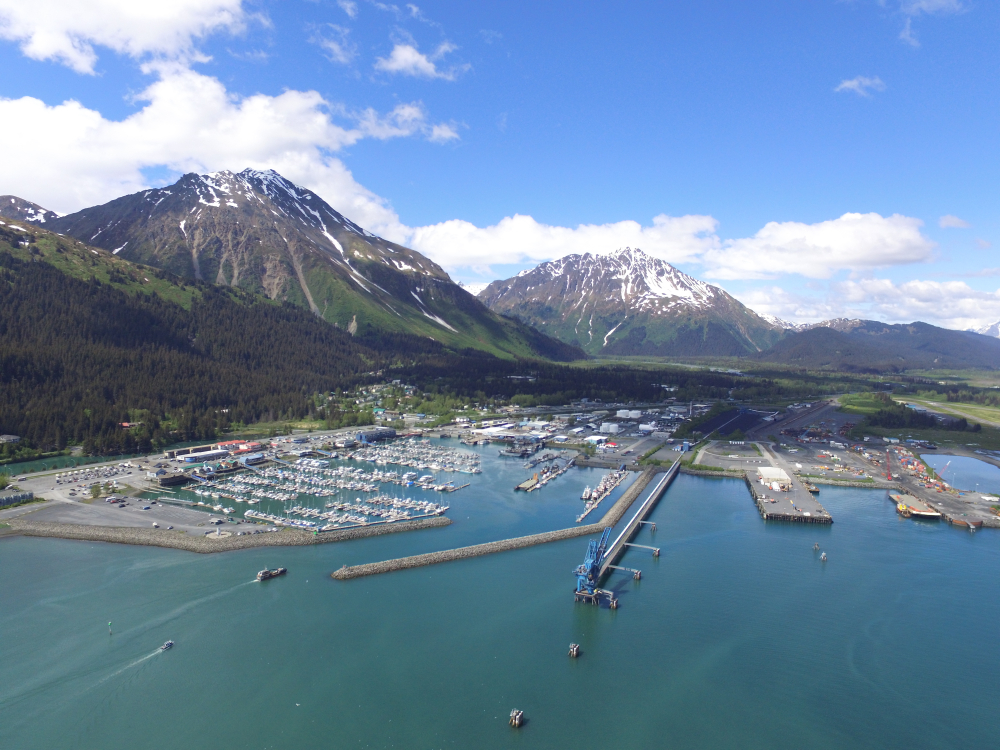 Seward Alaska, nestled between the Kenai Mountains and Resurrection Bay.
7 Things To Know Before Visiting Seward Alaska
Seward Is A Port Town Located In Southern Alaska
Seward is situated about 120 miles south of Anchorage in southern Alaska. It is located on Resurrection Bay in the Kenai Peninsula and considered the gateway to the Kenai Fjords National Park.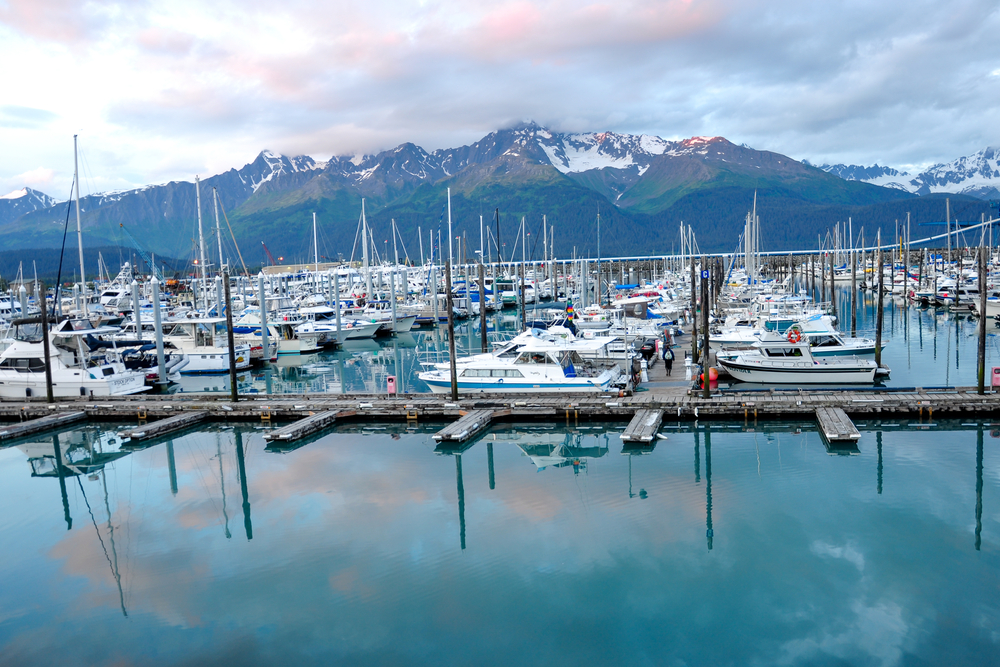 Seward's marina.
Read Next: 13 Picturesque Towns In Alaska You Must Visit!
There Are Many Ways To Get To Seward
Depending on your Alaska itinerary, there are numerous ways to get yourself and your family to Seward from Anchorage.
If you are road-tripping, you can enjoy the expansive and breathtaking scenery all along the Seward Highway in the comfort of your own car or RV. The approximately 120-mile drive from Anchorage to Seward Alaska can be done in less than three hours.
But I think you should allow much more time than that because the Seward Highway has been designated an All American Highway, and a National Scenic Byway because of all of the spectacular jaw-dropping beauty along the way. You may choose to stop along the way at one of the many pullouts to snap memorable pictures, and gaze at the unbelievable vistas before you.
Read Next: Best Stops Along The Seward Highway From Anchorage To Seward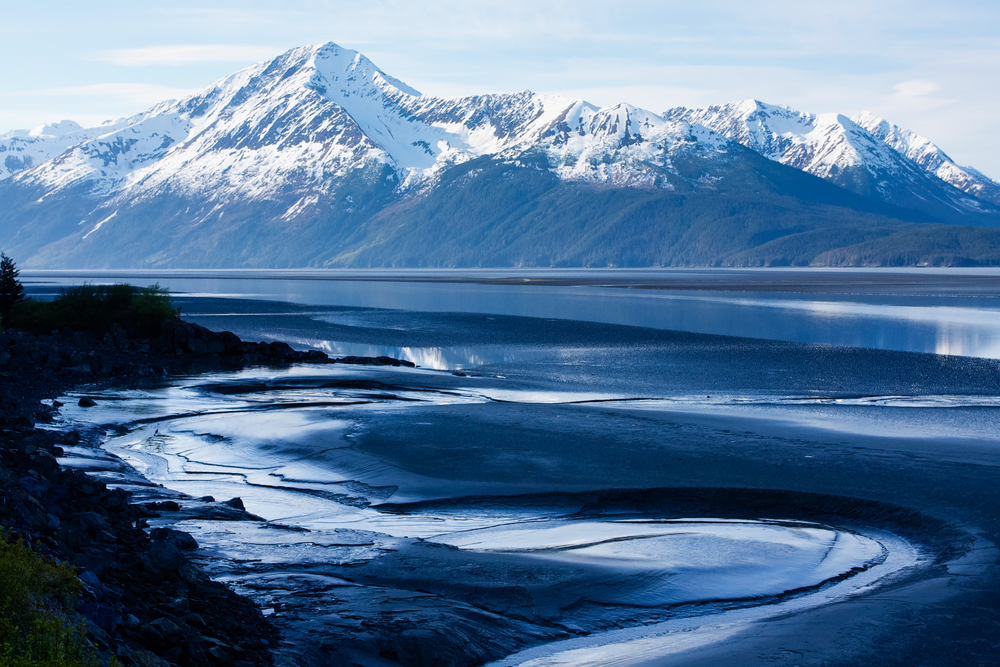 An epic view at Turnagain Arm along the Seward Highway of Cook Inlet and the Kenai mountain chain.
If you do not have your own vehicle, consider train travel. The Alaska Railroad offers a unique experience on a trip from Anchorage to Seward Alaska. You can travel round trip or one way. The train follows along the Seward Highway for a portion of the way but then climbs into the mountains where you will see things that those riding in cars or busses do not have the opportunity to see.
It takes more time riding the train, 4 hours and 20 minutes, and there is only one departure out of Anchorage every morning to  Seward Alaska, so if you choose the train adventure, please check the time schedule when you are closer to your travel dates.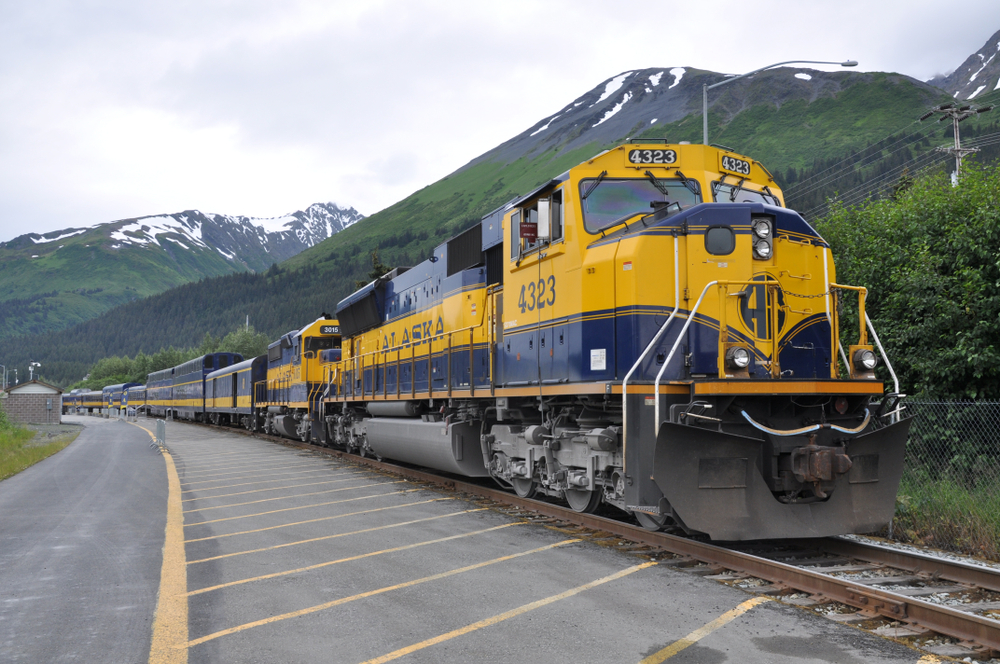 Traveling by bus is kind of the best of both worlds. The ride is about three hours, and you have the opportunity to relax and see the sights while someone else does the driving for you. Ticket prices are reasonable and you can purchase a round trip (always a bit more economical) or one-way ticket.
As an added bonus, if you want to visit or explore a location along the Seward Highway from Anchorage to Seward Alaska the bus is hop on hop off. Make sure you also check for current prices and the Alaska Park Connection Motorcoach schedule as you finalize your plans to visit Seward Alaska.
Finally, you can rent a car if you so desire. If you are considering a rental car for the one way trip from Anchorage to Seward Alaska, you might want to reconsider as there is a hefty fee to leave the car in Seward Alaska. If you are planning to meet your cruise ship, or you will be staying in and around Seward, you probably will not need a car anyway. Considering train or bus travel might be a bit cheaper for your vacation budget.
Seward Alaska's Temperature Is Mild
Because of its geographic location, Seward is one of the towns in Alaska blessed with temperate and mild temperatures. This is one of the things I like about Seward. Unless you are visiting Seward Alaska in the dead of winter, you can plan on leaving your heavy ski-style parka at home. Dress warmly in layers instead and check the temperature of Seward Alaska the month you are traveling for up-to-date weather conditions.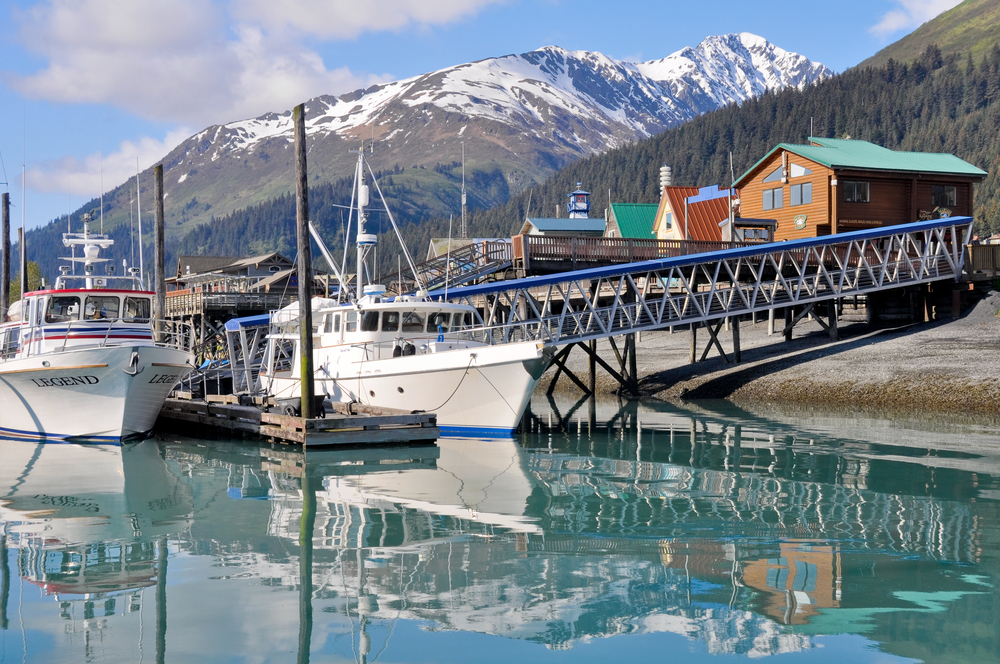 Seward Alaska is situated between the mountains and the sea! 
The Scenery of Seward Is Breathtaking
Seward Alaska is considered the 'gateway' to the Kenai Fjords National Park. In Seward, the mountains and the ocean literally touch each other which makes for absolutely gorgeous views.
What waits for you in Seward Alaska will take your breath away. The glaciers that originate in the Harding Icefield spill out and down the mountains slowly and carefully rearranging the landscape, until they find their way in the fjords of Resurrection Bay.  All of this epic landscape is surrounded by snow-capped mountains!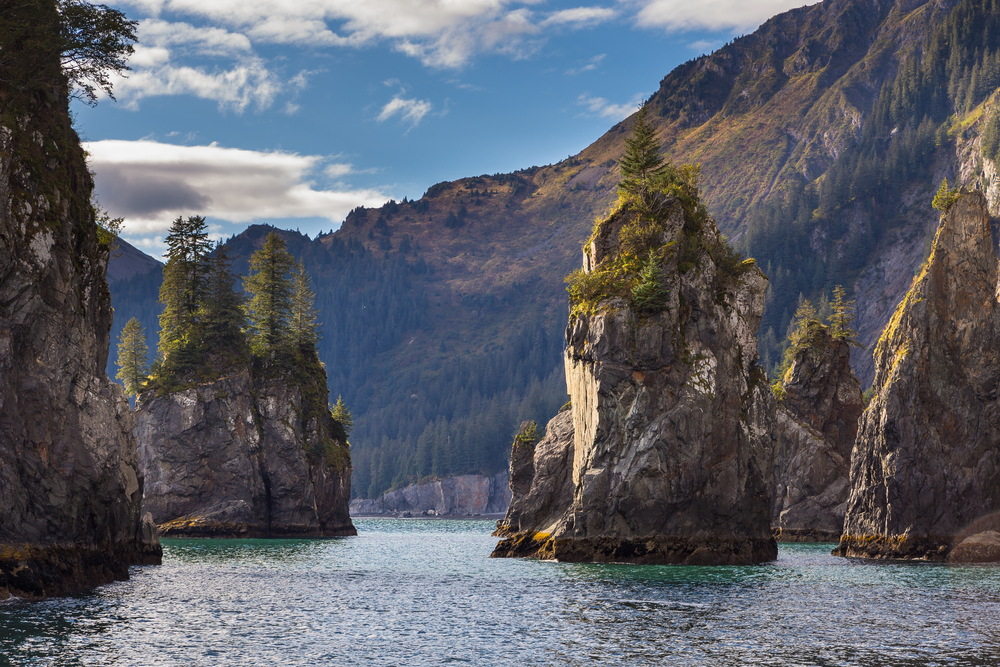 Outcroppings in Resurrection Bay, Seward Alaska.
Do Not Miss Out Seeing Exit Glacier
Exit Glacier is one of  Kenai Fjords National Park's most popular attraction. And because it is so easily accessible to the public it is one of the most popular tourist attractions in Alaska. Exit Glacier is one of the many glaciers that originates in the Harding Icefield.
It is located just a few miles north of town off the Seward Highway, and at the end of an 8-mile spur road (clearly marked off the Seward Highway), where you will find Exit Glacier's parking lot and Nature Center.
If you are visiting Seward and do not have a car, do not worry. Downtown Seward Alaska has many tours operating to take you to see the glacier and even has reliable bus service. Word of caution though: once you arrive at Exit Glacier there is no cell service. There will be no way for you to contact your tour operator or bus provider. So make sure you know exactly what time your ride back to Seward Alaska leaves Exit Glacier.
You will want to stop at the Nature Center and speak with a Kenai National Fjords Park ranger for specific information of what to do and hikes to take depending on the amount of time you have at the attraction.
Exit Glacier is a blunt and harsh indicator of glacial recession. When you visit you will see markers along the walkways that are visible indicators of how far and how fast Exit Glacier is receding likely due to global warming. Each marker indicates where the glacier was in the progression of years that they mark.
You will want to make use of the bathrooms just to the right of the Nature Center before you head on out to explore Exit Glacier. There is fresh running water available. There are picnic tables located adjacent to the parking lot for you to take advantage of for a snack and a rest before or after your visit to the glacier.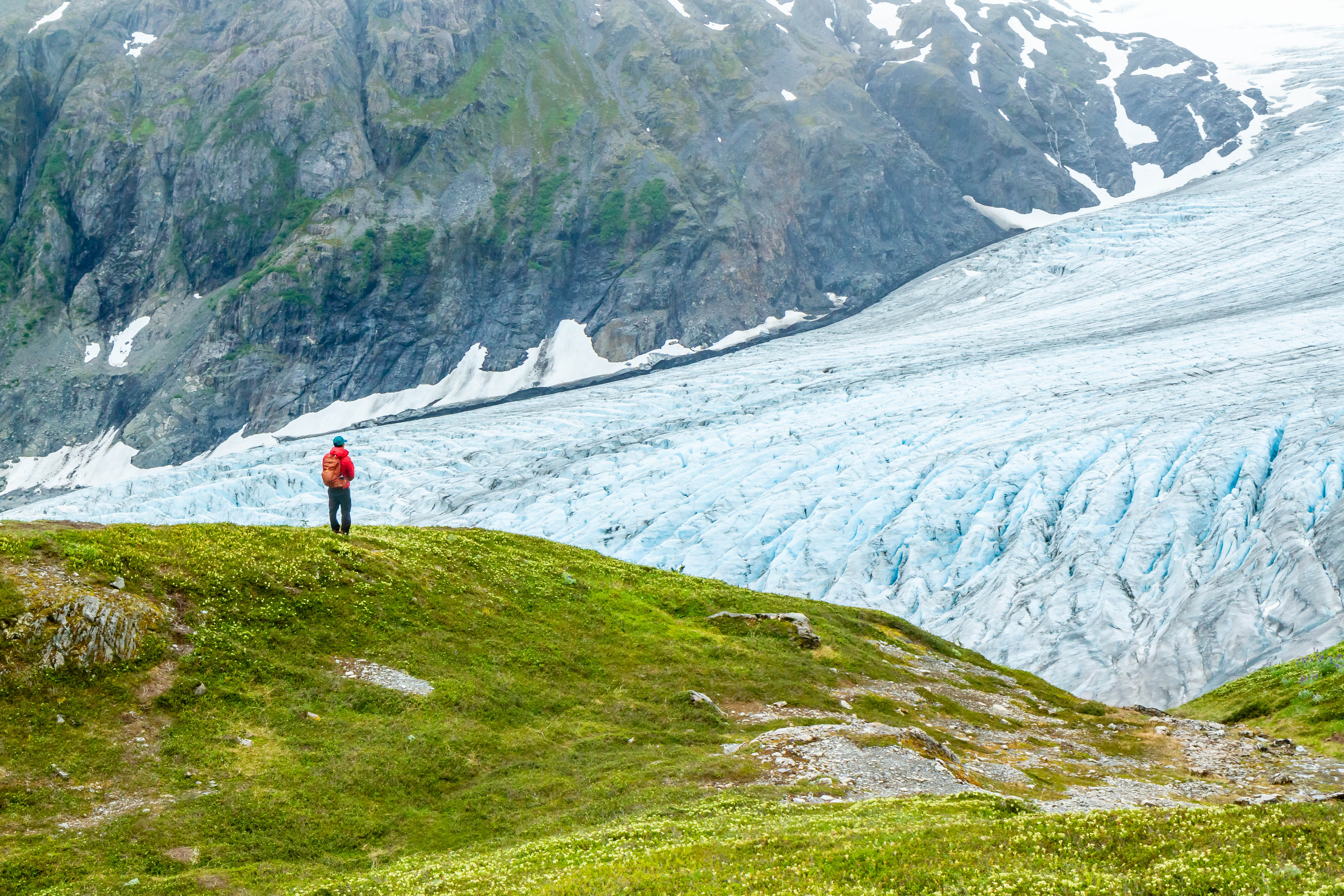 Exit Glacier is easily accessible, and only a few miles outside of Seward Alaska.
Taking A Glacier And Wildlife Cruise In Seward Alaska Is A Must
Think whales, puffins, sea lions, and those cute little sea otters. How about watching glacier calving and actually hearing it break apart and fall fabulously into the chilly waters of Resurrection Bay!?
No trip to Seward Alaska could be complete without taking a wildlife and glacier cruise. At the Seward Alaska harbor, there are several companies for you to choose from.  You will also need to determine the length of time of your wildlife/glacier cruise.
I have been on two scenic wildlife cruises when visiting Seward Alaska, one was a half day 4-hour cruise, and my last cruise was the Full Day 7.5 hour Kenai Fjords National Park Tour with Major Marine Tours. Both have their pros and cons, and it depends on your schedule and your budget.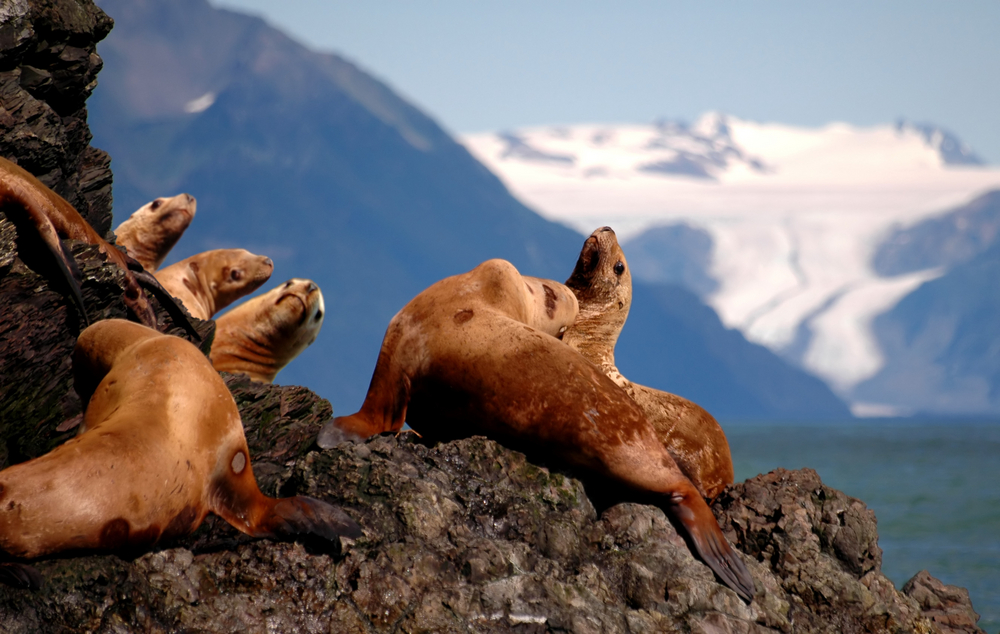 Exotic wildlife and glaciers combine into an epic Resurrection Bay cruise experience.
Flightseeing Over Seward Is Unforgettable
There is nothing whatsoever that can match seeing the crystal clear blue waters of Resurrection Bay, the lush green forested mountains and the incredible glaciers from the air.
I took a 30 minute Glacier Tour with Marathon Helicopters on my last visit to Seward Alaska. I had never ridden in a helicopter, and I was extremely apprehensive.  I wondered if would I get motion sickness, as I tend to do. But, Mike, the owner of Marathon Helicopters was very reassuring. Lift off,  flying and landings were all so smooth. I was not afraid, and I did not suffer from any motion sickness. But, the best part of the experience was landing on a glacier. Wow, was that an unforgettable experience. I would highly recommend you consider a flightseeing experience during your trip to Seward Alaska.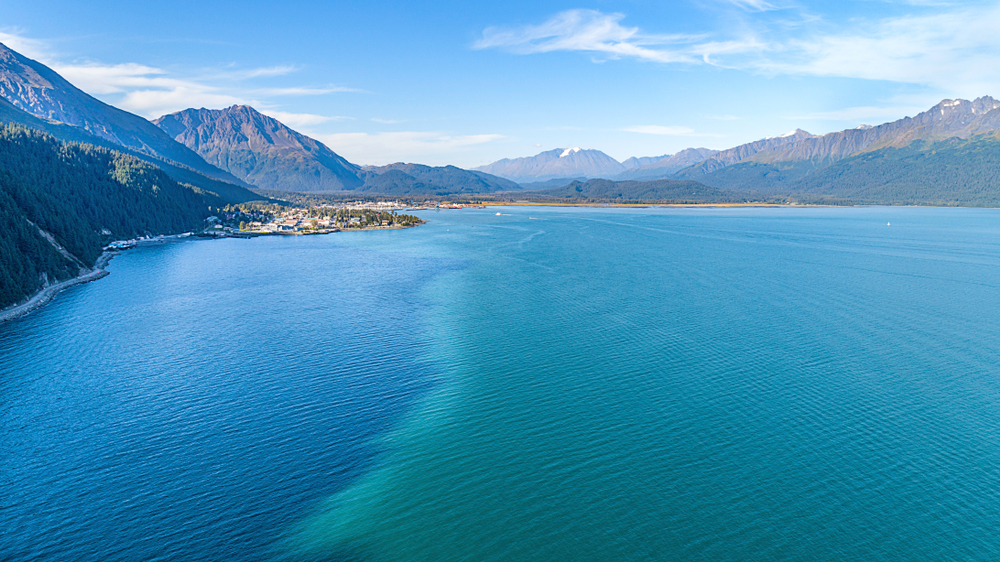 Spectacular views of Seward and the surrounding area await you on a flightseeing tour.
READ NEXT
Alaska Cruise Packing List For Any Time Of Year
How To Pack Lightly For Your Alaska Trip
How To Avoid Getting Sick While Flying To Alaska
9 Things To Know Before Traveling To Alaska
5 Great Things To Know Before You Visit Exit Glacier
7 Stops To Include For The Perfect Alaska Itinerary
5 Unique Things To Do In Homer
7 Tips For Surviving A Long Haul Flight
Travel Tips For Solo Travelers Heading To Alaska
I hope these seven tips will help you when planning your trip to Seward Alaska. Situated between the Kenai Mountains and Resurrection Bay, Sewards offer unlimited options to choose from.
Have you ever been to Seward Alaska? What was your favorite thing to do when you were there? Do you have any tips to offer for others planning their trip to Seward? Please leave your thoughts and suggestions in the comments section below.