Are you looking for information about Seward Alaska? Are you in the planning stages of a dream trip to Alaska, either by cruising or road tripping?
Well, look no further, because I love Alaska, and have been to Seward Alaska several times. The mountains, the glaciers, the wildlife! Seward has it all. Here I will share with you 11 things to know before visiting Seward Alaska.
11 Things To Know Before Visiting Seward Alaska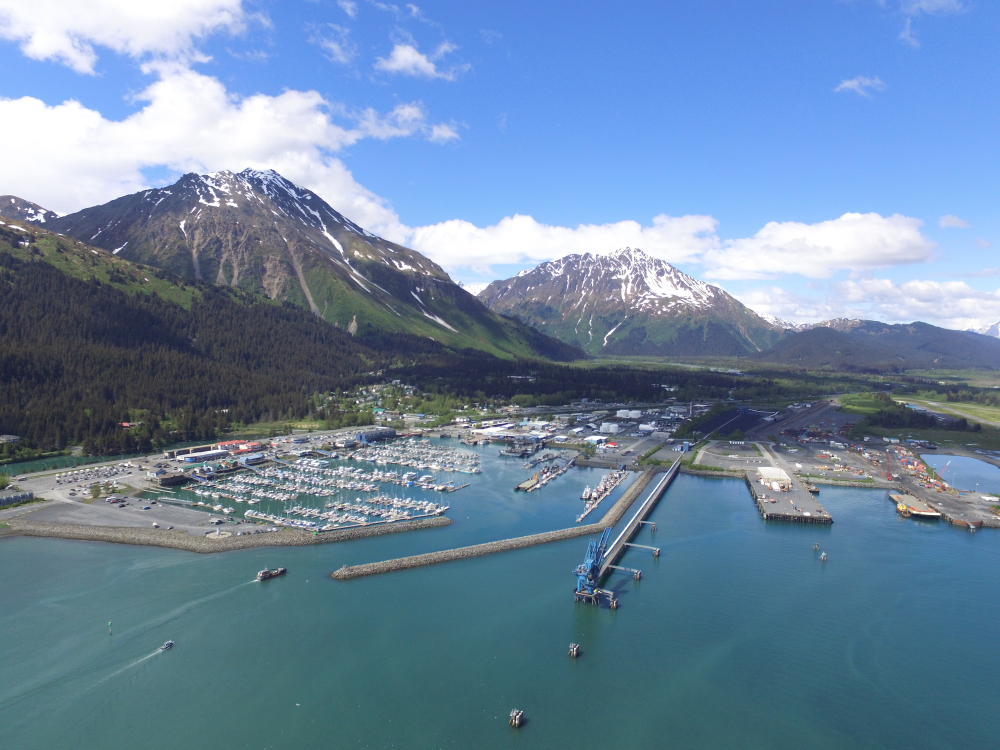 Seward Is A Port Town Located In Southern Alaska
If you are in the planning stages of your Alaska trip, get my tips here: 9 Things To Know Before Traveling To Alaska.
Seward is situated about 120 miles south of Anchorage in southern Alaska. It is located on Resurrection Bay on the Kenai Peninsula and is considered the gateway to the Kenai Fjords National Park.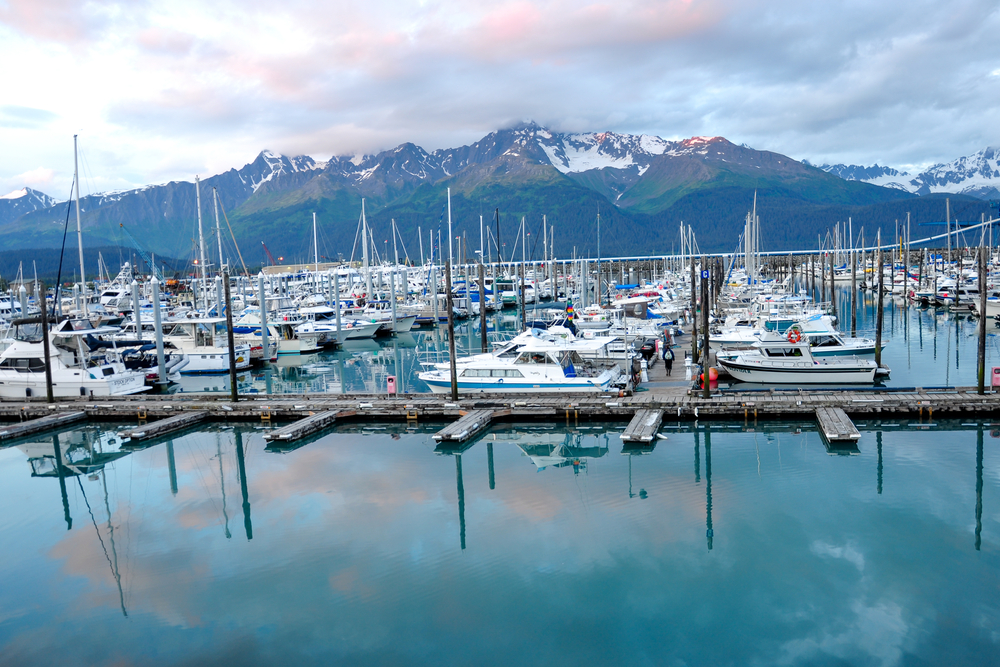 Road Tripping Is A Great Way To Travel To Seward Alaska
Depending on your Alaska itinerary, there are numerous ways to get yourself and your family to Seward from Anchorage.
Read next: How To Avoid Getting Sick On A Plane
Read next: 7 Tips For Surviving A Long Haul Flight
Road-tripping allows you to enjoy the expansive and breathtaking scenery all along the Seward Highway in the comfort of your own car or RV.
The approximately 120-mile drive from Anchorage to Seward Alaska can be done in less than three hours.
But I think you should allow much more time than that. The Seward Highway has been designated an All American Highway, and a National Scenic Byway because of all of the spectacular jaw-dropping beauty along the way.
Read about the best Airbnbs in Alaska if you need accommodations in Seward or elsewhere in Alaska!
You may choose to stop along the way at one of the many pullouts to snap memorable pictures, and gaze at the unbelievable vistas before you.
Read Next: Best Stops Along The Seward Highway From Anchorage To Seward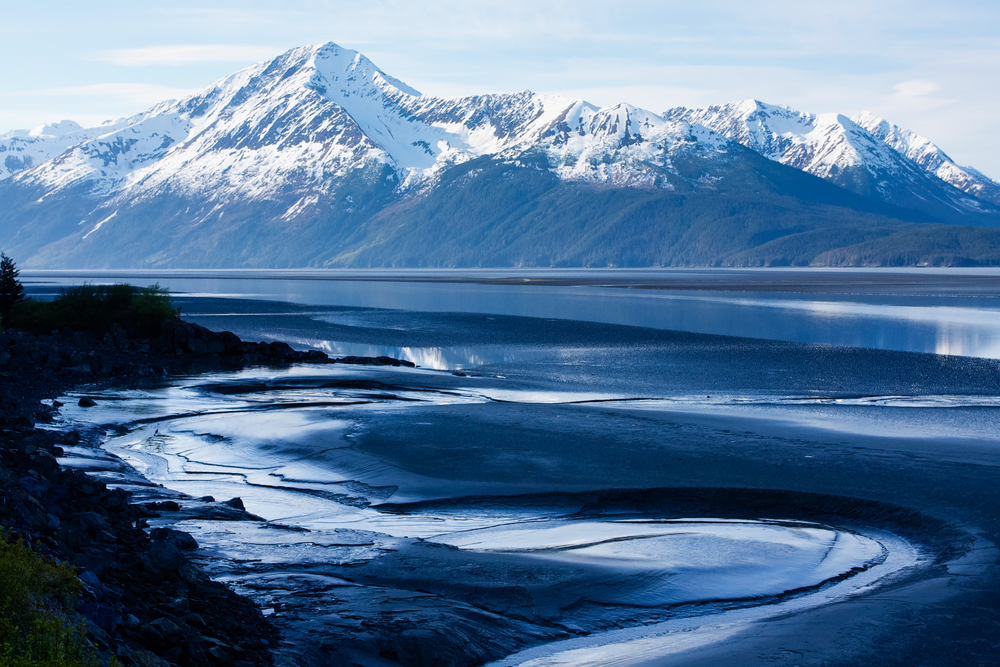 An epic view at Turnagain Arm along the Seward Highway of Cook Inlet and the Kenai mountain chain.
Train Travel Is A Great Option To Get To Seward Alaska
If you do not have your own vehicle, consider train travel. The Alaska Railroad offers a unique experience on a trip from Anchorage to Seward Alaska. You can travel round trip or one way.
The train follows along the Seward Highway for a portion of the way but then climbs into the mountains where you will see things that those riding in cars or busses do not have the opportunity to see.
It takes more time riding the train, 4 hours and 20 minutes, and there is only one departure out of Anchorage every morning to Seward Alaska.
So if you choose the train adventure, please check the time schedule when you are closer to your travel dates.
Read Next: 13 Picturesque Towns In Alaska You Must Visit!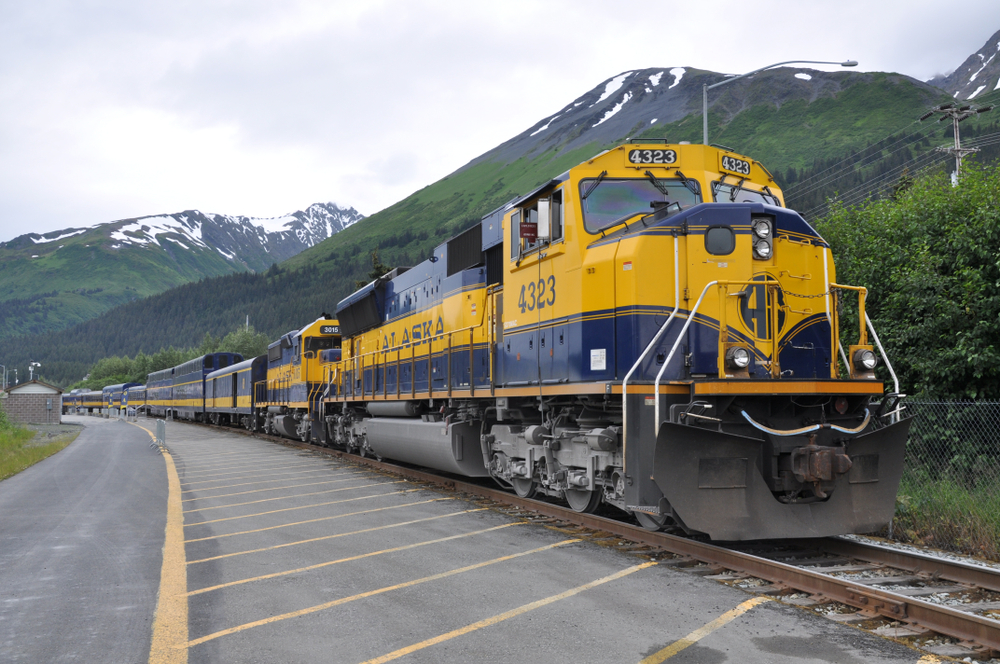 Traveling By Bus Is Very Frugal
Traveling by bus is kind of the best of both worlds. The ride is about three hours, and you have the opportunity to relax and see the sights while someone else does the driving for you.
Ticket prices are reasonable and you can purchase a round trip (always a bit more economical) or one-way ticket.
As an added bonus, if you want to visit or explore a location along the Seward Highway from Anchorage to Seward Alaska the bus is hop on hop off.
Read Next: Alaska Cruise Packing List For Any Time Of Year
Make sure you also check for current prices and the Alaska Park Connection Motorcoach schedule as you finalize your plans to visit Seward Alaska.
Rent A Car For More Flexibility
Finally, you can rent a car if you so desire. If you are considering a rental car for the one-way trip from Anchorage to Seward Alaska, you might want to reconsider as there is a hefty fee to leave the car in Seward Alaska.
If you are planning to meet your cruise ship, or you will be staying in and around Seward, you probably will not need a car anyway. Considering train or bus travel might be a bit cheaper for your vacation budget.
Seward Alaska's Temperature Is Mild
Because of its geographic location, Seward is one of the towns in Alaska blessed with temperate and mild temperatures. This is one of the things I like about Seward.
Unless you are visiting Seward Alaska in the dead of winter, you can plan on leaving your heavy ski-style parka at home.
Dress warmly in layers instead and check the temperature of Seward Alaska the month you are traveling for up-to-date weather conditions.
Read next: 21 Best Things To Do In Anchorage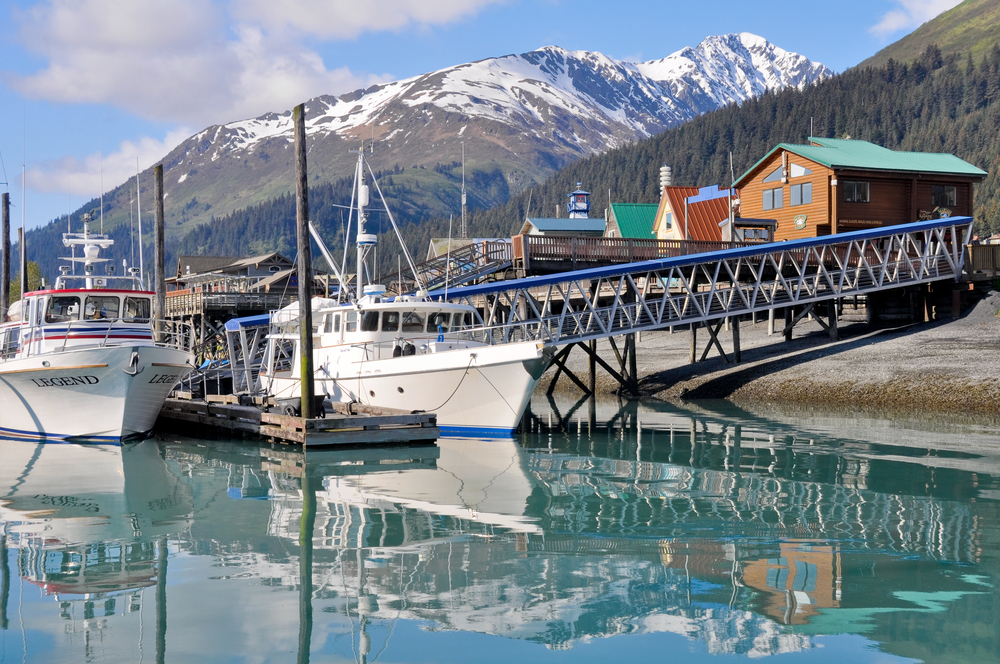 Read next: 11 Stops To Include For The Perfect Alaska Itinerary
The Scenery of Seward Is Breathtaking
Seward Alaska is considered the 'gateway' to the Kenai Fjords National Park. In Seward, the mountains and the ocean literally touch each other which makes for absolutely gorgeous views.
What waits for you in Seward Alaska will take your breath away. The glaciers that originate in the Harding Icefield spill out and down the mountains slowly and carefully rearranging the landscape, until they find their way in the fjords of Resurrection Bay.
All of this epic landscape is surrounded by snow-capped mountains!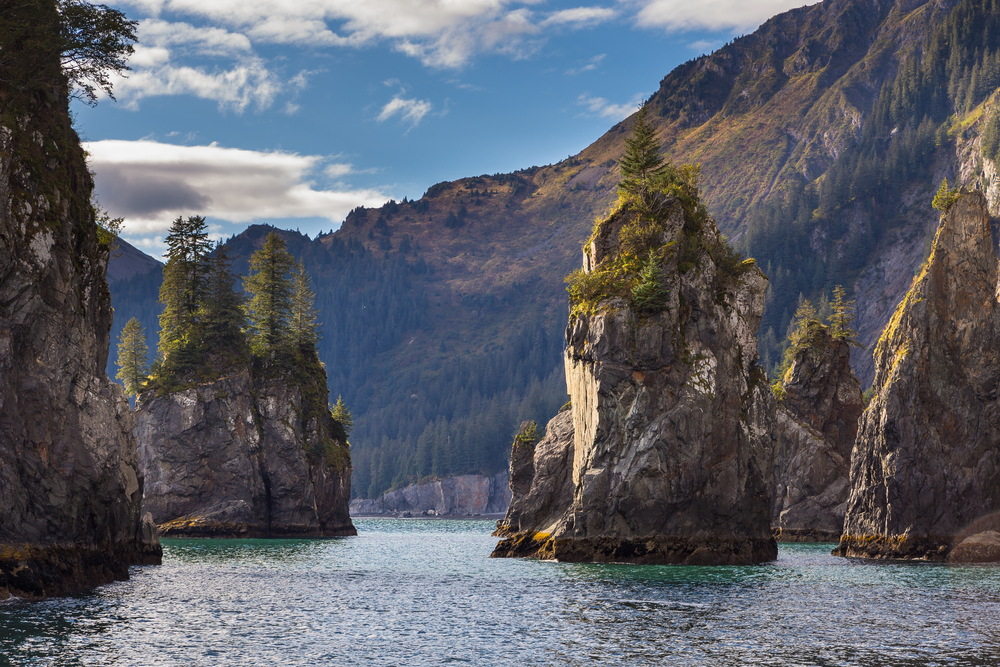 Outcroppings in Resurrection Bay, Seward Alaska.
Do Not Miss Out Seeing Exit Glacier
Exit Glacier is one of Kenai Fjords National Park's most popular attractions. And because it is so easily accessible to the public it is one of the most popular tourist attractions in Alaska.
Exit Glacier is one of the many glaciers that originates in the Harding Icefield.
It is located just a few miles north of town off the Seward Highway, and at the end of an 8-mile spur road (clearly marked off the Seward Highway.) There you will find Exit Glacier's parking lot and Nature Center.
If you are visiting Seward and do not have a car, do not worry. Downtown Seward Alaska has many tours operating to take you to see the glacier and even has reliable bus service.
Word of caution though: once you arrive at Exit Glacier there is no cell service. There will be no way for you to contact your tour operator or bus provider. So make sure you know exactly what time your ride back to Seward Alaska leaves Exit Glacier.
Read more about Exit Glacier here: 15 Great Things To Know Before You Visit Exit Glacier
You will want to stop at the Nature Center and speak with a Kenai National Fjords Park ranger for specific information on what to do and hikes to take depending on the amount of time you have at the attraction.
Exit Glacier is a blunt and harsh indicator of glacial recession. When you visit you will see markers along the walkways that are visible indicators of how far and how fast Exit Glacier is receding.
Likely due to global warming. Each marker indicates where the glacier was in the progression of years that they mark.
You will want to make use of the bathrooms just to the right of the Nature Center before you head on out to explore Exit Glacier. There is fresh running water available.
There are picnic tables located adjacent to the parking lot for you to take advantage of for a snack and a rest before or after your visit to the glacier.
Look here: Seward: Self-Guided Audio Tour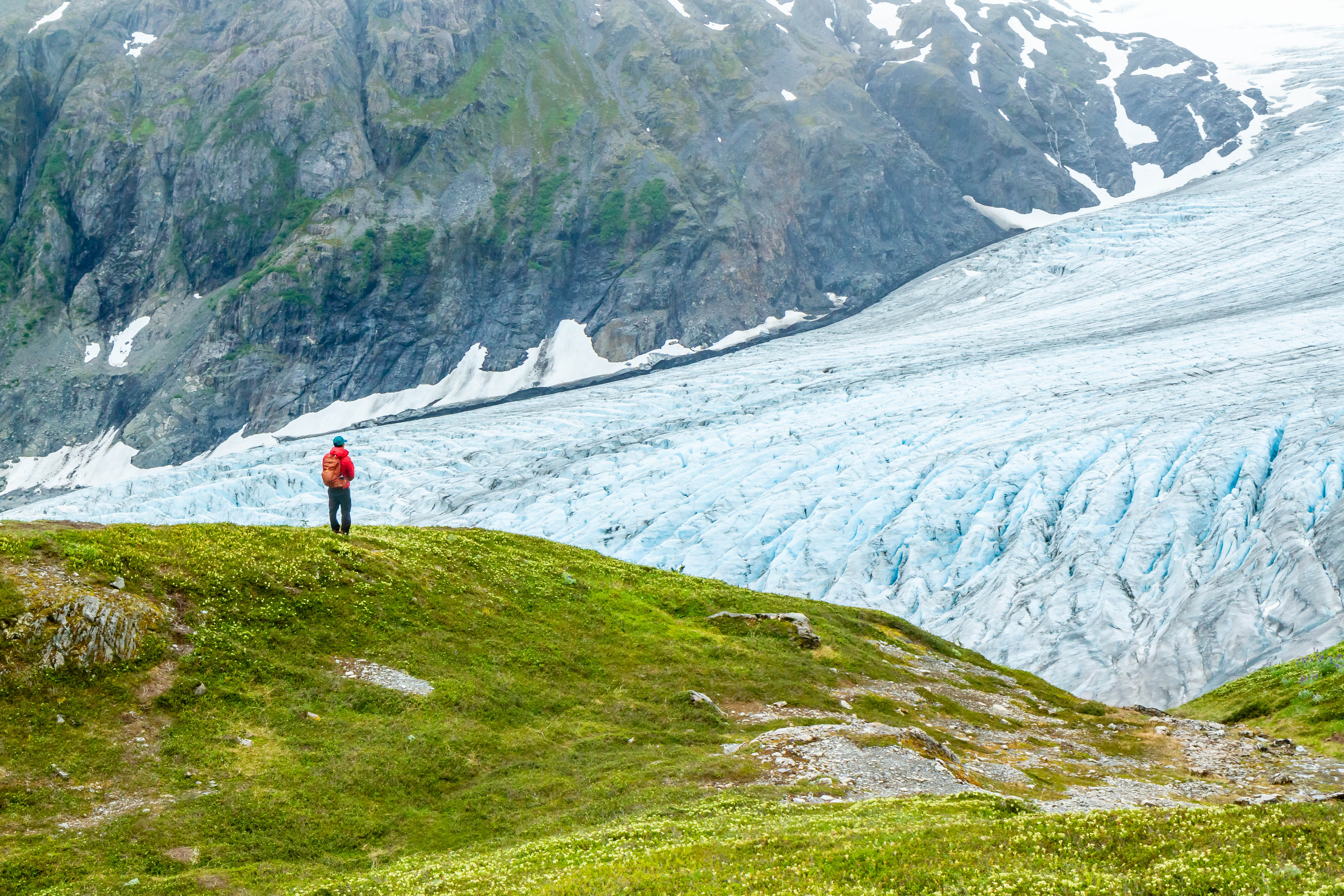 Exit Glacier is easily accessible, and only a few miles outside of Seward Alaska.
Taking A Glacier And Wildlife Cruise In Seward Alaska Is A Must
Think whales, puffins, sea lions, and those cute little sea otters. How about watching glacier calving and actually hearing it break apart and fall fabulously into the chilly waters of Resurrection Bay!?
No trip to Seward Alaska could be complete without taking a wildlife and glacier cruise. At the Seward Alaska harbor, there are several companies for you to choose from.
You will also need to determine the length of time of your wildlife/glacier cruise.
I have been on two scenic wildlife cruises when visiting Seward Alaska, one was a half-day 4-hour cruise, and my last cruise was the Full Day 7.5 hour Kenai Fjords National Park Tour with Major Marine Tours.
Both have their pros and cons, and it depends on your schedule and your budget.
Tickets Here: Kenai Fjords Half-Day Wildlife Cruise
Tickets Here: Seward: Kenai Fjords National Park 6-Hour Cruise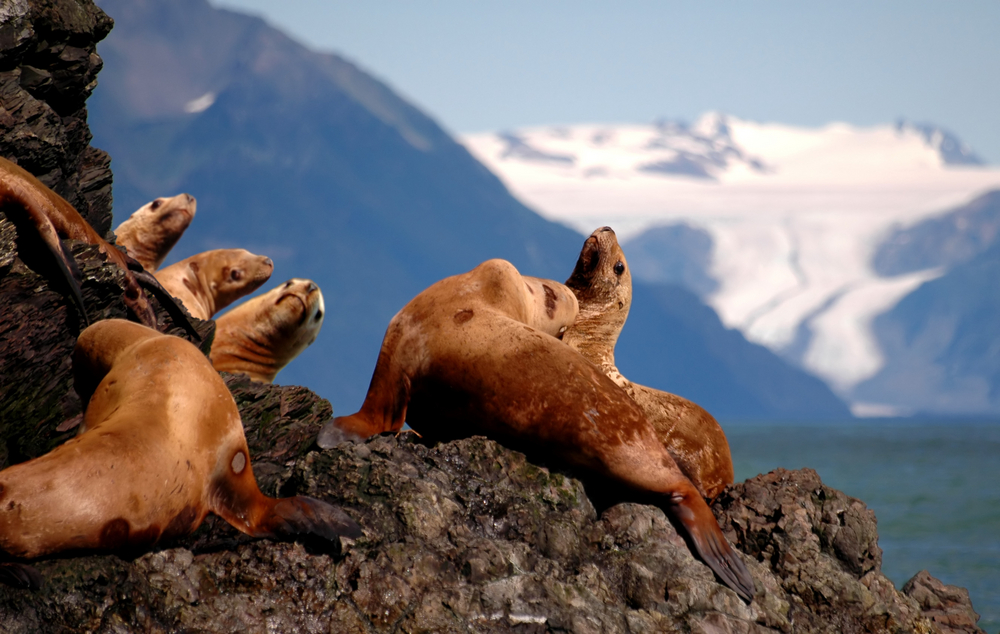 Flightseeing Over Seward Is Unforgettable
There is nothing whatsoever that can match seeing the crystal clear blue waters of Resurrection Bay, the lush green forested mountains and the incredible glaciers from the air.
I took a 30 minute Glacier Tour with Marathon Helicopters on my last visit to Seward Alaska. I had never ridden in a helicopter, and I was extremely apprehensive. I wondered if would I get motion sickness, as I tend to do.
But, Mike, the owner of Marathon Helicopters was very reassuring. Lift off, flying and landings were all so smooth.
I was not afraid, and I did not suffer from any motion sickness. But, the best part of the experience was landing on a glacier.
Wow, was that an unforgettable experience. I would highly recommend you consider a flightseeing experience during your trip to Seward Alaska.
Look here: 20 Unique Things To Do In Homer Alaska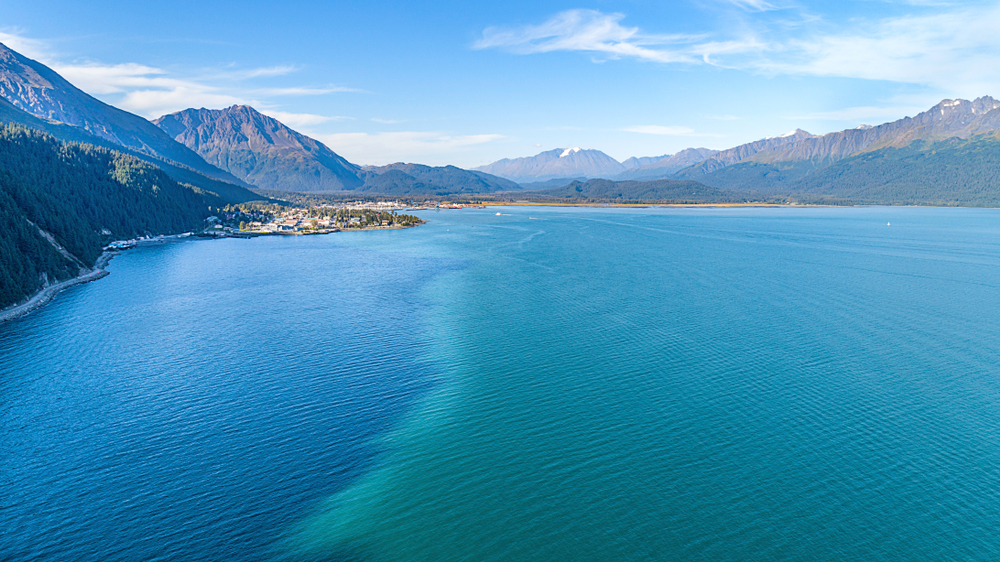 Packing Tips For Your Trip To Seward Alaska
Using these useful packing tips will enhance your experiences while hopefully keeping you organized while in Seward, Alaska. and pack lightly to make your travels easier.
A concealed travel pouch may be one of the most important items you bring with you on your 3 days in London trip. This unisex RFID blocking concealed travel pouch is lightweight and comes in several colors.
It has lots of organization to give you peace of mind. You can keep your most valuable documents safe and secure next to your body.
If you have a pouch already you may not want to or need to invest in a new one, like me. If it does not come with the RFID protection, these RFID sleeves would be handy to prevent identity theft.
This configuration comes with enough passport and credit card sleeves that the entire family would be protected. They are slim too, so they will easily fit into your current pouch or wallet.
These are the kind my family and I use not only when traveling but at home as well.
f you are planning on taking a lot of pictures with your phone you will definitely want to consider an external charging battery.
This Anker high-speed phone charging battery is the exact one I carry with me on all of my trips. It can be used on a variety of phones, not just an iPhone like I have.
And wow is it fast! I like that it holds its charging capabilities for several uses so I do not have to worry about it while out and about. And if I forget to recharge it at night, it will still be good to go the next day.
My daughter gifted me with this FugeTek Selfie Stick and Tripod for my birthday. It has Bloothtooth connectivity so it is very easy to use. It is made of durable aluminum and is very lightweight and easy to carry. I love mine and I think you will enjoy it too!
I was never a fan of packing cubes until I tried them out! Now I am sold. These Bagail packing cubes are the exact ones I use whenever I travel. I cannot believe how much more organized I am now! And I never leave without them anymore.
Don't forget to bring along a universal power adapter with you to Alaska if necessary. This worldwide power plug is a great example and will charge your phone at the end of your busy days.
And this world traveler adapter kit can charge several devices at the same time. This is what you will need when there are several people traveling in your group, or if you bring several electronic devices on your trip that require charging at the same time.
Hydration is so important. You want to remain hydrated to support your immune system which in turn will be stronger to fight off any germs you will encounter during your travels. You will want to bring your own refillable water bottle with you.
I never leave home on a trip without my Bobble filtration bottle. The 18.5-ounce size is perfect for travel and it fits nicely in the pocket of a backpack or your purse.
Also when filled with water, it is not too heavy to carry. And the charcoal filter ensures fresh clean water whenever you fill the Bobble. You can find filter replacements here.
Perhaps you are traveling a long distance and packing space is a premium. Then this set of collapsible silicone foldable water bottles would work well for you. Would not take up much space in your suitcase at all.
You will want a backpack or daypack with you to store snacks, your water bottle, phone, extra clothes, etc.. This foldable water-resistant backpack would be great. It is very affordable and is available in many color options for you to choose from. The fact that it folds down into a zippered pouch will make it easy to pack.
Perhaps you need a more substantial backpack for your international travel. This antitheft backpack has a charging port, is water-resistant and can comfortably carry up to a 15.6″ laptop.
You will be walking more than usual when in Alaska. A pair of sturdy and comfortable walking shoes are a must-have. These waterproof all-season shoes are extremely affordable and yet fashionable.
Mostly everyone is familiar with the Skechers brand, and these Air Run high fashion sneakers come in a lot of colors to match your outfits and are still affordable.
If you are visiting Alaska in warmer weather, maybe you want a pair of sandals to wear to dinner or to the local cafe, I highly recommend these Vionics adjustable strap orthotic sandals.
I have several pairs of Vionics that I bring with me *everywhere* I travel. They are very comfortable and have orthotic footbeds that cradle and support your feet.
Bring a lightweight scarf or shawl. Scarves and shawls are very popular in Alaska is no exception. Both men and women wear scarves, both decoratively and as a layering piece to keep warm. This cotton unisex lightweight scarf is versatile and can be worn in any season.
And here's another option to consider: this lightweight sunscreen shawl scarf would do double duty to protect you from the Alaska sun should you visit Seward in the warmer seasons, as well as being a fashion accessory layering piece.
We all need to protect our eyes from the sun's harmful UVA/UVB rays. These unisex polarized sunglasses come in a lot of lens colors and frame designs and are extremely affordable too.
If you are fond of the aviator-style of sunglasses these polarized aviators may interest you.
If you are in need of new luggage, this expandable soft side spinner luggage is affordable and comes in lots of colors. If you like hard-sided better, then you may favor this hard-sided luggage set better. Both sets come with TSA locks and 8 wheels per piece.
I hope these eleven tips will help you when planning your trip to Seward Alaska. Situated between the Kenai Mountains and Resurrection Bay, Sewards offer unlimited options to choose from.
Have you ever been to Seward Alaska? What was your favorite thing to do when you were there? Do you have any tips to offer for others planning their trip to Seward? Please leave your thoughts and suggestions in the comments section below.