If you are planning a trip to Alaska in May, there are a few things to know so you can be prepared.
Some say May is the best time to visit Alaska and this spring month certainly has a lot going for it. As part of the shoulder season, May is cheaper and less crowded than peak season.
Planning your trip to Alaska last minute?
Make sure to book ahead! Hotels and tours can sell out the closer you get to your trip. Here are our top pics for Alaska!
Top Experiences and Tours in Alaska:
Best Alaska Hotels:
The Alaska weather in May is usually nice and it is prime time for wildlife viewing. May is also the driest month so you do not have to worry too much about rain causing problems.
There are so many beautiful places to visit in Alaska and they are picturesque in May as the first wildflowers begin to bloom.
If you want to know what to do in Alaska in May, you can enjoy hiking, photography, camping, kayaking, museums, wildlife tours, and more.
This article will cover everything in detail about Alaska in May including what to expect from the weather, prices, crowds, road conditions, wildlife, and other things to note.
If you want to learn about Alaska cruises in May, you will find the information you need here too. Cruising Alaska in May is a great way to save money and avoid crowds.
Keep reading for more detailed information on May in Alaska!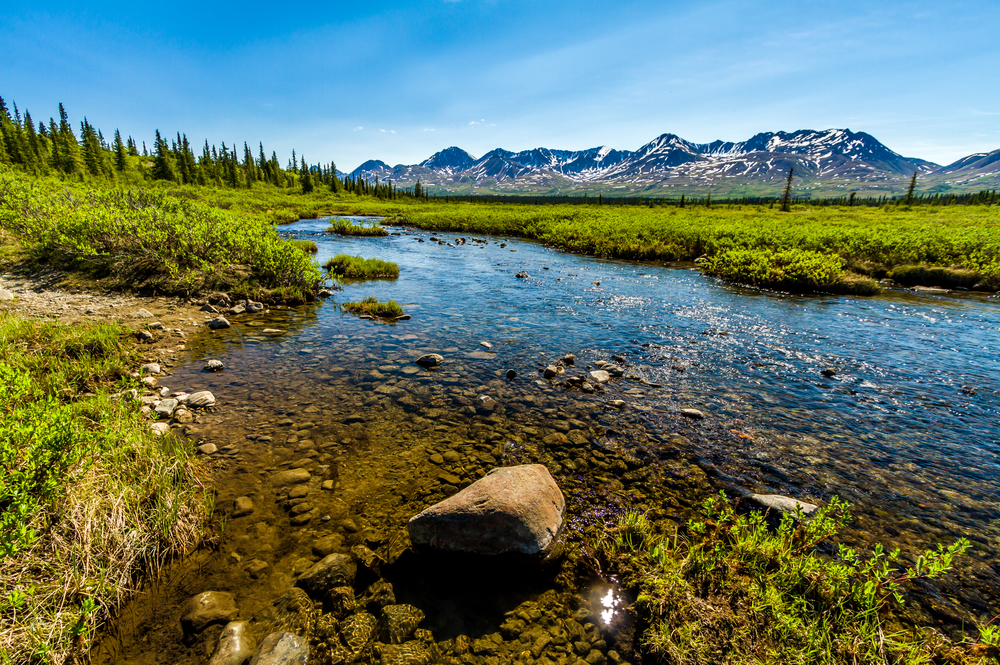 7 Things to Know Before Visiting Alaska in May
May in Alaska is the Transition Between Winter and Summer
In Alaska, May acts as the transition between the winter and summer seasons. Snow begins to melt and plants start to grow as the landscape turns green again.
You will still be able to see the snow-capped mountain peaks while enjoying the weather in Alaska which is cool but missing the bite of winter. The snowmelt causes waterfalls to gush.
Expect little precipitation but there might be snow or rain at the beginning of the month.
How cold is it in Alaska in May depends on the region.
In the coastal region in the south, the temperature in Alaska in May varies from the low-40s to the mid-50s Fahrenheit. The daylight lasts about 16 hours.
If you venture north into the interior and Arctic regions, the average temperatures gradually decrease while the daylight hours increase.
Keep in mind that strong winds can make it feel colder than it is. Make sure to pack plenty of layers as well as warm hats and gloves.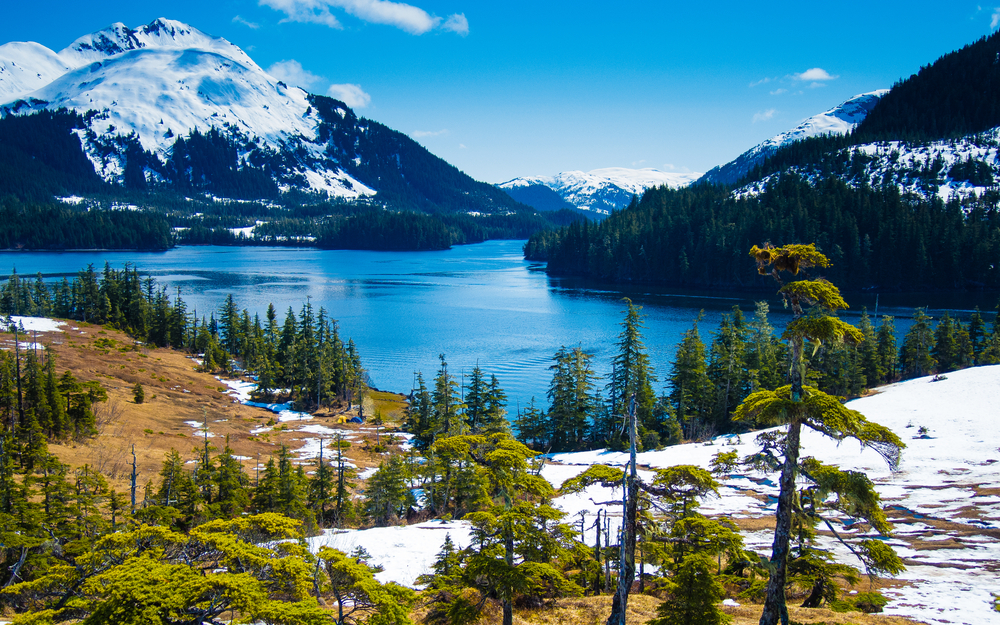 Alaska is Less Crowded With Tourists in May
One of the top reasons for visiting Alaska in May is the lower number of tourists. If you want to avoid crowds, the shoulder season allows you to see Alaska's vast landscapes unimpeded.
There are much fewer tourists than in summer so it is easy to book accommodations and rental vehicles. You do not have to worry about booking far in advance since most things will still be available.
Keep in mind though, that because there are fewer tourists many businesses do not open until the end of the month or even June.
Check ahead of time to see if the tours and activities in Alaska you want are available in May.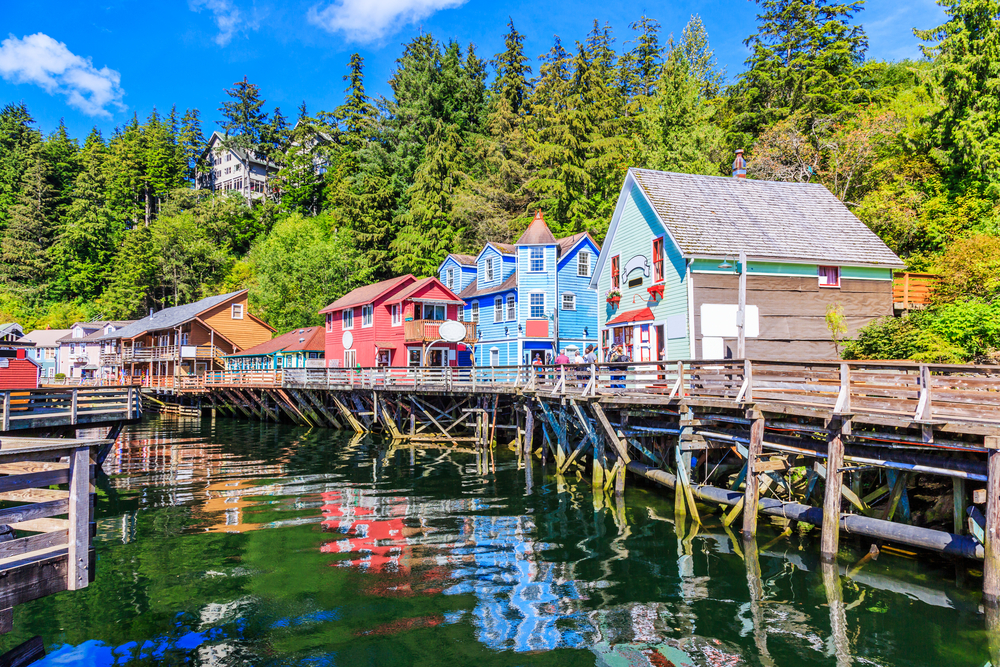 Alaska in May is Better for Budget Travel
Another positive point of the shoulder season is the cheaper prices. Everything from accommodations to car rentals to flights tends to be less in May than in summer.
Keep an eye out for good deals during this time. The Alaska Railroad excursions, for example, are cheaper in May.
If you are traveling to Alaska on a budget and want to avoid the cold and unpredictable weather of winter, May is the best month to go to Alaska!
Traveling to Alaska can be expensive but if you time it right and budget well, the trip will not break the bank.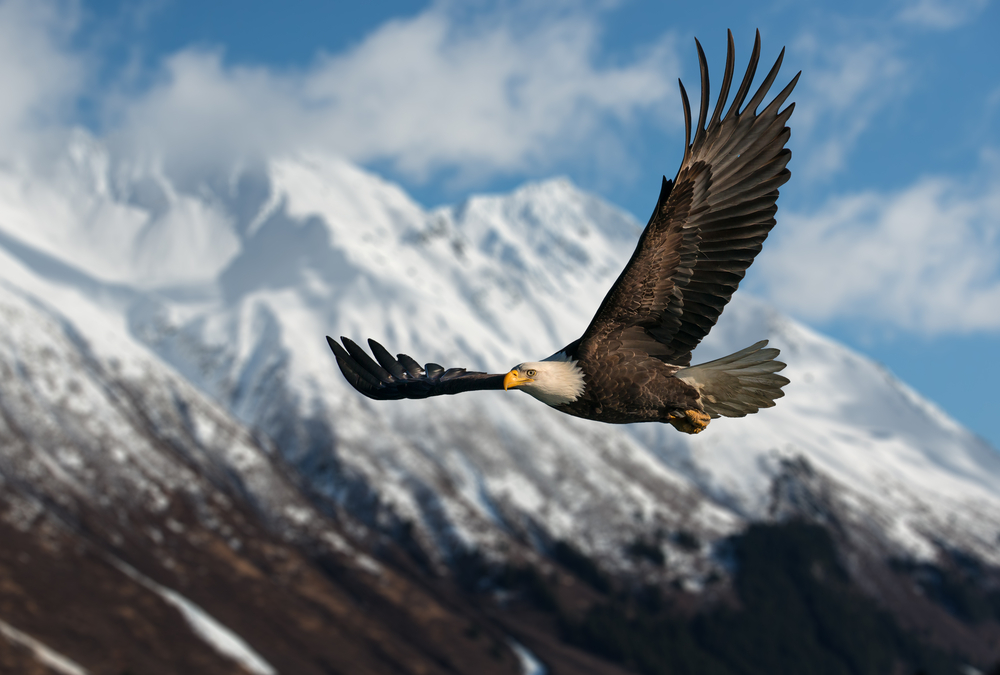 May is a Great Time for Wildlife Viewing in Alaska
One of the best things to do in Alaska is wildlife viewing. For a high chance of ticking amazing animals off your list, visit Alaska in May.
As animals come out of hibernation and migratory birds return, there will be wildlife all around for you to find.
Since the foliage is just starting to leaf out in May, you will have clear views and land animals are easier to spot among the trees.
Some mammals you might see include Dall sheep, mountain goats, and moose. They love the fresh, spring vegetation.
It is also possible to see bears in May, but they are usually harder to find and are less active after a winter of hibernation. If you are set on seeing bears in the wild, visit during June or July.
Out on the water, there is plenty to see as well. May through September is whale watching season.
Book a boat tour for the opportunity to see humpback whales, gray whales, orcas, walruses, harbor seals, and more. You definitely want to add this activity to your Alaska itinerary!
If you are a birder looking for things to do in Homer in May, you can attend one of the best nature events in Alaska.
The Kachemak Bay Shorebird Festival in early May is the largest wildlife-viewing festival in the state with over 100,000 shorebirds.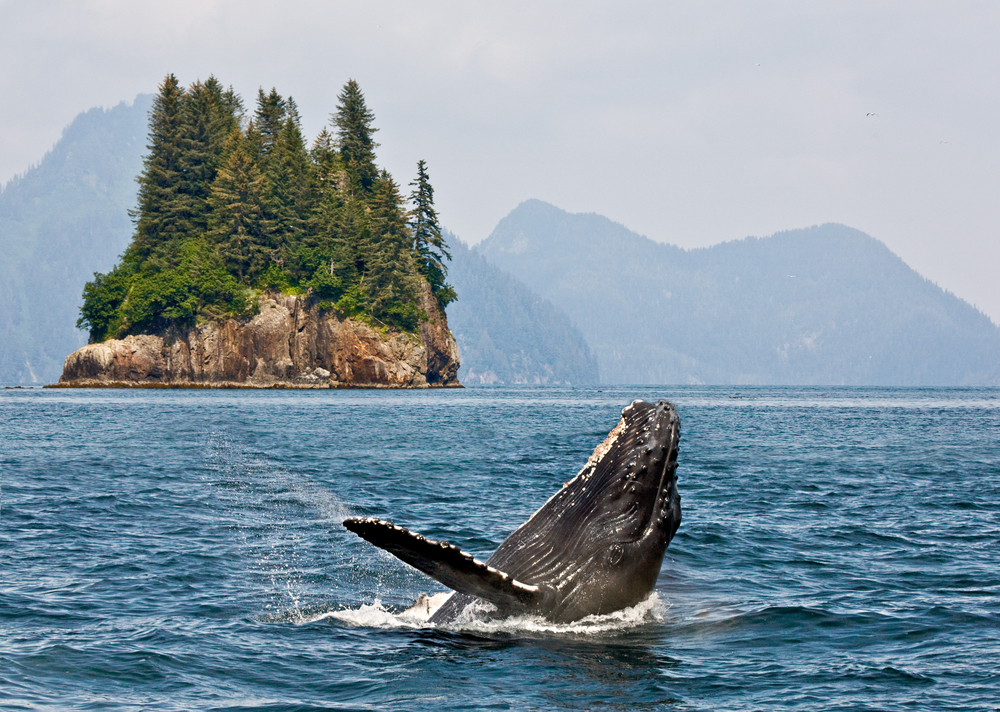 Cruising in Alaska Starts in May
May is the best month to cruise Alaska because this is when the cruising season begins.
An Alaska cruise is one of the most popular ways to experience the Last Frontier and the big ships bring in many tourists.
Since cruises are just starting in May, there are not as many ships. Popular cruise ports, such as Juneau and Ketchikan, will only have one or two ships instead of up to six during the summer.
Cruise and shore excursion prices are usually lower in May. Plus, as mentioned, you can see lots of wildlife in the water.
Make sure to check out my extensive Alaska cruise packing list! It goes over all the clothes for Alaska you'll need to stay warm, dry, and comfortable.
If you are not cruising, you can easily avoid the cruise crowds by venturing farther inland.
The Denali National Park area, for instance, will be less crowded in May. There are also lots of things to do in Fairbanks.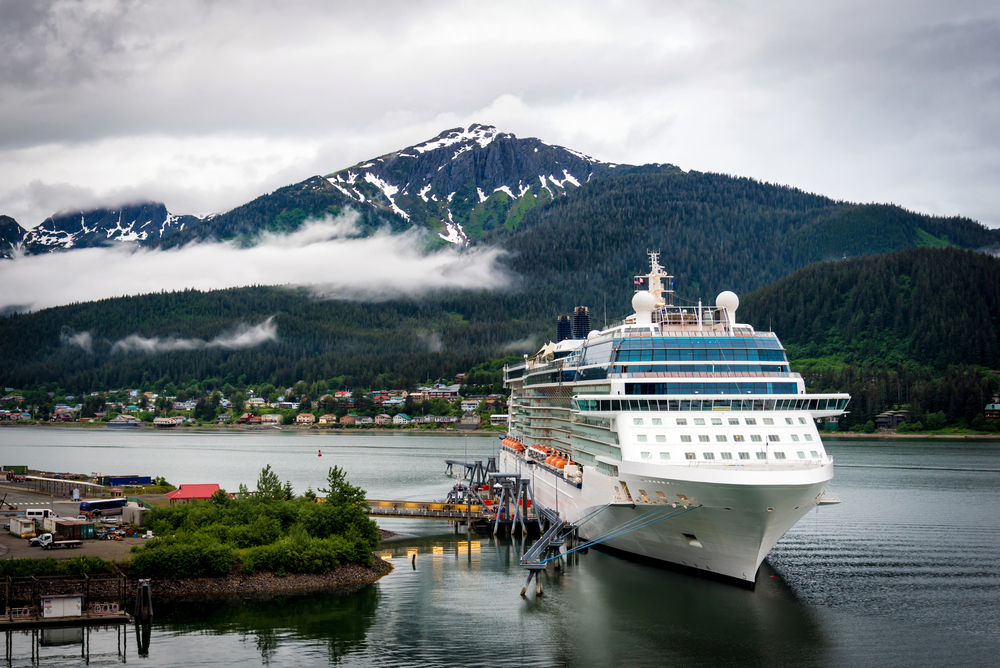 Mosquitoes Are Not Bad in May
Alaska is notorious for its mosquitoes and 35 species of this pesky insect call this state home.
Mosquitoes start to hatch in late May but do not become a real nuisance until June through July.
If you want to avoid getting mosquito bites, May is the best time to travel to Alaska. Even so, make sure to pack some insect repellent.
Also, mosquitoes in Alaska are not as bad as legend claims. If you stay in cities and along the coast, there are not many.
Avoid standing water and the moist tundra, especially around dusk and dawn, to see fewer mosquitoes as well.
If you do get bitten, you do not have to worry about diseases since arctic mosquitoes do not carry any of the diseases tropical species are known for.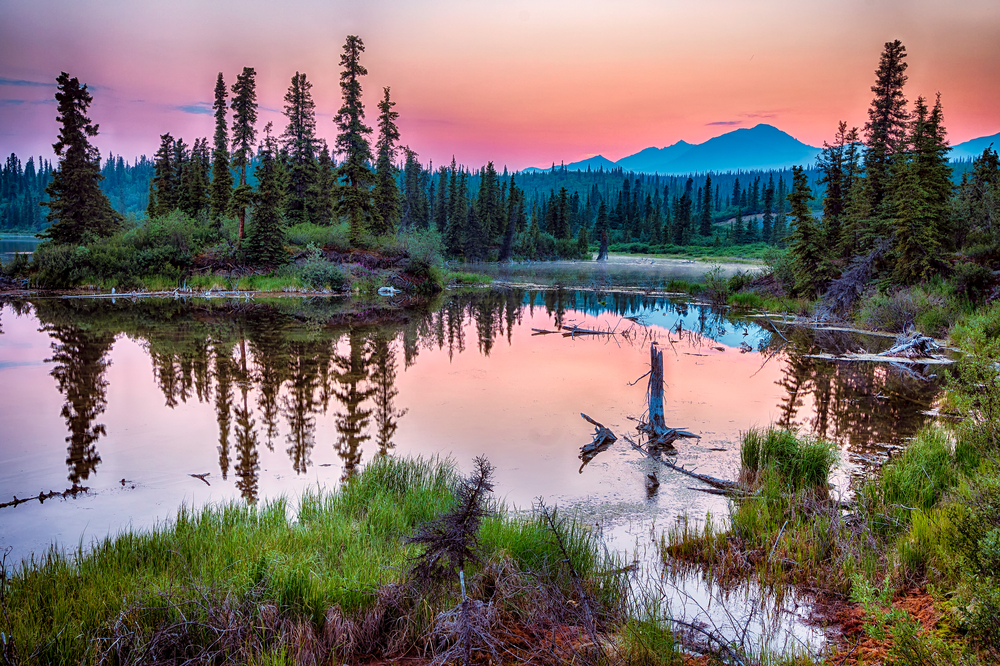 Main Roads Are Clear for Driving in May
Many roads in Alaska are not maintained in the winter, but by May most of the major highways are clear of snow and safe to drive.
Keep in mind that there still can be some snow and ice, especially at higher elevations. Check road conditions before you set out.
As long as you are cautious, driving in Alaska is safe and one of the best ways to experience the grand landscape. Driving gives you lots of freedom to explore.
One of the best drives to do is the Seward Highway which connects Anchorage to Seward with lots to see in between. Anchorage in May is a great time to explore the largest city in the state.
If you are driving to Denali National Park in May, there are a few things to keep in mind as you plan your trip to one of the best national parks in Alaska.
The Denali Park Road begins to be plowed in mid-March depending on the weather. Starting in April, it is only open to mile marker 30 until May 19th.
On May 20th, the transit bus service starts, taking visitors beyond mile marker 30. Most campgrounds in the park open on this date as well.
The Denali Visitor Center opens in mid-May and the ranger-led programs begin then too.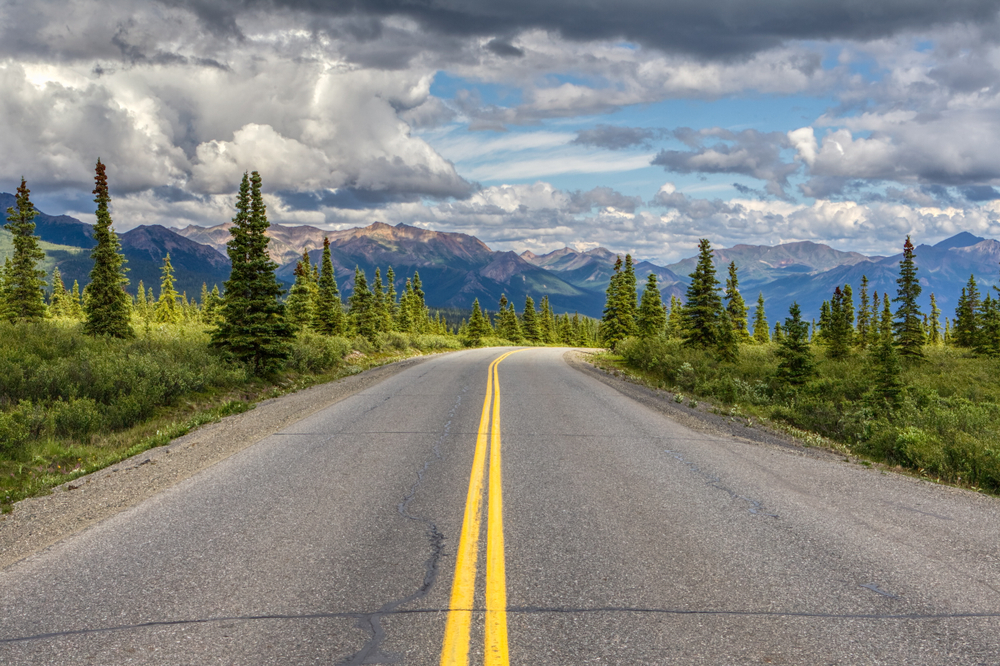 Packing List For Things To Do In Alaska In May
If you will be traveling, either by plane or by car to Alaska, here are some tips on how to pack lightly.
A concealed travel pouch may be one of the most important items you bring along when visiting Alaska in May.
It is always important to protect your personal information. Identity thieves are everywhere.
This unisex RFID-blocking concealed travel pouch is lightweight and comes in several colors. It has lots of organization to give you peace of mind.
You can place it under your clothes next to your body to carry your ID safely.
If you have a pouch already that does not come with RFID protection, as I do, these RFID sleeves are the perfect solution.
This configuration comes with enough credit card sleeves that the entire family would be protected. They are slim too, so they will easily fit into your pouch or wallet.
If you are planning on taking a lot of pictures with your phone you will definitely want to consider an external charging battery.
This Anker high-speed phone charging battery is the exact one I carry with me on all of my trips.
It can be used on a variety of phones, not just an iPhone as I have. And wow is it fast!
My daughter gifted me with this FugeTek selfie stick and tripod setup for my birthday. I absolutely love it! It is made of lightweight aluminum and so easy to use.
It has Bluetooth connectivity and is a breeze to use for taking photos.
You will want to bring your own refillable water bottle with you.
I never leave home on a trip without my Bobble filtration bottle. The 18.5-ounce size is perfect for hiking and it fits nicely in the pocket of a backpack.
Then this collapsible silicone foldable water bottle would work well for you. Would not take up much space at all.
You will want a backpack or daypack with you to store snacks, your water bottle, phone, extra clothes, etc… No matter the time of day or evening.
This foldable water-resistant backpack would be great.
It is very affordable and is available in many color options for you to choose from. The fact that it folds down into a zippered pouch will make it easy to pack.
—
You can see now why many consider May the best month to visit Alaska!
With the nice May weather, awakening wildlife, and other attractions in Alaska, this spring month is great for a trip to the Last Frontier.