Are you planning a road trip to Alaska? Are you wondering what the best stops on the drive from  Anchorage to Seward are? Well, you have definitely come to the right place. I love Alaska and have road-tripped there several times.
The Seward Highway which you will be traversing from Anchorage to Seward has garnered many awards for its stunning beauty. Among them are National Forest Scenic Byway, All American Road and Alaska Scenic Byway. So get ready for some of the most stunning scenery you will never forget on your drive from Anchorage to Seward alongside mountains and their glaciers, through forests, and alongside glacially silted Alaskan waters.
When you drive the 125 miles from Anchorage to Seward, you will want to allow ample time in your day that will afford you the luxury of stopping to view the sights along the way.  And of course, time to take pictures, ooohing and ahhhing the gorgeous scenery you will be seeing all along the way. Above all, you will want to customize your trip. These are my suggestions for the locations that wowed my family and me from Anchorage to Seward.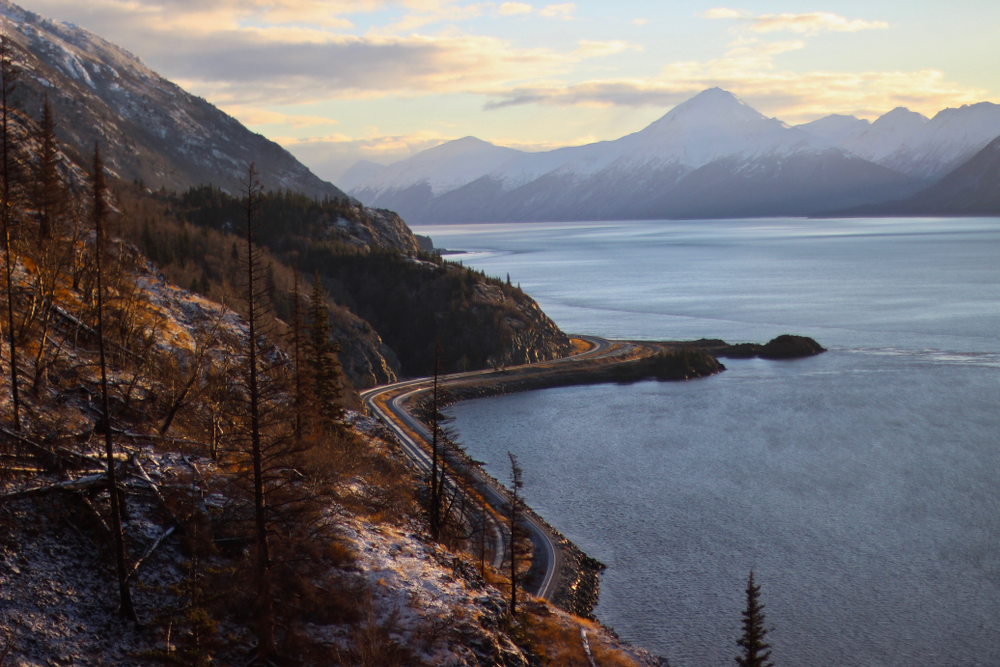 The Seward Highway as it wraps around Turnagain Arm from Anchorage to Seward.
11 Best Stops On The Drive From Anchorage To Seward 
 Anchorage Is Alaska's Cosmopolitan City & The Beginning Of The Seward Highway
Mountains. The sea. Urban wilderness. Anchorage has it all!  Anchorage is Alaska's largest city. And while you might think so, Anchorage is not the political capital of Alaska. Anchorage is the economic capital of Alaska and filled with big-city amenities.
Anchorage has lots of the popular "big box" stores, so it is naturally a good location to stock up on everything you will need on the drive from Anchorage to Seward. There are fine dining restaurants to discover and high-end shopping to be done in Anchorage if you have the time.
There is a wilderness to be explored as well. It is not uncommon to see a moose strolling through town. Birding is a popular sport and the mountainous backdrops of Anchorage makes one wonder if the sky is actually real, or an exquisite painting!
There is an eleven-mile bike/running/walking trail called the Tony Knowles Coastal Trail that offers gorgeous views of the mountains on one side and the water on the opposite. Part of it ventures into Earthquake Park, a stunning reminder of the damage done to Alaska by the 1964 earthquake.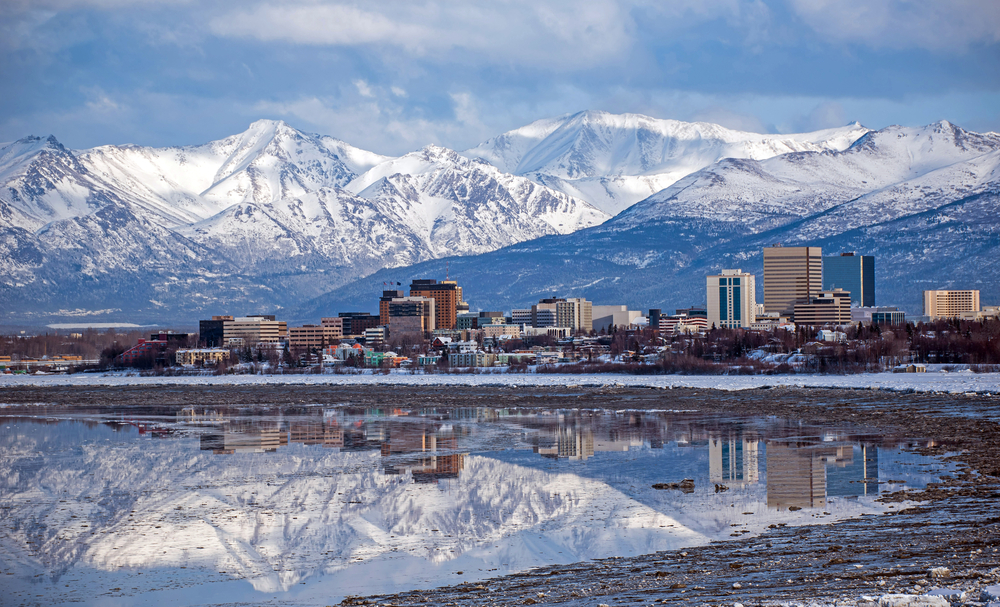 Anchorage's stunning landscape.
1)Turnagain Arm Has Dramatic Shorelines
Heading south, just about as soon as you leave Anchorage, you will be mesmerized by the very dramatic shorelines of the Turnagain Arm portion of the Seward Highway. I do not think anyone can dispute these first few miles are among the most beautiful and jaw-dropping you may ever see!
Fun Fact: Turnagain Arm received its name from the famed British explorer James Cook when he discovered it was not the "Inside Passage" he was looking for, and had to "Turn Again" back into open waters.
The Seward Highway hugs Cook Inlet on your right and the Chugach State Park is nestled right next to the road on your left. It is really quite the scene: the mountains literally next to the sea. Breathtaking.
You may want to take advantage of one of the many pullouts to park and get out of your vehicle during this portion of the drive. You can snap breathtaking pictures of the Chugach and Kenai mountains. Dall sheep and beluga whales make their homes here, so be on the lookout.
You might wander out onto the beaches for some shell seeking and picture taking. You can walk for miles and miles if you really wanted, to absorb the gorgeous views. The waters of Cook Inlet ahead of you and the mountains sloping down behind you make for some dramatic scenery.
A somber note: do NOT venture out onto the mudflats of Turnagain Arm. PEOPLE HAVE DIED! The coastal silt acts like quicksand and the rushing water drowns them. Please be careful!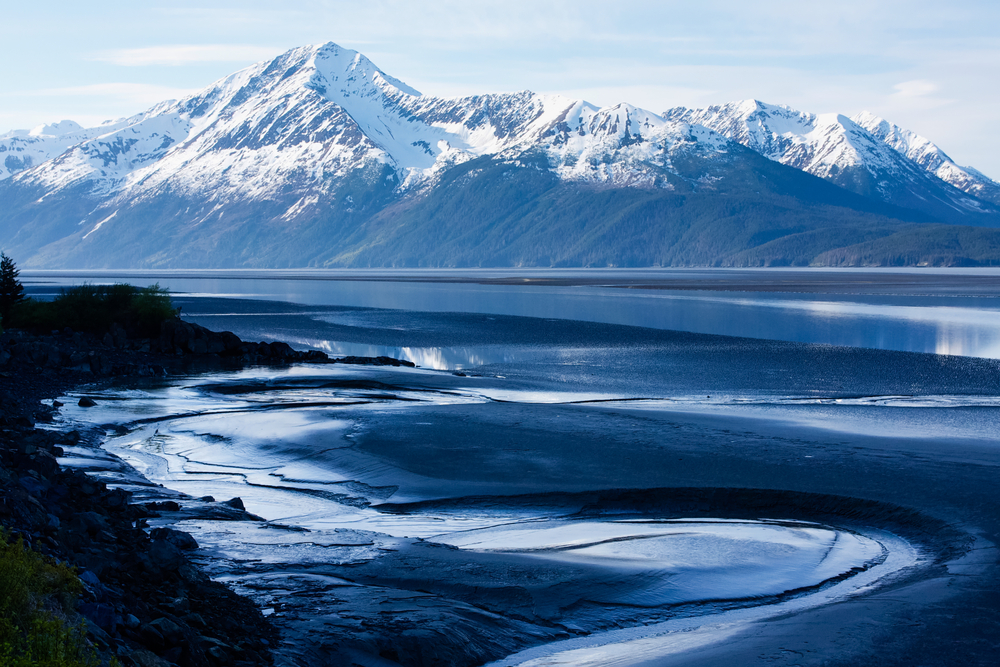 Turnagain Arm and the dangerous mud flats. Beware of the mud flats!
2) Check Out The Turnagain Arm Bore Tide
What the heck is a bore tide, you ask? It is a wave of water that literally rushes down Turnagain Arm. It is really water forced to flow into the narrow channel. It can be quite dramatic with twenty mile per hour winds and a six-foot bore tide wave. Some of the largest bore tides in the world are found in Turnagain Arm.
You will be able to see the bore tide along the road on the Seward Highway just south of Anchorage. To see the most spectacular bore tides, which do actually occur every day it is best to check local bore tide charts for times. My family and I plotted and planned and waited for the Turnagain Arm bore tide to rush by us, only to be a bit disappointed because it was modest at best. Still, it was a unique experience.
If you are serious to see massive bore tide, you definitely want to consult tidal charts and the full/new moons. If you do, and you see the massive bore tide that Turnagain Arm is legendary for worldwide, please let me know how it was.
Another perk that comes with a bore tide is wildlife viewing. Can't you just imagine how cool it would be seeing sea lions or otters surfing the bore? How memorable would that be?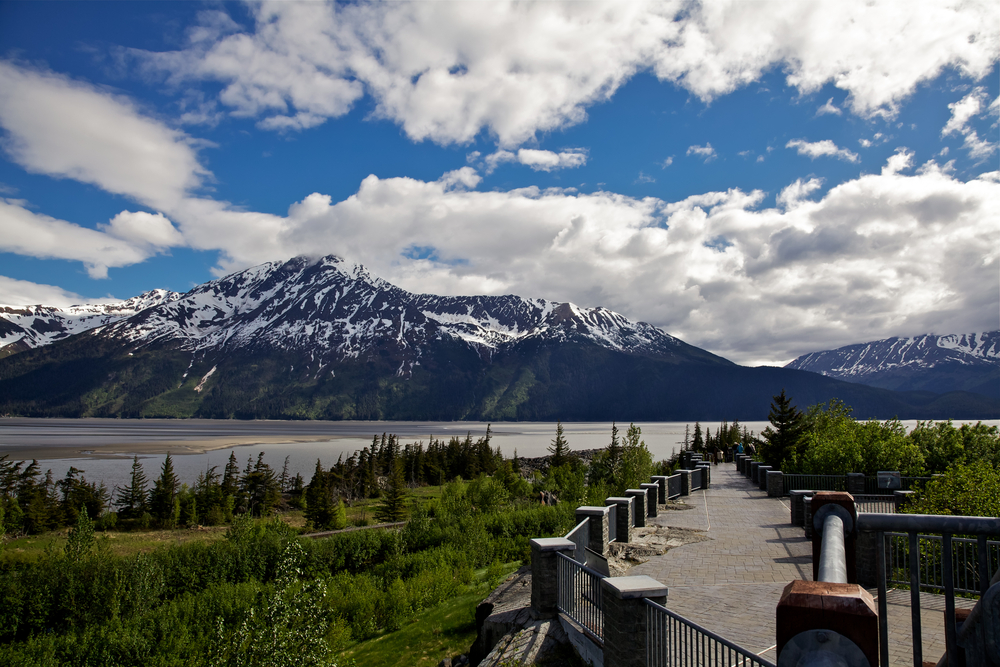 Here is a bore tide viewing location along the Seward Highway at Turnagain Arm from Anchorage to Seward.
3) Stop At Beluga Point Lookout For Stunning Views
There are many stops along the drive from Anchorage to Seward, but one of my favorites is Beluga Poing Lookout.  Located about 16 miles south of Anchorage on the Sterling Highway, here you will be able to see an almost 180-degree view of Turnagain Arm. It is a great location to perch to view the bore tide. The adjacent beach holds many surprises and treasures.
Beluga Point Lookout is a popular spot to watch for wildlife, and there are many interpretive signs explaining the area. The forested mountains right next to the water make for a feast for your eyes!
Do not miss out on glorious picture taking opportunities. Make Beluga Point Lookout one of your scheduled stops.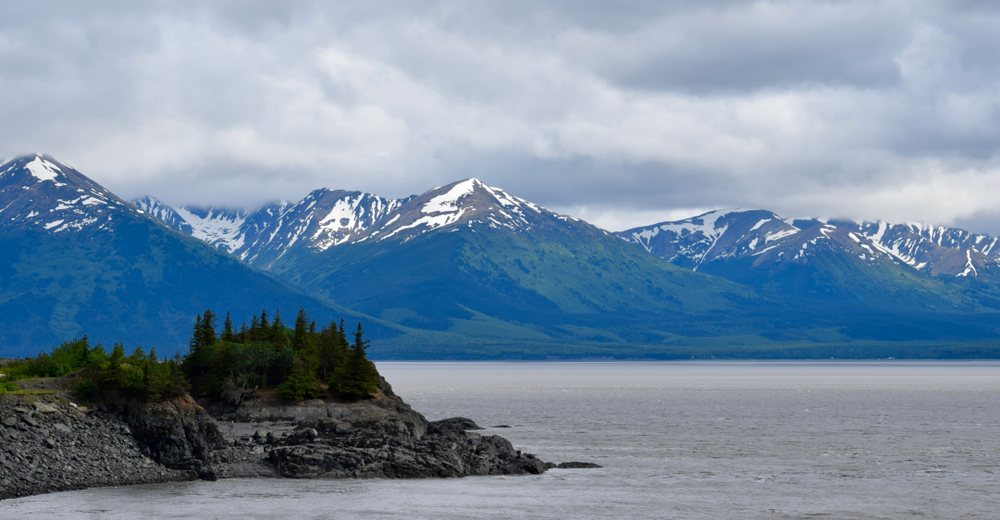 Breathtaking views of Turn Again Arm from the Beluga Point Lookout.
4) You Will Find Plenty Of Hiking Along The Seward Highway
The drive from Anchorage to Seward along the Seward Highway means countless opportunities for hiking, running, or even walking. You will notice many access points as you drive along, all branching off Seward Highway.
All you need to do is pull into a day use parking lot along the roadside, and begin your adventure. What you do is up to you! It could be something as lovely as walking along a meandering forest stream, to a challenging ascent up a forested trail. There are varied landscapes all waiting for you to discover and enjoy!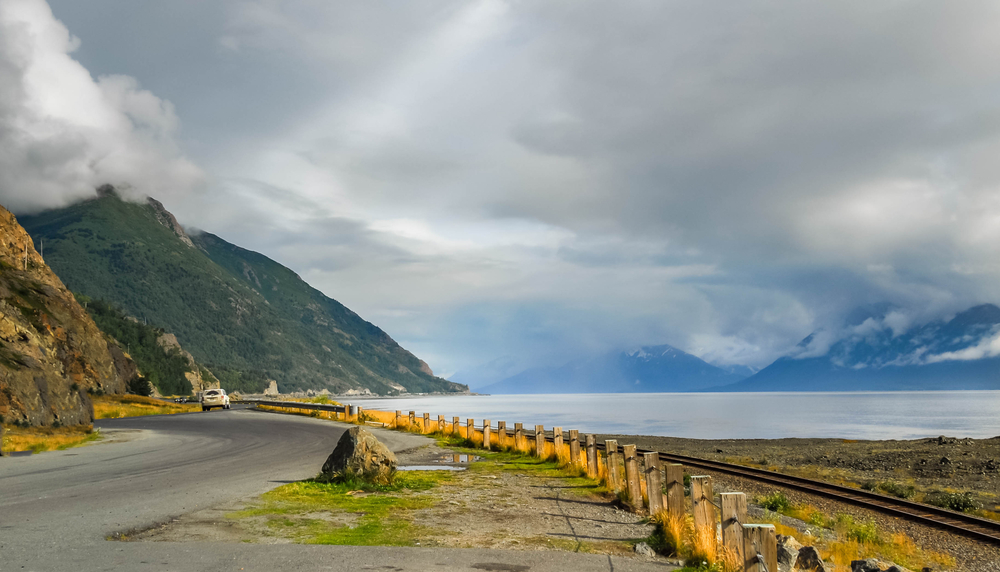 This is a glimpse of what you will see on the Seward Highway from Anchorage to Seward.
5) Girdwood Is An Alaskan Resort Town
Girdwood is situated right off the Sterling Highway, about 36 miles south of Anchorage. It is a beautiful town in a green lush forest surrounded by the Chugach Mountains. You can also see several glaciers spilling out from the snow-capped mountains.
Girdwood is home to the internationally known Alyeska Ski Resort. No matter what season you are in on your drive from Anchorage to Seward,  there is something to do and see in Girdwood.
One summer my family and I hiked up Aleyaka Mountain at the resort and rode the ski gondola back down to the ground. The views at the top were unforgettable.
Girdwood has lovely restaurants and shops and is a great choice to stop for souvenirs or refreshments.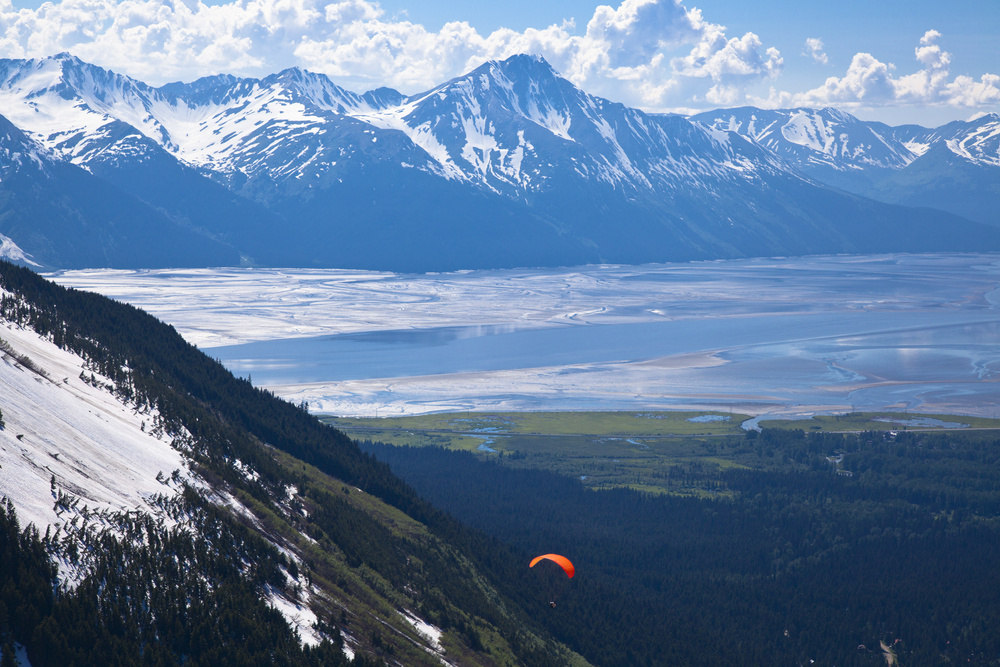 This spectacular view is from atop Aleyska Mountain in Girdwood!
6) Alaska Wildlife Conservation Center Is Worth Your Time
Located about 50 miles out of Anchorage, the Alaska Wildlife Conservation Center is a non-profit organization worth the visit. The conservation center provides a home for orphaned, ill or injured wild animals. Those unable to care for themselves.
There is an admission fee onto the grounds, and there you will be able to drive or walk their 1.5-mile viewing loop to safely view their wild animals.
When my family and I visited, we watched the afternoon feeding of black bears. Some of the other animals we saw included moose, owls, wolves, and porcupine.
The gift shop at the Alaska Wildlife Conservation Center is very large and has quite an extensive inventory of souvenirs for you to look at.  I think you and your family would enjoy this attraction during the drive from Anchorage to Seward.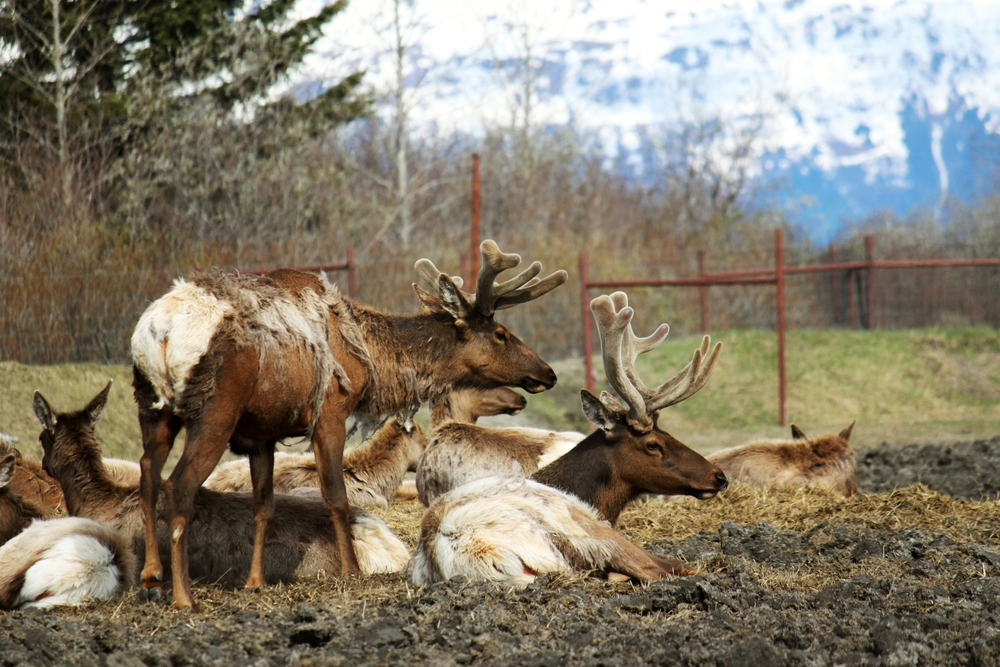 This family of caribou is an example of the wild animals you can see at the Alaska Wildlife Conservation Center.
7) Portage Glacier Is Worth The Side Trip
The Portage Glacier Access Road is found nearly next to the Wildlife Conservation Center off the Seward Highway. You will travel about five miles until you reach the Begich, Boggs Visitor Center. It is very impressive and worth a visit.
Unfortunately, Portage Glacier is retreating (melting)  and is no longer visible from the telescopes at the visitor center. However, there are interesting and interpretive exhibits that let you touch an iceberg and walk through an ice cave.
Portage Glacier remains one of Alaska's more popular roadside attractions and if you want to view the glacier up close, you can take a one-hour boat cruise from the visitor center. If you are more adventurous, there are numerous hiking trails that lead to the glacier.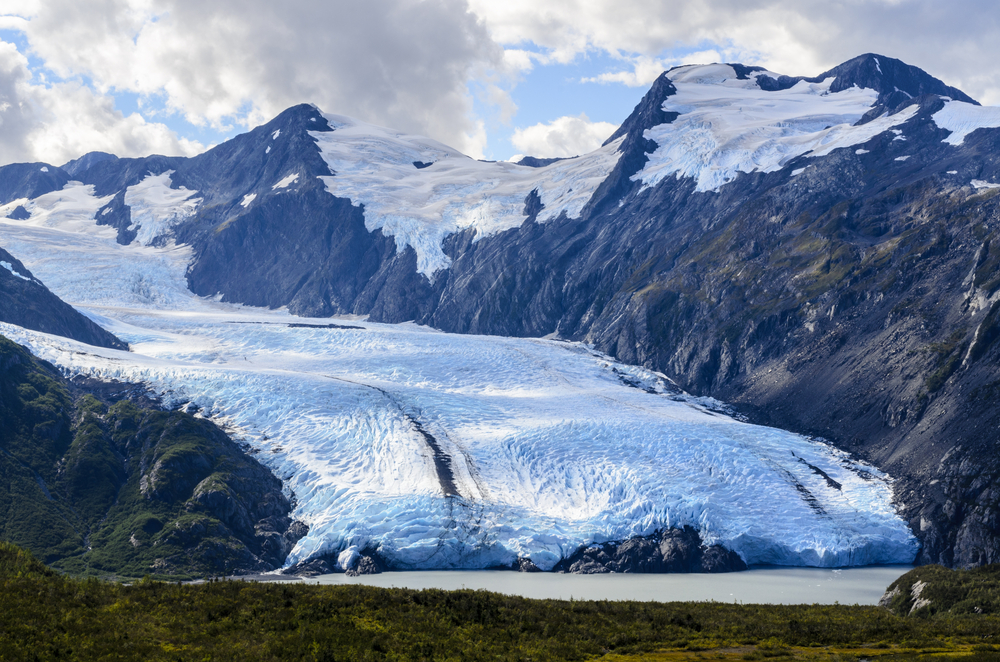 Stunning Portage Glacier.
8) Whittier Alaska Has Unspoiled Wilderness
Whittier is located 11 miles off the Seward Highway and just 6 miles past the Portage Glacier Visitor Center on the access road. It is a tiny town with an interesting history and a port town located on Prince William Sound.
My favorite memory of Whittier is driving through the Anton Anderson Memorial Tunnel. Whittier was a secret military installation during World War II, and to provide access to the Seward Highway a tunnel was blasted through solid granite for a train supply tunnel.
In 2000 the tunnel was overhauled to include auto traffic as well. Now both trains and vehicular traffic travel through the Anton Anderson Memorial Tunnel. BUT not at the same time. There are schedules available if you are short on time. When we visited, we happily sat in line and waited our turn as the train traveled first. Such a unique story and an amazing experience!
Whittier has a gorgeous harbor, where the mountains meet the sea. Various kinds of boat charters are available, as well as kayaking and even scuba diving, due in large part to the pristine waters of Prince William Sound.
Stop for a bite to eat, drive the tunnel or simply look around this historic town that played such an important part in World War II. You will not be sorry you stopped at Whittier during your drive from Anchorage to Seward.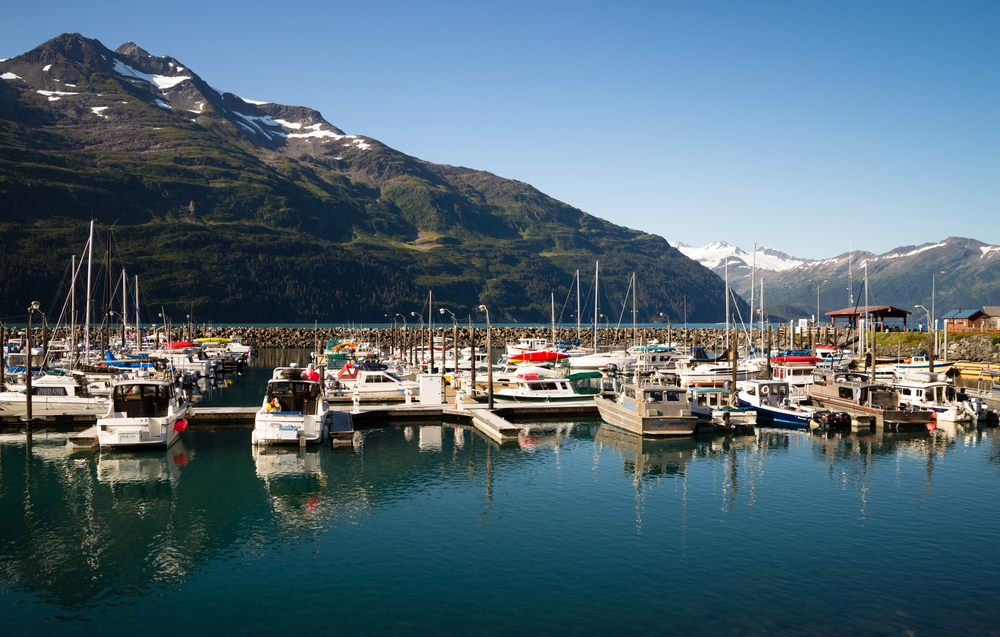 The charming boat harbor in Whittier Alaska.
9) Tern Lake Is A Mecca For Wildlife
You will find Tern Lake at mile marker 90 at the junction of the Seward Highway and the Sterling Highway. (The Sterling Highway leads you west to the sister cities of Soldotna and Kenai, and then south to Homer.)
Surrounded by snow-capped mountains, Tern Lake is home to a vast array of birds, fish, and wildlife. And it all depends on the time of year you choose to visit, what type of animals you will see.
Bald eagles, black bears, and Dall sheep call Tern Lake home. At dusk, you may sight a beaver or muskrat. Salmon returning home to spawn is one of the most interesting things to see in the summer in Alaska. And you just may be able to spot some at Dave's Creek, near the picnic area.
For raw beauty and the sheer abundance of wildlife, Tern Lake is a great stop on your drive from Anchorage to Seward.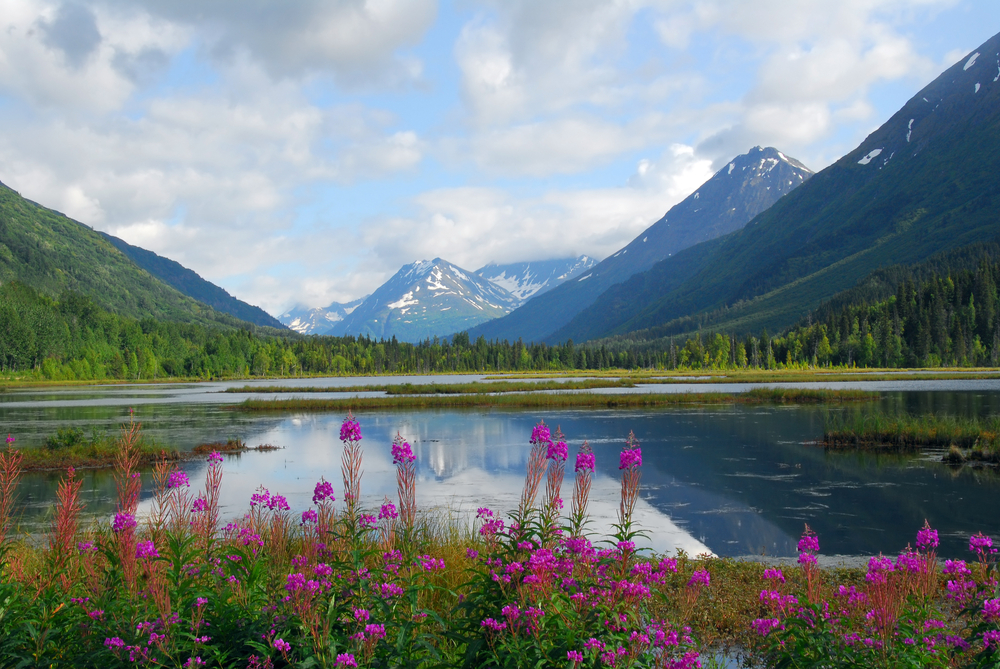 The stunningly beautiful Tern Lake
10) Moose Pass Is A Peaceful Little Town
On my last trip to Alaska, I stayed in Moose Pass with my family. It is a tiny little burg along the Seward Highway at mile marker 98 and only 30 miles outside of Seward to the south.
I will always remember the view of the mountains outside of our windows. Located on the shores of Upper Trail Lake and literally surrounded by the Chugach National Forest, Moose Pass has gorgeous views in all directions.
Although it is just a tiny little peaceful town, Moose Pass could make a good base for hiking and kayaking and all things outdoors.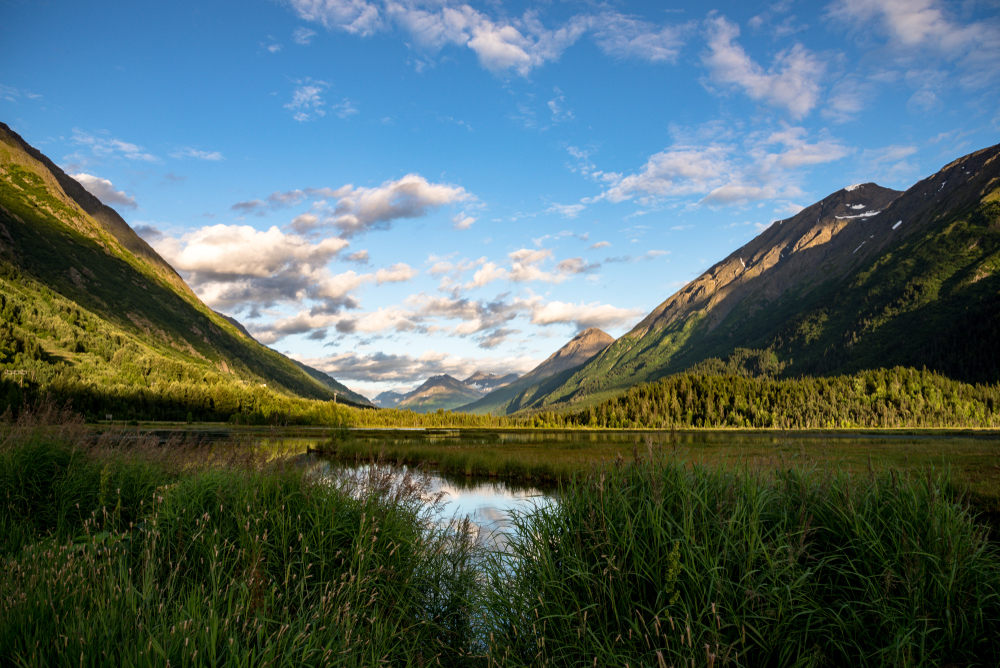 The scenery from Moose Pass. Everywhere from Anchorage to Seward are beautiful landscapes to see!
11) Visit Exit Glacier To See It Up Close And Personal
At mile marker 123, and less than four miles away from Seward is Exit Glacier Road. It is slightly longer than 8 miles and leads to the Exit Glacier parking lot and its Nature Center.
Exit Glacier is one of the Kenai Fjords National Park's most popular tourist destinations in Alaska because it is so easily accessible. Exit Glacier originates in the Harding Icefield in the Kenai Mountains.
One of the things you might remember most about your visit to Exit Glacier is how fast and how far it is receding. Exit Glacier is a stark and visible indicator of glacial recession likely due to global warming.
There are markers all along the walkways indicating where the glacier was in the progression of years that they mark. There are bathrooms, running water, and picnic tables for lunch or a snack if you so desire at Exit Glacier
There are many levels of hikes to select from, and it is best to gather information from the rangers in the Nature Center. However, most begin with the Glacier Overlook walk. It is stroller and wheelchair accessible and will take you about 90 minutes round trip and will take you out to view Exit Glacier. There are many other hikes to choose from with various degrees of difficulty, and the rangers at the Nature Center can provide information to help you choose which is hike best for you and your family.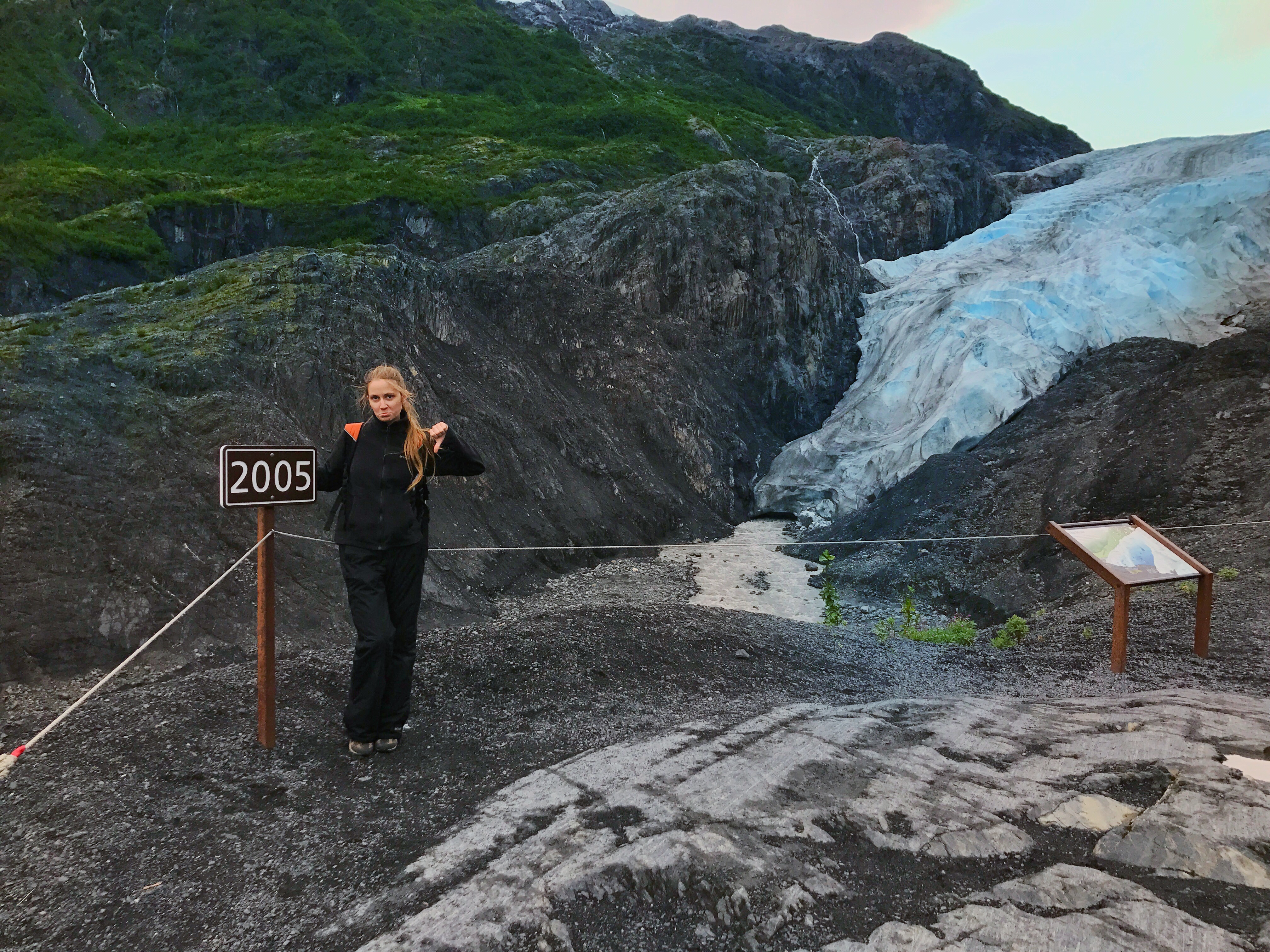 This picture shows my daughter Victoria's displeasure at the receding of Exit Glacier since she last visited in 2005.
Seward Is The Gateway City
Seward Alaska is located at the terminus of the Seward Highway. It serves as the gateway to the Kenai Fjords National Park. Seward boasts impressive landscapes and a multitude of marine wildlife that call Resurrection Bay their home.
Did I say impressive landscapes? Seward is where the mountains greet the ocean. The vistas are striking and unforgettable. And due to its location, Seward has rather temperate and mild temperatures all year long.
Besides visiting Exit Glacier, one of my favorite things to do when I am in Seward is taking a wildlife and glacier cruise right out of the Seward harbor.  You will NEVER ever forget seeing and hearing a glacier calving. Or seeing whales, puffins, and otters in their natural habitats in Resurrection Bay. There are several companies that offer cruises, and several different lengths of time they are offered. If it helps, I took a four-hour cruise once, and a 7.5-hour cruise another time I visited. Both were awesome. It depends on your budget and how much time you have.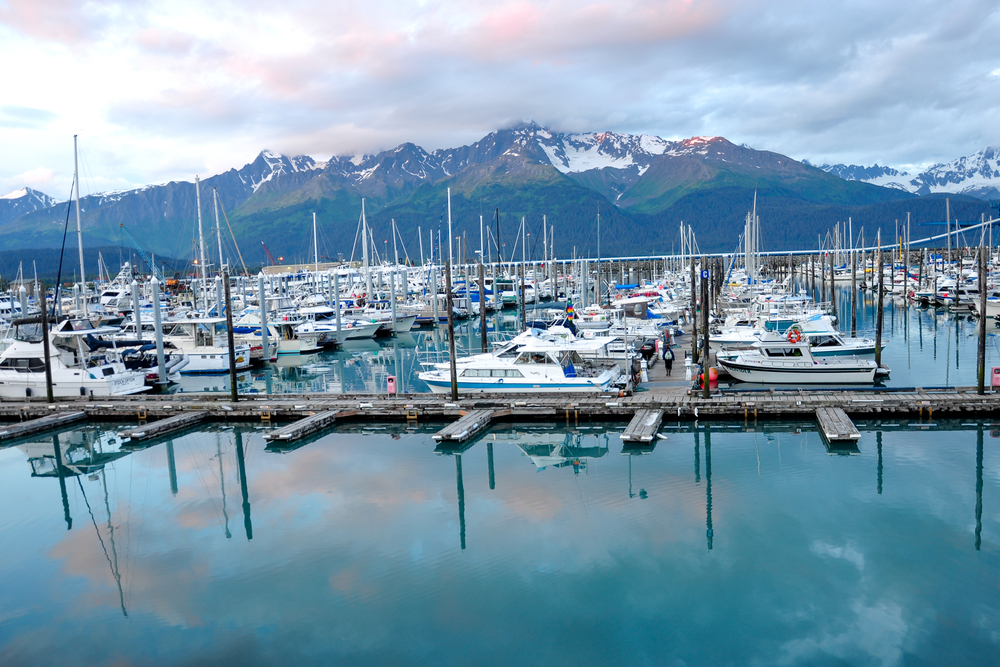 Seward's boat harbor in Resurrection Bay, where the mountains meet the sea.
Have you ever visited Alaska and made the trip from Anchorage to Seward along the Seward Highway? Was your experience as epic as mine was? Do you have any other stops to add to my list for others to explore? Please leave your suggestions in the comments below.
Pin this post: