Are you looking for the ultimate 4 days in Paris itinerary? 4 days in Paris is the perfect amount of time to explore the City of Light. I was in Paris celebrating my daughter's #25 birthday and best-of Paris was certainly crammed into my short time there. My visit was so extraordinary that I want to show you how to have the same experience when you decide to plan your 4 days in Paris itinerary!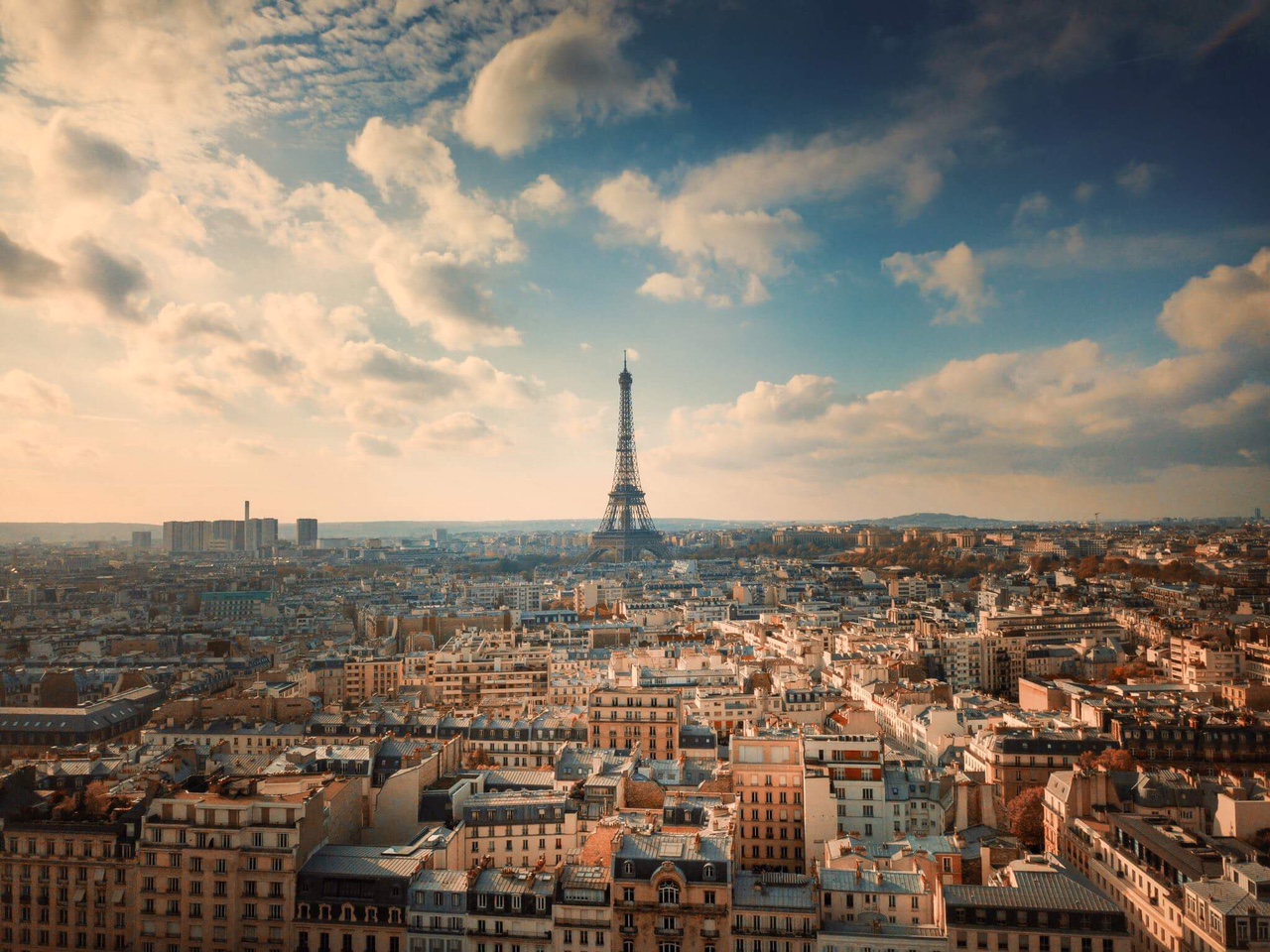 Getting to Paris has never been easier or more convenient. However, depending on where you call home on our planet, it can make for a long travel day or night. If you are taking a long international flight, check out my guide to surviving overnight flights.
For that simple reason, arrival day to Paris is not considered as Day 1 of the Ultimate Four Days In Paris Itinerary. On arrival day whether you arrive by plane, train, automobile or bus, I'd suggest to keep it low key. Take the day to recoup from the long travel, rest to get caught up on lost sleep, hydrate, possibly explore the neighborhood where you are staying a bit, and have a nourishing dinner. Feel free to change up my following suggestions from day to day to make the Ultimate 4 Days In Paris itinerary tailored to your specific needs during the time you are visiting Paris.
The Ultimate 4 Days In Paris Itinerary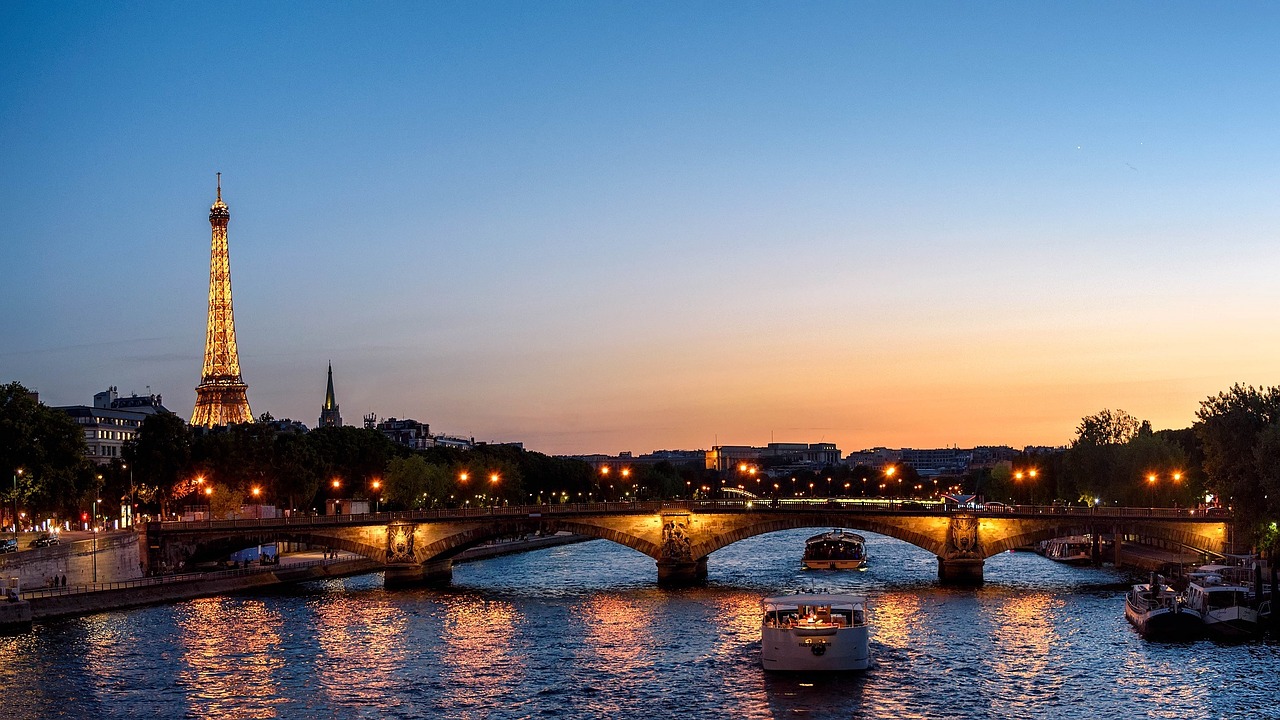 Day 1: Begin your 4 Days in Paris by exploring the Eiffel Tower and the Seine River
Stop 1: Visit The Eiffel Tower
One of the most popular attractions in Paris is the iconic Eiffel Tower. It is one of the first places most people visit, including me, when in Paris. The Tower is 1,063 feet tall and remains one of the tallest structures in Paris. It was originally constructed as the gateway to the 1889 World's Fair held in Paris.
Of course, you want to explore the Eiffel Tower, so set aside plenty of time during your first of 4 days in Paris to do so. If panoramic vistas of the Seine River and the city of Paris interest you, then visiting the Eiffel Tower is for you. You may climb up to her elevation levels, or even to the top, but that is 1,665 steps. Up for the challenge? My daughters actually walked up to the second level on a past trip to Paris and it was quite a lot of walking so proceed at your own risk!
If you don't want to walk up, you may ride up in the elevator which most people choose to do. Be aware, lines are extremely long from morning till night, most days, and you will be far better off purchasing tickets before you arrive. There are even "skip the lines" options or you can visit Paris in winter for fewer tourists. Walking alongside and even under the Eiffel Tower is a memorable thing to do, to get a perspective of just how large the monument is.
To photograph lasting memories of the Eiffel Tower during 4 days in Paris stroll across the street to the merry-go-round, (there's a souvenir stand there!) or walk across the Seine River to the Trocadero Palace, built into the side of a hill, which affords EPIC shots of the Eiffel Tower.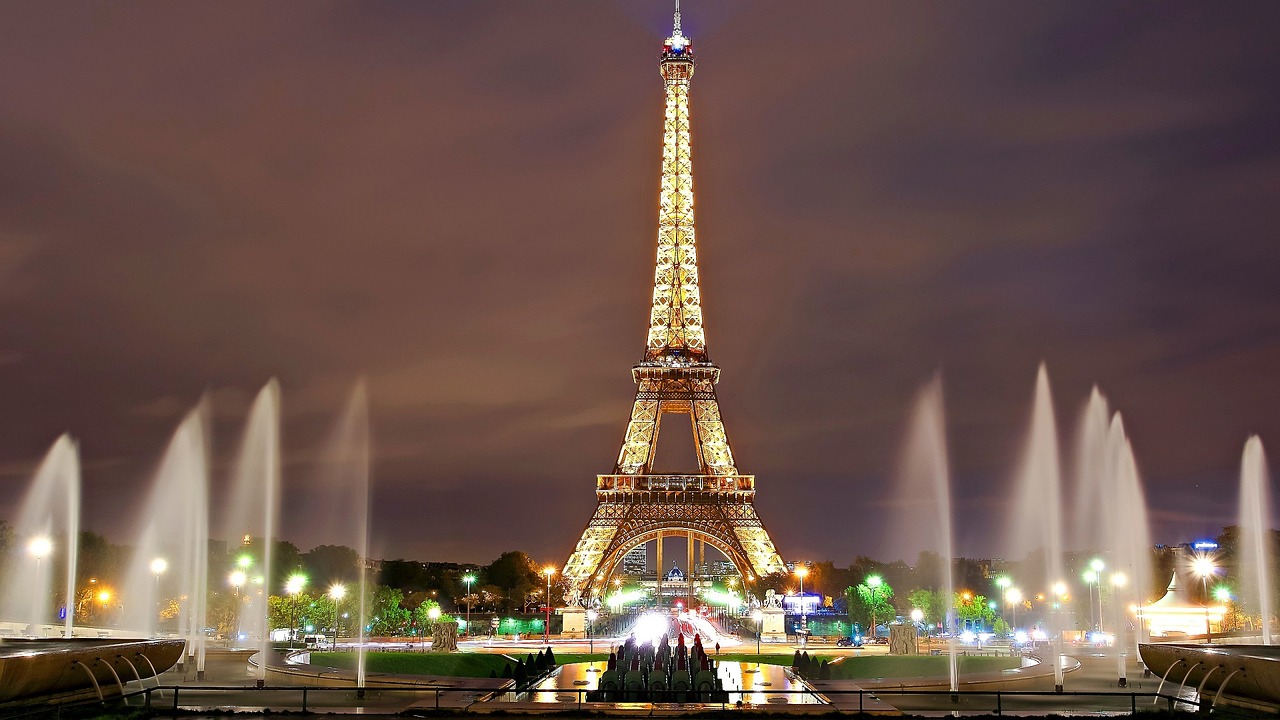 Stop 2: Explore The Seine River 
Since you are so close at the Eiffel Tower, the next thing to do in Paris is to explore the banks of the Seine River. There are long and lovely promenades to walk and people watching is a fun thing to do. During my visit, I ran along the River Seine and admired the architecture on the buildings and bridges I ran past.
Another way to explore the River Seine, and learn more about the city of Paris during your 4 days in Paris, is to take a Seine River Cruise. A narrated cruise is like having your own personal tour guide, for a fraction of the cost. My cruise lasted an hour and covered a lot of Parisian history and architecture, and was definitely enjoyable and I learned so much. It was a cold and windy afternoon when I cruised the River Seine, so I chose to sit inside where it was warm. The floor to ceiling glass windows provided ample views for me to oooh and ahhh. Most of the passengers chose to sit outside on the top level of the boat to have the best, unobstructed views for their picture taking.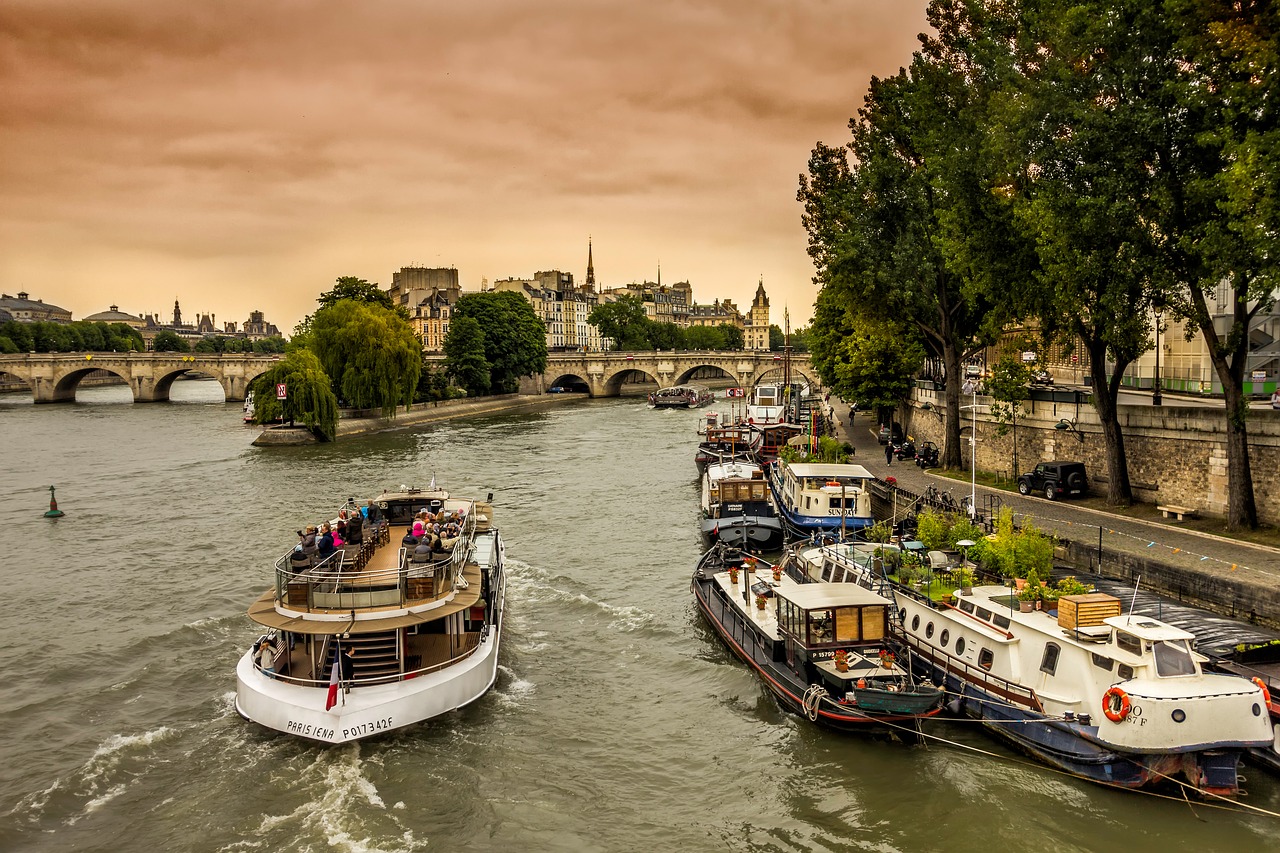 Stop 3: End Your Day At The Rue Cler Market
End your first day in Paris by exploring Rue Cler – Paris' most well-known street market. Located in the 7th arrondissement, it truly is a paradise to explore. The best part about the Rue Cler market is that it isn't overrun by tourists so you will get a glimpse into local life. It is open every day but Monday. You will find many restaurants to choose from, along with food markets, bars, pastry shops and more. I admit I visited the gelato shop on the Rue Cler, many an evening!
The Rue Cler market, visiting the Eiffel Tower, and Seine River boat ride offer plenty to keep you busy on your first of four days in Paris!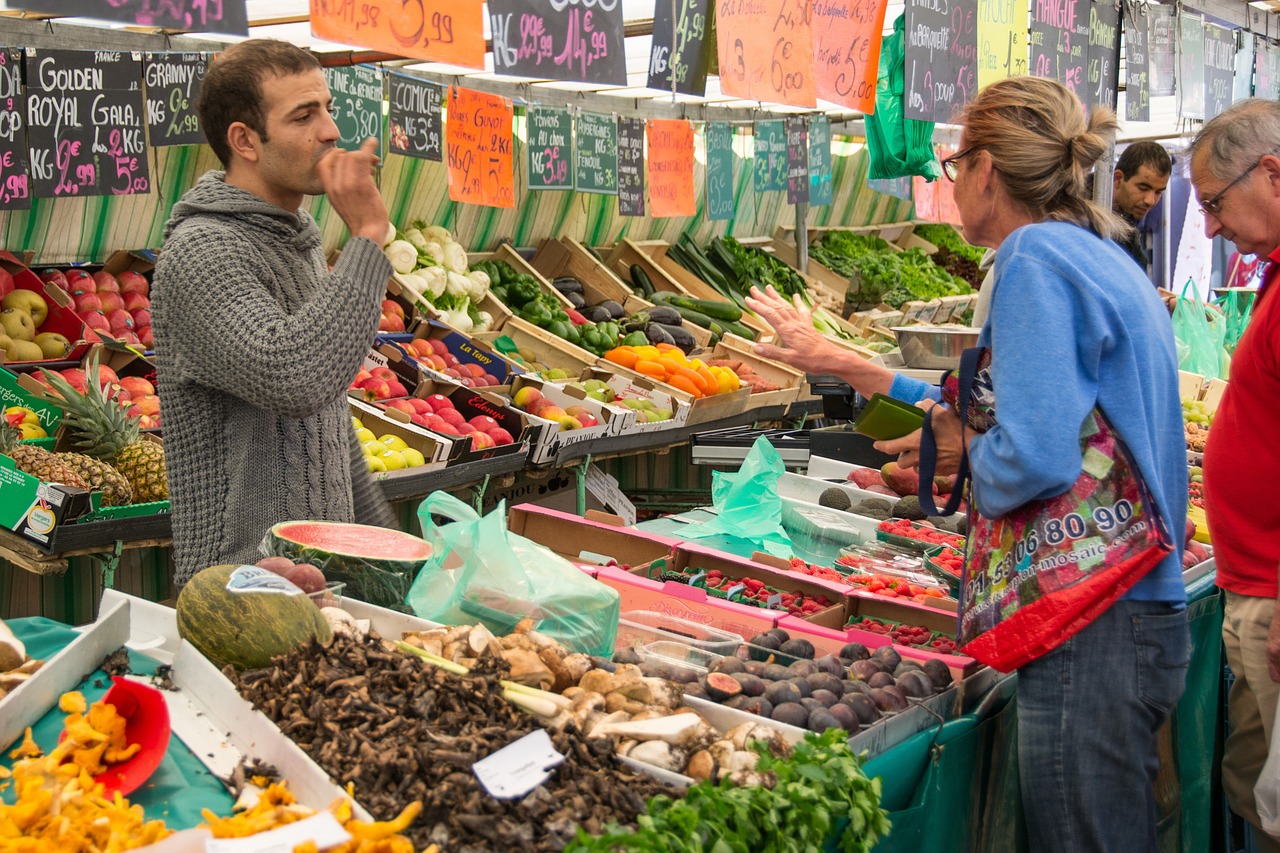 Day 2: Visit the World-Renowned Louvre Art Museum And The Seine At Sunset
Stop 1: Take In Art At The Louvre
No trip to Paris would be complete without visiting the famous Louvre Art Museum located within the Louvre Palace, to view its most precious paintings and artifacts. Start your second day in Paris off by visiting this famous art museum.  I would recommend going early if you want to spend a lot of time. I arrived around 12 noon and was there until 7 pm. The museum isn't always open late so make sure you know its operating hours before you decide when to arrive.
In 2017 the Louvre was the most visited art museum in the world. You will most likely enter the museum through its main entrance,  the Louvre Pyramid, one of Paris' major landmarks. While purchasing your tickets in advance is ALWAYS prudent,  my family and I did not do so, and we did not experience long lines of frustrated tourists when we purchased our entry tickets on site the morning of our visit.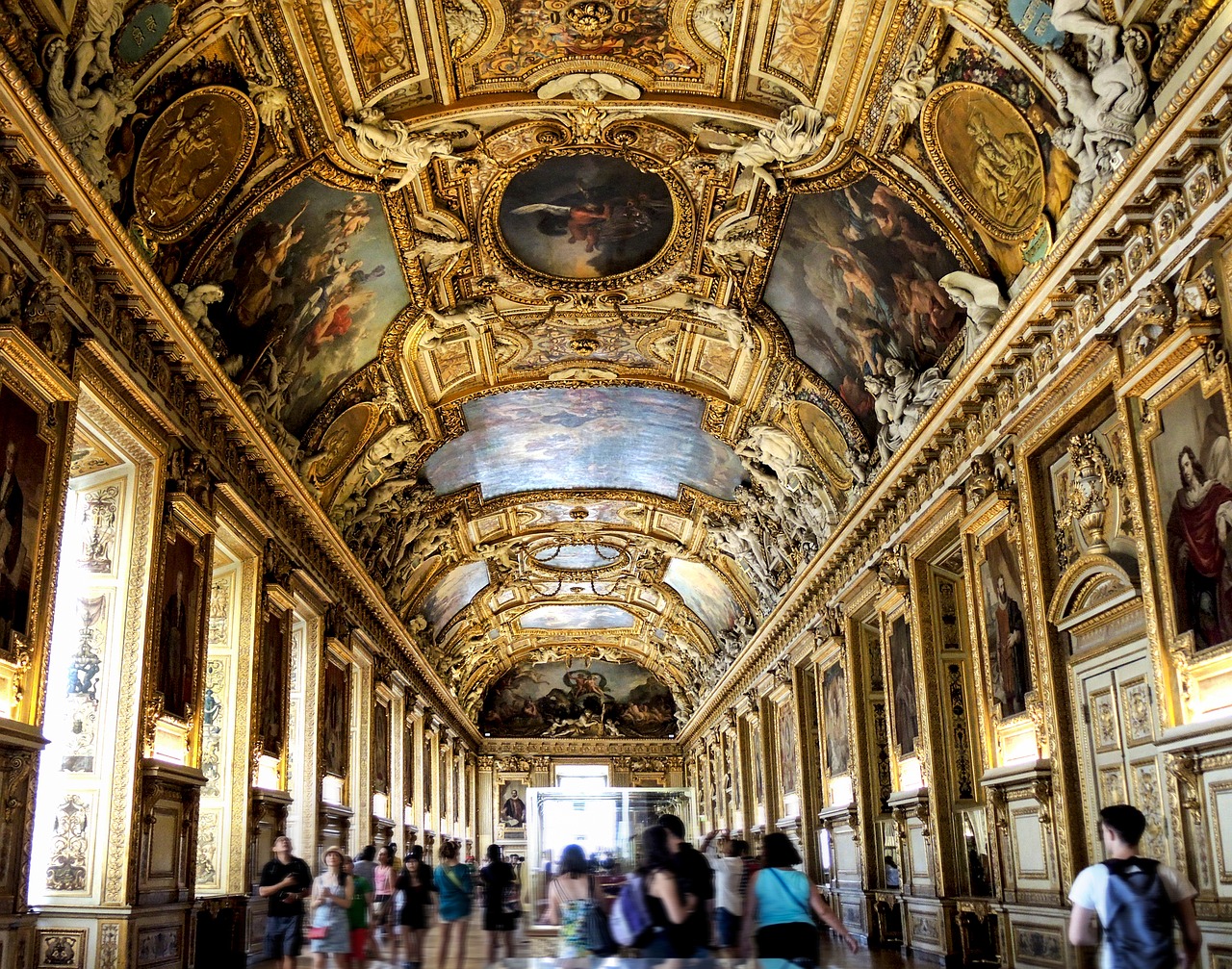 To be able to absorb all the beauty of the Louvre Art Museum, give yourself plenty of time on the second day of your 4 days in Paris. It is suggested no less than half of a day, but longer would permit you to enjoy the artwork and artifacts of 8 curated departments. You can stroll the entire museum alone enjoying what the Louvre has to offer as I did, you can participate in a guided tour, and there is even a Louvre Museum phone app that can be quite helpful.
One unforgettable highlight of the Louvre was seeing The Mona Lisa. I could not get very close to the painting as she is protected by guards, and under glass, but close enough to snap a few pictures and gaze at DaVinci's masterpiece. The second highlight was seeing Venus De Milo,(Aphrodite) the famous ancient Greek statue missing her arms. There were no guards, nor was she surrounded by glass. She was ready for up close pictures and lots of them from the many visitors, including me. If you are hungry or thirsty, there is a restaurant in the Louvre for you to take a break and rest your feet and your back.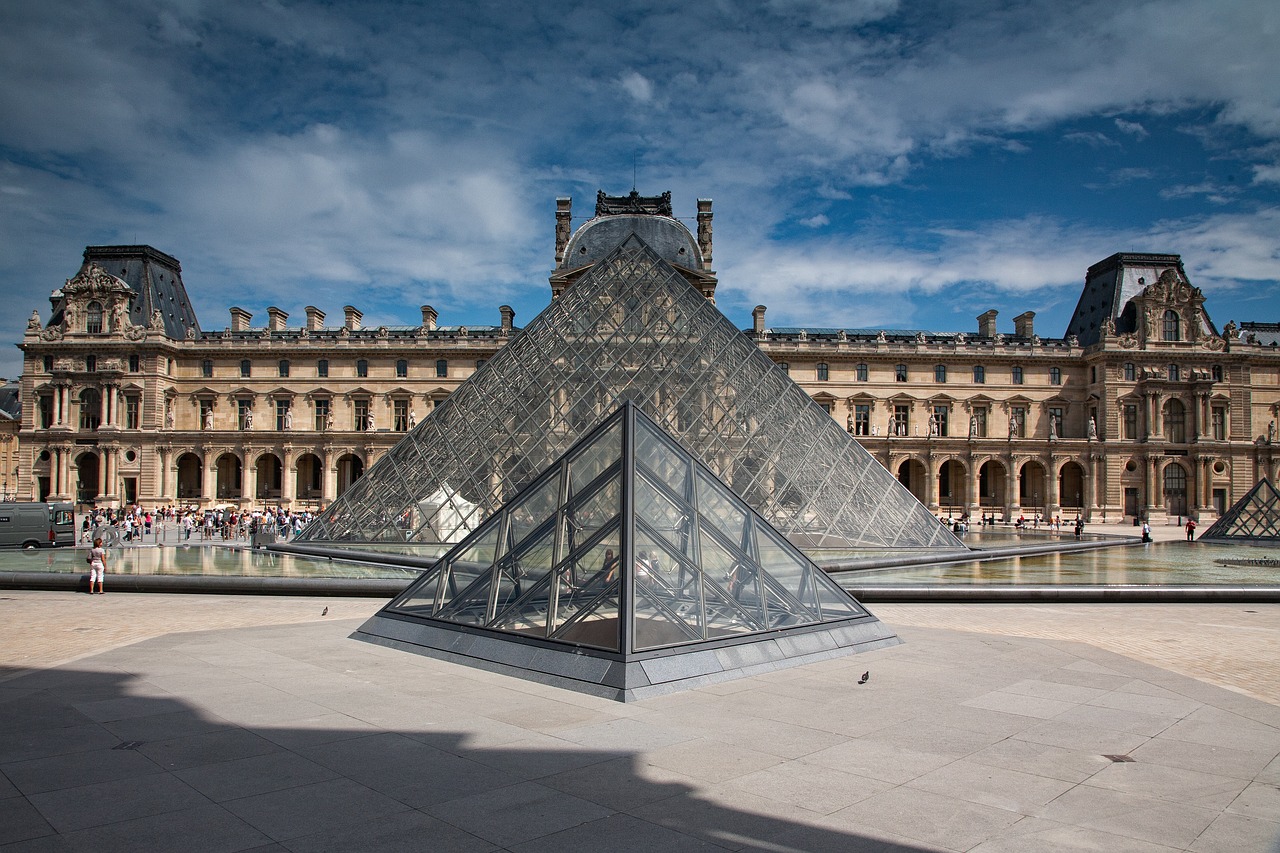 Stop 2: Eat Dinner At A Cafe Along The Seine And Wander Local Streets
To end your evening, exploring the River Seine, in the 2nd arrondissement, where the Louvre Art Museum is located, is a wise choice. An evening dinner overlooking the River Seine enjoying French cuisine would be unforgettable. Strolling to local pastry shops for macarons or macaroons, or eclairs is a delightful way to end your second of 4 days in Paris.
It could hypothetically take years to get through the Louvre, so if you only have four days in Paris I highly recommend taking an entire day to visit the Louvre and then spend a relaxing evening on the Seine so you really get the most out of the experience.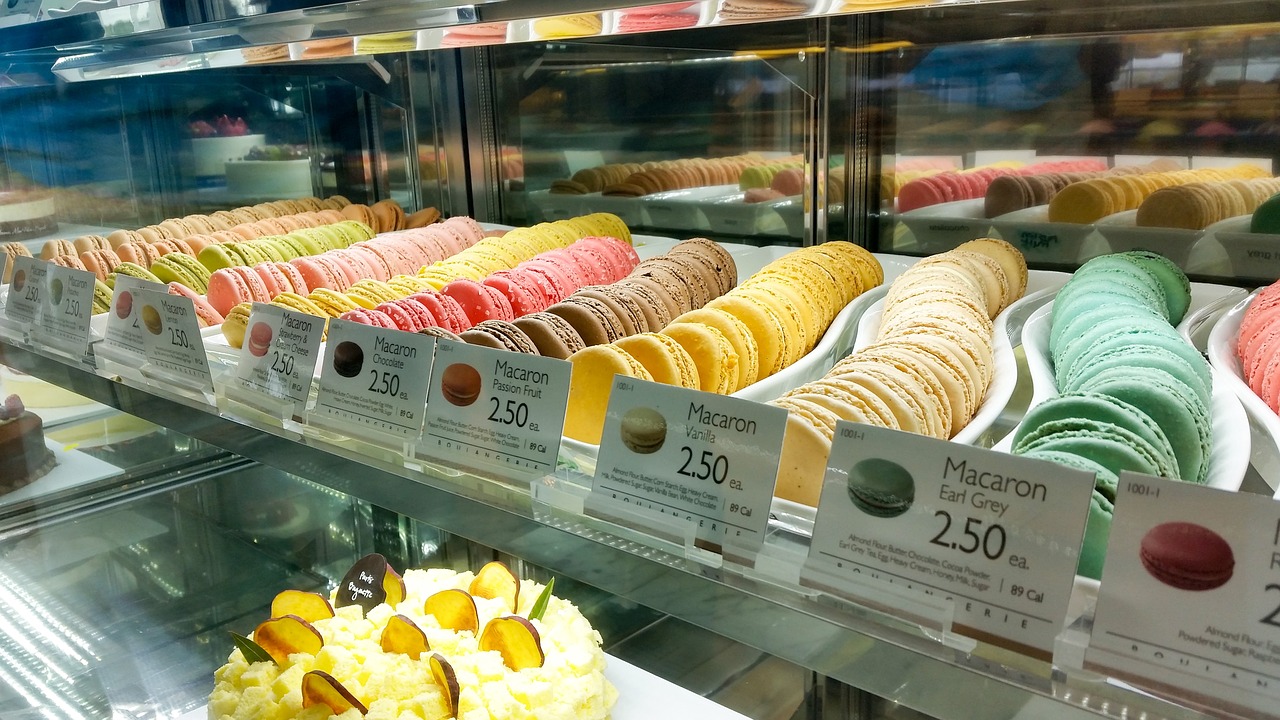 Day 3: Explore Paris By Bicycle And Do Not Miss The Champs-Elysees
Stop 1: Visit The Champs-Elysees By Bike
Bike riding is very popular in European cities, and Paris is no exception. During your 4 days in Paris itinerary, begin your third day by renting a bike at one of the numerous Velib bike stations. They are everywhere so you do not have to return your bike to the exact location where you rented it.  Head out to the fashionable Avenue des Champs-Elysees to visit one of the most well-known avenues in the world. And some of richest real estate on the planet! Upscale and not-so-upscale shops and cafes and restaurants dot the Champs Elysees on both sides.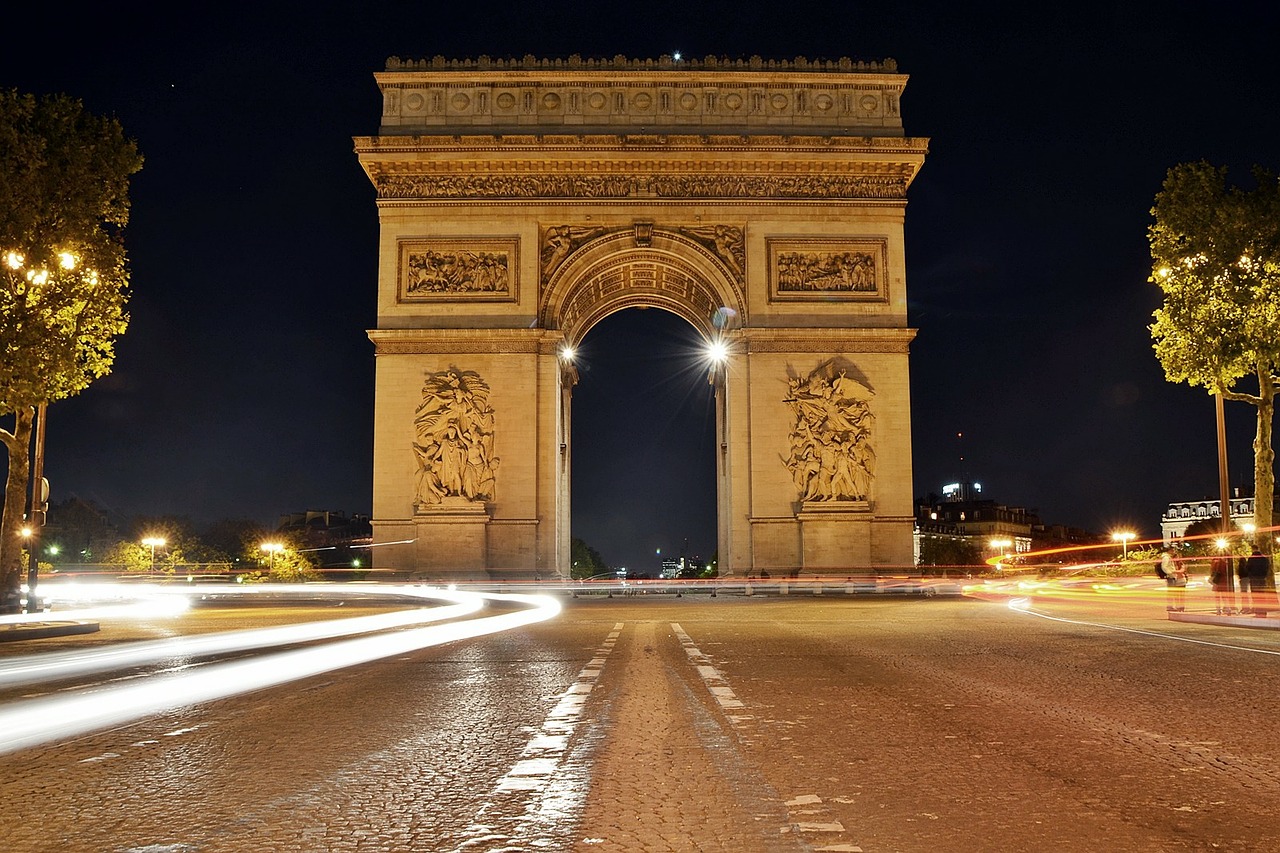 Stop 2: Go Up Inside The Arc de Triomphe
The Avenue des Champs-Elysees ends at the Arc de Triomphe, another of the famous monuments of Paris, a very short bike ride away. The Arc de Triomphe honors those who fought and died for France.And there is a Tomb of the Unknown Soldier there with an eternal flame which commemorates the war dead who were never identified.
Did you know you can walk inside the Arc de Triomphe? Did you know there is an observation deck on the top of the Arc de Triomphe? I did not either! The climb to the top was relatively difficult because there were so many stairs, but it wasn't impossible! There is an elevator as another option but it is only for those who truly cannot make the climb.
Along the way, there are drawings, explanations, and photographs of French war history as it relates specifically to the Arc de Triomphe. Once outside on the observation deck, you will be generously rewarded with glorious views of the Eiffel Tower, and be able to see the twelve radiating avenues that originate at the  Arc. The views of the city of Paris are definitely unforgettable.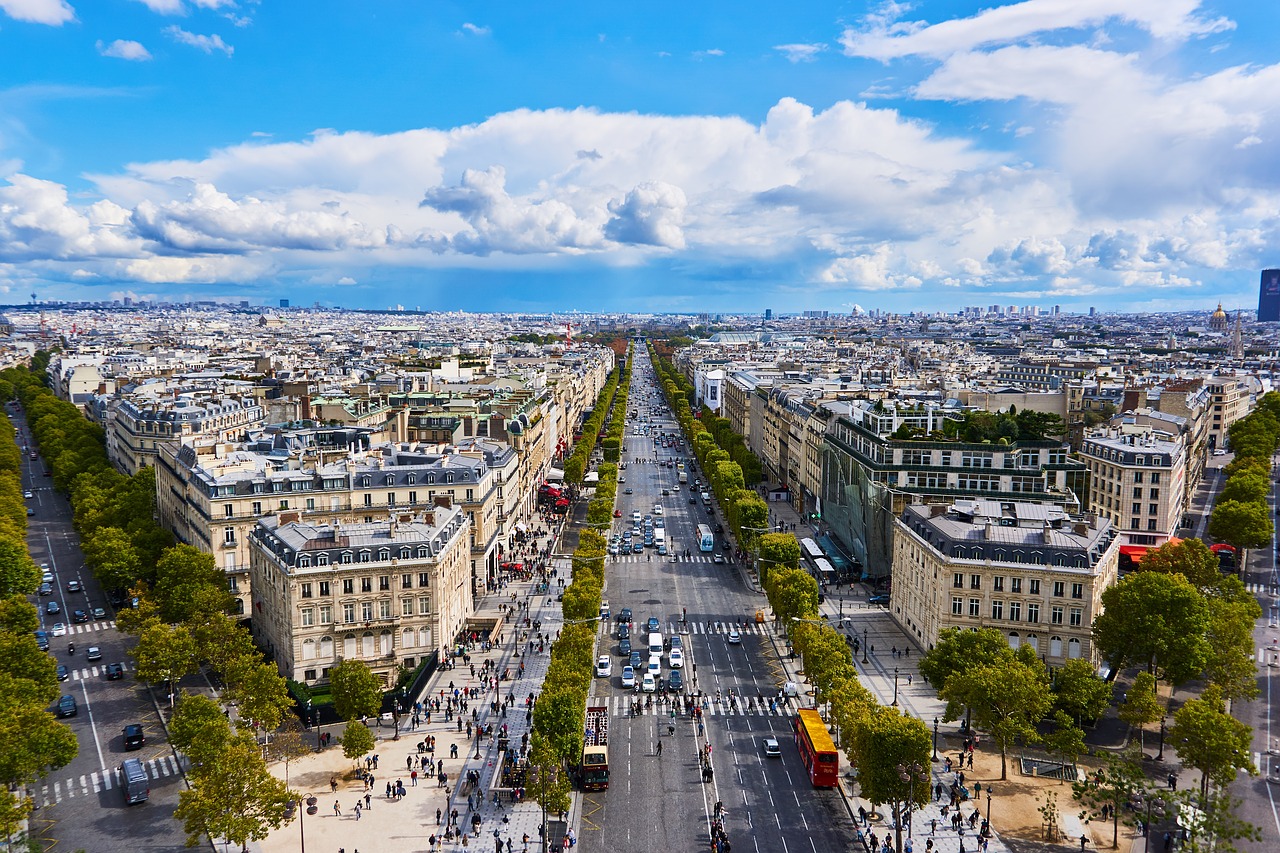 Stop 3: Make Time To See The Moulin Rouge
Next up, grab a bike from another Velib bike station and ride to the Moulin Rouge, the most famous cabaret in the world. World class international stars such as Frank Sinatra and Elton John loved this venue and it is the center of many movies throughout history!
It was fun to visit this iconic club, and you may choose to return later for dinner and to watch the dazzling show. There is a dress code, so while riding a bicycle through Paris would not be the time to stop and eat and drink and feast your eyes at the Moulin Rouge. If you want to go to a show at the Moulin Rouge, make sure to budget time in your 4 days in Paris itinerary and be sure to dress properly!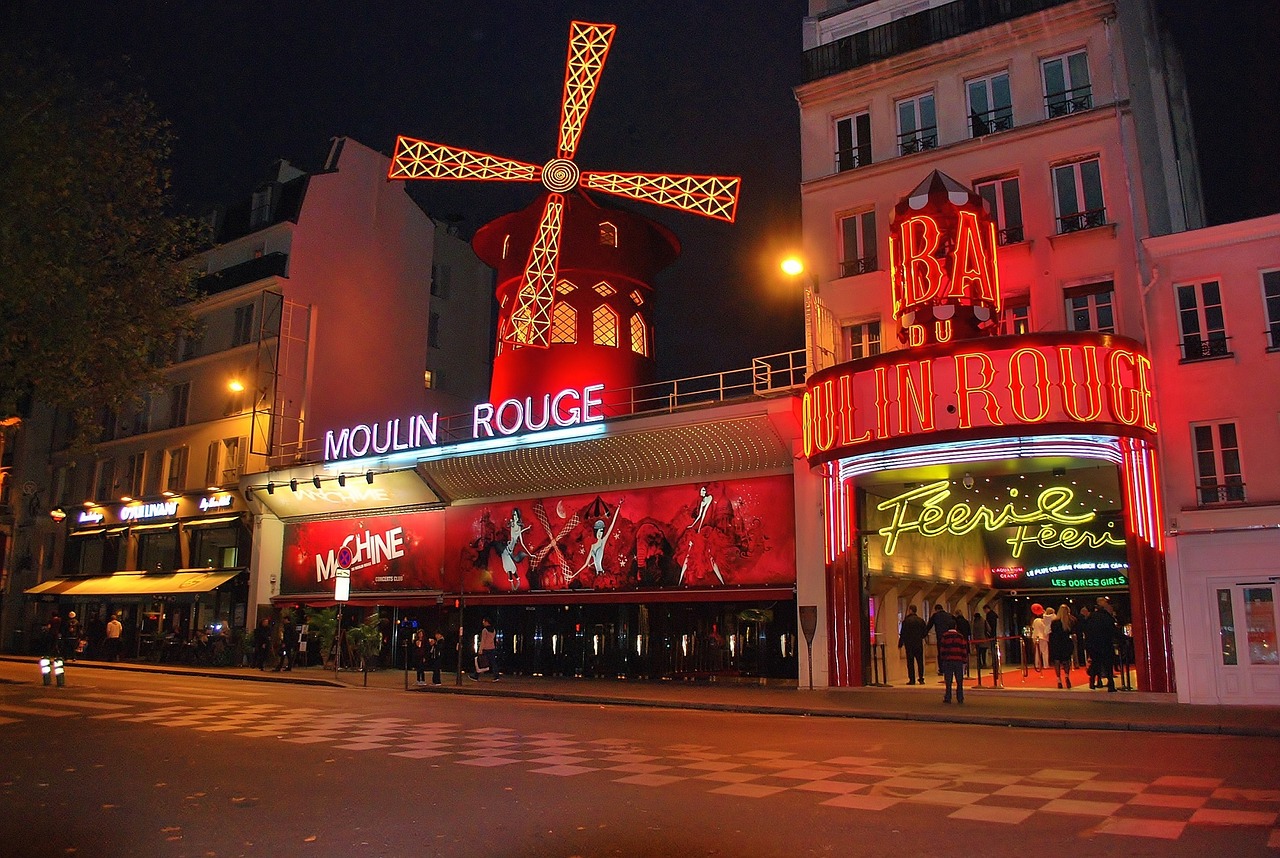 Stop 4: Visit One Of The Many Rooftop Bars In Paris
End your day of bike riding around Paris by exploring one of the many rooftop bars Paris has to offer! Depending on the vibe you are looking for you are sure to find a spot that appeals to you, possibly one where tourists and locals alike mingle.
Day 4 In Paris: Discover Gothic Cathedrals Around The City 
Stop

1: Start The Day At Notre Dame
The last day of your 4 days in Paris itinerary is all about architecture! Three cultural, political and religious Parisian icons stand out. The most well-recognized cathedral in the world is Notre-Dame de Paris! (Our Lady of Paris.)  She is recognized as one of the finest examples of French Gothic architecture anywhere. Her history is spectacular and it took hundreds of years to construct her. I have read and watched the Hunchback Of Notre Dame my whole life so getting to visit the church in person was really quite the experience!
The inside of Notre Dame is quite beautiful but the church can get very busy. Although the line may look long, you will get through it relatively quickly so don't worry! Once inside, the glorious stained glass rose window is one of the highlights of visiting Notre Dame, as is her gargoyles. There is a generous Mass schedule at Notre-Dame de Paris if you are interested in attending, as well as a souvenir section to purchase religious articles.
You can also go up inside one of the bell towers, although it is a separate entry and a separate entry fee. In order to go up in one of the towers, you must walk around to the left side of the church [when facing it from outside] to a small door and entry area. A visit to Notre Dame is a must-see during your four days in Paris!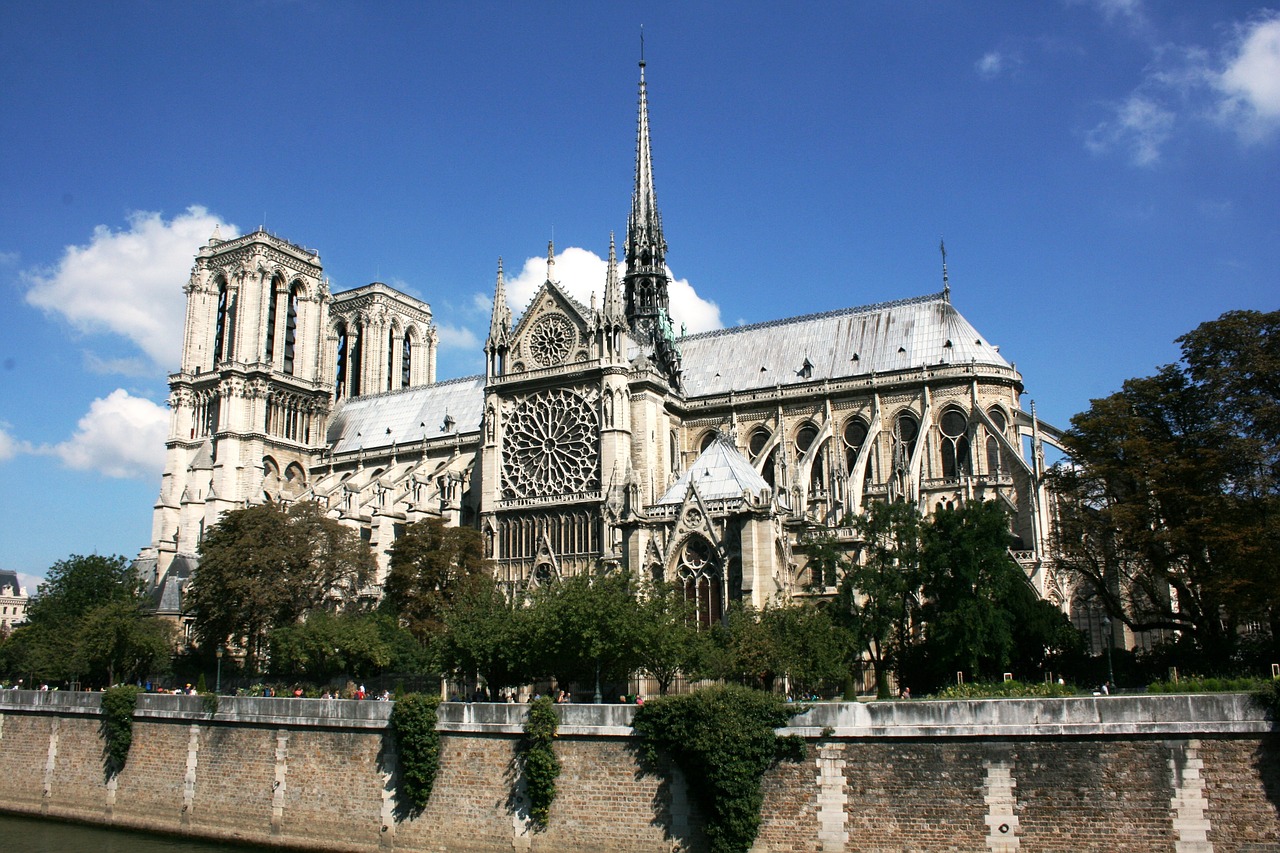 Stop 2: Marvel At The Stained Glass At Sainte-Chapelle
Within walking distance from Notre-Dame de Paris is the dazzling Sainte-Chapelle, a MUST SEE during any 4 days in Paris itinerary! It is one of the lesser known churches in Paris and since it is so near Notre Dame, many people just visit Notre Dame and skip this extremely exquisite church!
Sainte-Chapelle's upper level has over 1,000 striking stained glass windows which tell the story of the Bible. Arranged across 15 main windows, the stained glass panes display over 1,000 scenes from the Old and New Testament. The bottom level of the structure is very plain because back in its day it was for staff and servants of the resident French king. Only the king and his advisors were permitted into the royal chapel on the second level.
You will enter the building from the bottom level which resembles a basement. You will think this area is pretty, but prepare yourself because that isn't even the main chapel. Once you climb up the stairs to the second story, you will be overwhelmed by the magnificence of the stained glass windows appearing before you. There are pamphlets available in many languages explaining each of the 15 panels, and the panes of stained glass contained in them. Upstairs there is also a sumptuous rose stained glass window at Sainte-Chapelle which describes the Book of Revelation through its stained glass panels.
I would recommend budgeting 60 minutes to visit this church. It isn't very big and is contained in one room, but you want to be sure you have enough time to see everything!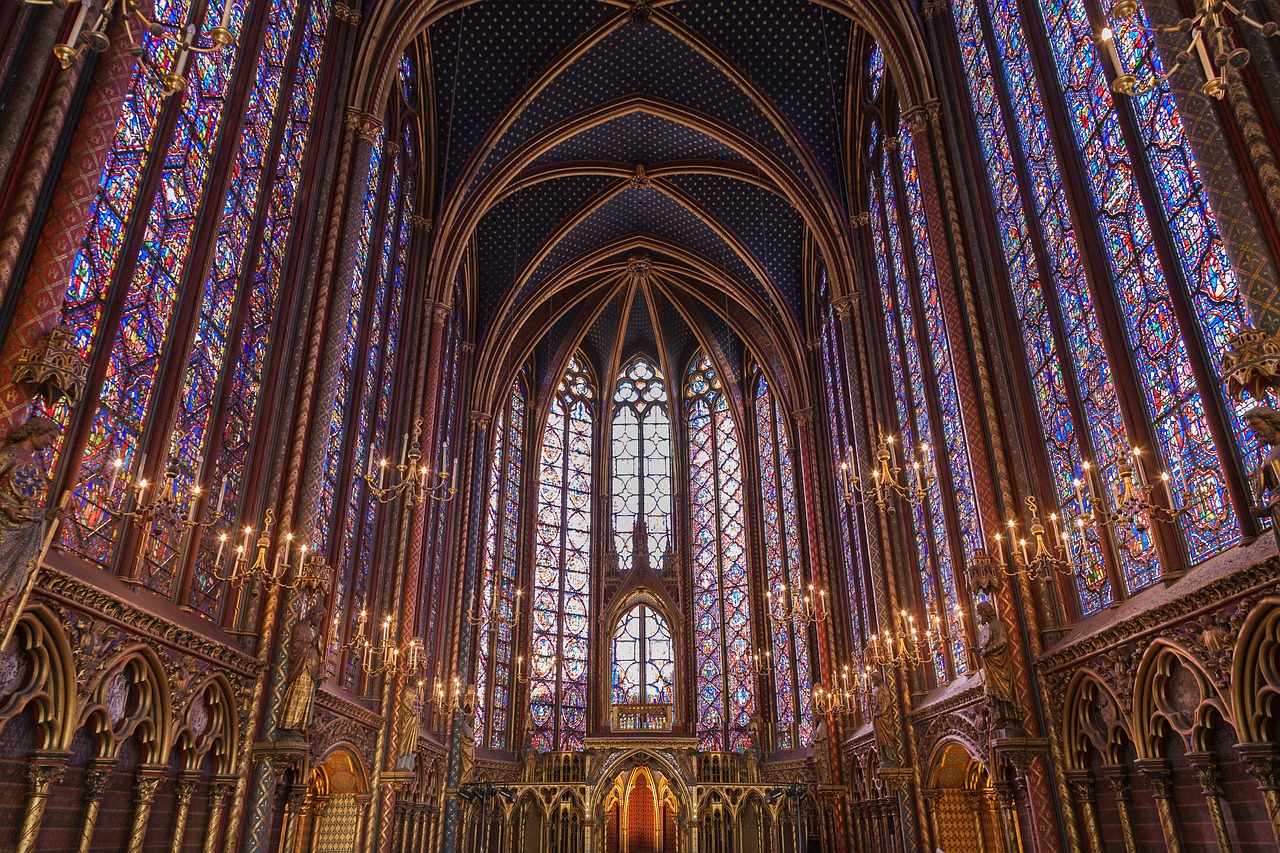 Stop 3: Drop Into A Cafe For A Crepe And Coffee
The island where Notre Dame and Saint Chapelle are located is full of wonderful cafes with plenty of outdoor seating. Before you move on to your next stop, take a few moments to wander the streets and explore the island. Grab a coffee and try out a French crepe and relax in the afternoon. This is the perfect time to eat lunch before moving on to the next stop. If you want to dine like a real Parisian, make sure to sit outside, even if it is in the winter!
Stop 4: Visit Montmartre And Sacre-Coeur
After you finish your lunch near Notre Dame, hop on the Paris subway and head up to the Montmartre district. It is located in the same vicinity as the Moulin Rouge, where you explored by bike on Day 3. Montmartre is a super cute and artistic part of Paris and a great place to explore on foot.
Located at the summit of Montmartre, the highest point of Paris is the Basicila of the Sacred Heart, Sacre-Coeur, with the style being described as Rome-Byzantine. It is not as "fancy" nor does it display as much excess as other styles of architecture in the area. Because the church sits atop a hill, there are MANY steps to climb to the top. It isn't quite as bad as the walk to the top of the Arc de Triomphe, so if you did that this will be a relatively easy climb for you.
That being said, there is an elevator to catch if climbing is too daunting or there are elderly in your group. Because of the height, the top of Montmartre affords exceptional views of Paris and her communities and her most famous monuments. The inside of the church is unique, but the view is easily the best part! You will be able to see all of Paris in one panoramic view.
Montmartre is a popular location, and back at the bottom of the hill in front of the basilica you will find streets bustling with people, both locals and tourists alike, as well as an abundance of souvenir shops and restaurants. This is an excellent opportunity to pick up some mementos to have or bring home to your loved ones, as the prices in the neighborhood are reasonable. This is the perfect place to cap off your 4 days in Paris itinerary as you will be able to find great souviners, from Parisian coffee and tea to shirts, hats, and mugs, all at a much more affordable price than other areas in the city!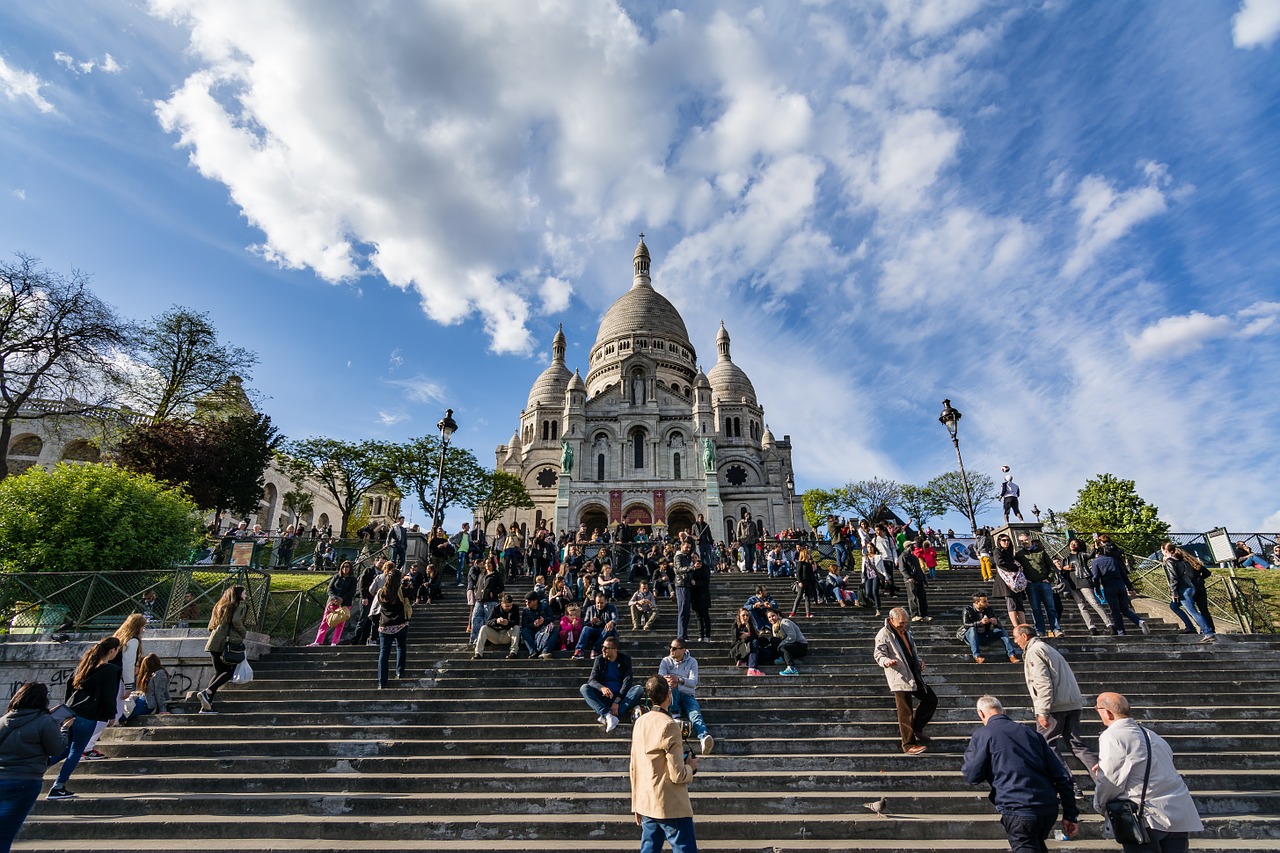 Four days in Paris is a long enough time to get to know the City of Lights and marvel at all she has to offer: rich history, monuments and museums, street markets and cafes, and pastry shops you will visit many times (I did!). Your ultimate 4 days in Paris itinerary has mapped out for you many of the highlights Paris has to offer.
Have you ever been to Paris? What was your favorite thing to do? What would be your #1 recommendation for a first-time visitor? Please comment below.
Pin this post: